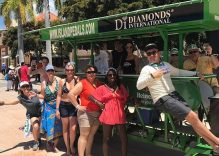 Once in a life time Opportunity!
The dream to live and work in the Beautiful Caribbean, St. Maarten / St. Martin with a business that has taken a year to set up. All the hard work is done!
St. Maarten in the Caribbean was hit by the worst hurricane in history: Super Cat. 5 IRMA in early September. The owners were very fortunate as the beer bikes received no damage.
They started the business around last December 2016 and built a strong presence on the island in a short time with countless hours invested. However, after careful consideration they have decided that they will be returning to Canada permanently.
We had forecasted sales in excess of $100,000.00USD for 2018 if able to secure cruise ship activity desk contract. Future sales could be much higher. The cruise ship contingency was schedule to tour on the beer bike several days after Irma, but of course that trip has been cancelled.
This is a turn-key opportunity. You will receive the following:
The Ltd company (called an NV in Sint Maarten). The business license (the only one issued on the island for this type of venture). The NV will grant you 2 Directors licenses which will give the 2 directors residency if desired. Or you can stay as a foreign Director of the company and operate from another Country. As this as a cash business running weekly trials for the first few months we do not have financials – however we did have projections for 2017/18 season. Those will need to be modified given the island circumstances.
What you will receive:
– 2 Beer Bikes Fully retrofitted for operating near the ocean, with boat canopy, and very durable coriander bars.
– The only license to operate Beer Bikes in St. Maarten.
– A 3rd bike that has been stored and used for additional parts. (Not in operating condition but can easily be outfitted and run on another part of the island). Also a potential to motorize, license and operate on larger area.
– All marketing material including professionally made website www.islandpedals.com (Access to all active social media marketing channels, Trip Advisor, Viator, Shorefox, Rezgo, Facebook, Instagram, YouTube, Google Business Etc.)
– All Photoshop files for brochures. Word documents for Waivers etc.
– Contacts to business partners and we will include introductions to the key contacts at our current partnerships. Including key contact email and phone numbers to the Shore Excursion Representatives Account Manager, Global Tour Operations for Royal Caribbean (Celebrity Cruises). Additionally, contact information for Carnival Cruise lines. We were in the process of meeting with the shore excursion representatives from Royal Caribbean on September 18th, 2017. The storm hit us on September 6th, 2017 so therefore we never had the chance to secure the Contract from this season. Our hearts broke.
Other Information:
– Extremely low operating cost.
– Customers allowed to drink alcohol while pedaling. (liability insurance details below)
– Partnerships with multiple vendors for paid advertising spots on the Bikes.
– Current insurance is through Nagico for $100/Month Per Bike. Covers up to 1M Public and Product Liability. ($3,500 Deductible), Nagico is the largest and most reputable insurance company in Caribbean.
– We have negotiated and found an amazing spot that is extremely safe place (survived Irma) on the Boardwalk to store the Beer Bikes at a very low rate.
– The bike location is also adjacent to the new Walter Plantz Square and Cruise Ship ferry dock Jetty. All festivals etc… seem to center here.
– Lots of room for growth and expansion. We had planned our 3rd bike for Simpson Bay and or Maho.
– Branding, website and goal was all created with the goal to add bikes on other islands and possibly franchise a turn-key unit.
Agreement with International Liquors and Tobacco trading N.V. locally known as ILTT NV (Heineken supplier):
– ILTT will supply Heineken 25cl cans at a reduced rate
– ILTT will provide coolers to be placed on each beer bike.
– ILTT will provide and replace all necessary POS items (openers, cups, buckets, ashtrays, drip mats, coasters etc.) and t-shirts for staff. – Continuing supply.
– St. Maarten Beer Bike N.V. will purchase its beverages exclusively from ILTT
– Custom Bike signage supplied and installed.
Advertising Revenue:
– Diamonds International sponsorship with monthly fee – Was in the talks of adding Wifi to both bikes for the upcoming season. (They were going to pay the cost).
– Toppers Rhum is also in the works for sponsorship and should be secured for 2018/19 season.
– Potential to sell the back slot for advertising (We were aiming to target a couple Casinos for the upcoming season as well as real estate companies.)
– Century 21 real-estate – to be scheduled for 2018/19
Island Pedals Online
Website: www.islandpedals.com
Facebook: https://www.facebook.com/Islandpedals/
Instagram: https://www.instagram.com/islandpedals/
Trip Advisor: https://www.tripadvisor.com/Attraction_Review-g147347-d11444683-Reviews-Island_Pedals_BeerCycle-Philipsburg_Sint_Maarten_St_Martin_St_Maarten.html
Viator: https://www.viator.com/tours/Philipsburg/Island-Pedals-BeerCycle/d5627-42753P1
Rezgo: http://islandpedals.rezgo.com/
Google Maps/Business: https://goo.gl/maps/uY9832LBfnS2
YouTube: https://www.youtube.com/channel/UCQFk-lhPm_t5BvqG8K4DHMw
Lonely Planet: https://www.lonelyplanet.com/french-antilles/activities/beer-cycle-tour-in-st-maarten/a/pa-act/v-42753P1/1337807
ShoreFox: https://www.shorefox.com/shore-excursion/2615/island-pedals-beercycle-tour
Others:
http://www.sint-maarten.net/St-Maarten-Activities/st_Maarten_activities.html#partyfun
http://islandrepssxm.com/services/island-tours/
http://www.just-tours.net/online-tours-St-Maarten-Beer-Bike-Tour.html
http://www.beachvacationsandmore.com/things-to-do-in-st-maarten.html
http://www.sxmexcursions.com/beercycle.html4
Professional web designer/brand creator from New York:
Max Losk Web design: http://maxlosk.com/2016/09/17/island-pedals-beercycle-brand/
Information on St. Maarten Tourism:
– January 1, 2009, the population of the entire island was 77,741 inhabitants, with 40,917 living on the Dutch side, and 36,824 on the French side.
– In 2000, the island had about one million visitors annually. About 85% of the workforce was engaged in the tourist industry.
– 89 Hotels.
Cruise Ships:
– During the 2014/2015 cruise year cruise tourism generated nearly $423 million in direct expenditures.
– For the entire 2014/2015 cruise year, the estimated 1.85 million cruise passengers who visited St. Maarten spent a total of $354.7 million ($US) and the estimated 377,390 crew who visited St. Maarten spent an estimated total of $45.0 million ($US).
In closing, the sellers dreams, hard work and energy in setting this all up is their loss but someone's incredible gain. They are here to assist in the transition to insure a smooth turn-over and success.