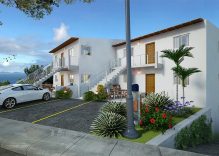 Ponite Blanche doesn't receive the recognition it deserves. Home to some of the largest homes on the island and ocean views that are arguably the best on the island, all this means Point Blanche really holds its property value.
When driving up the hillside to this beautiful location, my first thought was how secure this location is. Very secure yet not overcrowded and noisy. I was getting excited, it seemed like the perfect location for new condos.
On arrival, I have to admit I was not disappointed! The view was just mindblowing. Limitless, the purple water stretching in the dark hue of the sunset. This view was to die for. I remember thinking, I want to move here NOW!
There are 6 units, each designed to maximize the potential of the ocean view from every corner of the property. Large windows, unobstructed views, balcony and open-plan living, everything shaped and designed with your comfort in mind. Really impressive.
As you enter you arrive in a contemporary open plan space with kitchen and living area right before the endless ocean views which can be seen from the balcony. The two bedrooms are ensuite with built in wardrobes and spacious enough to fit a large bed.
One advantage of buying pre-construction is that you can really see the quality of workmanship, and with this project only months away from completion you can see the attention to detail in every inch of this project. It was a labour of love.
All units are currently available as pre-construction. This is in our opinion the best time to grab a potential investment opportunity. 2 bedroom condo's in Maho sell for near the $350k mark, making this one of the best investment decisions you will make in St Maarten. This project may be small, but your returns are going to be big.