Anguilla Hotel and Villas For Sale
Century21 St Maarten presents to you CeBlue Anguilla Hotel; a collection of beach villas with land to develop luxury condos near the beach.
CeBlue Luxury Resort & Condo Development
The subject property is currently a villa resort comprising 8 buildings with 5 villas per building or 40 keys. The property is currently managed locally with minimum stay restrictions of 4 nights during the shoulder and low season and 7 nights during the high season.
The owners of the property wish to explore the possibility of expansion of the resort and changing the formula of operation to a full-service luxury hotel facility operated by an international management company. An Anguilla hotel, consisting of 30 two-bedroom units and 15 three-bedroom units, would provide 105 keys of hotel inventory (45 suites and 60 rooms) when designed with lock-off en-suite bedroom units. Financials, construction cost, and more towards the end of this page.
Only 17 miles long and three miles wide, Anguilla is 10 miles north of St. Maarten and 200 miles east of Puerto Rico. The subject property is located on the north coast of the island on Crocus Bay.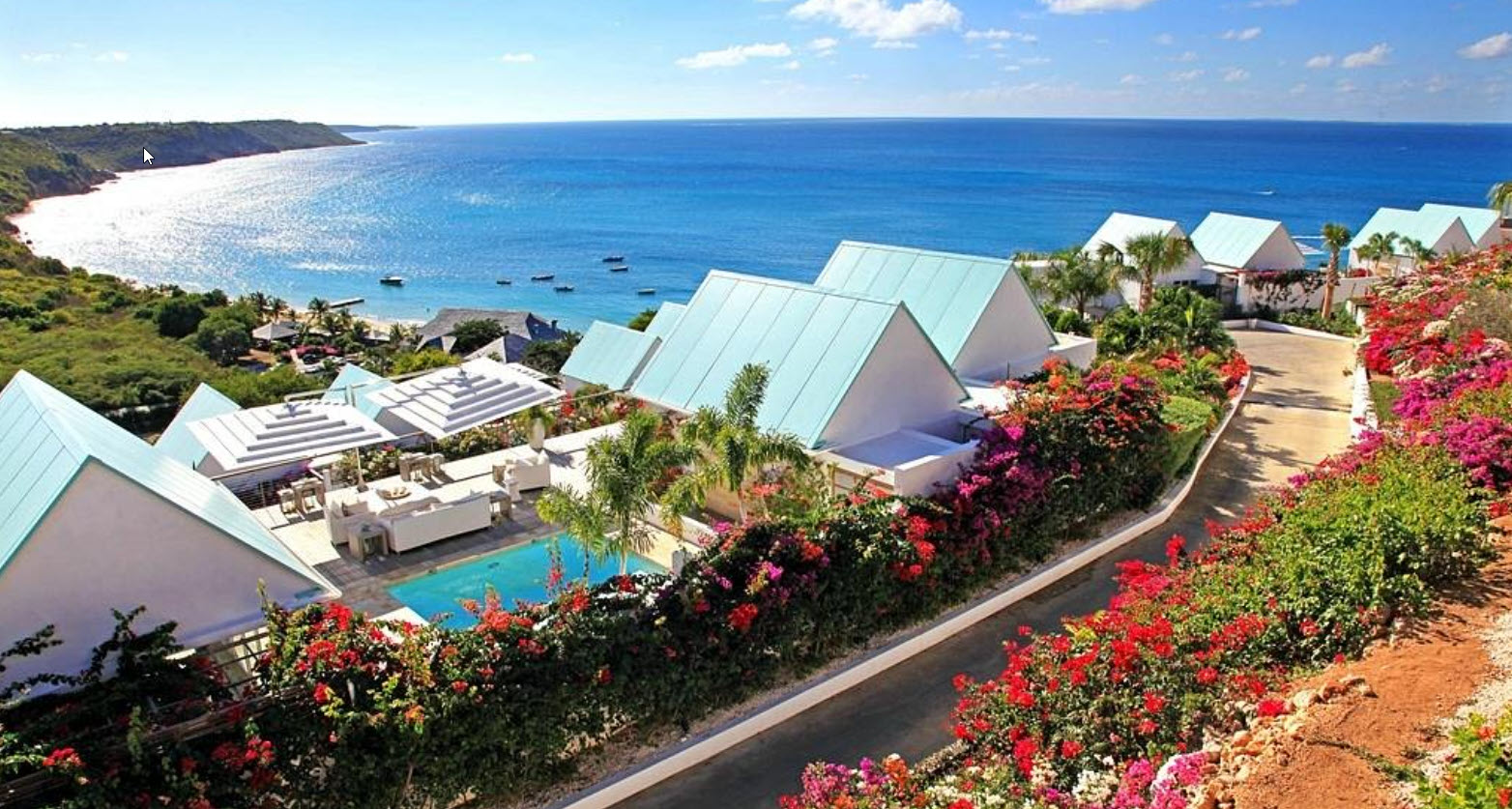 A broad SWOT analysis of is shown below. This is not necessarily exhaustive but provides a framework for consideration.
Strengths
A number of world class hotels
Excellent restaurants & Cuisine
Upmarket appeal
Exceptional beaches & pristine environment
Opportunities
Physical space of expansion
Commitment to tourism development by government
Implementation of classification / standard system
Weaknesses
Inadequate air & seaport infrastructure
Low occupancy rates
Inadequate funding for destination marketing
Tourism development supply rather than demand led.
Threats
Global events
Potential of oversupply of accommodation
Shortage of trained personnel
Little control over scale of developments.
CeBlue Anguilla Villas
Each villa contains nearly 8,000 square feet of luxury living space, combining traditional outdoor living with modern luxury, including vaulted ceilings with teak wood and beams.
CéBlue combines the security of a community with the privacy of an individual villa. Each villa has a stunning view of the turquoise waters of the sea, and the landscaping is a site to enjoy in itself with all the Caribbean colors.
Each villa has a flexible configuration allowing guests to reserve just the right size from three to six bedrooms. Each bedroom offers its own elegant bathroom. Privacy abounds for you, your family and your friends! Click here to view the floor plans of CéBlue Villas.Each villa boasts its own private salt water swimming pool along with an outdoor shower and water feature poolside. Two decks, one open to the sky and the lower deck shaded from the sun, both offering spectacular views.
The kitchens have custom made cupboards, top-of-the-line stainless steel appliances which include a gas cooking, a wine cooler and everything you would want in a gourmet kitchen. They are appointed with beautiful countertops, glass tile back-splashes, Brazillian Quartize flooring and so much more.
Exterior:
Private Salt Water Swimming Pool with Sun Deck
Outdoor Bathroom with Shower
Lighted Water Feature Next to Pool
Outdoor Speakers
Stainless Steel Umbrella
Stainless Steel BBQ Grill
Two Parking Spaces
Tiled Wooden Deck that Extends Out for Views of Crocus Bay
Comfortable Outdoor Furnishings and Outdoor Dining
Resort Facilities:
Concierge
Fitness Center
Children's Game Room
Table Tennis Room
Bar with Wood-Burning Pizza Oven
Blue Bar Sunset Lounge
Men and Women Restrooms
Commercial Laundry Room
Commercial Kitchen
24-Hour Caretaker Apartment
Nearby Oceanfront Restaurant and Spa
Non-Motorized Water Sports and Beach Attendants
Kitchen and Dining Room:
Stainless Steel Refrigerator, Oven, Microwave and Dishwasher
Cuisinart Coffee Maker, Toaster, Juicer, Blender and Hand Mixer
Dining Table for 12
Glass Doors that Fully Open
Wine Cooler
Individual Air Conditioning System
Dinnerware, Silverware, Glassware and Cookware
Kitchen Accessories and Tools
Media Room:
55′ Flat Screen TV
DVD Player
Xbox/Kinect Game Console
Italian Leather Sofa, Two Chairs and Sofa Sleeper
Office Desk with Chair
Bedrooms:
Italian Custom-Made Bedroom Set
Two Night Stands
Armoire
Makeup Desk and Chair
Fully-Equipped Closet
Full Body Mirror
Mesa Keypad Safe
Small Fridge
Bathrooms and Accessories:
Spacious Bathrooms with Separate Toilet Area
Dual Sinks
Spacious Walk-In Shower
Kohler Ceiling Rainmaker
Separate Claw-Foot Bathtub with View of Crocus Bay
Individual Air Conditioning System
Environmental Features:
LED Lighting Fixtures Throughout
Environmentally Friendly Construction Materials
Banana Trees and Other Fruit Trees
Anguilla Natural Stone for Landscaping Rock Walls and Countertops
Safety and Security:
Night Security
Hurricane Rated Construction and Windows
Backup Generator
Reverse Osmosis Water Plant & Backup Public Water
2 Comoglass Sewage Tanks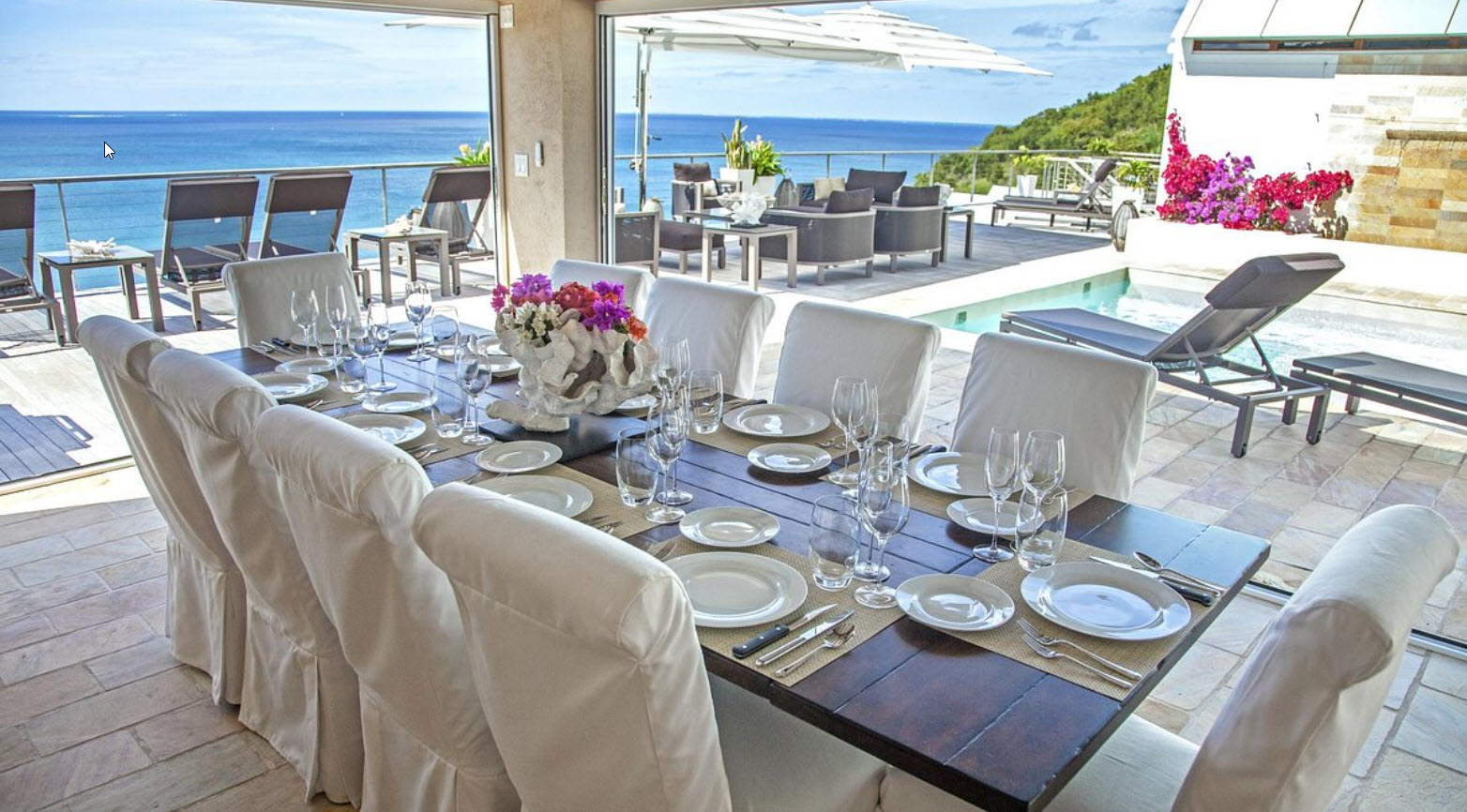 Anguilla Comparative Hotel Analysis
CAP JALUCA ANGUILLA
LOCATION: MAUNDYS BAY ANGUILLA
BUILT / LAST RENOVATED: 1992 renovated 2005
NO OF ROOMS: 70
ROOM RATES US$495 ‐ $1485
HTI RATING 9 ‐ Deluxe
DESCRIPTION
Situated on the southwest coast of Anguilla and overlooking the mountains of St. Maarten only seven miles away, Cap Juluca is perched on 179 acres of land and inland waters. The resort offers privacy and exclusivity located on 2 miles of white sand beach. Anguilla is only 25 minutes by boat from the shops, restaurants, gambling, and international flavours of Dutch and French St. Maarten, and 15 minutes by air or 45 minutes by boat to St. Barths. The accommodations comprise eighteen separate Moorish-style beachfront villas each with no more than 6 rooms or suites. There are six private pool villas that can be enjoyed as either a one-bedroom suite or have up to 5 bedrooms. All rooms are spacious, each with an ocean view and direct beach access. All villas are a short, white sand beach walk from the award-winning restaurants. Between 2012 and 2014 the property was subject to major litigation over ownership of the property which impacted the quality and level of service being provided. This was resolved in late 2014 however it is clear that major investments is required into the property to restore its former position.
FEASABILITY STUDY FOR CEBLUE CONDOS
The Development Site and its Location
The land on which the existing CéBlue villas and the expansion site is located offers, arguably, the best view in Anguilla. The immediate view is along Crocus Bay beach with no development on the low-lying land behind the beach. The long view is along the whole north coast of Anguilla with islands and reefs out to sea. The drive time from the airport (10 minutes) is the shortest of any major resort on the island, although there is no aircraft noise at the site, and the ferry port is only 20 minutes away. Crocus Bay is a favorite spot for superyachts to anchor in a sheltered location.
The beach already has a well-constructed dock for smaller vessels – suitable for dive boats and day trip boats – and the Davida bar/restaurant complex is located in the middle of the beach. The developer's intention is to lease this property, with the advantage that only further resort accommodations need be added for the successful expansion of the existing CéBlue Resort. CéBlue already has a reception area, spa and a casual dining/bar facility.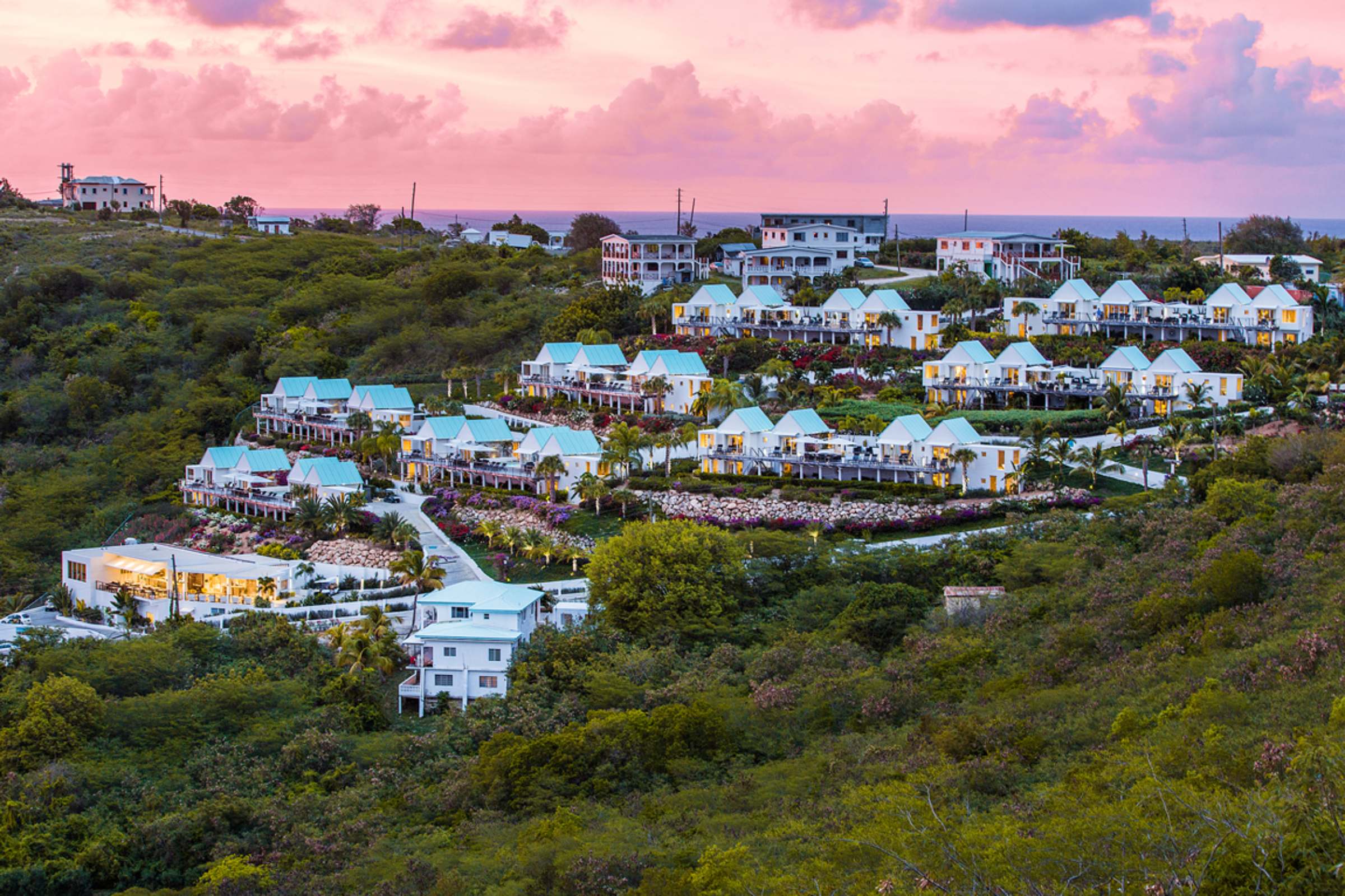 Planning
Planning permission for this low-density development scheme is in line with the site's designated use for tourism development and the project has received strong support from Government so no problems are envisaged for detail planning approval of the larger resort now envisaged. The development's designs will meet current guidelines and codes for Anguilla and meet environmental impact assessment requirements. The resort's policies on sustainability will ensure compliance with the latest standards for resorts in that regard.
The Proposed Product
Designed as a tightly focused 'condominium hotel' product, the CéBlue expansion will be the first of this exact type to be offered in Anguilla and will represent a value for money real estate investment for buyers who seek good rental income in addition to enjoying their vacation home. CéBlue's expansion will feature 45 condos of two and three bedrooms. The 15 three-bedroom penthouses and 30 two-bedroom condos are designed on a modular basis to create an ultra-flexible condo-hotel design for a resort.
The standardized 600 square feet module is 40 feet x 15 feet, 450 square feet internal with 150 square feet part covered/part open terrace. Thus, two and three-bedroom condos are of 1,800 and 2,400 square feet. The design also allows the 2,400 square feet penthouses to be augmented with two rooftop outdoor terrace areas.
With interconnecting doors, multiple options for hotel inventory are created – lock-off en-suite bedrooms and one/two/three-bedroom suites. Maximum total hotel keys are 105, where the 15 penthouse units plus 30 two-bedroom condos are rented as 45 one-bedroom suites plus 60 lock-off ensuite bedrooms.
5 Star Amenities
Development of 3,000 square feet of meeting space and staff areas will add to the comprehensive resort leisure facilities and support areas. Resort amenities include guest concierge and reception, three restaurants/bars, spa facilities, a swimming pool and access to the dock below for dive boats, day catamaran sails, etc.
Highly Competetive
Whole ownership prices are competitive – given the highly desirable location and the full resort amenities available on site. Most of the condo developments currently on the Anguilla market are larger, at higher prices and do not represent the same investment potential for rental income per square foot.
The CéBlue development should enjoy local support because it offers new tourism inventory that will be quick to market. Development as a condominium hotel will provide needed fresh tourism accommodation at an attractive price point. Most current resorts, similar to the CéBlue's standards have oversized condominiums which rent for higher rates but have only similar leisure and meeting facilities.
The accommodations of CéBlue represent unique hotel product on the island because of their absolute flexibility, depending on how the standard 600 square feet modules are utilized as hotel inventory. The extra living space of suites is attractive to wealthier couples and the golf/spa "buddy" market in the high season, while providing value-for-money accommodation for the important families and extended families market during school holiday periods. The design is also suitable for the extended-stay market as 45 of the hotel keys have a kitchen facility. The multi-market potential of the modules is focused on boosting year-round occupancy – ultimately, in the low season, lock-off bedrooms can be offered at very attractive nightly rates by normal Anguilla standards.
New Anguilla Hotel Qualification
The condos will be sold on a whole ownership basis, with annual owner-occupation limited to 7 – 10 weeks across the seasons, so that the project qualifies as new hotel inventory with substantial government fiscal concessions. Most previous similar developments in other islands have restricted annual owner usage to a maximum 56 days, so the expectation is that owners in Anguilla will not take up their full quota of days but, rather, take greater advantage of the income stream from rentals.
The product is targeted primarily at moderately wealthy, regular visitors to Anguilla – residents in the nearest gateway cities – who can enjoy the property both as an easily accessed vacation home and as an income stream. A relatively conservative sell-out period has been projected in the financial data and the project is envisaged to be built in one phase, using fast track construction methodologies to minimize disruption to the existing villa operation. Noisy or dusty work will be undertaken at the lowest point of the season.
A further advantage of CéBlue is the availability of the dock. Anguilla is an excellent base for daysailing or powerboating to the many nearby cays with their wonderful reefs and beaches. The dock also allows guests from superyachts to come ashore and patronize the resort's food and beverage outlets.
CéBlue's business plan is conceptualized to effectively manage risk. The build process involves a low level of construction-related risk and the build quality of the apartments will be sound to withstand potential hurricane events. The main site is well above the hurricane surge level. The project will be thoroughly surveyed to facilitate accurate project costings for the construction works and the existing owner construction team has established a track record of high-quality cost-efficient build standards.
The Anguilla hotel with a maximum controlled allowance for annual condo owner-occupation, allows the project to qualify for tax and duty allowances, inherent in the Anguilla hotel incentives provisions – a major financial benefit for the development company and individual condo buyers. Thus, the condos can be competitively priced, while still producing a reasonable development profit. The ongoing business then benefits, in that the resort can be operated as a 4-star+ boutique hotel with competitive nightly room rates, while still producing an attractive return on investment on a split basis for both the individual condo owners and the developer/owner.
Discussions have already commenced with Kimpton Hotels to manage and market the hotel operation as this company has experience in similar boutique operations in the greater Caribbean area. Kimpton is now part of the InterContinental Hotels Group so that the resort can benefit from the world-wide marketing and reservations systems of this international hotel group and its 5,000+ other hotels around the world. The company's loyalty program is a significant asset in filling rooms, particularly in the low season.
Condo Design, Sales and Rentals
The condo resort business model works on the basis of apartments being designed and developed to be marketable as leisure real estate for outright purchase by individual owners while providing effective hotel type inventory when owners, themselves, are not occupying their vacation homes. Successful condo resorts incorporate traditional resort central facilities for the enjoyment of apartment owners and hotel guests who are paying a nightly rate for accommodation. Typically, these facilities would include restaurants, bars, a spa and gym, meeting space, beach facilities and a well-staffed reception/concierge desk.
The condos are usually designed to function as one, two or three-bedroom hotel suites, with a small kitchen and dining area, but with the potential for individual en suite bedrooms to be "locked-off" – meaning that these rooms can be accessed separately and occupied as individual "hotel type" rooms. This flexible design assists in targeting higher occupancy levels year-round and higher nightly rates than are typically achieved by conventional apartments, being marketed as traditional self-catering accommodation. The architectural and interior design aspects of the apartment layouts must be carefully contrived to achieve the best end result, whereby the usage requirements of both the condo owner and the hotel guest are met to a satisfactory level.
Revenue from the nightly rental business is split between the apartment owner and the hotel operating company – the norm for condo hotels in the North American market being a 38% split of adjusted gross revenue to the apartment owner. The individual owner must still pay condo association charges. The operating company covers the costs of the hotel services from the 62% split and retains the balance as profit. Structured correctly, the Anguilla condo hotel model is effectively self-financing with no ongoing debt structure on the business, save for any individual owner mortgages on the Anguila condos. In island environments, this can represent a more sustainable economic model, with lower perceived risk, than a conventional hotel funded with substantial debt finance.
The condo model fits particularly well in Anguilla, where the cost of entry into the market for a new build conventional hotel is high.
Fiscal Incentives and Finance
We expect that the project will receive the full range of fiscal incentives available for tourism developments, given its superior quality and high-profile brand.
Strengths:
Daily air services from major gateway cities on a year-round basis to the neighboring island of St Maarten
General Anguilla tourism infrastructure is improving steadily
The destination's tax haven status is a useful differentiating factor in broadening target markets
Anguilla is perceived as friendlier and safer than many competitor destinations in the region
The project's location provides a good degree of exclusivity but is close enough to other important tourism infrastructure
The project's waterfront setting is striking and will provide excellent views from all of the real estate units
The development partners have a track record in construction and successful real estate businesses and are well respected, offering a greater sense of security for prospective buyers
Planning guidelines for the island are likely to ensure that the scale and quality of future developments are maintained
The real estate product planned for the development appeals to new markets and thus reduces the development risk element
The project's experienced hotel operator and international branding are significant benefits to the resort operation and should add to real estate values.

Weaknesses:

The length of time required for potential buyers to obtain an Alien Landholding Licence has historically been over lengthy, although Government is increasingly aware of this issue
On an island famous for its perfect beaches, Crocus Bay's beach is good, but not perfect
The islands' dependence on the US market for tourists can make Anguilla vulnerable to fluctuations in America's economic health
Currently the European markets for hotels and real estate are not very active and further improvements in trans-Atlantic air services to St Maarten may be needed to expand those markets
Travellers to Anguilla may find the existing airport to be less than optimal and Government and / or the private sector should give consideration to upgrading the facilities
Development of other resort sites in Anguilla are likely to be progressed over time and, while this will improve airlift to the island, it will be important to maintain the destination's upmarket hideaway profile
The fact that the development is to be carried out in three phases on an existing resort site, means that minimal disruption must be caused to ongoing villa rental operations. This will require the use of some form of fast track modular construction of the building envelopes, followed by a quiet work regime for the internal fitting-out process.

Opportunities

The nature of the Aguilla condo hotel model can greatly widen the range of potential property buyers because of the potential for good rental income offsetting the initial acquisition cost and ongoing property costs
The resort intends to offer activity packages, including day sailing, diving, spa treatments and golf at the championship course which should help to increase occupancy in the shoulder and low season.
The relaunch of the Four Seasons branded resort will contribute to a significant increase in media attention and marketing activities for the Anguilla destination as a whole.
With the development's niche target markets already identified, it is believed that marketing activities should be cost-effective from the outset and produce good results.
For the developer, the deal structure combines reasonable real estate development profits with a debt-free ongoing resort operation
The professional approach on the project to date and the hotel operating and marketing partners should result in a high quality and well-differentiated product from other competitor resorts.

Threats

Air services have to be improved to reduce the risk that potential hotel guests and real estate buyers will be tempted by offerings on other islands which can be more readily and more cheaply accessed
The dependence on the US market for tourists and the ongoing economic conditions in that market might affect demand
The fact that some Anguillans do not view the resort industry as their first career choice means that an effective and well managed human resources plan will be essential
Branding of the hotel may be critical, given the established nature of other hotels
As in any small island, great effort must be put into demonstrating good corporate citizenship in order to gain the trust of the local community
Pressure must continue on Government, the Tourism Authority and the Anguilla Hotel Association to continue progress in improving the country's tourism product and enhancing its profile in all international markets
Progress of the lease on the Davida restaurant/bar complex and / or alternative options must be completed successfully within a short time frame, prior to marketing launch.
Construction and fit-out costs will have to be tightly controlled to achieve an adequate development profit, given island development budgets and the competitive price point of the real estate offer.

Preliminary Capital Budget For CeBlue Anguilla Condos

Resort Development Budget Estimate

Unit Price ($)
REAL ESTATE REVENUE US$(000's)

30 2-bedroom Condos
1,800 sq ft @US$ 830 psf = 44,820
$1,494,000
$1,992,000

15 3-bedroom Penthouse Condos
2,400 sq ft @US$ 830 psf = 29,880

GROSS REAL ESTATE REVENUE 74,700

LESS: Marketing Costs 2.0% of Revenue 1,494
LESS: Sales Commissions 6.0% of Revenue 4,482
LESS: Legal Fees 0.5% of Revenue 374
LESS: Stamp Duty 5.0% of Revenue 3,735

NET REAL ESTATE REVENUE 64,616

ADD: Key Money from Operator 1,500
TOTAL DEVELOPMENT REVENUE 66,116

DEVELOPMENT COSTS

Land 4,000
Infrastructure 2,000

Construction

30 2-bedroom Condos 1,800 sq ft @ $300 per sq ft 16,200
15 3-bedroom Penthouse Condos 2,400 sq ft @ $300 per sq ft 10,800
Common Areas (15% of residential space) 13,500 sq ft @ $75 per sq ft 1,013
Central Facilities
Back of House 2,500 sq ft @ $240 per sq ft 600
Meeting space 1,000 sq ft @ $260 per sq ft 260
Contingency 8.0% of Construction 2,310
Total Construction Costs 31,182 FF&E / OS&E 4,000

Professional Fees

Architects Fees 1.5% of Construction & Infra. 498
Project Management 1.5% of Construction & Infra. 498
Quantity Surveyors 0.5% of Construction & Infra. 166
Structural Engineers 1.0% of Construction & Infra. 332
M&E 0.5% of Construction & Infra. 166
Landscape Architects 0.25% of Construction & Infra. 83
Interior Design 0.75% of Construction & Infra. 249
Other 300
Total Professional Fees 2,291

Other Development & Operating Costs

Legal Fees and Taxes 100
Administrative Expenses 100
Pre-opening Costs 1,500
Total Other Development & Operating Costs 1,700

Financial Expenses

Financing Costs – to be determined

NET ANGUILLA CONDO DEVELOPMENT PROFIT 20,942 28.0%

Ask for the complete Feasibility Study conducted in 2017.
Call Ritika on +17215261819