Book A Property Tour
1-to-1 VIP Service
First, may I begin by saying; our Property tours are at no charge to you.
We have 25 years of experience in making you smile! Try us.
I will be upfront and honest about what makes us successful; we do our homework and Ritika (our Head Broker) is the MOST KNOWLEDGEABLE Realtor in St Maarten!
A Century21 St Maarten agent will always be armed with the knowledge of recent property sales and future construction projects in your location of interest.
Without a St Maarten MLS, this is absolutely priceless information for you.
Call us on +1721-526-1819 to arrange a tour and book your dates.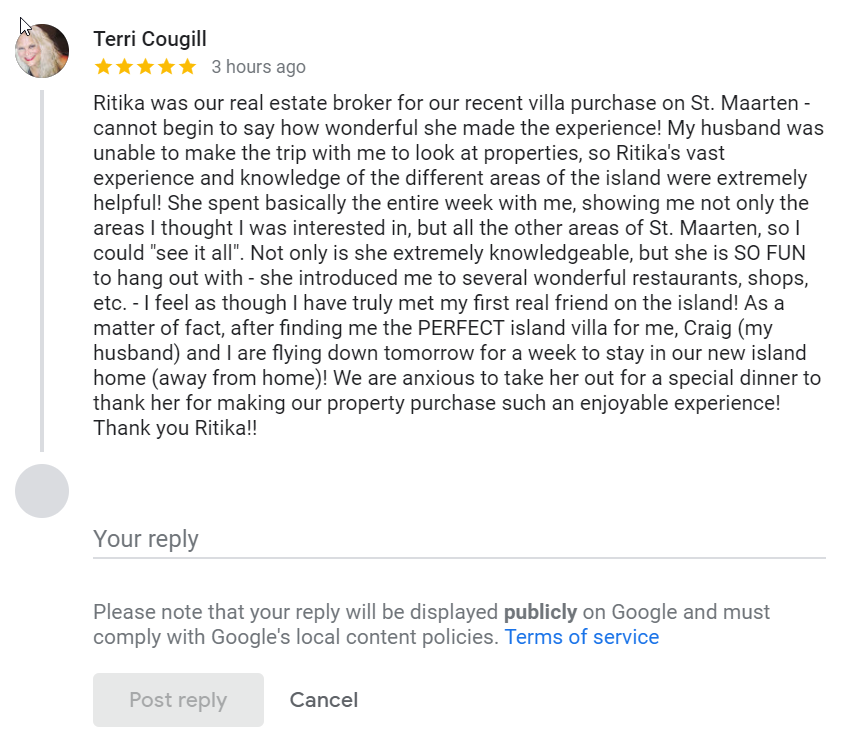 Our property tour can be tailor-made for you.
Tell us what you are looking for.
Everything will be ready.
You fly to SXM in peace.
We give you the tour.
Everything for you.
Dedicated to you.
Live St Maarten.
Book Now!
Important From 1st June 2021: Due to high demand, please book in advance.
A story
Debbie and Richard from Colorado emailed us on 22nd January 2021.
"I have been flying to SXM for 27 years now. Never missed a year! We have timeshares but we want to buy something for our retirement. I am told this is the right time. I want to see everything in Pelican Key under $800,000. No condos please, because I don't like associations. Walk to the beach or in front of a sandy beach would be a bonus. Thank you" (Grammer edited.)
After a month of brainstorming and serious debates with Debbie; they braved the pandemic and traveled to their beloved new home; St Maarten!
I started preparing for their arrival two weeks ahead.
The whole team was involved in finding a suitable 'waterfront' property.
We will always go above and beyond, so expect to see some properties above and below your price range so that you get the full spectrum of St Maarten real estate.
In the background after you send us your request; we start calling our network. This is where we are different.
Other agencies will only provide you listings from ONLY their database; we have decided to spread our wings as far as possible to provide you an experience as near to an MLS (Multiple Listing Service) can provide. St Maarten does not have a MLS, so we are the nearest thing to a proper MLS!
Guaranteed!
This is why we will offer you the largest range of properties in St Maarten.
Book your St Maarten Property Tour Now