New Construction Soleil 2 Bedroom Apartment For Sale
Wow, what a location! Set within the old hills of Point Blanche, Century21 presents to you six new ocean view apartments in a beautiful, safe location. This is where your future begins.
Each two-bedroom apartment has a fully fitted kitchen, bathroom and living area. Ready for you to move in.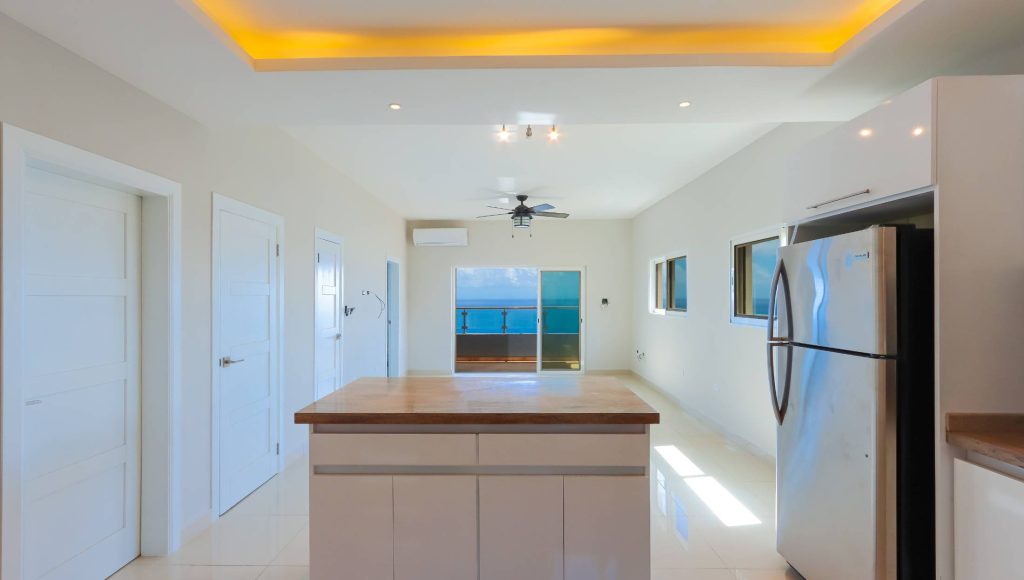 As you enter you arrive in a contemporary open-plan space with a kitchen and living area right before the endless ocean views which can be seen from the balcony. The two spacious bedrooms are ensuite with built-in wardrobes and spacious enough to fit a large bed. One bedroom has beautiful Caribbean ocean views with breathtaking sunrises!
The east-facing property offers stunning views and glimpses of St Barths in the horizon. You are lucky to be the new owner of these modern apartments in Point Blanche hill.
Point Blanche Apartment
Each apartment measures approximately 1300 square feet.
Ceramic tiles for a modern look everywhere.
Spacious balcony offering beautiful ocean views towards St Barths.
Both bedrooms have ensuite bathrooms.
The apartment also includes a half-bathroom for the common living spaces.
Modern appliances and statement kitchen island which also turns into a breakfast bar!
Spacious bathrooms with designer finishing that offers neutral shades and contemporary touch.
The blue azure ocean views from here are amazing.
100% concrete building, roof and structure.
Shared open patio for family meetings.
Parking for each apartment.
Association fees are $150 to $175 per month.
Soleil Apartments
A three-level apartment building consisting of 6 bedroom apartments; Each having front stairs and balcony, Kitchen, Dining / Living room, powder room, and balcony facing the ocean side. Each apt. has 2 bedrooms with their own bathrooms and build in closet.
The property is fenced with a block wall fence. Parking is arranged in front of the building. Projected are left side block fence work, pool, gazebo and other yard enhancements.
Traditional blockwork construction with reinforced concrete columns, ring beam & floor. Roofing is exposed 3'' x 6'' rafters covered with reinforced concrete.
Finishing Materials: Porcelain and anti-slip floor tiles, glazed wall tiles. Alm. / Glass shutter windows with roll-up aluminum shutters. Wood front door. Solid wood panel interior doors. Cabinets & cupboards finished with stained wood doors and drawer fronts and topped with granite. Locks and hardware of Euro-type and Euro Standard sanitary equipment. Interior paintwork is water-based. Dry vit stucco on the exterior of the entire building.
Structure of the building is erected in traditional 8" + 6" block work and reinforced concrete elements. Internal non load-bearing partition walls are constructed with engineered structural panels.
Long Term Investment
This Point Blanche apartment may be isolated from St Maarten's eclectic nightlife; but it offers a typical Caribbean vacation of oceans, nearby beaches and solitude for absolute peace of mind. This makes this ideal for AirBnB vacation rentals. You could make $250 a night per apartment. With a 60% occupancy rate for 10 months a year; you will make $45,000 per apartment every year!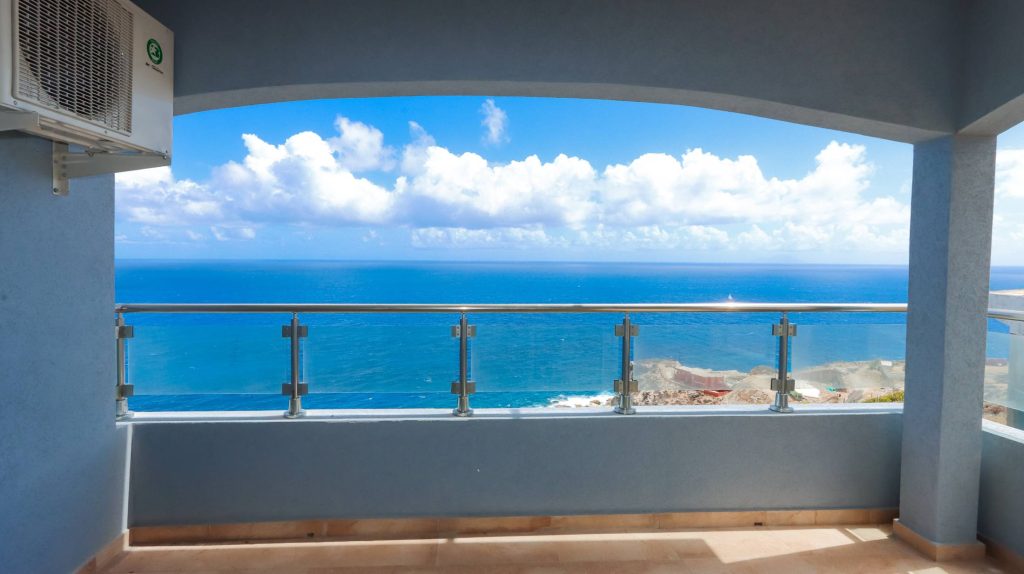 Location: Point Blanche, St Maarten
These Point Blanche apartments are in a paradise location in St Maarten with a plethora of upscale apartments and residences dominating the hills. Home to some of the largest homes on the island and ocean views that are arguably the best on the island, all this means Point Blanche really holds its property value.