1 Bedroom Simpson Bay Beach La Siesta Condo For Sale
Immaculate La Siesta one-bedroom ground-floor condo for sale directly on Simpson Bay Beach. You only walk a few footsteps to the beautiful calm waters of the Caribbean. What an amazing property with modern interiors and the best blue ocean colours in St Maarten. Come see it; to believe it.
Oceanfront, ground floor, 1-bedroom condo directly on Simpson Bay Beach for sale at the perfect price based on recent comparables. A recent one-bedroom sold at nearby Papillon for $700,000! This one-bedroom condo at La Siesta has been recently renovated in a very upscale coastal style. This beach condo provides easy walk-out access to the pool, sand and sea.
The property is privately owned, well-appointed and offers all the amenities of an upscale hotel. The inside of the condo is immaculate, and the La Siesta grounds are meticulously maintained.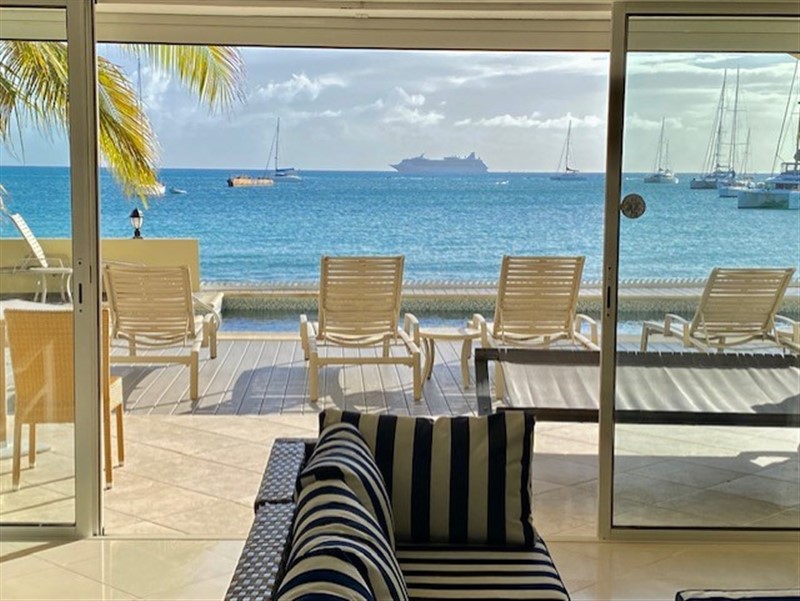 La Siesta 1 Bedroom Condo For Sale
Enjoy the endless stretch of white sand, gently arcing between palm and sea grape trees and the turquoise blues of the ocean.
The oceanfront pool is another gorgeous spot to enjoy the view and soak up the Caribbean sun. La Siesta offers private parking, directly in front of the building, and security.
Newly renovated beachfront condo on Simpson Bay Beach; an amazing Caribbean seafront dream is waiting for you on the fantastic island of Sint Maarten, St. Martin!
Located in Simpson Bay, the heart of St. Maarten, on the turquoise blue water of the Caribbean Sea sits this amazing 1 bedroom 1 bathroom for you!
Fully air-conditioned and tastefully furnished, this walk-to-anywhere condo is on PRIME beachfront. Watch the sailboats, sunsets, sea life and enjoy the Caribbean sun from your deck or the white sand beach.
And this condo is a HUGE earner. Very active in VRBO, it has a full calendar and excellent income history. The owner has taken every care in ensuring their guests are fully satisfied, which has lead to wonderful reviews.
Perfect setup for a Caribbean vacation home and rent it by the week when you are not in paradise. These types of St. Maarten /St Martin investment condos sell very quickly, so don't wait!