Tamarind Hills 4 Bedroom Luxury Villa For Sale
A magnificent Tamarind Hills villa in Sint Maarten with panoramic ocean views of the Atlantic ocean and St Barths so close, you could touch it! On the other side you can even see St Kitts, Nevis and Sint Eustasius. This 3-bedroom villa plus 1-bedroom apartment is located within the upscale and private gated community of Tamarind Hill Estates, right between the famous Dawn Beach Estates and Guana Bay Estates of St Maarten.
Recently renovated and well-maintained this magnificent Tamarind Hills villa offers truly panoramic ocean views from an isolated position; offering the best in privacy and views!
New Frigidaire appliances, new Corian® Quartz countertop, new gazebo roof, and more to make sure you simply move in enjoy the Caribbean experience in your new St Maarten home!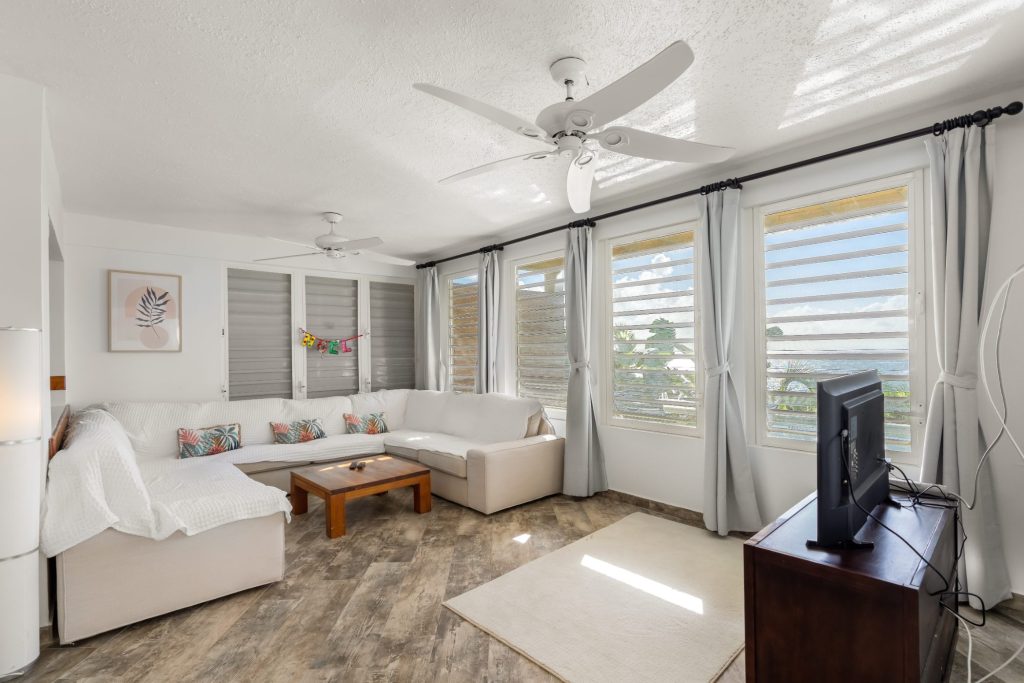 The large bedrooms even offer ocean views everywhere and additional spaces for office or storage. The bedrooms truly offer stunning views and spaces for your Caribbean lifestyle! The living space is large and offers a modern open-plan
Having lived in Tamarind Hills for a number of years; I can offer a lot of information on the neighboring area, nearby amenities, and more importantly sold market comparables for you. Contact me in Quick Message to get more information today.
The property is held in an Off-Shore company which represents a 4% saving on the closing costs if purchased as a Company.
Freehold property located on the Eastern part of St Maarten. The gently sloping land size is 1800 square meters and due to the elevated position of the lot you have turquoise ocean views everywhere including unobstructed views of St Barths.
Tamarind Hills Villa
3 bedroom, 4 bathroom + one bedroom apartment.
The special view of St Barths.
Spacious villa offering 200m2 + terrace of living space.
New Frigidaire appliances installed recently.
Private pool with pool deck and lounge offering ocean views and privacy!
A large studio with a large bathroom adds immense value to the real estate.
High ceilings permit the creation of a cinema room or gym.
A large bedroom with additional room inside offers office space or more for your needs.
Modern architecture, with part of house offering high ceilings and part has low ceilings.
The stunning outdoor pool deck can be accessed from the kitchen and dining areas.
Extra office space available
The master bedroom offers a walk-in closet, and shower and is very spacious for the size of the house.
The kitchen even offers an incredible ocean view for those who love spending time in the kitchen!
The Tamarind Hills Association fees are only $2500 per year.
The garage offers plenty of space for 2 cars and also a small laundry area.
The villa has 3 cisterns, an electric generator and septic. Everything is ready for any event.
The one-bedroom apartment is currently rented and access and parking is completely separate to the main villa.
The entire villa estate is gated and walled with tropical gardens surrounding the villa and apartment.
The pool gazebo roof has recently been replaced for you!
The pool room is in the basement.
The property is held in an off-shore company which requires $900 per year to maintain if purchased as a company.