Belair Real Estate
Belair is an upscale community of large single-family homes on Belair hill with good infrastructure and secure location. It has some of the best oceanview villas and large houses with multiple apartments. Belair does not permit high-rise buildings so the 90% of all homes are between two and three levels.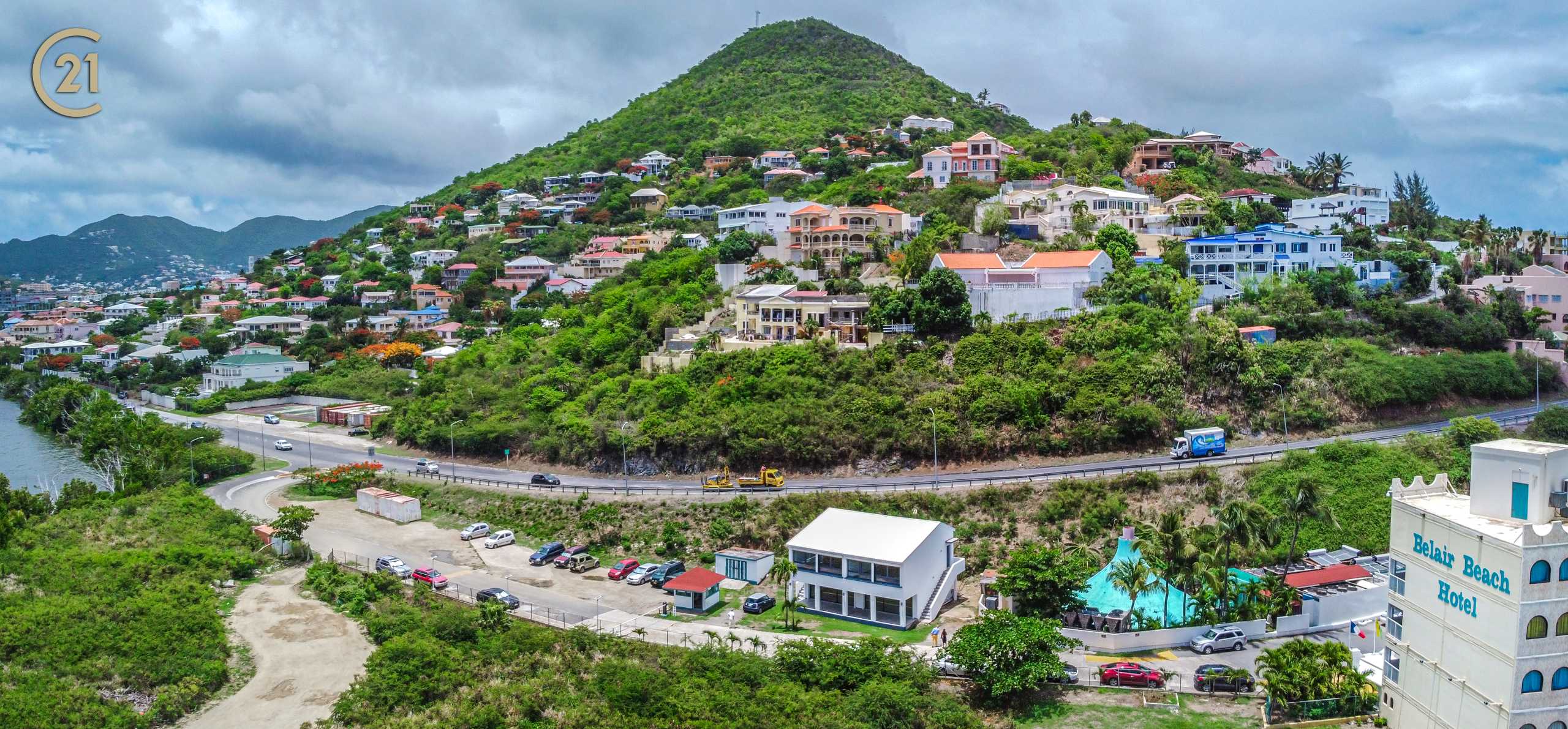 Belair has access to Little Bay beach which is just 5-10 minute walk from Belair. The fresh water pond between the Cay Bay hill and Belair Hill offers a stunning combination of tropical green and ocean blues.
This is a unique view, and one that represents mountains, lakes, oceans and valleys. You have it all in Belair villas.
Things to do in Belair
Belair has access to the best of Cay Hill. Sports facilities like Raoul Illidge Sports Center which offers track and athletic facilities while Belair Fitness Center directly opposite offers strength and balance facilities. Belair has it all!
Snorkeling at Belair Beach: Not only in Belair, but snorkeling is one of the best things to do, all over Sint Maarten. Exploring the waters and swimming with the fishes is an absolute delight!
Fishing: I am no fishing expert but this seems like a local hotspot for fishing on the rocks of Little Bay beach.
Resorts: Belair Beach Hotel, Divi Little Day Resort, and the new proposed Great Bay Hard Rock Hotel offer residents access to world-class amenities in St Maarten all within a short drive from your home.
Pelican watching: Watch St Maarten's national bird majestically hunt for fish along the rocky coastline of Little Bay nearer to Great Bay. A powerful sight in the backdrop of a delightful landscape.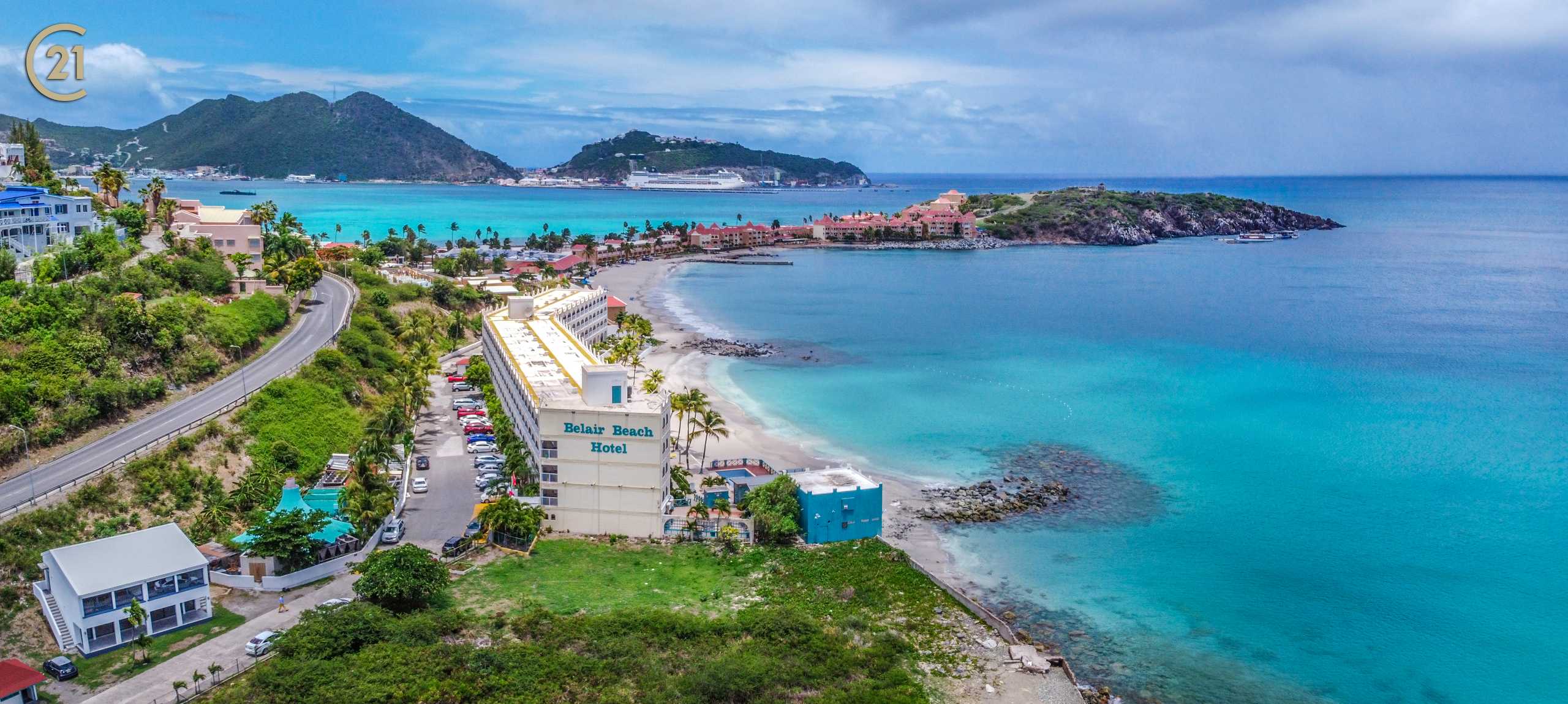 Beaches Near Belair
Little Bay Beach
Not one of the best beaches in St Maarten, however, Little Bay Beach offers you the same calm Caribbean ocean but on a semi-rocky beach. The beach is in a valley between Cay Bay hills and Belair hills.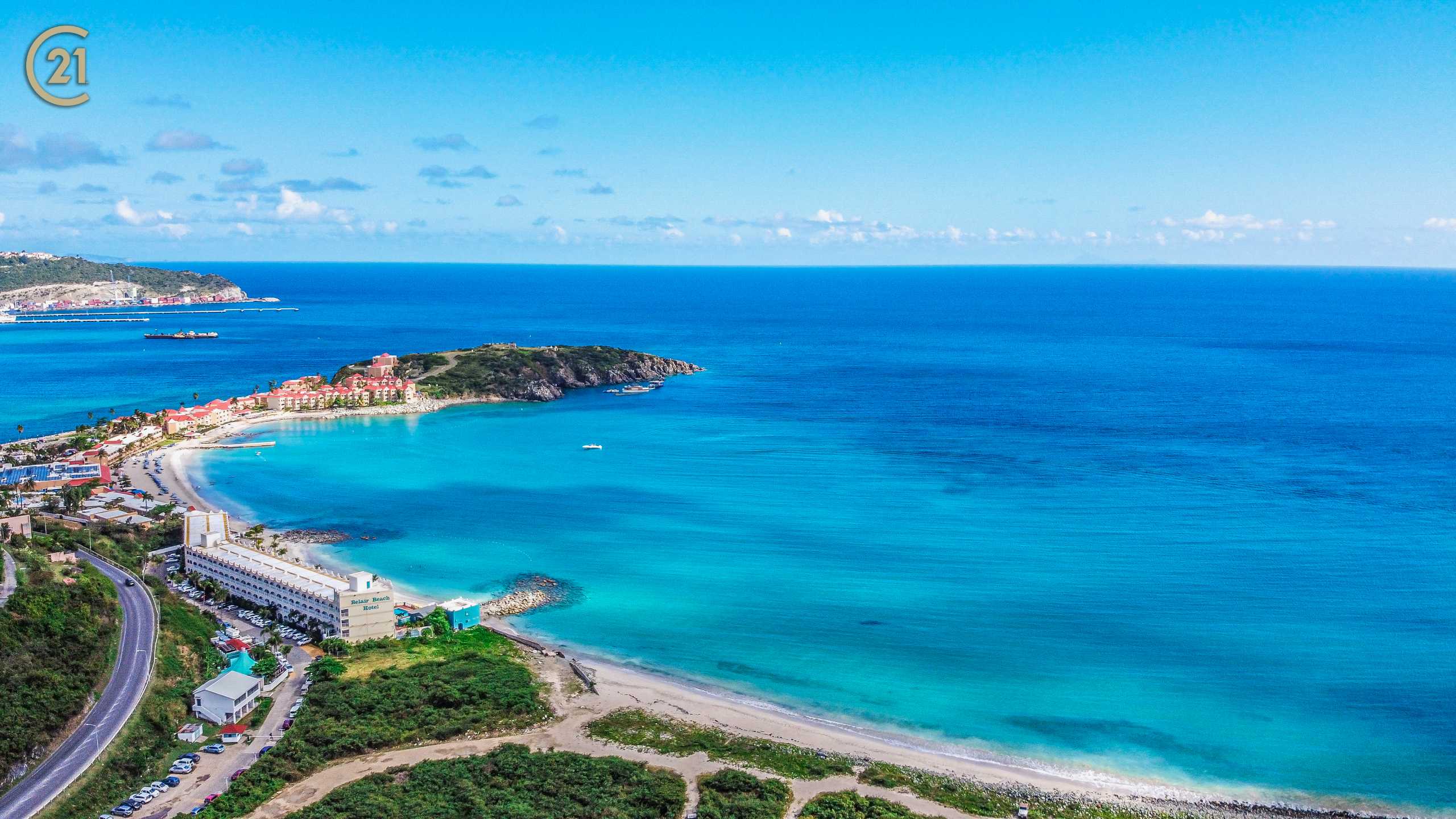 Cay Bay Beach
A secret beach! It also ranks among the top places to visit in all of Sint Maarten. Not only that, but hikers love this beach. It is because Cay Bay Beach is not easy to reach. It is at a 20-minute distance from Cole Bay Beach, and hikers come to this beach on foot, bike, or horses. So, if you are a hiker, you know where to go!
Rocky shore of Little Bay
Not necessarily a beach, but worth a mention. Watch the Pelican's hunt here. Its a beautiful sight of nature.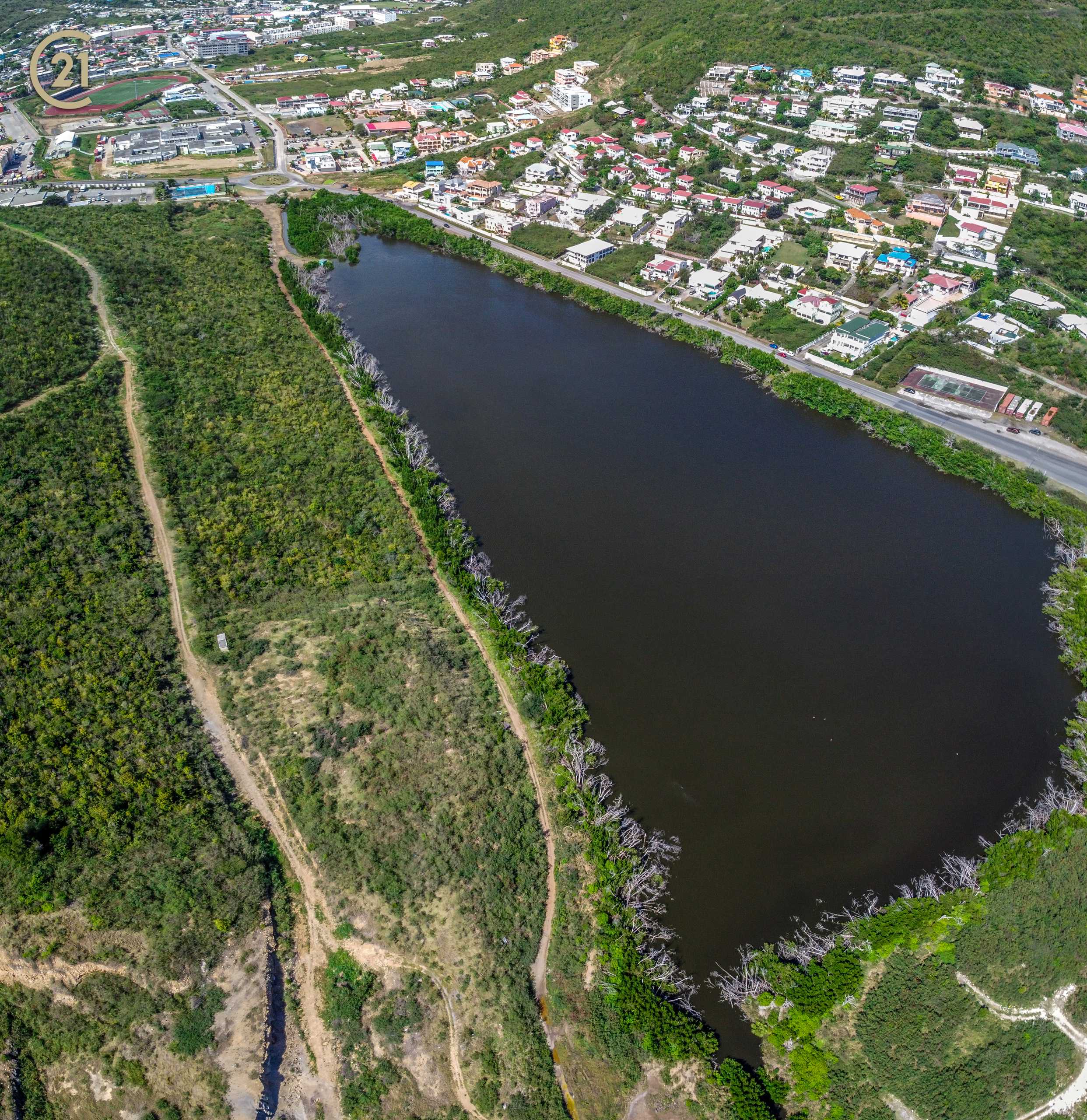 Restaurants in Belair
Belair Beach Hotel
If you visit Belair, you must visit Belair Beach Hotel. It will make you feel like it is your home away from home. Belair Beach Hotel is the only oceanfront resort in Sint Maarten that has all suites. You will have your private terrace to enjoy the view of the ocean from your suite.
It also has a fitness center that has a fully-equipped gym, pool, tennis court, squash court, and changing rooms. Belair Beach Hotel has a lot of positive feedback, which is why people keep on visiting the hotel year after year. Belair Beach Hotel is near Fort Amsterdam and Boardwalk.
Gingerbread Cafe
It is the onsite restaurant in the Belair Beach Hotel. People visiting the Belair Beach Hotel will have direct access to the Gingerbread Cafe.
Divi Resort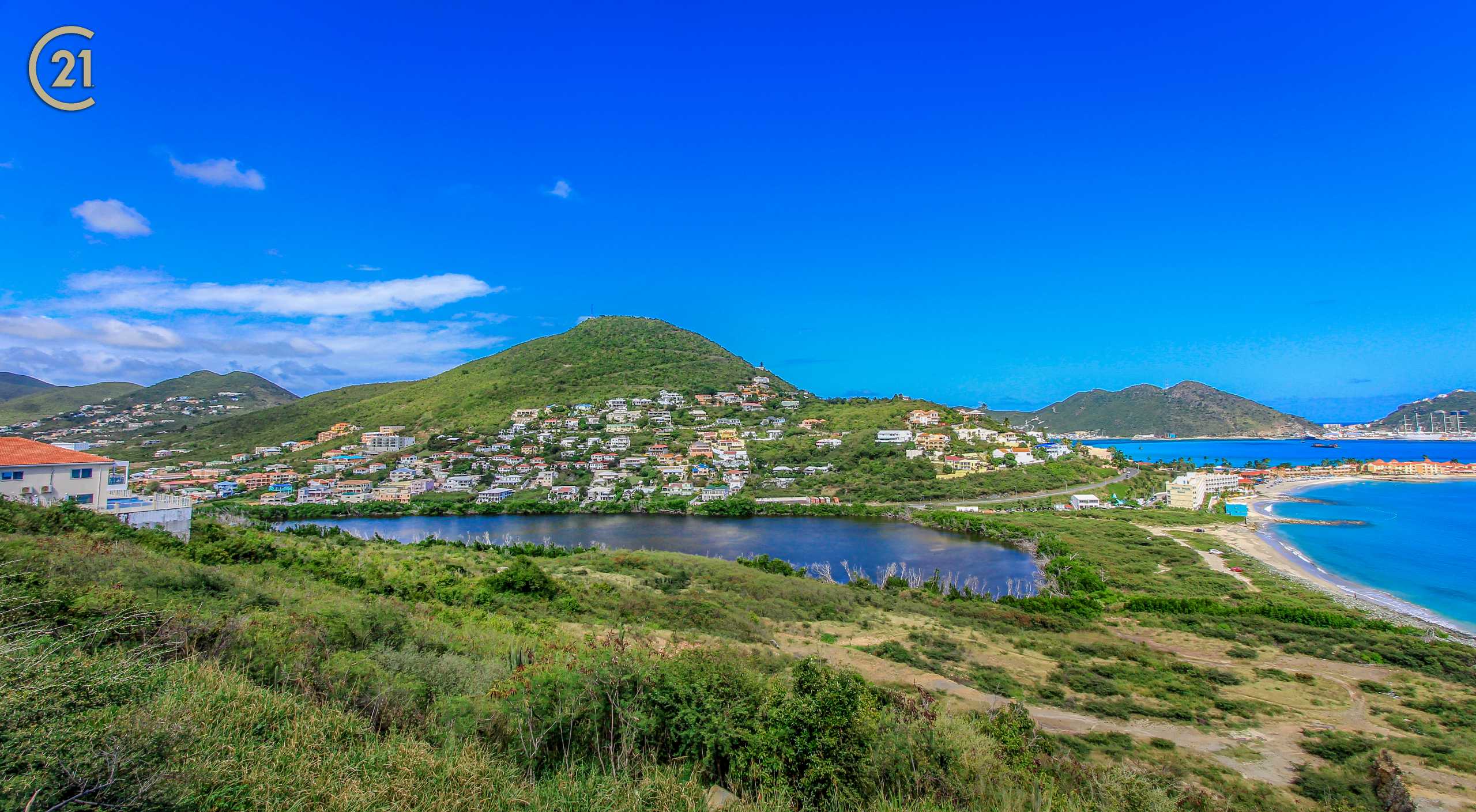 New construction in Belair, St Maarten?
Belair Beach Condos
These condos will be the most luxurious beach development in St Maarten. Belair Condos brings a new level of luxury to St Maarten with beach condos for over $1million. Incorporating world-class amenities like spas, boating, and restaurants, Belair Condos is going to be the most desirable condo development in St Maarten.
Obi Hill Condos
Modern, luxurious and perfect location! You will get the best two-bedroom semi-furnished apartments here. You will have a view of the mountains, the ocean, and the Belair Lagoon. If you are looking to invest in this place, it is a wise option!
Cay Hill
It is an area in Sint Maarten that has a lot of properties on sale. The villas and apartments in Cay Hill offer properties at medium end of the real estate scale with most properties being newly built!
Prices of the best properties in Belair
Obi Hill Condos: $495,000
Villa La Dolce Vita: $530,000
Belair Ocean View Villa: $399,000
Belair Ocean View Lot: $255,000
Villa Sunshine: $950,000
Houses for rent in Belair
Belair Spacious Two Bedroom Villa: $3,000 per month
Belair Apartment: $1,600 per month
Mare Visum Villa: $2,300 per month
Morning Dove: $3,800 per month
Condo Nicole: $3,300 per month
Villa Melinda: $2,500 per month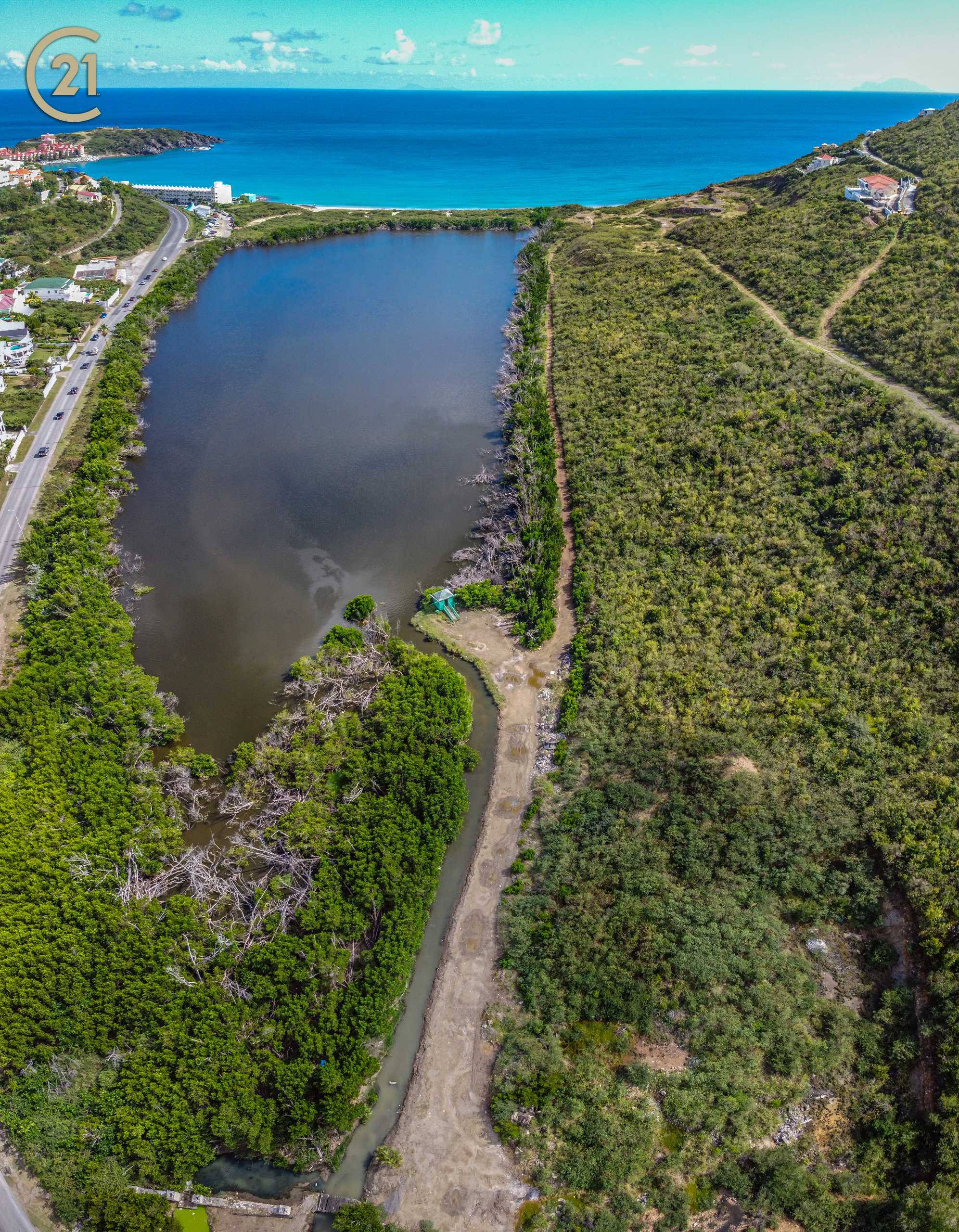 Supermarkets in Belair
Belair Mini Market
The best part about the Belair Mini Market is that it is open 24 hours, so you can get it from here if you need anything urgently! The Belair Mini Market is near the Belair Beach Hotel. It has all the essential supplies and groceries a person will need in Belair.
What are people saying about Belair?
A lot is in development in Belair, but the beaches, the apartments, and all the things to do in Belair make it an enjoyable place! Belair Beach Hotel is by far among the best places in Belair. It will make your stay worthwhile! Investing in the properties in Belair is an excellent option because not only are the properties outstanding, but it will also appreciate with time.
Looking to purchase a property at Belair, St. Maarten island. It is a great place to purchase a villa, condos, ocean-view villas of your own. Sint Maarten is shared by dual governed of Caribbean. The beaches are with delightfulness recipes of Dutch and French. Belair, St. Maarten is the place for who like to eat well, party hard and relax on the white-sand beaches. Find the best Condos or Villas for sale at Belair, St. Maarten. Planning for a family vacation? Wanted to relax from work? More relaxation, exciting events, and lounge back at Belair, St. Maarten.
Belair, Sint Maarten is known for powdery white sand beaches with a tropical paradise with turquoise waters, clear skies, and mountainscapes, etc. Find real estate properties in Belair, Sint Maarten, where you can find the best villas at Belair, Sint Maarten.
Find Best Villas for sale at Belair, St. Maarten. Find Condos for sale at Belair. Find the best Apartment for Sale and Rent at Belair, St. Maarten. Find real estate properties for sale at Belair, St. Maarten. Find Beach Side Villas for sale at Belair. Find Ocean-View Apartments for sale at Belair, St. Maarten