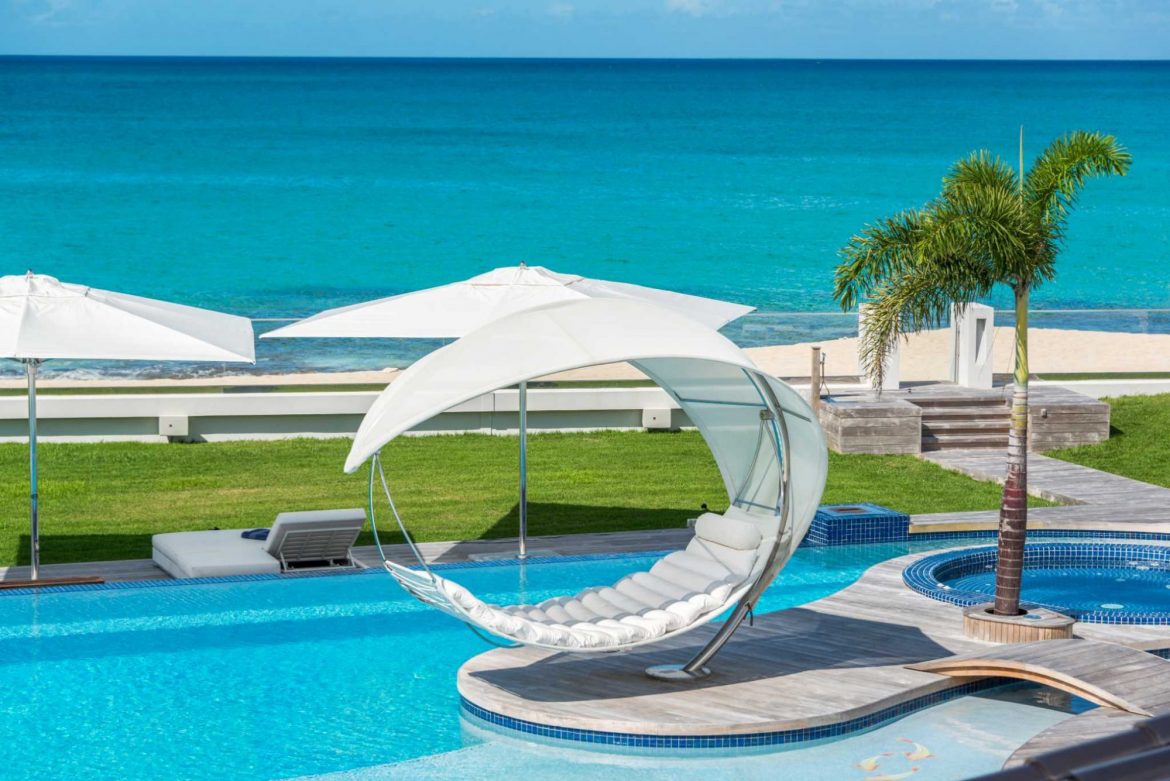 Terres Basses Real Estate
Terres Basses Villa, on these 500 hectares, more than 300 properties will gradually be created – today 260 are already built, around forty plots of land are still not built. The natural environment is exceptional for its vegetation and its fauna. Its opening onto three of the most beautiful beaches on the island (Baie Longue, Baie aux Prunes and Baie Rouge) adds to the beauty of the place which conquered the founder and the first occupants of the Allotment. Sea turtles regularly come to lay their eggs on these beaches, seabirds have taken up residence on "Birds' Cliff", mongooses, which have long had no snakes to kill and eat, are not afraid of man and come to hang out in the gardens, near the houses.
Just 2 hours from USA, St Martin's soft white sand, lush green vegetation, clear blue waters blending into an azure sky, pause, breath, hmmm … this really is a heavenly setting. Terres Basses Villa For Sale, The island of Saint-Martin is absolutely unique and mysterious. Two cultures, French and Dutch, live side by side, mingling, inspiring and enriching one another, on this magnificent territory of only 95 square kilometers. The island offers visitors heavenly beaches with crystalline turquoise waters, delicious French cuisine, a vibrant nightlife, sports activities, haute shopping and much more.
The island has more than 300 restaurants, duty-free shopping and 37 white sand beaches. About 41,000 people live on the Dutch side, and 36,000 on the French side.
Terres Basses Villa For Sale, Once you experience St Maarten, you will always come back. Spellbindingly gorgeous (literally!). Terres Basses tops this list with not just great views and soft sands; any Caribbean island can give you this, staying in Terres Basses is about access to St Martin's best while keeping you secure in this palatial estate.
Its right on the so called 'Dutch border' giving you access to the vibrance of Dutch St Maarten and literally 10 mins to Marigot, the romantic capital of the French island.
Near everything, enjoying the best of nature and sights within the secure bubble of Terres Basses Villa.
Terres Basses, St Martin

Did you know that Terres Basses Villa was a separate island to St Martin! Thats why the land is richer when compared to St Martin land. Millennia ago, Terres Basses Villa For Sale was an independent island which slowly attaches itself to Saint Martin. This happened near at the two shorelines of Nettle Bay and Simpson Bay. The nature of the soil, mainly limestone with its white stones, contrasts with the rest of Saint Martin, especially volcanic with grayer stones.
The westernmost part of St Martin, a dollop of land that seems barely tethered to the island, features three secluded beaches dotted with million-dollar villas.
Facing southwest and stretching more than a mile from end to end is aptly named Baie Longue (Long Bay). However, only the generous section of beach near the luxurious La Samanna offers sand down to the waterline. On the rest, the ocean meets a colorful strip of limestone ironshore.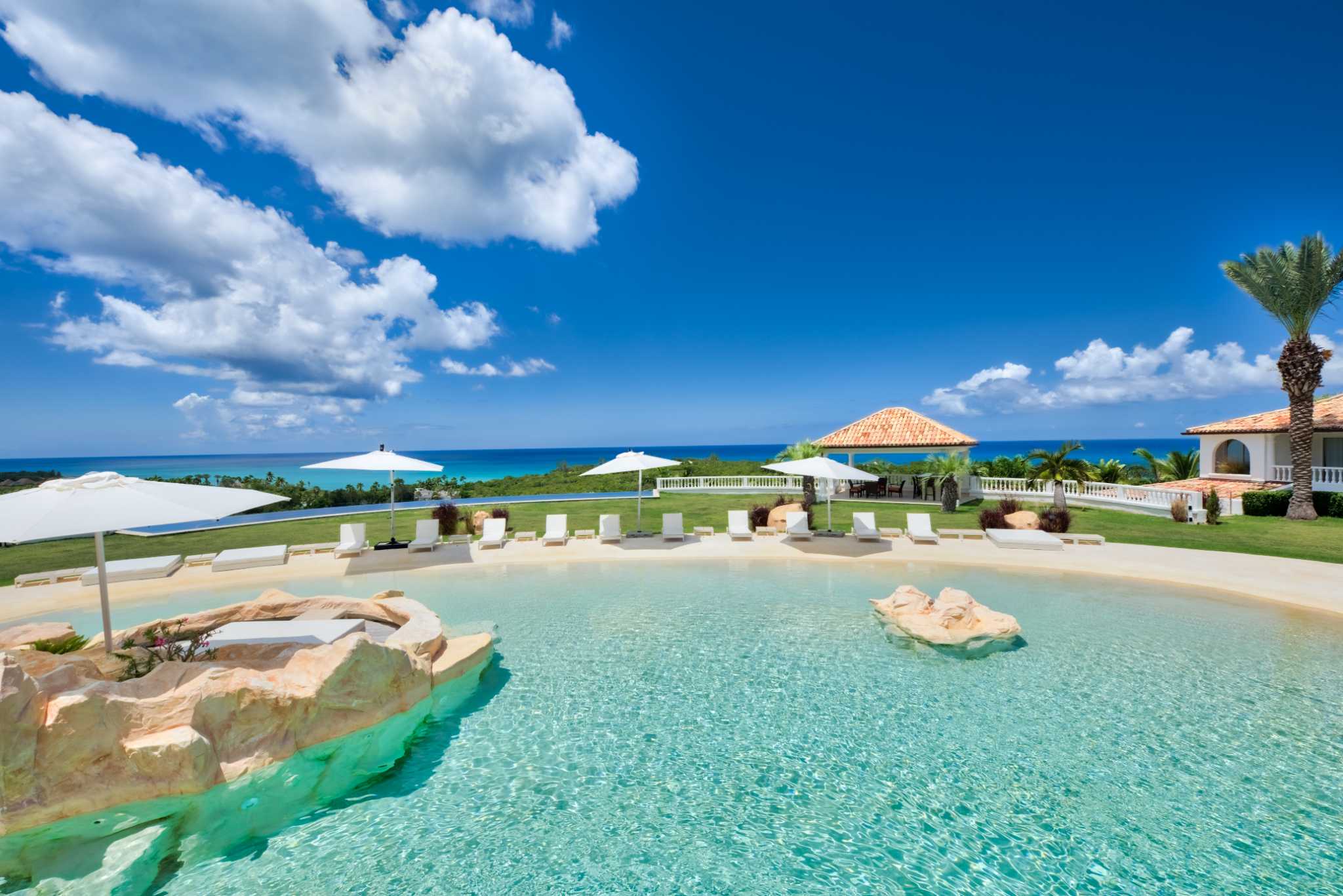 Terres Basses Villa For Sale, The surf often kicks up in September and stays rough through November or December, making for dangerous swimming, but the entire beach is always great for strolling, golden sunset views and shell collecting.
Moving west, you reach Pointe du Canonnier at the very tip of the island. Around the point, Baie aux Prunes (Plum Bay) unfurls a sea grape-lined ribbon of paper-white sand. Dive into the clear water at its north end for superb snorkeling and swimming, and claim a spot for what is, hands down, the best beach for a romantic sunset.
Facing north and bordered by towering cliffs on each end, Baie Rouge's (Red Bay) long arc of beige sand and calm blue water is the most popular of the Lowland beaches. Snorkel through the rock arch on the east side, called David's Grotto, and you'll find a hidden nook of sand.
Aside from private villas, the only rooms out here are at the four-star La Samanna, which has a commanding view from atop Baie Longue's east cliff. Lounges and water-sports equipment are for guests only, but the beach is open to all.
Road signs lead to Baie Longue and Baie aux Prunes; park on the unmarked sandy pull-offs and follow the footpaths between fences. Shell collecting is best near Pointe du Canonnier.
Terres Basses Villa For Sale
For Sale in Terres Basses
Looking to buy in Terres Basses Villa? Which villa is for sale?
We can email you the FULL availability list from all the agencies!
One stop for everything Terres Basses.
Changing Terres Basses real estate.
Trusted in St Martin.
I can also email you By Laws, Association rules and Maps.
Update February 2021: Currently over 40 villas for sale in Terres Basses Villa. Call me or latest availability.
For quick response, please contact me on my St Maarten phone number +1721 526 1819.
Thank you.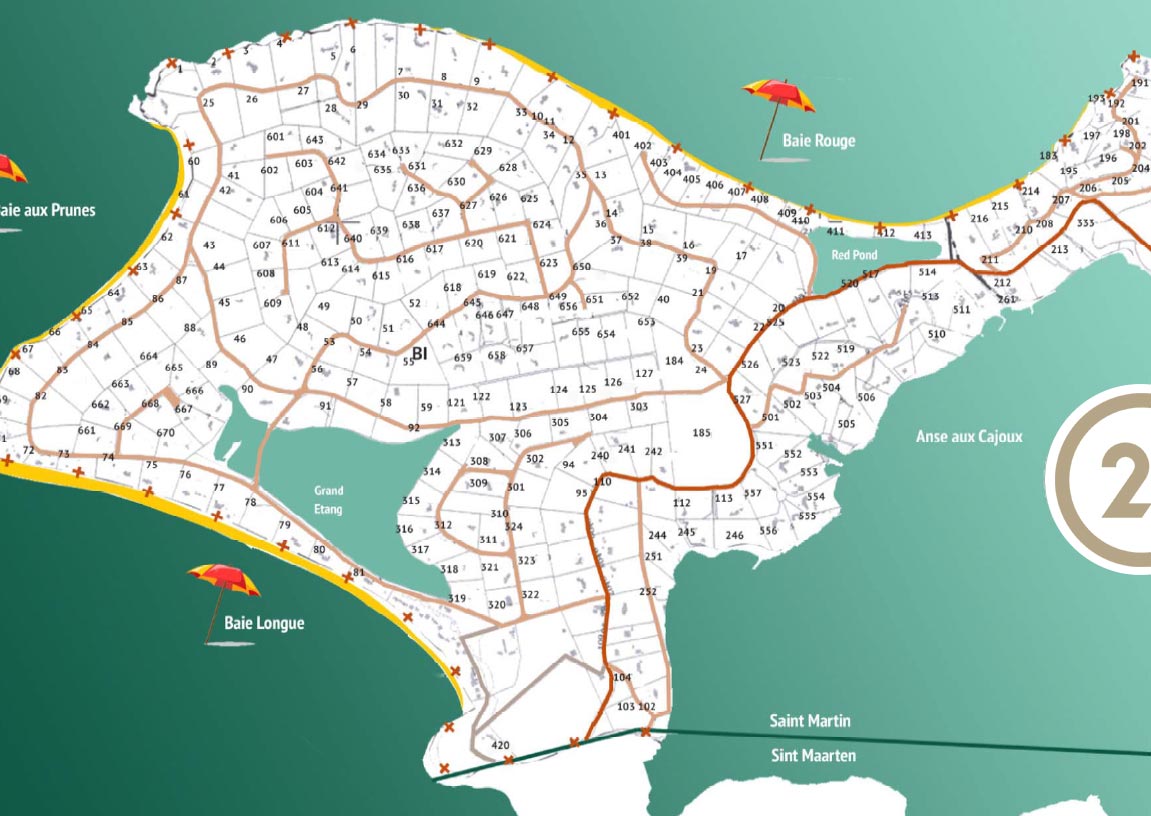 Lot numbers are a guide only.
Feb 2021 update: Lot numbers are work in progress.
Falaise des Oiseaux Villas and Baie Rouge Hillside Villas
Lot 5: La Dacha (5br)
Lot 6: l'Olivier (4+1br)
Villa Truffle
Lot 7: Belle Etoile (5br)
Lot 8: Falaise des Oiseaux (2br)
Lot 9: Mongoose Run (3br)
Lot 10: and 11: Mes Amis Villa For Rent (11br) & Mon Ami (3br)
Lot 12: Marine Terrace (5br)
Lot 14: Beaulieu (3+1br)
Villa Amber (3+1br)
Lot 19: Las Palmas (2br)
Villa Turquoise (3+1br)
Robinson (4br)
Terasse de Mer (4br)
Nid d'Amour (2br)
Casa dei Fiori (3br)
Modani (3br)
Pointe des Fleurs (4br)
Bijou (2br)
La Siesta (5br)
Maison de Reve (6br)
Le Mas des Sables (3br)
Esprit de la Mer (5br)
Ixora (3br)
Blue (2br)
Bahia Blue (4br)
Baie Rouge Beach Villas
l'Oasis (5+1br)
Serena (6br)
Casa Cervo (4br)
La Mission (4br)
Petit Pont (4br)
Les Palmiers (1br)
Beau Rivage (3br)
La Perla Palais (3br)
La Perla Classic (1br)
La Perla Bianca (1br)
Interlude (4+1br)
Little Jazz Bird (3+1br)
La Vie en Bleu (2br)
Carisa (2br)
Le Reve (5br)
Joie de Vivre (3br)
Tamarind (3br)
Libellule (4br)
Le Caprice (5br)
Plum Bay Beach Villas:
The most exclusive part of Terres Basses, St Maartin.
Soleil Couchant (2br)
Day-O (3br)
Plum Beach Retreat (3br)
Chateau des Palmier – Beachside (9br)
Chateau des Palmier – Gardenside (9br)
Plum Point (2br)
Mount Rouge and Simpson Bay Lagoon Villas:
La Salamandre (6br)
Mirabelle (3br)
Ait Na Greine (4br)
Villa Mezel For Sale (5br)
Suivez le Soleil (4br)
Azur Reve (4br)
360 Degrees (4br)
Maison de Miki (4br)
Speranza (3br)
Acqua (3br)
Le Mas Caraibe (3br)
Les Alizes (5br)
La Rocher (4br)
Escapade (4br)
d'Art (4br)
Terre Azure (4br)
Cala Luna (2br)
Lagon Bleu (3+1br)
Portofino (5br)
Alexandra (4br)
Fields of Ambrosia (3br)
C'est la Vue (6br)
Terres Basses South Villas (Near La Samanna)
Kiwi (3br)
Lotus (3br)
Hacienda (3+1br)
La Tropezienne (5br)
Large Villa La Bella Casa For Rent(5br)
Quatre Saisons (3+1br)
La Bastide (3+1br)
Always (5br)
Magnolia (4br)
La Pergola (4br)
Mer Soleil (3br)
Villa Grande Azure For Rent (4br)
Petit Bleu (1br)
Jacaranda (3+1br)
Bamboo (2br)
La Josephine (5+2br)
Cyrano (3br)
Azur (4br)
Baie Longue Beach Villas:
Blue Beach (3+1br)
Turtle Nest (4br)
Eden (5br)
Baie Longue Beach House (3br)
Owl's Nest (4br)
Pauli Mar (4br)
Les Trois Jours (6br)
Terres Basses Central and Main Entrance Villas
Callisto (3br)
No Limit (3br)
Sea Vous Play (4br)
La Favorita (3br)
Les Zephyrs (3br)
Little Provence (2br)
La Provencale (5br)
Ambiance (1br)
Lune de Miel (1br)
Belle Fontaine (4br)
La Croisette (4br)
La Nina (2br)
La Pinta (3br)
La Savane (4br)
La Currah (2br)
Sol E Luna (3br)
Frangi Pani (3br)
El Olvido (3br)
Pamplemousse (5br)
Clair de Lune (4br)
Blue Passion (4+1br)
Mille Fleurs Villa For Sale (4br)
Just in Paradise (3br)
Monaco (3br)
Petit Pavillion (1br)
Greystone (3br)
Bali (3br)
Nuit Blanche (3br)
Alizea (3br)
Giselle (4br)
Floreale (4br)
La Meridienne (4br)
Jardin Creole (4br)
Cascades (5br)
Oceane (4br)
Modern Villa Grand Bleu For Sale (4br)
Encore (5br)
Jasmin (5br)
Monchal (1br)
Grand Palms (3br)
Blue Palm (5br)
Mariposa (4br)
Sandyline (7br)
Harmony (2br)
Coral (2br)
Agora (4br)
Note: Any Terres Basses resident who prefers privacy, we are happy to oblige to your concerns. Contact us please.
View this post on Instagram
Celebrities and VIPs seeking privacy and security all own luxury villas in Terres Basses Villa.
The largest luxury estate in St Maarten.
Sharing beaches with Belmond La Samanna, St Martin's celebrity-favorite resort.
Three pristine secluded beaches within 3 minutes of Terres Basses.
Each lot size is at least 10,000 sq m.
There are 320 lots.
Facing Northwest, you have the magnificent Saba island in the background with sunsets in colors that have no names!
Terres Basses Rules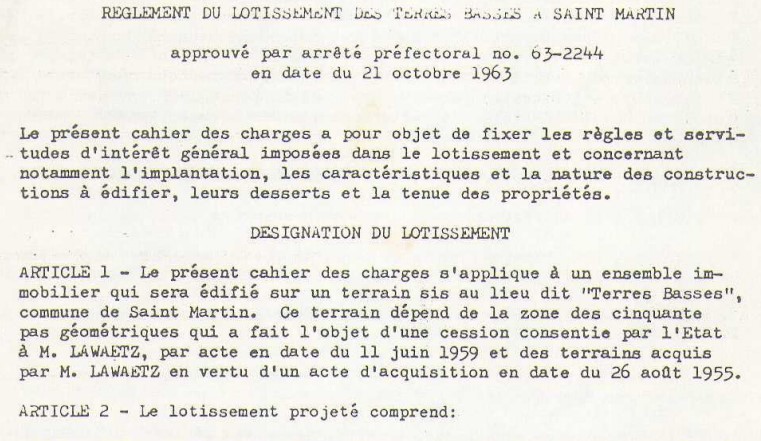 The owners of all lots shall join an association of which each purchaser shall be considered legally obligated to become a member by the solo fact of his purchase. The Association called ASSOCIAIION SYNDICALE des PROPRIETAIRES des TERBES BASSES IS authorized by the French government to enforce the Cahier des Charges.
The zoning regulation requires one (1) hectare (2.117 acres) per dwelling. No subdivision beyond this is permitted.
Each lot shall contain one story main house ; secondary structures for garage or servant quarters are permitted. EXPRESSELY forbidden are two main dwellings per lot, containing separate family units.
Terres Basses Association
Terres Basses Villa For Sale, The purposes of the Association are to create and preserve the Terres Basses section of St Martin as a harmonious and attractive residential community for the benefit of all landowners, and to provide for the maintenance, repair and development of roads, beach lots and other common facilities.
It is hard to imagine the condition of the roads in the Lowlands from 1957 through 1963. Little was done to improve these roads until 1963, when the directors hired a contractor, bought road building equipment and built the base for what is now known as the International road. In 1968 the Association turned over the road to the Government, but it was not until 1975 that it was paved. The remaining French roads belong to the Association which is responsible for yearly repair and maintenance.
The BY-LAWS of the Association and the Cahier des Charges have been adhered to with very few exceptions – a fact that reflects the strong desire on the part of the overwhelming majority of the members to maintain the Terres Basses section of the Island in the manner for which it was originally conceived. It is this conception which has led to the tremendous appreciation of values and to the recognition of' the Terres Basses section of St Martin as one of the most desirable living areas in all of' the Caribbean.
While almost exclusively American in the beginning and through most of its formative years, the membership is becoming increasingly international.
Terres Basses Security
Terres Basses Villa For Sale is connected to mainland by a thin strip of land which makes securing the estate easy, while providing additional premium shoreline for luxury villas. The largest security force of any residential estate in St Martin.
This makes Terres Basses the most secure residential estate in St Maarten!
The best homes are there.
Movie stars and artists, they all live there.
Precious art and antiques lay hidden there.
The best parties happen there.
Pink sunsets come there.
Les Terres Basses, legendary as the name!

Terres Basses Investment Property
Contrary to the simplistic designation of Terres Basses as being a green upscale residential area, it should also be mentioned as an area of strong economic importance. In fact, a majority of the Terres Basses villas are an economic entity since the villas are rented as seasonal rentals for a large part of the year.
These Terres Basses villas, which complement the island's hotel possibilities, employ a large number of employees year-round (cleaning women, gardeners, maintenance men) and provide work for many service companies: swimming pool maintenance, cleaning of linen, rental of boats, jet skis, motor vehicles and for the wealthy, maintenance and provisioning of yachts, parking of jets and private planes.
Terres Basses Real Estate is so good that even Donald Trump's real estate venture arm has a property in Terres Basses. I can however confirm that Trump has never been to the Chateau des Palmiers, unless he arrived in secrecy!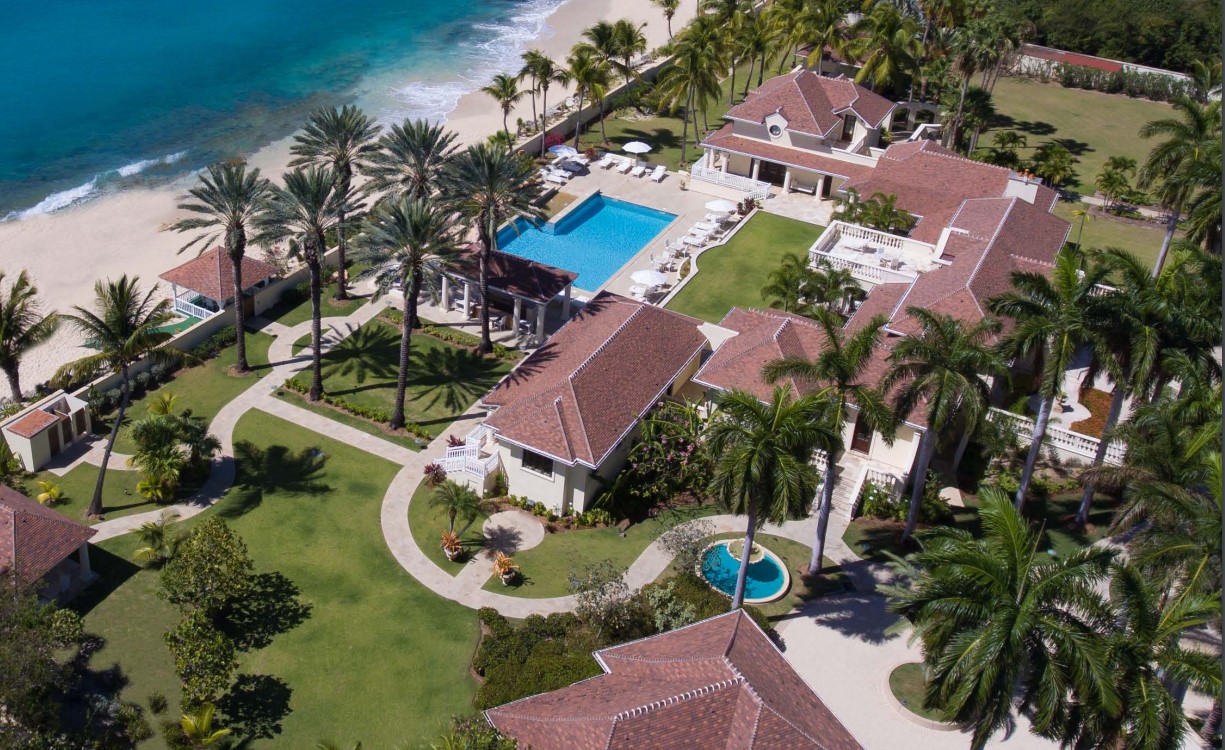 The Trump St Martin Villa website describes the property as:
"Bought in 2013 by Donald J. Trump, and located in Terres Basses in French St. Martin, Chateau des Palmiers is a breathtaking beachfront estate in an exclusive gated enclave. With a 6 -bedroom ocean side villa and a 4 bedroom garden side villa, the chateau is perched on the beach of Plum Bay, known for its white sand and perfectly rolling waves. The landscaped grounds enhance the elegantly designed villas, with a spectacular heated pool, a tennis court, fitness centers, spa, and dining areas. Every amenity is provided, making this a full service private resort. To ensure complete privacy and safety, there is a state of the art security system, surveillance cameras and an 8 ft. boundary wall. Ideally situated, Chateau des Palmiers is close to Marigot, the capital of the French side of St. Martin, and within 10 minutes from the island's international airport."
For sale at $28,000,000 listing price. Anyone?
It earned Trump between $200,000 and $2 million in rental fees between 2014 and mid-2016, according to financial disclosures, so its surprising to see this Terres Basses villa for sale.
Terres Basses Beaches
Baie Rouge Beach
In terms of natural geographical boundaries, Baie Rouge villas are part of Terres Basses.
Some beachfront properties are part of the Terres Basses Association and some are out of it.
But every single property here is seriously lavish.
Just watch out for my favourite Le Reve at 2:45 in the video below. This video shows Baie Rouge beach from one end to the other including a focus on villas around the hilltops of Baie Rouge beach.
People say:
– The water is crystal clear water and gorgeous pink sand awaits you.
– Great snorkeling and quite walks. Bring your own things, no service here.
– Nice long beach. You can take a very long walk here along side the cliff and look at some of the villas you wish you could rent for a month or two 😉
– Plage unique, avec de beaux poissons colorés directement à vos pieds. Le matériel de snorkling peut être loué sur place.
– Une super plage à Saint Martin ! A proximité du lotissement très en vue des Terres Basses, très belle plage familiale où vous pourrez observer beaucoup de poissons et de fonds marins. Attention aux coups de soleil ! Il y tape très fort
Baie Longue Beach or Long Bay Beach
Where Belmond La Samana sits along with some of the best villas in Terres Basses. The beach is a 'destination' itself! Quiet, secluded, exclusive and romantic. Days here leave beautiful memories.
People say:
– A super long beach with beautiful white sand. Mostly empty. Great place to relax.
– Superbe plage, un hôtel le plus réputé de l'ile : La SAMANNA y séjournent parfois des célébrités
– Gorgeous beach, connects with plum bay. Uncrowded.. bring chairs, umbrella and cooler!
Baie aux Prunes Beach or Plum Bay Beach
The infamous Trump St Martin villa is on this beach in Terres Basses Villa. You will see part of it in 0.33 secs. For privacy purposes the video avoids showing the villas.
People say:
– Très jolie plage. Sauvage et préservée. Nice and quiet beach.
Terres Basses Environment
It is a peninsula connected to St Martin by Sandy Ground (on the French side) and by Simpson Bay lagoon (on the Dutch side). It is a large inclined clay limestone plateau, starting from sea level in the west to climb to a height of 50m in the east, the border being an escarpment. The two main brackish ponds are connected by a short valley, which separates the plateau itself from the small chain of hills, two of which (the Mornes Rouges) rise to 70 meters. The latter, made up of red porphyry, do not have the same geological history.
Brackish water ponds:
The large pond of Baie Longue beach and the Red Pond are both classified by the Coastal Space Conservatory.
Coastline:
From the border to the west, to the east.
Rocky point of Cupecoy
Baie Longue beach (Long Bay Beach)
Baie-aux-prunes beach ( Plum bay)
Rocky point of Plum bay and the Falaise aux oiseaux
Baie Rouge beach (Red bay) leading to the discreet Lovers Beach
Cliffs of Morne des Cabris
The Devil's hole
Fossil tombolo of the cays
Pointe du Bluff
Bluff beach
Natural environment
Botany:
On what remains of natural xerophytic soils we find various cacti and acacias, three species of orchidaceae , trees (pear-country , gum-blanc, gum-rouge). There are still some cashew trees dating from the days of farming.
Some properties have left their land in a pre-existing natural state, others have deforested everything and created artificial lawns.
Faunistics
Hunting is no longer authorized. The avifauna (birds) is quite varied there except the species which flee the human presence. Insects and reptiles are visible, mongooses more rarely.
A cave houses a colony of bats. These useful and threatened animals are protected by a prefectural and national decree.
Natural hazards
During heavy rains, the sand barrier road between Baie Longue beach and the Terres Basses Grand-Étang pond can be flooded by the rising waters of the lagoon.
Habitat
It is a scattered habitat, without any center, there are no local shops. There is a high standard hotel ( La Samana ) and a number of residences are available for high-end rental.
In the past, active from 1792 to 1835, there was a sugar plantation on this almost-island, it was called " Terres Basses"
Security
Vigils and video surveillance of the entrances which are blocked at night. From evening access to the (private) roads is reserved for residents.
Hidden Gems in Terres Basses
Pointe-du-Bluff and its fossil tombolo
The cliff-with-birds and its "Trou-du-diable" (Devil's hole)
The natural arch of "lovers beach" (on the right, Baie Rouge beach)
The 2 red mornes. The ruins of the "Terres-Basses" sugar factory (1792 to 1835)
The point of the gunners
Terres Basses Views
A random collection of views from various villas in Terres Basses for you to really appreciate the beauty of this scenic location in St Martin.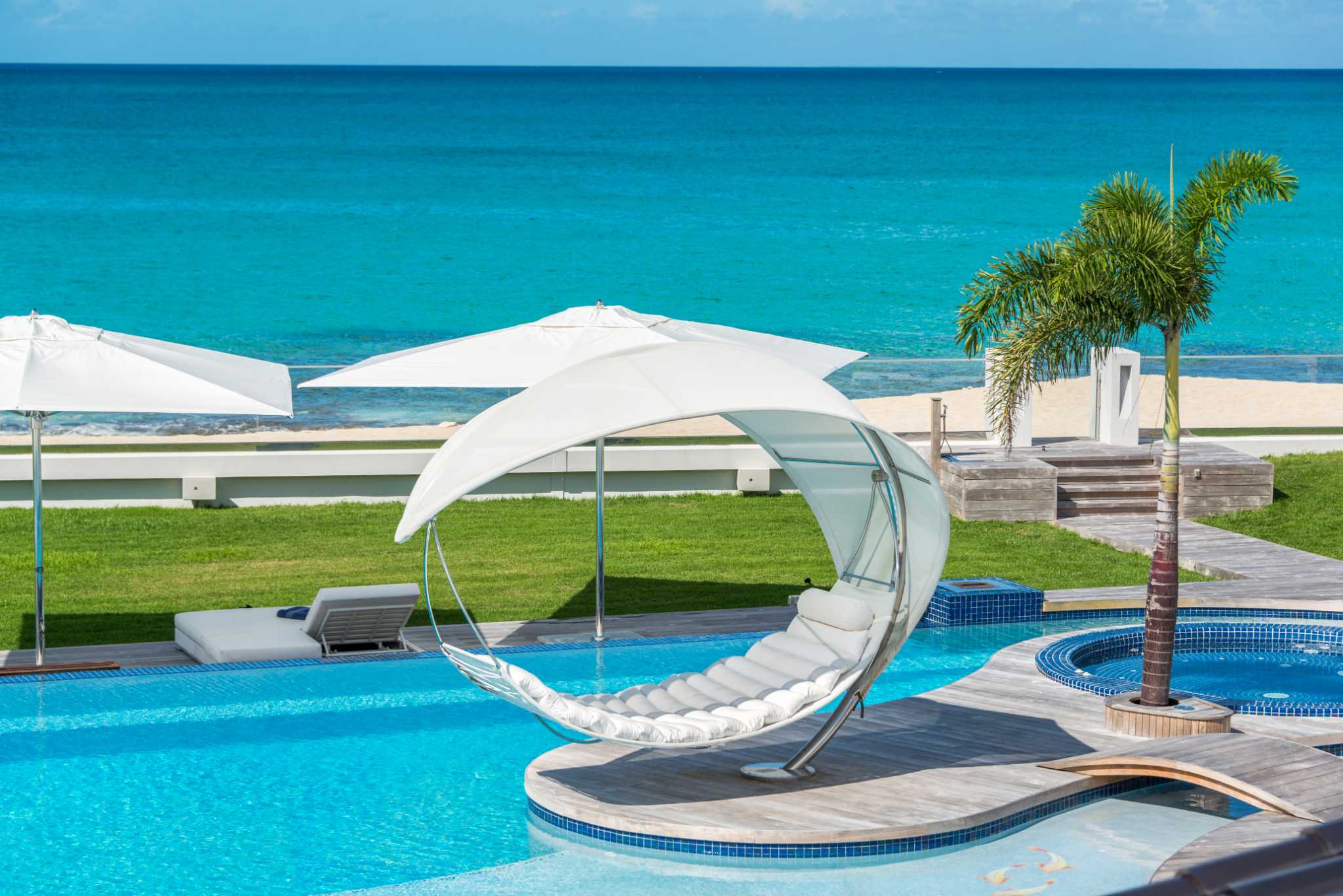 Terres Basses Reviews:
Lovely villas, very close to the beach, peaceful atmosphere and super friendly staff!We stayed there for 10 days only being on Sint Maarten. We enjoyed every moment on the island and at Hamptons villa. The place is clean as well as the villas and they are modern too. We had everything we needed and the facility is simple and charming. The 4 bedrooms and the living room have an air conditioner. The WiFi works very good, but you don't need it there, because the island has enough things to do. I bed the TV would have worked if we would have used it, but the beach walk and see were so beautiful, that we didn't turn on TV once! We mostly lied on the beautiful clear water beach or read our books our own veranda in the comfortable chairs in front of our swimming pool.You can walk on the beach between 10 to 15 minutes. It takes 5 minutes by car to reach some shops and a supermarket to get the supplies you need. If you have any questions there is always Gwen who can provide you her tips and advices.They also help you with choosing good restaurants and even do the reservations for you. I enjoyed the time there so much, I truly don't have any cons to write about.
Sunsets were amazing from the pool area. It's a nice size property compared to other villas in the island. The two beach were empty. It's a good walk for some exercise from the villa to beaches (approximately 2 miles). Supermarkets and restaurants are few minutes away so it's convenient. The island is tiny and it's very easy to go around. Watch out for those speed bumps.
I love the location–great grocery store Carrefour is 5 minutes way at Cupecoy. We got an ice-cream at a French cafe there, and there are several restaurants (Thai, Pizza, Italian).
There are several beaches very close by that are great–Plum Bay, Bay Longue, and the (unmarked–get good directions) Bay Rouge. (Be sure to check out the natural rock formation just past the eastern shore of Bay Rouge). These are not commercial or crowded beaches which to me is great. Bring snacks, chairs, and umbrellas. Walking to the Bay Longue is not 8 minutes, but more like 20, and a very hot walk. I recommend driving there in 5 minutes instead.
If you have small kids, or want a beach which is always calm, Friar's Bay is a must. It is a quick 25 minutes away. You can avoid most the Marigot traffic by staying close to the Bay.
It's also in a perfect location that's close to the airport and also conveniently located to other spots on the island like Grand Case and Marigot. We spent time at the 5-star hotel around the corner, la Samanna, and enjoyed the incredible beach. I wouldn't hesitate to recommend this place to a group of friends or family. I can't wait to return!
The location is perfect being 10 minutes from the airport. There are five or six beaches within 10 minutes from the Villa. Some you can walk to some you need a car, so there are plenty of options. There are beach chairs supplied which we brought with us to Long Bay many times.
Location is excellent if a quite relaxing holiday is what you are seeking. Also location is good for beach access although a car rental is advisable. Excellent beaches nearby which are really good for snorkelling. Plum Bay probably clearer water but Bay Longue possibly more fish.
It's on a gated property within a secure enclave where there are many large estates, and is about 0.5 miles to the beach.
The weather was incredible – 82 and sunny everyday! You can't beat the beaches – beautiful sand and perfectly clear ocean waters, perfect for sunbathing, walking the beach, swimming and snorkeling. Micheline and Lionel were very helpful in explaining the sites and sounds of the island including great recommendations for restaurants – incredible French cusine and wine at very reasonable prices in perfect seaside settings.
The property itself is secluded, safe, and very well appointed. Les Terres Basses Villa is a great gated community with access to two very private and quiet beaches. Terres Basses Villa is truly the best place to stay on the island if you want a peaceful getaway. Since its a gated community of the highest standards there is almost no traffic noise. Two of the best beaches are within the gates and we spent most of our time there. I know you will be just like us and want to try all the beaches on the island- and you should- but you will always come back to the Low Lands.
There are many good restaurants in the area but we enjoyed cooking at home. There are several supermarkets nearby and the large Super U in Marigot and Hope Estate.The villa is located in the central west region of the island, very close to a number of good beaches. Our favorite was Baie Rouge, which was good for swimming/snorkeling, has easy access with a parking lot, and food/beverage are available on the beach. Two other special attractions are a visit to the Butterfly Farm (now closed) and the opportunity to watch a master painter work in his studio (Sir Roland Richardson in Marigot on Thursdays).
This was my first trip to St Martin, and I would definitely recommend the Island and our location. Our villa was perfect. Our hosts were great, meeting us at the airport, putting away our groceries that we had pre-ordered and giving us great recommendations. Our days started with 5km 8 a.m. runs (need to go early). You can get some hills and flat, with your final destination being 2 great beaches. The beach is about a 1km walk back to the villa (just enough time to dry off from your post run dip). We rented a car and had dinner every night in Marigot and Grand Case (a 10-15 min drive respectively). I would also agree that the expresso machine was so nice. Coffee with the views are being missed sadly as we have returned home.
The French side of the island has the loveliest beaches and the best food and Terres Basses Villa For Sale a the best place to stay. We have rented many houses in the Caribbean over the years but this is now our favorite. It's so fresh, pretty and thoughtfully appointed, all with exquisite taste. Plum bay is within walking distance, great restaurants within a 5-8 minute drive. We wake up making espresso in the espresso machine (a feature much appreciated by us) and drink it on the terrace watching the birds cavorting in the gorgeous garden that surrounds us, then take off to one of the beaches, return for a plunge in the pool and a glass of wine.
The sunsets are magnificent most every night. If you are lucky to be there during a full moon, as we were, that too is an awesome view over the ocean. A night swim in the pool allows you an opportunity to see all the beautiful stars above. Then retire to the sound of the waves for a peaceful sleep.
Plum Bay is a pretty private beach and there are few people. If you want solitude and room to stretch out, this is your place. The reef right off the beach out front provides great snorkeling and swimming. You will need a car as the Terres Basses Villa is in a more remote and exclusive region of the island. It only takes about 15 minutes to get to the small towns either the Dutch side or Marigot area. But that is why this place is so great. You are not in a tourist trap or high rise condo area with thousands of other people. You are in a private villa in a gated community, directly on the beach. It is like your own private resort on an empty beach. Just like a Corona commercial. You can sit on the deck chairs and stare at the beautiful water for hours without being bothered by anyone. Great setup for both groups of people, a family or a romantic getaway for 2.
Since you are closest to Marigot, you will frequent this area. Don't miss the French Bakeries.
Terres Basses Villa For Sale, We were very lucky to spend our vacations in the wonderful St Martin Villa. The villa is located in a very highly residential neighborhood, a very private and quiet place overhanging the ocean. Wherever you stay in the villa, you can enjoy the breathtaking view on the sea and its multiple shades of blue and you can't stop thinking about the famous italian song "nel blu dipinto di blu"…it's like admiring a living painting all day long…brunching in the sunrise and dining in the sunset! The villa is perfect for a group of friends or an extended family. You will enjoy the stunning pool, the Bali bed, the playroom, the petanque, the Baie Rouge beach…I can only recommend to stay at Amandara, you'll dream about it for a long time…we just want to go back there! Watch This Video
Terres Basses History
In 1955 Mr. Erik LAWAETZ of St Croix, U.S Virgin Islands, purchased approximately eleven hundred acres of land located on both the French and Dutch sides of St Martin The area called "The Lowlands". The area extended from Mullet Bay Beach Hotel on the Dutch side to the western boundary of La Belle Creole on the French side. It is almost an island, the greater part of it being French, bordered by the Caribbean, the Atlantic and Simpson Bay Lagoon.
Mr. LAWAETZ was able to acquire title despite the very complicated laws governing inheritance and ownership of property. The entire French section was deeded over from the family of Madame Henri VIALENC and deeds to the Dutch part came from two owners, the BEAUPERTHUY family and a member of the PETERSEN family. LAWAETZ also discovered that, in accordance with a law governing French possessions throughout the world, a "zone des 50 pas geometrique" traditionally known as "the 50 steps of the King" or "Domaine land", a distance of 81 meters from mean high TIDE on all property bordering the water, was reserved by the Government for defense and/or maritime purposes. Mr. LAWAETZ went to Paris accompanied by Elie FLEMING, then Mayor of St Martin. They were successful in persuading the French authorities to deed the "Domaine land" to Mr. LAWAETZ in 1959 – a ruling without precedence.
Sales of building lots and larger areas for subdivisions were begun my Mr. LAWAETZ immediately. A few of these properties are still in the hands of the original buyers. In 1957 he filed development plans with the Dutch and French governments. The Dutch never approved the plan with the result that, in the course of time, multiple housing units have been constructed on the Dutch side properties. On the French side a Landowners Association was formed in 1961 and registered in Delaware. In October 1963, the French present the 'Cahier des Charges' which are covenants and deed restrictions for the area known as the Terres Basses (or the French Lowlands).
Belmond La Samanna in Terres Basses St Martin
Notice:
Belmond La Samanna Resort in Terres Basses re-opening February 15th 2021.
A mere 15-minute drive along the coast from the airport will take you to Terres Basses Villa For Sale. Cradled by Baie Longue, the island's most exclusive stretch of beach, real estate in this French cliffside community is at a premium. If you're not ready to make the investment but yearn for a holiday villa of your own, check into La Samanna. Originally designed as a Mediterranean-style residence for James and Nicole Frankel, the property opened in 1973 and quickly became a home away from home for the international jet set (Jackie O was a regular). Named after the Frankel children, Samantha, Anouk and Nathalie, La Samanna became, to quote their father, "camping for the rich."
"Mr. Frankel wanted his guests to socialize and feel at home," says John Volponi, La Samanna's general manager. "There was no room service, no pool service, no chairs on the beach. Everyone was encouraged to meet in the bar for a drink and a chat."
Purchased in 1996 by Orient-Express Hotels, which invested $60 million to redevelop the 22-hectare property, La Samanna now boasts a well- equipped gym and Pilates studio, a small conference centre and the full-service Élysée spa. Suites and villas have been updated with custom-designed mahogany and teak furniture draped in deep blues and golds, along with oversized bathrooms with handmade Mexican tiles and terra-cotta floors. Eventually, Orient-Express plans to add several four-bedroom villas complete with private swimming pools.
Terres Basses Villa For Sale,  all the changes, much has remained the same. There are staffers who have worked at the hotel for more than 20 years-part of the reason why 40% of guests return annually. The reception area (a room, a small desk and that's all) is still cozy, lacking the intimidating buzz of a starchy five-star hotel. Original, broad white archways define the rest of the villa. Sip cocktails underneath a silk Indian wedding tent in the breezy main bar, or read by the infinity pool. A twisting stone pathway leads to the aquatic sports centre where guests can gear up for snorkelling.