Beach Villa On Simpson Bay Beach For Sale
A beach villa on Simpson Bay beach?
Real estate in Simpson Bay is so premium that it would be incredible to find a villa for sale. A villa in Simpson Bay, on a corner lot plus right on Simpson Bay beach, makes this an absolutely amazing opportunity. The owners live on the property but a cosmetic upgrade is required.
We have staged the photos in this Beacon Hill villa to hide personal belongings.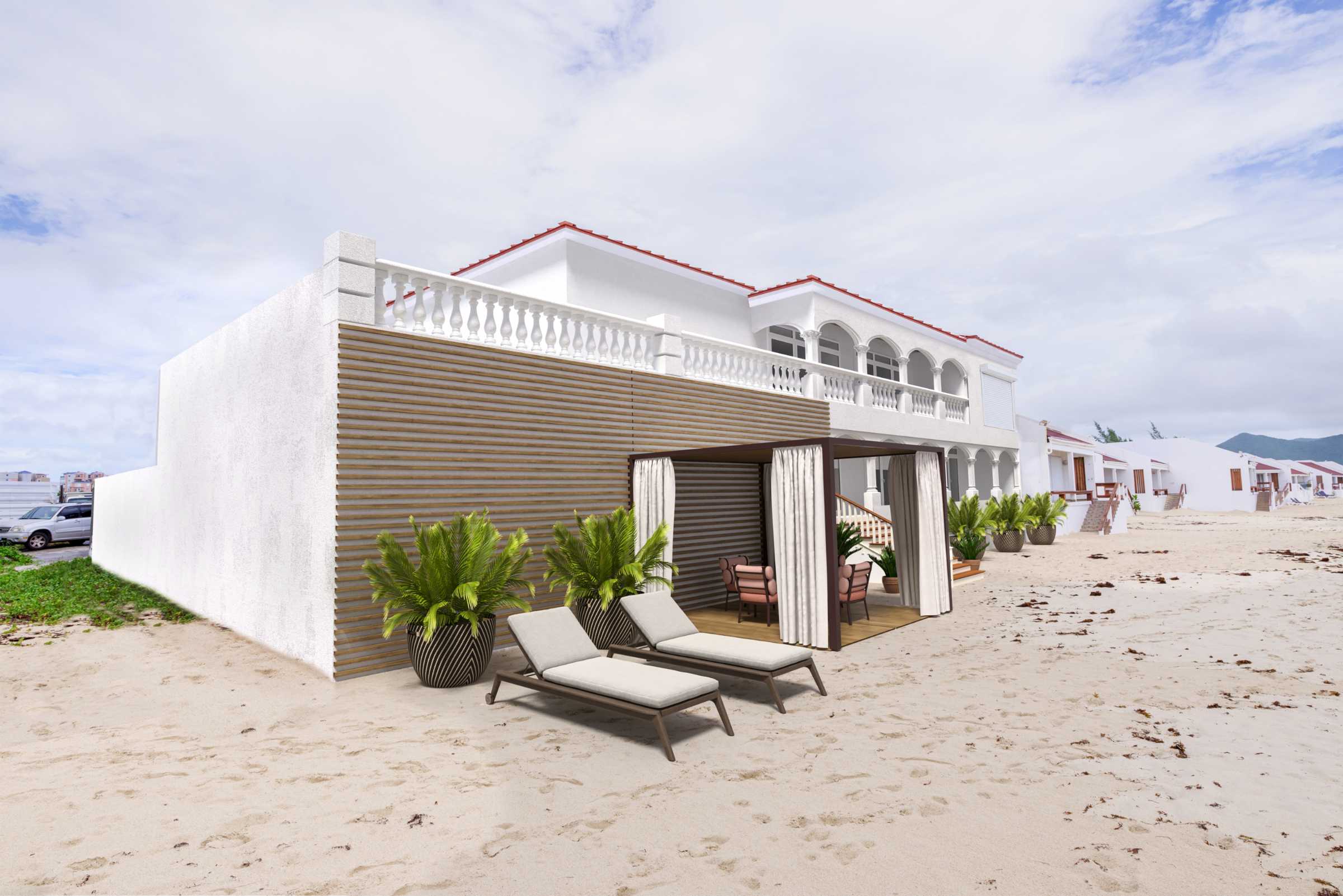 Beach Villa In Simpson Bay
This is a two-level four-bedroom beach property in Beacon Hill, St Maarten.
The villa is on a corner lot; giving you even better views and more privacy!
Entrance via electric gates with a yard space to park 2 to 3 cars. You also have a covered garage for 1 car.
On the ground level, you have three bedrooms; all facing the ocean with access to a shared walk-out terrace right on the beach.
The terrace offers beautiful arches and you can access the beach from here privately.
As you go up the recently tiled staircase; you notice those incredible views straight away!
Upper-level has an excellent floor plan. You are greeted by a large open-plan living space with large kitchen, oceanfront dining area, modern lounge and spacious master bedroom suite.
The best part is the wrap-around terrace that even has a dipping pool while you enjoy the sunsets.
From the upper-level terrace; you have 360-degree views!
This particular part of Simpson Bay is incredible; so you have the location advantage as well.
Investment option
With any beach property; there is always massive income if you are renting for vacation rentals.
Convert this location masterpiece into your beach castle.
You can add one more bedroom to the ground floor.
If you are looking to generate income all the bedrooms on the ground floor can be converted to beachfront studios with separate access.
You could also add a bedroom to the upstairs terrace by replacing the pool area.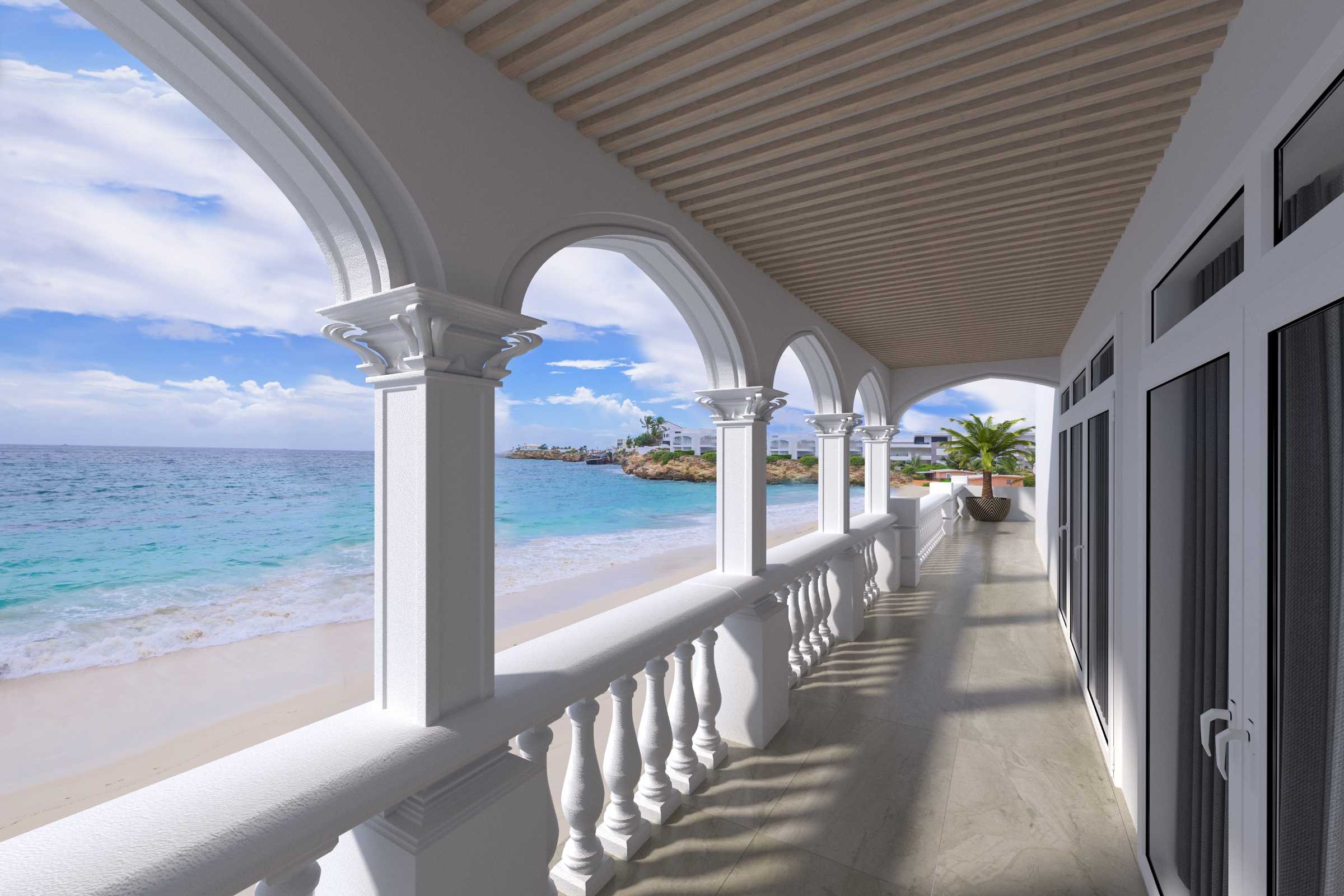 The location is incredible!
Let me be honest; nowadays you don't get properties of this size; right -on-the-beach in St Maarten! Two-bedroom condos in the location sell for $1,200,000! The value of this St Maarten villa is in the land!
Much smaller two-bedroom beach townhomes called 'Beachside Villas' each sell for $900,000 to $1,000,000, and this is right next door to you.
Incredible Design
Designed over two levels with multiple covered terraces and roof-top viewpoints for your pleasure. The exterior and interior need some cosmetic refurbishment. 100% concrete structure.
As you walk into the top floor you have an immense living-dining area with those totally crazy-oceans-views and a master bedroom that makes me fall in love again! Both the living area and bedroom are wrapped by a large semi-open terrace giving you some of the best views in the Caribbean. During high tide you get water just a 2-3 meters away from the house.
'This is how you see it in dreams'.
We know this is going to sell quickly. We just installed signs on Simpson Bay beach! So call me quickly!

Come have a look at this gorgeous right-on-the-beach villa with 4 bedrooms and beach views that are the BEST in St Maarten. Honestly, this is the only property of this size on the nearby Beach . You are getting a gorgeous gem in the form of a St Maarten beach villa.