6 Bedroom Beach Apartments in Beacon Hill, St Maarten!
A two-level beach villa with a total of 6 bedrooms and 6 bathrooms right on the ocean's edge and footsteps to Burgeaux Bay beach. Located directly on Burgeaux Bay beach you have this spectacular villa in Beacon Hill, St Maarten.
The beach property is a true duplex with a 3 bedroom, 3 bathrooms unit on the lower level and a 3 bedroom, 3 bathroom on the upper level. Each unit has it's own driveway and entrances as well as separate electric and water meters, all aspects of this property including both kitchens and all 6 bathrooms have been recently renovated to a modern design. The entire property has satellite tv and fibre internet access and is sold fully furnished.
Return on Investment
This unit is a real investment gem! The owner has been very reluctant to sell due to the income generated from this property. Just look at the reviews and rating on VRBO! It's incredible that he has maintained a 4.9/5 rating! You are buying a super-profitable business along with oceanfront real estate.
Positive reviews are hard work and credit to the owner in maintaining this reputation for years. I have been in the business for a long time and its rare to find an oceanfront property generating this type of income!
Nothing in St Maarten even comes close to value for money. This Beacon Hill villa is the best return on your investment right now!
Reviews for Beacon Hill Villa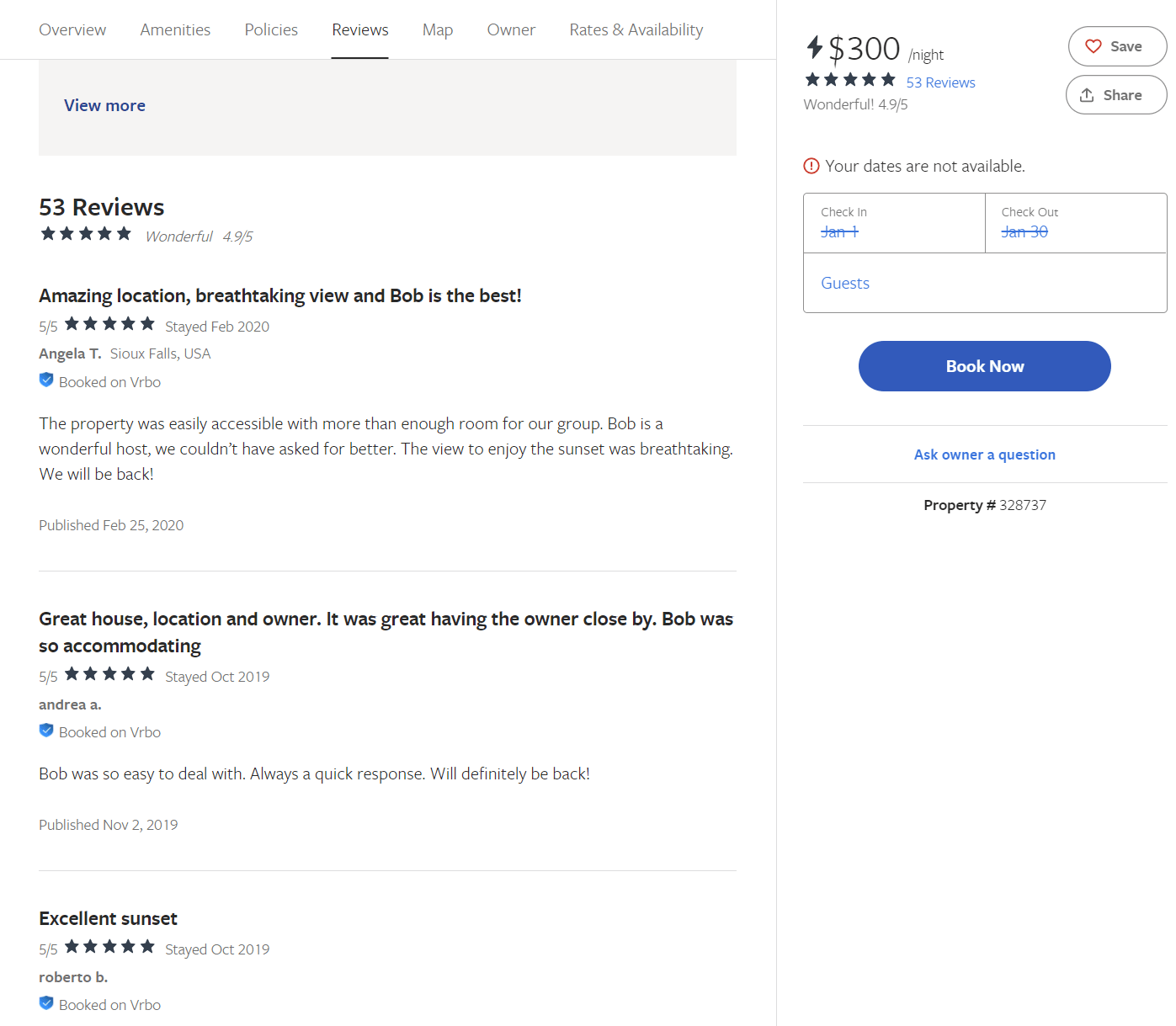 Exterior
The lower level unit has a large partially covered deck and a pool, the upper-level unit also has a partially covered deck. Both viewing decks face the Caribbean turquoise sea. They are perfect for those Instagram photos that you are sure to take during your vacation!
The property is facing south-west, so sunset views are a daily occurrence. And boy the sunsets are amazing here! Did you know that they have named a nearby bar Sunset Beach Bar just because of how amazing sunsets are from here!
Beach access
Private access stairway that leads to Burgeaux bay beach where you can swim, snorkel, kayak or just float around. From door to beach in less than one minute!!
The setting is pure Caribbean and as peaceful as can be. Across the street are obstructive panoramic views towards Simpson Bay, St Barths and beyond.
The upper level has amazing ocean views from every room including the bedrooms and bathrooms.
A one (1) car garage with storage and a roof top deck has views both to the east and the west. A cistern and pressure pomp and water collection system are also in place. The current owners live in the upper-level unit and operate the lower-level unit as a very successful vacation rental.
Interior – Upper Level of Beachfront Villa
The upper-level unit consists of 3 bedrooms and 3 en-suite baths, with air-conditioning in every room and with a large master bath, Granite countertops in the kitchen and newer appliances. All bathrooms have been recently updated with modern fixtures. The bedrooms are furnished with queen size beds, nightstands, closets and are equipped with air conditioning and ceiling fans. Three (3) sets of sliding glass doors that give you access to the deck with panoramic Caribbean views. You have to see this unit, the views are just mind-blowing!
Interior – Lower Level of Beachfront Villa
The lower level unit has 3 bedrooms and 3 bathrooms which 2 baths being en-suite. Full kitchen with air-conditioning in every room. 2 sets of French doors open up to the large, partially covered deck and pool. All 3 baths have been recently renovated with modern fixtures. Two (2) out of the three (3) bedrooms have queen size beds and One (1) has Two (2) single beds. The living area has vaulted ceilings, leather sofa and a love seat, large screen tv and also equipped with air-conditioning and ceiling fans.
Beachfront Villa Bay Watch
Modern beachfront villa in Beacon Hill in Sint Maarten.
Large outdoor deck with pool.
12 hour guarded main gate plus private gate
Upper level; 3 bedrooms, 3 en-suite baths with rain head showers/li>
Separate driveway and entrance
Private drive way and private garage for 1 car with storage. Secure parking.
Separate electric and water meter
Fully equipped kitchen
Air- Conditioning and Ceiling fans
Glass sliding doors
Condition: Partially remodeled. Well maintained by owner
Lower level; 3 Bedrooms, 2 en-suite, 1 Regular Bathroom
Separate driveway and Entrance
Separate electric and water meter
Full Kitchen
French Doors
Air- Conditioning and Ceiling fans
can be used for investment purposes
Secure parking.
Condition: Excellent. Well maintained by owner
This very unique turn-key beachfront Beacon Hill Villa with a current high return on investments with additional potential to generate more income. Turn your Caribbean dream home into a reality.
Reviews for Beacon Hill Beachfront Villa
Tom R, Rated 5/5
"Our first trip to St. Maarten for my husband and I and we wanted close access to the airport so we could go watch the planes take-off and land but we also wanted privacy. This rental is both. Comfy beds (great air conditioning and fans in the bedrooms), little kitchenette, with lots of outdoor living space to sit outside and watch the ocean, relax in the pool without being bothered by lots of people. Love the music connection so we could plug our phone in and listen to our music while we when we were outside. Both the living and dining areas have doors that open with screen doors to keep the nice breeze blowing in and makes the space feel so much larger. Whether inside or outside, this beach location means we could hear the ocean all day (that was wonderful). Just a couple of minutes drive to Sunset Bar & Grille, it's also close enough for a 10 minute walk if you so choose but we also have a great view of the planes coming in from the pool. 🙂 Gorgeous spot to watch spectacular sunsets. Couldn't be better!"
James G., Rated 5/5
"An amazing property. Beautiful sunset views, views of sailboats going in and out of Simpson Bay through the drawbridge. Bob was great. Always there when you need him and you didn't know he was upstairs. The beach in front is great for swimming, bring water shoes to traverse the flat coral in front. Snorkeling out front was good. AC in the bedrooms is enough, no need for the living room. We used the pool every night to cool off and have some drinks. Bob was nice enough to set us up with a rental car and a lift from the airport. Very close to Maho Beach and Mullett Bay Beach is a must to grab some lounges and umbrellas. We even saw Bob's band at a beach bar in Simpson one night. We would not hesitate to stay again. Check out the crabs in the backyard. Thanks Bob."