Blue Mall Cupecoy Condos – One Bedroom Condo For Rent
Blue Mall Condos are located in the palatial development known as Blue Mall Residences in Cupecoy. Offering you an opportunity to experience the most desirable location in St Maarten with modern contemporary living.
The perfect balance, this magnificent development offers the best in luxury indoors while offering beautiful outdoors all around.
Available now for yearly tenants only.
A modern building with luxury amenities.
24-7 security.
The golden view. Sunsets are amazing!
Plenty of parking.
Either side you have plenty of restaurants and active nightlife.
Endless turquoise ocean views.
Quiet secluded beach, just 1 minute walk away.
Perfect combination of location, world-class residences and beautiful lagoon views.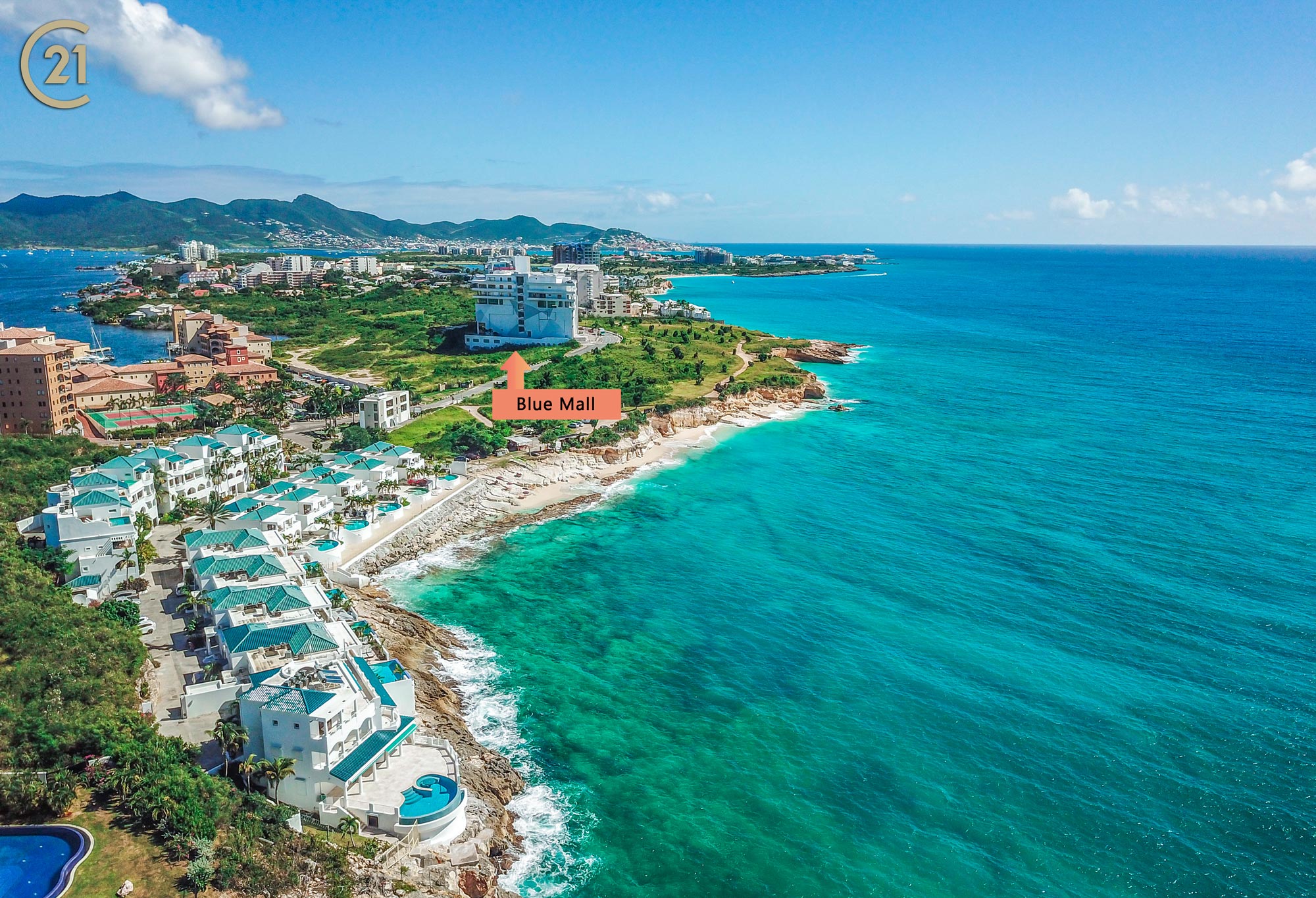 Blue Mall One Bedroom Condo For Rent
One bedrooms and two bathrooms.
Location: Cupecoy, Sint Maarten
Approximately 1200 sq feet.
Covered private balcony.
Unobstructed ocean views.
This location is considered the 'Gold Coast' of St Maarten.
Recently renovated.
Bedroom is spacious. Fits king sized bed plus seating.
Cupecoy condo near beach; door to beach in less than 2 minutes!
Full airconditioned living spaces.
Modern kitchen with luxury appliances.
Most secure residence in St Maarten with 24 hour manned security and surveillance.
Blue Mall Residences
This is Sint Maarten's one stop location for all your needs whether it may be residential, commercial, shopping, and dining. Blue mall is situated in Cupecoy and offers a unique and unparalleled experience. Blue mall has created an oasis within St Maarten/ St. Martin. A combination of the best modern architecture with the openness of the Caribbean life style, with panoramic views of the turquoise Caribbean Sea, which can be enjoyed from all angles of the building.
The Blue Mall Residence St. Maarten rises majestically in the narrow strip of the Dutch territory, between the Simpson Bay lagoon and marines at the fringe of the French territory, St Martin. Blue Mall is just grand for long-term or short term vacation rentals.
Everything Around
10 minutes drive from Princess Juliana International Airport and is conveniently located, just moments away, to the French border. Nearby in Maho, you will find watersports, French bakeries, banks, drug stores, grocery stores, gyms, hairdressing salons, ice-cream parlours, massage centres, theatres, restaurants/bars, duty-free shopping, casinos and night entertainment. Everything within a few minutes drive.
Food store: 5 mins walk to mini stores and 3 mins drive to a larger Carrefour in Porto Cupecoy.
Restaurants: Porto Cupecoy is just 3 mins walk away with world class restaurants plus in Jordan Village you have Bodega, Barcode, Tao Garden, Spaghetti House, Fat Tonys, Yami Sushi, Indian and more opening at the casino.
Nearby Fourteen at Mullet Bay will provide additional world class facilities within 7 mins walk.
Casino: Atlantis casino reopening soon within 10 mins walk and Porto Cupecoy within 3 mins walk.
Beaches: Cupecoy Beach and Mullet Beach within 3 to 5 mins walk.
Airport: 10 mins drive
Golf Course: Mullet Bay Golf Course within 3 mins drive