Cupecoy Real Estate
The Golden Coast of Sint Maarten. The place where magic happens, where the sun sets in oranges like no other. Yes this is the most in-demand location for beachfront condos especially luxury condominium developments like The Cliff at Cupecoy Beach and mega towers Mullet Bay Residences offering world-class amenities and minutes to Mullet Bay Beach. Rainbow Beach Club condos and Cupecoy Beach Club have been consistently popular among tourist and with Porto Cupecoy Marina & Casino offering lagoon access via five star facilities. Other smaller developments such as Tradewinds (formerly a hotel), Arbor Estate, Jordan Village, Cote D Azur Condos and Summit development.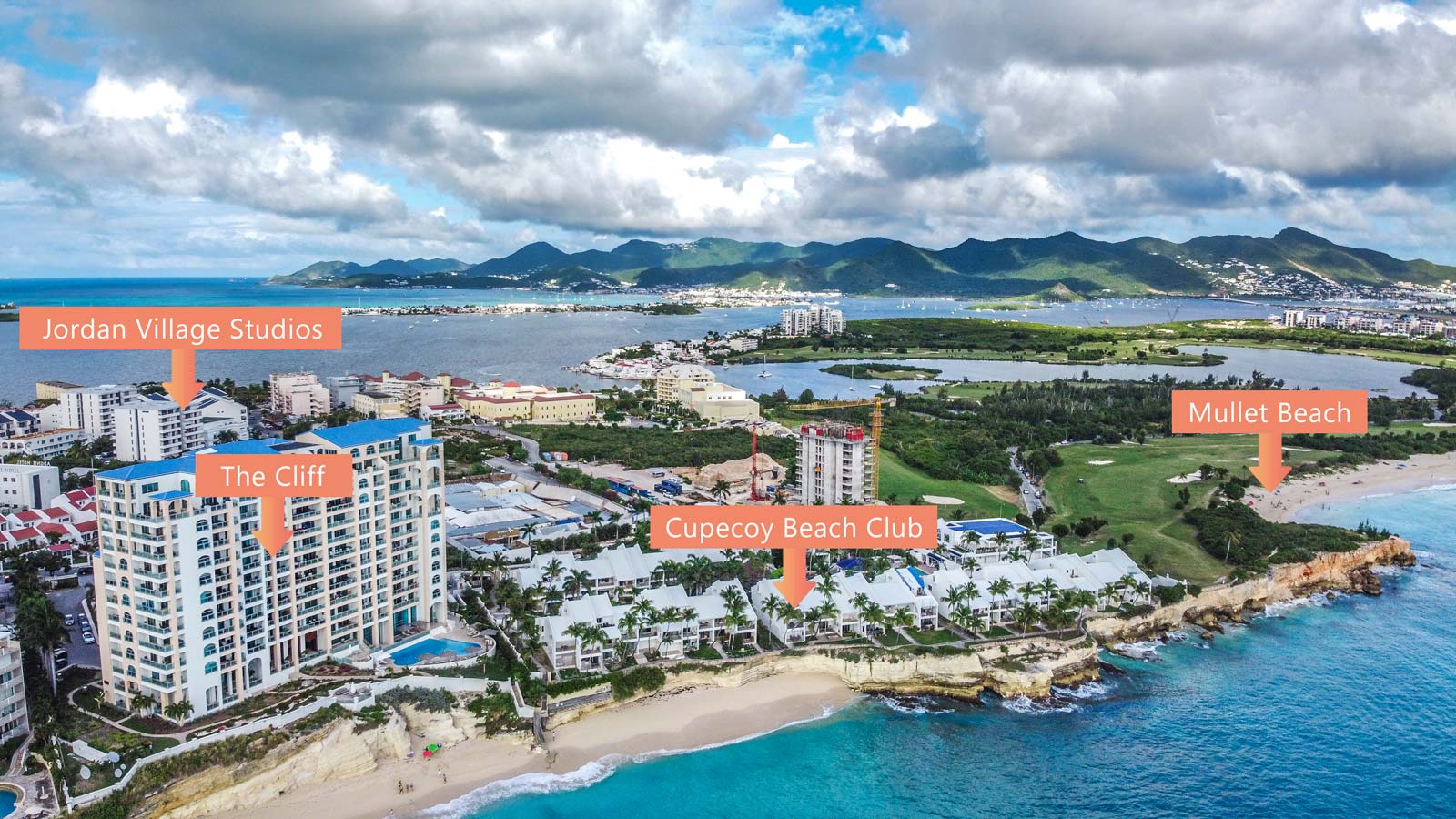 On one side the limestone cliffs and beaches while the other side of Cupecoy lies Simpson Bay lagoon and the waterfront villas of Cupecoy. Once a neglected part of Cupecoy, the lagoon is now a busy mega yacht channel with Porto Cupecoy Marina and villas of Terres Basses making this a world class marina destination as well as a world class beach.
A combination of lagoon views on one side and turquoise ocean views on the other, makes high rises such an attractive feature in Cupecoy. Combine the golden sunsets with the green mountains; making Cupecoy in the number one location for real estate in St Maarten.
This is probably the most developed location in St Maarten. Luxury high rises everywhere with Fourteen Towers dominating the skyline towering at twenty-one floors! Cupecoy condos is famous for condominiums! Infact you rarely find villas in Cupecoy with the exception of this seven bedroom Cupecoy lagoon villa on the waters of Simpson Bay lagoon.
A major perk for Cupecoy is security. This is a 100% secure location with private patrols from the American University Of The Caribbean. A massive appreciation for what they do in Cupecoy.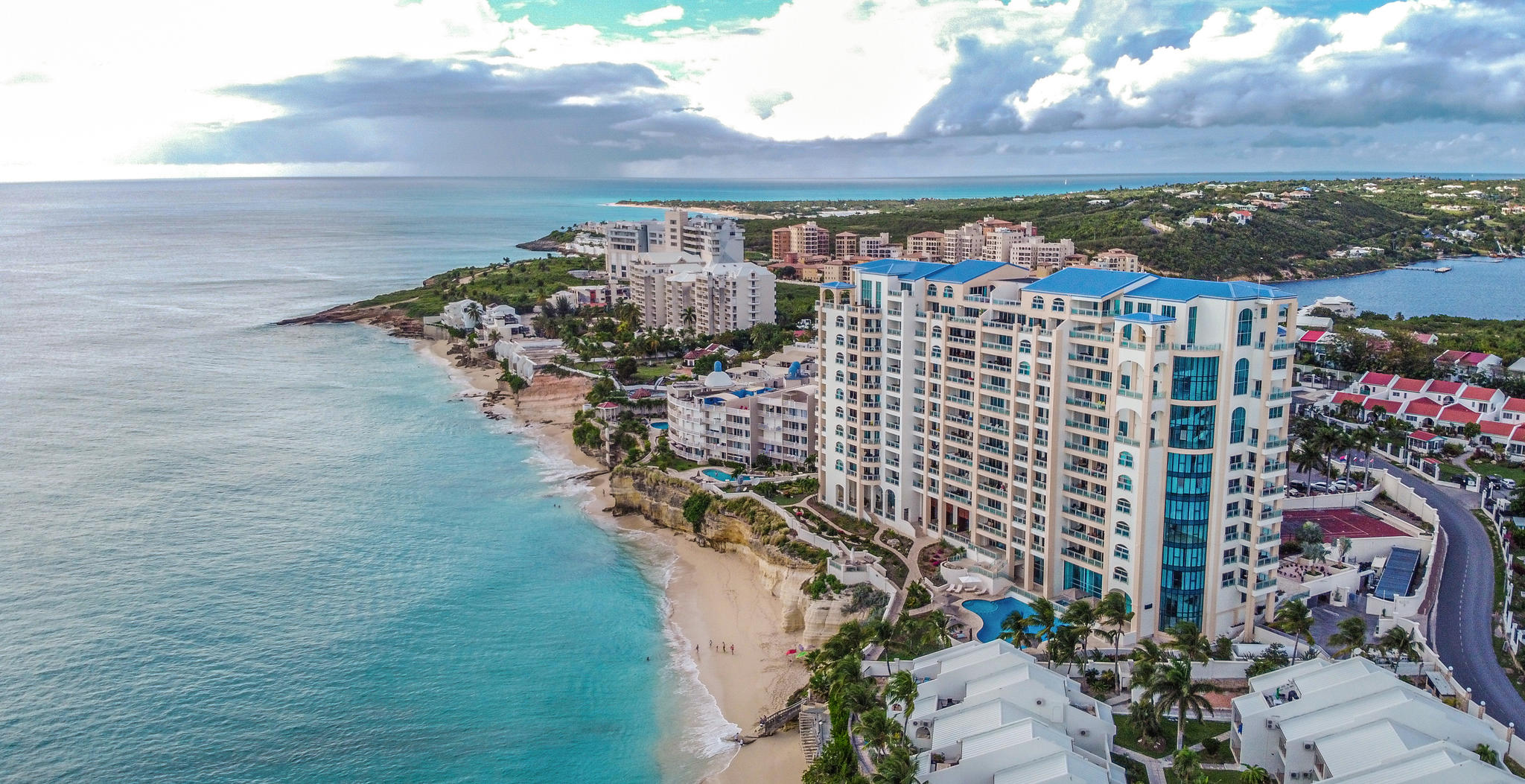 Beaches Near Cupecoy
Residents from French side of the island and locals will flock to the beach every weekend simply to enjoy the best beach in St Maarten!
Cupecoy Beach
It is on the southwest end of the island. To your surprise, Cupecoy Beach is a set of three beaches surrounded by cliffs of limestone! Visiting the beach is free. However, the parking is paid for in the adjacent clubs.
Mullet Bay Beach
It is a calm and quiet beach, where you can surf peacefully and enjoy the soft sand. You can easily rent a chair or an umbrella and enjoy bathing in the sun!
Simpson Bay Lagoon
It is among the largest lagoons in the Caribbean. Simpson Bay Lagoon is best known for its sailing trips and thriving nightlife on the waterfront.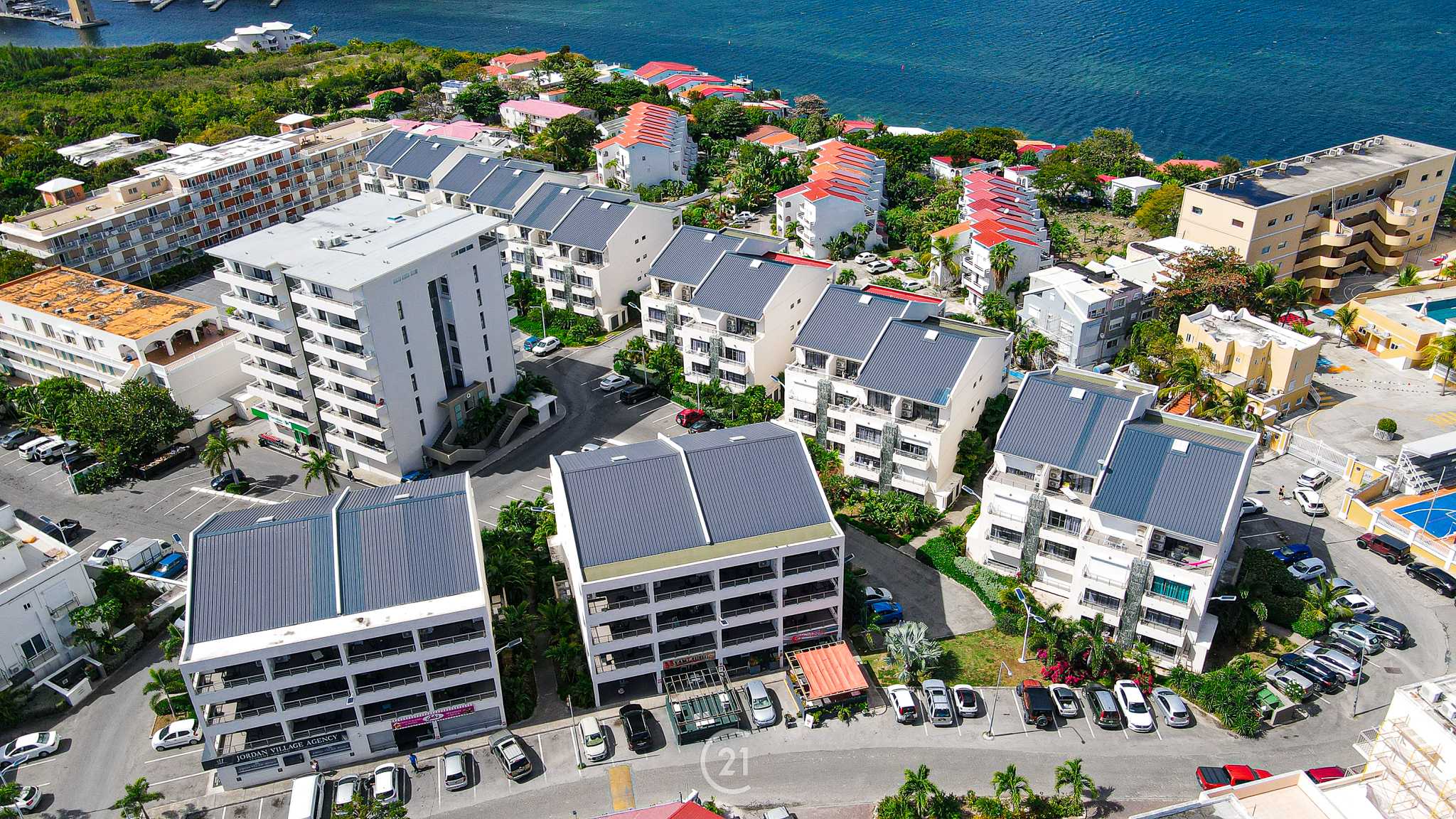 Restaurants in Cupecoy
Mario's At The Cliff
It is one of the best French restaurants in the area. Mario's is famous for its appetizers, tuna, and steak. So, if you are craving French food, you know where to go!
Yami Sushi at Jordan Village
Yami's Sushi is one of the most famous places in Cupecoy. It is right in the center of Jordan Village. As the name goes, this place is renowned for its sushi!
Spaghetti House SXM at Jordan Village
Spaghetti House is a budget-friendly restaurant in Cupecoy, famous for its spaghetti and fettuccine. The menu of the Spaghetti House is limited, but all the dishes are delicious!
Fat Tony's at Jordan Village
Out of the 12 restaurants in Cupecoy Bay, Fat Tony's ranks number one. It serves American and pizza. It also has a bar for you to enjoy the best drinks. Furthermore, you can get gluten-free foods here!
In & Out at Jordan Village
This place is a must-visit if you are in the mood for some authentic Italian food. It is also famous for its desserts.
Tao Garden at Jordan Village
Tao Garden is among the very few Jordan Village restaurants that serve the best quality Thai food.
The Barcode at Jordan Village
This place serves homemade American food. It also has a bar and serves fantastic cocktails.
La Bodega at Jordan Village
It is among the poshest places in the area. It serves French and American cuisine, and it is also among the best places for drinks!
Altro at Porto Cupecoy
Altro is a restaurant that serves French and serves Mediterranean and European cuisine. This restaurant is vegetarian-friendly.
Mama's Pizza at Porto Cupecoy
Mama's is among the top Italian restaurants in Cupecoy Bay. It also has vegan options in here!
Rendezvous at Porto Cupecoy
Rendezvous lounge is a great place to go if you are in the mood for desserts. It serves Italian, it is budget-friendly, and it also has vegan options.
Condo developments in Cupecoy?
Fourteen Mullet Bay Towers
Mega development at the beginning of Cupecoy facing the white sands of Mullet Beach and greens of Mullet Bay Golf Course. The most popular new development in St Maarten today.
Cupecoy Beach Club
Cupecoy Condos For Sale, Beach Club is one of the best vacation spots in the Caribbean, and it is a top-notch resort with the best service and the best villas with the best views. You can enjoy the casinos, go snorkeling, play golf, swim, or have the most OK food!
Rainbow Beach Club
Rainbow Beach Club is the most popular beachfront St Maarten condo development in St Maarten!
Rainbow Beach Club in Cupecoy Condos For Sale, Sint Maarten is a rare find that ticks all the boxes. This condo development is near the turquoise blue water beaches of Cupecoy Condos For Sale with a wonderful reef to snorkel and a variety of marine life. You can dive to 2 outstanding shipwrecks just off the shores of Cupecoy Beach. The beach is very private and it is accessible via Rainbow Beach Club's famous spiral staircase to Haven!
After swimming in the warm Caribbean Sea, you can walk over to one of the three swimming pools to lounge and golden up. Perhaps a little workout in the gym (or rooftop tennis), then walk across the street to a variety of 5-star restaurants, tapas, seafood, oven-baked pizza, or even a sports bar.
After dinner, try your luck at the STARZ Casino, then pick up some bubbly from your local grocery store, then a 5-minute walk back to your retreat where you can watch the lit-up cruise ships sail off to their next dream location, or just gaze at the sky full of stars. All while feeling safe and secure with the 24-hour security on site.
Sapphire Beach Club
It is located close to Princess Juliana Airport. It is also in the middle of the Caribbean Sea waters and the Simpson Bay Lagoon. This place has the best villas that have authentic Caribbean decor, luxurious bathrooms, and fully-equipped kitchens.
Shore Pointe
You can get to live in the best beachfront villas in Shore Pointe Villas. The sunset view from here is perfect, and it is also why it is so famous in Sint Maarten.
Porto Cupecoy
Porto Cupecoy is among the best and most upscale residential areas in Cupecoy Condos For Sale. There is a gym, a tennis court, a swimming pool, many restaurants, boutiques, and supermarkets, making this place even more appealing!
Blue Mall Residencies
The condos in Blue Mall Residencies are lavish. It is just five minutes away from the famous Maho beach and three minutes away from the American University of the Caribbean. The kitchens have large refrigerators, ovens, and all essential equipment. All rooms have private balconies, and you will also have access to high-speed Internet.
Jordan Village
It is one of the best low-cost condominium and studio development in Cupecoy Condos For Sale catering directly to the Medical University Students. The view of the ocean from here is breathtaking. The unit also has a large pool. It has air conditioning, high-speed Internet, a fully-furnished kitchen, and even a barbeque grill!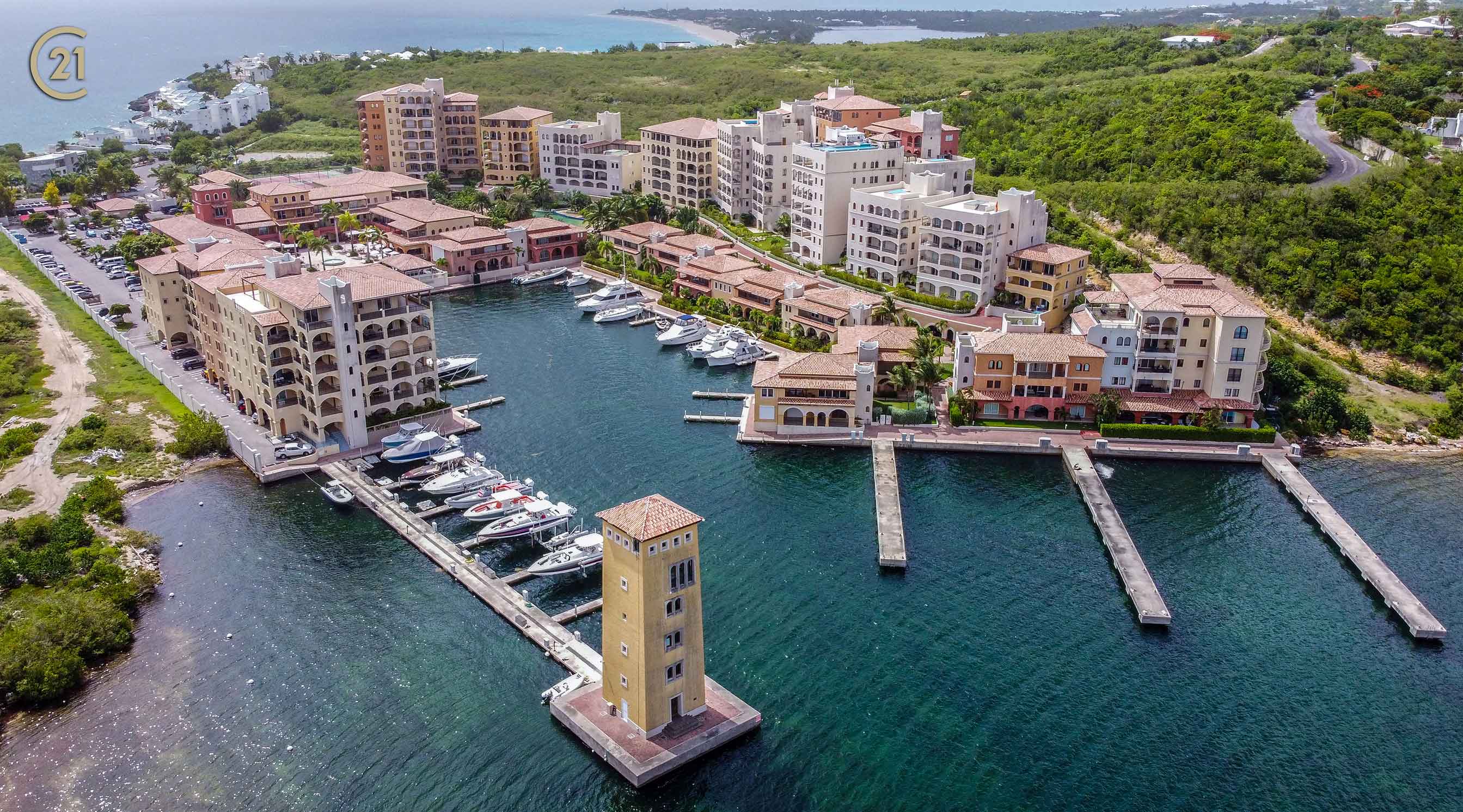 Cupecoy Real Estate Prices
Homes For Rent In Cupecoy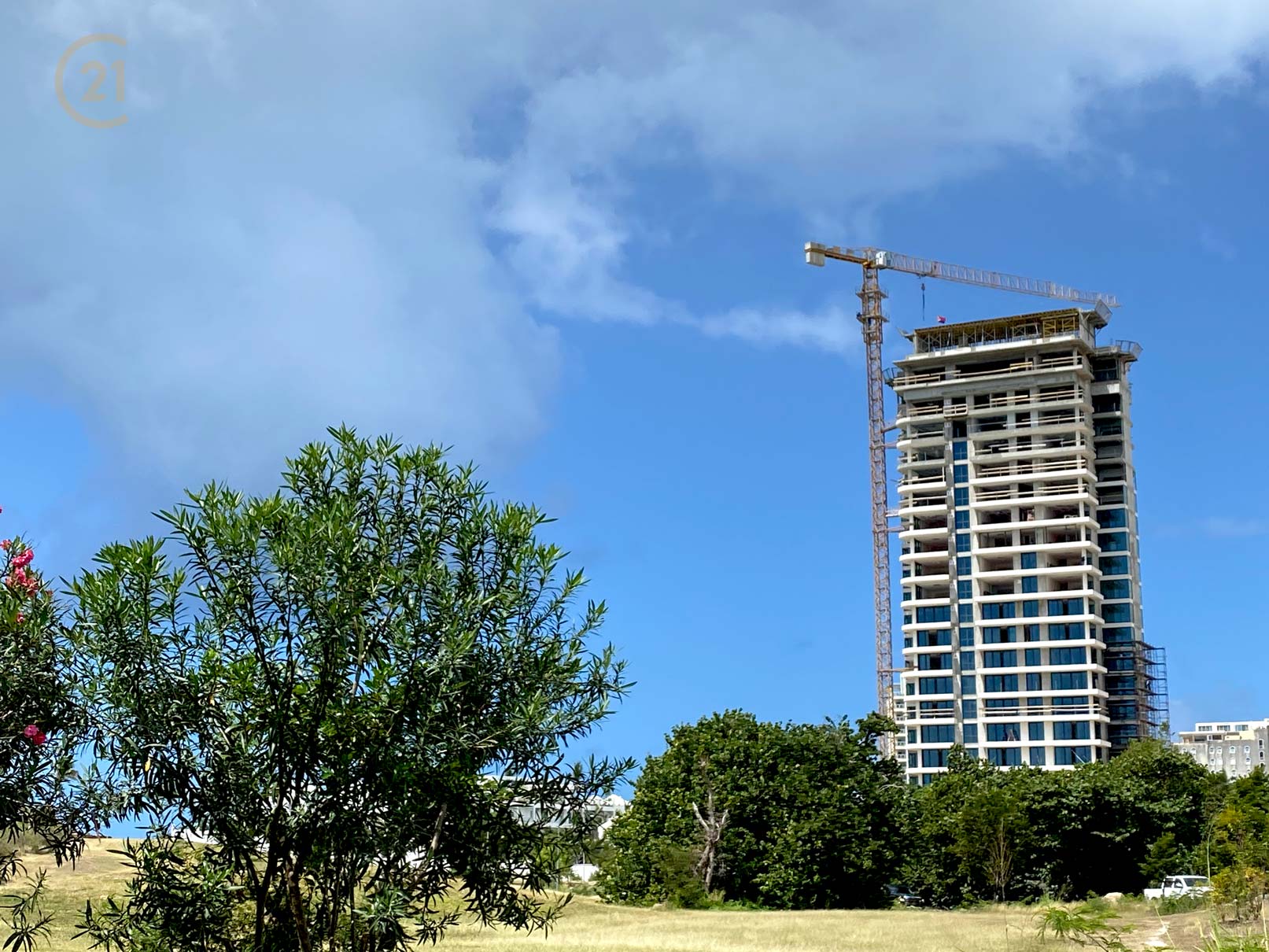 Supermarkets in Cupecoy
Carrefour Market
It is among the best places to shop in Sint Maarten. Carrefour is the biggest Supermarket chain in Sint Maarten. You can get a large variety of products from all over the globe, be it the USA, Europe, or Asia.
Tung Yuen Convenience Store at Jordan Village
Jordan Village's Chinese supermarket is where you can get almost all of your essentials without hassle!
What are people saying about Cupecoy?
This place is heaven on Earth. People love the fact that Cupecoy is a bunch of beaches in a cliff band. The villas are spacious and high-end, and investing here is a great option. It is because the value of the properties appreciates in this area. If you are visiting Cupecoy, you are in for the time of your life!
Wanted to purchase an ocean-view villa? Then your choice should be Cupecoy at St. Maarten. Cupecoy is a great place to purchase a villa, condos, ocean-view villas of your own. Sint Maarten is an island shared by the dual governed of the Caribbean. Cupecoy Beach is the last beach on the Dutch side before crossing the French border. Cupecoy beach at St. Maarten is a semi-official nude beach. Find the best condos or villas for sale at Cupecoy, St. Maarten. Cupecoy Beach is surrounded by limestone cliffs, unlike any other beaches on this island. St. Maarten is an island with 37 beaches.
You can enjoy the nature of sunset at Cupecoy, Sint Maarten. This beach is the perfect place who enjoy 'baking' in the sun. Cupecoy beach is a wonderful little beach lined with sandstone cliffs. Families should beware of the clothing-optional section of the beach's northwest end. Find real estate properties in Cupecoy, Sint Maarten, where you can find the best oceanview villas at Cupecoy, Sint Maarten.