Cupecoy Beachfront Resort Studios & Condos
When the Dutch Royal family needs a vacation hideaway, they visit this stunning resort in Cupecoy! A well-managed resort for your convenience. Call me to see the condos in person. Turquoise ocean views, marble bathrooms and jacuzzi!
Condo Prices & Fees
Two-bedroom 111 sqm condo with two terraces, large kitchen, jacuzzi, two bathrooms for $550,000. Condo fees approximately $1000 per month.
Condo fees include exterior structure insurance, central air conditioning, internet, satellite TV, 24-7 security, use of all hotel amenities which include pool, yoga classes, room service and even Happy Hour!!
Saving every month:
Air conditioning for one-bedroom condo (based on 2 air conditioners running 24-7): $200 per month.
Internet: $100 a month.
Satellite TV: $50 a month.
Insurance: $200
You will be saving at least $550 a month in living expenses while you live in this resort!
Two Bedroom Beachfront Condo
Oceanview terraces include a jacuzzi!
This Sapphire Beach Club condo has multiple terraces. The Sapphire Beach Club two-bedroom condo has a double terrace offering beach views and lagoon views both!
Condo amenities include free air conditioning, internet, satellite TV, 24-7 security and building insurance plus use of all resort facilities. Incredible!

Two Bedroom Condos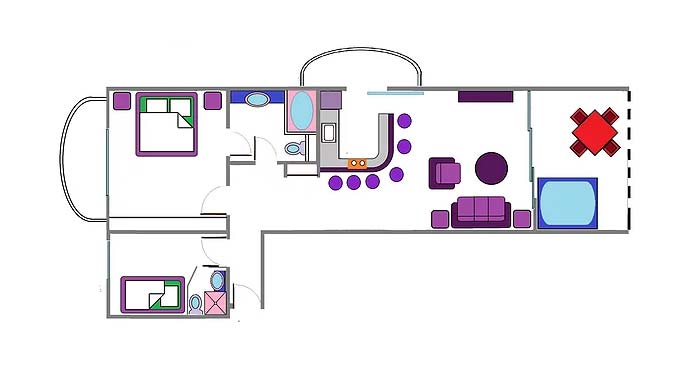 The large two-bedroom condos have an open concept design. This condo comes with a fully equipped kitchen area with a bar and also with household appliances (refrigerator, microwave oven, ceramic hob, dishwasher and all the necessary small appliances).
This spacious condo as a luxury marble bathroom that gives you spa vibes and a bathroom with a shower that gives you a feeling of relaxation. This two-bedroom ocean view apartment also had a large terrace overlooking the swimming pool and the Caribbean Sea With a Jacuzzi and a second terrace overlooking the calm lagoon waters of St Maarten.
The guest bedroom is small but accommodates a double bed. There are two bathrooms.
Two Bedroom ocean and lagoon view condo US$ 550,000
The two-bedroom beach apartment measures 101m2 is located on the 6th floor of the resort residence offers views of the Cupecoy lagoon and the Caribbean Sea.
Cupecoy Resort Amenities
24 hour reception
Concierge desk
Accessible infrastructure for the disabled
Disabled access common areas
Laundry / Valet Service
Smoke detectors
Air-conditioned installations
Non-smoking rooms
24 hour security
Elevators
Bar and Restaurant
Outdoor pool
Fitness center
Neighboring Spa Facilities
Access to the Beach
In-room Massage Treatments
Business centre
Parking
Close to the hotel shops and shopping center
Cupecoy Beach
View this post on Instagram
Reviews for Resort
Feb 2020
Love this location
Love the view, the location, the space in the room
Casinos, beaches, restos close to the resort
airport and french side
Fitness room and free activities, aquagym and pilates
Bar, resto
Hope to come back soon
March 2020
The staff is so friendly with our family, always offering a hello and helping us whenever we need – that goes from the highest level to our daily cleaning people. The nightly entertainment at the bar area kept us from wanting to stray too far from the hotel! From a very fun DJ, to karaoke and other singers, they kept us swooning the entire time. The little beach there this year was perfect to take a dip in and the pool was always fantastically cleaned by Bobby. It is like the TV show Cheers, you get to the bar and Ramona and Veronique always know your name and greet you with a smile. I would highly recommend staying here to anyone visiting the island – it is perfectly situated between the restaurants in Maho and Porto Cupecoy and up at the medical school area – great food at the resort as well (the ribs and chicken saturday nights are perfect, better than what we've had throughout the island!).
March 2020
A warm welcome from staff at arrival w a rum punch then introduced to key people with a list of daily activities for guests if interested. The place has maintenance cleaning keeping and improving atmosphere. New fresh paint, Nice new upholstered furniture, nice sheets, nice pillows, clean rooms, an amazing view. The beach was larger this year than I have seen it in the past it's easy to swim if your comfortable I like to bring a floaty and a cooler. Wi-Fi worked good, TVs worked good, air-conditioning works good, & plumbing. This is an update for those who know this place over the years.