Jordan Village Oceanview Studio For Sale
Presenting a modern Jordan Villa studio with major upgrades. A partition wall separating the living area from the bedroom; offering a whole new dimension of space and privacy in this beautiful studio at Jordan Village Cupecoy.
These are the best investment properties on the island with guaranteed long term rental income from AUC students.
Jordan Village in Cupecoy is a self contained village within a tropical paradise island called St Maarten. The secure development consists of 288 studios in 18 buildings and two new towers built recently as one-bedroom and two-bedroom ocean view apartments.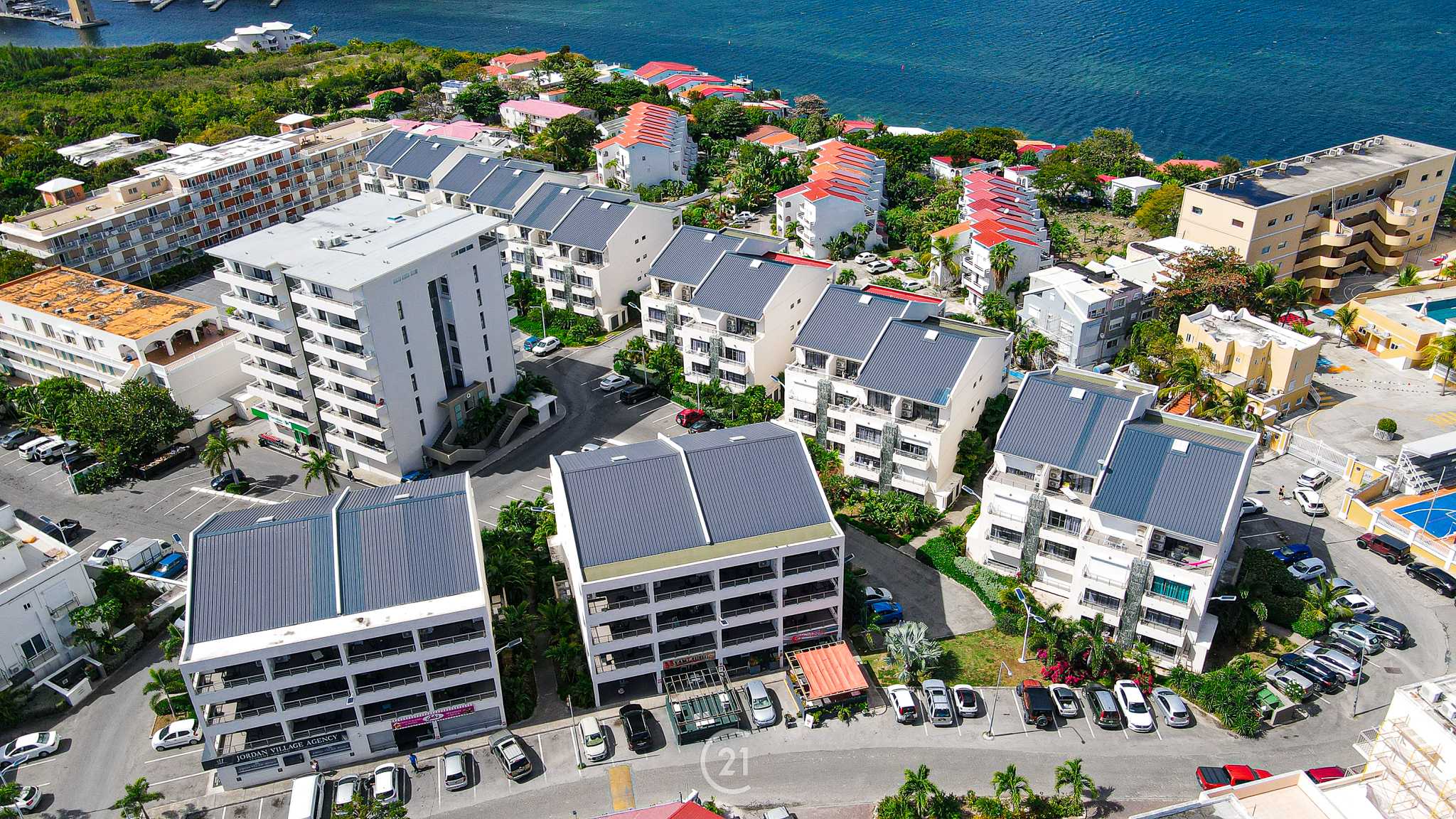 Each building in Jordan Village contains 16 apartments in total including Studios and Loft Condos. Only the top floor of each building has a Loft Studio created with use of a mezzanine floor. Quite smart use of space!
Each building has a one central entrance with a common stairway to each floor level. There are no elevators in the older Jordan Village buildings. The entrance to every building is secure and code access.
The Jordan Village apartments are designed with modern architectural principles yet keeping a focus on privacy with the use of palms and flowers. Its a stunning blend of nature and concrete. Even the extensive parking and tarmac don't look overly intrusive because of the extensive use of foliage around the buildings and common spaces. A masterpiece by an experienced developer!
The common spaces are beautifully maintained and really brings the community together.
The apartments are concrete with wooden roof structures finished in metal roof sheets with a contemporary interior finish using luxury brands! Surprising for this type of project, the developer has used highest quality building material in every part of this construction. The hurricane rated balcony doors to the fire rated entry doors. Everything is top quality and well maintained even today!
There are fire alarms, security protocols, daily cleaning of common areas, on site maintenance team and fully managed rental service. This is an investors paradise. Your investment is fully secure!
Jordan Village Studio
Studios Layouts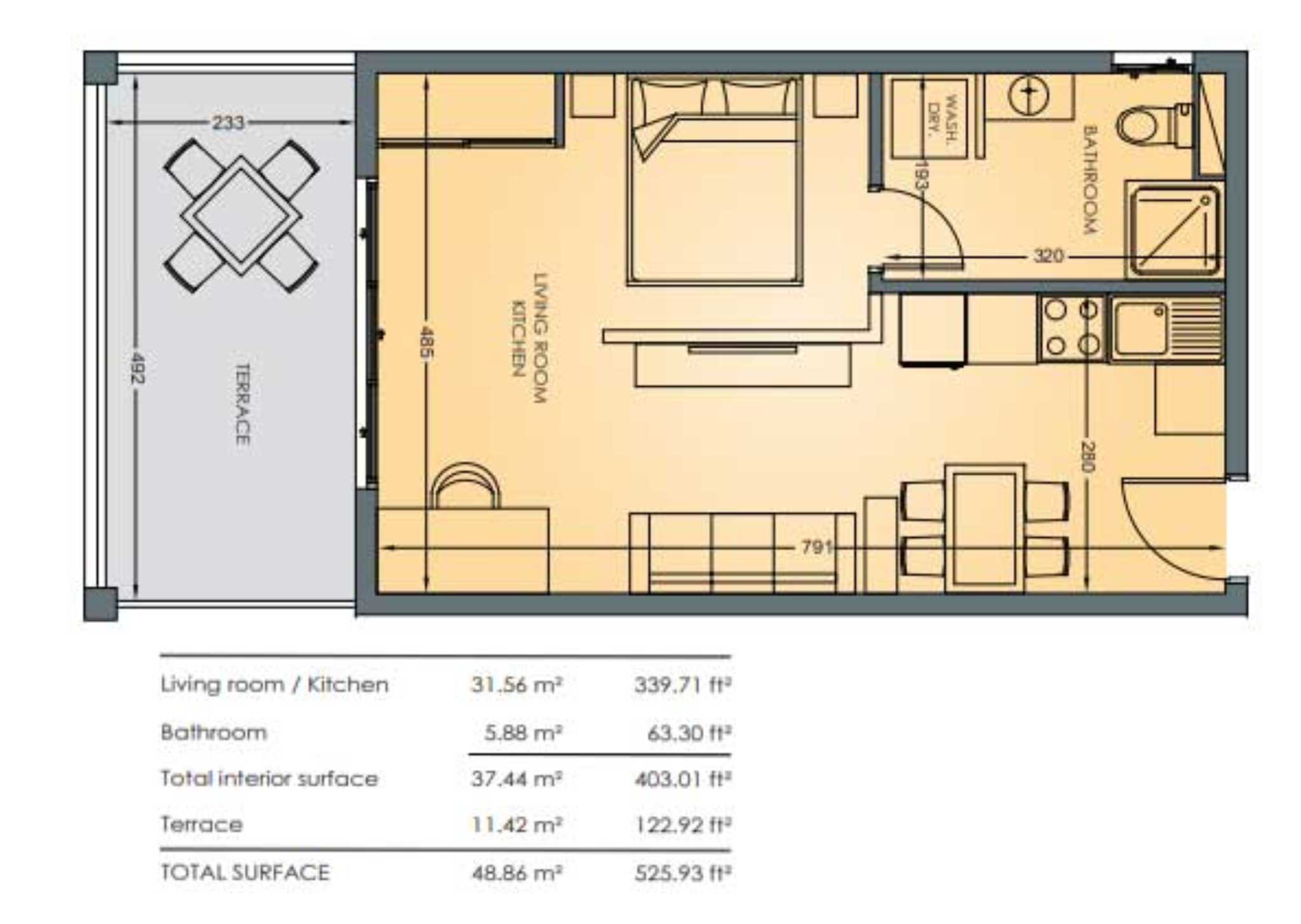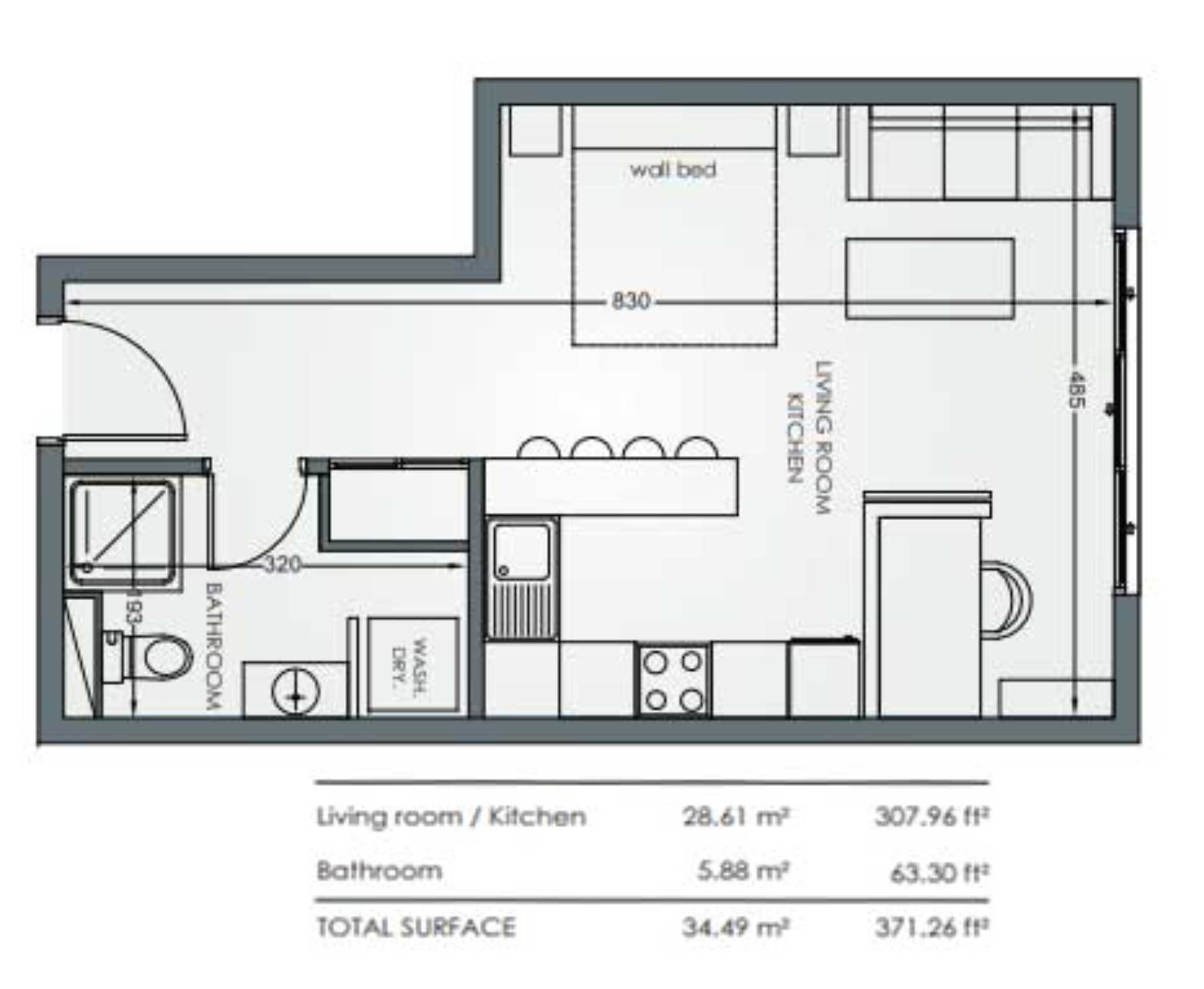 Example Studio layout
Well designed studios are modern with well articulated zones. As you enter the bright studio you will be first be drawn to the views in the balcony. As you pass the contemporary kitchen dining area you enter the living area with sofa and TV. Progressing on to the open space gives you access to the bedroom which is separated by an open partition wall leading to the bathroom. You even have enough room for a desk and yoga space. The terrace is equally well designed with see-through railings and partition wall recess for air flow and light.
All of this in just 592 square feet of living space! Genius architecture.
Each Jordan Village studio contains:
Contemporary kitchen and dining area
Living area with TV
Bedroom area
Work desk
Enclosed bathroom with shower
Porch / terrace (some with ocean views)
Maintenance fees
Each studio at Jordan Village costs approximately $137 in maintenance fees each month. This includes maintenance of all common areas and exterior building insurance.
Rental income
You will always have a rental income from this property due to high demand from American Medical School. In fact the majority owner of the units at Jordan Village is the American Medical University! The students pay $1200 to $1400 per month. For a property of this price and size, your return on investment is unlike anything else in St Maarten. The tenant pays the utilities, TV service and internet.
Security
It has its own secure bubble created by the American Medical University with 24 hour manned patrols and night time dog patrols. I have lived around Jordan Village for 3 years and never heard of anything crime related! Thank you AUC!
Parking
Each studio has 1 allocated parking space, however there are hundreds of parking spaces available for use. You will never have a problem finding a parking spot here.
What is around Jordan Village
Beaches
The incredible Mullet Bay beach and Cupecoy beach is just 5 minutes walk in either direction. The lagoon on the other side offers access to water sports and boat charters. Its a truly incredible location for everything.
Local Grocery Stores
Tung Yuen Supermarket
This is a corner store market with a lot more than you'd expect. Anything from dry to wet goods. Eggs, milk, juices, spices, dry food, canned food, bread, sauces/spreads, and a few microwavable items. If you don't feel like cooking or forgot an item from one of the larger grocery stores, a stop to the Asian market is perfect. It also has a few household items.
Carrefour (Jordan Village Location)
This is a small supermarket with a lot of American food and products. You can buy most of the necessary cooking items here. Fresh produce, fruits, meats, fish, snacks, breads, cheeses, etc.
Breakfast
Jules Bakery and Natural Cafe are special in the mornings. Watch the turquoise oceans while you have a crisp coffee with fresh French croissants. Its heavenly here in Jordan Village.
Restaurants
In and Out Pizzeria – Friendly pizzas and crepes!
Spaghetti House – good Italian with great ambiance.
Fat Tonys – your everyday American cuisine with sports bar!
Tao Garden – upscale Thai restaurant.
Yami Sushi – your local sushi and traditional Japanese cuisine.
Barcode – Grilled steaks and meats.
La Bodega – Chef is highly recommended as rumored to be one of the best!
Natural Cafe – fresh juices, vegan meals and bakery delights.
Marios at The Cliff – upscale dining at Five star Cliff.
Many more coming to Fourteen Mullet Bay and the Atlantis Casino.
Other
Next Level Car Rental
Beauty salon
Spa and massage
Adonis Hotel
Grace Yoga
Incredible Fitness Gym