Point Pirouette 2 Bedroom House For Sale
I would like to present this delightful two-bedroom duplex home for sale in Point Pirouette, Sint Maarten. Offering ocean views from two spacious bedrooms and a private pool for all the fun in the sun! Point Pirouette is perfect for families and guests because of its close proximity to Maho while being far enough to enjoy the Caribbean tranquility around the Simpson Bay lagoon.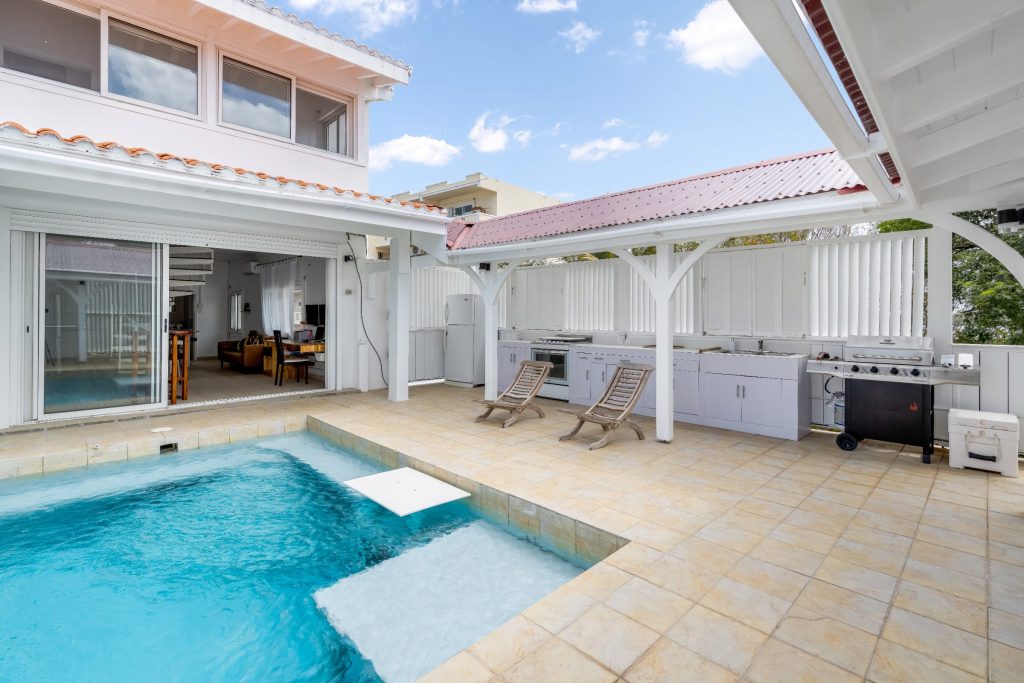 2 Bedroom House Size
Living Room Open Concept
Kitchen Open Concept
Bedroom(s) Two (2)
Bathroom(s) Two and a half (2.5)
Main House (upstairs and downstairs) 97m2
Terrace/outside kitchen 63m2
3.1 Meter / 10' custom fully stocked bar with mirror (2022)
Pool 14m2 with dimensions 3 x 4.7 meter / 10 x 15 1/2 feet
Storage / electrical & Pump room 34m2
Total interior size is 208m2
The Point Pirouette house is located in Point Pirouette district at the far end of Maho stretching along the Simpson Bay lagoon. Maho is simply 15 minute walk and and provides access to Mayo beach and Mullet Bay; the best parts of Sint Maarten.
Within the surrounding area all in walking distance as well are Sunset Beach Bar, Mullet Bay Beach, restaurants, casino's and night clubs, bus stops & hotels.
Point Pirouette House For Sale
The Point Pirouette house is a 2 bedroom two and one half (2.5) bath duplex. There are three floors, the storage/electrical & pump room being on the ground floor, the living area, outside kitchen & pool on the first floor with a half bath and the bedrooms on the top floor with a distant ocean view. The property is currently undergoing some minor improvements, no construction.
One residential building with three levels made with concrete, masonry and steel.
Point Pirouette House Exterior
Walls Concrete, Masonry & Steel
Roof Clay roof tiles
Pool side: Aluminum zinc roofing sheets
Door Pool side: Wood
Main entrance: Aluminum framed sliding door
Cistern: Yes
Septic: Yes
Hurricane Shutters Yes – on several windows manual rolling shutters and on the main entrance door electrical rolling shutter.
Parking: Yes – for maximum three (3) vehicles
Pool: Yes
Fence: Yes – Partially fenced with concrete walls
Foundation: Reinforced concrete slab
Other: Outdoor kitchen area, storage room/electrical and pump room
Point Pirouette House Interior
Ceiling Exposed wooden rafters
Floors Ceramic tiled
Windows Aluminum framed
Doors Flush wood type
Bathroom (s) Ceramic tiled walls and floors with three (3) piece standard sanitary fixtures.
Bedroom (s) Average/large size with storage area near ceiling
Kitchen Open concept with granite countertops and wooden cabinetry.
Airco's/Fans Yes
Plumbing PVC pipes – No leaks evidenced during walk through
Electrical Wiring 110V/220V American Standard Grade
Mosquito Screens Yes on all windows
Other Laundry/half bath