Blue lagoon 5 Bedroom Point Pirouette Waterfront Villa For Sale
Showcasing Villa Blue Lagoon in St Maarten. A 5-bedroom waterfront paradise villa with all the amenities you could ask for; including a boat dock and a pool bar!
Villa Blue Lagoon is part of the stunning Point Pirouette area of St. Martin and sits along the waterfront at Simpson Bay Lagoon and is just a short distance from the Maho area within the Dutch region of the island. With its Balinese-inspired design and décor, the five-bedroom gem is tucked into beautifully manicured gardens and grounds, and offers visitors multiple tiers of deck space to ensure that the flawless scenery and beautiful island breezes are enjoyed at all times.
Five Bedroom Point Pirouette Villa
The five bedrooms are all luxury suites and feature king-size beds designed in the same unique style as the rest of the property. They include king beds, premium entertainment systems, ensuite baths, and amazing sea views. Most of the bedrooms also open to a terrace or balcony.
The great room features a large and bright living room and dining area. With the open floor plan, visitors enjoy wonderful sea breezes even while using the entertainment center just inside. The kitchen is the same and is gazebo-like in design with work counters opening directly to the terrace. Furnished with every possible appliance or gear, it is sure to delight even expert cooks. It incorporates the barbecue area and makes entertaining the entire crowd easy and fun.
At the heart of the villa is the pool terrace with a lagoon-style pool that is framed in lovely sun decks furnished in exquisite style. The organic form of the pool includes a shallow end that emulates an actual beach and which also includes a wet bar and potted palms. A gazebo is also incorporated into the deck and it features an al fresco dining spot that offers a fantastic space from which to enjoy the views at any hour of the day or night. The overall design esthetic is utterly unique and unforgettable with furnishings made of carved stone and wood adding a definite organic feel to the outdoor spaces. A treehouse-like feel exists in the dining pavilion and other areas, while indoors, a clean and modern esthetic dominates.
Whether it is a luxury holiday with the family or a permanent stay at the luxurious and private retreat that is Villa Blue Lagoon is sure to be a delight. With its waterfront location and its flawless array of amenities, it will quickly become a home.
40ft+ Boat Slip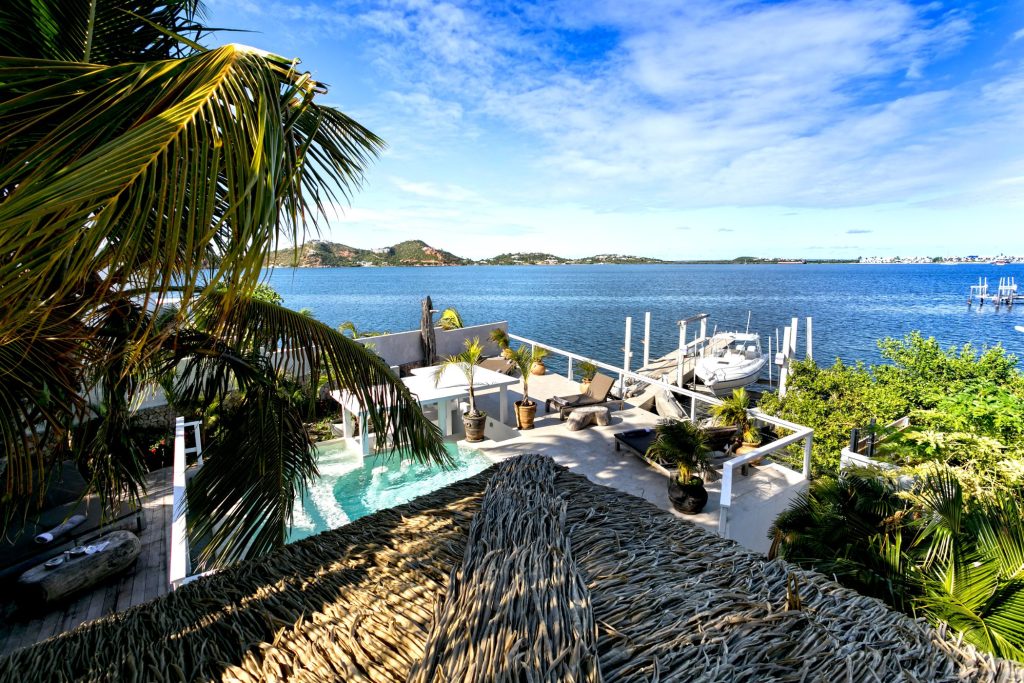 More than a breathtaking view on the lagoon of Sint Maarten, the Villa Blue Lagoon has been built to be an intimate oasis in the middle of the famous quarter of Maho thanks to a beautiful garden, natural furnitures, a large terrace, many living rooms and two house levels.