Newly Renovated Modern Four Bedroom Indigo Bay Villa For Sale
This brand new state of the art Indigo Bay home features open-plan living facing unlimited ocean views including three spacious bedrooms each with their own private bath, built-in wardrobes, and multiple private balconies. The bedrooms are large enough to allow a king or queen size bed and they all have a wonderful view of the ocean and hillside views.
The bedrooms have beautiful large windows and doors that showcase the incredible view of the ocean and Indigo Bay. The modern kitchen is fully equipped with quality appliances, beautiful euro design cabinetry, large eat-in dining area, and sliding glass doors off to the garden or private pool. The lovely decked area surrounding pool adds extra living space to enjoy the full day in Indigo Bay's sun.
Electric hurricane shutters are installed for safety and efficiency. Ready for you to move in!
This incredible home in Indigo Bay has plenty of parking space, and a chic garden to have your private barbeques and parties with family and friends. Make Indigo Bay your next vacation home, permanent home or income generator.
This is a three-level well-constructed four-bedroom luxury villa for sale in St Maarten. A few minutes from Indigo Bay beach, the homes have a stunning endless view of the Caribbean Sea and Saba.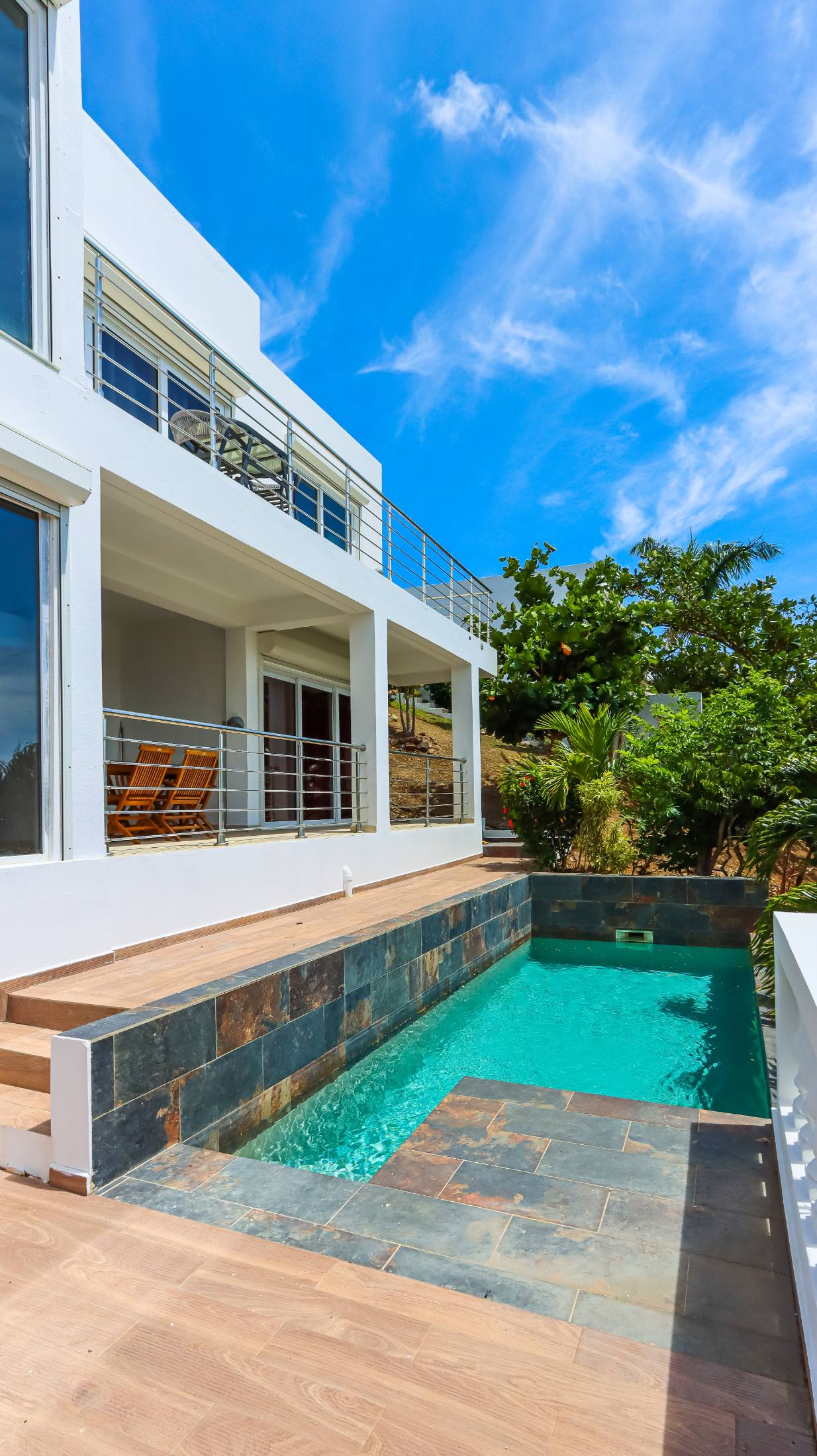 Four-bedroom home in Indigo Bay, St Maarten
Spread over three levels; with ground floor living space; upstairs bedrooms and rooftop terrace.
Spacious rooms with ocean views and terrace.
Four modern bathrooms with shower
You are going to love the pool lounge and terrace!
Indigo Bay Villa Construction
Floors: Ceramic / Porcelain / Slate tiles
Ceilings: Drywall
lnterior Walls: Plastered/ Painted
Exterior Walls: Plastered/ Painted
Windows: Aluminum
Exit Doors: Wood/AIuminum
Hurricane Shutters: Roller down
Kitchen Cabinets: Modern with laminate countertops
Bathroom: Tiled/shower
Security: Gated community
Fencing: Rock wall
Air Conditioning: Split unit
High return on investment
The short term rental income is very high in the location. As per this Indigo Bay Property in Tripadvisor they charge an average of $500 to $800 per night for their villa depending on the time of the year.
Review from a guest in May 2022:
My stay at this AirBNB was absolutely amazing! So much more than I accepted. I stayed here for my 24th birthday along with 6 of my other friends and the house had more than enough room for us. The online pictures does it no justice because it was jaw dropping how gorgeous everything was from the inside to the outdoor views. Pooja was extremely helpful prior to my arrival when I had any questions about the island or the AirBNB down to the last minute I was there. We were 10 minutes away (driving) from everything on the Dutch side plus the property had a beach and bar/restaurant a walk away. Would definitely stay here in the future, thank you so much Pooja!!
Indigo Bay Homes
High-quality concrete construction with concrete roof to provide an indestructible structure during hurricane season. However, it is important to note that due to the typographical nature of Indigo Bay it is well protected by the tall hills.
Developed by a reputable developer well known for other projects on the island.
Property features
4 large spacious bedrooms, 4 ensuite with ocean views
Large open plan living and dining with ocean views
4 Bathrooms
Private pool and deck
Tropical landscaping
Fully furnished
24 hour security
Indigo Bay is an eco friendly community, the first of it's kind on Island, as a result the site has preserved natural ponds, re-introduced indigenous palms and as of today maintains a site dedicated to the horses of Indigo Bay.
As a result of the recent infrastructure changes, all properties in Indigo Bay have seen a small increase in value. Further increases are in line up on completion of various luxury projects in the location of Indigo Bay hills.
Large retention ponds support a state-of-the-art water management system.
Indigo Bay's carbon footprint is further reduced by an on-location tree and plant nursery.
Remember No Property Taxes and No Capital Gains Tax.
Call Ritika on +17215261819 to view the property today.