Simpson Bay Aqualina Beach Club 2 Bedroom Beachfront Condo For Sale
Presenting a beachfront two-bedroom condo on the white sandy shores of Simpson Bay beach within the heavenly confines of Aqualina Beach Club. This beach condo is a true five-star residence with completely new interiors.
Discover your dream home in Aqualina Beach Club, where luxury meets rustic beach charm. This two-bedroom beachfront condo on the golden shores of Simpson Bay is more than just a residence – it's a passport to paradise. With brand new interiors and direct access to one of the most beautiful beaches in the world, this condo is the ultimate oceanfront escape.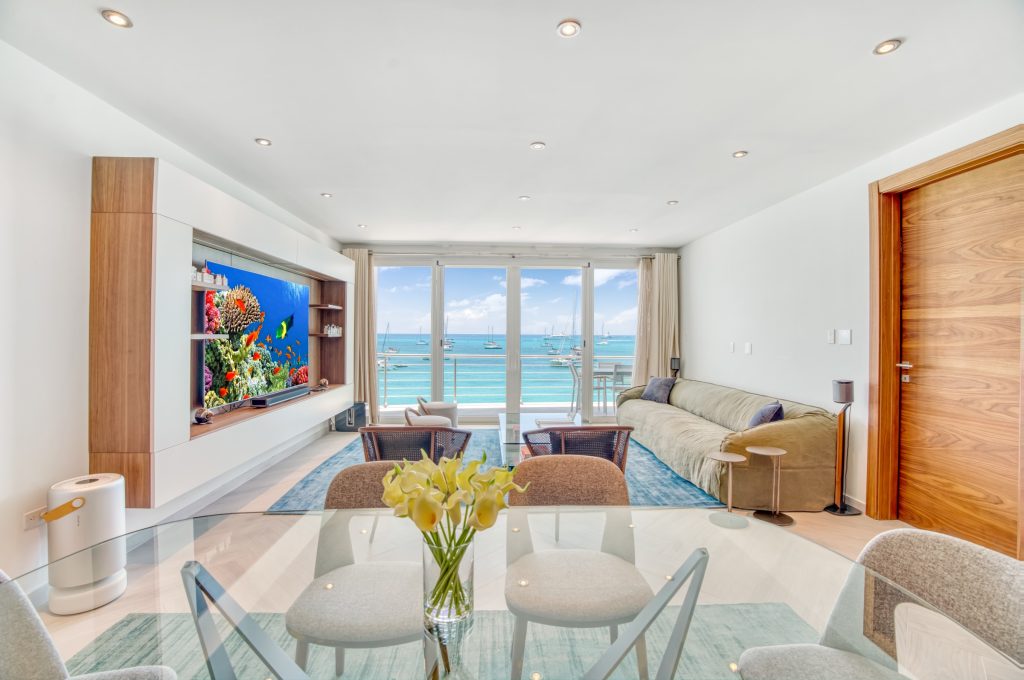 Step into your new home and be greeted by the soothing sound of waves lapping at the shore. Two generously sized master bedrooms provide ample space to unwind and recharge, while the spacious terrace boasts breathtaking views of the Caribbean Sea. From colorful sailboats to fiery sunsets, this condo offers everything you need to fall in love with island life.
Welcome to your personal oasis where sun, sand, and waves await. Pack your bags, bring your toothbrush, and prepare to be swept away by the beauty of Aqualina Beach Club in Sint Maarten.
Aqualina Condo Features
New central air-conditioning system upgraded to top-of-the line Mitsubishi Electric cassette-type a/c's
Interior doors & trims are from Italy
The balcony doors are 40mm thick with a slight blue tint (much thicker than normal)
Hurricane shutters on all windows and balcony sliding doors
Steel-reinforced front door with 6 internal pins
Ceramic tiles everywhere
A new walk-in Master Bedroom closet
Steam shower in the master bath
the addition of a half-bathroom with all bathrooms containing the Kohler Nuvi intelligent toilets
Modern modular kitchen with stainless steel counter-top from Denmark with gas burners and Miele appliances to name a few of the highlights
Aqualina Beach Club, Simpson Bay
Aqualina Beach Club has undertaken a complete makeover in it's quest to become Simpson Bay's only FIVE STAR luxury residential development. Amongst some of the improvements:
New tiling throughout entire communal areas
Enhanced owner-accessible security features
New vehicle security gate
Upgraded lighting
Renovated pool and beach-access areas
Re-designed landscaping
New elevator
Professional property management team dedicated to bringing excellence to Aqualina Beach Club in Simpson Bay
Enjoy amazing sunsets from the large beachside pool lounge where you will find chaise lounge chairs and an outdoor dining table for eight.