Cay Hill Aparment Building For Sale
8 unit apartment building in Cay Hill, St Maarten.
Centrally located in flat land in a prime location.
Ready to make you money!
There are a total of six apartments on this property and two commercial warehouses on 1,361 square meters of Cay Hill land.
Two 1-bedroom apartments
Two 2-bedroom apartments
Two 3-bedroom apartments
Two warehouses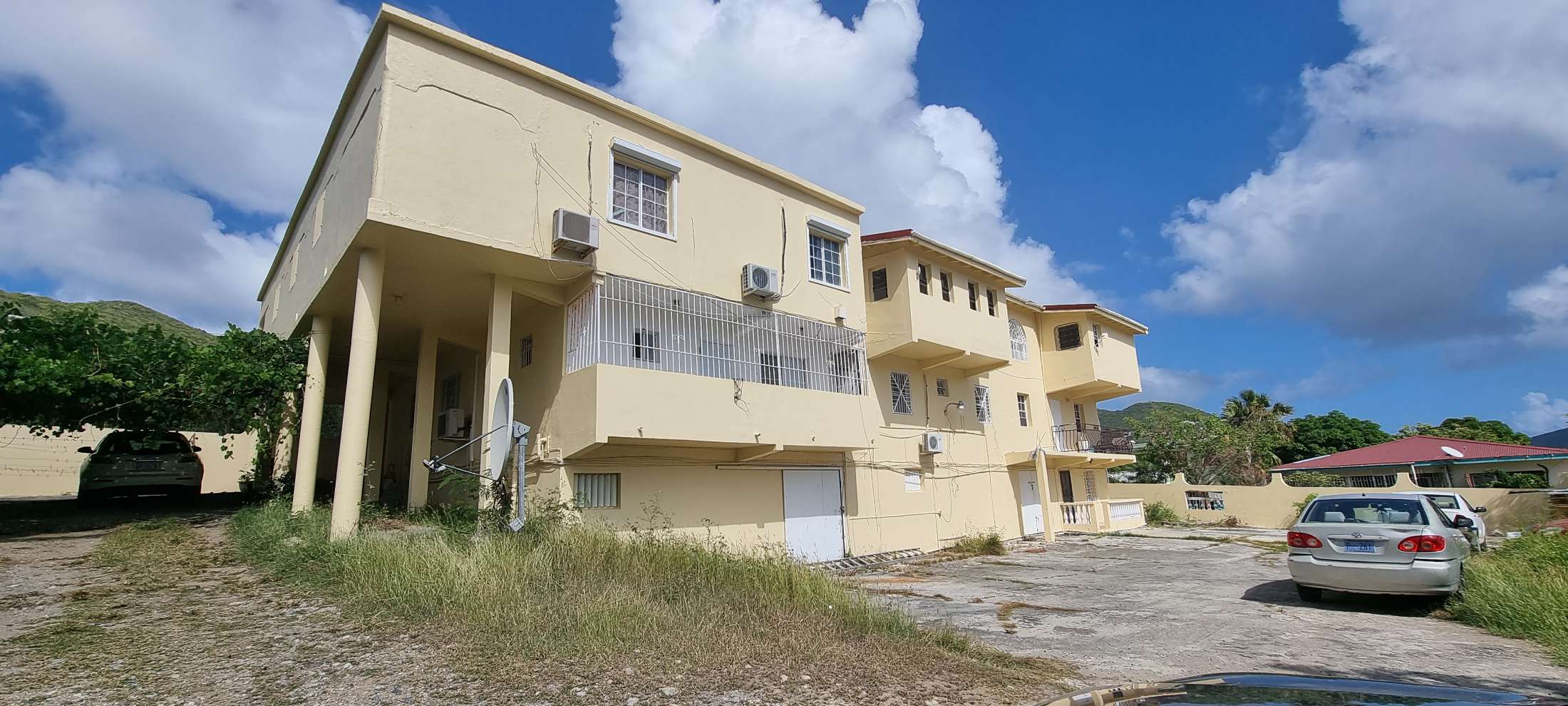 Appraised at $1,375,000.00 and a yearly return of investment of $95,400.00 at full occupancy you are getting a bargain at this price!
Possible Monthly Gross income: $7,950.00
Currently at 80% occupancy.
Apartment Building For Sale
The apartment building needs some immediate repair.
Fixer-upper centrally located apartment building including two warehouses now for sale on a flat parcel of land in Cay Hill, Sint Maarten.
Perfectly located near the St. Maarten Medical Center, schools, bus stops, supermarkets, hardware stores and a five minute drive to Cole Bay/Simpson Bay as
well as Philipsburg, you cannot get a better deal!
You're getting a total of 1,361 square meters of land with a residential building of 690 square meters and a storage/warehouse area of 220 square meters.
There are a total of six apartments on this property as well as two warehouses.
Garden area as well as a paved parking area all within the gated property.
Cay Hill Apartment Building For Sale
The St Maarten apartment building is located within a residential/commercial area of Cay Hill walking distance to Kooyman and Ace Home Center, Conveniences stores, fast food restaurants, and bus stops. The apartment building is a two storey building with two (2) warehouse spaces and four (2) apartments on the lower floor and two (2) apartments on the upper floor.
The building shows signs of deferred maintenance but all residential units are rented. In one of the units bathroom and kitchen fixtures have been torn out and some wall tiles are broken. Renovations to this unit are in process. The deck on the upper floor and along the walls are cracked. The warehouses are occupied by the property owner.
Structural Assessment
Number of Buildings One (1)
Purpose of Use: Residential plus warehousing
Number of Floors: Two (2)
Type of Construction: Concrete, Masonry & Steel
Age of Buildings Approx. 30 years
Estimated Remaining Life Approx. 25 years with upgrade & maintenance
Exterior Building
Walls: Concrete block, plastered & painted
Roof: Timber roof with corrugated metal roof sheeting
Door: Wood
Cistern: No
Septic: Yes
Hurricane Shutters: Yes
Burglar Bars: Yes
Parking Within fenced yard for all tenants and guests
Pool: No
Fence: Concrete block wall with two steel gates
Foundation: Reinforced concrete slab
Interior Finishes
Ceiling Upper Floor: Exposed rafters and sheetrock
Lower Floor: Concrete
Floors Ceramic tiled throughout
Windows Aluminum framed and louver style
Doors Flush wood type
Bathroom (s) Tiled floors and walls with 3 piece sanitary fixtures
Bedroom (s) Average sized
Kitchen Custom wood cabinetry finished with formica
Airco's/Fans Yes
Plumbing PVC Pipes – no leak evidenced during walkthrough
Electrical Wiring 110V/220V Electrical Standard Grade
Property Plan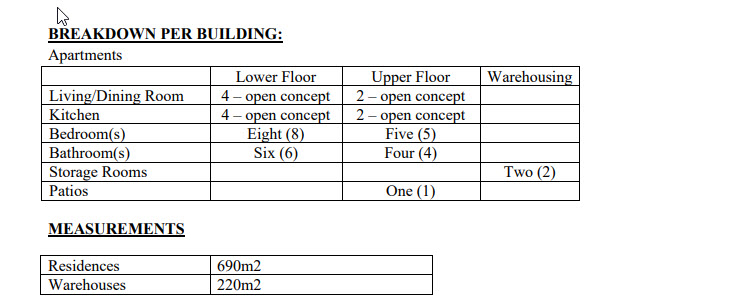 Cay Hill Apartments For Sale
Cay hill is a, centrally located, mixed residential & commercial community. The district is situated between the dutch side, capital city of Philips burg and entertainment hot spot Simpson bay. Both are just a few minutes drive away. The location is also close to all major amenities and services such as shopping, banking, schools, medical facilities and restaurants.
Commercial property is booming in Cay Hill. We have new warehouses for sale in Cay Hill starting at just $189,000!