Las Arenas Luxury Simpson Bay Beach Condo For Sale
Simpson Bay Condo, When you are looking for a luxury experience in St Maarten's iconic Simpon Bay beach, there are only two condo developments that will meet your every expectation. Las Arenas is number one; not only because of the design and location; but more importantly the beach at Las Arena's is magnificent! It's more than that; it's absolutely fricking perfect!!
Soft white sand, low tide, no rocks; just pure bliss!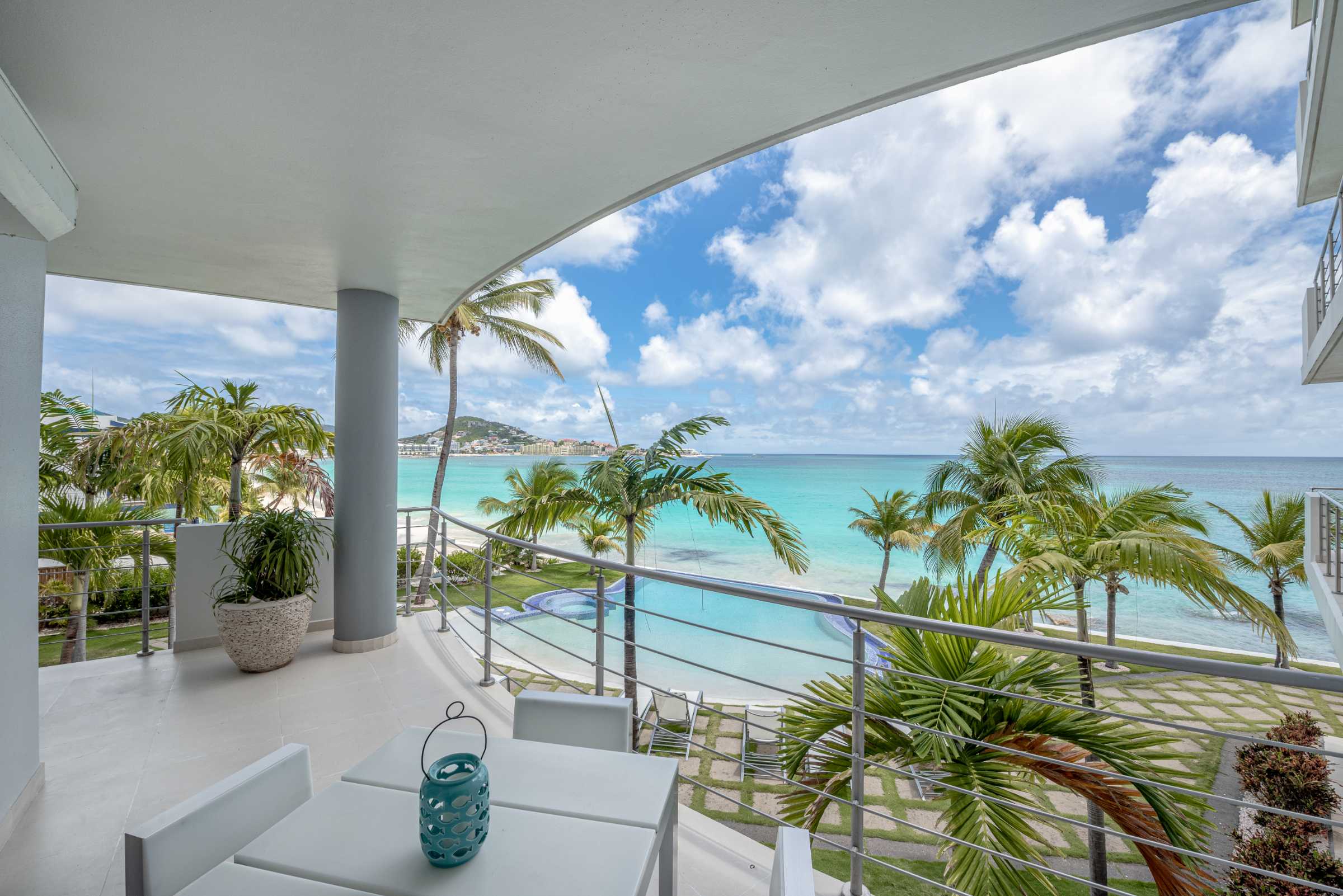 Las Arenas Two Bedroom Condo
This exquisite two-bedroom condominium is part of elegant Las Arenas, a modern, attractively appointed twelve-unit building with infinity swimming pool, gated premises, secure covered parking, rich landscaping, and unparalleled construction details.
Two bedrooms, two and half bathrooms
1500 square feet condo
One of the most luxurious and desirable beachfront residences in Dutch Sint Maarten.
Each of the two master beachfront bedrooms and large living area offers spectacular direct views of the cerulean Caribbean and Isle of Saba.
The relaxing, romantic atmosphere of this Simpson Bay beach condos fulfills all your dreams of the ultimate Caribbean experience in St Maarten!
Situated on, undisputedly, the least-crowded beach on the island
Both individually air-conditioned master bedrooms offer a large walk-in closet, marble-tiled bath, king-sized bed, and fine mahogany furniture.
The gourmet kitchen features GE Monogram appliances, including an Advantium oven, cook top, wine cooler, and dishwasher
If dining out is preferred, near-by options run the gamut from formal candlelight to Caribbean casual. More than 300 fine restaurants island-wide make Sint Maarten the gourmet capital of the Caribbean.
Elevator or outdoor stair access.
Back Up Generator
HOA fees: $683 per month
This Las Arenas two-bedroom in Simpson Bay Condo is less than five minutes from Princess Juliana International Airport, beach bars, restaurants, French bakeries, banks, pharmacies, grocery stores, gyms, hairdressing salons, ice-cream parlours, massage centers, casinos and water sports.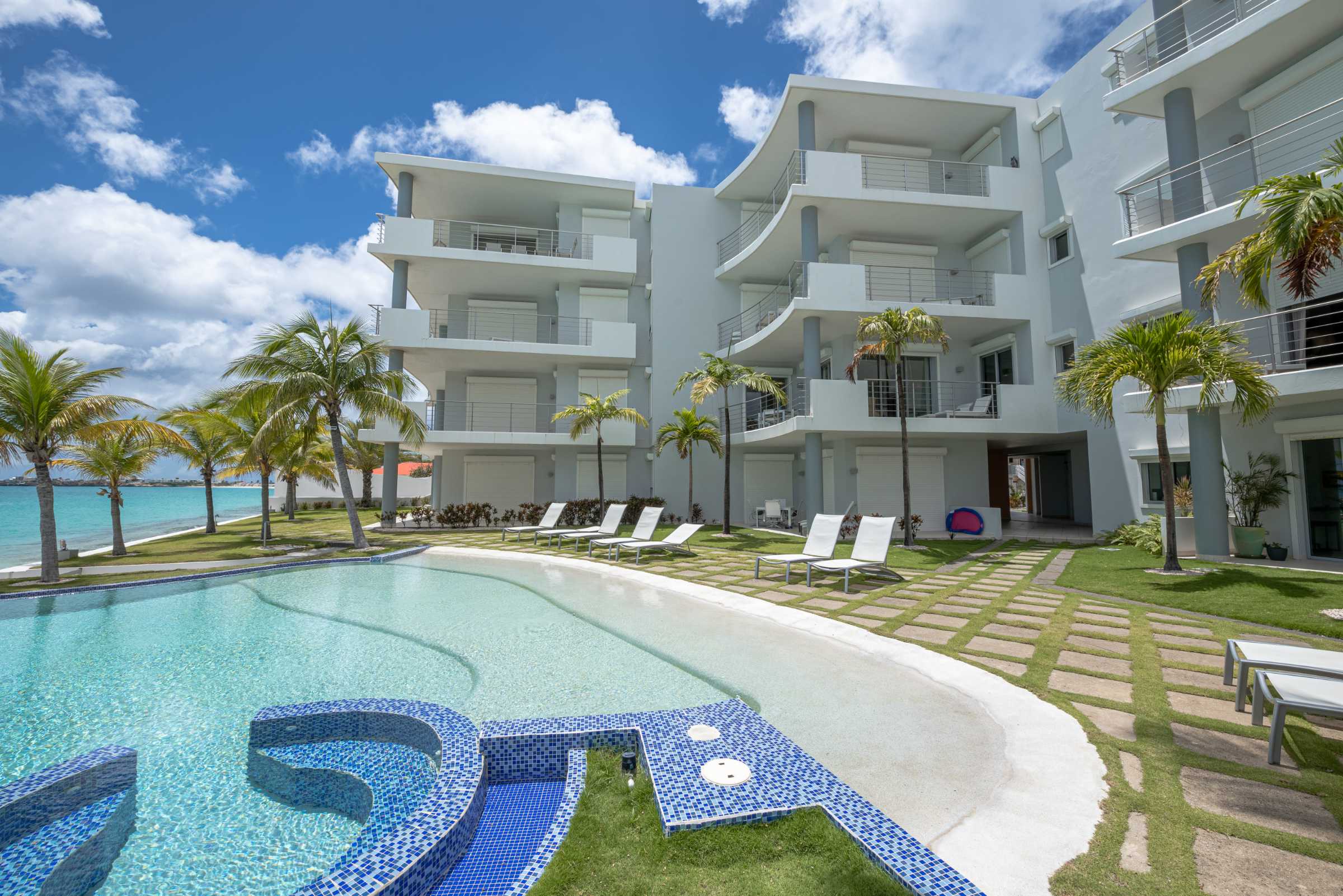 Simpson Bay Condo As Investment Property
The current owner uses this Simpson Bay condo as an investment. She stays in the condo when on St Maarten, but rents it out the rest of the year for a considerable income!
Rates
Mid-April to mid-December $2,500 per week
Mid-Dec to mid-April $3,200 per week
Easter & Thanksgiving $3,500 per week
Christmas & NY $4,000 per week
Rental expenses
Property manager $200 per month
Maid $30 per half day
Las Arenas Condo Financials
2019
Rental Income for 2019: $69,818
HOA Dues: $10,929 per year ($2732.24 quarterly)
Property Management: $2400/year ($200 month)
Housekeeper: $4320 ($30 per clean on Tues, Thurs, Sat – $90 x 4 x 12) Cleaning on Saturday ONLY when there is a new guest arrival.
Electricity: $5000 (based on the bookings of $70k)
Internet: $1500 ($125 month)

2021

2021 Rental Income: $58,900 (This number represents rentals since January and includes current reservations through December.)
There are currently weeks available; an additional potential $20,000 of rental income.

2022

2022 Reservations to date: $22,600

Tax Benefits

For your tax benefits in USA, the condo is already in an LLC! The only asset of the LLC is the condo. The attorney who handled the sale is in Williamsburg, VA and it was a very simple transaction to transfer ownership. Details of attorney available upon submitting a written offer to purchase.