Indigo Bay, Sint Maarten
Indigo Bay villas and condos offer exclusivity, stunning beaches, world-class amenities and the perfect location for easy travel to airport or any of the other 37 beaches of St Maarten. Indigo Bay is the most popular and easiest choice between any other luxury location in Sint Maarten.
Even the famous Peter Stuyvesant choose to first land on these famous shores because of the perfectly calm waters! Peter Stuyvesant is a legend in early New York's Dutch history. The stories of this precious bay are long and infamous. Be a part of history and become a legend!
To live in one of the luxury villas or beach condo developments within the private enclave of Indigo Bay; call Ritika on +17215261819.
Very high rental demand offers phenomenal rental returns on your property.
Most of the land in Indigo Bay is privately developed, and 80% of all land is reserved for single-family homes which furthermore protected with a low-density restriction to offer privacy between residences.
A five-star hotel and condo development known as Vie L'Ven brings world-class amenities in the bay.
Located on the north coast of the island; it is popular among residents and VIPs who desire privacy, security and ease of travel. The airport, Simpson Bay and Philipsburg are just 10 minutes away on either side. There are other locations that offer more seclusion, but they are too far away from the action. Indigo Bay is the only five-star location that offers the best of Caribbean views, calm ocean waters and ease of travel between popular sights and entertainment.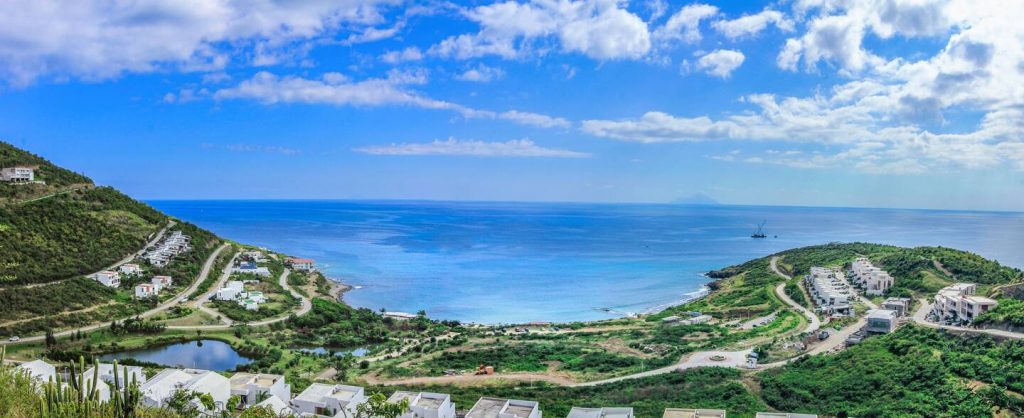 The waters are calm and soft while offering relaxing turquoise colors, really feels like you are in the best place on Earth. Enjoy that feeling of achievement while walking on the soft-sandy beach enjoying a cocktail from the upscale beach bar known for its gourmet selection of prime cuts! All this makes the beach even more beautiful. I personally spend most of my weekends here!
What activities can you do in Indigo Bay?
Beachfront Relaxing on Indigo Bay Beach
Most popular! Do absolutely nothing while you enjoy world-class beach service from one of the popular restaurants at the beach.
The beaches are so quiet and exclusive; you will simply enjoy being one with nature and water. Indigo Bay is an alternate heaven.
Hiking and Walking
The security, privacy, gentle hills and surrounding ocean views make walking and exercising at Indigo Bay a resident favorite! Meet your neighbors at the beach or compete to find out who is the fastest up the hill!!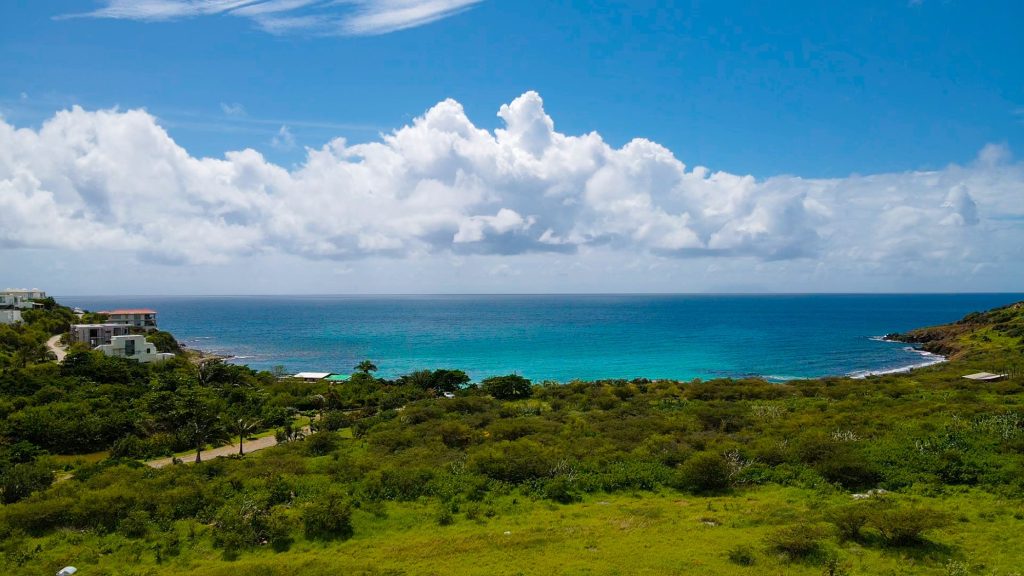 Horse Riding and Animal Sanctuary
Sharing the hills with horses and other fauna is part of Indigo Bay's heritage. Located on the other side of Cay Bay you will find the famous horse sanctuary which borders Indigo Bay and is simply a short walk to enjoy riding horses on the beach as your daily nature fix!
Don't miss this popular photo opportunity!
It is a thirty-acre nature park that has a lot to offer to its visitors. Earlier, the Seaside Nature Park was a plantation place. There are many animals in the park, and you can watch them from up close.
You can feed the ducks, pet the goats, look at the peacocks and admire their beauty, and you can even spot an iguana or two! Not only can you get horseback rides, but you can also get riding lessons at the Seaside Nature Park. You can pet the animals in Seaside Nature Park's petting zoo. There are a variety of animals there, from pigs to goats to ducks.
Swimming
What an ocean you have! Due to the nature of the bay; the calm waters and shallow beaches offer some of the best swimming locations in Sint Maarten. The turquoise color looks like something out of a brochure for haven!
House Hunting
Once you stay in Indigo Bay; you will never look elsewhere! Offering some of the best homes and opportunities to be a part of the real estate adventure that Sint Maarten offers. Oceanfront villas; beachfront condos and massive hillside estates offering ocean views and true luxury at a grand scale.
Ritika has practically been living in Indigo Bay; knowing every square inch of the bay since development started back in 2005! Try calling her to find out what is available right now; +17215261819.
Dining and Drinks
One of Indigo Bay's attraction is the proximity to high tourist locations like Simpson Bay and Philipsburg; offering you a choice of over 100 restaurants in the vicinity! However if you feel like staying local just simply walk to Indigo Bay to enjoy the organic grommet food at Indigo Bay beach bar and restaurants right on the beach.
The Indigo Beach Restaurant is the most stylish restaurant in Indigo Bay. The restaurant has a very aesthetic look because of the white canopies and weathered wood. You can get the typical beach cocktails here and also many other things! The menu of the Indigo Beach Restaurant is very diverse, and you can enjoy the view while having food.
Beaches of Indigo Bay
Indigo Bay Beach
A large stretch of sandy beach from one end of the bay to the other offering the calmest waters in Sint Maarten for swimming and lounging.
Indigo Bay Beach has the ideal Caribbean beach environment. It is in between Phillipsburg and Simpson Bay. It is the perfect beach to visit if you don't want to be with the crowd, have some delightful food, and enjoy some drinks. There are various activities to do on the beach, so you will never get bored.
Developments in Indigo Bay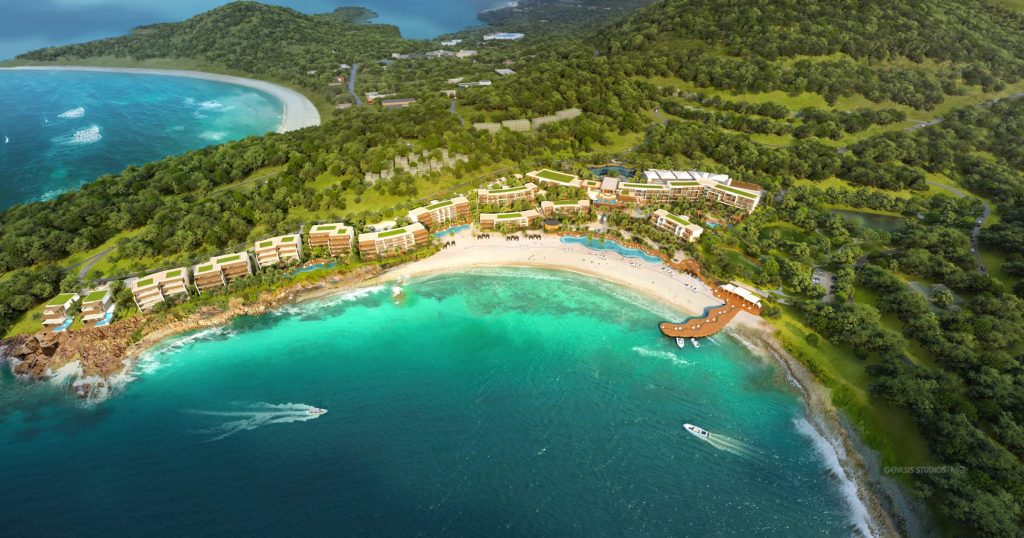 Indigo Green
Indigo Green is among the most lavish condos in Sint Maarten. You can feel the tropical essence right from your bedroom. The view of the ocean from Indigo Green is breathtaking. The property is so spacious that you can even have your office with an ocean view in your house! Located up on the hills; you get an unobstructed ocean view of Saba and Caribbean ocean to make it even better.
Indigo Bay Townhouses
The townhomes of Indigo Bay are located in a priceless part of the hillside where ocean views are clear and beautiful. The view of the Saba island and the sunset from here is magnificent. All the rooms have large windows which help provide a fantastic view of the sea. Each condo has two large bedrooms and bathrooms. The walls are insulated, and so are the ceilings.
You will also be able to see a lot of cruise ships from your condo. You can use the property as your vacation home, rental home, or even your permanent abode. The price is also reasonable enough to make your dream of having a lavish home come true.
Private Villas of Indigo Bay
Most of the land in Indigo Bay is privately developed, and 80% of all land is reserved for single-family homes only with a low-density restriction.
Indigo Bay Villas: $1,500,000
Oceanfront Indigo Bay Villas: $2,800,000
New Construction Indigo Bay Two Bedroom Oceanfront Condos: $1,600,000
Indigo Bay 5 Bedroom Villas: $2,500,000
Houses for rent in Indigo Bay
New Indigo Bay Villa: $5000 per month
Supermarkets near Indigo Bay
Carrefour Market
Just a 3 minute drive down the hill! It is by far the biggest supermarket chain in all of Sint Maarten. The market has a wide variety of products. It is very diverse, and it has products from Europe, Asia, Middle East, and America. You can get dairy products, bakery, and even baby care products.
What are people saying about Indigo Bay?
All in all, Indigo Bay is one of the best places to visit in Sint Maarten. You can do many things in Indigo Bay. Thus, there is a lot to explore. Furthermore, it has the best beaches and the best restaurants.
If you want to invest in the properties in Indigo Bay, it will be a wise thing to do. A lot of the areas are developed, and a few are developing, but nonetheless, the land value always appreciates. So, Indigo Bay is a must-visit if you want to have an excellent time in Sint Maarten!
25 years of sales in Indigo Bay; call Ritika on +17215261819 for a non-biased experienced opinion to buy in paradise.