Real Estate in Indigo Bay
New Indigo Bay SXM Hotel and Condos launching soon. Message me for the marketing brochure. Its phenomenal!
This is 20 years of premium real estate experience.
A large part of this was at Indigo Bay.
Been through every up and down.
Only one thing stays constant.
Indigo Bay remains top!
Prices stay up.
Land is rare.
Secure home.
Indigo Bay.
St Maarten is famous for its 'high return' motto!
Buying TODAY makes you RICH tomorrow
Call or WhatsApp me for latest Indigo Bay availability and villa pricing.
Ritika: +1721 526 1819.
Featured on HGTV
Villas for sale 2021
Four bedroom ultra-modern villa with secluded location in Indigo Bay for $1,800,000.
DEAL Two bedroom Modern Indigo Bay villa with pool for $625,000.
DEAL Brand new four bedroom Indigo Bay villa with pool for $850,000.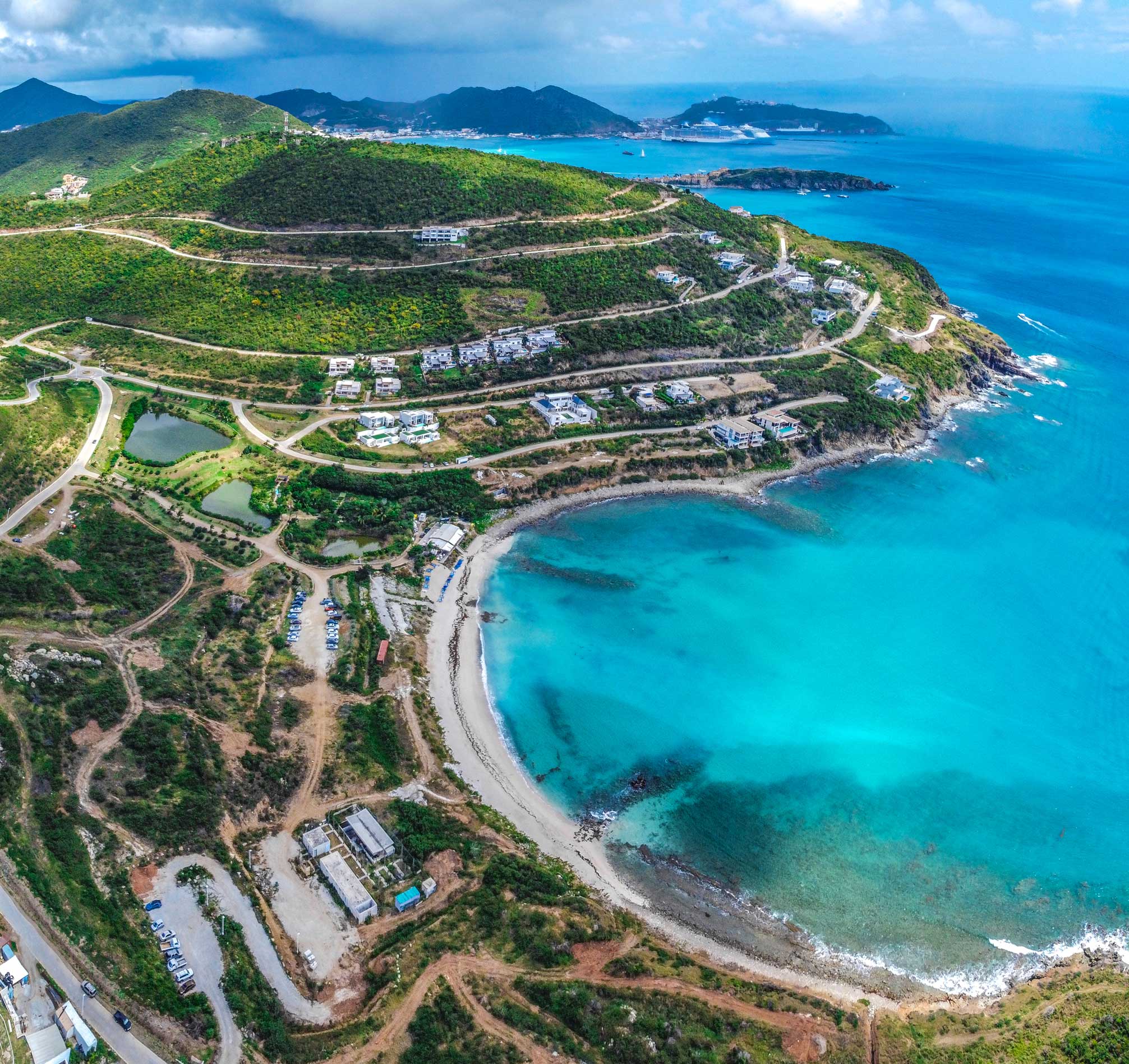 Why Buy Indigo Bay Real Estate
Indigo Bay SXM remains the number one investment property location in St Maarten for long term return.
Any property purchased here today is guaranteed to be appraised 20% higher in 7 years!
There is no better designed, managed, luxury purpose built secure development that Indigo Bay Estates.
In my experience this development started in grand celebrations with top international bands.
With an aim to bring the best in real estate, to revel in the glory of their achievement.
Indigo Bay achieved great highs and many lows, in no part their fault.
But where they are today, has been a masterful stroke of genius.
The massive investment in world class infrastructure, has paid off.
The Indigo Bay name rings as upscale residential.
Offering the best in location, near to everywhere, perched right in the center of a quiet majestic bay.
Philipsburg city is simply a 10 minute drive towards the east.
PJIA Airport (SXM) is a 20 minute drive in the opposite direction.
The beach is just a three to five minute walk down safe roads.
Quiet, secure, serene and picturesque.
A Caribbean gem in every way.
Welcome to Indigo Bay.
More Reasons To Buy St Maarten Property
No property Taxes
Capital Gains: No
Closing Costs: 4% Transfer Tax, Approx. 1.5% Notary fees and 1% transfer fees
Indigo Bay's recent new owner/developer has invested significant resources over the past two years in infrastructure: roads, lighting, drainage, internet and utilities. And stands ready to help in development of the new five-star hotel and resort.
Site is safe and protected: 24-hour security guards at development's gated entrance.
Central location: Only 12 minutes from Princess Juliana Airport; 5 minutes from Philipsburg (main town on Dutch side); 5 minutes from Simpson Bay (shopping, night life); 10 minutes from Marigot (main town on French side); 15 minutes from Grand Case (restaurant mecca on French side).
Proven record against hurricanes. Little damage from Hurricane Irma: site is protected from easterly storms by 1,200-foot peaks. Irma hurricane damage was minimal compared to other parts of the island.
Steady breeze: cooling breeze from the east swirls over mountains and keeps the hotel site and west side of the bay cool throughout the afternoon.
Premium sunset views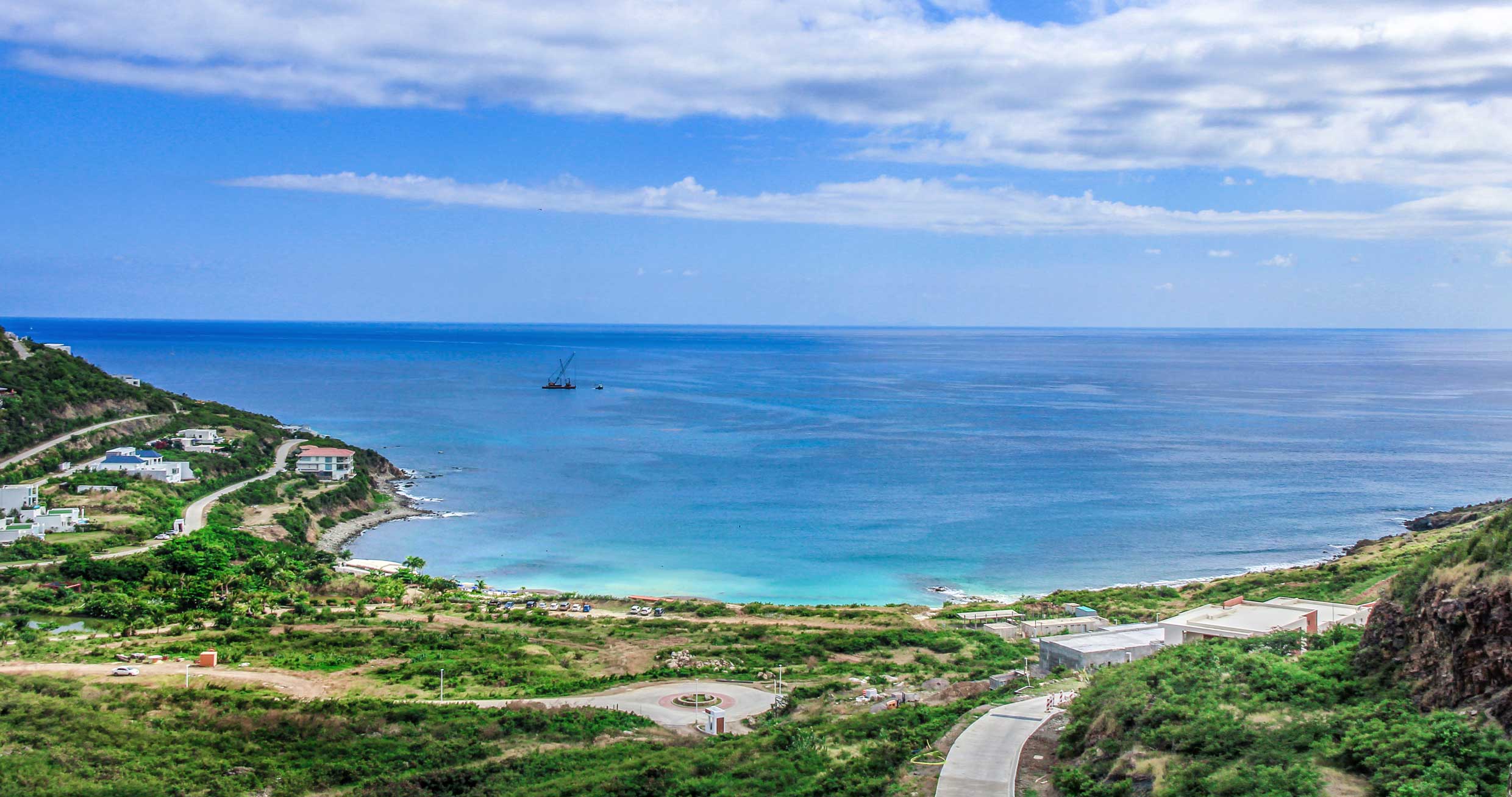 The water is soft here. Gently splashing on the beach, with rarely a large wave in sight. Just calm clean waters of Indigo Bay.
I can tell you living in Indigo Bay SXM makes you proud. The hill top entrance is key to Indigo Bay's x-factor.
Its just 'wow' every day, every time and every sight in Indigo Bay. I am not exaggerating!!!
The west facing ocean views are magnificent.
Red sunsets, green mountains and blue waters, Indigo Bay is a real life landscape masterpiece!
A short stroll to the famous Indigo Bay SXM Beach which features white sand, loungers and a restaurant and bar. And this condo is close to all amenities. A few minutes drive to just about everything as it is halfway between airport and Philipsburg. Perfect for vacationers renting by the week.
360 Degree Views of Indigo Bay
360 degree View of Indigo Bay 1
360 degree View of Indigo Bay 2
360 degree View of Indigo Bay 3
Where is Indigo Bay
The Indigo Bay Estates property in St. Maarten is widely recognized as unique and unrivaled in terms of its strategic and very accessible, yet very secluded location on the island. Indigo Bay Estates is unique because it represents the last remaining pristine ocean-front property available for a large mixed-use development on the island. It is unique also because the developers decided to protect and preserve the natural assets of the property as much as possible, by applying a low overall buildout density.
Consequently, Indigo Bay is able to offer its future owners and visitors more green spaces, recreational facilities, privacy and exclusivity than any other project on the island.
Indigo Bay Map
Topographic map of Indigo Bay ground surface and sloping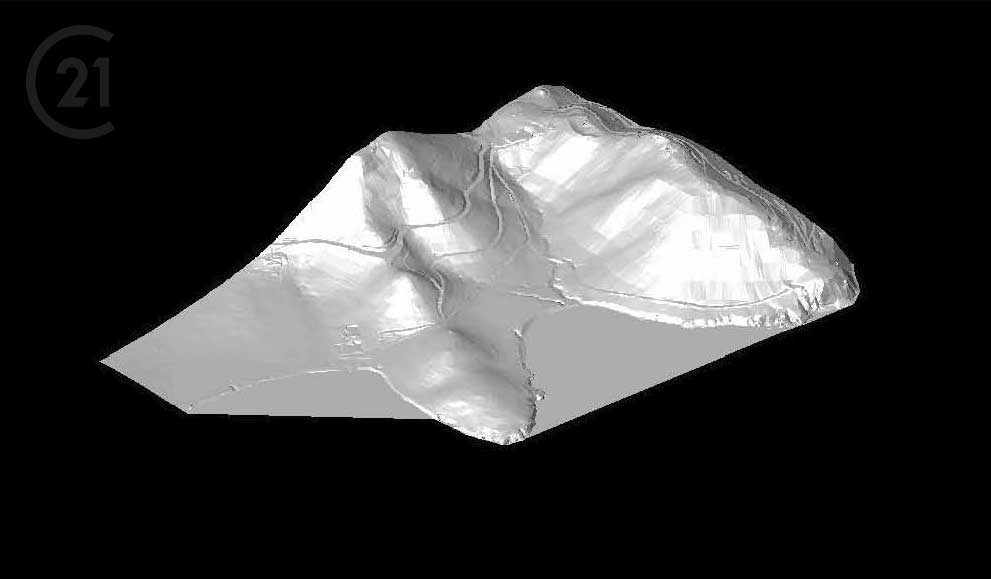 Indigo Bay – A Tropical Paradise In The Caribbean
The larger Indigo Bay site encompasses 148 acres, situated in a bowl shaped valley tapering towards the water's edge. The property extends from the ridge line between Little Bay and Cay Bay in the East to the division between Cay Bay and Cole Bay in the West and from the Main Road around Cole Bay in the North. Indigo Bay is situated on the south side of the Island half way between the Dutch Capital of Philipsburg and the Princess Juliana International airport. Driving time between the site and the airport under normal conditions is approximately 20 minutes. Access is obtained on the property's north side from a roundabout at one of the major road-ways connecting Philipsburg and the international airport. Ingress and Egress is obtained via a single road from the ridge on highest point of the property.
Competitive advantages of the site include its calm, reef protected waters, feeling of seclusion and quite, the fact that it represents one of the last undeveloped properties in St Maarten, easy access from the airport, Philipsburg's nightlife attractions and duty-free shopping sector of downtown. The site's southerly orientation affords maximum sun exposure throughout the day. Additionally, the government protected reef which lies off the southeast sector of the site featuring a sunken cargo vessel offers one of the Island's best diving and snorkeling opportunities.
Indigo Bay also boasts constant northwest breeze keeping homes cool and ventilated in this eco-friendly upscale community.
Indigo Bay – A Caribbean Residential Development
Indigo Bay residential development stand apart by offering a multitude of eco-friendly and sustainable energy saving amenities rarely found in Sint Maarten.
The eco-plan below show how much nature is being given an important at Indigo Bay. In reality there is even more green than the eco plan shows.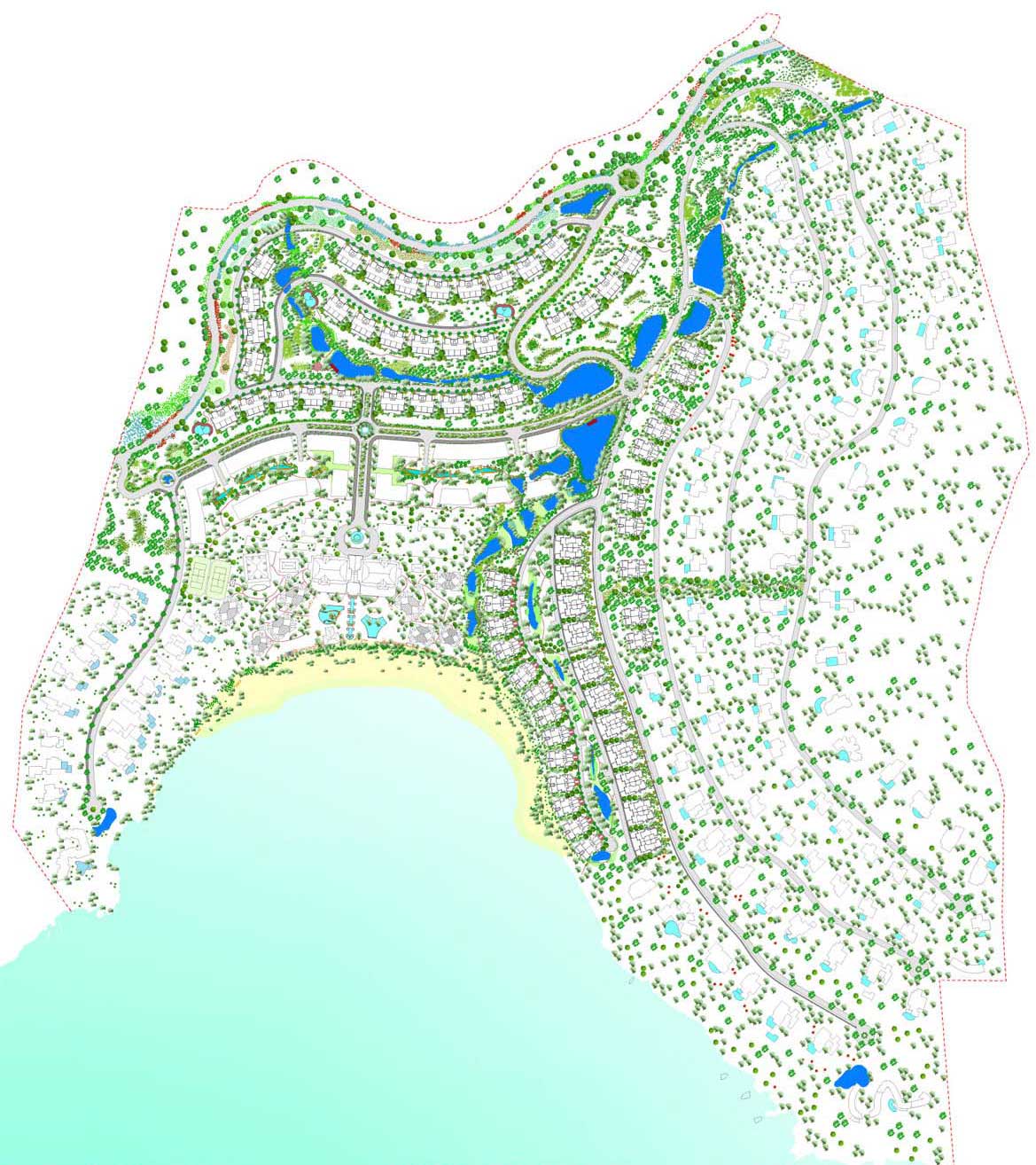 Every home in Indigo Bay has ocean views.
Height restrictions and development limitations ensure that all homes in Indigo Bay comply with same strict guidelines.
A well planned residential development with sufficient infrastructure in place to make this the best premium location on the island.
Hurricane and earthquake resistant poured-in-place concrete structure.
Impact resistance glass.
Minimum building footprint for maximum preservation of green nature areas
Eco-friendly wastewater treatment plant
Rainwater collection cisterns
Low-consumption dual-flush toilets
Solar street lighting
Thermally insulated construction
UV-reflecting exterior paint
Heat reflecting roof surface
Augmented security through design and landscaping
Solar electrical systems – standard on many residences
Cross-ventilation design – without compromising security
Heat-reflecting glass
Shade-providing hurricane-resistant Bahamas shutters
Low-energy localized air conditioning systems
Energy-efficient appliances
LED energy saving lighting
Energy-saving in-line hot water boilers
Indigo Bay Real Estate
Indigo Bay SXM property is being held back at the moment in anticipation of a huge increase in real estate prices once the five star resort is confirmed. The resort will make this into the premium vacation rental location with residents having access to a new beach that will be created by the five star resort and possibly a marina.
One of the things that astonishes me is the rental income generated in Indigo Bay. It is simply phenomenal that a two bedroom villa with ocean view can generate over $75,000 in rental income a year! This income with the guaranteed rise in property values in Indigo Bay, makes this overall the best home to buy in St Maarten!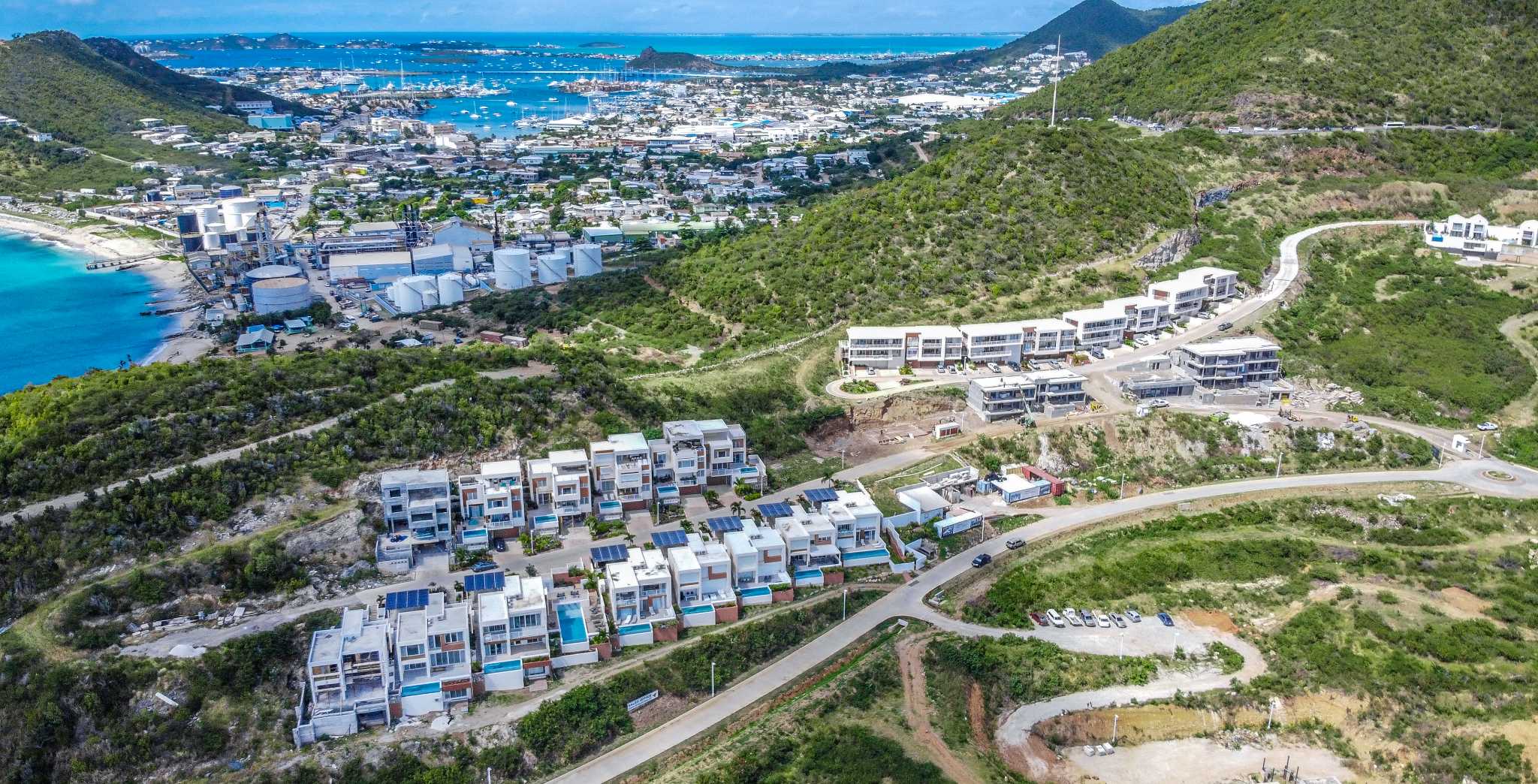 Beachfront Hotel at Indigo Bay
The new five-star hotel development at Indigo Bay is going to change how Indigo Bay is perceived. An already upscale community which is going to be be guaranteed of world class facilities and new beach which will change everything you know about Indigo Bay, St Maarten.
https://www.thedailyherald.sx/editorial/say-no-to-everything
Property prices in Indigo Bay are going to go up by 20% in 5 years! Are you ready to buy your condo at Indigo Bay.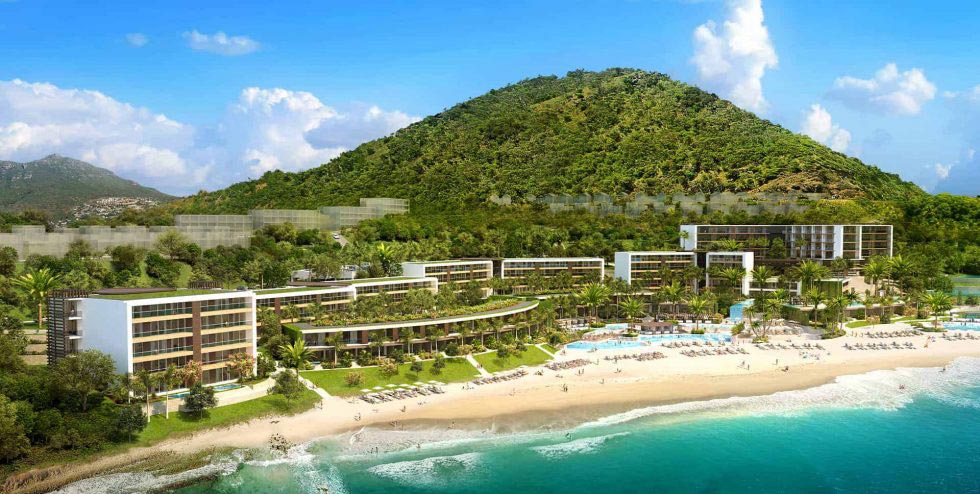 Indigo Bay in the news.
Tau Capital and Altree Developments Inc. real estate development firms have partnered with Cay Bay Development (CBD) NV, the master developer at Indigo Bay Development, to propose the development of a US $220 million luxury hotel resort and condos in St. Maarten.

The proposed high-end hotel development at Indigo Bay Development, which The Daily Herald reported on several weeks ago, is expected to feature certain luxury accommodations and five-star amenities, including 94 hotel rooms and suites, 55 lanai suites, 60 two-bedroom units, 15 three-bedroom units, a large luxury spa (10,000 square feet), a conference facility, an all-day dining restaurant, a fine-dining restaurant, beach bar, pool bar, fitness centre, multiple pools, and a kids and teen club, it was stated in a press release issued by Cay Bay Development NV.

Additionally, the proposed hotel development is expected to feature large water ponds and greenery areas in keeping with its eco-centric vision, as well as an extensive public parking area for public beach access to Indigo Bay.
New world class developments planned
Further towards the beach there are also plans to St Barth's style villas at Indigo Bay further increasing the luxury classification of Indigo Bay within St Maarten. On top of hill we have heard about plans to build one-bedroom condos and studios. St Maarten is the most up and coming Caribbean island, with Indigo Bay at its heart. This is a location that is guaranteed to provide long term returns.
If you normally put your money into futures, this is your call!