Le Divine Four Bedroom Penthouse At Blue Marine Maho For Sale
I am honored to present to you Blue Marine's best 4-bedroom penthouse with private elevator and a private pool! Sensational!
The large open windows frames create stunning artistic views everywhere in this penthouse. I can just imagine a bottle of Petrus, warm pool and sunset views. I am ready to buy this penthouse if you are aren't!!
Le Divine – Luxury Penthouse
4 large bedrooms, 4.5 bathrooms
To die for furniture and furnishing included!!
Everything you expect from a top property, including a PRIVATE elevator just for you!
Condition: Completely refurbished. You get everything brand new!
Wow views; words cannot describe the character and beauty of these 360 degree views. Oceans, mountains, lagoons, greens, sunsets and rainbows … you will see everything here!
Blue Marine provides a large community pool, gym and 24 hour guarded security gate.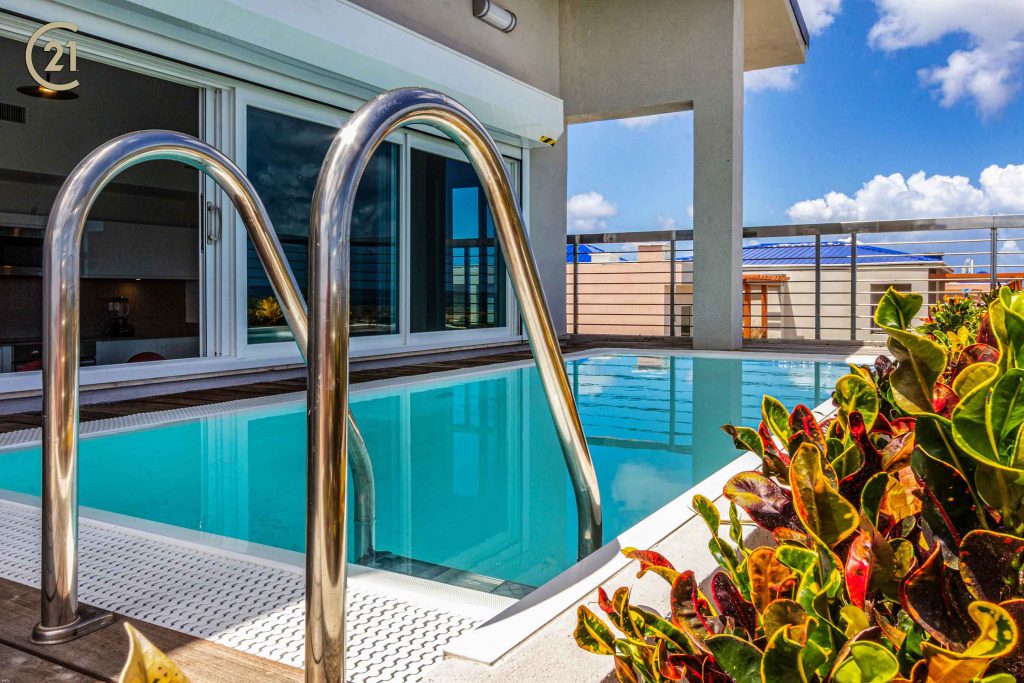 Location Location Location!
Sitting on the edge of the endless greens of Mullet Bay Golf Course and starring straight at the inspiring turquoise views of the Atlantic Ocean, this four bedroom luxury penthouse with four and a half bathrooms is a haven for enjoying Sint Maarten. Minutes from everywhere; restaurants and nightlife just a short walk to Maho, while Mullet Beach and Maho Beach being just 10 minutes walk away from your door step.
Maho is excellent if you want to be in the heart of nightlife while living in a tranquil yet secure community. Additionally, the French capital Marigot is just 15 minutes drive, giving you access to a whole plethora of entertainment and amenities! On the other end Simpson Bay is just another 10 minutes drive to everything you are missing in Maho!
I told you this penthouse is perfect!
Decadent
I see many luxury penthouses and condos but there are few the redefine the word! All credit to the owners who have decorated this property with utmost love!
This modern penthouse makes you feel at home. Designed to relax and unwind your stresses, everything is elegant, neutral and modern with a personal touch of class. Every detail was carefully selected and quality crafted.
Spectacular
Heavy duty french sliding doors take you out to a spacious terrace facing immense beauty. To your surprise the terrace is equipped with a generous private pool with breath-taking panoramic views of Sint Maarten. This is a spectacular feature!
Modern
This penthouse also boasts a glamorous dining room with decadent furnishings and a premium custom kitchen well equipped for even master chefs. Grande sliding glass doors in the dining area showcase ocean views while inviting light and freshness into the condo.
Sleek And Sexy
One of the best features is this modern penthouse boasts is sleek and sexy bathrooms! Every bathrooms has a unique design feature making you want to use a different bathroom every day!
New air conditioning, generous closets with perfect compartments and sensual lighting, everything put together in a magical way!
Properties around Maho
This is the ultimate penthouse in Maho, so comparing this to others doesn't justify this masterpiece. I will simply indicate prices of nearby penthouse properties.
I am selling a four-bedroom beachfront penthouse at The Cliff in Cupecoy for $2,500,000. Also in Las Brisas Cole Bay, I have a three-bedroom penthouse on the lagoon for $2,200,000. Update: This Simpson Bay Penthouse Condo is special, and the price reflects it!
None compare, but the above properties give you a guide to consider the value in your investment when buying this masterpiece in design.