Maho Condos For Sale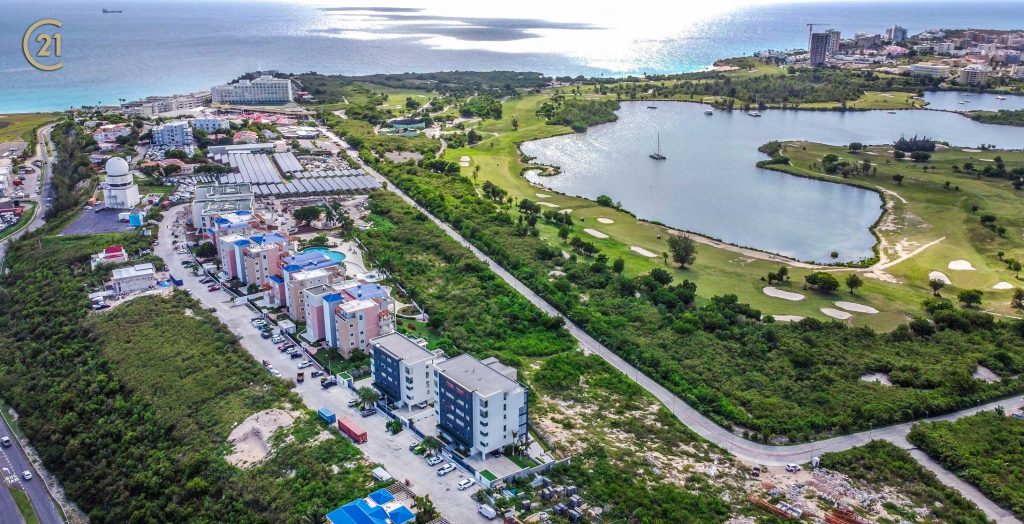 Maho is the heartbeat of St Maarten's nightlife and fine dining. Restaurants on the beach, resorts on the cliffs, villas on the water, ocean view condos; and even a Marina. Maho is St Maarten's best location for luxury living and eclectic nightlife.
The best feature is that everything is convenient; literally a walk to all your entertainment. A small district packed with casinos, world-class restaurants, four resorts and famous Maho Beach. But nightlife isn't the only perk about Maho, you have 18 hole Mullet Bay Golf Course as your neighbor and Mullet Bay beach as an alternative plus all the french cafe's of Jordan Village to enjoy a truly balanced lifestyle here in Maho.
Maho is popular for high-rise condo developments with land at a premium and demand at an all-time high. However, there is a very good opportunity to buy large lots of land at Porto Maho villas offering the ultimate in decadent living right on Simpson Bay lagoon while facing east towards oceans and green mountains of St Maarten.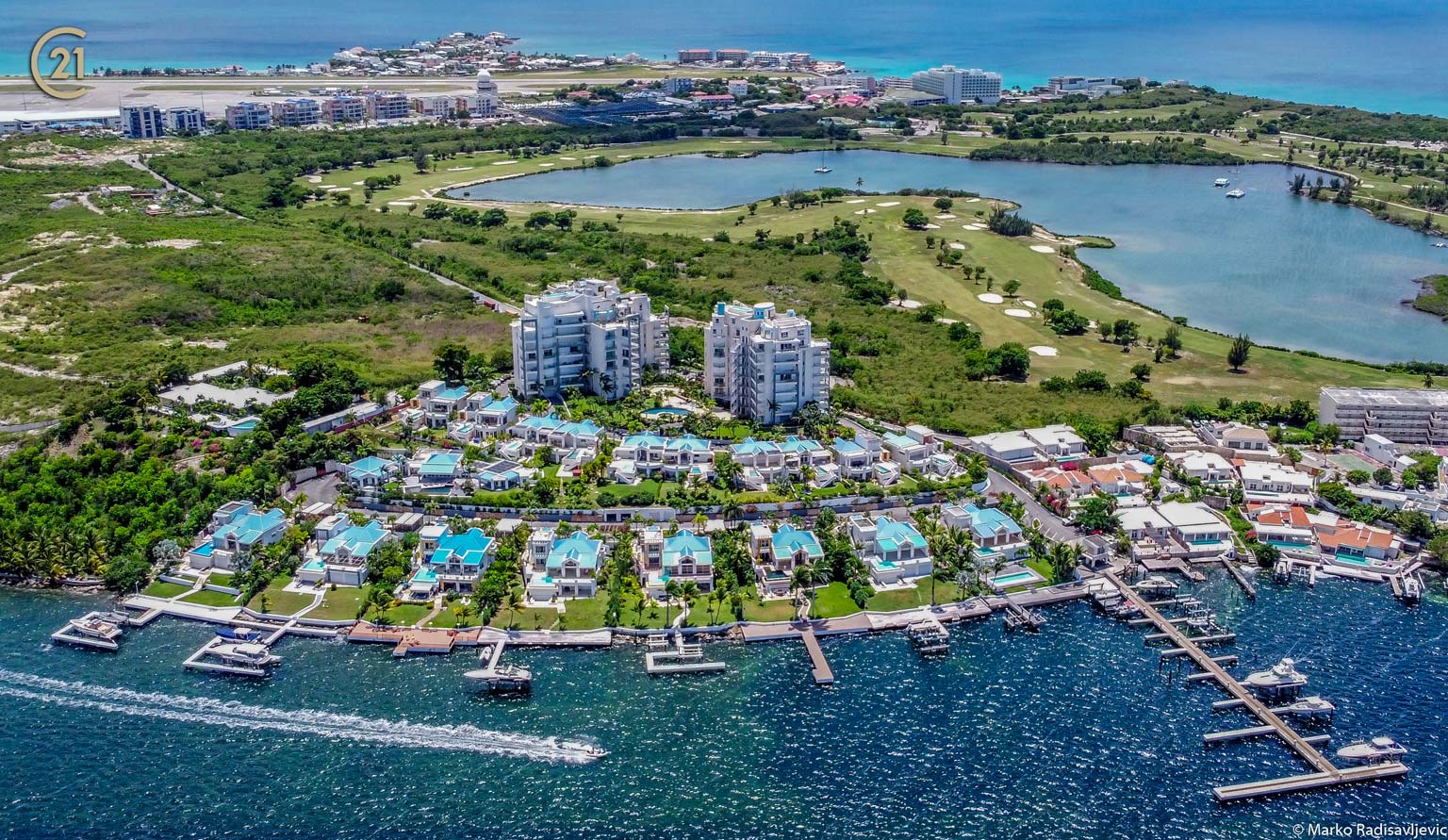 Top reasons to buy a condo in Maho
Proximity to airport which is 10 minute walk away!
Nightlife is just a short walk away.
Lagoon border offers access to boat slips and marinas.
Low congestion due to planning and nearby Golf Course
0% Property Tax and No Capital Gains Tax.
It is also known for the lush turquoise waters and powdery-white sand. Here is all you need to know about Maho, from the things to do to the prices of the best properties and the restaurants nearby. It will help you decide better for investing here.
Things to do in Maho
Mullet Bay Golf Course
It is the favorite spot of tourists, and almost all travelers recommend visiting the Mullet Bay Golf Course if you are a golf fan. It is a proper eighteen-hole course. The Mullet Bay Golf Course is near the Princess Juliana International Airport.
Stay at the Sonesta Hotels
Sonesta Resorts is by far the best place to stay in Maho if you are there for a vacation. It has the perfect ocean-facing properties that have all the amenities. The Sonesta Maho Beach Resort has 420 rooms. It also has an oasis pool with a swim-up bar, a beach house kids club, an aqua park, five restaurants and five bars, two fitness centers, and even a high-tech zone.
The Sonesta Ocean Point Resort has 130 suites, three pools, two restaurants, five bars, twenty-four-hour room service, a fitness center, and a personal butler and concierge services for the high-end suites.
Shopping In Maho
With a completely diverse shopping experience, you are offered everything within Maho's promenade. Still evolving, there is more to come at Maho!
Beach Fun
Maho is lucky to be among the best beach locations in St Maarten. People from French side and other parts of the island come to Mullet Bay Beach which is just a short walk for you in Maho!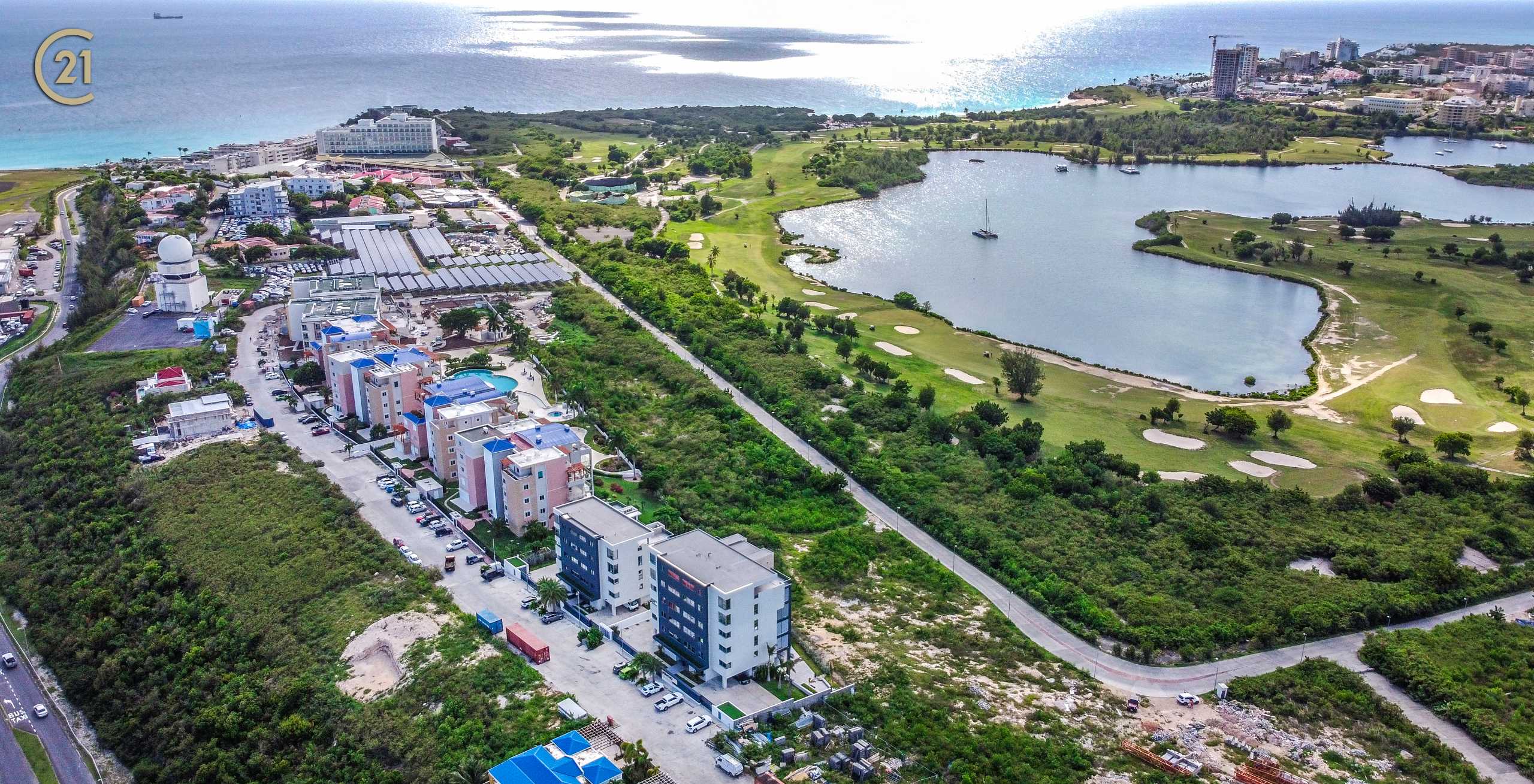 Beaches Near Maho
Maho Beach
Maho Beach is among the most prevalent beaches in Sint Maarten. Maho Beach is the best spot for plane watchers because it is located adjacent to the Princess Juliana International Airport. The beach has white and powdery sand. It is close to the runway. Thus, people at the beach can see the planes landing from close. It is a sight to behold for those who love airplanes.
Watching the planes land and pass over is so popular that the departure and arrival time of planes is displayed in the nearby restaurants. However, you must be careful because you might get blown away due to a jet blast while a plane takes off from the runway.
Mullet Bay Beach
If you want to get away from the noise and visit a calm beach, Mullet Bay Beach is the perfect spot. The beach is free to visit, the sand is soft, and the waves are ideal for surfers. Thus, surfers often frequent this beach. In Mullet Bay Beach, you can rent a chair and an umbrella for 15 USD and enjoy the view!
Simpson Bay Lagoon
I wouldn't call this a beach but its a coast line of importance and Maho's finest villas can be found along the lagoon's border. The Simpson Bay Lagoon in Sint Maarten is among the most significant inland lagoons in the Caribbean. St Maarten's mountains in the background with the calm lagoon waters offer a magnificent view.
Restaurants in Maho
Guy's Driftwood Boat Bar
It is a restaurant on Beacon Hill Road that is famous for its local cuisine. Apart from that, it also serves American cuisine and pizza. It has a bar and also vegetarian alternatives for dishes. If you visit Guy's Driftwood Boat Bar, you must try the rum punch!
Azul Mediterranean Restaurant
This restaurant is on Rhine Road in Sint Maarten. It is famous for its Caribbean and Mediterranean food, and it also has vegetarian options. It has received a lot of positive feedback for its friendly staff, service, and reasonable rates.
Three Amigos
It is a Mexican Restaurant on Rhine Road in Sint Maarten. Three Amigos is famous for its steak and burritos. It is also budget-friendly and has vegetarian and vegan-friendly options.
Bibovino Sxm
Bibovino SXM is a French and European Restaurant in Sint Maarten. Many travelers recommend this restaurant because they found the food to be very delicious. Not only that, but it also has a wine bar.
JAX Steakhouse
Spices Of India
Alina Restaurant
Sublime Restaurant, Bar and Club
Hole In The Wall
Creperie Cape Cafe
Runway Restaurant & Lounge
Property developments in Maho?
Maho is a premium district in St Maarten real estate
Huma Condos
Aquamarina Condos
Royal Islander Club
It is on the Maho Bay, and the Royal Islander Club has two resorts, La Plage and La Terrasse. If you stay there, you will get a private balcony and also be able to roam around the tropical gardens. All in all, you can have the perfect time with your family and loved ones in a fantastic setting.
La Terrasse
It is in the Royal Islander Club, and it is among the best resorts in Maho. The rooms have free WiFi, a refrigerator, an air conditioner, and also a kitchenette. The resort has also had a pool and an on-site restaurant, and you can choose between the ocean-facing suites and the other ones.
Royal Islander Club La Plage
It is a private resort that has 128 suites, and all of them have a balcony. It has all the modern amenities, and each suite also has a fully-equipped kitchen. The hotel has a hot tub, a swimming pool, and a children's pool. It is nearby Maho Beach.
NEW Emerald Condos
It is one of the newest residential development projects in Maho. It is located in the heart of Maho. What makes it unique is its aesthetics and sleek design. The project consists of building fully furnished and spacious studios with two-bedroom floor units. When it comes to amenities, it includes an outdoor pool, a gym, a picnic area, a tech workspace, and even free WiFi.
Blue Marine Condos
It is among the most lavish areas in Maho. Blue Marine Condos features an outdoor pool, a casino, and a garden. The lake view is astonishing, and you will also get free WiFi. The apartments have a kitchen that has a dishwasher, a microwave, and a fridge. There are two bedrooms, one living room with a dining and seating area, and three bathrooms with a bathtub and a bidet. Simpson Bay Beach is just 600m away from here. The nearest airport to the Blue Marine Condos is the Princess Juliana International Airport.
Maho Proeprties For Sale
Blue Marine Penthouse Condo: $1,300,000
New Huma Luxury Oceanview Condos: $600,000
La Terrasse One Bedroom Condo: $250,000
Blue Marine One Bedroom Condo: $300,000
AquaMarina Two Bedroom Condo: $595,000
Blue Marine Large One Bedroom Penthouse Condo: $475,000
AquaMarina One Bedroom Condo: $369,000
Maho Emerald: $220,000
Maho Blue Marine Luxury Apartment: 800,000
Blue Marine Condos: $550,000
Villa In Aquamarina: $1,800,000 to $3,800,000 for waterfront.
AquaMarina Two Bedroom Apartment: $750,000 (high floor)
AquaMarina Three Bedroom Villa: $1,800,000
Porto Maho The Vistas: $3,100,000
AquaMarina Condo: $600,000
Vista Verde: $375,000
Villa AquaMarina: $2,100,000
Porto Maho The Estates: $1,765,476
Waterfront villas for rent in Maho $1000 per day.
Maho Rental Properties
Blue Marine Condo: $2,800 per month
La Terrasse One Bedroom Condo for Vacation: $1,199 per week
Huma Maho Modern Apartments: $3,400 per month
AquaMarina Villa and Condos: $3,000 per month
AquaMarina Villas for Vacation: $2,000 per week
Le Terrace Condo: $1,799 per month
Blue Marine Garden: $1,800 per month
Blue Marine D17: $3,000 per month
Maho Apartment: $1,600 per month
Blue Marine Duplex: $3,000 per month
Le Terrasse Sea View: $1,600 per month
Vista Verde: $1,500 per month
Sea View Residence: $1,550 per month
Supermarkets in Maho
Maho Supermarket
It is the most famous supermarket in Maho, and it is widely known for its produce and a wide variety of products. So, if you are in Maho and you urgently need essentials, you know where to go!
What are people saying about Maho?
Maho is one of the most amazing places to go if you are visiting Sint Maarten. You must visit Maho Beach because not everywhere can we see a beach near the airport that we can see the planes landing and taking off. Investing in the properties here is also a wise thing to do considering the demand and the variety of options.
Looking for ocean-view property?
Maho at St. Maarten is the right choice. St. Maarten is an island with 37 beaches, where Maho Beach is one among them. This Maho Beach is part of the Dutch side of the Caribbean island. This beach is adjacent to the Princess Juliana International Airport and its popular site for tourists and plane watchers. Maho is known for powdery white sand and turquoise water.
Watching airliners pass over the beach is such a popular activity that daily arrivals and departures airline timetables are displayed on a board in most bars and restaurants on the beach, and the Sunset Bar and Grill. The lovely beach and the clear blue sea make Maho a great place to spend the day. Settle back with a drink at Sunset Beach Bar, watching the planes soar overhead and gazing at the gorgeous ocean. Find real estate properties in Maho, Sint Maarten, where you can find the best villas at Maho at St. Maarten.
Find the best apartment for sale at Maho, Sint Maarten. Find modern villas for sale at Maho. Find ocean-view apartment for sale at Maho, St. Maarten. Find the best villas for sale at Maho. Find best condos for sale at Maho, St. Maarten. Find beach-side villas for sale at Maho, St. Maarten.