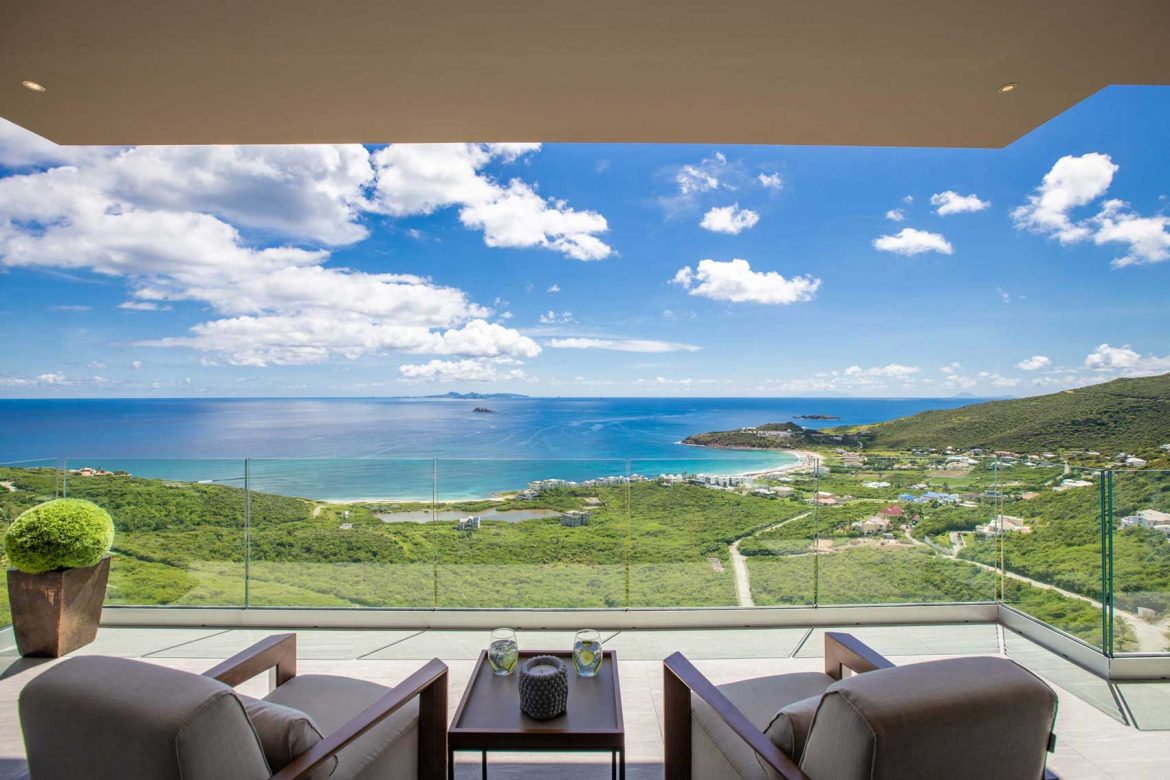 St Maarten Permanent Residency
How many nationalities can get the St Maarten Permanent Residency quickly?
St Maarten takes immense pleasure to tell the world that it is home to over 100 different nationalities. We may be the most diverse country in the Caribbean! The country is a part of the Kingdom of the Netherlands, located on the southern part of the Caribbean island shared with neighboring French Saint Martin. As you know, the Netherlands is a member of the European Union, so EU citizens will not need to worry about obtaining St Maarten permanent residency permits and visas to migrate to St Maarten. Moreover, bilateral relations of the country with the U.S. allow the citizens of the United States / Americans to invest, visit, live, and work, without the need to apply for residence and working permits.
People from the developed and semi-developed countries, such as Canada, the United States, Europe, the Caribbean, and South America, visit the island for various purposes, like tourism and vacation adventures. Some people love the place so much that when they retire, they settle on the island and invest in St Maarten real estate.
Century21 Island Realty specializes in the sale and rental of real estate; however we help hundreds of American and Canadian citizens get residency in Sint Maarten via our partners in SXM.
December 2022 Update:
As per the Sint Maarten Government website fees guidance, I have included the latest information available as of December 24th 2021 below.
Example 1
Venus just received a work permit from the Department of Labor Affairs for one year. She must now apply for residency. Her calculation will be the following:
NAF 500: Temporary Residence
NAF 45: Statement of Guarantee
NAF 545: TOTAL
545 Netherlands Antillean Guilder equals 302.57 United States Dollar as of Dec 24, 12:11 PM UTC on Google Finance
Example 2
If Sonia and Pauline recently bought a condo in St Maarten with Century21. Pauline who has two adopted children and working will be signing for her family as the guarantor. Their calculation will be the following:
Temporary Residence for 2 Adults: NAF1000
Temporary Residence for 2 Minors: NAF 400
Statement of Guarantee: NAF 45
TOTAL: NAF 1445
1,445 Netherlands Antillean Guilder equals 802.23 United States Dollar as of Dec 24, 12:11 PM UTC on Google Finance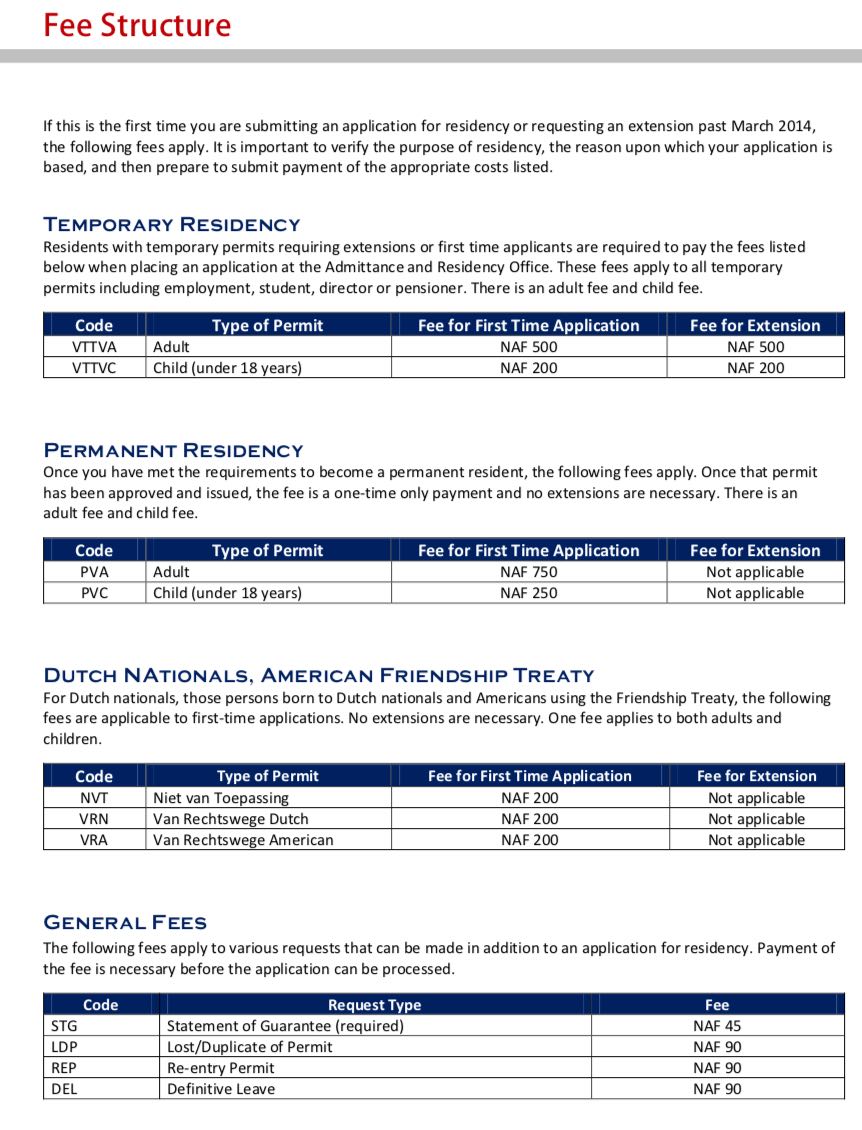 March 2021 Update: Common Questions by Quick Message.
Unfortunately no you can only reside and work on the Dutch side.
Because of the bilateral treaty, Americans can live and work in St Maarten for 6 months without any restrictions or hindrance. Enjoy that workcation!
Yes it is! Basic necessities are very expensive, particularly utilities and services. St Maarten is a luxury destination.
Various types of St Maarten Residence Permits
St Maarten is a welcoming country for the citizens of the entire world. Authorities have set different immigration routes for various nationalities based on their needs to migrate to the island. Some people want to reunite with their family members, while others find investment opportunities and invest their money in various businesses and lands. However, we find that there are some common reasons for which foreigners migrate to St Maarten. These include:
Investment in business or property
Family reunification
Cohabitation
Retire and spend the rest of the life enjoying on the island
A treaty between the United States and the Netherlands
Employment
Higher education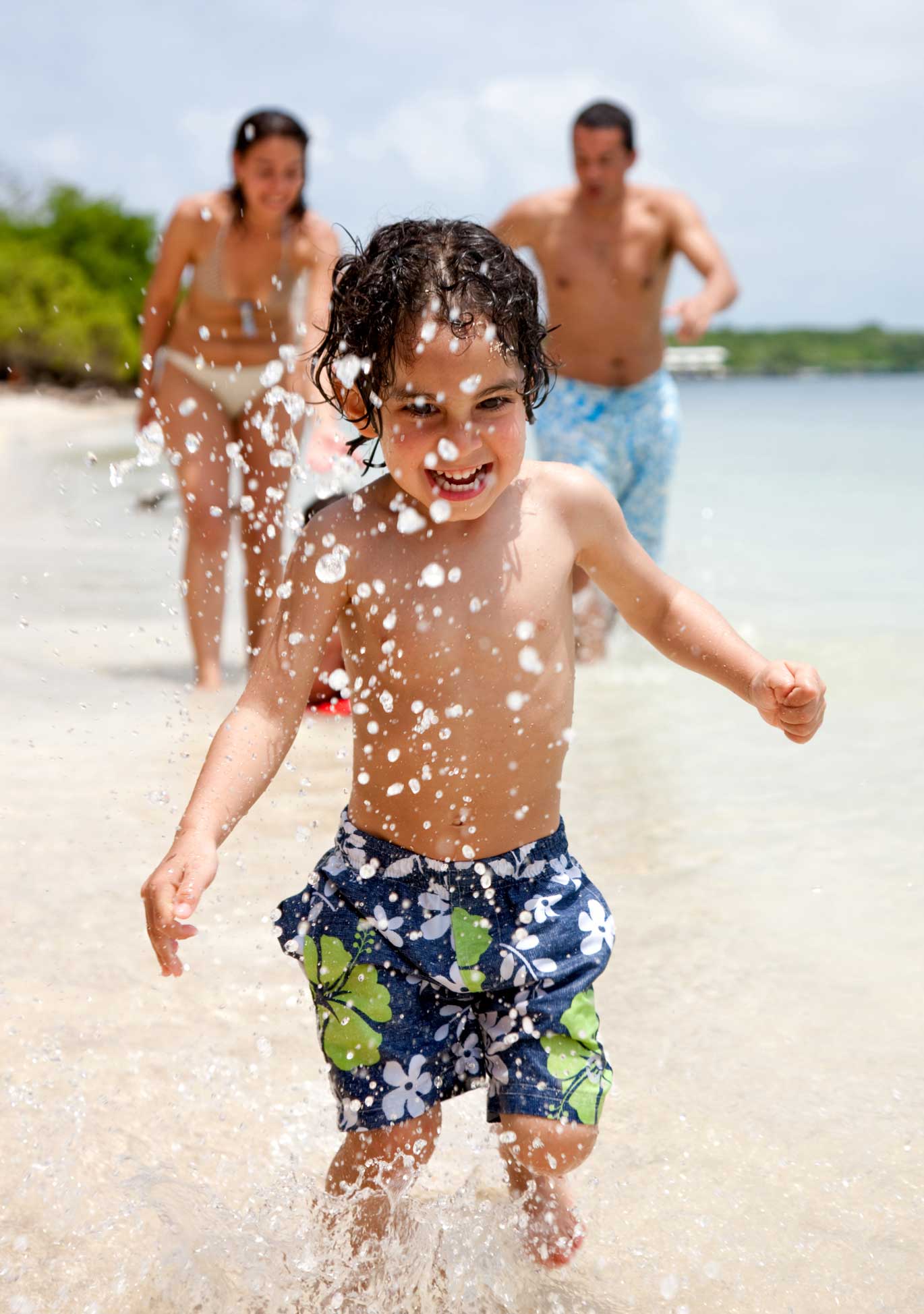 St Maarten permanent residency based on employment
St Maarten permanent residency based on employment is a suitable route to migrate to the island for those individuals who are looking for a job in St Maarten. Firstly, they need to apply for the employment permit to the Department of Labor with the help of his/her future employer. They must do so before they enter the territory. Later, they can apply for a residence permit.
St Maarten permanent residency based on sole Proprietorship of a business
Small businesses are beneficial to any economy that exists in this world. It is well-understood by the authorities of St Maarten island. Thus, the government issues St Maarten permanent residency for business owners running their businesses in the country for more than a decade. To remain in the state and continue to run their businesses, they need to obtain residency permits. The Businessmen need to attach a few crucial documents, such as, business license, a copy of the director's license, which should be obtained from the Economic Affairs department easily, a copy of the Chamber of Commerce registration that should not be older than six-months with the application. Also, the statement about the operational condition of the company. Last but not least, a reference letter from the bank stating the financial situation of the company.
St Maarten permanent residency based on investment in the real estate
Foreigners who have saved a decent amount of money and want to live a happy life in a peaceful country then they can consider buying St Maarten property in the country to get St Maarten permanent residency. To obtain the visa, the applicant needs to buy a piece of land or residential property on the island. Moreover, to document the intention of purchasing a property in St Maarten, the applicant needs to get a statement from the local bank stating that he/she is willing to invest at least NAF 900,000 or USD500,000 in the island. Lastly, proof of the required investment is attached to St Marteen's permanent residency application.
Buying property in St Maarten is very easy, particularly with a Broker involved.
Properties over USD500,000 – All Locations
Guana Bay Modern Villa
Indigo Bay Villa For Sale
Cole Bay Modern Home
Simpson Bay Modern Condo
Dawn Beach Oceanview Luxury Condo
Beachfront St Maarten Villa For Vacation Rental Income
Dawn Beach Modern Family Villa For Sale
Porto Cupecoy Apartment For Sale
St Maarten permanent residency based on reunification with the family
Some circumstances occur in life that separates the family members from each other. St. Maarten government understands this situation and allows the immediate family members to reunite and live together with their loved ones. Happy families residing in the country make it a joyous society. However, there are different visa requirements for Dutch citizens and non-Dutch nationals. Netherlanders provide; a passport, birth and police clearance certificate, school registration letter for children, and original marriage certificate. Non-Dutch citizens need to attach some additional documents including residence permit of the spouse, spouse job letter mentioning the monthly gross income and date of joining the company, and confirmation of the salary of at least NAF 24000 besides the documents required for the Dutch nationals.
St Maarten permanent residency based on cohabitation with a Dutch citizen
If a foreigner is in a relationship with a Dutch national, then he/she can immigrate to the island. The immigration is possible because of cohabitation with a Dutch citizen. The local has to sign a legal agreement to live with a foreigner on the island without being married.
In other words, two adults who are not married but want to live together. The documents required to apply for the permit include the passport of both the partners, police clearance record of both partners, statement of guarantee filled and signed by Dutch partner, original cohabitation agreement, and proof of non-marriage.
General requirements of Official documents to apply for St. Maarten permanent residency
Applicants need to put in with certain official documents that are issued by the local government when they apply for St. Maarten permanent residency. These documents vary from case to case. When you visit the Immigration and Border Protection Service, make sure you possess the original documents. The legal papers include but not limited to:
Passport
Character clearance certificate from the police department
Birth Certificates
Adoption records for adopted infants/teens
Marriage Certificates
Police clearance certificates
Employment letters
Bank statements
Net-worth details
Is it possible to apply for permanent residency while being present on St. Maarten island?
In one word answer, No. You cannot apply for permanent residency yourself. Your employer needs to start the residence permit process if you are already present in the country. Also, you would need to leave the country to complete the immigration process. You will not be able to stay or come to St Maarten island before the final verdict of the application is out.
Thank you for reading our short and precise guide to Permanent Residency in St Maarten. For any recent updates, forms and additional information please check the Government Of Sint Maarten official requirements as stated on the official website; Government Immigration Page.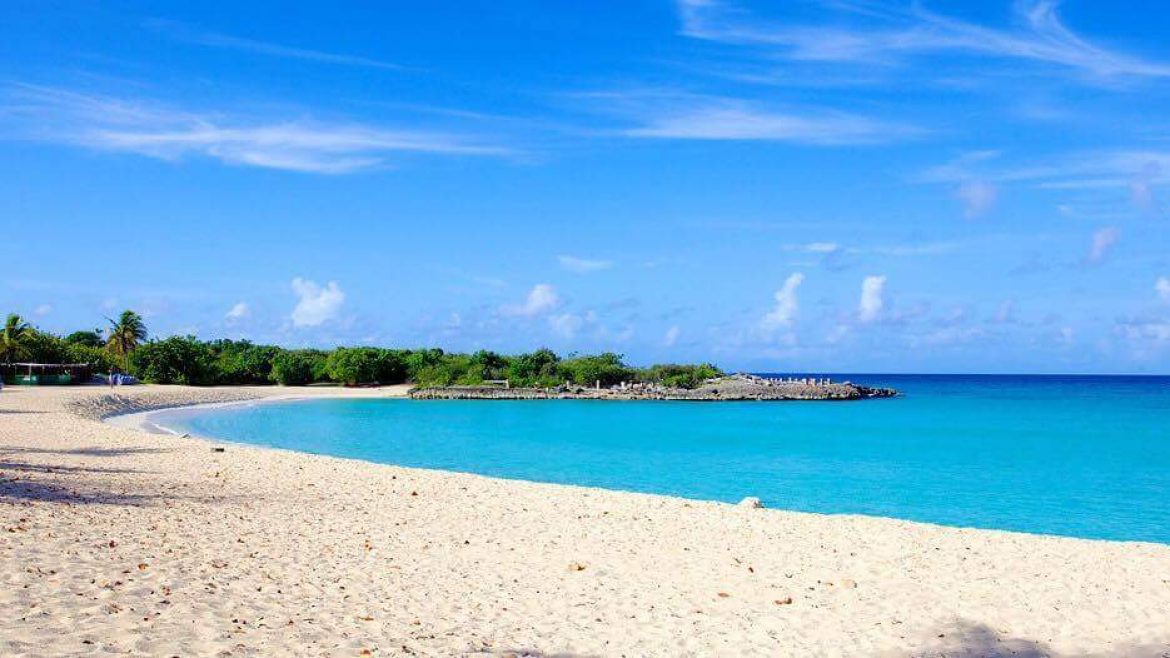 16 St Maarten Beaches You'll Love
The island of St Maarten/St Martin has some of the most stunning beaches in the Caribbean. With 37 beaches across both the Dutch and French sides, you're sure to find one that perfectly suits your taste. Whether you're looking for an idyllic spot to relax, a bustling beach with plenty of amenities, or an adventurous place to explore, St Maarten/St Martin beaches have something for everyone. From the secluded shores of Baie Orientale to the lively atmosphere of Maho Beach, these 16 St Maarten beaches are sure to leave a lasting impression.
Near or on St Maarten's beaches is where everyone wants to stay. You will find that beachfront real estate is the highest in demand and Cupecoy and Simpson Bay our our bestsellers.
1) Orient Bay Beach
Located on the northeastern coast of French Saint Martin, Orient Bay, also known as Baie Orientale, is nicknamed the "Saint Tropez of the Caribbean". Known for its crystal blue water and fluffy white sand, this tourist hotspot is one of the biggest and most popular beaches in St. Martin and is great for those looking for a fun and action-packed day or night out.
Along the Orient Beach, you will find many beach clubs, bars, hotels, and incredible restaurants. Entry onto the beach is free and beachgoers are given the option to rent umbrellas and beach chairs for $25 for the day. There are also water sports that are available for beachgoers such as jet skiing, parasailing, and banana boating. Depending on the time you decide to visit, the water can be a bit rough. For calmer water, the best time to visit Orient Beach is between the months of April and September.
Although Orient Beach is not considered a nudist beach, there is a nudist resort located on the southernmost part of the beach called Club Orient. Those with families might find this beach unsuitable for this reason.
2) Maho Beach
Maho Beach (Maho Bay) is easily the most famous on the island and is really unlike any location in the world. Maho Beach is located right at the end of the Princess Julianna airport runway. From this vantage point, it is possible to see airplanes flying directly overhead and landing on the runway just behind the beach. Many tourists like to take pictures of the airplanes, admire the incredible sights and feel the force of airplanes and jets taking off into the sky one after the other.
Maho Beach is small and often gets quite busy and full of tourists, not the ideal spot for relaxing. Most usually spend 30 minutes to an hour here. Be careful to secure loose items on the beach because the wind from the airplanes and jets could blow them away. Also, be sure to remain in the safe zones marked by signs on the beach. Over the years, due to entering restricted areas, some have gotten injured by the sheer force of the planes. However, if you remain in the safe zones you have nothing to worry about.
3) Mullet Bay Beach
Mullet Bay beach is in the 5th place out of 40 beaches in the Country of Sint Maarten region 8.5 km away from its center, the city of Philipsburg. It is one of the beaches of Simpson Bay settlement, just 3.1 km from its center. The beach is located in an urban area. 
It is a short straight coastline with crystal turquoise water and pure golden fine sand, so you don't need special shoes. The entrance to the water is very smooth. This beach is suitable for different categories of people, lonely travellers, relaxation getaway lovers, seniors etc. It is partially crowded during the high season.
Mullet Bay beach coast is free for all. This beach has the following amenities, loungers and umbrellas, beach restaurant, toilets. . 
In addition to swimming and sunbathing, you can also take part in other activities.
Fans of active recreation can take part in beach volleyball.
This beach is easily accessible, it is located very close to road. Parking is located directly on the beach.
4) Cupecoy Beach
Cupecoy Beach is located on the southwestern tip of St. Maarten and is very close to the French-Dutch border. Cupecoy Beach is a collective of 3 small beaches with golden sands that are surrounded by rugged limestone cliffs.
These are some of the most private beaches that you can find on the island, this makes it ideal for couples looking for a romantic getaway. The seclusion of the beaches also makes it popular among tourists who prefer a clothing-optional beach experience.
Cupecoy Beach is known for its gorgeous sunsets and its breathtaking views of the neighboring island, Saba. There are no food vendors, umbrellas, or chairs to rent on either of the three beaches, so be sure to bring all of your necessities for the day.
5) Simpson Bay Beach
Located on the picturesque fishing village of Simpson Bay, Simpson Bay Beach is a 2 km long beach that is lined with luxury resorts. Known for being the epicenter of the nightlife on the Dutch side of Sint Maarten, the famous beach bars that are along the beach have delicious food and drinks, exciting activities, and live entertainment. This beach is perfect for those who are looking for a fun day or night out.
Simpson Bay Beach is near Princess Juliana airport. So, this beach presents a nice location for those who would like to watch the planes take off from a less crowded beach.
6) Little Bay Beach
Located in the southern tip of the island near historical Fort Amsterdam is Little Bay beach. This kid-friendly beach is separated from Great Bay Beach by a peninsula, making it well-protected from the elements. It has perfect white sand and calm and clear waters with a great variety of fish.
Little Bay Beach is far less of a tourist attraction than other beaches on the island and is usually visited by guests from the nearby resorts and a few divers and snorkelers. This destination is known to be one of the safest beaches for kids on the island since the waters are current-free and there are a lot of aquatic and kid-friendly activities available. This makes it an ideal spot for families looking to do some underwater exploration.
7) Great Bay Beach
Located in the Dutch capital of Phillipsburg, Great Bay Beach is one of the most famous beaches on the island of St Martin. With its location being close to the harbor, Great Bay Beach has thousands of visitors from cruise ships pass through every day.
This tourist hotspot has a mile-long boardwalk, shopping centers, numerous bars, restaurants, and casinos, all of which contribute to the famously vibrant atmosphere of Great Bay Beach.
Great Bay Beach is very well kept and pristine with golden sand and seawater that is clean and refreshing. The beachside bars offer rental of lounge chairs, umbrellas, restrooms, and showers and even have deals where they offer a drink along with your purchase.
8) Kim Sha Beach
Kim Sha Beach is on the world famous Simpson Bay beach in the southwestern region of the island in Dutch Sint Maarten. This beach is famous for being packed with action and offers all types of activities for beachgoers including sailing, kayaking, and other water sports. It's known for its vibrant nightlife and is a perfect spot for party-goers.
Kim Sha Beach is also a nice location to sunbathe while enjoying a refreshing cocktail and tasty food from one of the famous local beach bars such as "The Buccaneer Bar" or "The GreenHouse Restaurant".
Entry onto the Kim Sha Beach is free and Beach chairs and umbrellas are also offered by the shore for free. The waters are known for being rough and not very swimmable. This makes Kim Sha beach a hotspot for tourists who enjoy water sports such as kayaking, sailing, and jet skiing.
9) Grand Case Beach
Located in northern French Saint Martin in the culinary capital of the island, Grand Case Beach is home to many gourmet restaurants, beachfront bars and is known among tourists for its fantastic nightlife.
Grand Case Beach is protected from the winds and waves of the ocean making for some of the calmest waters on the island. The minimal waves make the beach very suitable for people and children who aren't the best swimmers. A great place for a family beach day. This makes beach front real estate very popular and with the crystal blue waters, the stunningly white beaches and the array of activities such as snorkeling, swimming and tanning you'll be able to find the perfect spot. The SXM beaches are definitely some of the best in the Caribbean, so if you're looking for a beach to call your own, why not make it one of the amazing beaches of St. Martin?
10) Dawn Beach
Located on the far eastern coast of Sint Maarten, close to the French border is Dawn Beach. This beach is framed by the lush green mountains and lined with luxurious homes, yacht clubs, and beach clubs.
Dawn Beach is known for and named after its stunning sunrises and views of Saint-Barthélemy island to the east. The waters can be a little rough and don't offer the most ideal swimming conditions, because the eastern side of the island faces the waves and currents of the Atlantic Ocean.
11) Indigo Bay Beach
Located between Phillipsburg and Simpson bay is Indigo Bay Beach, formerly known as Cay Bay. This beach is managed by an environmentally conscious developer who maintains the integrity of the environment of the beach by building ecologically friendly homes and structures.
Indigo Bay Beach is great for those who would like to escape the crowds and relax in the brilliantly blue waters and soft sands. Beach chairs and umbrellas are available to rent on the beach. Not far from the beach is the famous Indigo bay beach restaurant. The beach also has an abundance of water sports available such as kayaking and snorkeling.
12) Guana Bay Beach
Located on the southeastern side of the island, Guana Bay Beach is one of the island's best-kept secrets. Guana Bay Beach is a secluded and unspoiled beach, with a lovely view of St. Barts. Despite its picturesque appearance, few tourists visit this beach because of the very strong undercurrent. The beach is popular with experienced swimmers and surfers trying to catch some waves.
Entry onto the beach is free, and there is free parking nearby. It's important to bring your own towels, chairs, and umbrellas as there are no facilities that sell these on the beach. Phillipsburg is located 2 miles away so amenities can be purchased before coming onto this secluded oasis.
13) Baie Rouge Beach
Located on the northwestern side of the island in French Saint Martin is Baie Rouge, also known as Red Bay. Baie Rouge is one of the most popular beaches on St. Martin, the beach gets its name from the reddish-pink color of the sand. The pretty pink sand gets its color from the crushed coral pieces that wash up onto the shore. Not only is the sand beautiful but Baie Rouge is an amazing spot for snorkeling. It has a vibrant reef that has many kinds of fish and other sea life.
Baie Rouge rarely gets overcrowded because it is so wide and long, the beach spans about 3.2 km long (2 miles), which makes it a good choice for those who enjoy a bit more privacy. Renting a chair and umbrella can be a hassle so it's best to bring your own equipment. Some local beachside restaurants are Chez Raymond and Gus' Beach Bar.
14) Pinel Island Beach
Pinel Island is an uninhabited island located near the northwest coast of St. Maarten. The west side of the island has calmer waters while the east side can be very windy. With crystalline blue waters and a colorful coral reef, this beach is a great place for snorkeling and underwater exploration.
Pinel Island is accessible by ferry, which leaves from the town of Cul-de-Sac on the north shore of Saint Martin every half hour. There is free parking on the Saint Martin side before boarding the ferry. The 5–10-minute boat ride to Pinel Island costs $6 per person. Once on the island, beach chairs and umbrellas are available to rent for $18 for the day. Pinel Island is known to be quite busy on the weekends so it's best to visit midweek if possible.
15) Grand Case Beach
Located in northern French Saint Martin in the culinary capital of the island, Grand Case Beach is home to many gourmet restaurants, beachfront bars and is known among tourists for its fantastic nightlife.
Grand Case Beach is protected from the winds and waves of the ocean making for some of the calmest waters on the island. The minimal waves make the beach very suitable for people and children who aren't the best swimmers. A great place for a family beach day.
16) Cupecoy Beach
Cupecoy Beach is located on the southwestern tip of St. Maarten and is very close to the French-Dutch border. Cupecoy Beach is a collective of 3 small beaches with golden sands that are surrounded by rugged limestone cliffs.
Cupecoy Beach is known for its gorgeous sunsets and its breathtaking views of the neighboring island, Saba. There are no food vendors, umbrellas, or chairs to rent on either of the three beaches, so be sure to bring all of your necessities for the day.
These are some of the most beautiful beaches that you can find on the island, this makes it ideal for couples looking for a romantic getaway. The location of the beaches also makes it popular among tourists who prefer a clothing-optional beach experience.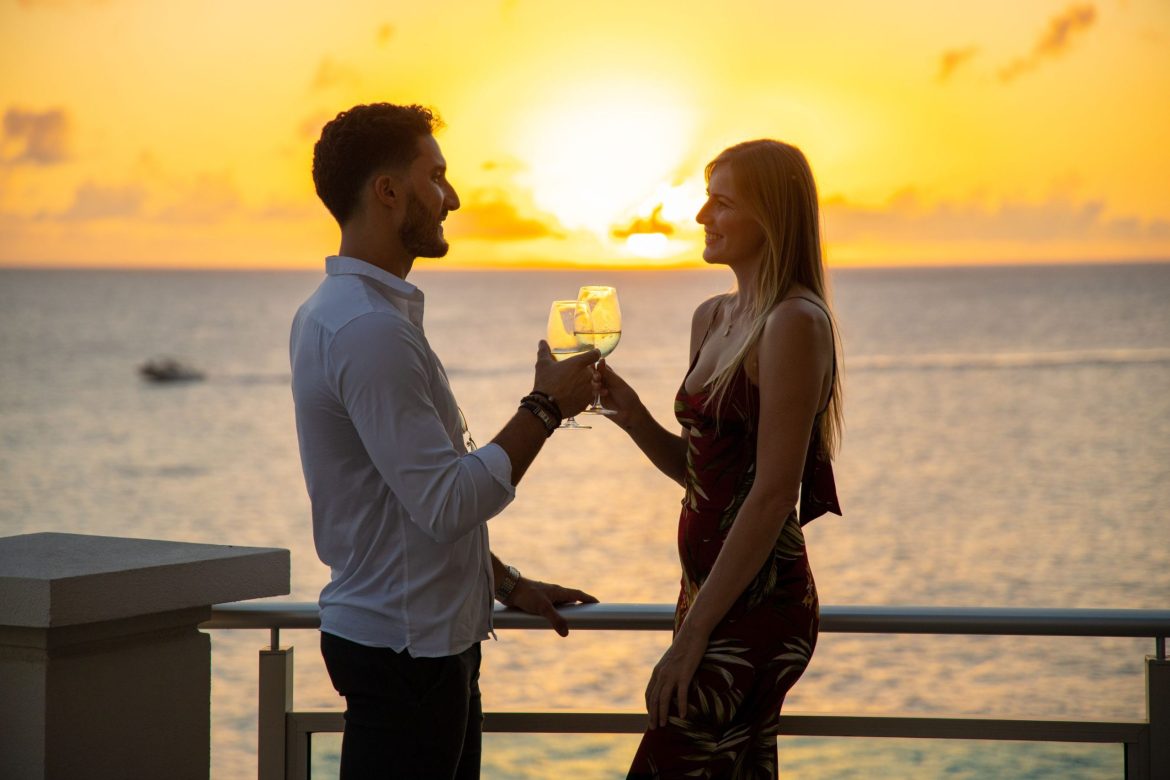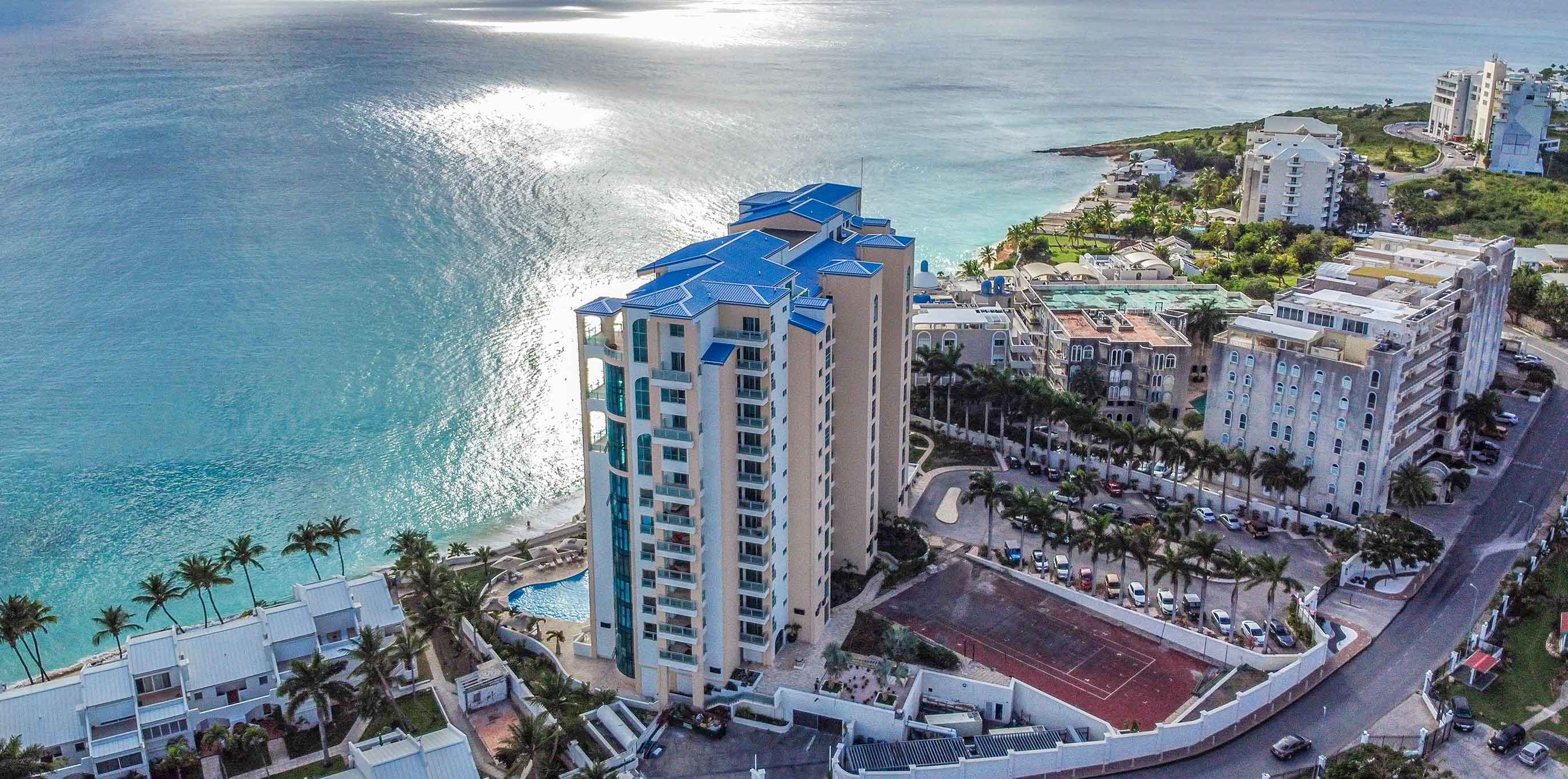 The Cliff, 7 Rhine Road, Cupecoy
12 storeys
100m of private beach
72 luxury apartments
3000 sq ft guest lobby
25m Indoor lap pool
1% New Buyer Reserve
Best feature: Beach, sunset views, and location.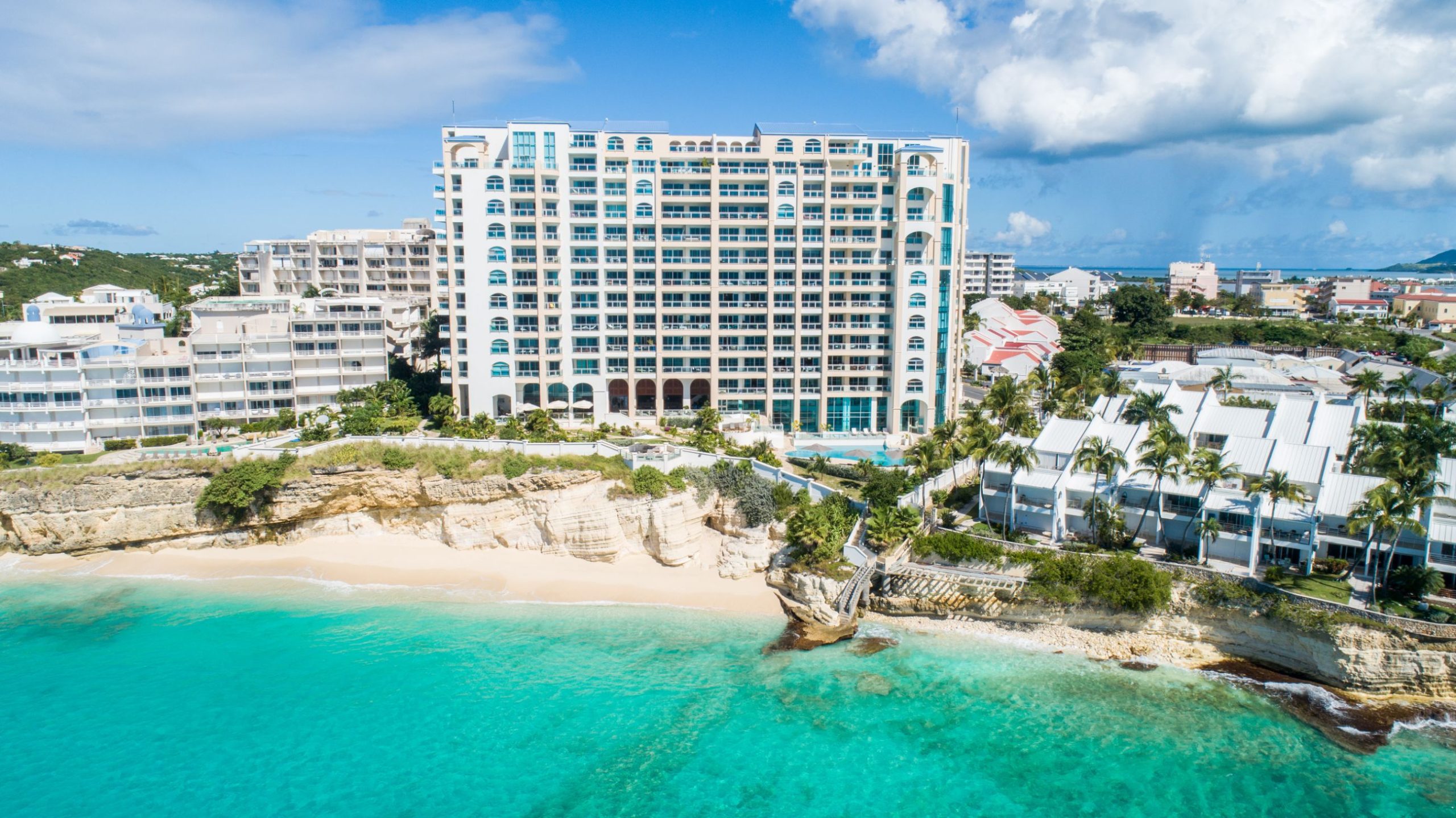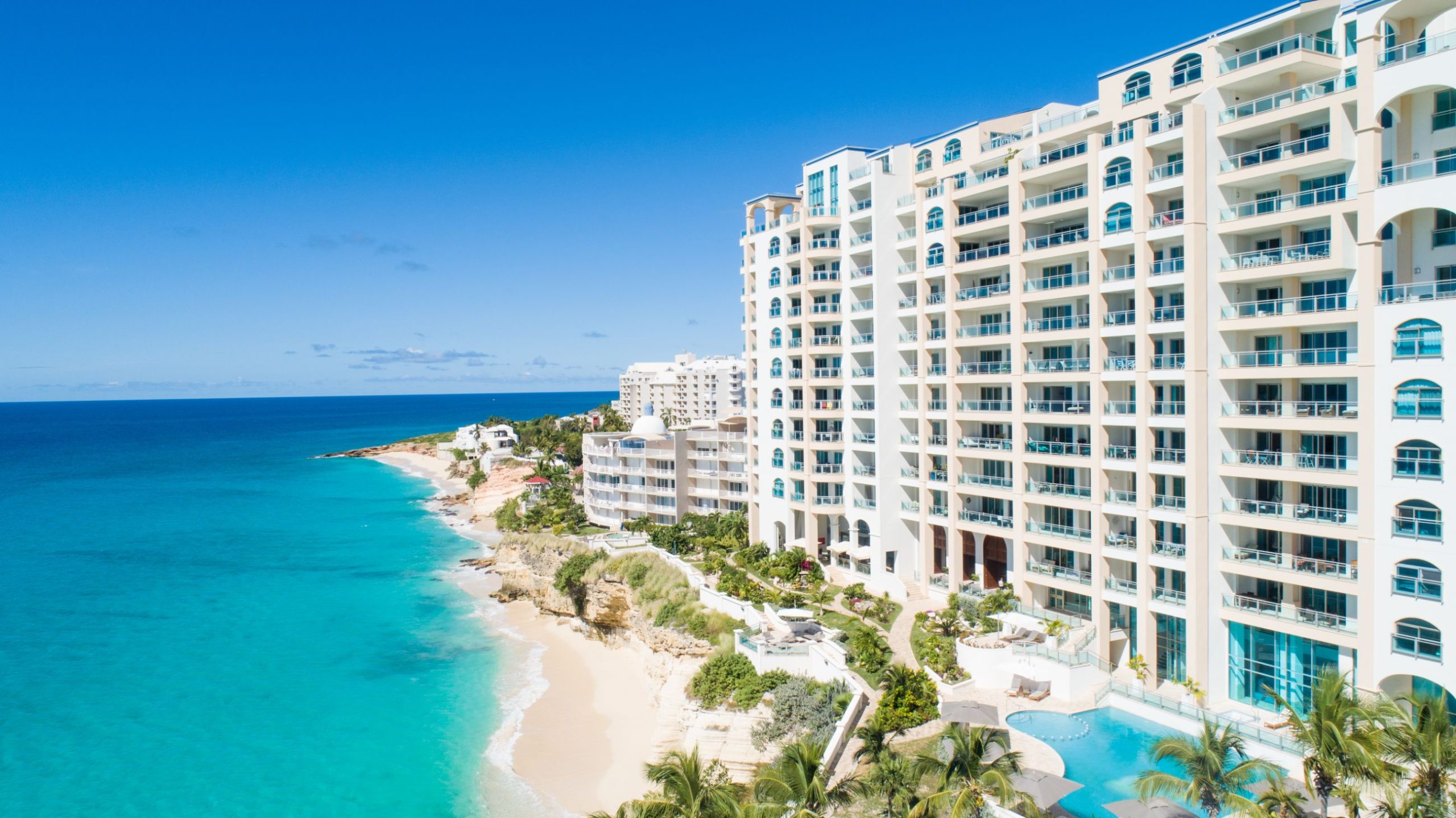 "In 2007 The late Jean Legoubey had the vision to have the first luxury apartment building in St Maarten …" said board member Alain Haillant in the Daily Herald during the re-opening of The Cliff after a complete refurbishment in 2020.
A glamorous lobby complete with a spiral staircase and ceiling to floor chandeliers. The glorious ocean view is the main feature; framed with wooden arched doorways; the majestic sapphire blue ocean invites you into The Cliff like a magnet.
One visit to The Cliff and you will buy your first condo of many.
There is no better condo development in St Maarten.
Details are everything. There are world-class artists everywhere in the lobby; I saw a Corinna and Norma Trimborn art; remembering the vivid colors. Accompanied by fellow artists Wilfred Moizan, Florence Poirier Nkpa; who grace this stunning contemporary lobby. The standout is sculptures by Mark Templeton.
A smiling reception desk with a concierge is manned 24 hours a day at the entrance of the lobby.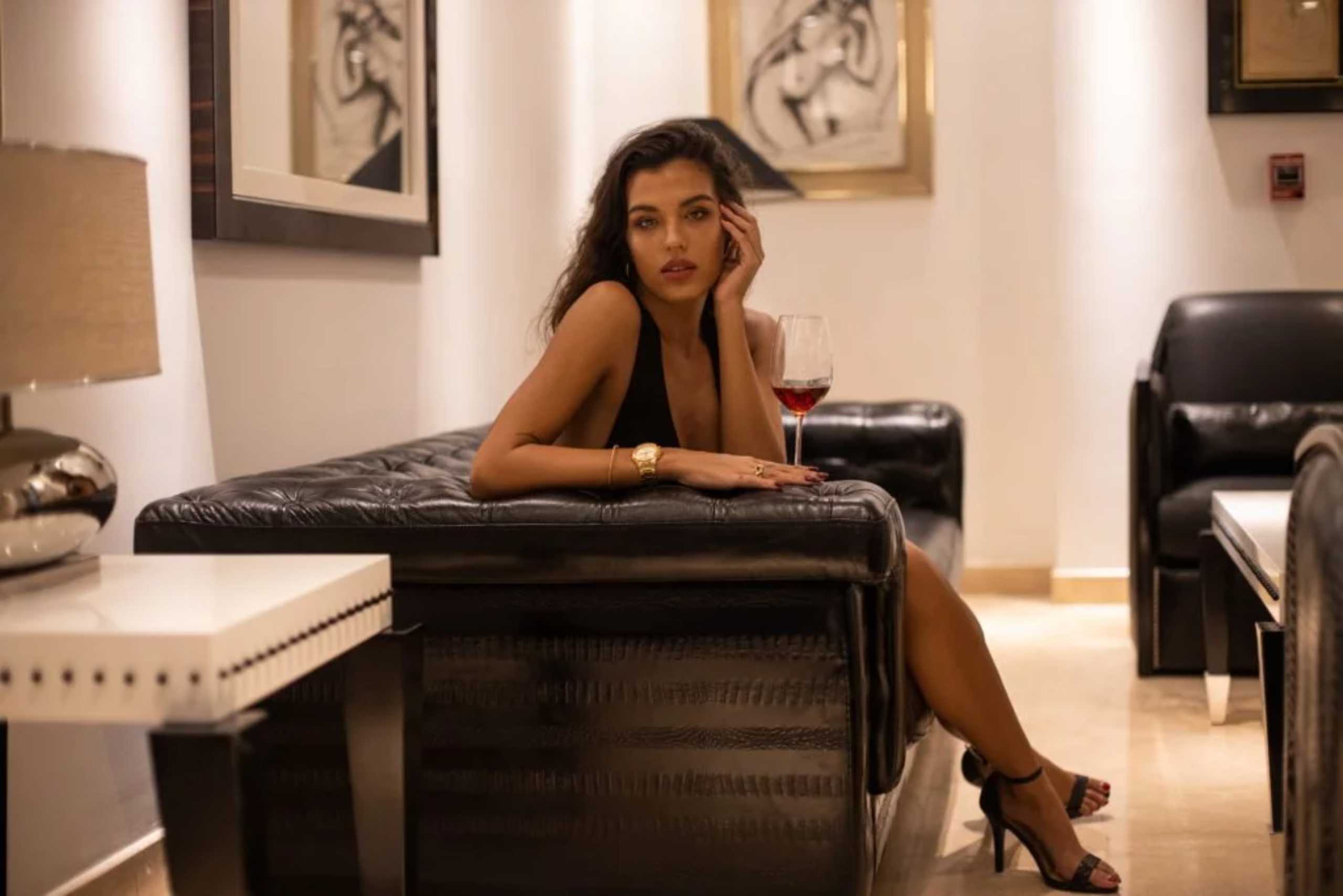 Best Beaches In The World!
Cupecoy beach offers romance like no other, with its hidden caves and calm turquoise waters; the tall limestone cliffs give you the most private beach in St Maarten!
With Mullet Bay beach a few minutes walk away; you have an incredible choice of beaches to pick from. Mullet Bay Beach is a fully serviced beach with beach chairs on one side and just nature on the other.
You are lucky to be a owner at The Cliff in St Maarten.
Cupecoy Beach, St Maarten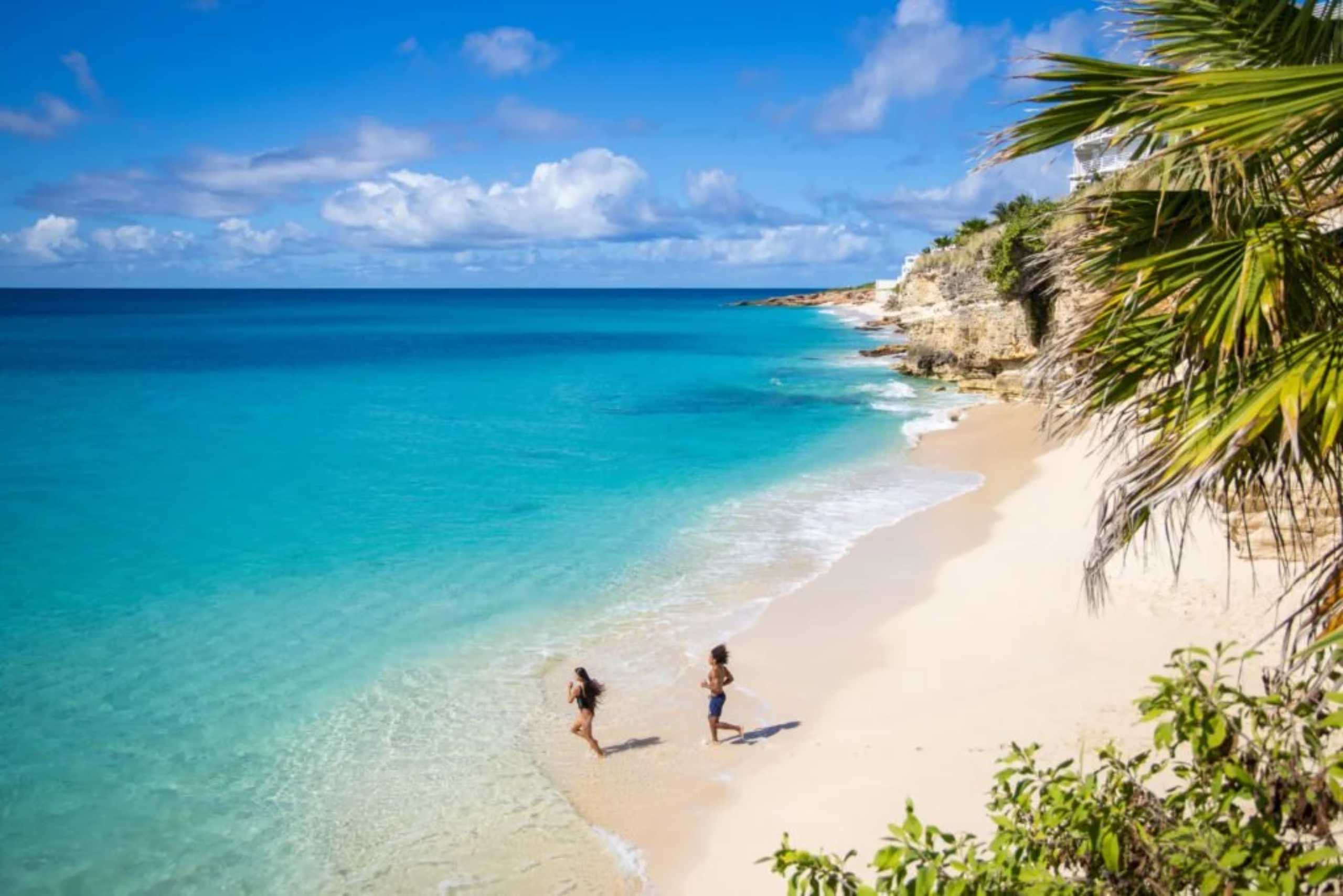 Known for its beautiful semi-private coves nestled among the limestone cliffs of Sint Maarten, Cupecoy Bay Beach is the perfect place for a taste of romance. It has gained a spot among the best beaches on the island of Saint Martin for its gorgeous views and breathtaking turquoise water.
A Unique Slice of Paradise
Hidden rocky coasts and mysterious caves in Cupecoy Beach make this one of the best private beaches in St Maarten. The seclusion of these tiny coves also makes them popular among romantic couples.
You need to snorkel here because Cupecoy Bay Beach is home to many amazing and colorful sea creatures.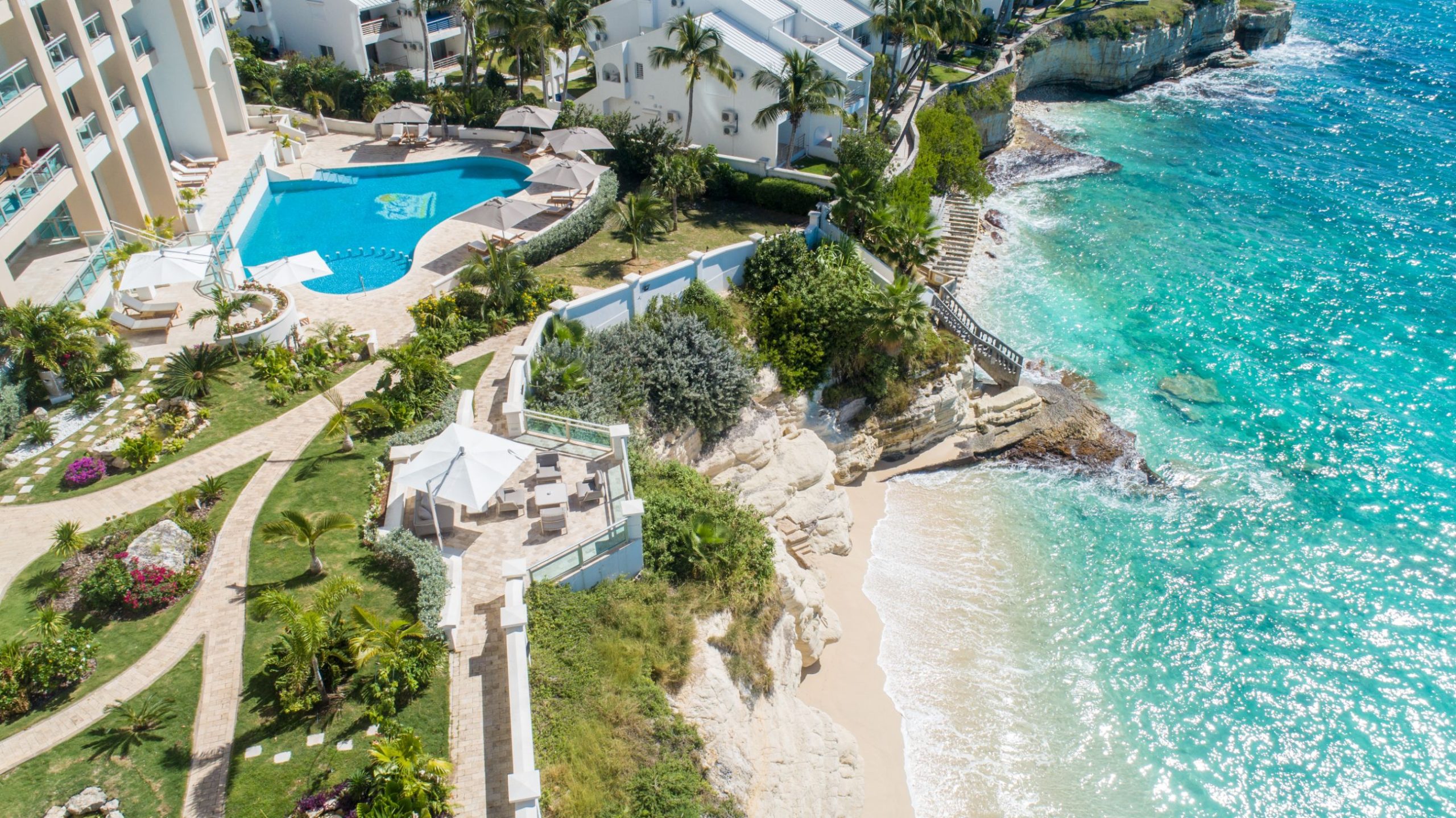 The Cliff Real Estate
Century21 St Maarten is St Maarten's largest real estate agency.
We have been representing owners at The Cliff since its birth.
In fact, we have been preferred agents for The Cliff for many years because of our knowledge.
Call Ritika and find out why we are the best +17215261819.
Example Two Bedroom Condo Floor Plan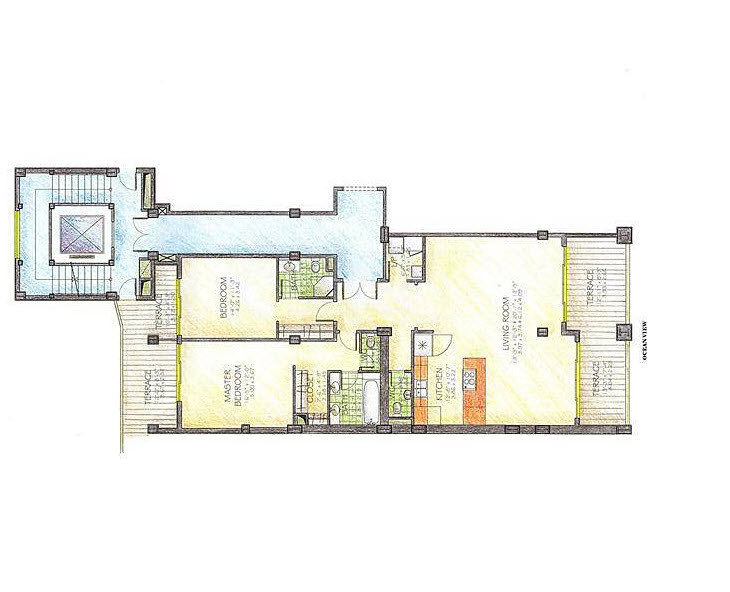 With one of the best architectural designs resulting in apartments that stretch from the beachside to the lagoon side, giving you 360-degree St Maarten views and cross-ventilation to enjoy the famous Caribbean breeze.
Incredible The Cliff Two Bedroom Condo For Sale
The Cliff Two Bedroom Condo For Sale
The Cliff Two Bedroom Condo For Sale
NEW The Cliff Two Bedroom Condo For Sale
The Cliff Penthouse For Sale
Included In The Cliff Association Fees
The Cliff HOA is the best value in St Maarten. You pay a small price for peace of mind!
Amazingly the Association Fees incorporate building insurance, generator, satellite TV and the internet.
For example, The Cliff HOA for a two-bedroom condo is $18600 per year.
Building & Liability Insurance
Satelite TV
Internet
Repairs & Maintenance
Landscaping & Gardening
Waste Removal
Exterminator
Water Treatment & Testing
Elevator repairs
Generator Service
Pool Cleaning
Airco Maintenance & Repairs
Security Services
Cleaning Services
Internet Subscription
Satelite TV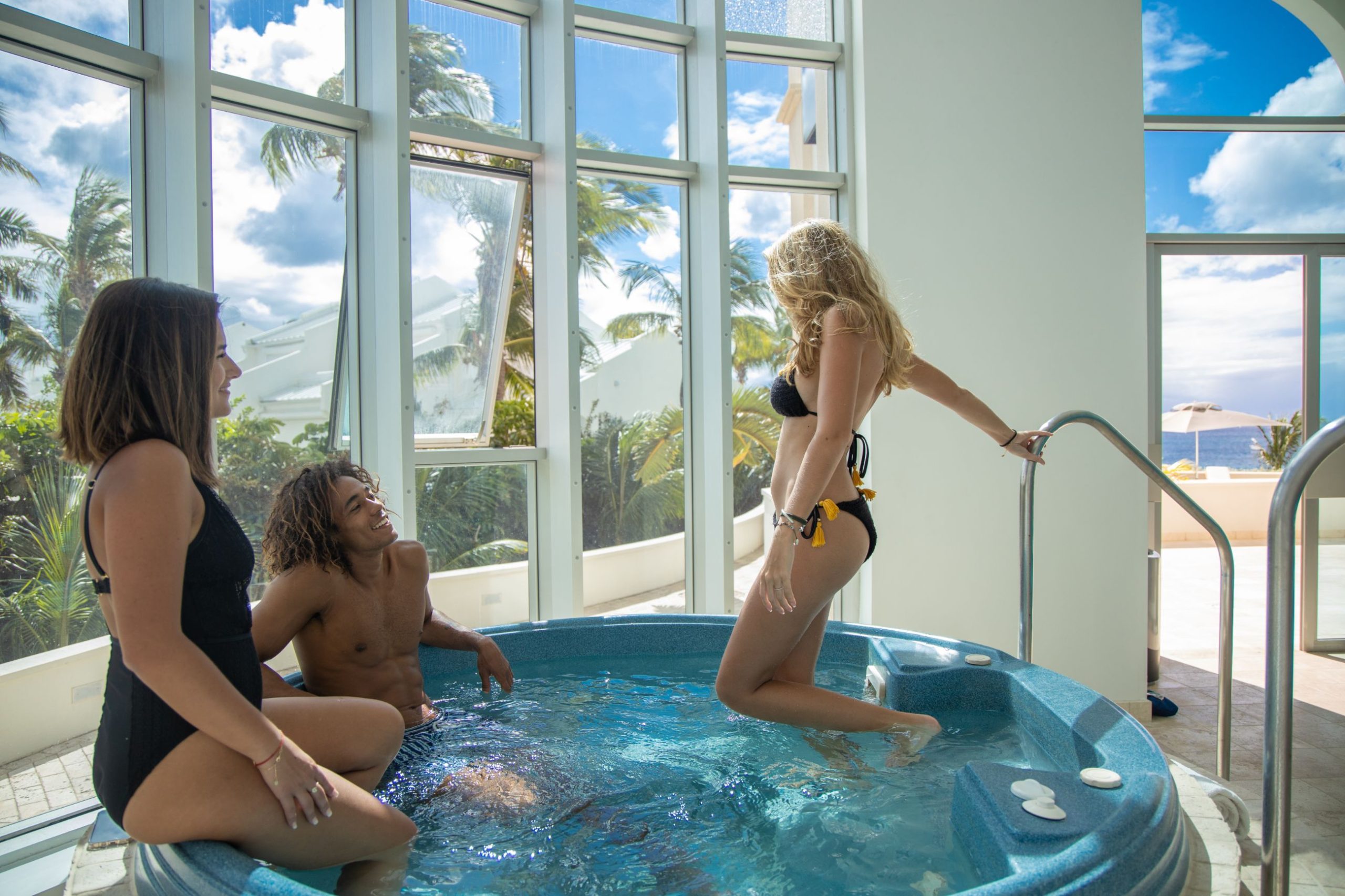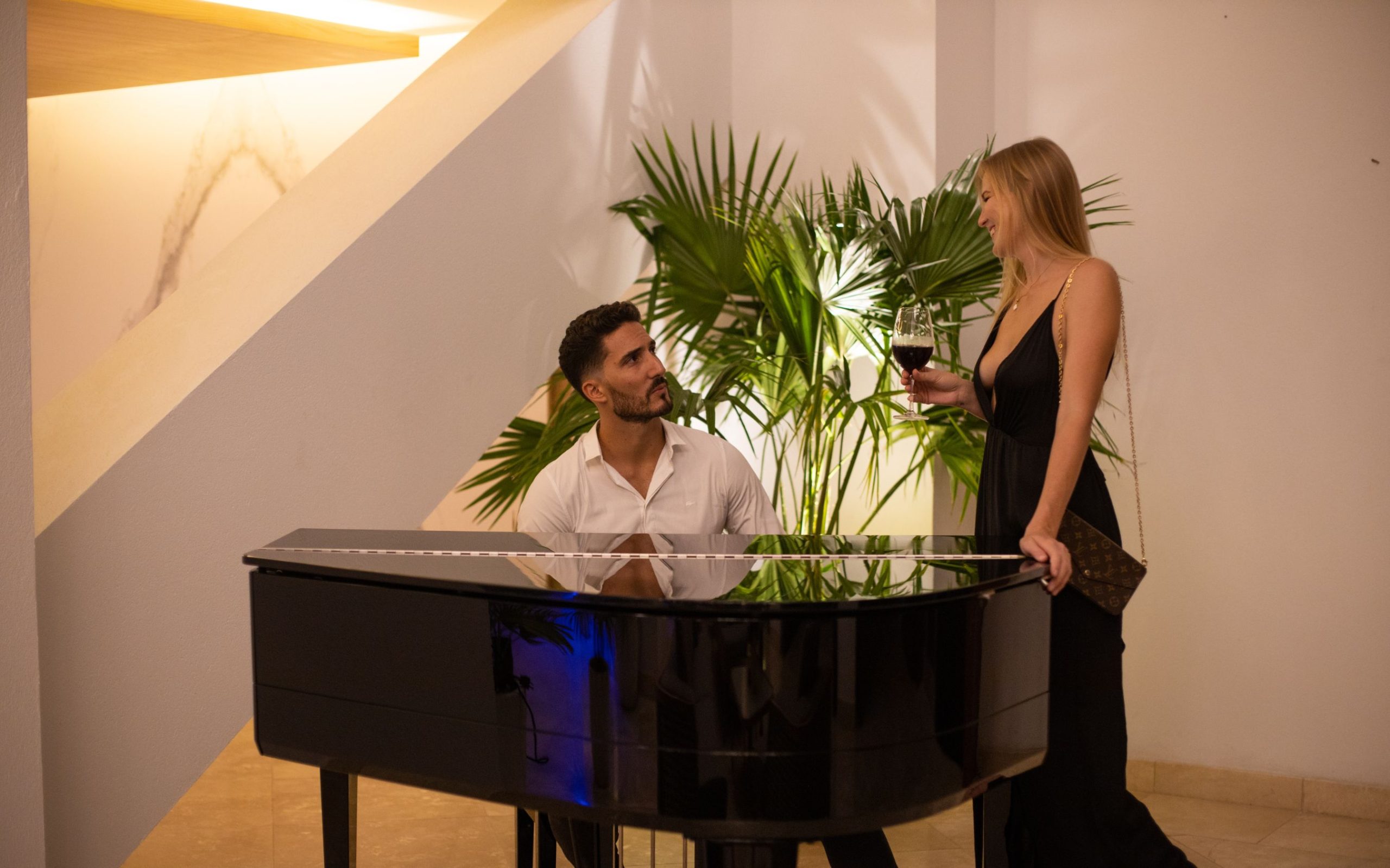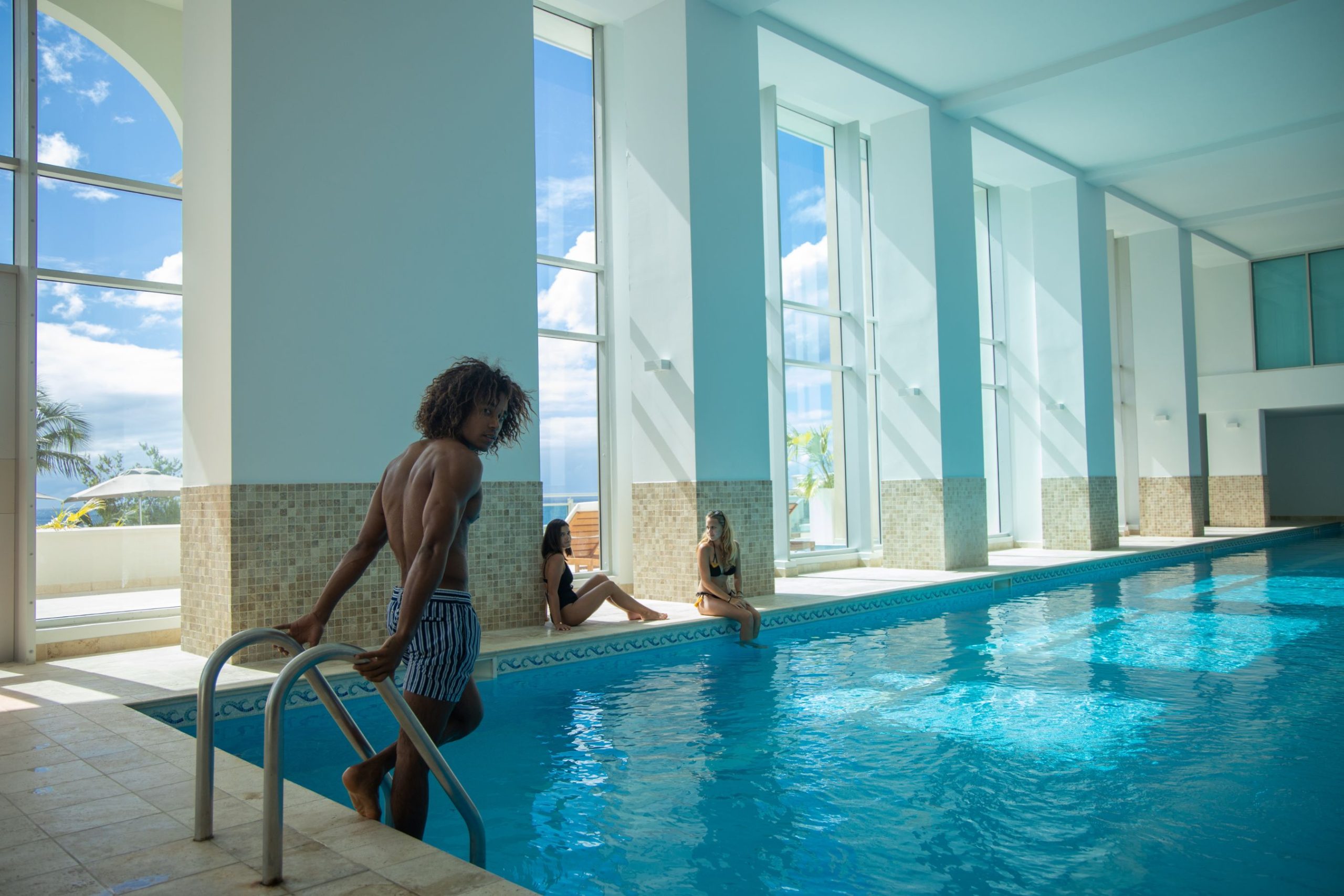 The Cliff SXM New Buyer Reserve
Wondering what is the New Buyer Reserve at The Cliff?
It is simply a Budget Reserve equating to 1% of the buying price that goes towards The Cliff Home Owners Association.
Non-refundable and applies to every new buyer at The Cliff St Maarten.
The seller does not receive any portion of these funds.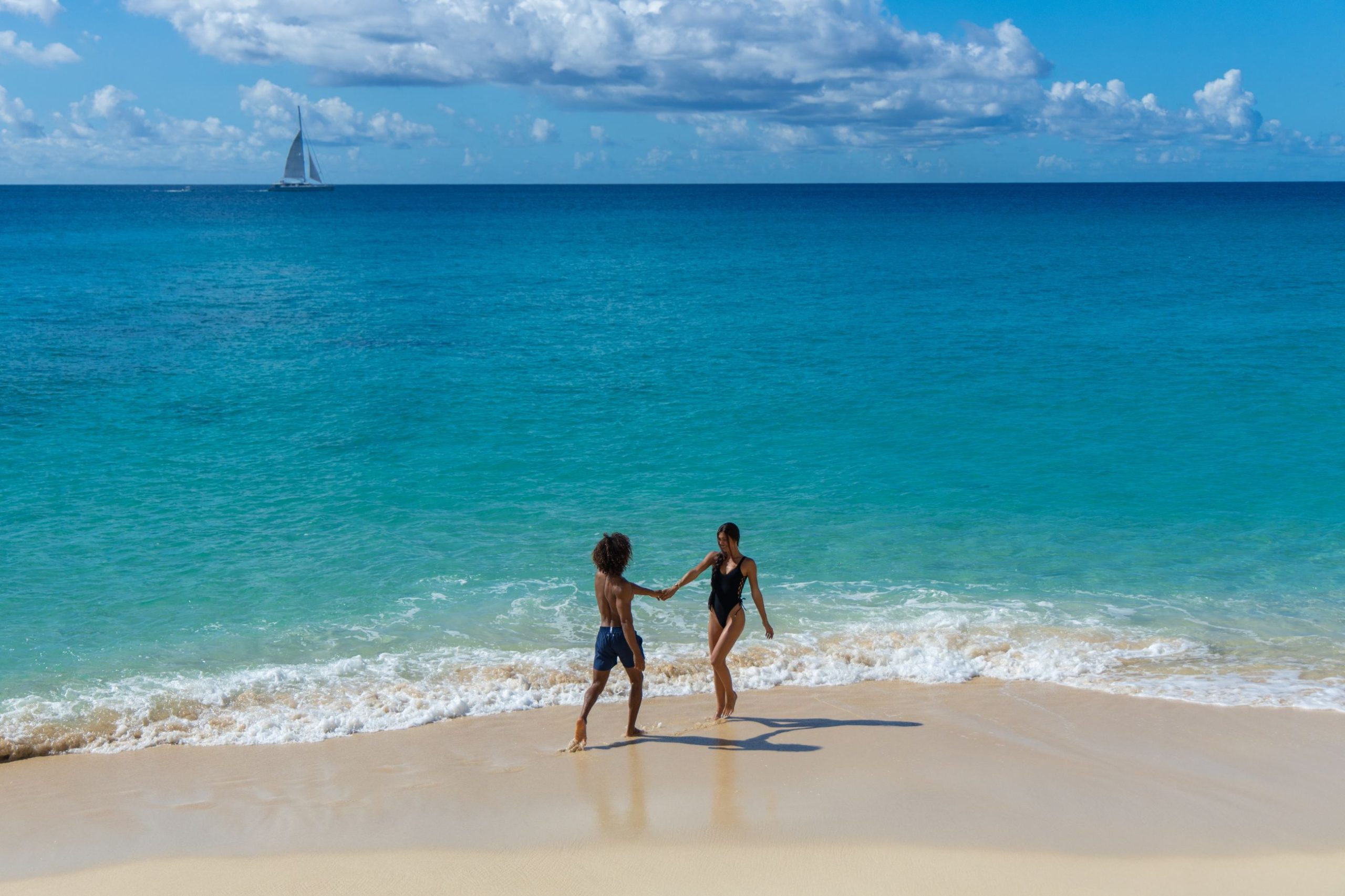 The Cliff Airconditiong System
After 2020 an entirely new chiller system was installed. An older, second chiller was repaired for backup. Some condos have three to five thermostats to operate the chiller automatically.
Each thermostat is connected to a separate valve. When the thermostat calls for cool air the respective valve opens allowing the chilled water to pass through the pipes in the particular thermostat zone and the blower unit comes on and cooling occurs.
The valves are somehow metered with a fairly complex computer system to allow billing to each owner.
The beauty of the system is that you can zone off each area and only use A/C in that area when needed. For example, you can keep the living area at your desired temperature when you are occupying it, turn off the A/C in the guest bedroom and bath area and keep the master bedroom at a higher temp or even turn off until ready for sleeping.
Personally we have been very pleasantly surprised at the bills which come directly from the Cliff. Very low cost compared to my other properties!!
Depending on the time of year and whether or not the The Cliff condo is occupied for an entire billing cycle, the bills are still between $15 and $550.
If not occupied they can be very low since you can turn the A/C and the fridge completely off.
Also the cross ventilation at the Cliff is outstanding and many owners hardly use their A/C during the winter months.
Location
The Cliff SXM is only 5 minutes drive from Princess Juliana International Airport and is conveniently located, just moments away, to the French border. Nearby in Maho, you will find watersports, French bakeries, banks, drug stores, grocery stores, gyms, hairdressing salons, ice-cream parlours, massage centres, theatres, restaurants/bars, duty-free shopping, casinos and night entertainment. Everything within a few minutes drive.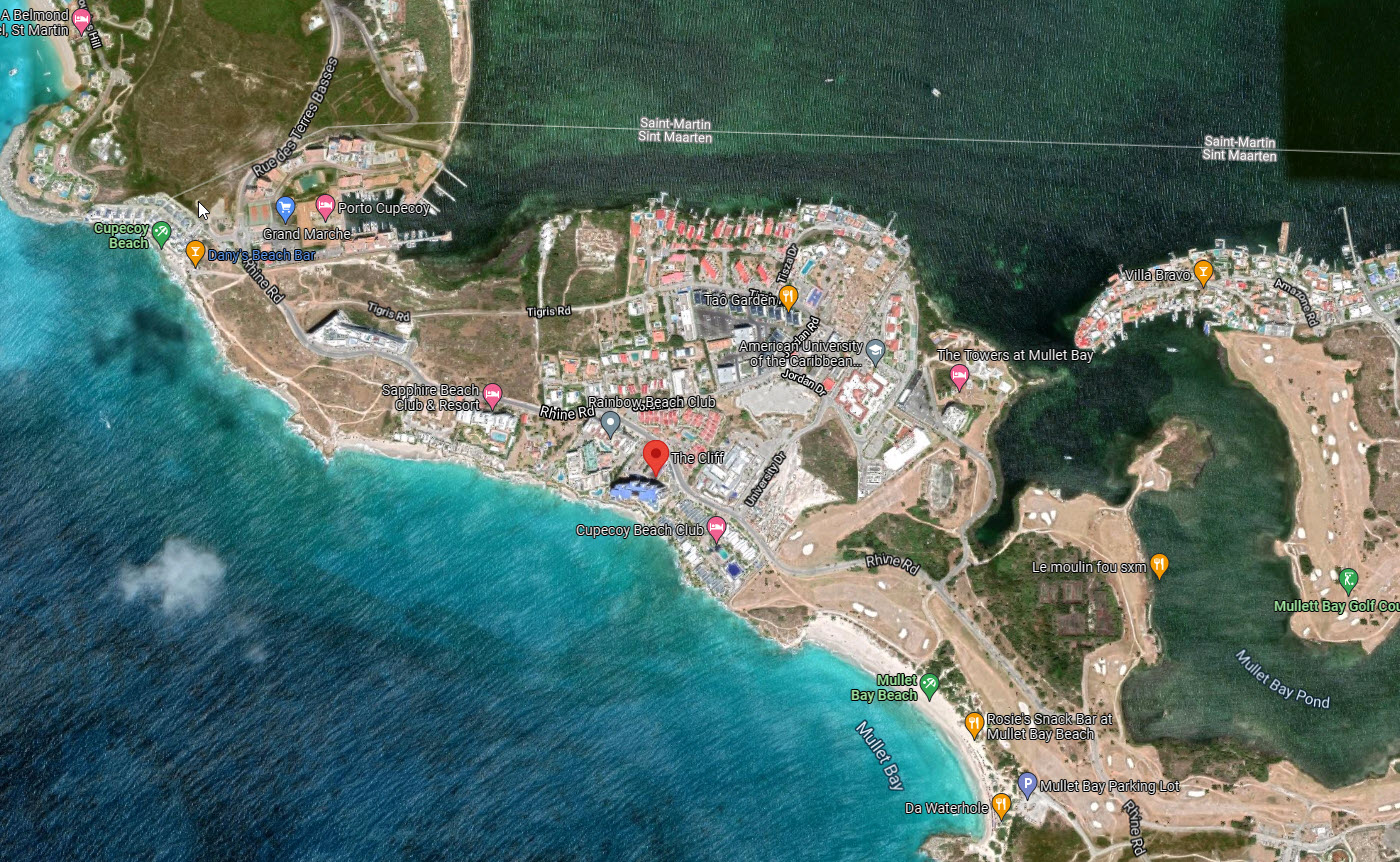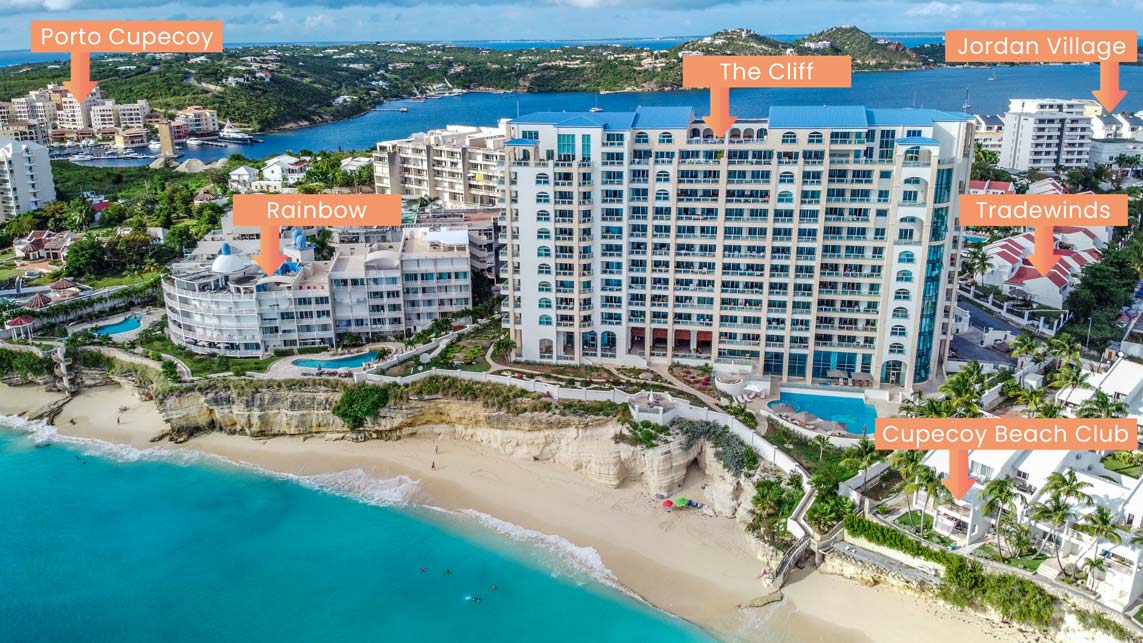 Food store:
5 mins walk to mini stores and 3 mins drive to a larger Carrefour in Porto Cupecoy.
Restaurants:
Mario's at The Cliff SXM, La Bodega, Bar Code, Tao Garden Thai, Spaghetti House, Fat Tonys, Yami Sushi, Chef India, Shogun, Natural Cafe, La Chingona Taqueria and more opening at the casino and nearby Fourteen Towers will provide additional world-class nightlife within 3-5 mins walk.
Casino:
Atlantis casino reopening soon within 3 mins walk and Porto Cupecoy offers Starz Casino.
Beaches:
Cupecoy Beach and Mullet Bay Beach within 3 to 5 mins walk.
Airport:
Just 5 to 10 minutes drive.
Golf Course:
Mullet Bay Golf Course within 3 mins drive
Yoga and fitness classes:
On-site and other nearby locations.
The Cliff Spa
Previously the home of the only Christian Dior Spa in the world!
Now operated by world-class health therapists on-site at The Cliff Spa.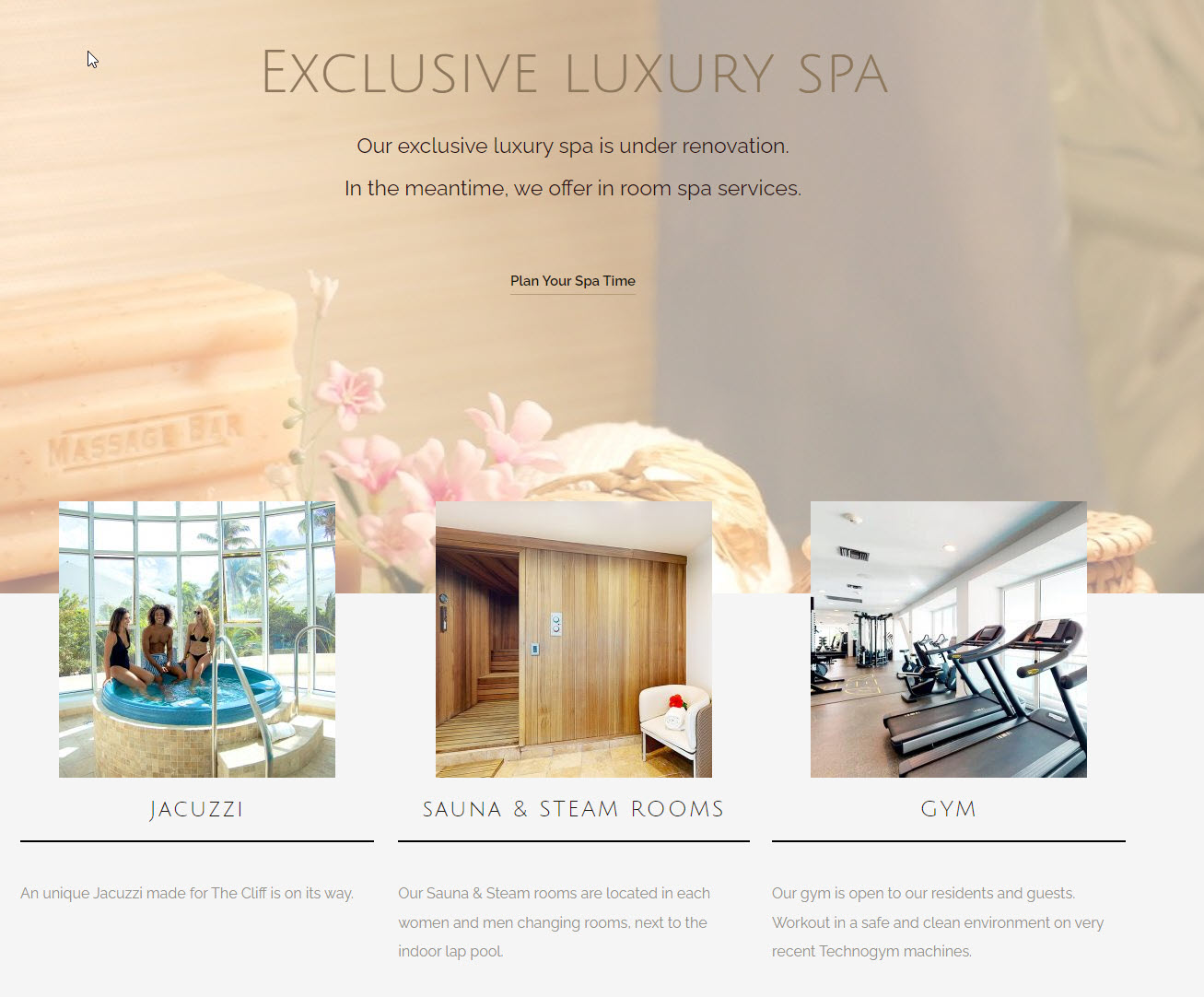 Security
World-class security.
24 hours a day, every single minute.
Cutting-edge technology.
Every car is checked before entering through the majestic iron gates.
The condos range in price from $900,000 U.S. to 5 Million U.S. All units have full views of the Caribbean ocean located on Cupecoy Beach. All owners have their own underground parking and storage unit. Owners have full use of the members club, tennis court, indoor 25 meter lap pool, Fitness center, Steam and Sauna Rooms, Hot tubs and outside pool. The property has direct access to Cupecoy Beach.
The Cliff St Maarten is in close proximity to Maho, Mullet Bay, and Cupecoy Beach. It is near French Saint Martin, The Maho Village, and The Princess Juliana International Airport.
The Cliff Experience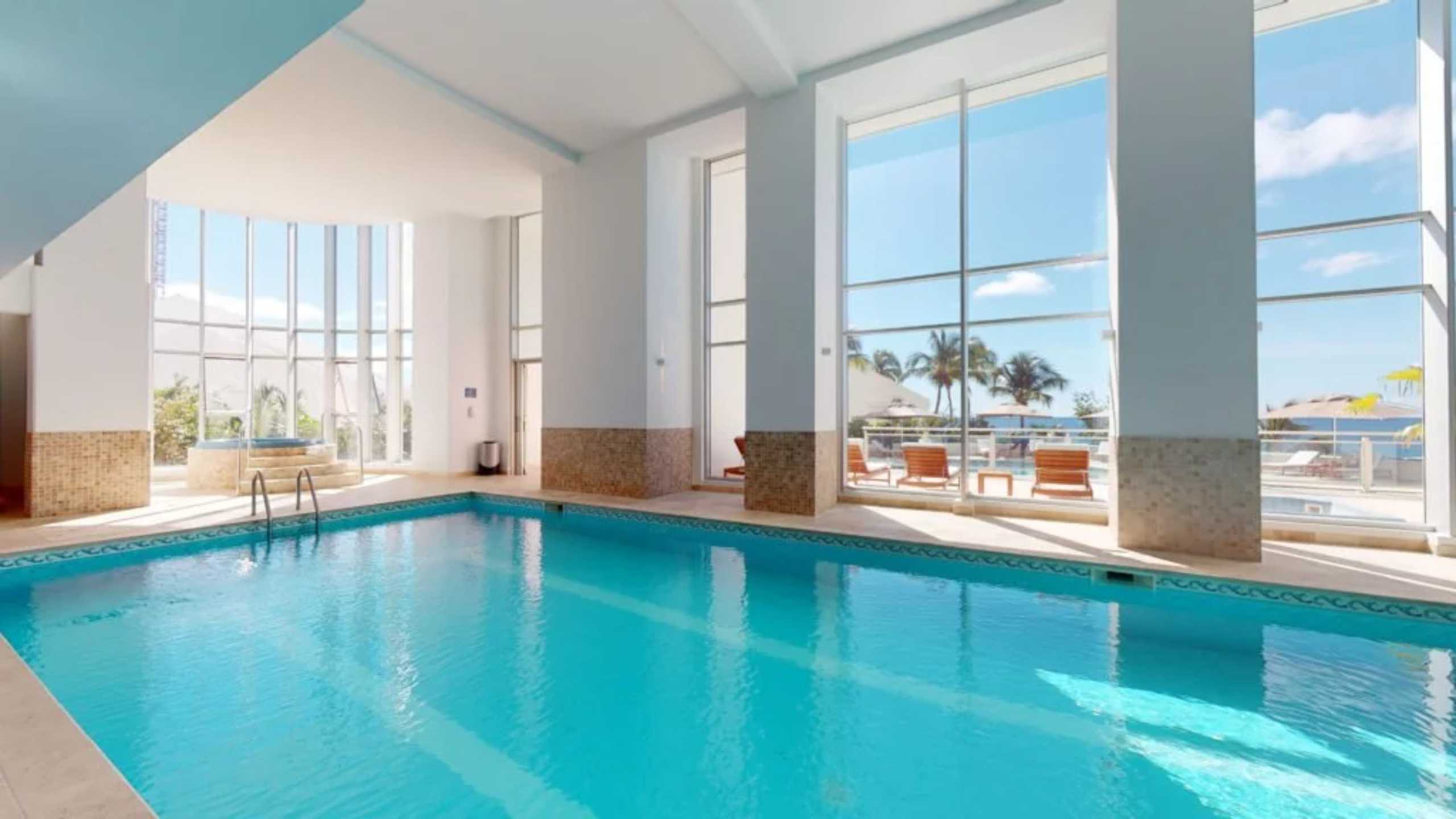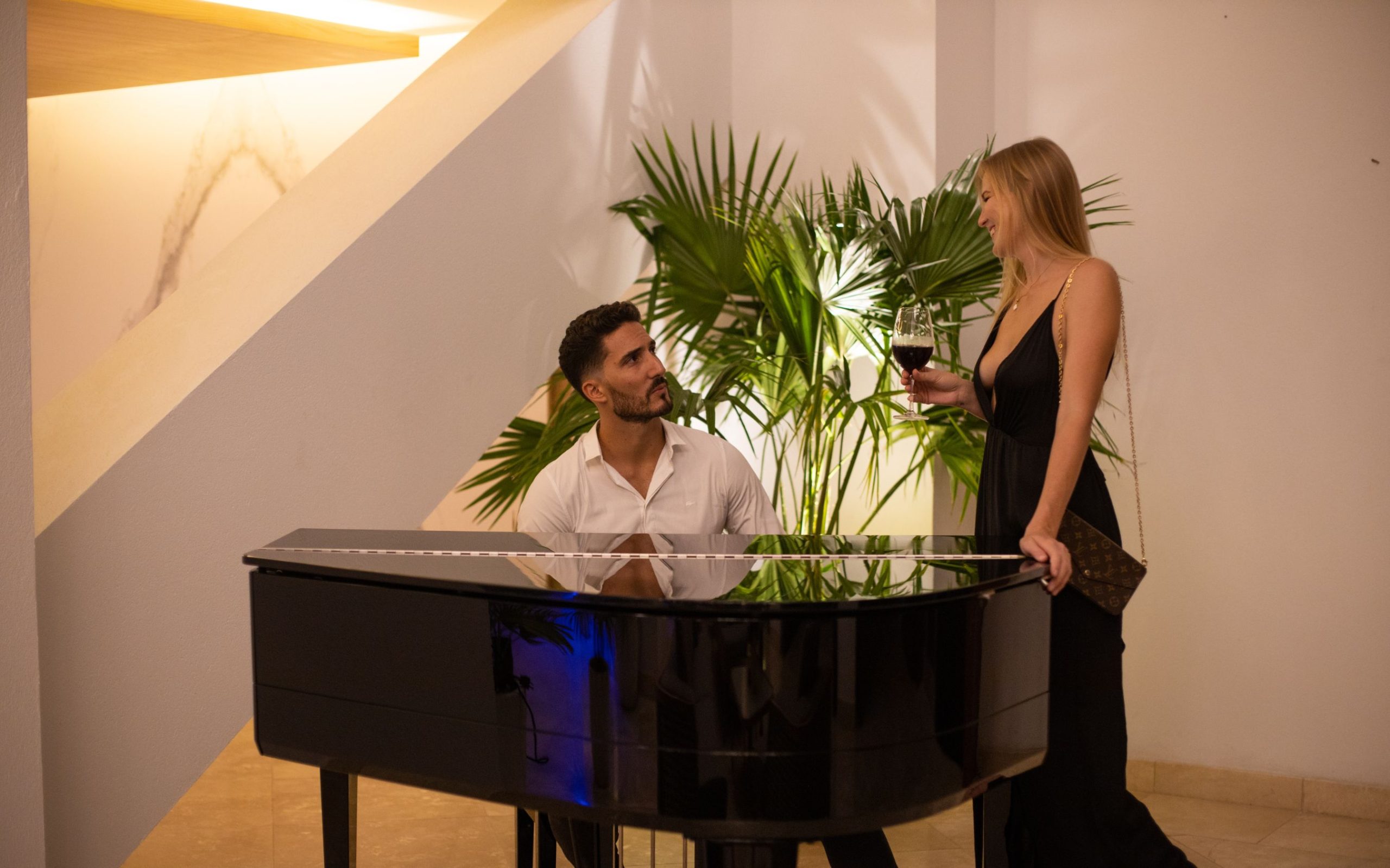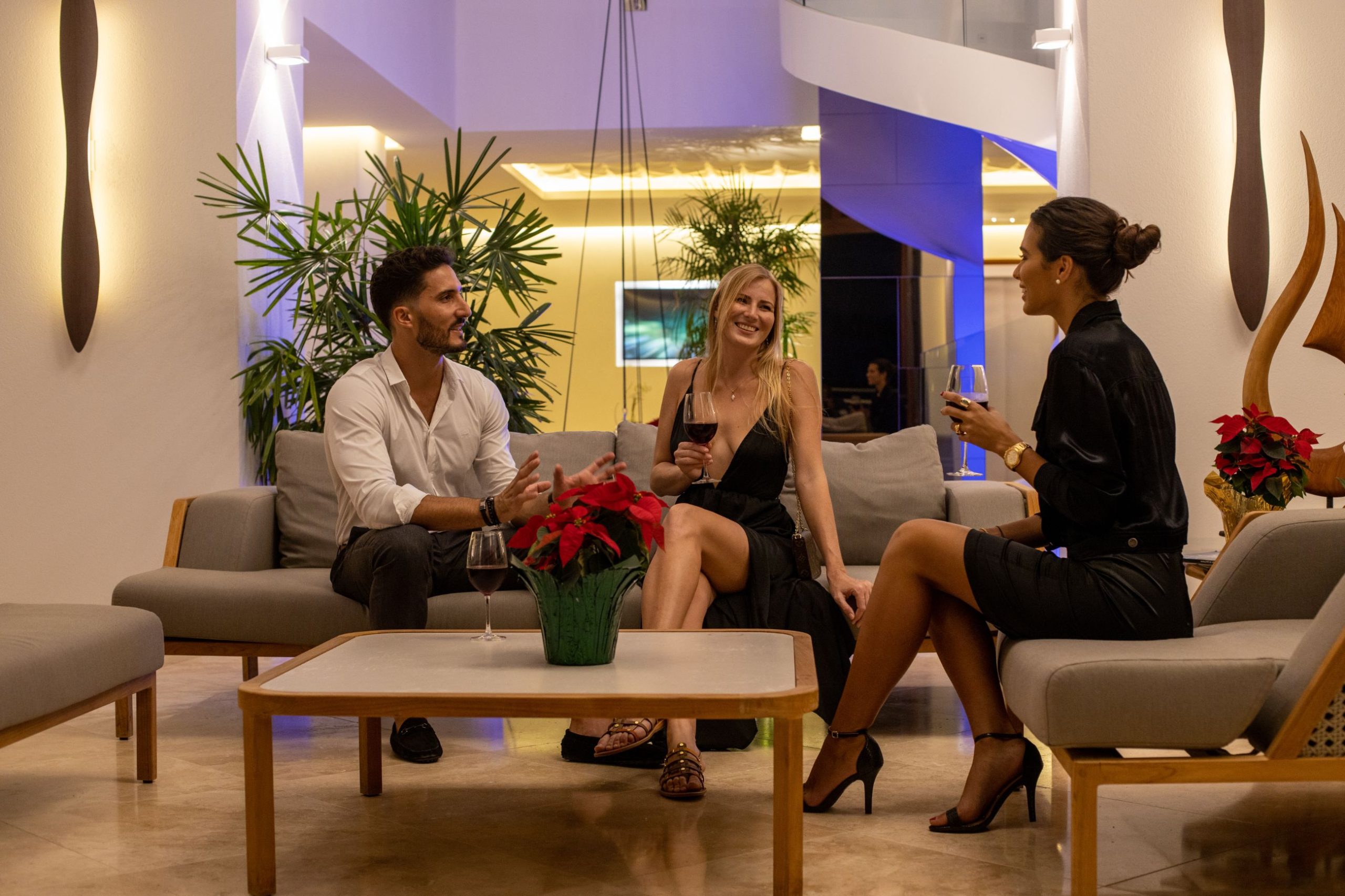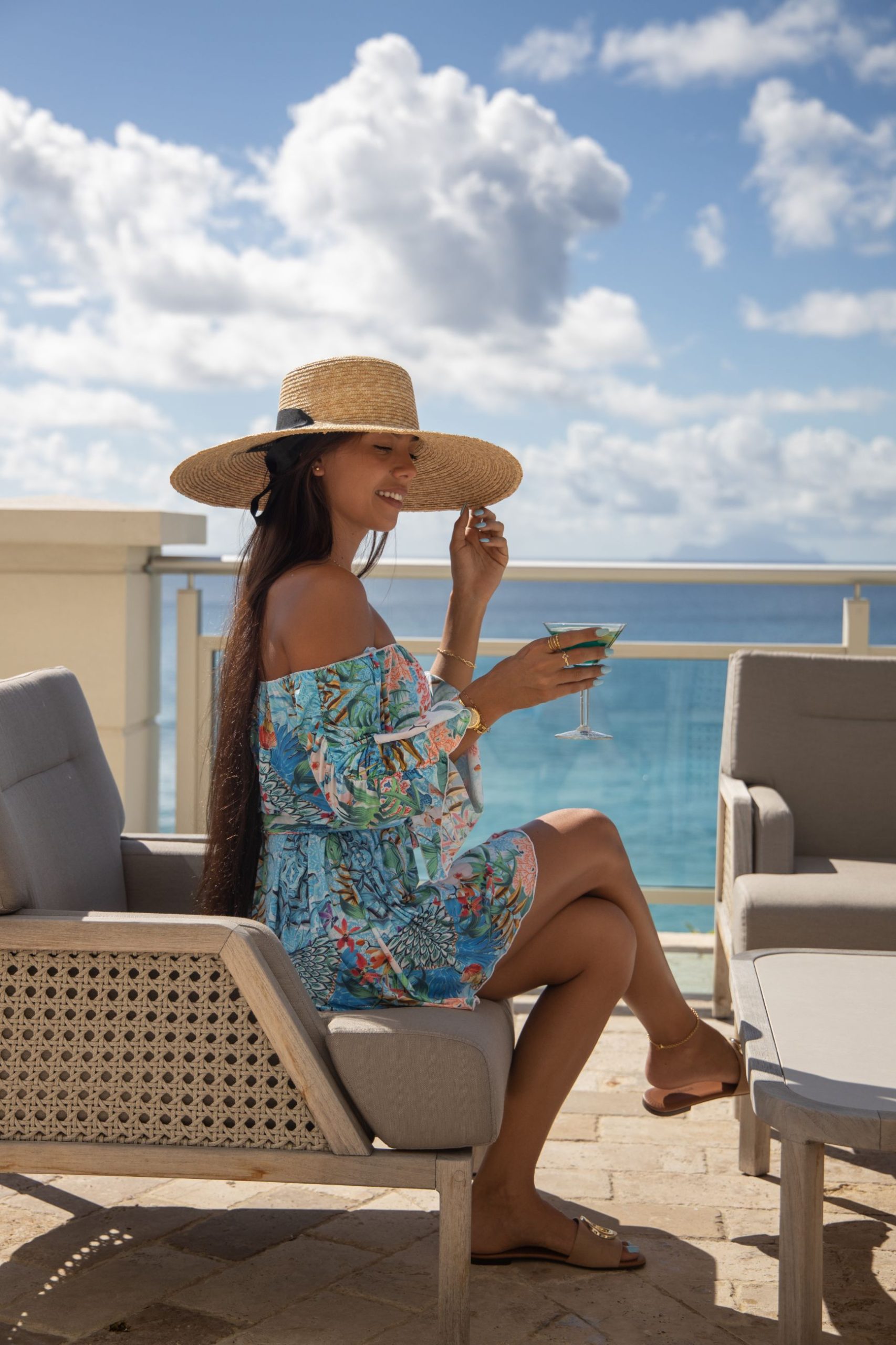 Secluded Cupecoy beach with private access only from The Cliff SXM.
Lush mature landscaping, with bougainvillea pinks.
Award-winning security. 24-hour security, entrance, grounds and lobby.
Underground reserved parking for each owner
Indoor 25-meter lap pool
Complete exercise facilities with lockers.
Luxury spa and recreation facilities
Sculptured outdoor with plans to re-tile with rare Lapis Lazuli.
Tennis court (lighted)
Secured guest parking
Five-star guest lobby with Mario's restaurant.
Elevators (4) servicing two units per floor, eliminating hallways.
Property management and maintenance on-site 24 hours.
Walking distance to casinos and golf course.
Panoramic views of Caribbean Sea, sunsets and Simpson Bay Lagoon
Review of The Cliff in St Maarten
Best place we have ever stayed in St. Maarten
My husband and I have been to St. Maarten about 40 times. We have stayed pretty much everywhere and the Cliff is at the top of the list. We rented from a private individual and he took excellent care of us as he was on the island. ([–]). We had a 2 bedroom, 2.5 bathroom unit and it was huge. The unit was furnished exquisitely with fine linens and comfortable beds. Our view was spectacular and we could hear the ocean loud and clear from the 6th floor. The kitchen was amazing with granite counters and plenty of space. We didn't cook though as there were great restaurants across the street.
The Cliff has an indoor lap pool and a nice but small outdoor pool. There are plenty of beach chairs around the pool. The spa gave me the best facial I have ever had and the Spa is on the main floor of the Cliff. The staff at the Cliff were friendly and helpful. The grounds were immaculate and beautiful. There is a tennis court where you can play night or day. The walls of the units are thick and we never heard a noise from any other unit.
Construction Quality At The Cliff
Since 2007 and the 2022 refurbishment a lot of the construction materials and standards have changed, however, to get an idea of the quality you get; we have included the furnishings that were installed originally by the Developer.
Most condos will have elements of these; however, a lot of the newly purchased condos have been extensively renovated to look completely different from the original apartments for sale by the Developer.
Original Tiling
Travertine floor tiles throughout hallways and apartments 18'x18′, color "Classic", Balconies 12'x12′ color "Classic"
Bullnose Travertine base tiles throughout hallways and apartments color "Classic"
Original Kitchens At The Cliff
Solid wood kitchen cabinets by Prestige Cabinets. Granite kitchen tops
Double bowl stainless steel kitchen sinks
All Kitchenaid stainless steel appliances Architect series
Garbage compactor- Kitchen Aid
Garbage grinder below sink
Self cleaning built in oven / microwave – Kitchen Aid
Electric cook top – Kitchen Aid
Side by side refrigerator/freezer – automatic icemaker and water in the door – Kitchen Aid
Sound insulated dishwasher – Kitchen Aid
Ventless Island hood – Glass and Stainless steel
Garbage chutes to basements conveniently located in external corridors
Original Bathrooms At The Cliff
Solid wood bathroom vanity cabinets – Prestige cabinets Travertine vanity tops 3/4″ thick with Pencil edge
Brand name plumbing fixtures / faucets: American Standard & Delta
Glass Shower stalls
American Standard Hamilton one piece toilets
Bathroom tubs with whirlpool jets – American Standard Colony 5′ System 1 hydro massage whirlpool (6 jets)
Lavatory faucets – American Standard
Above counter vanity lavatories in Master bathroom American Standard
Delta "Monitor" shower Valves
Delta Tub faucets
Bathroom accessories – Franklin brass Polished Chrome
Natural stone wall tiles with trims for bathrooms
Original Laundry Room At The Cliff
Stackable washer/dryers in separate laundry rooms within each apartment at The Cliff SXM.
Doors And Windows At The Cliff
Custom Panel 2 leaf entry doors 8′ high.
Entry Locks by "Solitaire" card swipe
Sliding doors by "Hydro" Van Sluisveld aluminum high quality / screens / tinted laminated glass 5/8″ thick
Windows "Hydro" Van Sluisveld aluminum high quality tinted laminated glass 5/8″ thick
Curtain walls "Hydro" Van Sluisveld aluminum high quality / tinted laminated glass 5/8′ thick
Walk-in closets – Custom cabinetry all wood
Interior paneled wood fiber doors – Jeldwin "Procore the quiet door"
Lever handle privacy/passage locks – Schlage heavy-duty residential AL series " Neptune " Chrome finish
Electrical Components At The Cliff
Décora commercial electrical devices by Cooper "Aspire" style
Recessed ceiling fixtures to kitchens, entrance hallways, bathrooms and closets
Customized bedroom, living and dining area fixtures.
In room digital floor mount safes by KABA systems in Master Closets
Other Special Features At The Cliff
Satellite T.V. (25 channels standard)
Broadband Internet
CCTV through out property
Telephones – outside line and suite to suite
European grade anodized aluminum balcony handrails with 5/16′ tinted glass infill.
Four elevators servicing two 2 and 3 bedroom suites per floor and servicing one 4 bedroom and penthouse unit each per floor – elevators by Mitsubishi 14 person stainless interior. Speed 1.6 meters/second
Events At The Cliff St Maarten
Special Moments At The Cliff, St Maarten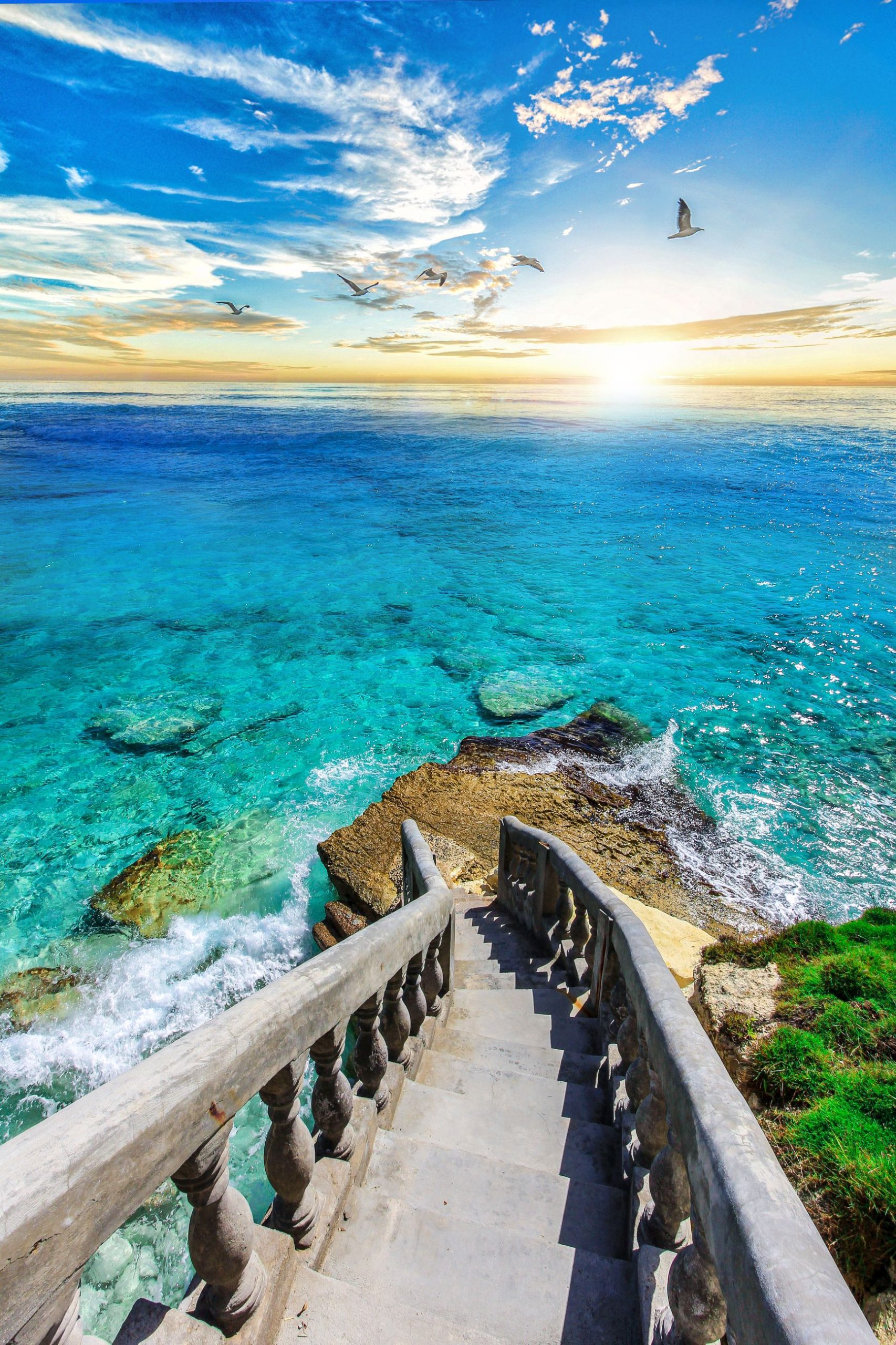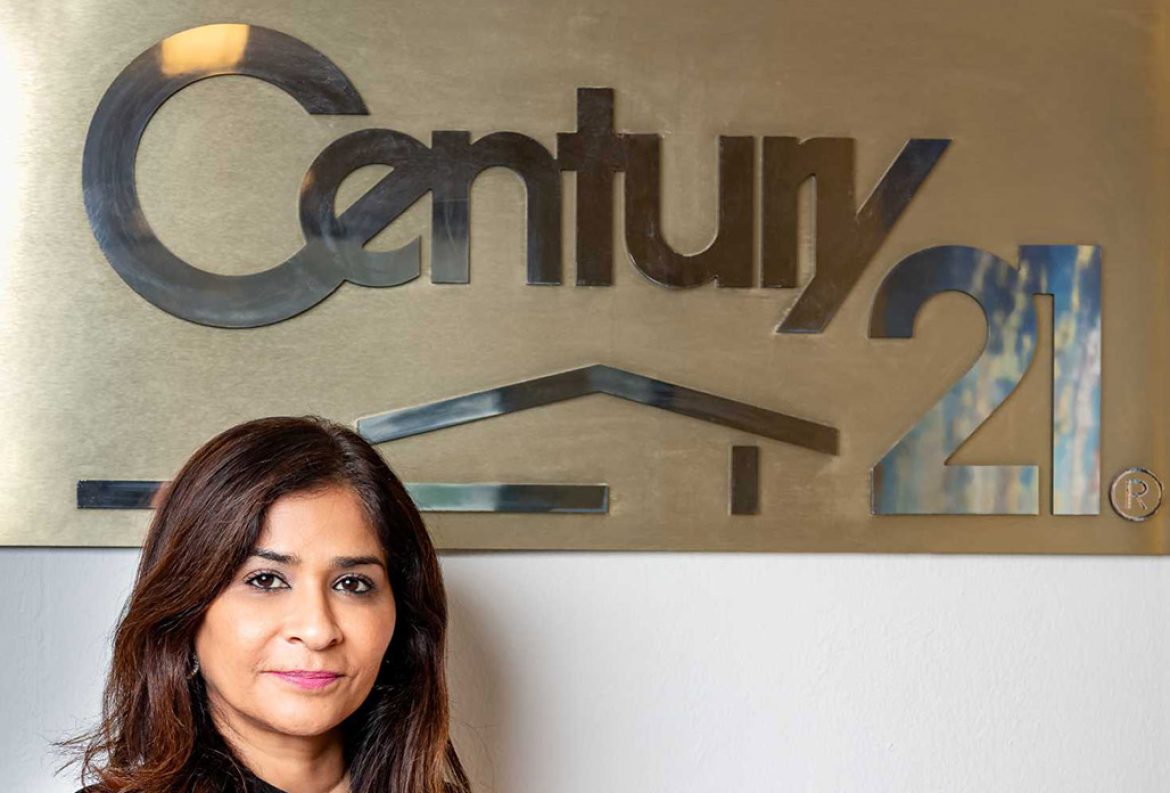 Thank you SXM!
In the newspapers!
The Daily Herald; St Maarten's national newspaper; publishes the most popular business awards every year. Voted by the people of St Maarten; this is a very honest and important award for St Maarten businesses.
Century21 Island Realty wins the Best Real Estate Agency award in 2022.
12 is our lucky number.
12 award-winning years of consistency and integrity.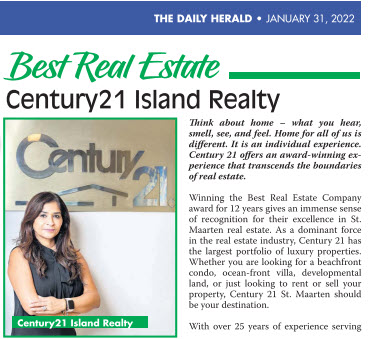 12 Featured Properties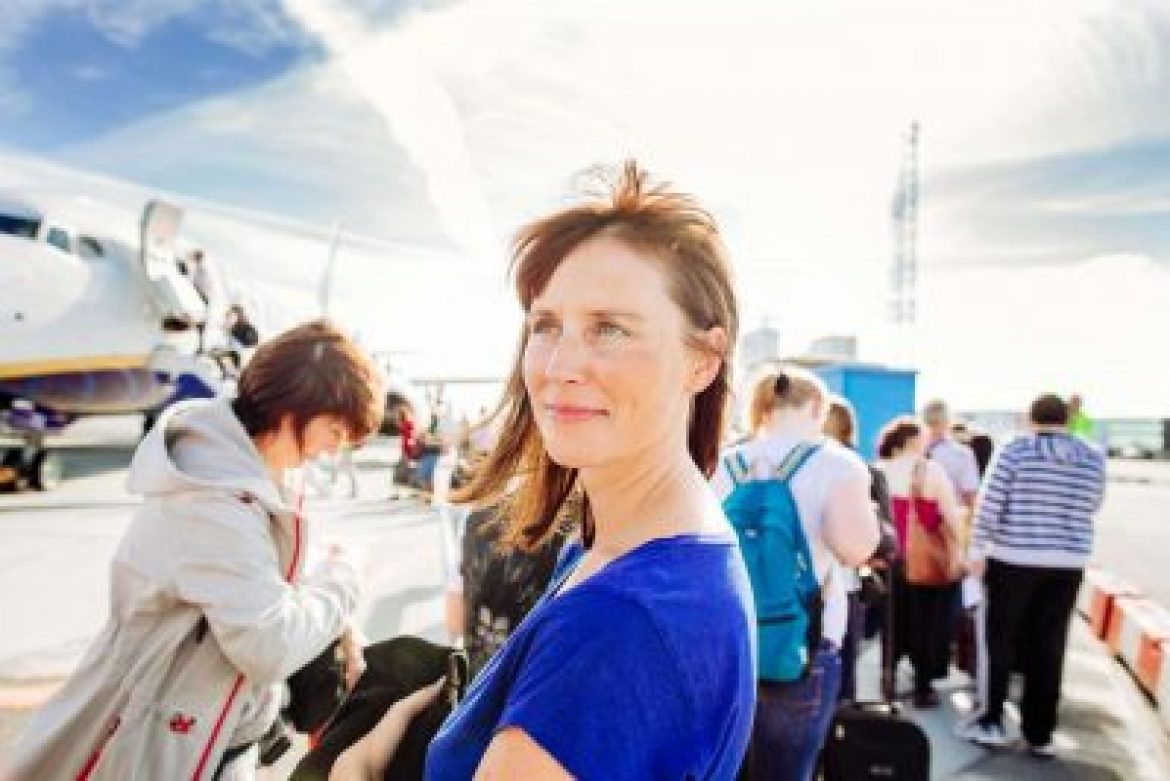 Americans Buy St Maarten Real Estate
A handsome tanned couple, confident and distinctively urban American background; both tall as our chandeliers; arrived from San Juan straight to our offices looking for a St Maarten property to buy for investment. As conversations go by, I find out that both are originally from New York, moved to Puerto Rico two years ago and now looking to settle in 'vibrant' St Maarten! they have been in the lookout for a investment condo ever since the pandemic started. All their research from all the various Caribbean islands, led them to St Maarten!
Its all came down to a safer investment compared to other islands. St Maarten's economy has remained stable for a decade!
Loyal over-night tourism leads to great return on property investment via AirBnB.
Confirmed by every study that St Maarten and Barbados will see the highest growth in Caribbean real estate. Your property will increase by 30% in value over 5 years!
Many financial benefits specific to Americans and Canadians.
June 2021: Right now Americans are rushing to buy property in St Maarten because the laws and prices are favorable to American buyers. With a shortage of real estate in the USA, the Caribbean appears to offer a haven for investors. USA Treaty makes it easier for Americans to buy property without the residency hassle. See Treaty information below.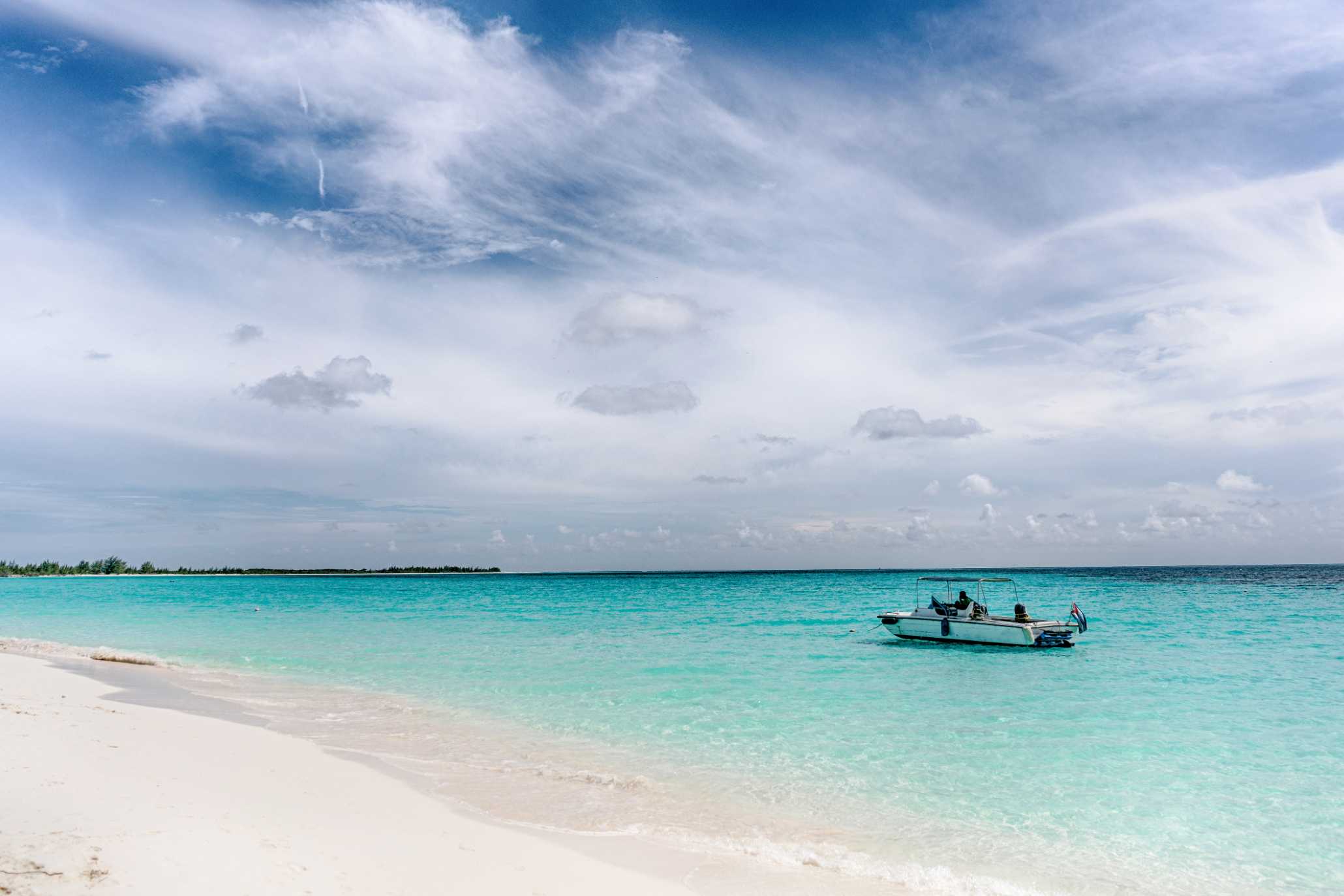 Why Americans Buy Property In St Maarten
It doesn't come as a surprise as more Americans are setting their sights on purchasing properties in St. Maarten, the southern Dutch region of St. Martin. Whether it's about acquiring property that you plan on renting out to tourists, or an offshore company looking to invest in the island, now is the best time than any to do so.
Buying St Maarten Property as an Offshore Company
There has been a huge rush in the number of Americans purchasing properties in St Maarten lately, and many are attributing this trend to tax evasion, which is clearly not the case. One only has to dig a little deeper to find out exactly why Americans are setting up shop in the southern Dutch region of St Martin.
Tax-neutrality
Americans who invest offshore, particularly in St Maarten, build their assets as an LLC company as this type of business is tax neutral in the US and profits are taxable only when in the possession of the owners. This does away with the complex and expensive reporting required from international business companies, which are tax neutral as well.
With the explosion of the internet and global commerce, a level playing field has been created where small countries such as St Maarten can compete head-on with first-world governments. As an offshore company in the Dutch Caribbean, you can hand-pick legal and financial systems that will play to your interests, something governments and financial conglomerates had a traditional monopoly on.
Offshore companies operating in St Maarten are not required to pay applicable taxes on income, profits, capital, and duties. Also, St Maarten properties in the form and value of shares are transferable to another company or a member of the offshore company without incurring transfer fees.
Less regulation, lower costs
Offshore companies buying properties in St Maarten enjoy a comfortable level of freedom and flexibility as they operate in a space with less regulation, particularly for business-savvy entrepreneurs capable of managing their financial risks, and who believe in the true concept of a free market and an open economy.
Going offshore makes it possible for your company to save a considerable amount of time and money in legal and compliance costs. And since there won't be a need to deal with endless bureaucratic red tape, you'll be able to allocate more time growing your business, or perhaps enjoying the islands even more. Remember, straightforward, offshore deals are normally completed in a day or two. In a business environment mired with all sorts of regulations, you will spend weeks or maybe even months, and thousands in legal fees to do the same.
Asset protection
A company's assets that are legally brought offshore (all declared to concerned agencies, that is) are protected from all manner of lawsuits, particularly those with scant legal merits and fraudulent plaintiffs with dubious claims. This is due to the fact that it will be difficult for the plaintiff's lawyers to determine, let alone identify assets held offshore, thus shielding the offshore company from such lawsuits.
Even if the plaintiff's lawyers were able to identify the offshore assets, they will need to spend anywhere from $50, 000 to $100,000 (as a fidelity bond) to cover legal fees as they need to go a foreign court to enforce any decision they may get.
Global trade
E-commerce companies can be managed well in an offshore environment making use of offshore merchant accounts. Moreover, international trading activities, such as purchasing physical items from China and selling them in the US market, are likewise ideal for offshore operations. Offshore companies can easily acquire letters of credit from their offshore banks to facilitate business deals. Profits may roll in tax-free (until brought home, of course), and parties are able to maintain confidentiality.
Offshore bank accounts
Operating an offshore company in St. Maarten makes it possible to open an offshore bank account. Income generated by these companies (such as rentals, accommodations, sales, etc.) is allowed to be deposited into offshore bank accounts. There are a good number of international banking institutions in St. Maarten that offer securities investment brokerage and other relevant services that can help maximize the company's growth potential through returns. Internet offshore banking makes it possible for offshore companies to monitor transactions and payments.
Another benefit of purchasing St Maarten properties through an offshore company is the ease of managing the business in various currencies as the island uses various currencies such as the US dollar, Dutch guilders, Euro, and more.
Buying St Maarten property as a private individual
More often regarded as a popular vacation spot, St. Maarten is fast becoming a place for American citizens who are either retiring or just opting out of the past-paced life to lead a less stressful life in the Caribbean. The Dutch St. Maarten is that ideal place and more.
The Dutch-American Friendship Treaty
This agreement between the two countries has made coming to St. Maarten even more enticing (as if the island not inviting enough). Based on this treaty, Americans coming to the southern part of St. Martin must be treated the same way a Dutch national not born on the island is treated. This means Americans hold the same rights to that of a non-St. Maarten-born Dutch citizen entering and living in St. Maarten. American citizens looking to live and work in St. Maarten never had it this good!
No Property Tax
If you're planning to buy property (e.g. residential or rental) in St Maarten, you'd be glad to know that the government of St Maarten does not impose property taxes. Let's say you start a small, home business such as a coffee shop or souvenir store, you won't have to think about capital gains taxes, goods and services taxes, and sales or harmonized sales taxes.
Duty-free on imports and exports
If you're planning on importing or exporting materials personal belongings to and from St Maarten, you may do so without having to worry about paying applicable taxes simply since St Maarten does not impose customs duties on such goods.
Higher standard of living
St Maarten enjoys a higher standard of living in comparison to neighboring islands in the Caribbean. The islands offer creature comforts you've grown accustomed to back home. There are grocery stores, malls, casinos, and bars, while products from North America and Europe are never in short supply.
Highly diverse and multicultural
St Maarten is a proverbial melting pot of various cultures from all over the world. There are about 100 different nationalities in St Maarten at any given time. So if you're the type of person who loves diversity and meeting people from different countries, you'll find St Maarten a true gem of an island in the Caribbean.
I have been selling condos to Americans for 25 years in St Maarten. In fact I remember my very first buyer was American. 60% of all our expats are from USA!
Come join the party in St Maarten!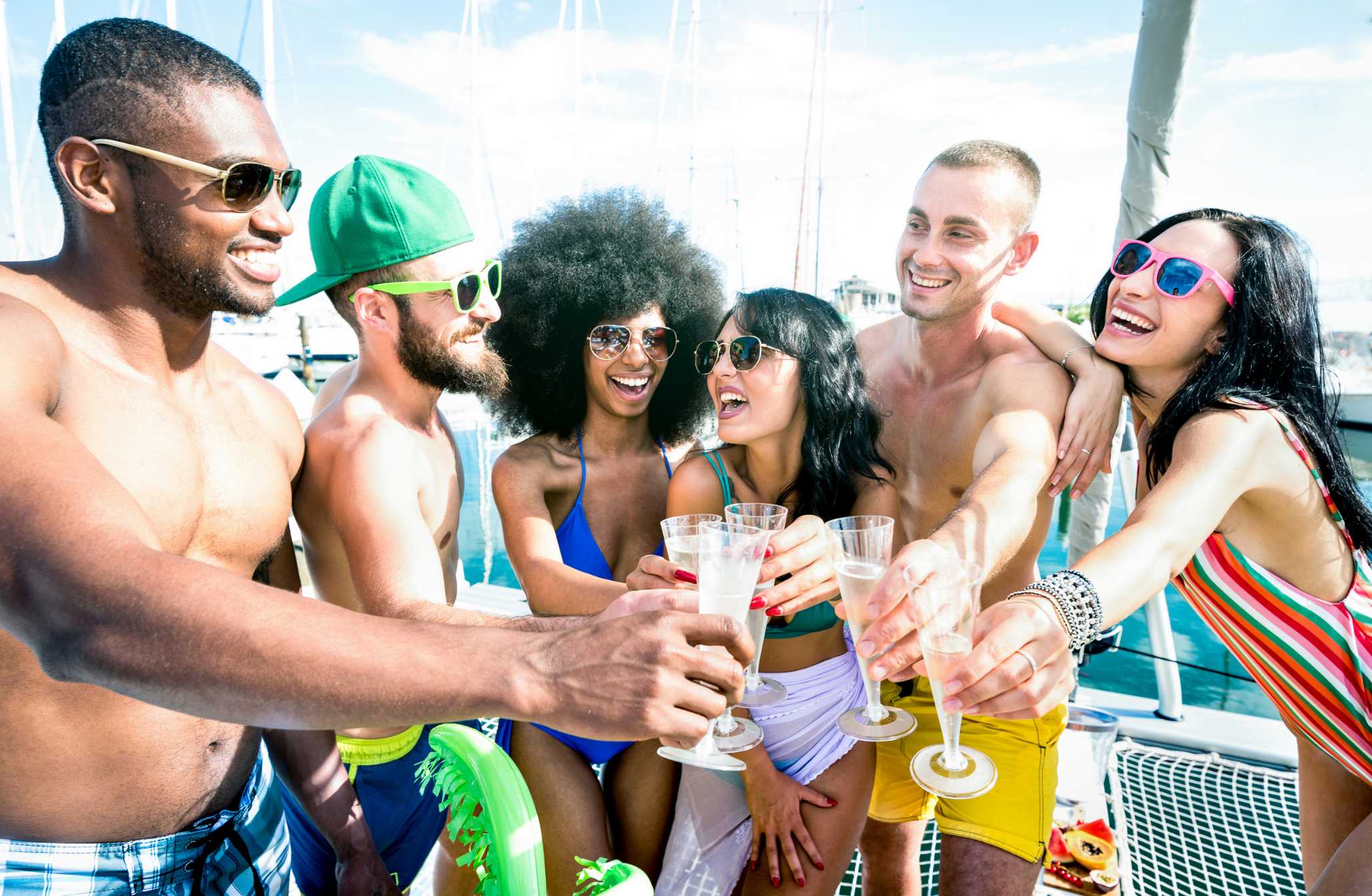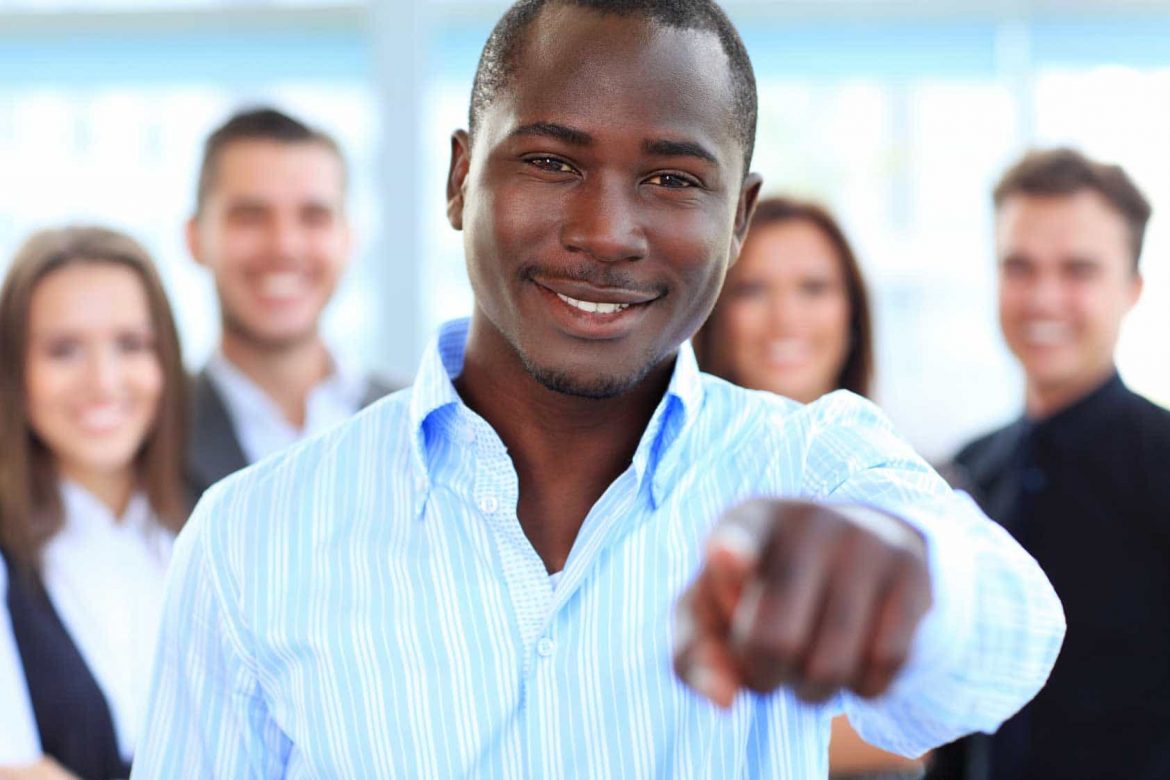 St Maarten Property Appraisals
If you're a buyer looking to buy a property in St Maarten or a seller who owns already owns a property in St Maarten, both parties will require the services of an Appraiser.
Appraisals are a crucial part of a Property Purchase transaction.
The buyer requires an appraisal to validate the seller's valuation of the St Maarten Property.
Seller requires an appraisal to exhibit the valuation of the St Maarten property to prospective buyers.
Valuation Expert:
Call Chante on +1721 526 3194 to discuss your availability and book an appointment with a Valuation Expert.
We are also available on WhatsApp for your convenience.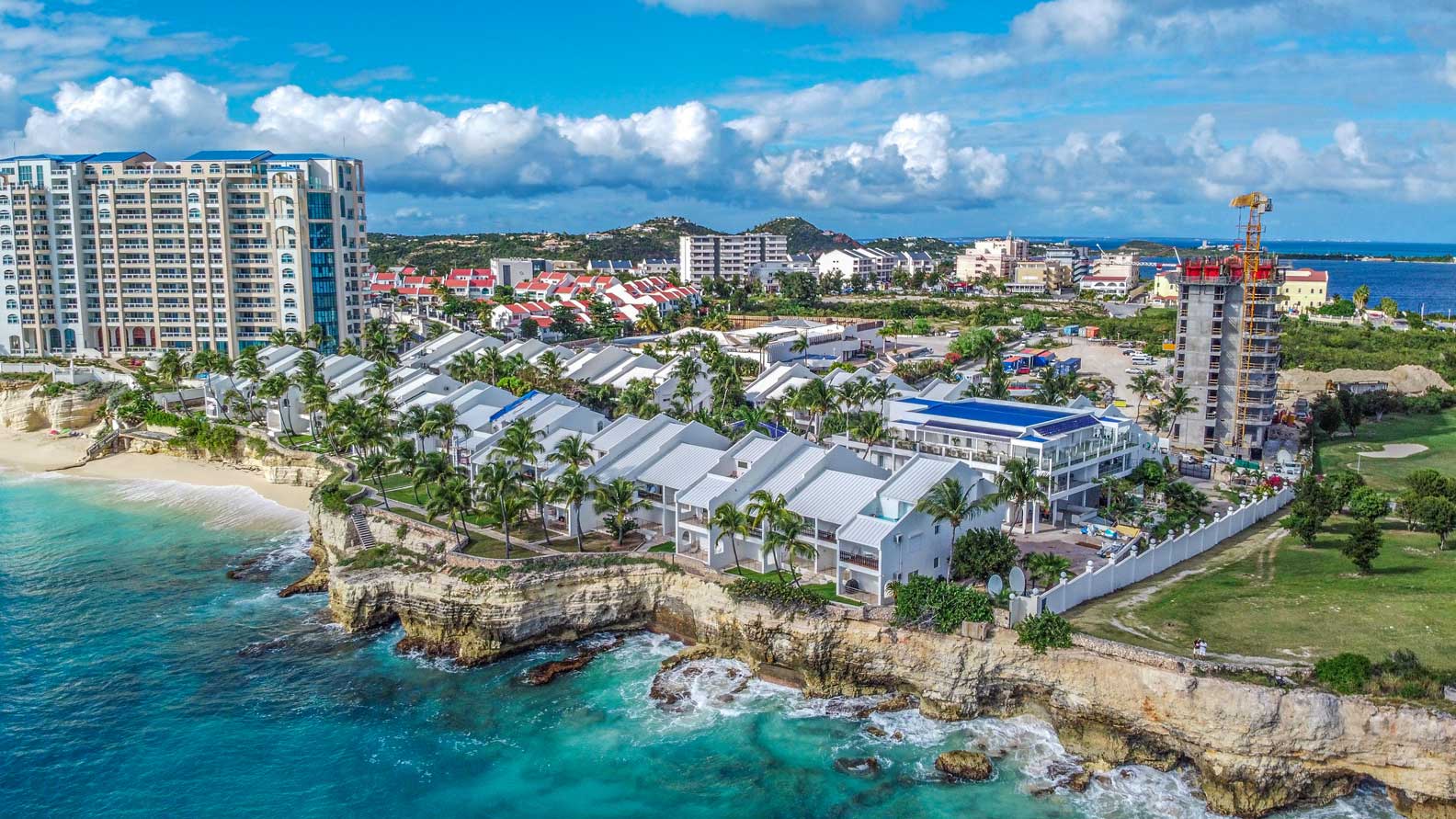 Do I need an Appraisal to sell my St Maarten property?
As a realtor, I can not stress to you how important this is to build that bond between buyer and seller.
For first-time St Maarten property buyers, it gives them confidence that the seller is willing to be transparent. Its starts of everything in the right way.
We can arrange a professional St Maarten Appraisal for you.
It's not something we specifically do, but yes, I would be happy to help.
Call Chante on +1721 526 3194.
Inexperience can be a high cost to you.
What is a Property Appraisal?
Simply put, a property appraisal is a neutral and professional opinion of a particular property's worth. It is a universal prerequisite in real estate purchase-and-sell transactions and mortgage refinancing. A certified or licensed professional will conduct the appraisal and is the most key player in the property transaction.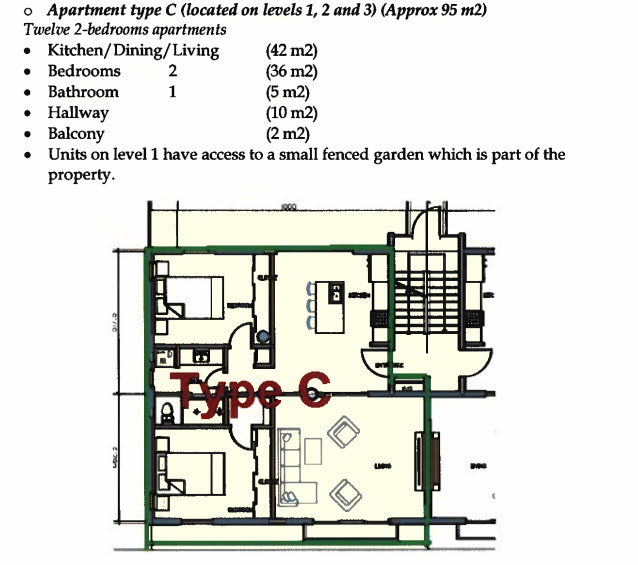 When do I need a Property Appraisal?
In addition to being an indispensable part of a real estate property transaction, a St Maarten property appraisal is a requirement in the following transactions:
Loan applications
Be at an advantage when purchasing real estate; by basing your purchase price offer on the valuation outlined in the St Maarten Appraisal.
Helps determine a fair price when selling property
Settling an estate
Legal proceedings
What Is The Cost Of An Appraisal In St Maarten
It varies from St Maarten Appraiser to Appraiser.
A basic St Maarten Appraisal will cost anything from $450 to $1200 depending on the contents and depth of investigation. All our St Maarten Apprsials prices start from $725 for a detailed property valuation.. Backed with 25 years of REAL estate experience.
And don't worry if you need a structural report, electrical report, water rights issue, we know experts in each industry to have an answer ready in a few days.
For example, if the electrical systems and equipment need to be evaluated and inspected, this can be included for an additional charge.
Just recently in March 2021, one of my property buyers, a family from Chicago, USA who were within hours from signing the purchase of a Terres Basses property, were lucky enough to have got an Electrical report which identified major electric issues in the property which no one would have otherwise known. Even the owners didn't know. Note: Electrical issue now resolved!
Call Chante on +1721 526 3194.
What does a St Maarten Appraisal contain?
Don't expect all Appraisals to be the same.
If the Appraisal is for St Maarten property valuation, the content is focused on determining a price for the property by comparing past sales in the neighbourhood and also similar property types in distant neighborhoods. It will be further detailed out as Fair Market Value, Auction Value, and Reproduction Cost New. between all and includes a summary of everything else. For more detailed specifics please always pay a little extra and request this. It could save you thousands of $$$s.
The Valuation Methodology below is an exact copy from an Appraisal in the open domain.
Valuation Methodolgy
Definition of Market Value
"The estimated amount for which a property should exchange on the date of valuation between a willing buyer and a willing seller in an arms-length transaction after proper marketing wherein the parties had each acted knowledgeably, prudently and without compulsion" (RICS Valuation Standards V.S3.2).
NOTE: Market Value ignores any existing mortgage, debenture, or other charges over the property. There are basically three approaches to the valuation of real estate property.
Cost Approach: The Cost Approach is based on the principle of substitution which asserts that no prudent buyer or investor will pay more for a property than that amount for which the site could be acquired and which improvements have equal desirability and utility can be constructed without undue delay. It is a method of appraising property based on the depreciated reproduction or replacement cost (new) of improvements, plus the market value of the site.
Income Approach: Income Capitalization is a valuation method appraisers and real estate investors use to estimate the value of the income-producing real estate. It is based upon the premise of anticipation i.e., the expectation of future benefits. This method of valuation relates value to two things: [1] the "market rent" that a property can be expected to earn and, [2] the "reversion" (resale) when a property is sold.
Direct Comparable Approach: The Sales Comparison Approach derives a value indication by comparing the subject being appraised to similar properties that have sold recently. For residential properties, the Cost Approach and Direct Comparable Approach may take preference. For commercial properties, the Income Approach and Direct Comparable Approach may apply.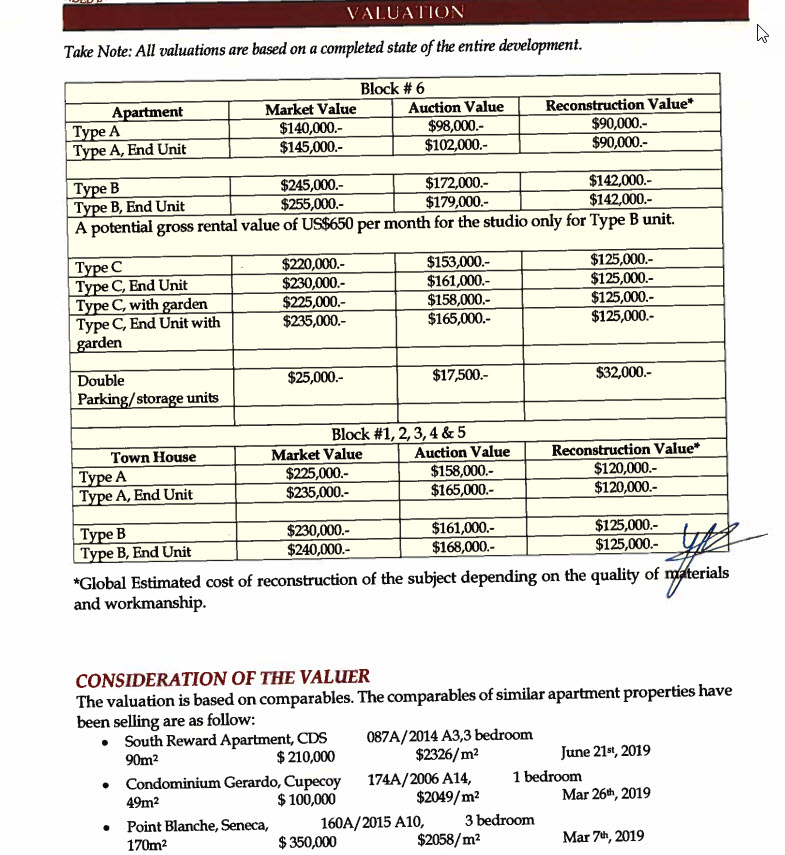 St Maarten Appraisal services are normally ordered by the lender in the residential property market. St Maarten Appraisers are also brought into the picture in litigation cases, investment decisions, and tax matters.
Licensed appraisers in St Maarten adhere to a strict code of ethics and are obligated to provide valuation reports that conform to Dutch lender requirements and applicable taxation regulations. Furthermore, valuation reports provided by these professional appraisers should conform to current house financing models prescribed by the CHF in conjunction with branch organizations including VBO, VastgoedPro, and NVM. Appraisers.
Contents of an Appraisal Report
Aside from a sound estimate of value, the assessment report must also indicate the following:
The client, as well as the concerned parties
Purpose of the report
The type and definition of the valuation reported
Inclusive dates of the appraiser's judgment and conclusions
Notable characteristics of the property such as location, legal, physical, and economic attributes, real property interest value, and even intangible items and trade fixtures
Existing easements, encumbrances, restrictions, reservations, leases, covenants, declarations, contracts, ordinances, special assessments, and other relevant items
Division of interest including physical segment, fractional interest, partial holding
Scope of work that will accomplish the assignment
St Maarten Appraisal Methods
The St Maarten Appraiser uses a number of methods to come up with an estimated value of the St Maarten property which includes:
Sales Comparison
The sales comparison approach outlined in detail above requires drawing up a comparable analysis from similar properties within the area which have been purchased recently. Professional appraisers take into account a range of factors when making a comparison, but the most commonly used are:
Location and neighboring areas
A property's location has a profound effect on the value of the property. Appraisers take into consideration accessibility to learning institutions, nearby bodies of water, proximity to roads and highways, as well as pollution levels
h5>Recently sold listings
Checking property values vis-à-vis recent property sales properties provides a benchmark for the value of properties in any given area.
Features
If you have a residential property, it must be compared with nearby residences that share almost identical features such as the number of bedrooms, bathrooms, garages, and square footage sitting on tracts of land of similar sizes.
Age and condition
In addition to comparing properties of the same age, checking their condition is equally important as both have a significant influence on property valuation. Two similar residential properties in the same neighborhood are not necessarily in the same condition. If one of the properties requires some repairs, it will work against its value.
For sellers, there's a host of other features that may help to increase the value of the property. However, the sales comparison approach is subjective to a certain degree and is dependent on other external factors e.g. state of the economy, the real estate market, and the job market – all have a direct effect on the selling price of the property and how long it remains available in the market.
Average price per square foot
After compiling similar homes, take the price of each of the properties and divides them with the square footage of the property being appraised to get the average price per square foot of all the comparable properties. Multiply the result by the square footage of the property to get the actual average price per square foot.
Professionals agree that the sales comparison approach is the most reliable property valuation method and is typically used by real estate agents to find out if the price of a property is fair and well within market levels.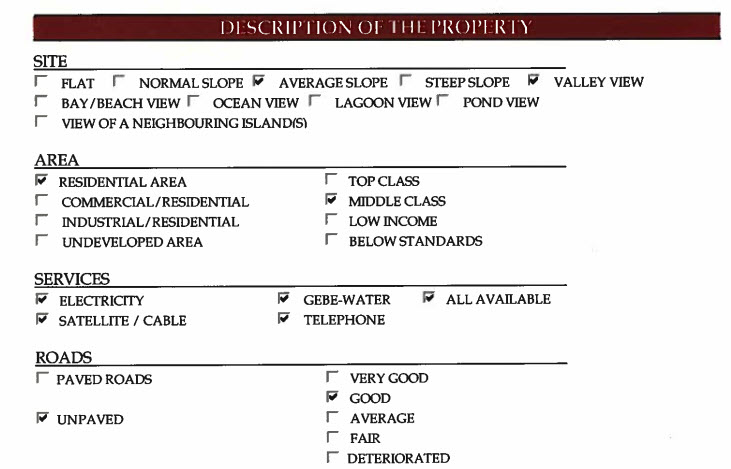 Words for the Buyer Valuation
If the property valuation does not go below the contract price, you should proceed with the property purchase knowing you are receiving a property that is correctly evaluated based on existing market conditions. The transaction grinds to a halt when the St Maarten Appraisal falls below the contract price – a scenario neither party doesn't want.
However, this allows the buyer to ask the seller to lower the price. The seller may opt for a second opinion and present a better case for a higher value.
Words for the Seller
With a low appraisal, the seller has the option to lower the contract price to proceed or maintain the price. Waiting for a cash buyer in post-Pandemic economy is unlikely to offer a higher price without the need of an Appraisal.
If properties in a surrounding area have recently experienced what is called distressed sales, this may result in a lower appraisal value. If the seller feels that the short sales or St Maarten auctions have caused this, the seller may persuade the St Maarten Appraiser that the property is worth more given it is in a significantly better state compared to nearby properties. Hoping that this report would convince the Appraiser to make an independent judgment based on the information provided.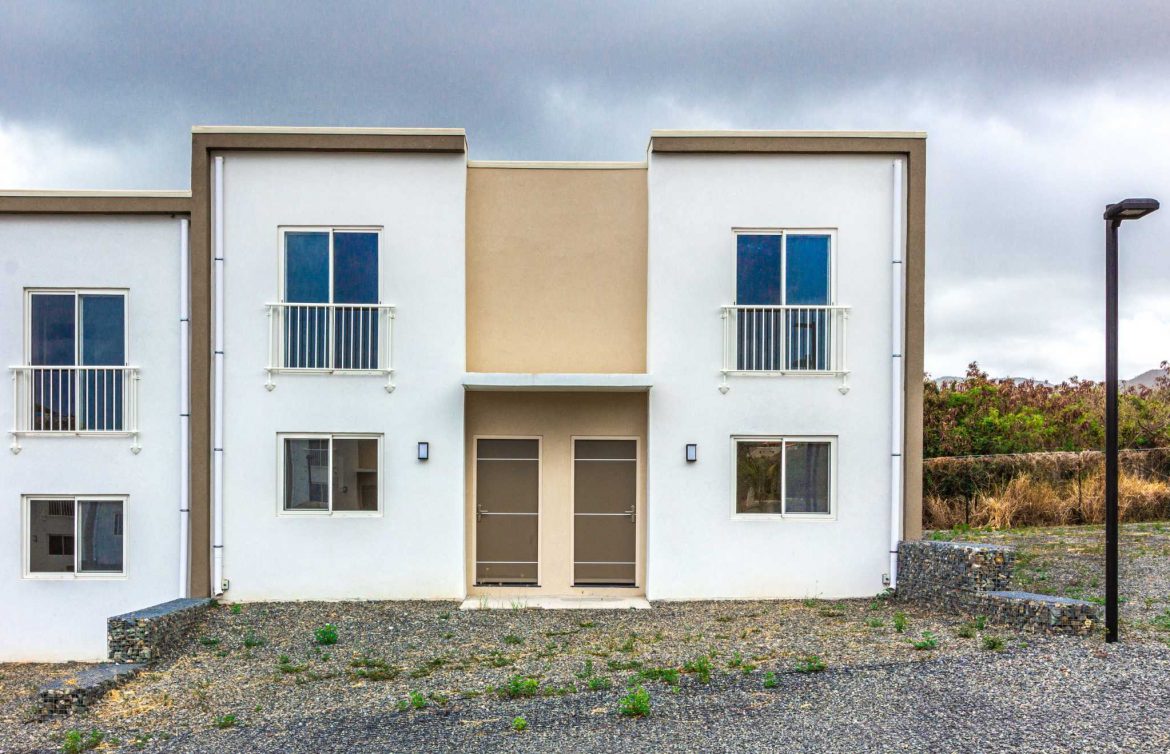 Throughout the pandemic, we at Century21 in St Maarten are thankful that we have had some of our best months in recent times. Its been adventurous and we have met some amazing people along the way. We look forward to working with you soon. We just love the business. So give us a challenge, difficult times like these really bring us into our element and we have stood out from the rest.
May be celebrate our good times together.
One of the most exciting projects was Oryx Residences and the accomplishment of 80% under contract within 4 months. Working with our friends at Oryx Residences has been a highlight. Its the one of the largest residential projects in Cay Hill, developed by the APS / Algemeen Pensioenfonds Sint Maarten. A glorious St Maarten home, new low-cost residential properties in Cay Hill, these homes provided an opportunity for St Maarteners to become proud owners or renters of robust family homes at competitive prices ($145,000 – $245,000). It would not be an exaggeration to state that the majority of units went under contract within the first 2 months. In fact, within the first four months, Century21 St Maarten, in collaboration with the APS team, managed to sell 80% of the units amid the pandemic. The St Maarten homes, which include 1-,2- and 3-bedroom units, are guarded by security 24/7, and each home has been designed to remain resistant to hurricanes. Essentially, Century21 St Maarten holds an undisputed reputation of offering homes at the best locations, with unparalleled security and a sense of living in a tight-knit community. The projects are undertaken to keep every potential homebuyer in mind- children, adults, and the elderly.
Oryx Residences, Cay Hill
At the heart of Cay Hill, the new sixty-two concrete homes are being eyed by many. Despite the absence of a bustling economy, courtesy of COVID-19, no stones were left unturned to make this project a success. For instance, buyers of townhomes are permitted to established additional floors based on their needs. Some of the enticing provisions offered include ceramic tiles, Corian kitchen countertops, aluminium hand railings adjacent to the stairs, aluminium windows, a large concrete gazebo, a play area for children, concrete pavement, private parking, and so much more. Buyers have been raving about the units and the features offered, with their glaring reviews up on our website to see. Both the townhouses and the apartments are being offered for a price that is less than $250,000!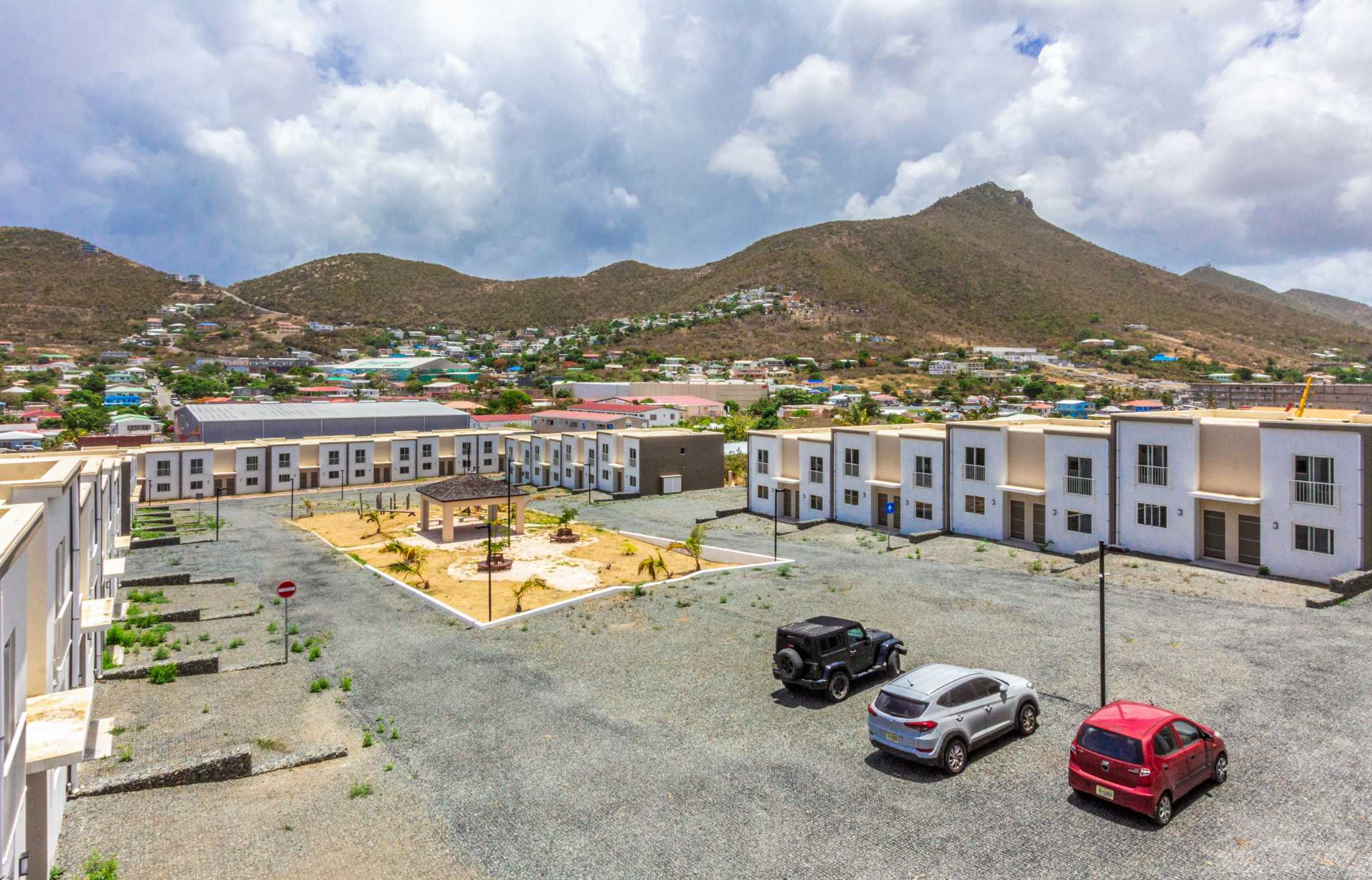 St Maarten's Rising Popularity
While the onset of the coronavirus pandemic initially seemed like the end of the world, it definitely did not seem to affect St Maarten's popularity among tourists. In fact, just in 2019 a year marked by the pandemic's entry the region witnessed an 80% increase in visitors. This rise is attributed to the increase in flight frequencies from major gateway cities coupled with the introduction of new airport gateways. The same year, Jet Blue introduced its new flight service between Fort Lauderdale and St Maarten, Sunwing's winter flight service out of Montreal and Toronto was revived, while KLM returned with its direct 3 times weekly flight. All in all, these few changes were enough to attract visitors from across the globe, who remained undeterred despite the coronavirus pandemic after the lifting of travel restrictions in different countries. With the tourism industry ablaze, all eyes are on St Maarten for attractive and lucrative investment opportunities.
Real Estate Boom in St Maarten
Another positive indicator that can be quite comforting to all the stakeholders of St Maarten and Century21 alike is the booming real estate in the region. In fact, we are proud to become a future home to a US $220 million luxury hotel resort and condos, which is a project by Tau Capital and Altree Developments Inc real estate development firms in collaboration with Cay Bay Development (CBD) NV, the master developer at Indigo Bay. This hotel would include five-star amenities as well as 94 hotel rooms and suites, 55 lanai suites, 60 two-bedroom units, 15 three-bedroom units, a large luxury spa (10,000 square feet), a conference facility, and so much more. Not just that, Harmony Promotion and Marriott International, in tandem with several investors, have recently announced their plans to develop a five-star hotel in Baie Nettle, which will be scheduled to open in 2023. With top-class facilities, these two projects throw light upon St Maarten's bright future, regardless of the state of the pandemic.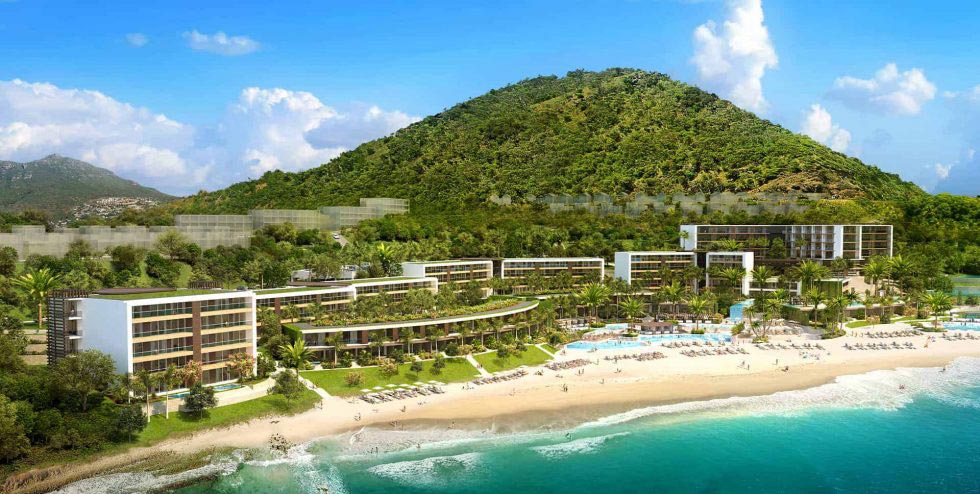 Who Are We?
Century 21 St Maarten is a full service St Maarten real estate residential and commercial brokerage company representing sellers, buyers, renters, landlords, and developers of luxury properties. When buyers and sellers think about real estate in St Maarten, their thoughts pace towards our projects. Specialists in Terres Basses villas for sale and St Martin villas for rent. Our Indigo Bay villas are a favorite among sellers looking for serene homes with views that are only dreamt of by many. At Indigo Bay, our luxury villas are up for grabs, albeit they too are selling at a very quick pace. Not just that, our properties stand out wherever we set our foot; Cupecoy, Dawn Beach, Simpson Bay Beach, Oyster Pond, Maho, and so many more beautiful places.
View this post on Instagram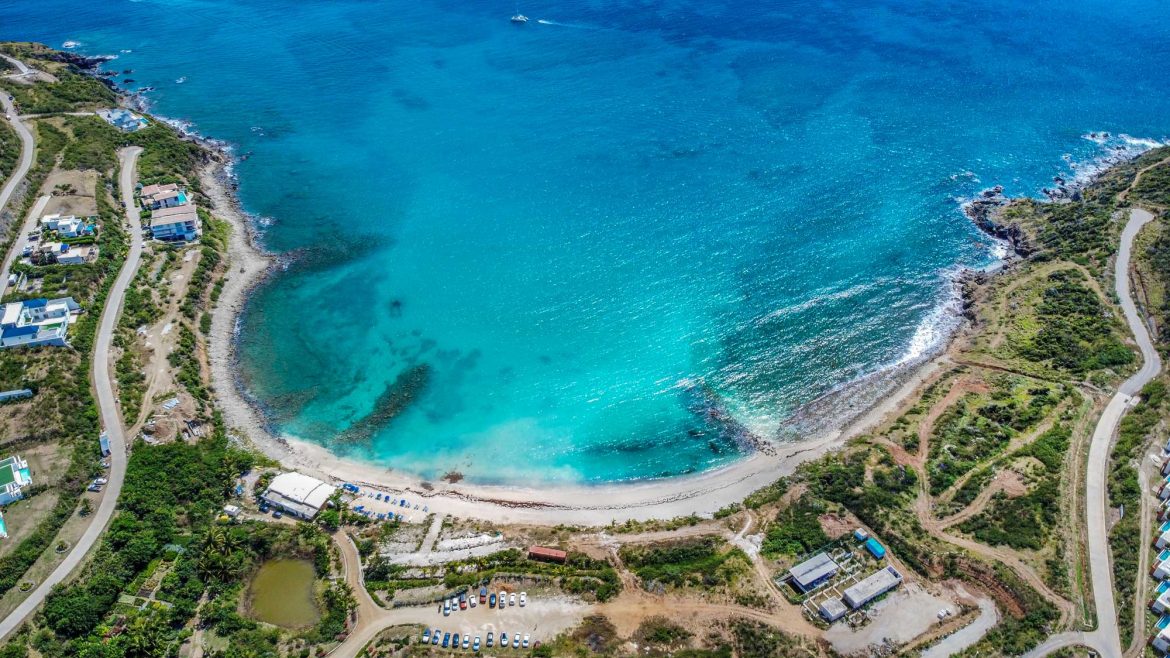 Real Estate in Indigo Bay
New Indigo Bay SXM Hotel and Condos launching soon. Message me for the marketing brochure. Its phenomenal!
This is 20 years of premium real estate experience.
A large part of this was at Indigo Bay.
Been through every up and down.
Only one thing stays constant.
Indigo Bay remains top!
Prices stay up.
Land is rare.
Secure home.
Indigo Bay.
St Maarten is famous for its 'high return' motto!
Buying TODAY makes you RICH tomorrow
Call or WhatsApp me for latest Indigo Bay availability and villa pricing.
Ritika: +1721 526 1819.
Featured on HGTV
Villas for sale 2021
Four bedroom ultra-modern villa with secluded location in Indigo Bay for $1,800,000.
DEAL Two bedroom Modern Indigo Bay villa with pool for $625,000.
DEAL Brand new four bedroom Indigo Bay villa with pool for $850,000.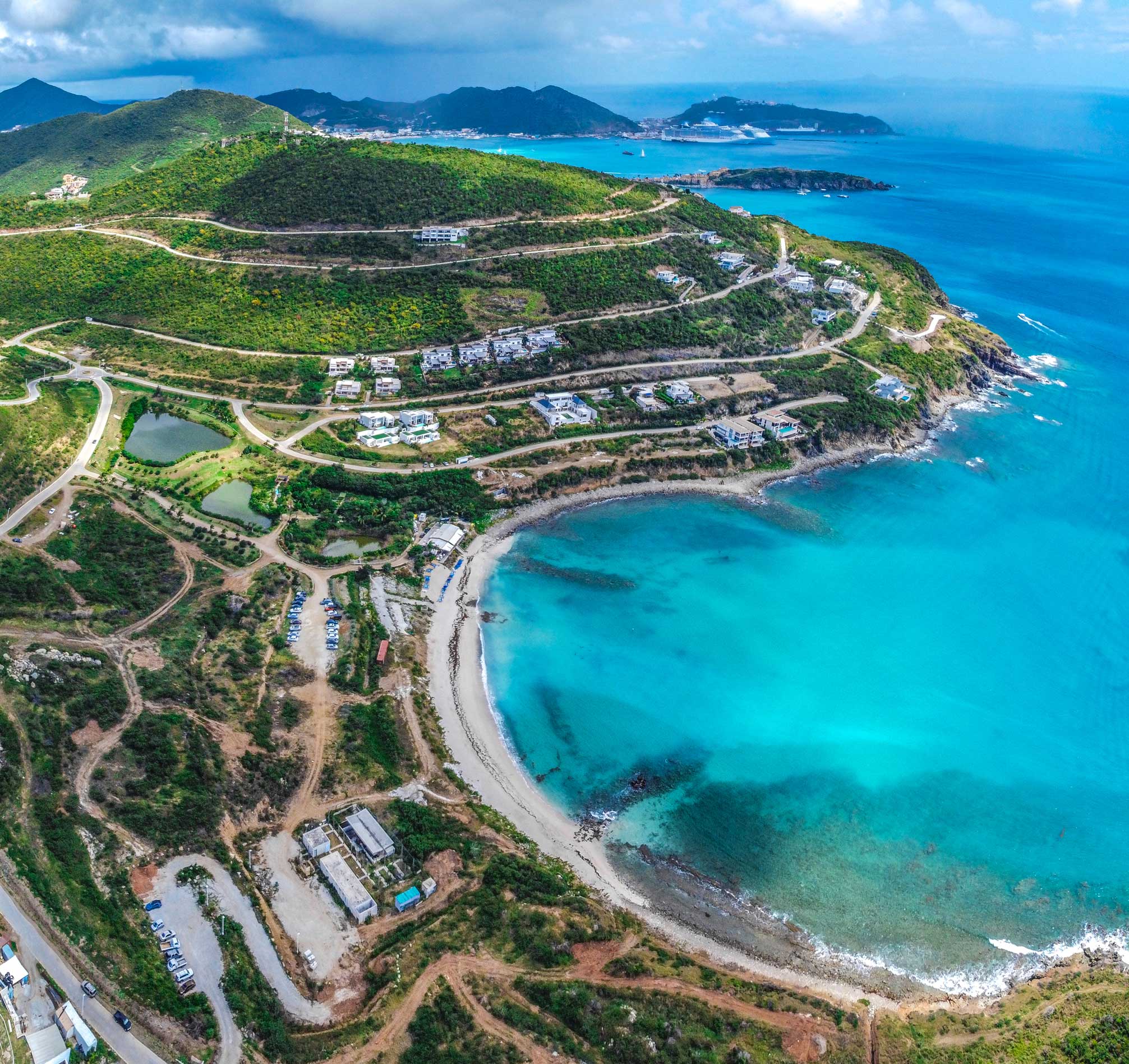 Why Buy Indigo Bay Real Estate
Indigo Bay SXM remains the number one investment property location in St Maarten for long term return.
Any property purchased here today is guaranteed to be appraised 20% higher in 7 years!
There is no better designed, managed, luxury purpose built secure development that Indigo Bay Estates.
In my experience this development started in grand celebrations with top international bands.
With an aim to bring the best in real estate, to revel in the glory of their achievement.
Indigo Bay achieved great highs and many lows, in no part their fault.
But where they are today, has been a masterful stroke of genius.
The massive investment in world class infrastructure, has paid off.
The Indigo Bay name rings as upscale residential.
Offering the best in location, near to everywhere, perched right in the center of a quiet majestic bay.
Philipsburg city is simply a 10 minute drive towards the east.
PJIA Airport (SXM) is a 20 minute drive in the opposite direction.
The beach is just a three to five minute walk down safe roads.
Quiet, secure, serene and picturesque.
A Caribbean gem in every way.
Welcome to Indigo Bay.
More Reasons To Buy St Maarten Property
No property Taxes
Capital Gains: No
Closing Costs: 4% Transfer Tax, Approx. 1.5% Notary fees and 1% transfer fees
Indigo Bay's recent new owner/developer has invested significant resources over the past two years in infrastructure: roads, lighting, drainage, internet and utilities. And stands ready to help in development of the new five-star hotel and resort.
Site is safe and protected: 24-hour security guards at development's gated entrance.
Central location: Only 12 minutes from Princess Juliana Airport; 5 minutes from Philipsburg (main town on Dutch side); 5 minutes from Simpson Bay (shopping, night life); 10 minutes from Marigot (main town on French side); 15 minutes from Grand Case (restaurant mecca on French side).
Proven record against hurricanes. Little damage from Hurricane Irma: site is protected from easterly storms by 1,200-foot peaks. Irma hurricane damage was minimal compared to other parts of the island.
Steady breeze: cooling breeze from the east swirls over mountains and keeps the hotel site and west side of the bay cool throughout the afternoon.
Premium sunset views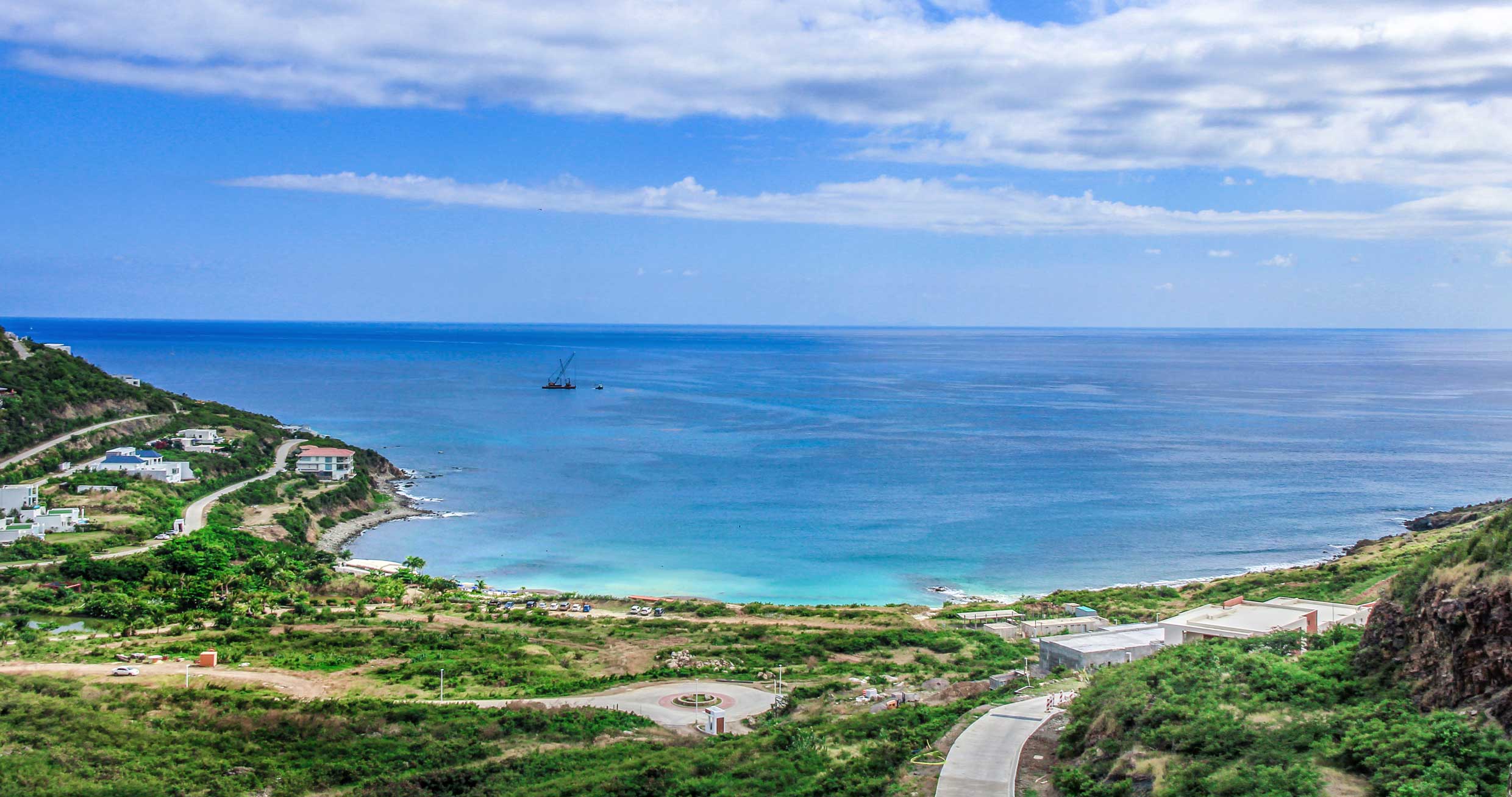 The water is soft here. Gently splashing on the beach, with rarely a large wave in sight. Just calm clean waters of Indigo Bay.
I can tell you living in Indigo Bay SXM makes you proud. The hill top entrance is key to Indigo Bay's x-factor.
Its just 'wow' every day, every time and every sight in Indigo Bay. I am not exaggerating!!!
The west facing ocean views are magnificent.
Red sunsets, green mountains and blue waters, Indigo Bay is a real life landscape masterpiece!
A short stroll to the famous Indigo Bay SXM Beach which features white sand, loungers and a restaurant and bar. And this condo is close to all amenities. A few minutes drive to just about everything as it is halfway between airport and Philipsburg. Perfect for vacationers renting by the week.
360 Degree Views of Indigo Bay
360 degree View of Indigo Bay 1
360 degree View of Indigo Bay 2
360 degree View of Indigo Bay 3
Where is Indigo Bay
The Indigo Bay Estates property in St. Maarten is widely recognized as unique and unrivaled in terms of its strategic and very accessible, yet very secluded location on the island. Indigo Bay Estates is unique because it represents the last remaining pristine ocean-front property available for a large mixed-use development on the island. It is unique also because the developers decided to protect and preserve the natural assets of the property as much as possible, by applying a low overall buildout density.
Consequently, Indigo Bay is able to offer its future owners and visitors more green spaces, recreational facilities, privacy and exclusivity than any other project on the island.
Indigo Bay Map
Topographic map of Indigo Bay ground surface and sloping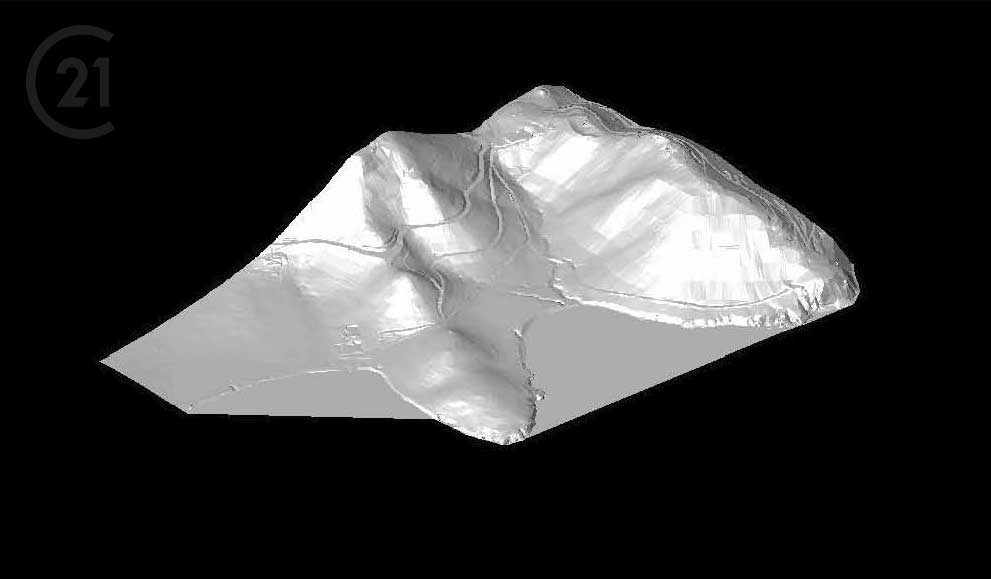 Indigo Bay – A Tropical Paradise In The Caribbean
The larger Indigo Bay site encompasses 148 acres, situated in a bowl shaped valley tapering towards the water's edge. The property extends from the ridge line between Little Bay and Cay Bay in the East to the division between Cay Bay and Cole Bay in the West and from the Main Road around Cole Bay in the North. Indigo Bay is situated on the south side of the Island half way between the Dutch Capital of Philipsburg and the Princess Juliana International airport. Driving time between the site and the airport under normal conditions is approximately 20 minutes. Access is obtained on the property's north side from a roundabout at one of the major road-ways connecting Philipsburg and the international airport. Ingress and Egress is obtained via a single road from the ridge on highest point of the property.
Competitive advantages of the site include its calm, reef protected waters, feeling of seclusion and quite, the fact that it represents one of the last undeveloped properties in St Maarten, easy access from the airport, Philipsburg's nightlife attractions and duty-free shopping sector of downtown. The site's southerly orientation affords maximum sun exposure throughout the day. Additionally, the government protected reef which lies off the southeast sector of the site featuring a sunken cargo vessel offers one of the Island's best diving and snorkeling opportunities.
Indigo Bay also boasts constant northwest breeze keeping homes cool and ventilated in this eco-friendly upscale community.
Indigo Bay – A Caribbean Residential Development
Indigo Bay residential development stand apart by offering a multitude of eco-friendly and sustainable energy saving amenities rarely found in Sint Maarten.
The eco-plan below show how much nature is being given an important at Indigo Bay. In reality there is even more green than the eco plan shows.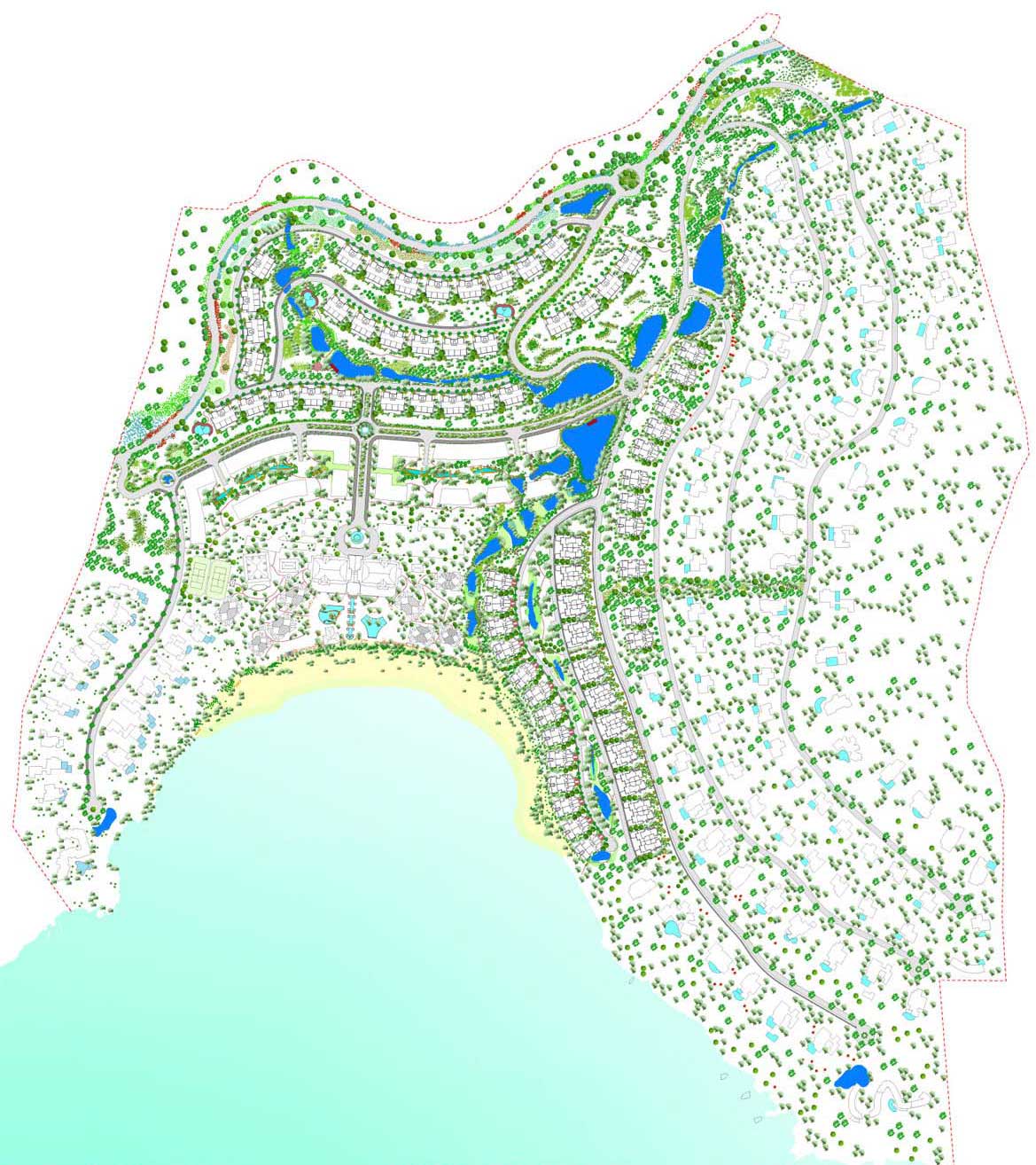 Every home in Indigo Bay has ocean views.
Height restrictions and development limitations ensure that all homes in Indigo Bay comply with same strict guidelines.
A well planned residential development with sufficient infrastructure in place to make this the best premium location on the island.
Hurricane and earthquake resistant poured-in-place concrete structure.
Impact resistance glass.
Minimum building footprint for maximum preservation of green nature areas
Eco-friendly wastewater treatment plant
Rainwater collection cisterns
Low-consumption dual-flush toilets
Solar street lighting
Thermally insulated construction
UV-reflecting exterior paint
Heat reflecting roof surface
Augmented security through design and landscaping
Solar electrical systems – standard on many residences
Cross-ventilation design – without compromising security
Heat-reflecting glass
Shade-providing hurricane-resistant Bahamas shutters
Low-energy localized air conditioning systems
Energy-efficient appliances
LED energy saving lighting
Energy-saving in-line hot water boilers
Indigo Bay Real Estate
Indigo Bay SXM property is being held back at the moment in anticipation of a huge increase in real estate prices once the five star resort is confirmed. The resort will make this into the premium vacation rental location with residents having access to a new beach that will be created by the five star resort and possibly a marina.
One of the things that astonishes me is the rental income generated in Indigo Bay. It is simply phenomenal that a two bedroom villa with ocean view can generate over $75,000 in rental income a year! This income with the guaranteed rise in property values in Indigo Bay, makes this overall the best home to buy in St Maarten!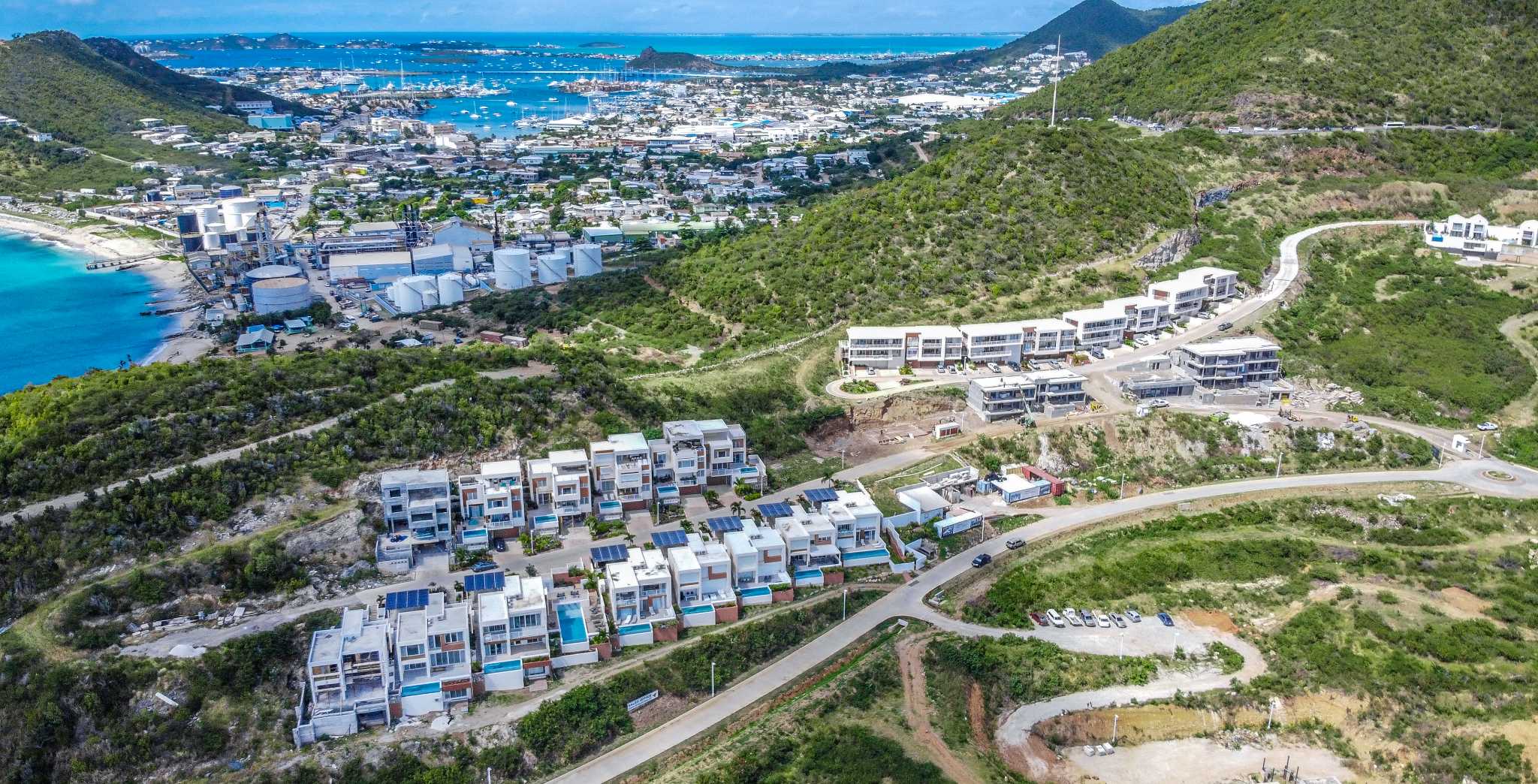 Beachfront Hotel at Indigo Bay
The new five-star hotel development at Indigo Bay is going to change how Indigo Bay is perceived. An already upscale community which is going to be be guaranteed of world class facilities and new beach which will change everything you know about Indigo Bay, St Maarten.
https://www.thedailyherald.sx/editorial/say-no-to-everything
Property prices in Indigo Bay are going to go up by 20% in 5 years! Are you ready to buy your condo at Indigo Bay.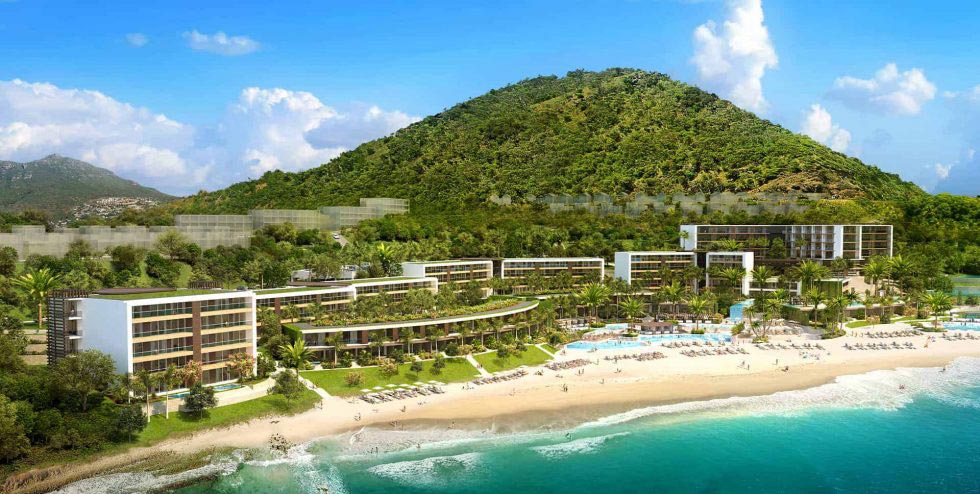 Indigo Bay in the news.
Tau Capital and Altree Developments Inc. real estate development firms have partnered with Cay Bay Development (CBD) NV, the master developer at Indigo Bay Development, to propose the development of a US $220 million luxury hotel resort and condos in St. Maarten.

The proposed high-end hotel development at Indigo Bay Development, which The Daily Herald reported on several weeks ago, is expected to feature certain luxury accommodations and five-star amenities, including 94 hotel rooms and suites, 55 lanai suites, 60 two-bedroom units, 15 three-bedroom units, a large luxury spa (10,000 square feet), a conference facility, an all-day dining restaurant, a fine-dining restaurant, beach bar, pool bar, fitness centre, multiple pools, and a kids and teen club, it was stated in a press release issued by Cay Bay Development NV.

Additionally, the proposed hotel development is expected to feature large water ponds and greenery areas in keeping with its eco-centric vision, as well as an extensive public parking area for public beach access to Indigo Bay.
New world class developments planned
Further towards the beach there are also plans to St Barth's style villas at Indigo Bay further increasing the luxury classification of Indigo Bay within St Maarten. On top of hill we have heard about plans to build one-bedroom condos and studios. St Maarten is the most up and coming Caribbean island, with Indigo Bay at its heart. This is a location that is guaranteed to provide long term returns.
If you normally put your money into futures, this is your call!