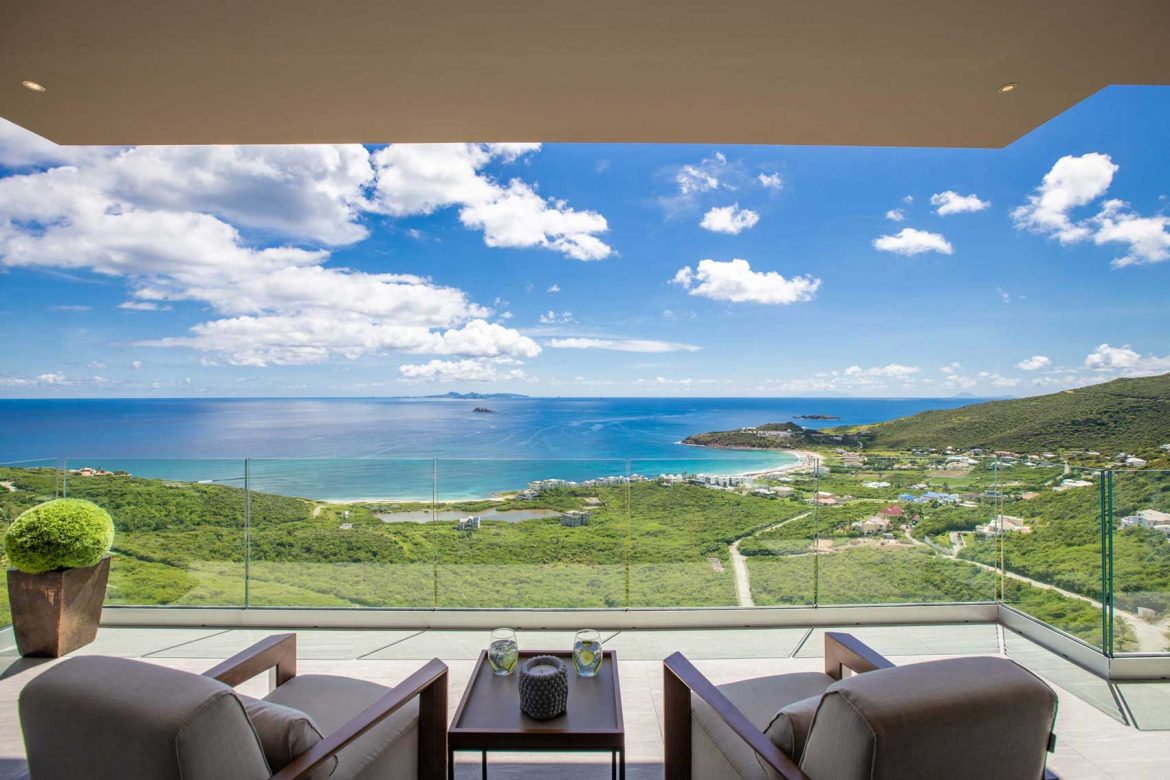 St Maarten Permanent Residency
How many nationalities can get the St Maarten Permanent Residency quickly?
St Maarten takes immense pleasure to tell the world that it is home to over 100 different nationalities. We may be the most diverse country in the Caribbean! The country is a part of the Kingdom of the Netherlands, located on the southern part of the Caribbean island shared with neighboring French Saint Martin. As you know, the Netherlands is a member of the European Union, so EU citizens will not need to worry about obtaining St Maarten permanent residency permits and visas to migrate to St Maarten. Moreover, bilateral relations of the country with the U.S. allow the citizens of the United States / Americans to invest, visit, live, and work, without the need to apply for residence and working permits.
People from the developed and semi-developed countries, such as Canada, the United States, Europe, the Caribbean, and South America, visit the island for various purposes, like tourism and vacation adventures. Some people love the place so much that when they retire, they settle on the island and invest in St Maarten real estate.
Century21 Island Realty specializes in the sale and rental of real estate; however we help hundreds of American and Canadian citizens get residency in Sint Maarten via our partners in SXM.
December 2022 Update:
As per the Sint Maarten Government website fees guidance, I have included the latest information available as of December 24th 2021 below.
Example 1
Venus just received a work permit from the Department of Labor Affairs for one year. She must now apply for residency. Her calculation will be the following:
NAF 500: Temporary Residence
NAF 45: Statement of Guarantee
NAF 545: TOTAL
545 Netherlands Antillean Guilder equals 302.57 United States Dollar as of Dec 24, 12:11 PM UTC on Google Finance
Example 2
If Sonia and Pauline recently bought a condo in St Maarten with Century21. Pauline who has two adopted children and working will be signing for her family as the guarantor. Their calculation will be the following:
Temporary Residence for 2 Adults: NAF1000
Temporary Residence for 2 Minors: NAF 400
Statement of Guarantee: NAF 45
TOTAL: NAF 1445
1,445 Netherlands Antillean Guilder equals 802.23 United States Dollar as of Dec 24, 12:11 PM UTC on Google Finance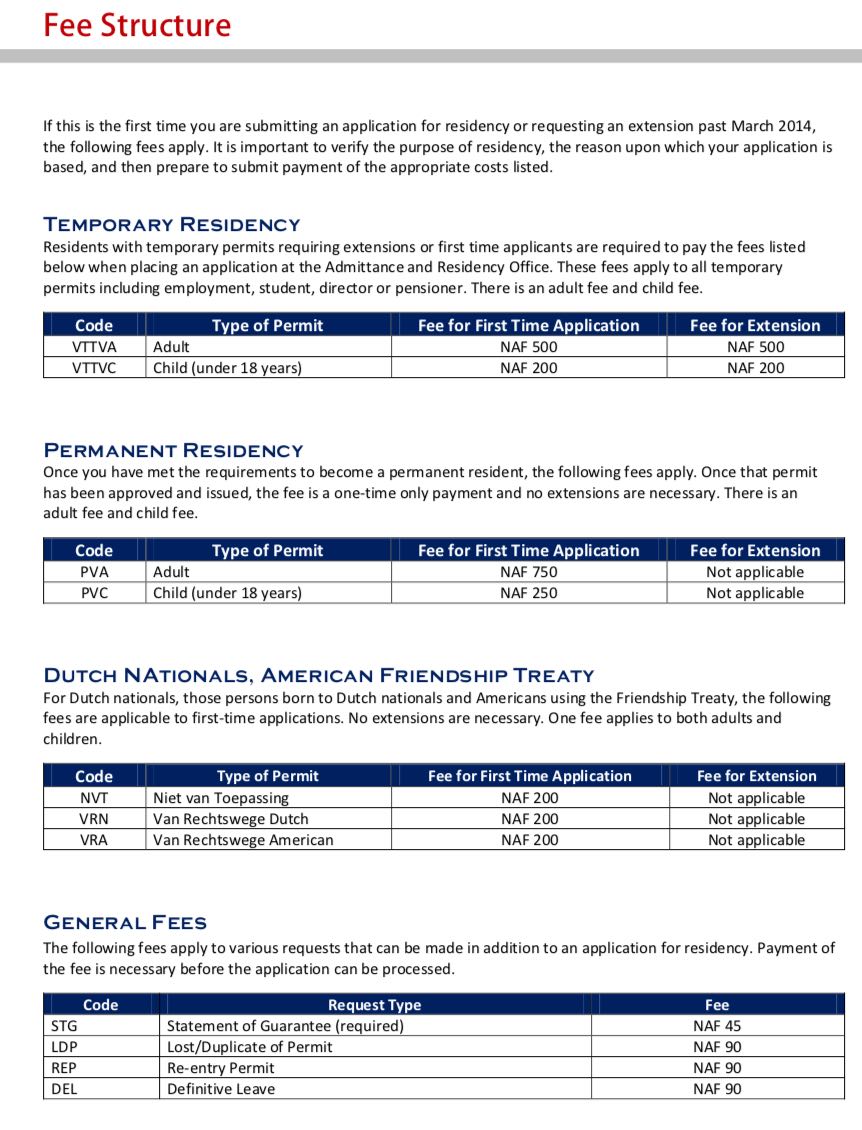 March 2021 Update: Common Questions by Quick Message.
Unfortunately no you can only reside and work on the Dutch side.
Because of the bilateral treaty, Americans can live and work in St Maarten for 6 months without any restrictions or hindrance. Enjoy that workcation!
Yes it is! Basic necessities are very expensive, particularly utilities and services. St Maarten is a luxury destination.
Various types of St Maarten Residence Permits
St Maarten is a welcoming country for the citizens of the entire world. Authorities have set different immigration routes for various nationalities based on their needs to migrate to the island. Some people want to reunite with their family members, while others find investment opportunities and invest their money in various businesses and lands. However, we find that there are some common reasons for which foreigners migrate to St Maarten. These include:
Investment in business or property
Family reunification
Cohabitation
Retire and spend the rest of the life enjoying on the island
A treaty between the United States and the Netherlands
Employment
Higher education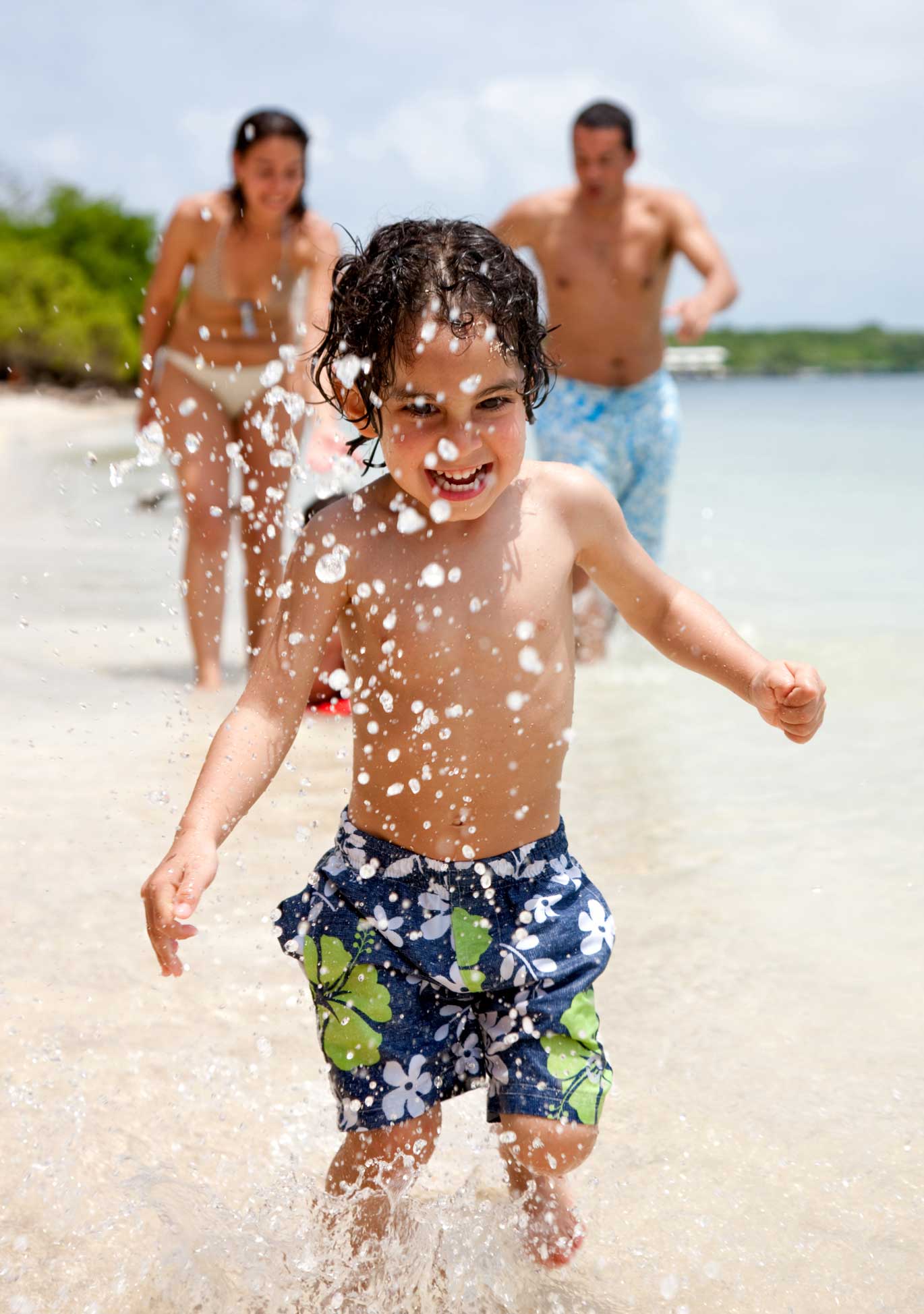 St Maarten permanent residency based on employment
St Maarten permanent residency based on employment is a suitable route to migrate to the island for those individuals who are looking for a job in St Maarten. Firstly, they need to apply for the employment permit to the Department of Labor with the help of his/her future employer. They must do so before they enter the territory. Later, they can apply for a residence permit.
St Maarten permanent residency based on sole Proprietorship of a business
Small businesses are beneficial to any economy that exists in this world. It is well-understood by the authorities of St Maarten island. Thus, the government issues St Maarten permanent residency for business owners running their businesses in the country for more than a decade. To remain in the state and continue to run their businesses, they need to obtain residency permits. The Businessmen need to attach a few crucial documents, such as, business license, a copy of the director's license, which should be obtained from the Economic Affairs department easily, a copy of the Chamber of Commerce registration that should not be older than six-months with the application. Also, the statement about the operational condition of the company. Last but not least, a reference letter from the bank stating the financial situation of the company.
St Maarten permanent residency based on investment in the real estate
Foreigners who have saved a decent amount of money and want to live a happy life in a peaceful country then they can consider buying St Maarten property in the country to get St Maarten permanent residency. To obtain the visa, the applicant needs to buy a piece of land or residential property on the island. Moreover, to document the intention of purchasing a property in St Maarten, the applicant needs to get a statement from the local bank stating that he/she is willing to invest at least NAF 900,000 or USD500,000 in the island. Lastly, proof of the required investment is attached to St Marteen's permanent residency application.
Buying property in St Maarten is very easy, particularly with a Broker involved.
Properties over USD500,000 – All Locations
Guana Bay Modern Villa
Indigo Bay Villa For Sale
Cole Bay Modern Home
Simpson Bay Modern Condo
Dawn Beach Oceanview Luxury Condo
Beachfront St Maarten Villa For Vacation Rental Income
Dawn Beach Modern Family Villa For Sale
Porto Cupecoy Apartment For Sale
St Maarten permanent residency based on reunification with the family
Some circumstances occur in life that separates the family members from each other. St. Maarten government understands this situation and allows the immediate family members to reunite and live together with their loved ones. Happy families residing in the country make it a joyous society. However, there are different visa requirements for Dutch citizens and non-Dutch nationals. Netherlanders provide; a passport, birth and police clearance certificate, school registration letter for children, and original marriage certificate. Non-Dutch citizens need to attach some additional documents including residence permit of the spouse, spouse job letter mentioning the monthly gross income and date of joining the company, and confirmation of the salary of at least NAF 24000 besides the documents required for the Dutch nationals.
St Maarten permanent residency based on cohabitation with a Dutch citizen
If a foreigner is in a relationship with a Dutch national, then he/she can immigrate to the island. The immigration is possible because of cohabitation with a Dutch citizen. The local has to sign a legal agreement to live with a foreigner on the island without being married.
In other words, two adults who are not married but want to live together. The documents required to apply for the permit include the passport of both the partners, police clearance record of both partners, statement of guarantee filled and signed by Dutch partner, original cohabitation agreement, and proof of non-marriage.
General requirements of Official documents to apply for St. Maarten permanent residency
Applicants need to put in with certain official documents that are issued by the local government when they apply for St. Maarten permanent residency. These documents vary from case to case. When you visit the Immigration and Border Protection Service, make sure you possess the original documents. The legal papers include but not limited to:
Passport
Character clearance certificate from the police department
Birth Certificates
Adoption records for adopted infants/teens
Marriage Certificates
Police clearance certificates
Employment letters
Bank statements
Net-worth details
Is it possible to apply for permanent residency while being present on St. Maarten island?
In one word answer, No. You cannot apply for permanent residency yourself. Your employer needs to start the residence permit process if you are already present in the country. Also, you would need to leave the country to complete the immigration process. You will not be able to stay or come to St Maarten island before the final verdict of the application is out.
Thank you for reading our short and precise guide to Permanent Residency in St Maarten. For any recent updates, forms and additional information please check the Government Of Sint Maarten official requirements as stated on the official website; Government Immigration Page.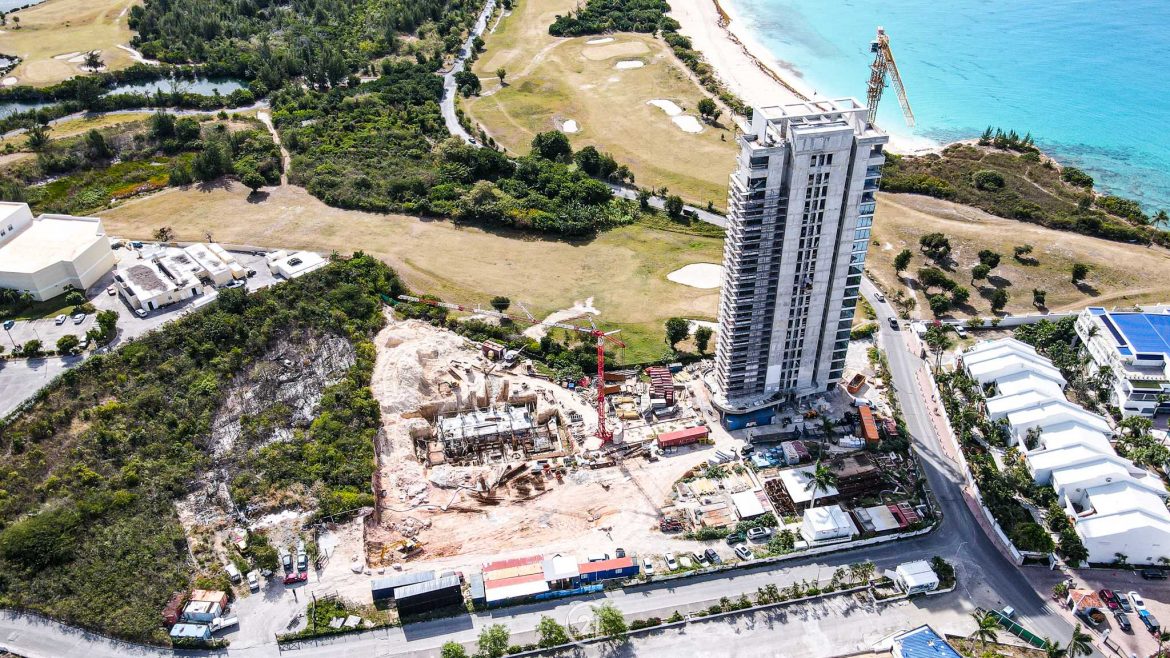 New construction is everywhere in St Maarten.
There is a boom in St Maarten construction and development.
Probably the most important question that needs answering before any sort of St Maarten construction or redevelopment is what is the cost of construction in SXM?
Best New Developments in St Maarten
Indigo Bay condos on Indigo Bay Beach.
Belair Beach Condos on Little Bay Beach coming soon.
Sold Out Fourteen Mullet Bay Residences in Cupecoy.
New 1-bedroom beach condos coming soon on Simpson Bay beach.
Why is there is a construction boom in St Maarten now?
The clue to this answer lies in this report from BCQS.
The construction costs show high quality construction cost per square foot is 385 USD to 580 USD.
And the all important sales value starts at 500 USD per square foot.
A medium sized two-level villa is approximately 2400 square feet of living space which equates to a luxury level turnkey villa construction cost of USD1,392,000 approximately.
These values taken from 2022 do not take into effect the fluctuations of material and labour costs.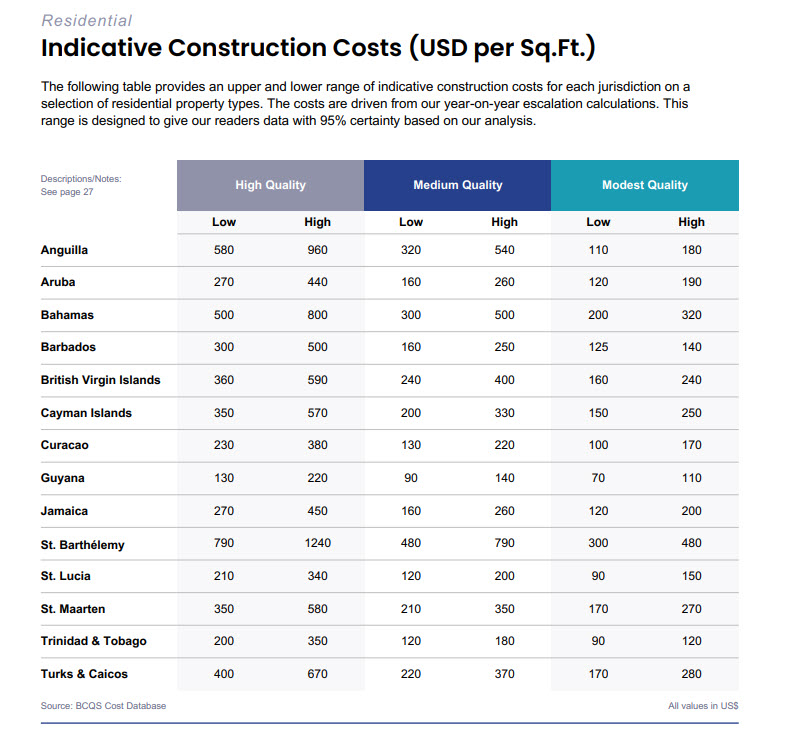 .
Use the Quick Message form to request a Sales Value of your property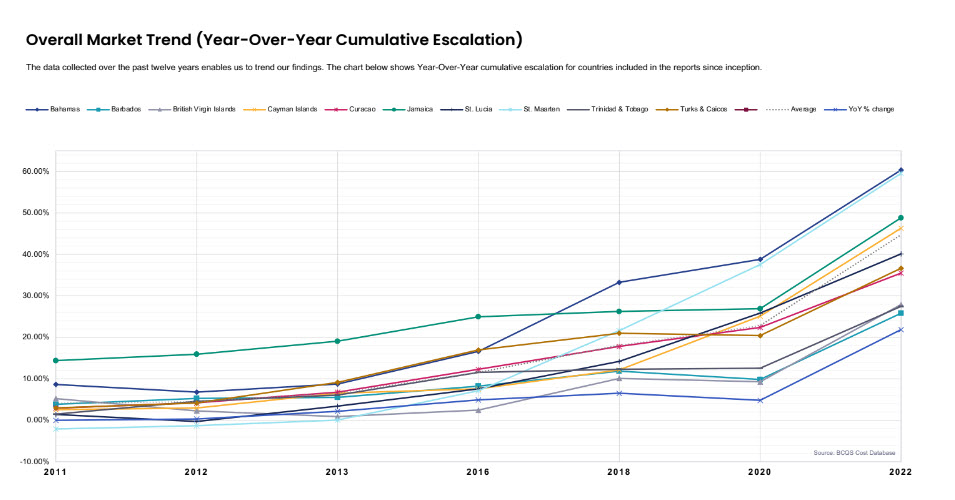 St Maarten is No.1
Everything points towards St Maarten becoming the most investable location in the Caribbean. Especially during the pandemic, we have seen that only two Caribbean islands have thrived in tourism; Aruba and St Maarten.
St Maarten's culinary attraction brings the best to these shores; giving a cultural edge like no other.
Construction In St Maarten
St. Maarten real estate is a growing industry. Despite the challenges brought about by the pandemic, many investors decided to continue investing in the real estate market. Construction in St. Maarten is reaching peak levels and there is no indication that it will soon stop.
There are a lot of exciting projects in the industry of Construction in St. Maarten. But before you get your wallet out and start writing that cheque to Century 21 St. Maarten, we deem it necessary to look at just how good the industry of construction in St. Maarten has become popular over the past years.
St Maarten: An Overview
St. Maarten is a competitive marketplace of prime real estate located on the southern side of the Caribbean. It stretches on a 37-square-mile island and is considered the smallest one in the world that is governed by two countries. The market is competitive for buyers who want a retirement home. But more than that, it has become a great investment.
In a recent study, most purchasers of the housing market in St. Maarten are focused on renting out their real estate investments to tourists and short-term leases while the rest are looking for a retirement home or a halfway house, halfway between their real life and paradise. The result is their investment works for them. Instead of continuously paying for their maintenance fees and upkeep of the property, as well as homeowner dues and the like, the property pays for itself. If you are a homeowner or a property investor, you know how important it is to take into consideration the maintenance and upkeep fees.
Perhaps, this is the main reason why properties in St. Maarten are often rented out and condos in St. Maarten are also very competitive. Condominiums in St. Maarten are very popular. Over the past 16 years, the industry has seen big changes, both positive and negative. With only 37,500 residents, St. Maarten has a small domestic market and a very big global market.
Further, due to the further domination of St. Maarten in the yachting business and sailing events like the Heineken Regatta, the properties in St. Maarten are selling a lifestyle much more than a real estate property. This is why an attractive condo in St. Maarten sells at $275 to $375 a square foot while some sell at $200 per square foot.
Luxury villas, on the other hand, are a different thing and do not sell based on the size but the whole cost. Properties in the form of villas currently sell for around $2 million up to $20 million. This fact makes for a very attractive industry of construction in St. Maarten. Most buyers want to have a sense of control over the properties since they are already spending a lot of money on them.
If you are looking to buy a property in St. Maarten or you already have one and are looking to begin construction on your property, then you should read on the succeeding paragraphs and see the necessary information related to construction in St. Maarten.
Weather in St. Maarten
St. Maarten is not without any problems. The island also faced many weather problems, even if they are years apart. The worst hurricane that the island experienced is Hurricane Luis. Many hurricanes also pass by the island.
The most recent hurricane in St. Maarten devastated the island in 2013 and the island is still recovering. This is one of the main reasons why construction companies in St. Maarten are continuously investing in new technology and hurricane-resistant construction in St. Maarten is the trend.
Furthermore, due to the weather in the tropical paradise, the construction regulations in St. Maarten are strict. There are also construction companies in St. Maarten that have taken it upon themselves to take charge and start construction using materials that are hurricane-resistant, energy-efficient, and environment-friendly.
The bottom line is that since St. Maarten can be considered as a tropical island, it has the weather of the tropical islands – the wet and dry seasons. Property values are not affected much by the hurricanes and the devastation they leave behind so it is still considered a good investment for anybody who can invest in St. Maarten and what it has to offer.
Construction Regulations in St. Maarten
Construction in St. Maarten is governed by strict, but easy to follow, construction rules. Whenever you want to acquire any kind of real estate property, the Building and Housing Ordinance of St. Maarten is the main legislation that one should follow. It stipulates the important rules governing the design and construction-related aspects related not only to construction in St. Maarten but also focused on public health and safety.
To begin, it is important to know that according to the Building and Housing Ordinance of St. Maarten, there shall be no construction works that may be carried out in St. Maarten without a building permit coming from the government.
To get a building permit in St. Maarten, the application must be submitted in writing. The application must state the circumstances of the owner: the name of the applicant, his profession, and his place of residence. Construction regulation in St. Maarten requires the submission of documents such as proof of ownership, drawings of the building, calculations on the structure, the foundation plan, the subdivision plan, site plans, and the floor plans.
Restrictions on the height of the structure are very important in St. Maarten. There is further information that the government may ask in connection with an application for a building permit. The applicant is obliged to provide all of the requested information.
In case of refusal, there is an appellate system that allows those who want to continue their construction project in St. Maarten. This is where a good construction company in St. Maarten may come to your aid and assist you in your construction needs.
During the pandemic, there are also some very straightforward and strict health and safety protocols that individuals must abide by if they are looking to start construction in St. Maarten but all are pretty straightforward.
Zoning And All Other Regulations You Should Know Before Construction in St. Maarten
A lot of real estate companies and real estate agents would tell you that location is one of the more important aspects of dealing with real estate. The real estate investments that you make in St. Maarten would be able to continuously increase if you know the construction regulations in St. Maarten. This is where the zoning regulations become more important for the individual who wants to start construction in St. Maarten.
Construction regulations in St. Maarten is not unique. The construction regulations in St. Maarten are based on the Unified Comparable Zoning Plans applied in the Netherlands. In St. Maarten there is a rule that is called the "existing situation regulation" in terms of zoning. Generally, all existing structures that differ from the regulations permitted under the development plan may be rebuilt and changed, as long as they keep their size and nature.
By definition, an existing structure is defined as that which was already constructed pursuant to an irrevocable permit at the time that the draft development plan is placed for public view, that which may be constructed pursuant to an irrevocable permit and that where an application was submitted prior to the time that the draft development plan is placed for public review.
There are some other zoning regulations that we have summarized for you to deal with the construction regulations in St. Maarten:
Allotment Gardens
The government has encouraged the use of empty parcels of land as home gardens. The property owners may reinstate their original intended use for the parcel of land at any given time. According to the regulations, the zonings where the allotment gardens may be realized are as follows: Center, Traffic or along the edges, and the three Residential zoning destinations.
Building Heights and Density
The restrictions in terms of the building height, as well as the density, are also imposed. The building density or the percentage developments of the plots are important especially in terms of the restrictions imposed on the property owners.
Why are these restrictions imposed?
The restrictions are imposed in order to prevent buildings from being built at heights and density that will affect the spatial aspects, air safety, parking needs, traffic circulation, and other aspects of living in St. Maarten.
Hence, if you are planning on dealing with construction in St. Maarten, you should necessarily note that you should leave room for intensification in relation to the efficient use of space and simulate spatial accents.
Plot Boundaries
When building residential property, or any property, in St. Maarten, you should find that minimum dimensions between the building and the plot's boundaries have also been required. 5m to the front boundary and 3m to the other plot boundaries are required to be kept clear from obstruction and any kind of construction.
Construction Companies in St. Maarten
Just like in any other real estate market, there is a competitive market of construction companies in St. Maarten. This competition makes for a healthy range of construction costs in St. Maarten and also gives individual investors more choices. What are your choices of construction companies in St. Maarten? What are the companies that can help you create your dream home in St. Maarten? Let us look at them one by one.
Atlas Construction Company in St. Maarten
The Atlas Construction Company in St. Maarten is one of the pioneer construction companies in St. Maarten. They have been around St. Maarten since 1991 for the construction of the Princess Height Condominiums. Princess Heights Condominium is a 15 unit luxury condominium hotel in the Dawn Beach area.
As a construction company in St. Maarten, Atlas Construction Company prides itself in creating Princess Heights Condominium not just because it was a big project. There is pride in building the structure that withstood the worst hurricane in St. Maarten. Of course, some repairs had to be done after the storm but the structure was sound and still there after the storm.
To date, Atlas Construction Company in St. Maarten prides itself in handling big construction projects such as the First Auto SXM in Cole Bay which was built and finished in 2019, the Retaining Wall Ocean 19 in Indigo Bay completed in 2020, and many other projects that used hurricane-resistant materials.
Commodore NV Construction Company in St. Maarten
The Commodore NV Construction Company in St. Maarten is another construction company in St. Maarten that has built a reputation through the years. They have built condominium projects in St. Maarten and building projects that are also strong and sturdy. On their website, they pride themselves in saying that they always keep abreast of new technology that could enhance their developments and bring their structure from the present to the future.
They also pride themselves in using new materials and new systems that aim to fully utilize time as well as the request of their clients. Finally, the Commodore NV Construction Company in St. Maarten also aims to integrate more new technology to improve the client's experience and outcome.
Liccom Construction Company in St. Maarten
The Liccom Construction Company in St. Maarten is another developer in St. Maarten who has been around for some time. Arriving on the shores of St. Maarten back in 1996, the company is still thriving some 15 years later. This construction company in St. Maarten prides itself in saying that they have built apartments in St. Maarten, some buildings, and did renovations here and there. Liccom Construction Company in St. Maarten is still one of the most trusted companies in the area but there are a lot of other companies that you may want to check out.
Sonesta St. Maarten Resorts: A Hurricane Resistant Construction In The Caribbean
One of the most popular construction companies in St. Maarten is the one by the Maho Group. As owners and operators of Sonesta St. Maarten Resorts in the Caribbean, the company has taken every step possible to take advantage of the latest technology. They are rebuilding the Sonesta Maho Beach Resort Casino & Spa using storm-resistant materials. This hurricane-resistant construction in the Caribbean is just one of the many 2021 new constructions in St. Maarten that we all have to look forward to.
With the hurricane-resistant technology being used for construction, the company is indeed one of the gems in the industry of construction in St. Maarten. Currently, the phase of construction is utilizing the work of TCK and LVKE building technology. This company is a China-based, green technology consortium whose main claim for fame is being at the forefront of modernizing the construction industry through the creation of energy-efficient storm and fire-resistant building materials. Testing is also being done on the hurricane and earthquake conditions that affect the new construction in St. Maarten. Through the expertise of Reggio Calabria's Building Future Lab, hurricane and earthquake testing is now possible.
Caribbean General Contractors Construction Company in St. Maarten
Caribbean General Contractors (CGC) is a relatively new construction company in St. Maarten. Unlike the previously mentioned construction companies in St. Maarten, CGC has only started its business since 2014. The team of CGC is not just focused on construction but has also been doing some infrastructure maintenance and use of heavy equipment and trucking operations.
To date, the CGC also does demolitions jobs, road pavements, and they rent out their trucking and heavy equipment to other companies.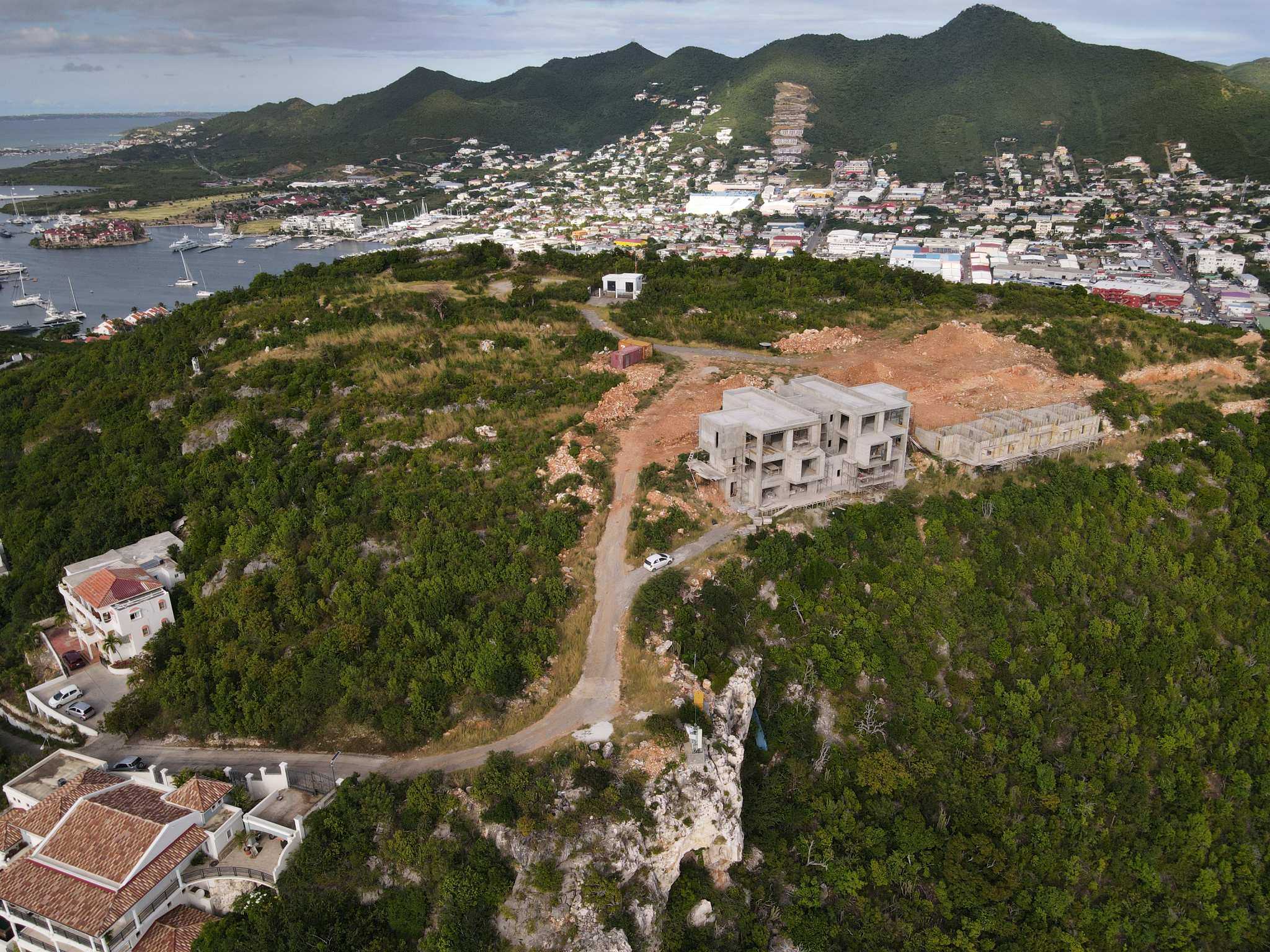 Comparing Construction Costs
When we compare construction costs with different countries and the costs of construction in St. Maarten, there are a lot of factors that affect prices.
Construction in St. Maarten costs around $ 3,267 on average per square meter while that in the Dominican Republic costs around $ 2,078. While the prices are very different, we can easily attribute that to the lifestyle that is being sold in St. Maarten.
The price of construction is also comparable to that of the United States. On average, an American home construction would cost around $298,000 while that in St. Maarten is said to be higher. This will be discussed further in the succeeding section.
construction st maarten, In the year 2020, there is an increase in the average construction costs in St. Maarten as compared to other countries. Studies have shown that this is primarily because of the fact that the pandemic has put a halt in the movement of goods and services. To date, the average increase in construction costs of 4.8% are found in three main areas – Cayman Islands, St. Lucia and St. Maarten.
The construction costs in St. Maarten for residential construction are currently pegged at $270 per square foot to $450 per square foot. This amount is comparable to that of the Bahamas which ranges at $290 per square foot to $490 per square foot. While the Bahamas is already syndicated as a good tourist spot and St. Maarten has not yet reached a global reach, the prices are very close due to many factors.
For one, St. Maarten is considered as one of the top destinations for the regatta and has been known as a good retirement area especially for people retiring from the United States.
On the other hand, the prices in St. Maarten is relatively higher than that of Jamaica. The construction costs in Jamaica is pegged at a range of $180 per square foot to $300 per square foot. Of course, St. Maarten is relatively less dense in comparison to Jamaica.
The numbers reflect one thing and that is the fact that the construction costs in St. Maarten may be at a higher rate compared to the other islands in the same area but that is attributable to a lot of factors. The cost of living and the propensity of retired individuals to stay in St. Maarten is higher compared to anywhere else.
Notable New Developments In St. Maarten
construction st maarten, Since St. Maarten is continuously under development, there are a few notable developments that individuals should know more about when they visit the country or when they plan to stay.
The Fourteen Mullet Bay residences is one of the latest and more notable new developments in St. Maarten. A lot of construction companies in St. Maarten have developed their new creations on the facade of this new development. The main plan was to make sure that it becomes a city on its own. The idea was for the city to have a life of its own and to make sure that it can be self-independent on the inside of the condo in St. Maarten.
For many individuals who want to make sure that they will get a property in St. Maarten and an investment at that, they should check out the offer of the Fourteen Mullet Bay Condos in St. Maarten.
How Much Does It Cost To Build A House In St. Maarten?
Now that you have an idea about the island, the construction companies in St. Maarten, as well as some properties that you can look at and where to find them, you go to the next step; How much does it cost to build a house in St. Maarten?
The answers to this question vary depending on many different factors. Of course, when you are talking about construction, the costs are often not as straight as any other purchase you will make in the market. Unless you buy an already constructed property, getting your dream home can mean certain unexpected costs. So, there is no one answer to that question.
However, further research shows that the rule of thumb is that it would cost around 35% more to build a house in St. Maarten in comparison to prices of construction in the United States.
On average, an American home construction would cost around $298,000. This is the mid-range that most homeowners report. The range goes between $150,000 to around $445,000 to build their home. This means that the range of constructing a house in St. Maarten could be between $202,500 to $600,750.
While there are a lot of factors that could affect building the house in St. Maarten, these are the numbers that you should expect. In a recent study, it was shown that the price of construction costs in St. Maarten for residential construction are currently pegged at $270 per square foot to $450 per square foot. This would put the assessment of a $202,500-home close to reality.
In terms of the timeframe, some experts are saying that it is best to hire an agent who can guard and oversee the construction. The time frame is not very urgent in St. Maarten so having someone look over the plans and make sure that everything is going well is necessary.
Is It Time To Build A Home Or Purchase Property In St. Maarten?
St. Maarten may be in the middle of the Caribbean but it is modern and certainly great as an option for retirement or investment. It is an island that we can all dream to retire on and enjoy the rest of our days sleeping in the sun, the sea, and the culture. The construction industry in St. Maarten is booming and the only thing that stands in the way of you making a purchase is you. Whatever your need may be, there are a lot of professionals and real estate companies who can help you find a place.
Century 21 Real Estate in St. Maarten can aid you in your search for a property. With its 25 years of experience, Century 21 Real Estate in St. Maarten can help you find what you are looking for. From finding the right plot of land to hiring the right construction company in St. Maarten, you can have all of the options available for you.
Contact Ritika
Your award-winning Broker.
Phone: +17215261819
Email: ritika@c21sxm.com
Thank you.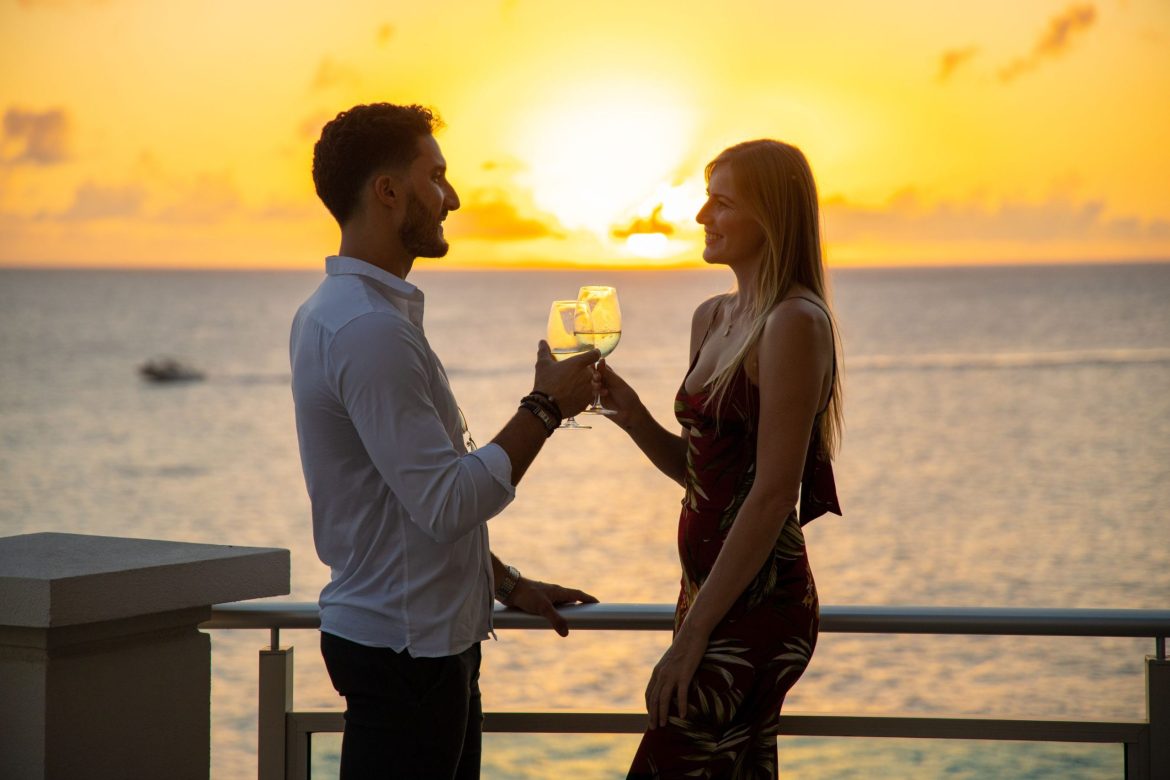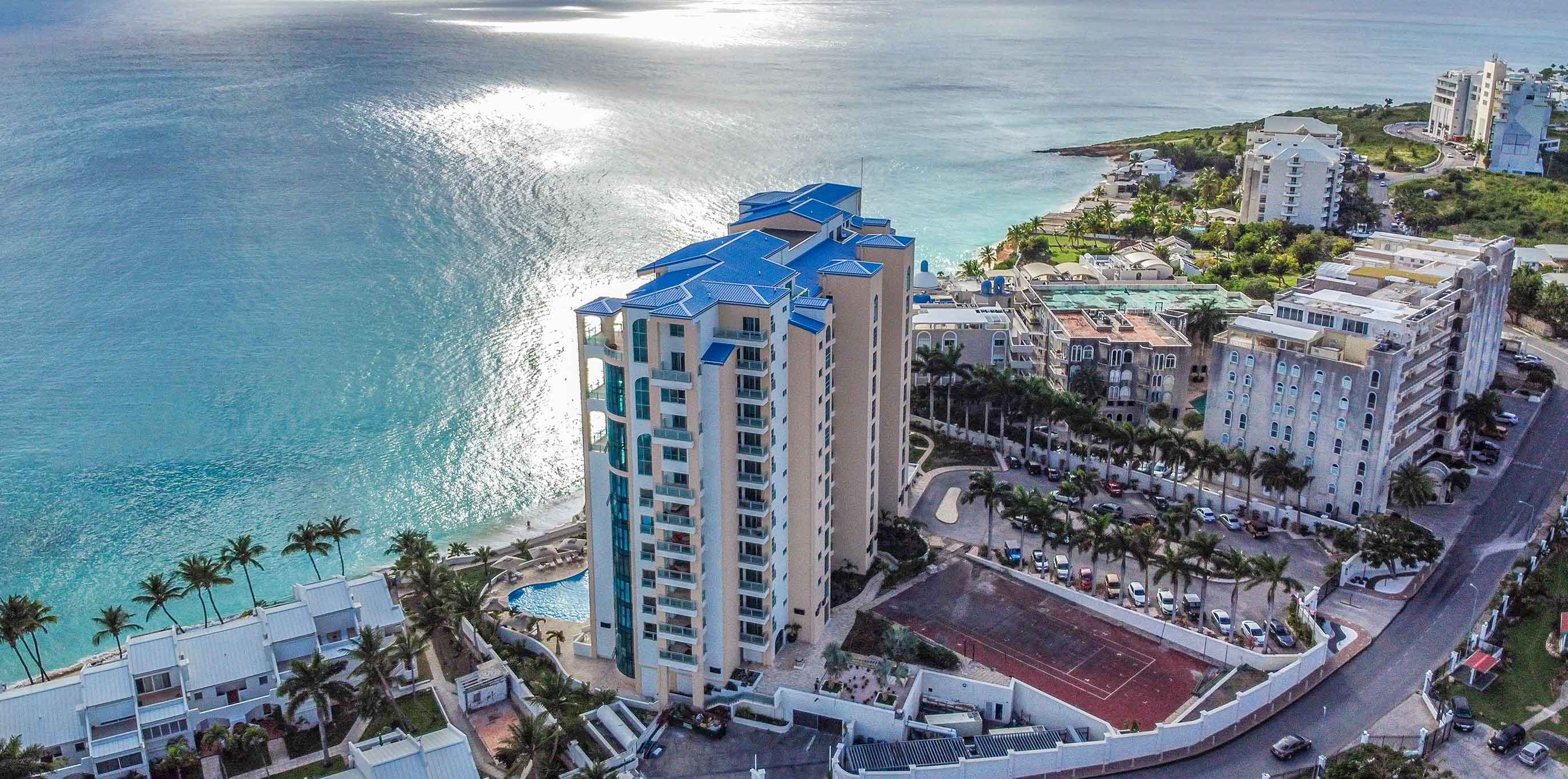 The Cliff, 7 Rhine Road, Cupecoy
12 storeys
100m of private beach
72 luxury apartments
3000 sq ft guest lobby
25m Indoor lap pool
1% New Buyer Reserve
Best feature: Beach, sunset views, and location.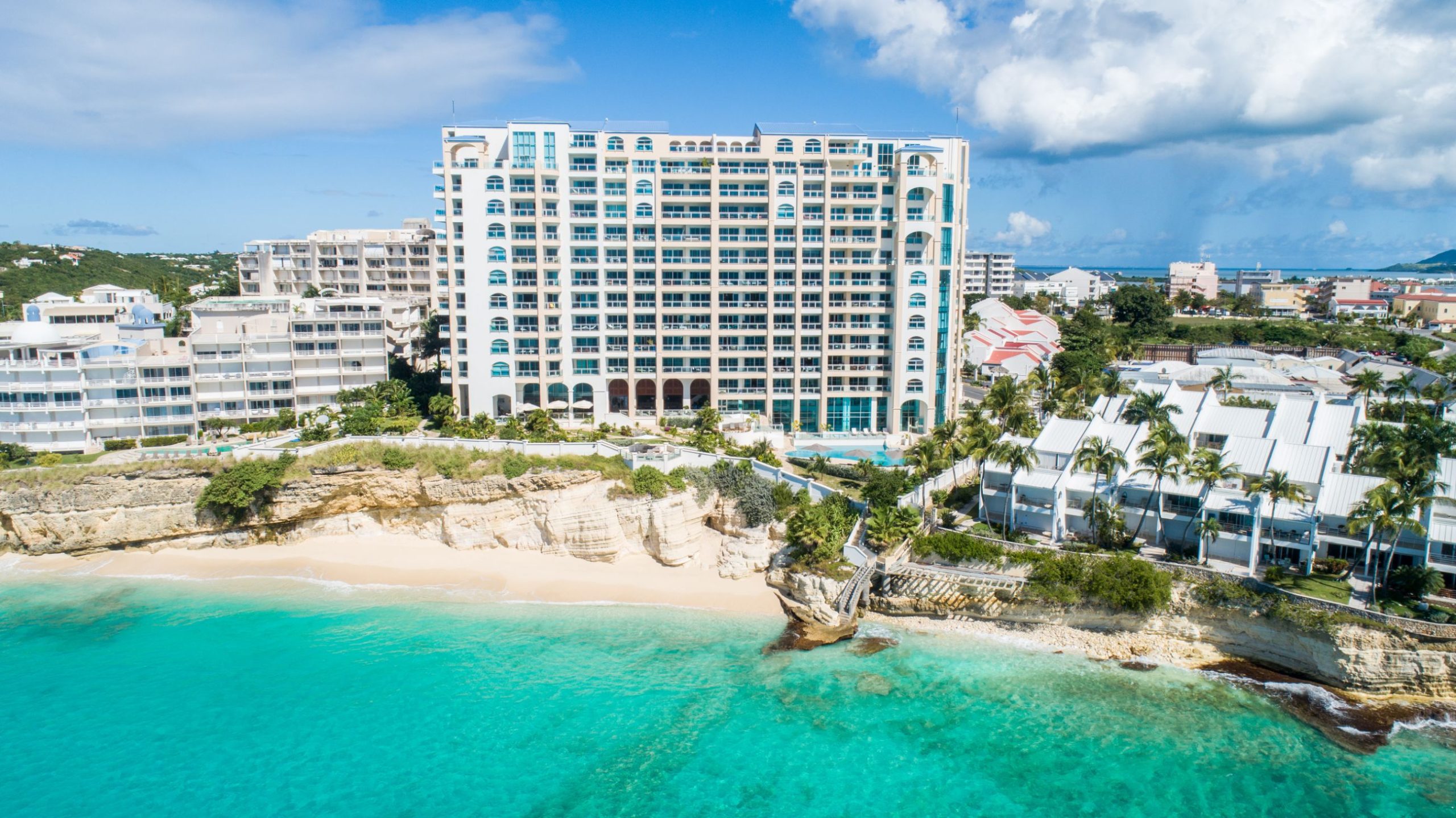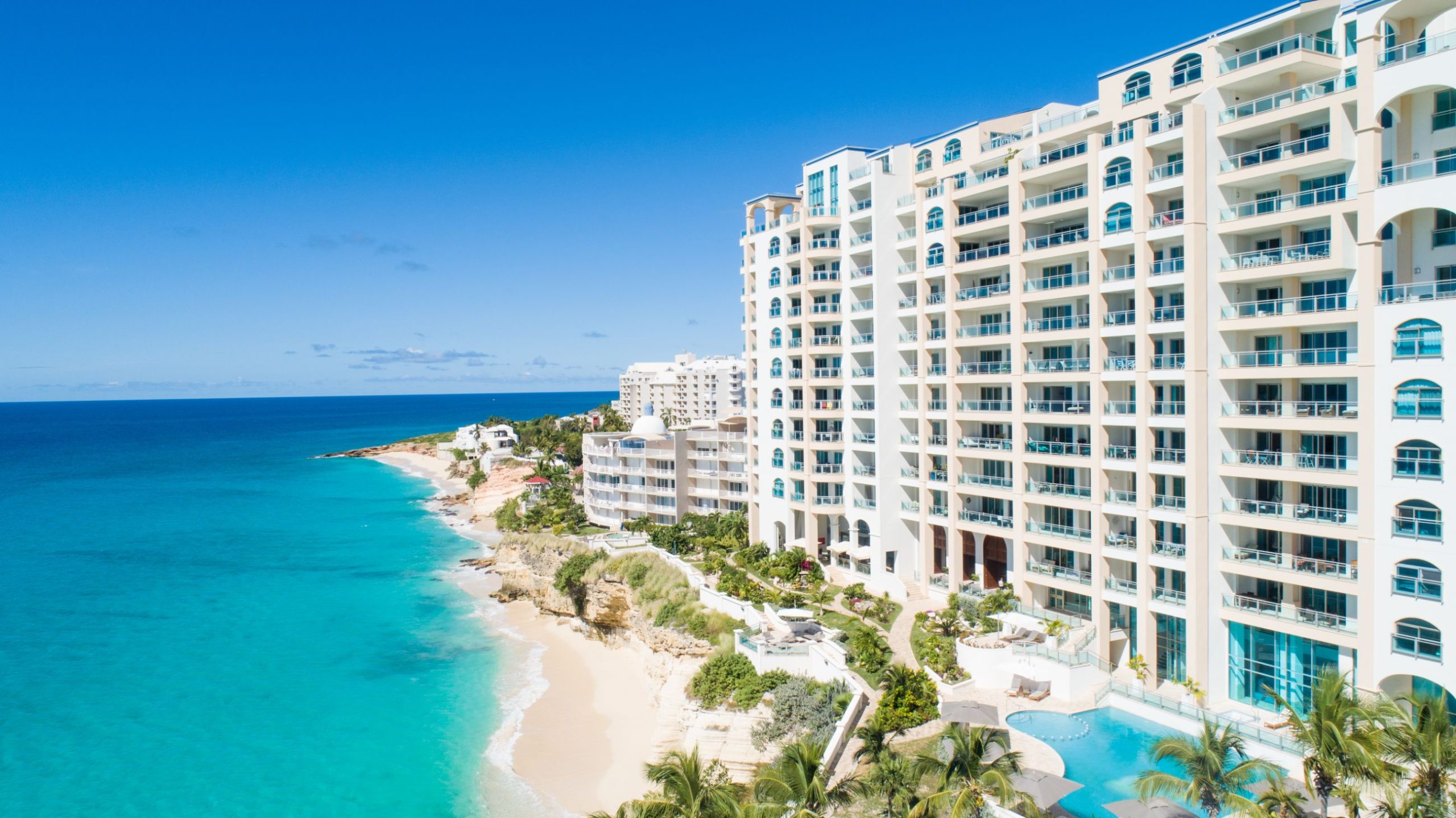 "In 2007 The late Jean Legoubey had the vision to have the first luxury apartment building in St Maarten …" said board member Alain Haillant in the Daily Herald during the re-opening of The Cliff after a complete refurbishment in 2020.
A glamorous lobby complete with a spiral staircase and ceiling to floor chandeliers. The glorious ocean view is the main feature; framed with wooden arched doorways; the majestic sapphire blue ocean invites you into The Cliff like a magnet.
One visit to The Cliff and you will buy your first condo of many.
There is no better condo development in St Maarten.
Details are everything. There are world-class artists everywhere in the lobby; I saw a Corinna and Norma Trimborn art; remembering the vivid colors. Accompanied by fellow artists Wilfred Moizan, Florence Poirier Nkpa; who grace this stunning contemporary lobby. The standout is sculptures by Mark Templeton.
A smiling reception desk with a concierge is manned 24 hours a day at the entrance of the lobby.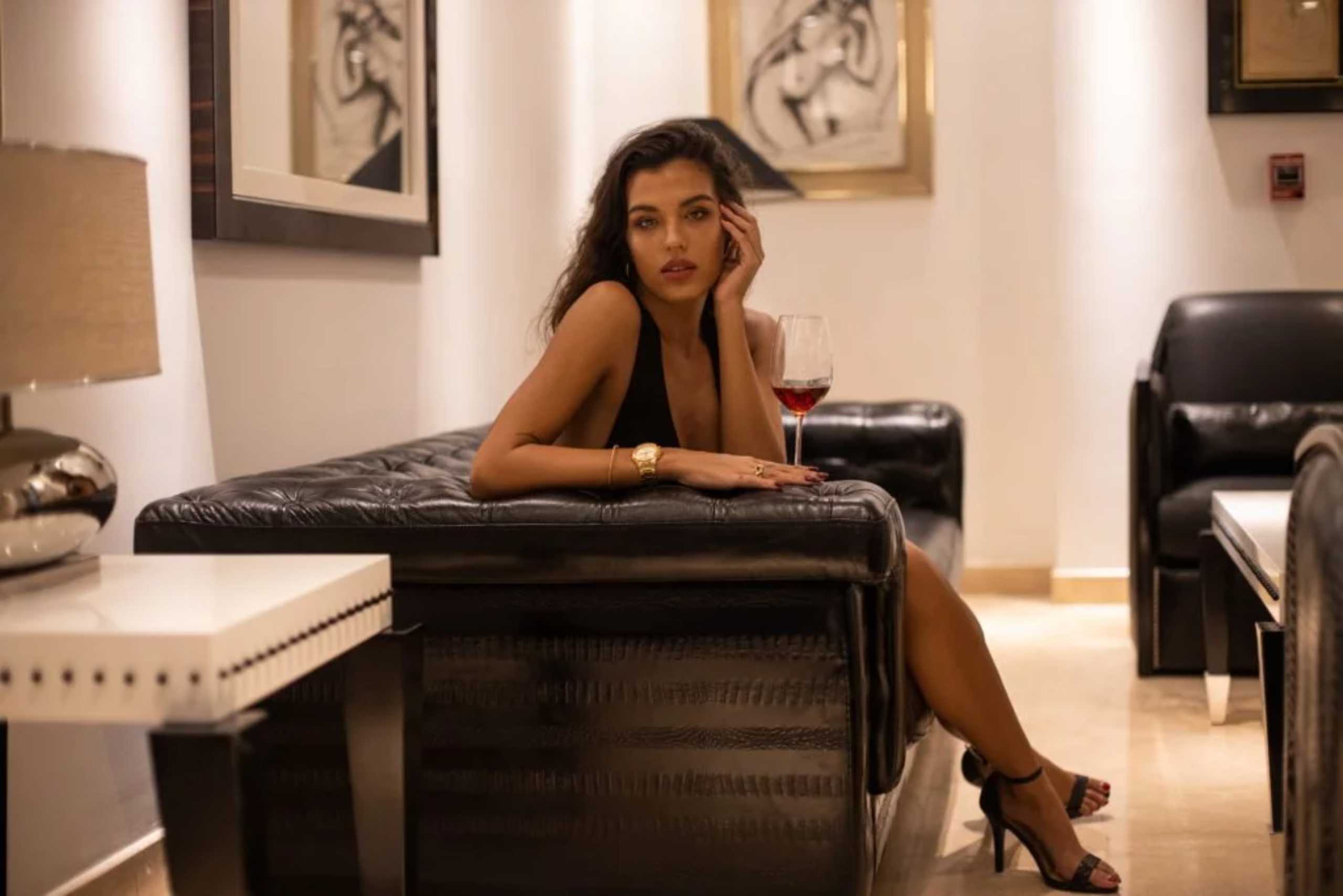 Best Beaches In The World!
Cupecoy beach offers romance like no other, with its hidden caves and calm turquoise waters; the tall limestone cliffs give you the most private beach in St Maarten!
With Mullet Bay beach a few minutes walk away; you have an incredible choice of beaches to pick from. Mullet Bay Beach is a fully serviced beach with beach chairs on one side and just nature on the other.
You are lucky to be a owner at The Cliff in St Maarten.
Cupecoy Beach, St Maarten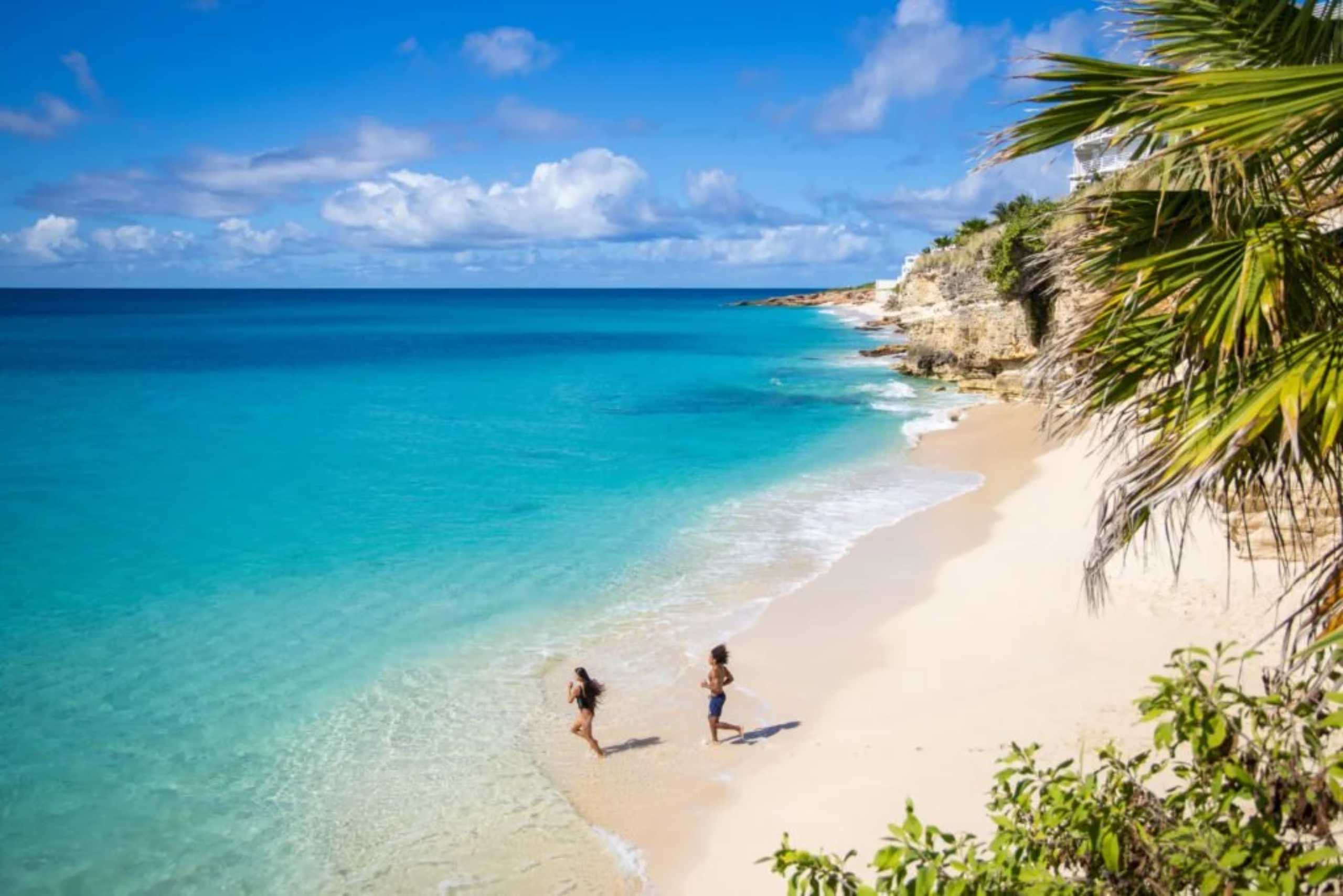 Known for its beautiful semi-private coves nestled among the limestone cliffs of Sint Maarten, Cupecoy Bay Beach is the perfect place for a taste of romance. It has gained a spot among the best beaches on the island of Saint Martin for its gorgeous views and breathtaking turquoise water.
A Unique Slice of Paradise
Hidden rocky coasts and mysterious caves in Cupecoy Beach make this one of the best private beaches in St Maarten. The seclusion of these tiny coves also makes them popular among romantic couples.
You need to snorkel here because Cupecoy Bay Beach is home to many amazing and colorful sea creatures.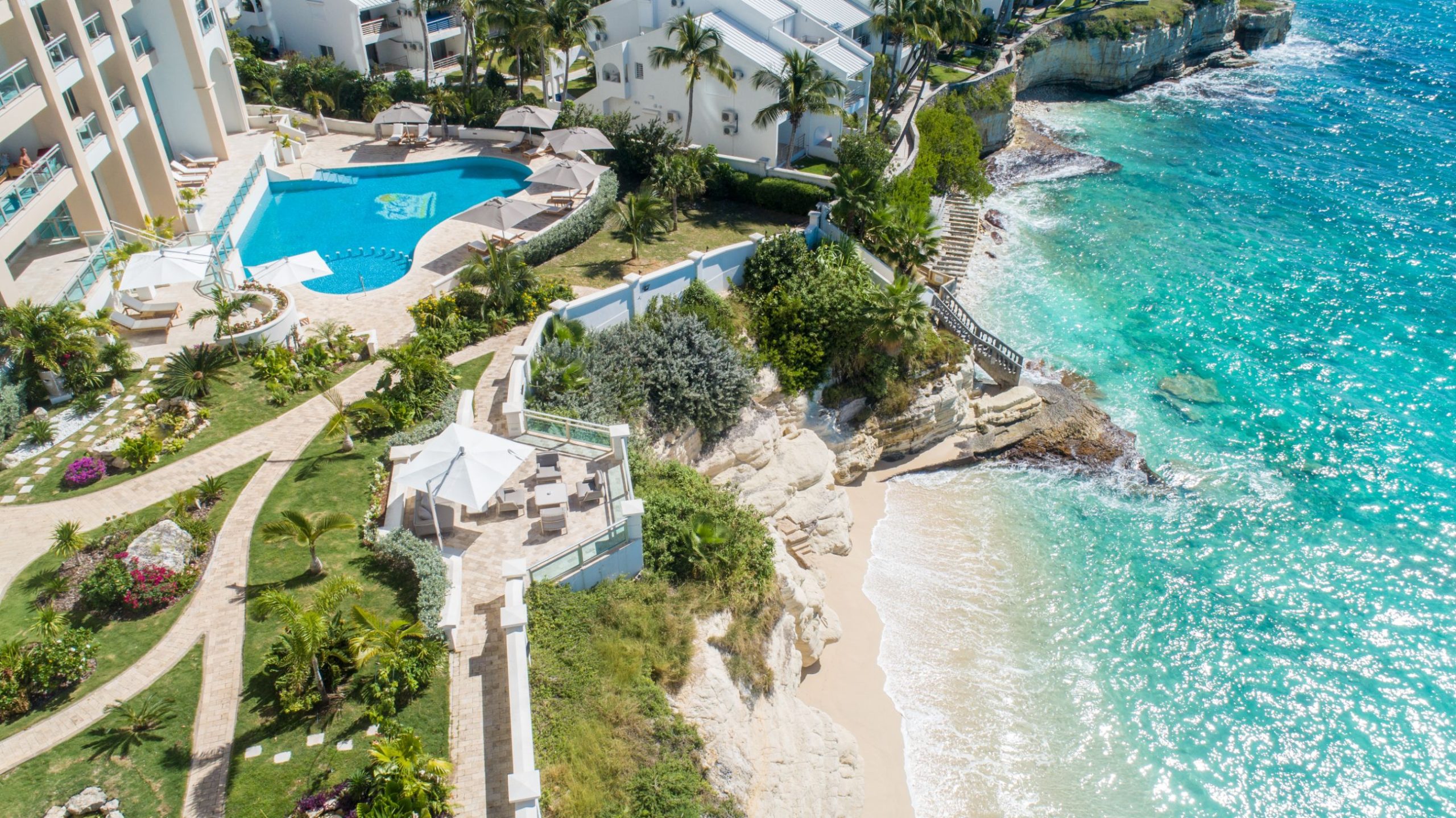 The Cliff Real Estate
Century21 St Maarten is St Maarten's largest real estate agency.
We have been representing owners at The Cliff since its birth.
In fact, we have been preferred agents for The Cliff for many years because of our knowledge.
Call Ritika and find out why we are the best +17215261819.
Example Two Bedroom Condo Floor Plan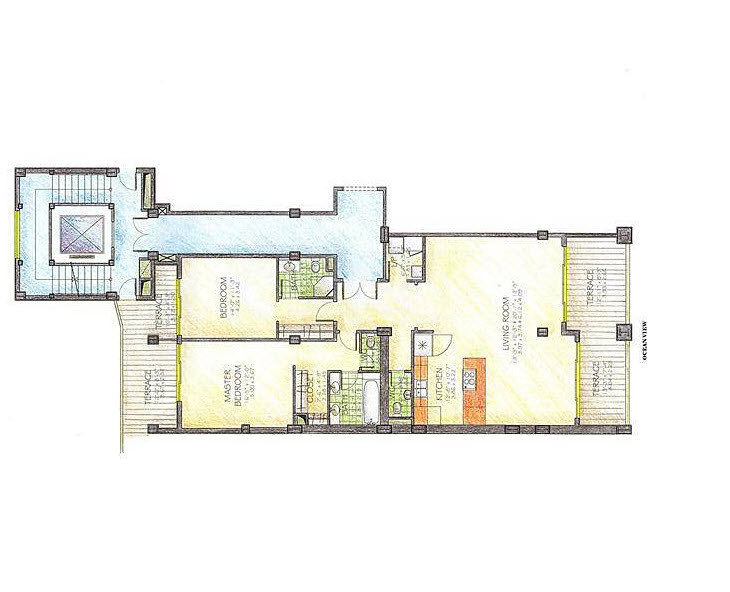 With one of the best architectural designs resulting in apartments that stretch from the beachside to the lagoon side, giving you 360-degree St Maarten views and cross-ventilation to enjoy the famous Caribbean breeze.
Incredible The Cliff Two Bedroom Condo For Sale
The Cliff Two Bedroom Condo For Sale
The Cliff Two Bedroom Condo For Sale
NEW The Cliff Two Bedroom Condo For Sale
The Cliff Penthouse For Sale
Included In The Cliff Association Fees
The Cliff HOA is the best value in St Maarten. You pay a small price for peace of mind!
Amazingly the Association Fees incorporate building insurance, generator, satellite TV and the internet.
For example, The Cliff HOA for a two-bedroom condo is $18600 per year.
Building & Liability Insurance
Satelite TV
Internet
Repairs & Maintenance
Landscaping & Gardening
Waste Removal
Exterminator
Water Treatment & Testing
Elevator repairs
Generator Service
Pool Cleaning
Airco Maintenance & Repairs
Security Services
Cleaning Services
Internet Subscription
Satelite TV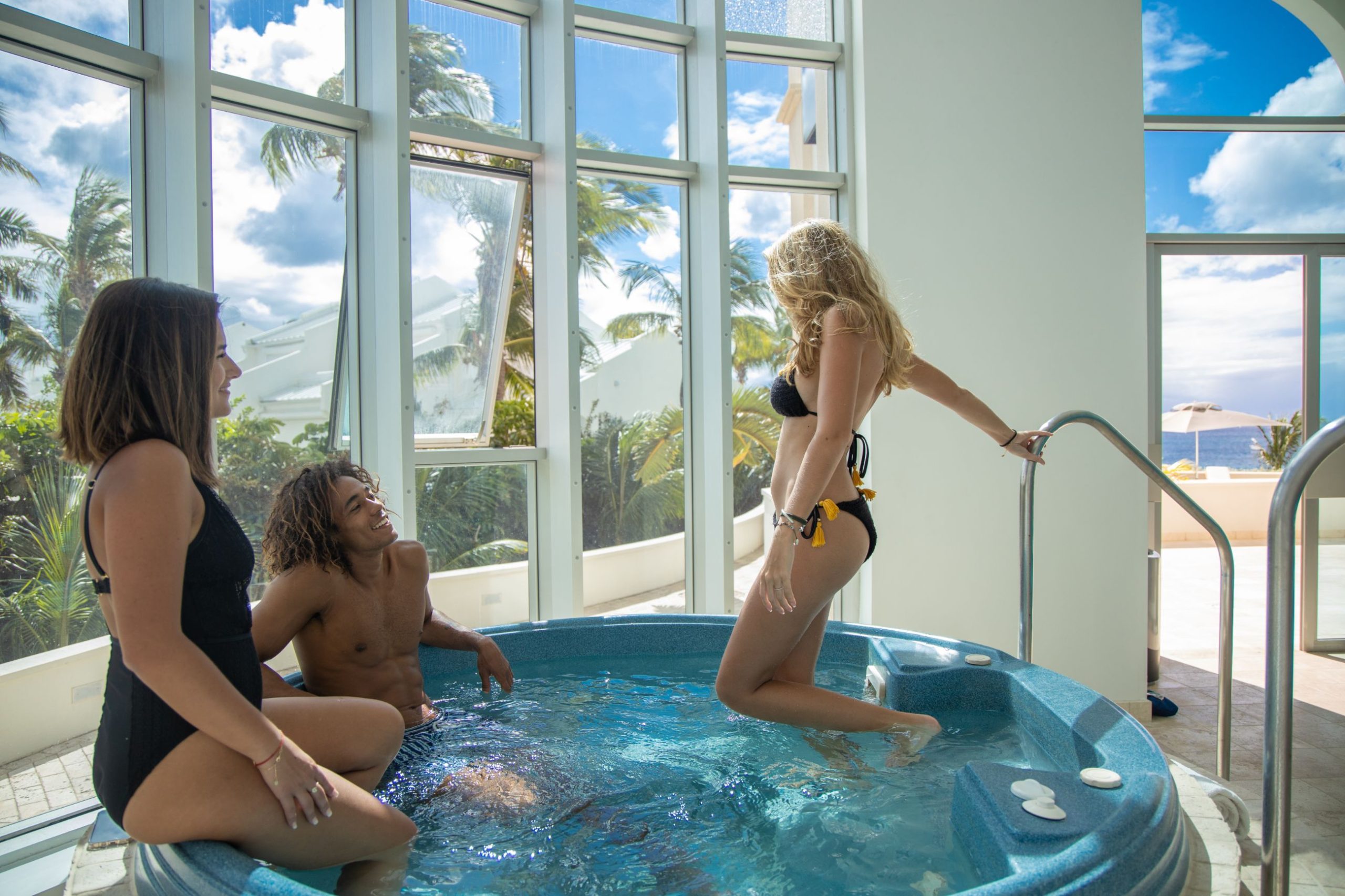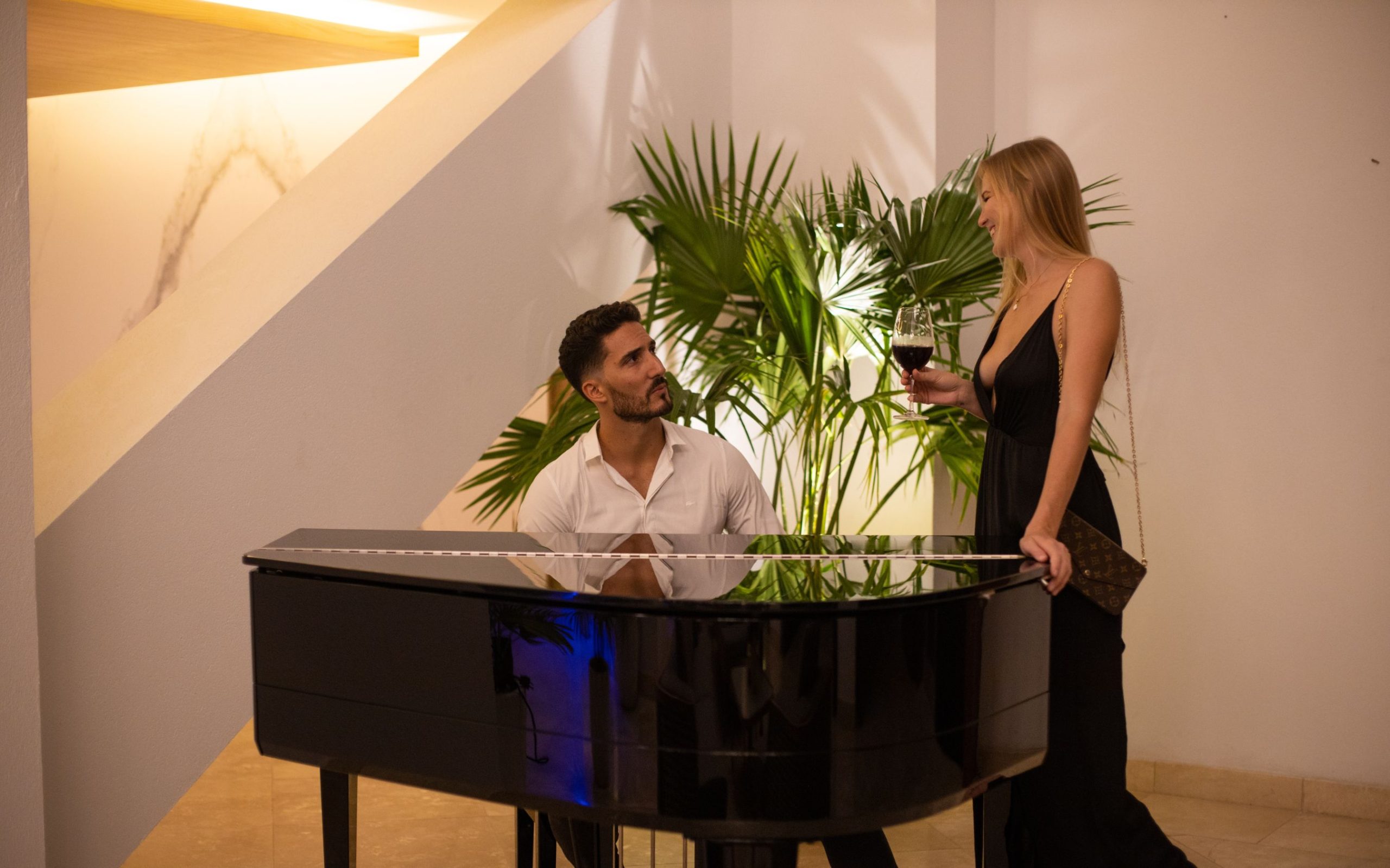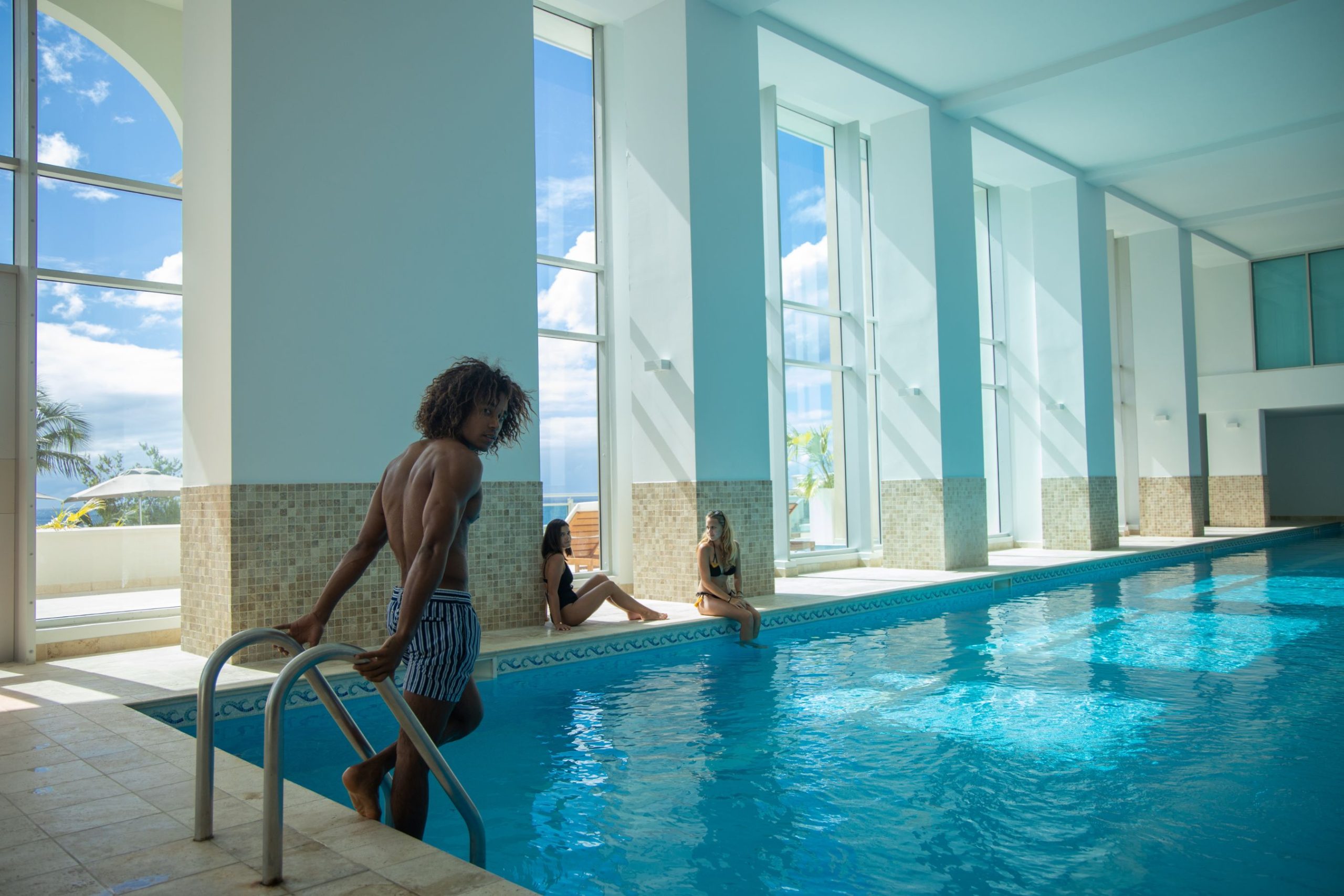 The Cliff SXM New Buyer Reserve
Wondering what is the New Buyer Reserve at The Cliff?
It is simply a Budget Reserve equating to 1% of the buying price that goes towards The Cliff Home Owners Association.
Non-refundable and applies to every new buyer at The Cliff St Maarten.
The seller does not receive any portion of these funds.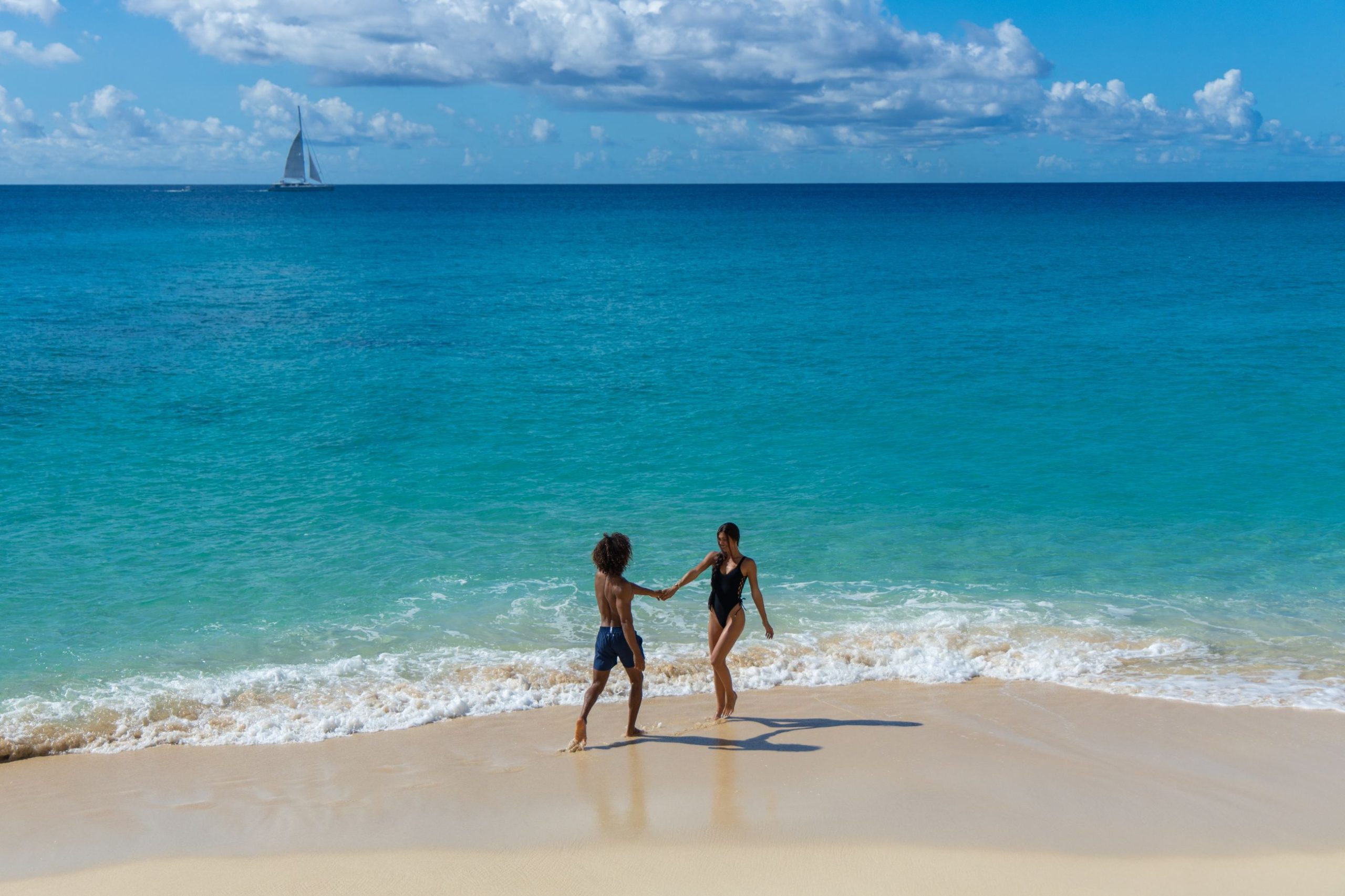 The Cliff Airconditiong System
After 2020 an entirely new chiller system was installed. An older, second chiller was repaired for backup. Some condos have three to five thermostats to operate the chiller automatically.
Each thermostat is connected to a separate valve. When the thermostat calls for cool air the respective valve opens allowing the chilled water to pass through the pipes in the particular thermostat zone and the blower unit comes on and cooling occurs.
The valves are somehow metered with a fairly complex computer system to allow billing to each owner.
The beauty of the system is that you can zone off each area and only use A/C in that area when needed. For example, you can keep the living area at your desired temperature when you are occupying it, turn off the A/C in the guest bedroom and bath area and keep the master bedroom at a higher temp or even turn off until ready for sleeping.
Personally we have been very pleasantly surprised at the bills which come directly from the Cliff. Very low cost compared to my other properties!!
Depending on the time of year and whether or not the The Cliff condo is occupied for an entire billing cycle, the bills are still between $15 and $550.
If not occupied they can be very low since you can turn the A/C and the fridge completely off.
Also the cross ventilation at the Cliff is outstanding and many owners hardly use their A/C during the winter months.
Location
The Cliff SXM is only 5 minutes drive from Princess Juliana International Airport and is conveniently located, just moments away, to the French border. Nearby in Maho, you will find watersports, French bakeries, banks, drug stores, grocery stores, gyms, hairdressing salons, ice-cream parlours, massage centres, theatres, restaurants/bars, duty-free shopping, casinos and night entertainment. Everything within a few minutes drive.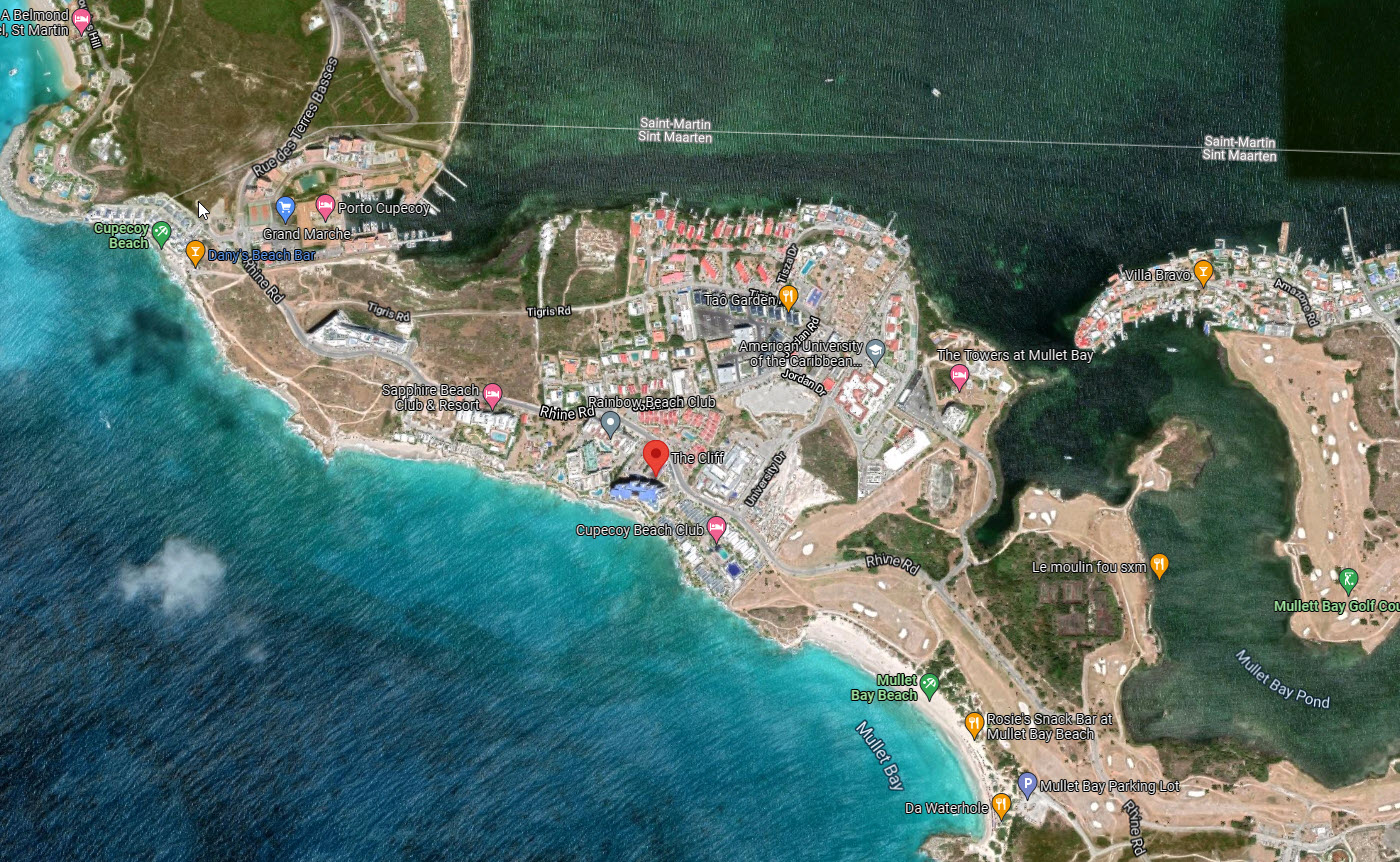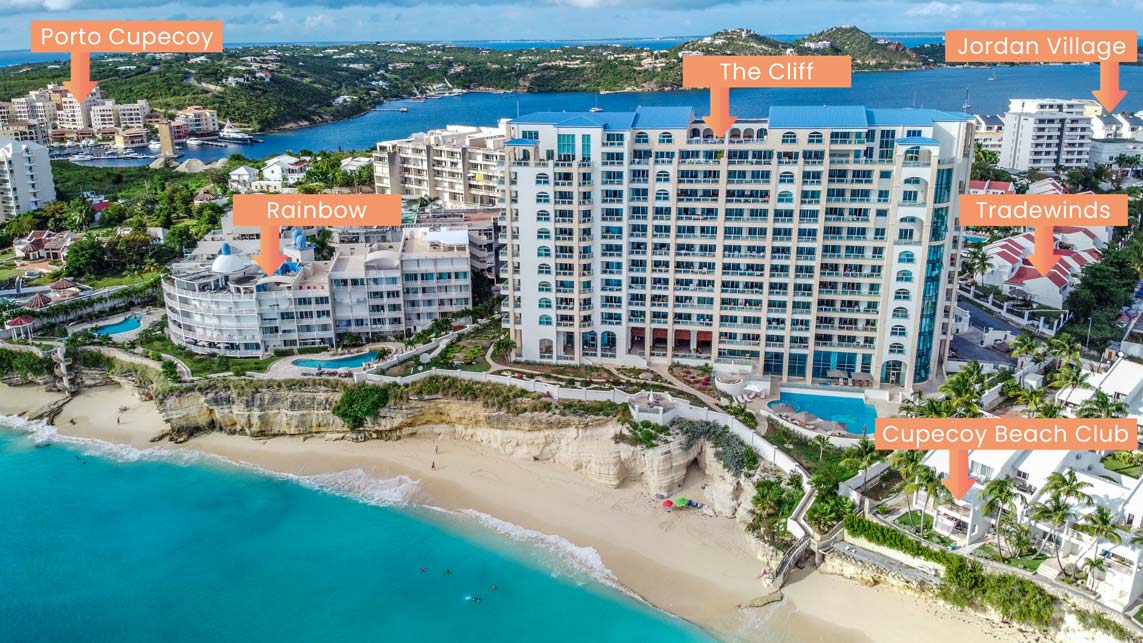 Food store:
5 mins walk to mini stores and 3 mins drive to a larger Carrefour in Porto Cupecoy.
Restaurants:
Mario's at The Cliff SXM, La Bodega, Bar Code, Tao Garden Thai, Spaghetti House, Fat Tonys, Yami Sushi, Chef India, Shogun, Natural Cafe, La Chingona Taqueria and more opening at the casino and nearby Fourteen Towers will provide additional world-class nightlife within 3-5 mins walk.
Casino:
Atlantis casino reopening soon within 3 mins walk and Porto Cupecoy offers Starz Casino.
Beaches:
Cupecoy Beach and Mullet Bay Beach within 3 to 5 mins walk.
Airport:
Just 5 to 10 minutes drive.
Golf Course:
Mullet Bay Golf Course within 3 mins drive
Yoga and fitness classes:
On-site and other nearby locations.
The Cliff Spa
Previously the home of the only Christian Dior Spa in the world!
Now operated by world-class health therapists on-site at The Cliff Spa.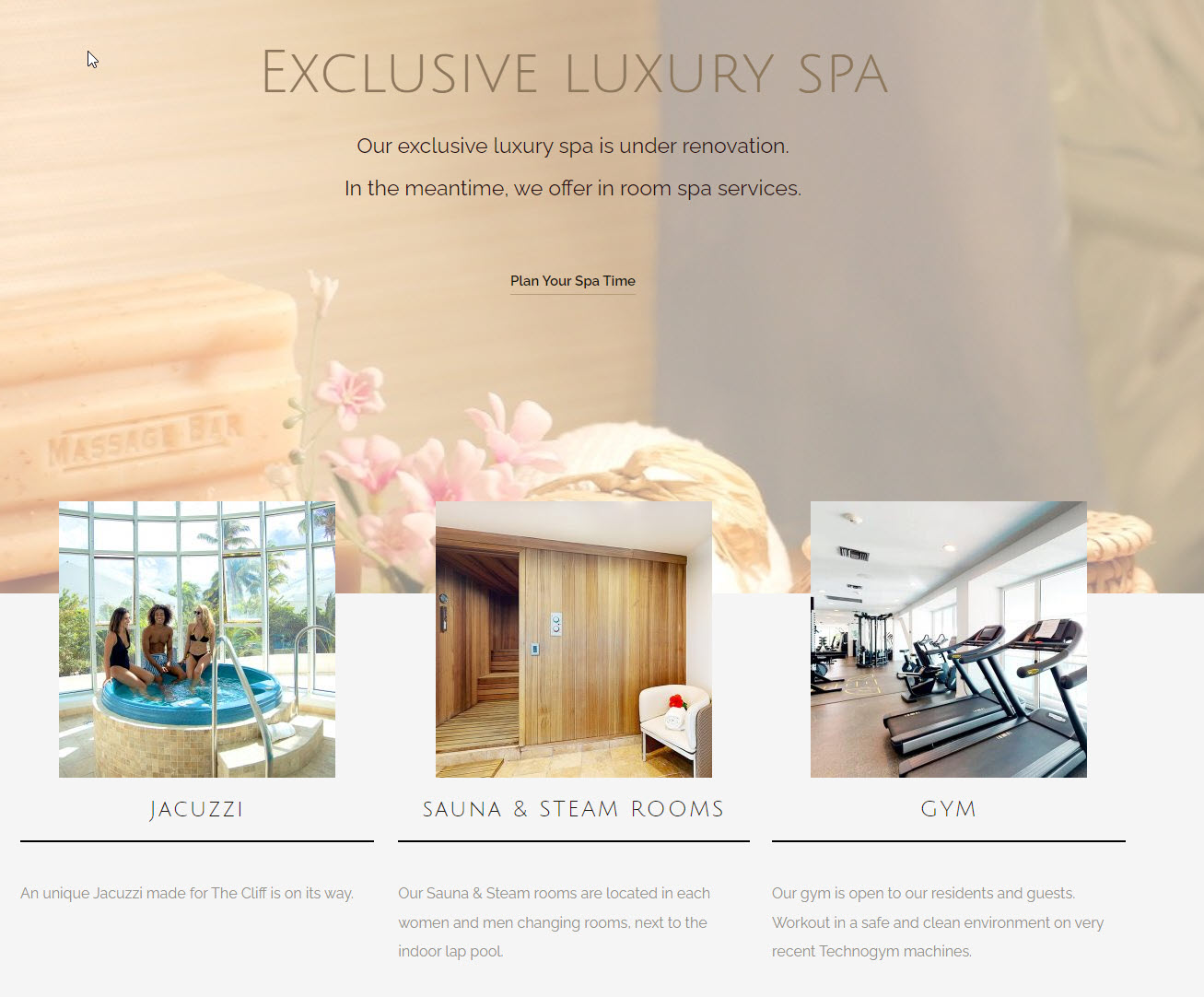 Security
World-class security.
24 hours a day, every single minute.
Cutting-edge technology.
Every car is checked before entering through the majestic iron gates.
The condos range in price from $900,000 U.S. to 5 Million U.S. All units have full views of the Caribbean ocean located on Cupecoy Beach. All owners have their own underground parking and storage unit. Owners have full use of the members club, tennis court, indoor 25 meter lap pool, Fitness center, Steam and Sauna Rooms, Hot tubs and outside pool. The property has direct access to Cupecoy Beach.
The Cliff St Maarten is in close proximity to Maho, Mullet Bay, and Cupecoy Beach. It is near French Saint Martin, The Maho Village, and The Princess Juliana International Airport.
The Cliff Experience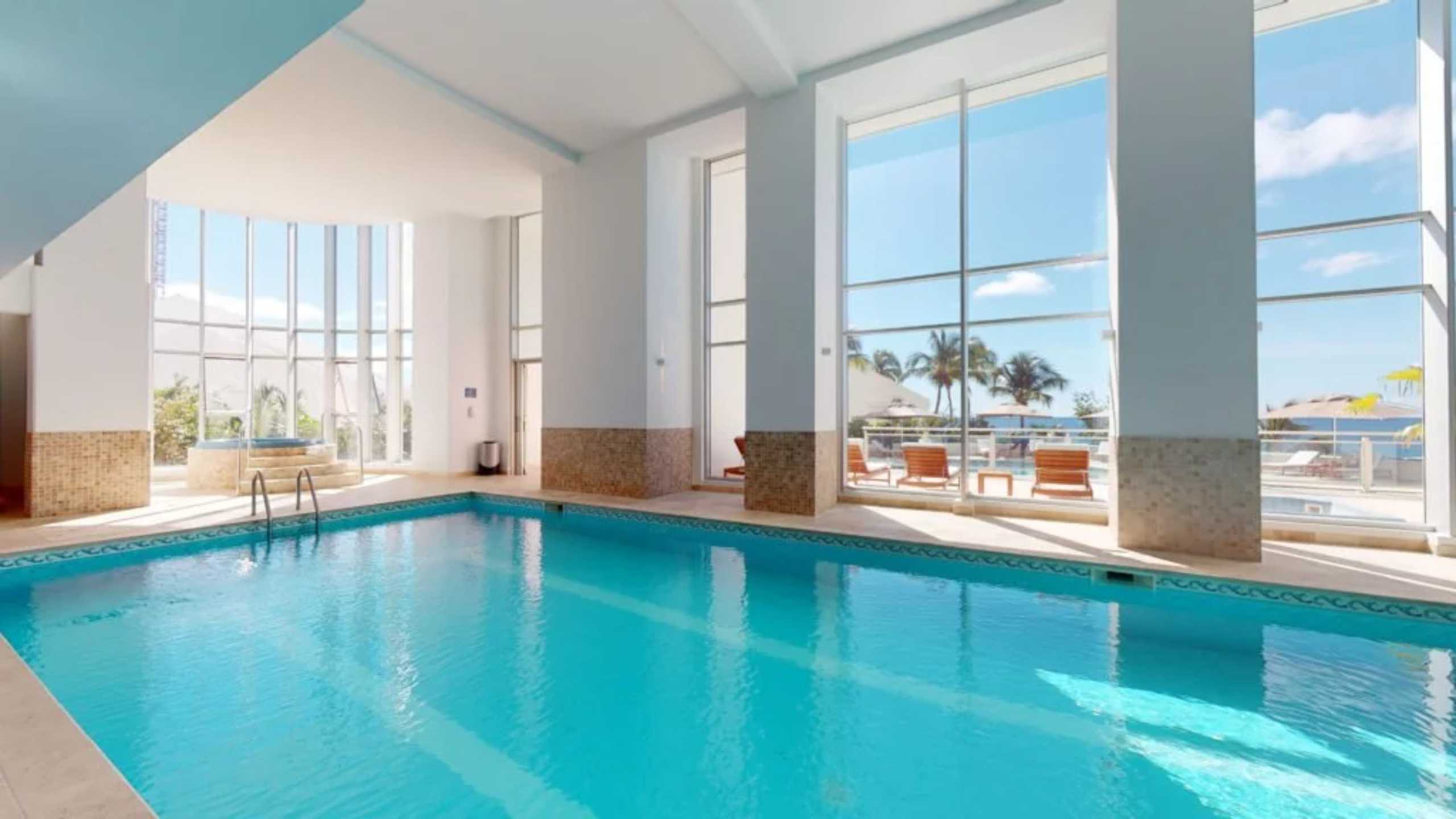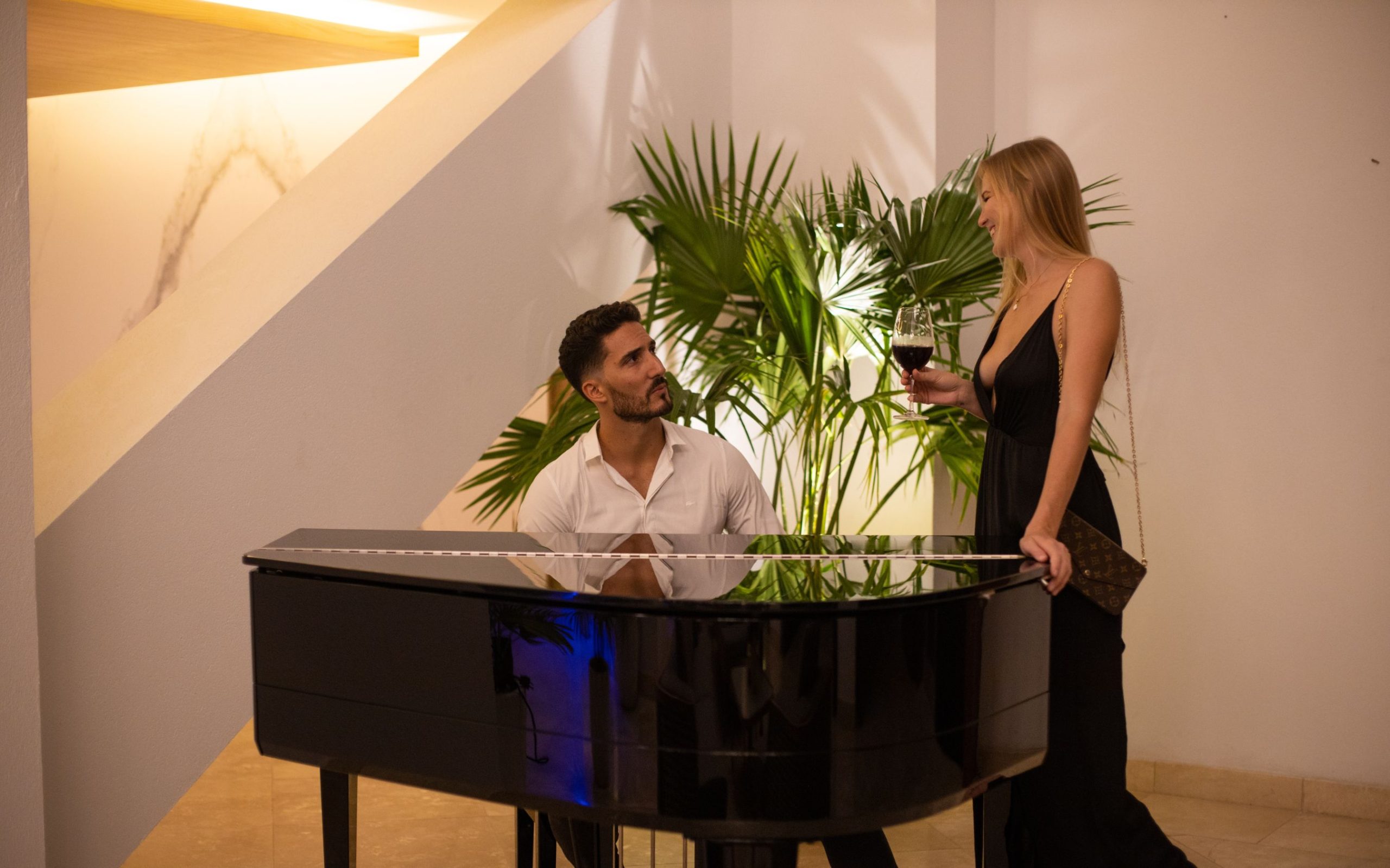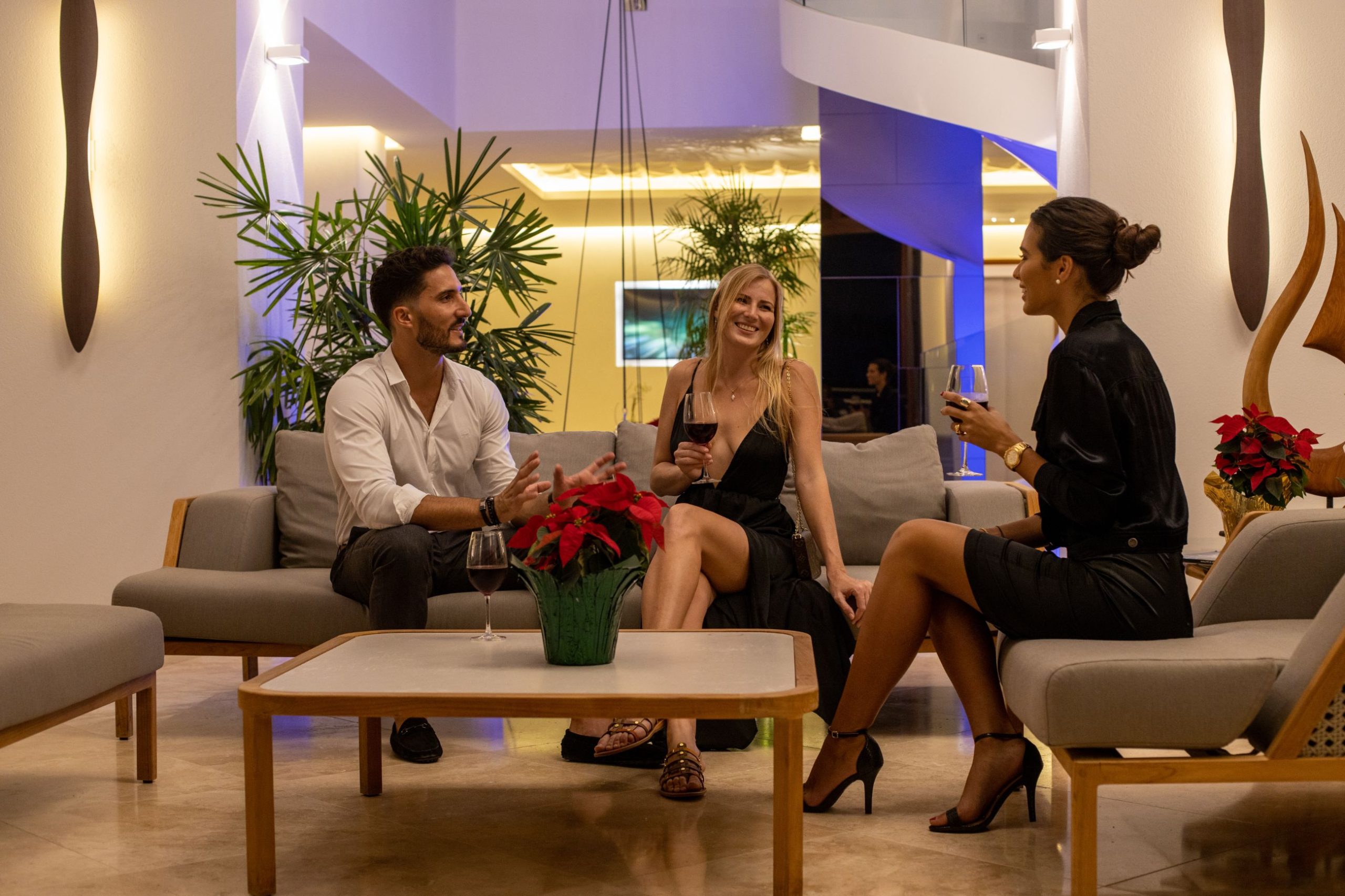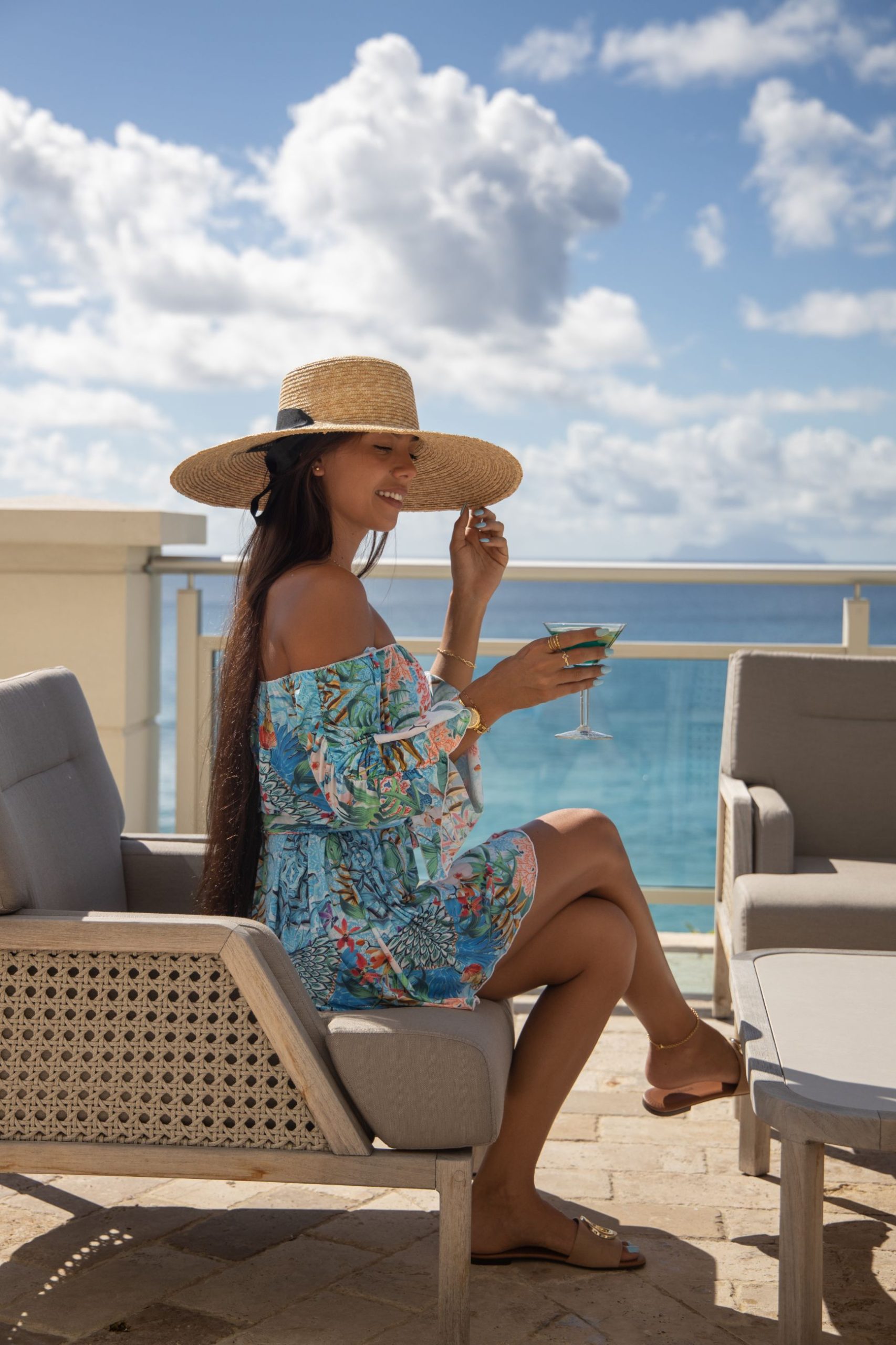 Secluded Cupecoy beach with private access only from The Cliff SXM.
Lush mature landscaping, with bougainvillea pinks.
Award-winning security. 24-hour security, entrance, grounds and lobby.
Underground reserved parking for each owner
Indoor 25-meter lap pool
Complete exercise facilities with lockers.
Luxury spa and recreation facilities
Sculptured outdoor with plans to re-tile with rare Lapis Lazuli.
Tennis court (lighted)
Secured guest parking
Five-star guest lobby with Mario's restaurant.
Elevators (4) servicing two units per floor, eliminating hallways.
Property management and maintenance on-site 24 hours.
Walking distance to casinos and golf course.
Panoramic views of Caribbean Sea, sunsets and Simpson Bay Lagoon
Review of The Cliff in St Maarten
Best place we have ever stayed in St. Maarten
My husband and I have been to St. Maarten about 40 times. We have stayed pretty much everywhere and the Cliff is at the top of the list. We rented from a private individual and he took excellent care of us as he was on the island. ([–]). We had a 2 bedroom, 2.5 bathroom unit and it was huge. The unit was furnished exquisitely with fine linens and comfortable beds. Our view was spectacular and we could hear the ocean loud and clear from the 6th floor. The kitchen was amazing with granite counters and plenty of space. We didn't cook though as there were great restaurants across the street.
The Cliff has an indoor lap pool and a nice but small outdoor pool. There are plenty of beach chairs around the pool. The spa gave me the best facial I have ever had and the Spa is on the main floor of the Cliff. The staff at the Cliff were friendly and helpful. The grounds were immaculate and beautiful. There is a tennis court where you can play night or day. The walls of the units are thick and we never heard a noise from any other unit.
Construction Quality At The Cliff
Since 2007 and the 2022 refurbishment a lot of the construction materials and standards have changed, however, to get an idea of the quality you get; we have included the furnishings that were installed originally by the Developer.
Most condos will have elements of these; however, a lot of the newly purchased condos have been extensively renovated to look completely different from the original apartments for sale by the Developer.
Original Tiling
Travertine floor tiles throughout hallways and apartments 18'x18′, color "Classic", Balconies 12'x12′ color "Classic"
Bullnose Travertine base tiles throughout hallways and apartments color "Classic"
Original Kitchens At The Cliff
Solid wood kitchen cabinets by Prestige Cabinets. Granite kitchen tops
Double bowl stainless steel kitchen sinks
All Kitchenaid stainless steel appliances Architect series
Garbage compactor- Kitchen Aid
Garbage grinder below sink
Self cleaning built in oven / microwave – Kitchen Aid
Electric cook top – Kitchen Aid
Side by side refrigerator/freezer – automatic icemaker and water in the door – Kitchen Aid
Sound insulated dishwasher – Kitchen Aid
Ventless Island hood – Glass and Stainless steel
Garbage chutes to basements conveniently located in external corridors
Original Bathrooms At The Cliff
Solid wood bathroom vanity cabinets – Prestige cabinets Travertine vanity tops 3/4″ thick with Pencil edge
Brand name plumbing fixtures / faucets: American Standard & Delta
Glass Shower stalls
American Standard Hamilton one piece toilets
Bathroom tubs with whirlpool jets – American Standard Colony 5′ System 1 hydro massage whirlpool (6 jets)
Lavatory faucets – American Standard
Above counter vanity lavatories in Master bathroom American Standard
Delta "Monitor" shower Valves
Delta Tub faucets
Bathroom accessories – Franklin brass Polished Chrome
Natural stone wall tiles with trims for bathrooms
Original Laundry Room At The Cliff
Stackable washer/dryers in separate laundry rooms within each apartment at The Cliff SXM.
Doors And Windows At The Cliff
Custom Panel 2 leaf entry doors 8′ high.
Entry Locks by "Solitaire" card swipe
Sliding doors by "Hydro" Van Sluisveld aluminum high quality / screens / tinted laminated glass 5/8″ thick
Windows "Hydro" Van Sluisveld aluminum high quality tinted laminated glass 5/8″ thick
Curtain walls "Hydro" Van Sluisveld aluminum high quality / tinted laminated glass 5/8′ thick
Walk-in closets – Custom cabinetry all wood
Interior paneled wood fiber doors – Jeldwin "Procore the quiet door"
Lever handle privacy/passage locks – Schlage heavy-duty residential AL series " Neptune " Chrome finish
Electrical Components At The Cliff
Décora commercial electrical devices by Cooper "Aspire" style
Recessed ceiling fixtures to kitchens, entrance hallways, bathrooms and closets
Customized bedroom, living and dining area fixtures.
In room digital floor mount safes by KABA systems in Master Closets
Other Special Features At The Cliff
Satellite T.V. (25 channels standard)
Broadband Internet
CCTV through out property
Telephones – outside line and suite to suite
European grade anodized aluminum balcony handrails with 5/16′ tinted glass infill.
Four elevators servicing two 2 and 3 bedroom suites per floor and servicing one 4 bedroom and penthouse unit each per floor – elevators by Mitsubishi 14 person stainless interior. Speed 1.6 meters/second
Events At The Cliff St Maarten
Special Moments At The Cliff, St Maarten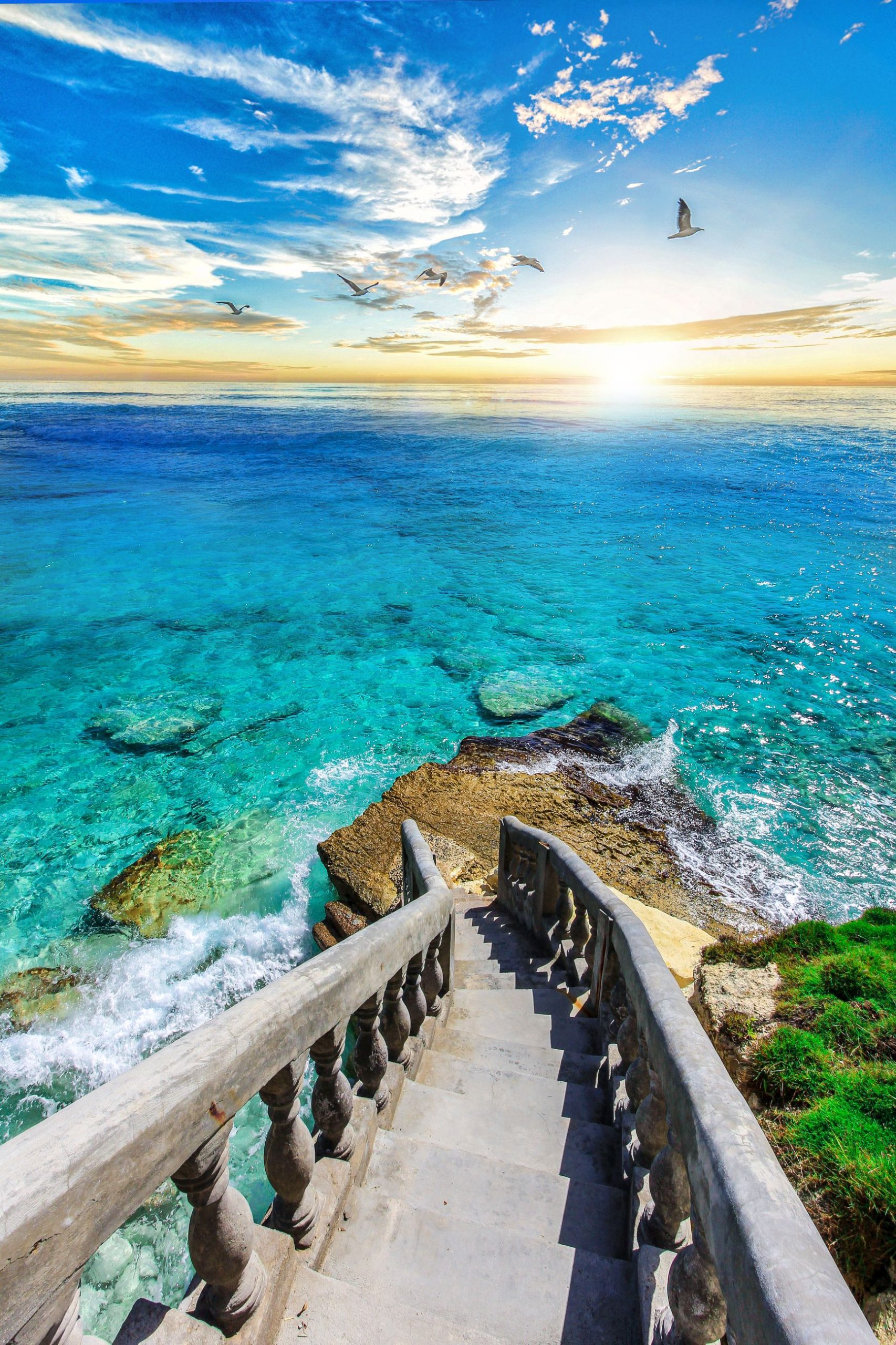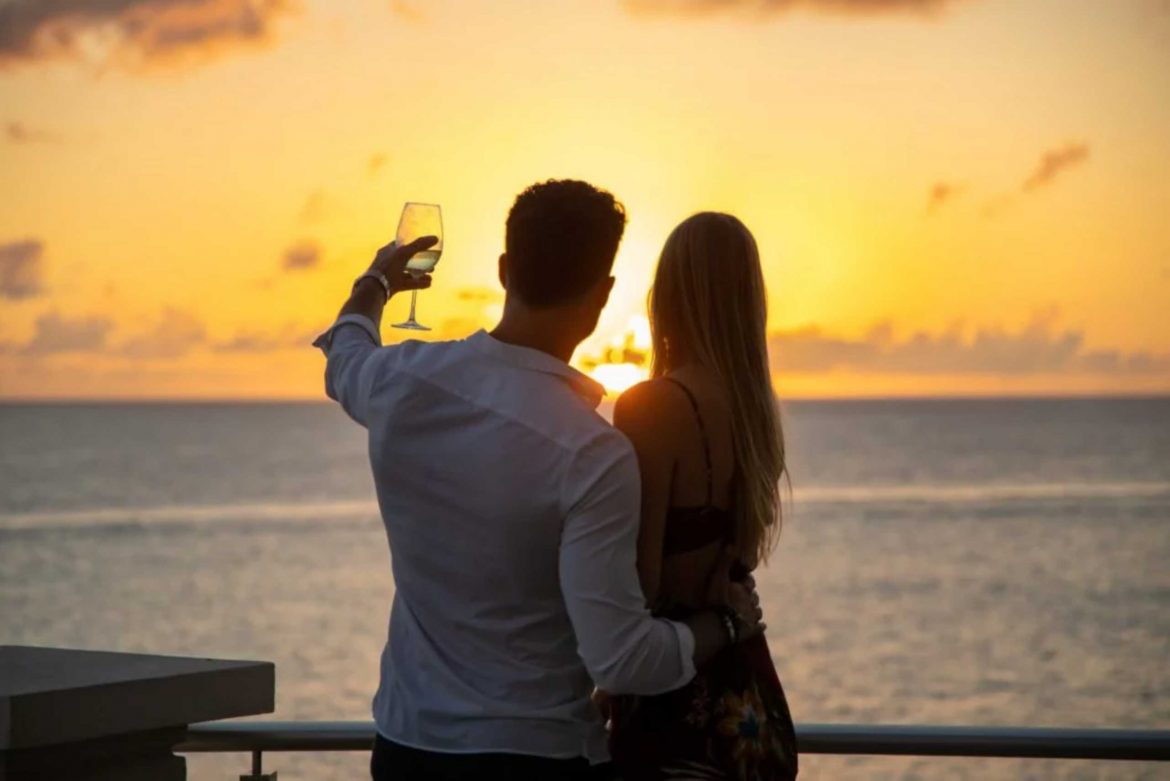 New Apartments For Rent In St Maarten – 2023
Apartments are the most popular choice of rentals in St Maarten. All apartments for rent in our catalog are checked and verified before we present them to you.
Some stay for a few days.
Some stay for a few weeks.
Some stay longer; a few years.
We always have something for you; exceeding your expectations.
View all our long-term St Maarten apartments for rent.
New St Maarten Apartments For Rent
Oceanfront almost-new three-bedroom apartment for rent in Pointe Blanche.
Beachfront Cupecoy Apartment For Rent.
Near nightlife and beach, two-bedroom apartment for rent in Pelican Key.
Modern Indigo Bay Apartment For Rent. Update Sept 2023; Now Rented!
I told you we have the best properties for rent in St Maarten!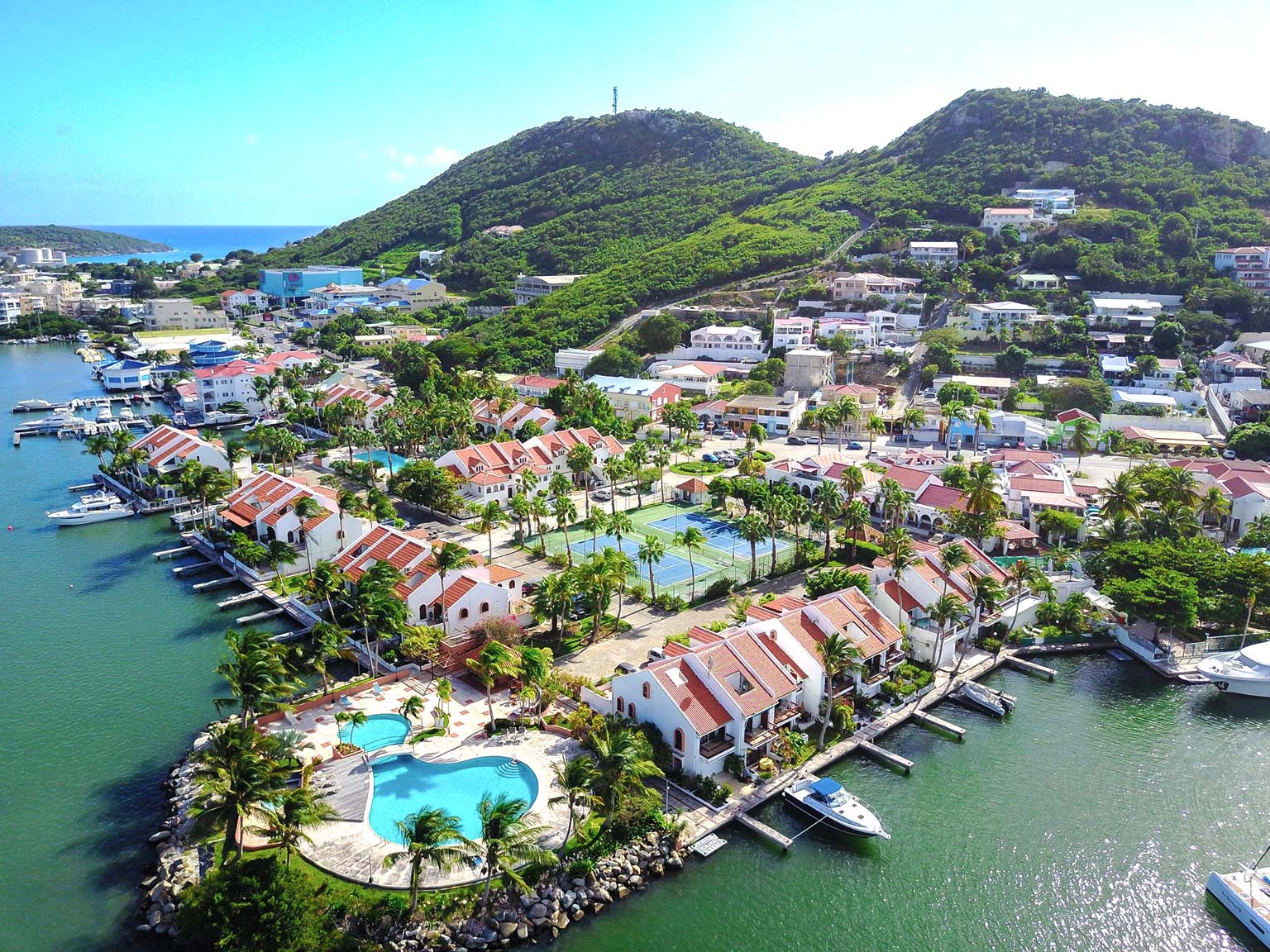 For Century21; St Maarten apartments for rent start from $1200 per month.
This could be a studio for rent, or two-bedroom apartment for rent or even a small villa.
We will do everything possible to find you an apartment rental in St Maarten that fits your budget.
Important
We have hundreds of apartments, condos and villa for rent available right now!
Not all the properties are on the website; so please contact us using the Quick Message form on this page.
We will respond within 24 hours.
In the event your inquiry is urgent; send us a WhatsApp message on +17215263194.
Looking forward to meeting you soon.
How to Rent A Property in St Maarten
Contact us with your monthly budget, required bedrooms and preferred location.
Within 24 hours the Rental Specialist will either give you a tour of rental properties in St Maarten that meet you requirements or email you options.
Once you have decided on a property; the process is simple.
Century21 will prepare a Rental Agreement between you and the owner of the property.
To secure the property we will require a Security Deposit. This is usually twice the monthly rent. Example: If the monthly rent is $1000; you will require $2000 to secure the property.
Thats all! Its very simple to rent a St Maarten apartment.
New Apartments For Rent
What makes our apartments for rent different is that we always get new properties first.
We are trusted through every level of the industry.
We may not have the lowest priced rentals, but we focus on the 'St Maarten experience' while giving the best value for your money.
Owners of new properties understand that we find the best tenants; like you!
Banks, lawyers, Government; everyone trusts Century21 St Maarten.
To prove this; just look at our awards!
We have won the Best Real Estate Agency award for 11 years now!
Call me on +17215263194.
What is the Century21 St Maarten Guarantee
All properties are quality-checked.
Most of our properties are virtually new; so you will get the best apartments in St Maarten first.
We will support you along the entire length of your rental agreement
In case of any landlord problems we will always be there to provide guidance
Highly trained RENTAL AGENTS – The best in SXM
Available everyday and anytime for your peace of mind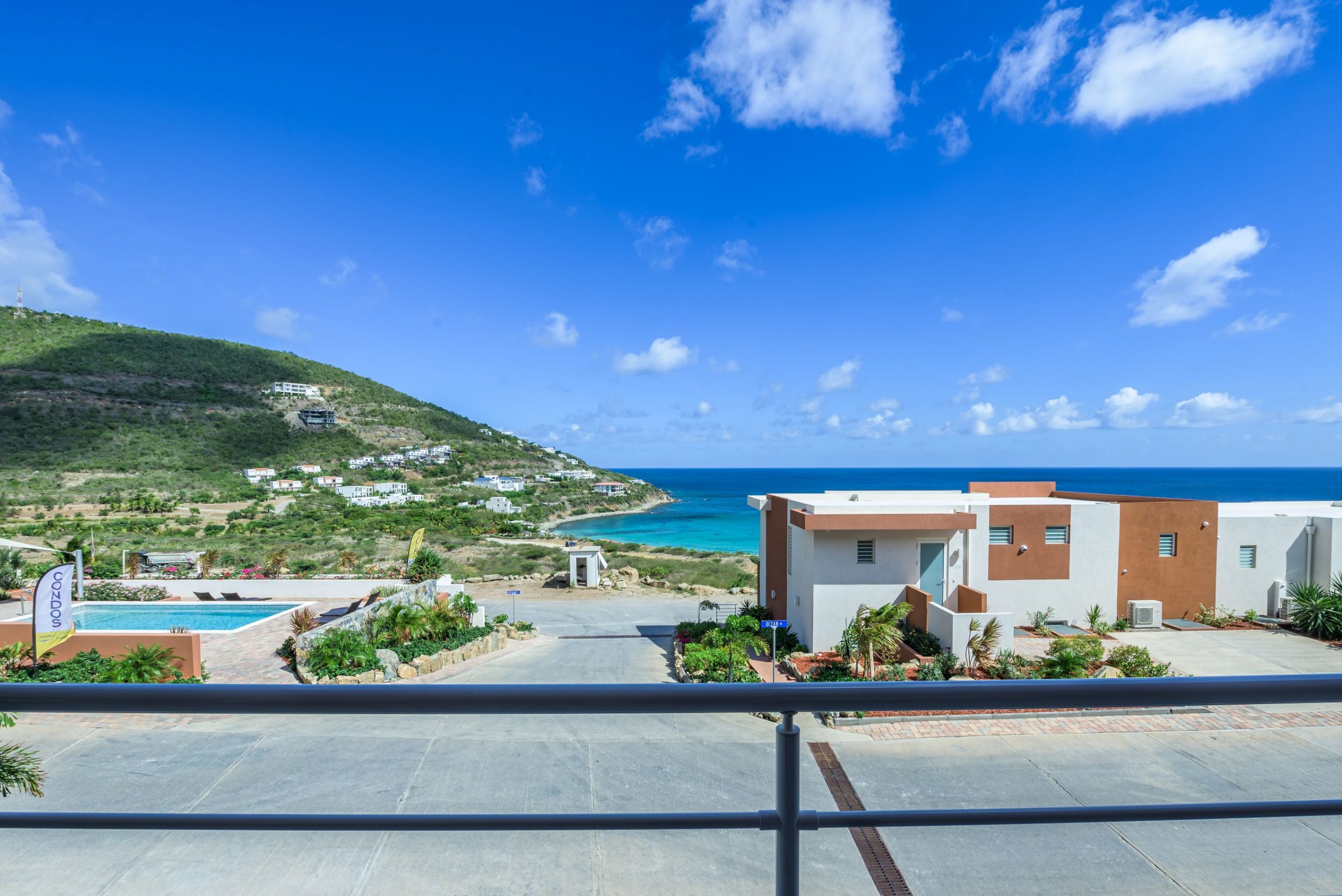 What Are The Rental Laws In St Maarten
In general, the Property Rental Laws in St Maarten are more favorable towards the tenant.
In Sint Maarten, a landlord and tenant are allowed to strike an agreement on the amount of the rent when the property is higher than what is called "liberalization rent limit" which is €604.72 or a little over $700 each month. However, rental properties valued lower than the mentioned amount are regulated by the 1979 Residential Tenancies Act. This stipulates the amount of the rent is based on the "residential points system", which factors in property features such as floor area, facilities, quality, and position. Higher residential accommodation points fetch a higher monthly rent. Sint Maarten's Huur Commissie, or Rent Committee, is a government entity that serves as a rent tribunal and is responsible for resolving rent disputes, decreasing /increasing rent, and approving evictions, to name a few.
Rate increase
While the Sint Maarten government prescribes the maximum percentage of rent increase, a landlord is allowed to raise the rent on an annual basis. In rental properties that rate over the liberalization limit, the Residential Tenancies Act (Rent) is not applicable for the most part. This means landlords of such rental properties may increase rental fees as they see fit each year.
Landlord and tenant rights
Temporary tenancy arrangements are non-existent in Dutch law which means a basic rental agreement may run for an indefinite period of time with a minimum of 12 months. Rental contracts drawn up for a limited time will be converted into unlimited coverage agreements when the first period expires.
In situations where a notice needs to be served, a landlord may only do so under strictly defined conditions. This also makes evictions extremely burdensome, especially when it comes to long-established tenants. In Sint Maarten, although the courts have the authority to cancel contracts, they still need to wait three to six months after the landlord had served the eviction notice. For fixed-period contracts, the landlord can only serve the notice near the end of the period. An eviction notice must have the authorization of the Rent Committee. An eviction is illegal if it is without the permission of the Committee.
When the tenant has missed some rent payments, it is not generally considered grounds for canceling the contract. In such cases, an order of payment may be sent by the landlord. A tenant is considered in arrears if rental payments have not been made for at least three months and runs the risk of eviction.
Another situation where a tenant can be compelled to vacate the rented space, thereby ending the lease agreement.
Deposits
Landlords in Sint Maarten will often require two to three-month deposits. If the rate is lower than the usual market rate, a three-month deposit is usually more acceptable.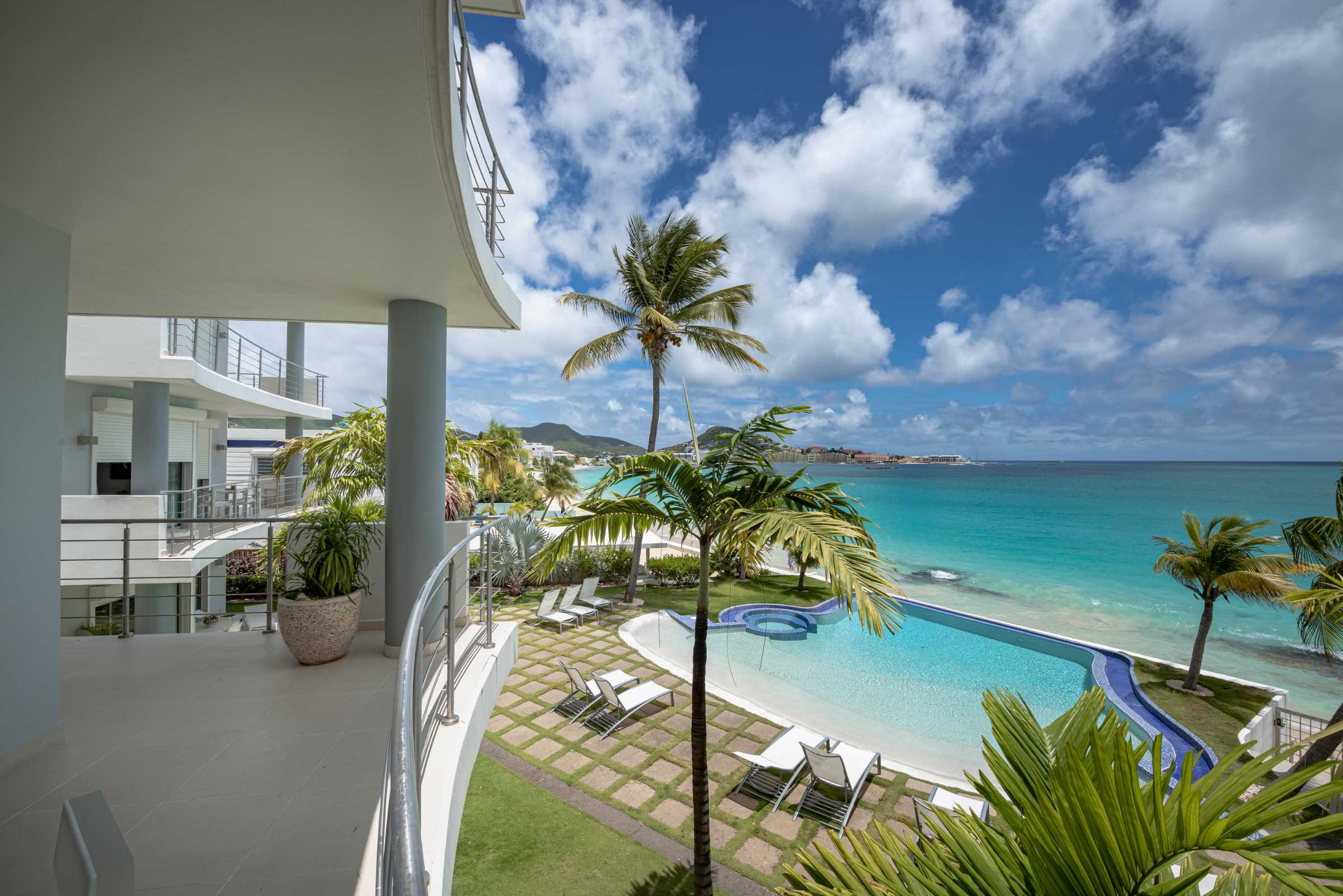 Benefits of Renting a Home
If you plan on coming a lot to Sint Maarten, buying a villa or condo is certainly a wonderful idea that involves a great deal of time and planning. But have you ever considered renting an apartment in Sint Maarten? Read on and find out why you should consider renting first before finally taking that big step.
Less cash to put upfront – less risk!
Sure, renting is not without its upfront costs that you need shell out money to. There is a security deposit, application fee, or maybe even a reservation fee. Compared to how much you'll pay for the down payment and closing expenses for a St Maarten property purchase, renting costs a lot less. Monthly payments for rent may be a bit higher than monthly mortgage payments, but when you rent your home there's no need to think about property taxes or home repair costs on a regular basis.
Less worries
You're making an investment when you buy a house – and like any investment, it comes with some risks. Real estate prices plummet when the market crashes and directly affects the value of your home. That is a non-issue if you're renting. If you own your home, think about the potential emergency repairs you'll be spending a good amount of money on. Sint Maarten is visited by hurricanes regularly, so house maintenance and repairs can be tricky
When you're renting, the biggest risk that you would likely take is ending up not liking the place you rented – a far cry from getting worried about your property's value crashing down.
Freedom and flexibility
You need to move to, say, the other side of Sint Maarten. If you're renting, breaking a lease is far more convenient than having to go through the motions of selling your property, especially if time is a critical factor. Also, for people who don't like the idea of "buyer's remorse," renting is always the way to go.
Don't go paying for repairs
Most home repairs and the costs that come with it are your landlord's responsibility. Check your lease contract, you may be required to pay part of the repair costs if the problem was directly caused by you. Still, it's a more favorable situation than having to pay a contractor on your own.
Less Anxiety
Renting allows you to budget efficiently simply because you're locked into a fixed monthly rent for the duration of your lease contract. You know your outgoing and can plan accordingly. This is increasingly important in today's fast-paced modern world.
Forget the small house works
People who rent won't need to think about cutting the lawn, repainting the fence and outer walls of their rented house, declogging the roof gutter, and other menial house chores that you'd likely have somebody work on. If you're the type who'd rather hang out with buddies over the weekend and not do all sorts of house repair, definitely consider renting first.
No need for upgrades
You'd likely hold off on updating that old kitchen or living room due to the simple fact that you're renting. Homeowners, on the other hand, are responsible for improving their homes, especially those who plan to sell their property somewhere down the line.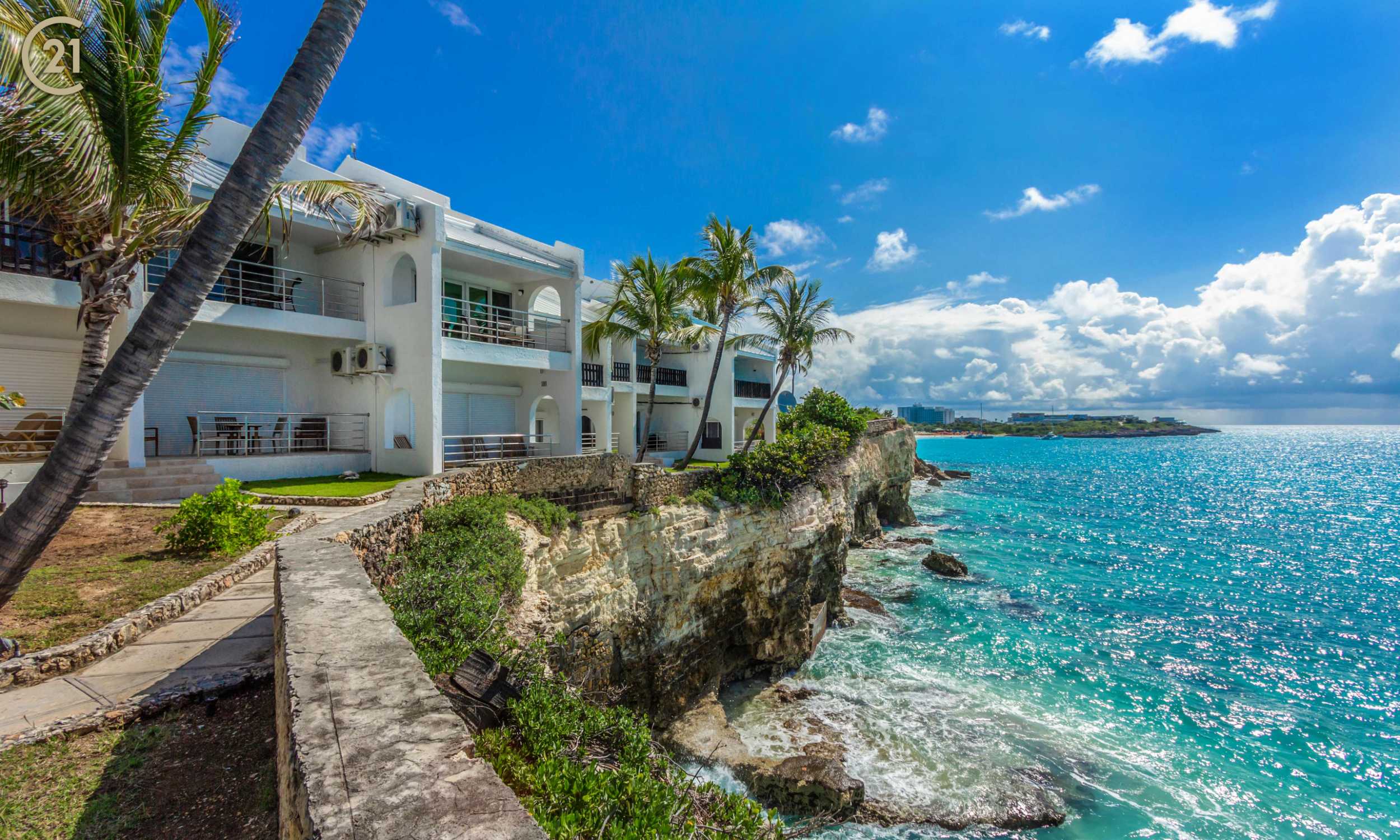 Things to do before renting a property
Getting ready to go searching for St Maarten apartment for rent? Take these tips along with you when you do.
Check out the neighborhood
For most people, renting a St Maarten apartment isn't a permanent situation. But that doesn't mean you don't need to put in some research on how your would-be neighborhood stands in terms of safety, convenience, and proximity to essential amenities and establishments. Be sure to check for nearby grocery stores, hospitals, restaurants, gyms, and schools. A Century21 agent will always have this information available.
Know the previous tenants
Try to dig up some information about previous tenants from the landlord. If the tenants that came before you stayed for a considerable time, it's very likely that the St Maarten apartment is fairly priced and a good apartment to live in. Short lets may hint at bad landlords or unpleasant neighbors. There are tenants who may have left damages in the house that need serious attention or are being chased by creditors.
Devil in the details
Before signing on the dotted line, take time to go over the details of the St Maarten apartment lease. You can get a Rental Specialist or an attorney to make sure everything is in order. If you have pets or plan on having one, the lease should contain a policy about it. It should also have a provision about upkeep and maintenance expectations, payment schedules, breaking lease policies, security deposits, and subletting, to name a few.
Real estate agents and attorneys in Sint Maarten recommend checking the details listed below as contained in the Rental agreement:
The names of the tenant/s, landlord, and the complete address of the property being rented.
Start date of the tenancy.
Policy on other people using the property.
The nature of the tenancy as evidenced by the appointment of an expiration date or not.
The exact rent amount due, the payment schedule and cycle.
The break clause, or the grace period the tenant and the landlord agree to give in case the lease will be ended within the fixed term.
Provision for a rent book in a weekly tenancy setup.
Inspect the property
If you're required to put in a security deposit and you'd like to get it back, do a thorough inspection of the place and snap pictures of pre-existing damage you can possibly find. Send the pictures to the landlord. It is also great to request for a copy of the move in/move out checklist.
If the property is furnished with kitchen appliances such as a microwave oven, freezer, dishwasher, or fridge, make it a point to report any damage as soon as possible. You'll need to be clear as to whether the landlord will replace or repair the appliances when needed. And be sure to get in writing.
Another important detail to look out for is the water pressure. Check the taps and the shower – any problems must be addressed by the landlord before you sign the agreement. Also, check for any signs of pest infestation that may be being caused by a defect in the property.
Keep an eye out for the following when conducting the inspection. These telltale signs may tell you something about the property's condition.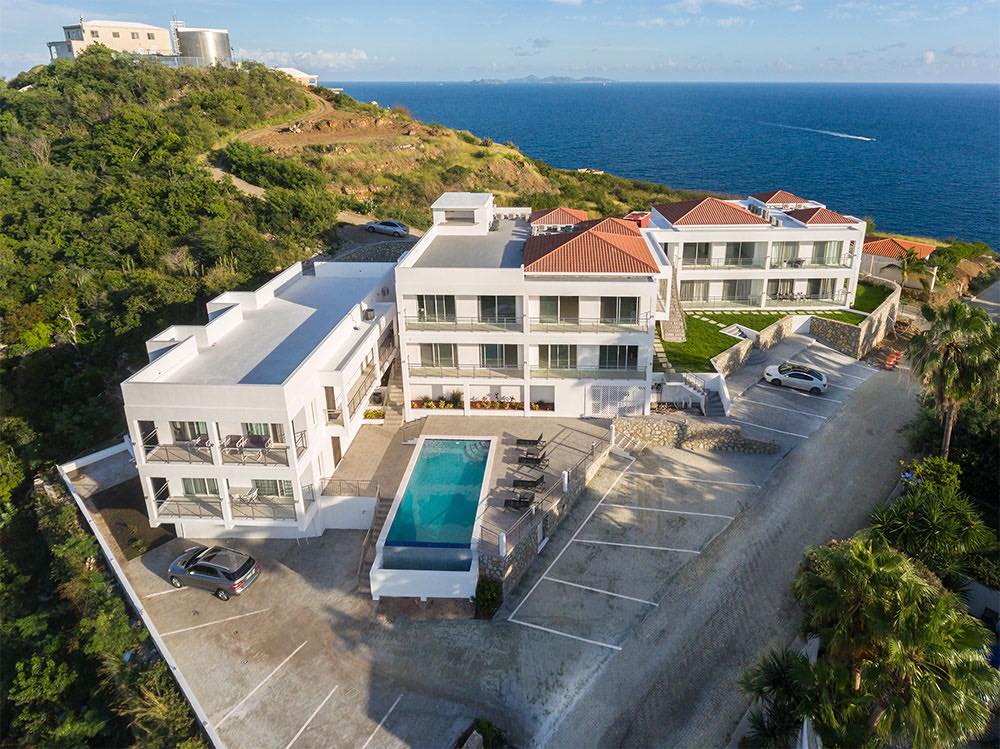 St Maarten Apartment Rental Tips
Something doesn't smell right
Foul-smelling odors are something to watch out for when inspecting a rental home. The good thing is it is one of the easiest things to discover and a sure sign that a property is not in the best condition. Pungent odors similar to that of rotten eggs or sewage could mean plumbing issues. Other common odors to watch out for are the smell of gas leaks, dead animal, mold and mildew. Take note of the unpleasant smells and talk to the landlord about it. Consider it a potential red flag, should the landlord look disinterested or just shrugs off your concern.

Burnt out light bulbs
If you notice a number of light bulbs not working, it's hard not think about what the landlord is doing not doing the simple task of changing a few light bulbs, especially if there are prospective renters looking at the place.
Poor quality of indoor air
Ask the landlord how often the air conditioning, heaters, air ducts, and HVAC are maintained. Poor maintenance of these systems cause poor air quality circulating within the house. Be sure to check the carpets as well – unkempt carpets are breeding grounds for dust mite and allergens that can easily cause sore throat and swollen eyes.
Broken appliances
With fully furnished rental properties, be sure to check all appliances are in good working condition. Appliances that are not working must be repaired or replaced by the landlord. Equally important is the cleanliness of the appliances –nobody likes a grimy refrigerator or microwave. A landlord who can't keep the appliances well-maintained is likely not doing a good job maintaining the whole property either.
Dirty carpets
If the property has carpets, check if it is heavily stained or exceedingly dirty – it should not be the case. Normally, a landlord should replace soiled or heavily damaged carpet. If you see the carpet in such a sorry state, it should raise a red flag as well.
Discolored ceilings
Watch out for brown or yellow stains on the property's ceiling as these may be a sign of serious water damage. Water leaks usually originate from burst pipes, leaking appliances, roof leaks, backed up toilets, or a leaking bathtub
Broken smoke detectors
Smoke detectors beeping around the property without the landlord taking action may be a potential cause for concern. If a landlord wouldn't spare a short moment to fix a simple, yet crucial smoke detector problem, it's troubling to think about what other issues are not getting his attention.
Low rate rental
if the offered rental rate is a bit low and sounds too good to be true, it is more than likely to be true and may not be in the best condition. This where your price research will prove to be very useful.
Signs of pest infestation
Be on the lookout for spider webs, mouse droppings, ants, or termite pellets inside drawers, cabinets, and closets. Talk to the landlord about it and find out if there is something being done about the problem. If no action is being taken, you may want to look somewhere else.
Improvement before moving in
If you want a few things done (e.g. repaint walls, steam-clean carpets), take it up with the landlord to get it done before signing anything and making any payments. In most cases, a tenant has the right to make a request to the landlord prior to moving in; however, the landlord cannot be compelled to do the task until a lease agreement is set up.
Get a renter's insurance
In the event of a fire, natural disaster, theft, or break-ins, a landlord's insurance will usually cover the whole property but not your particular belongings. A renter's insurance is a good investment if you're the type who makes it a point to cover all the bases. A renter's insurance can provide assistance in replacing household items with water damage, theft, or fire.
Set up auto pay for the rent
If you tend to forget important dates, you'd want to make sure you don't miss a month's rent. Get set up for automatic billing so the rent payment is received by the landlord on schedule. It is one less recurring payment to remember each month. If the landlord does not take online payments, go analog by simply marking the date on your calendar.
Get it fixed
Make it a point to inform the landlord about any problems in the home that need to be repaired. Alert the landlord early on when something is broken or damaged – don't wait for the problem to get worse. In most situations, the landlord is responsible for the repair costs. Once the problem is fixed, inform the landlord accordingly.
Customizing features of the rental property
If you need to change that ghastly wallpaper in the bedroom or get some minor interior design works done, don't do anything until you've spoken to the landlord and given permission to go ahead with the repairs.
Foster good relations with your landlord
No need to get too chummy or become the best of friends. A respectful and cordial relationship could go a long way in encouraging healthy communications involving issues about the rental property, particularly with making maintenance requests, breaking lease early, or even finding a temporary subletter.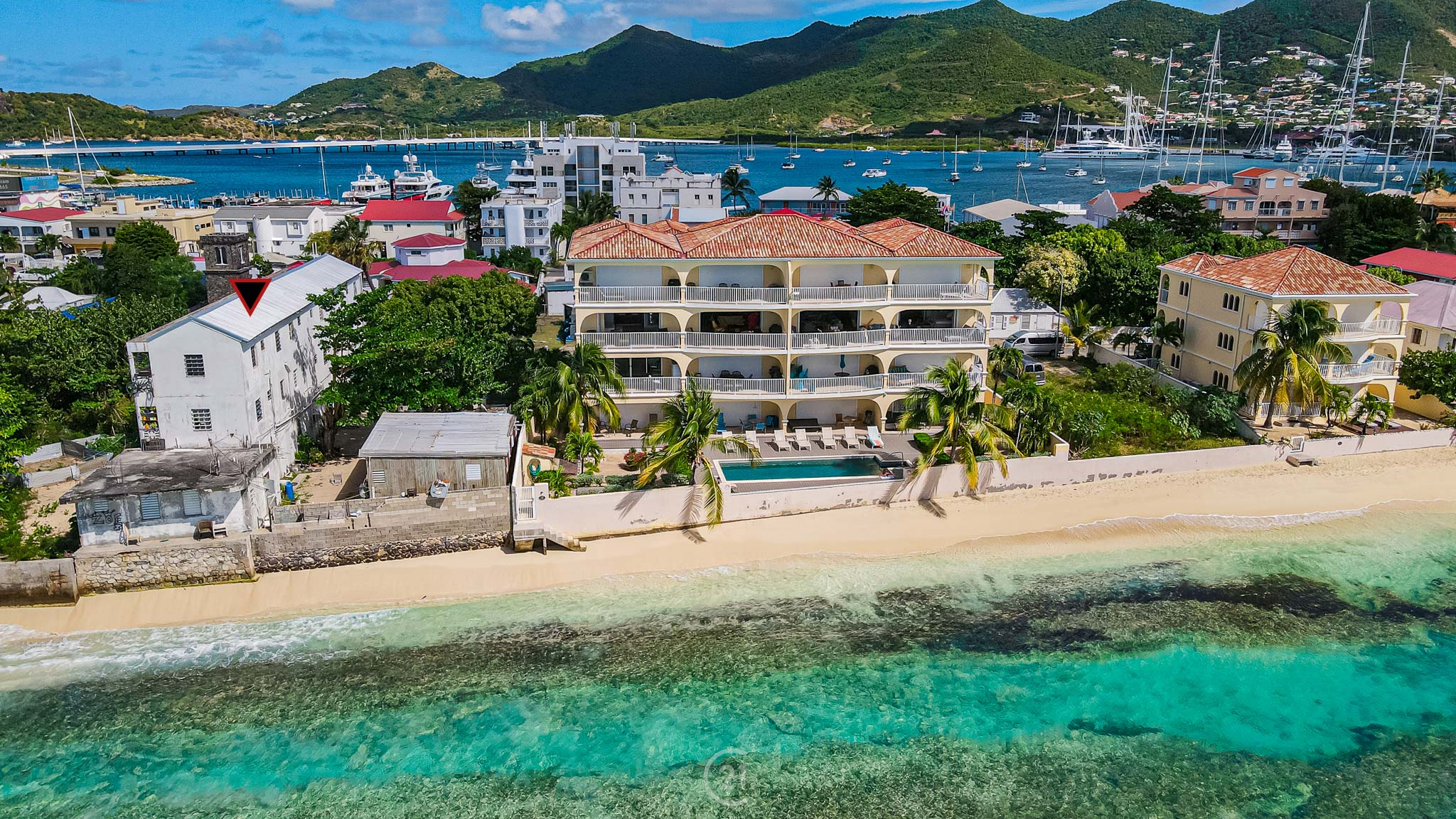 Thank you.
We look forward to meeting you.
Call me on +17215263194.
We have won the Best Real Estate Agency award for 13 years now!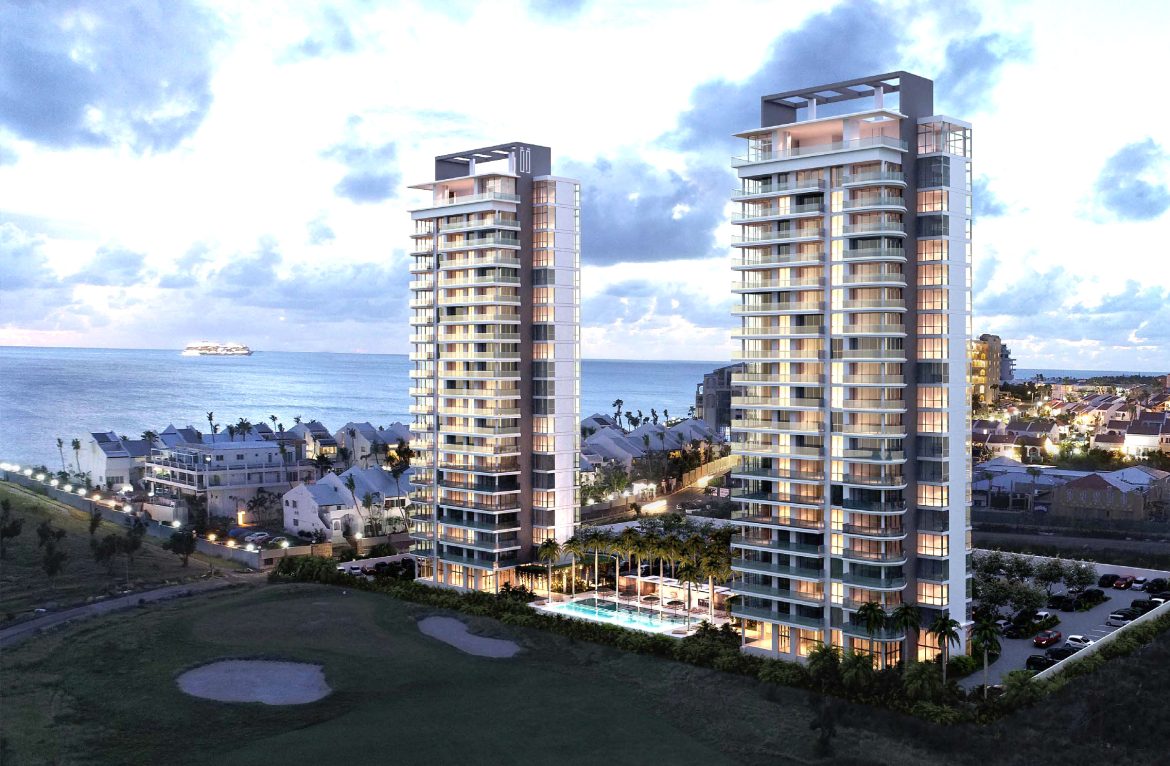 Fourteen Towers SXM Construction Update 2023
$100 million in sales at Fourteen Mullet Bay! 21-level high-rise towers called "Fourteen" in Mullet Bay are shaping up to become emblems in St Maarten and continues to WOW everyone with demand being relentless!
Developer of the massive project Frank Teboul has now launched a new development Aqua Cupecoy.
For Sale At Fourteen Residences, St Maarten
Call Ritika +17215261819
We can present the property to you TODAY!
February 2023 Fourteen Pool Lounge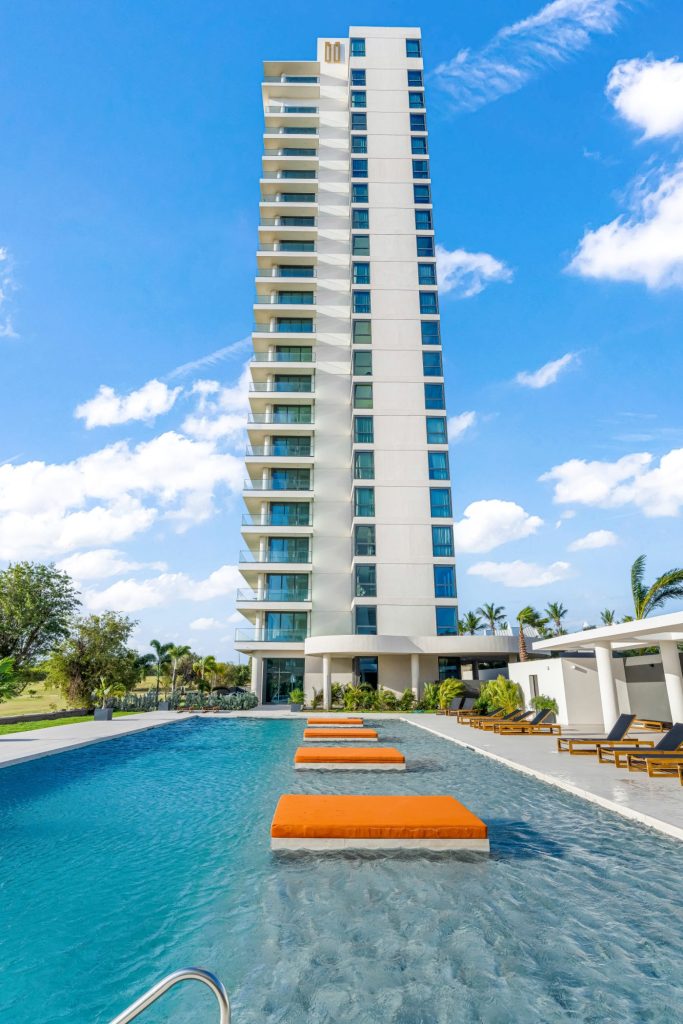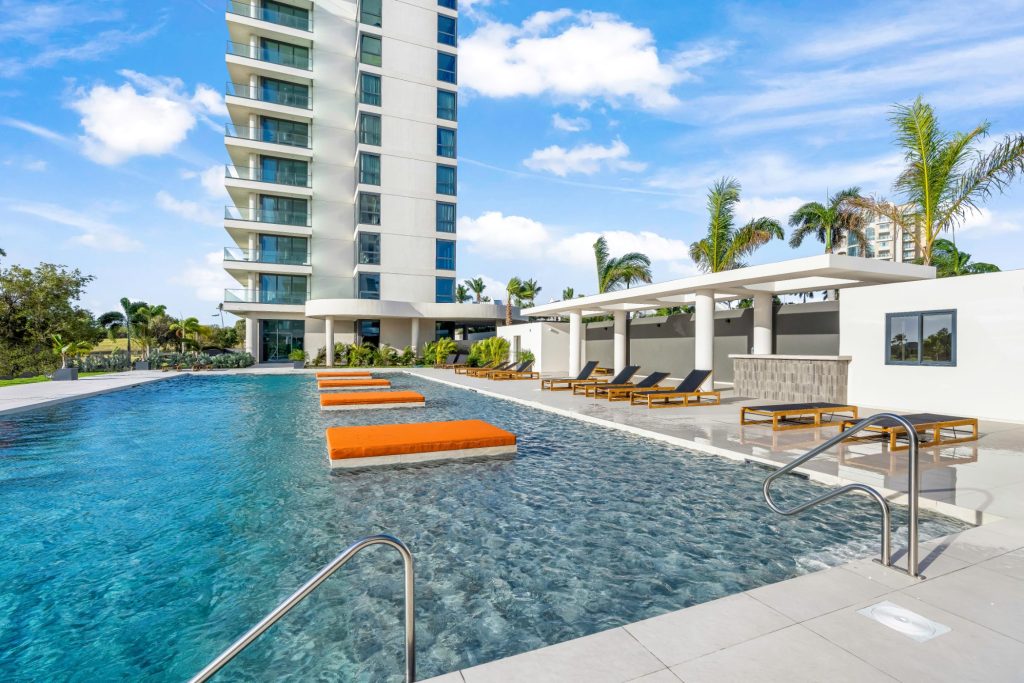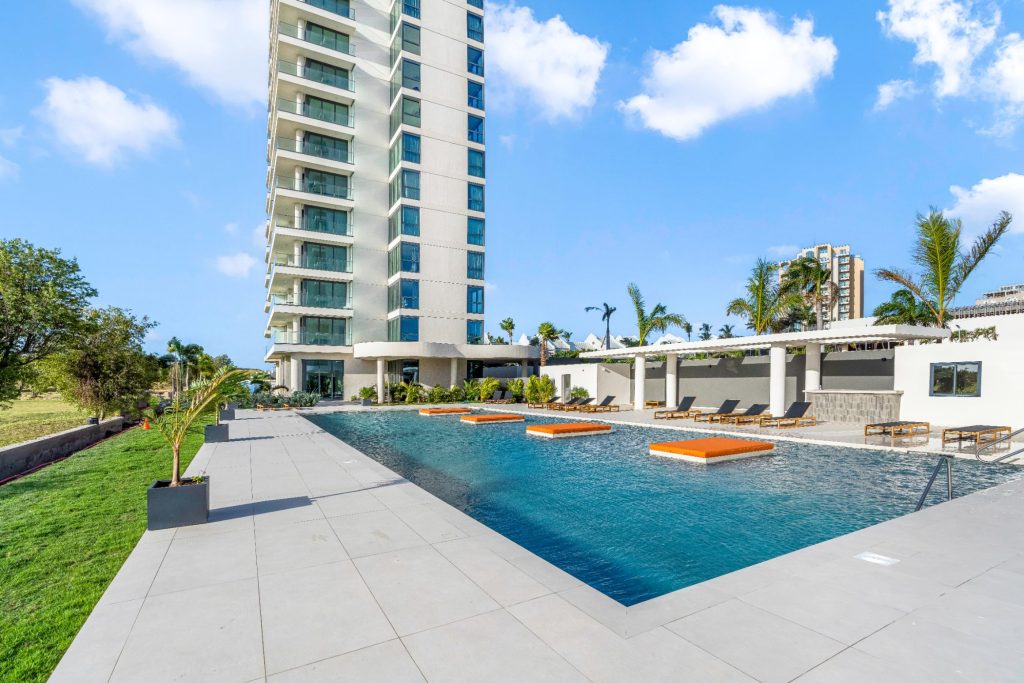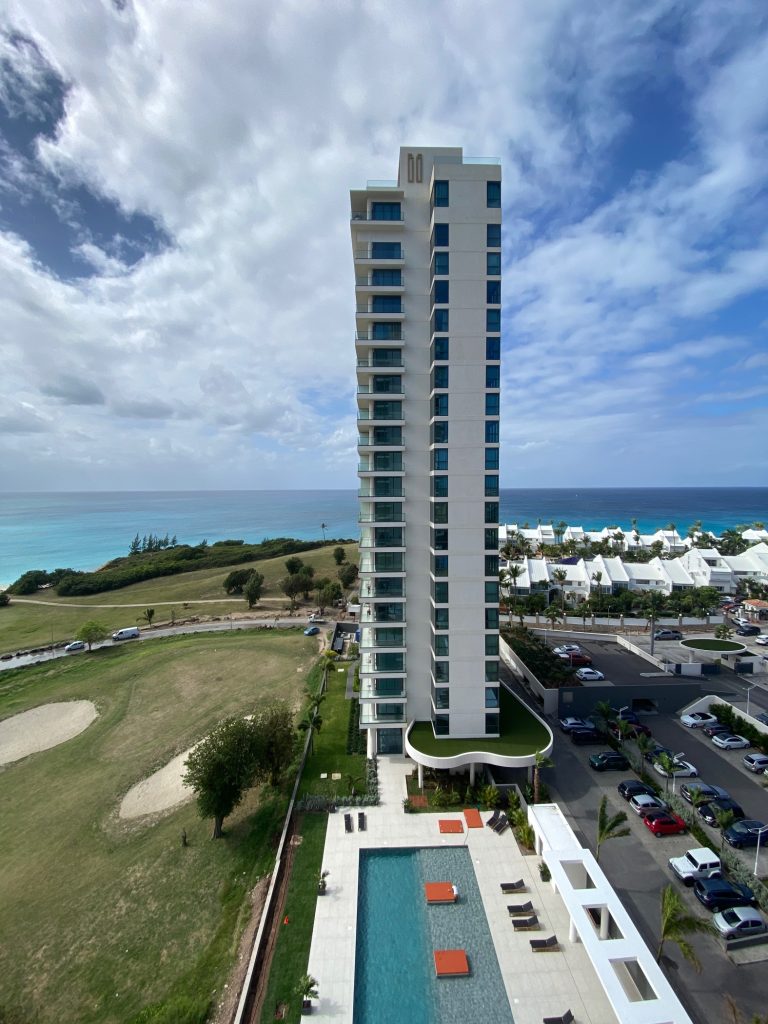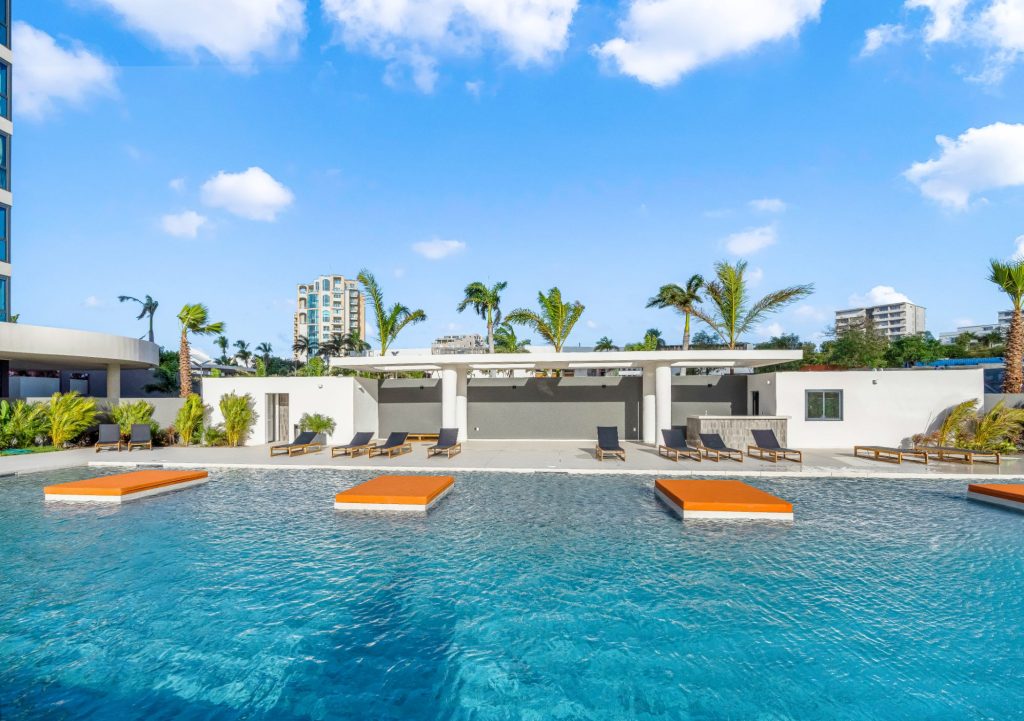 Fourteen Tower A Common Area Photos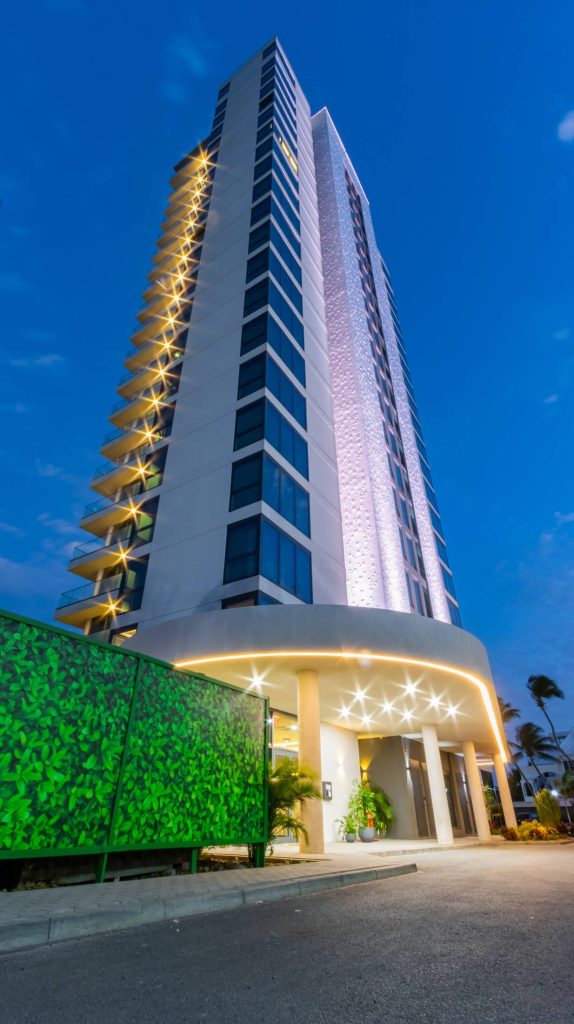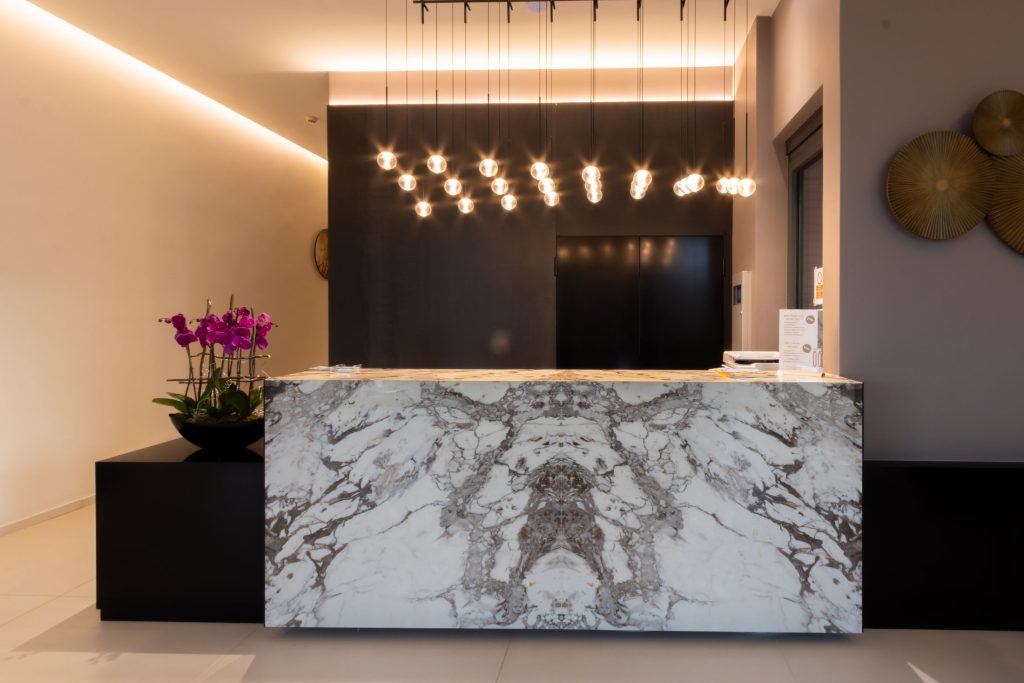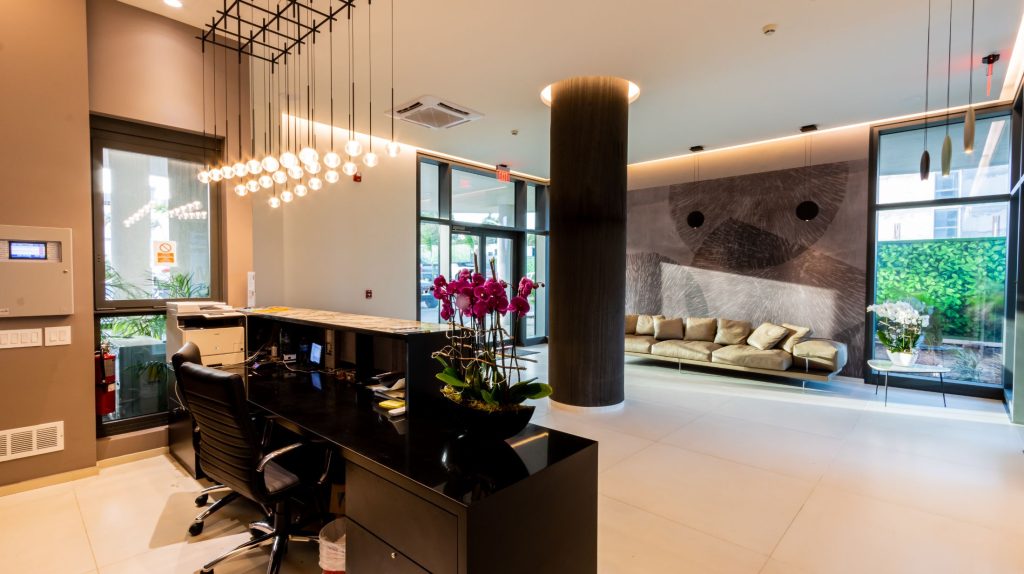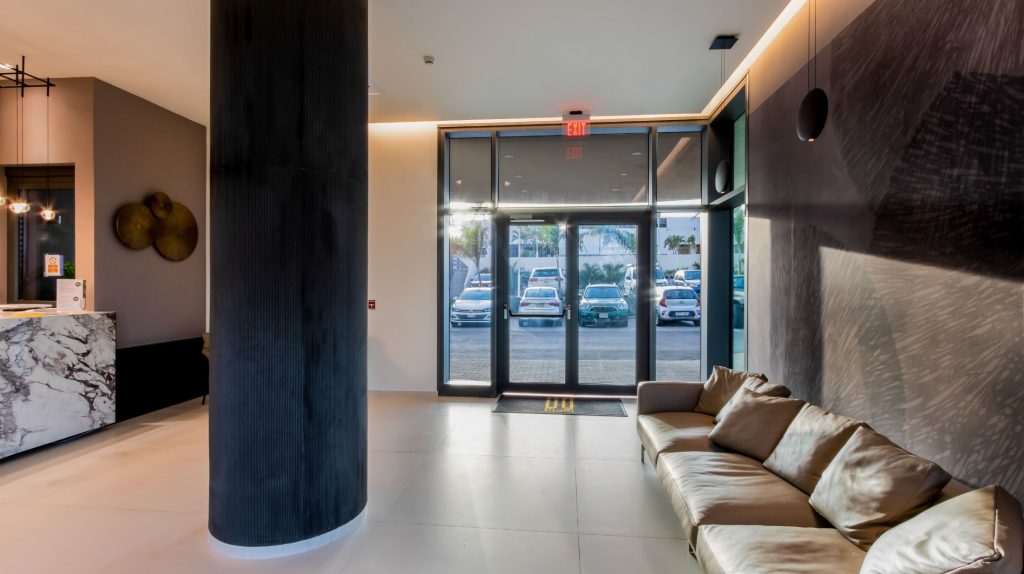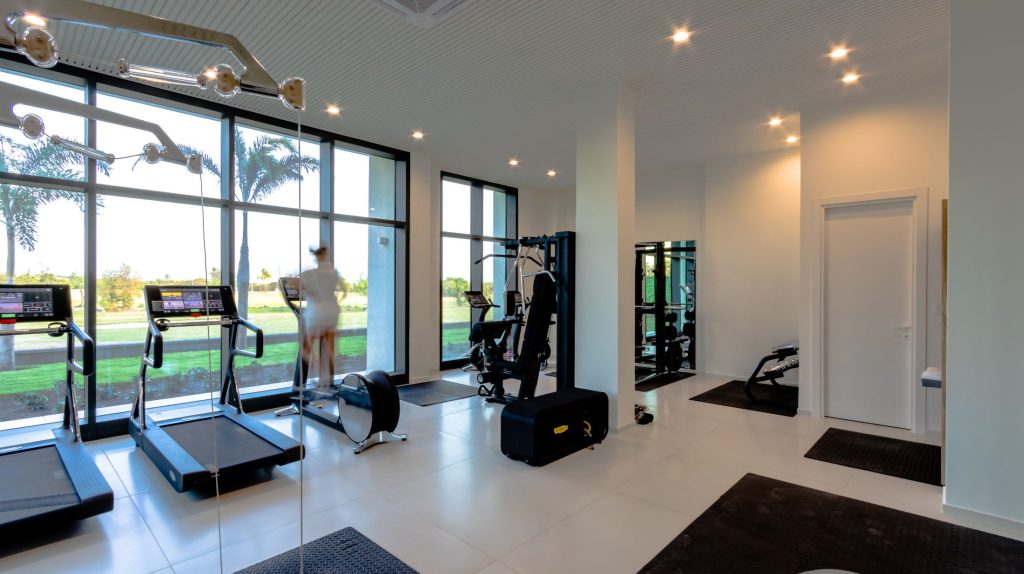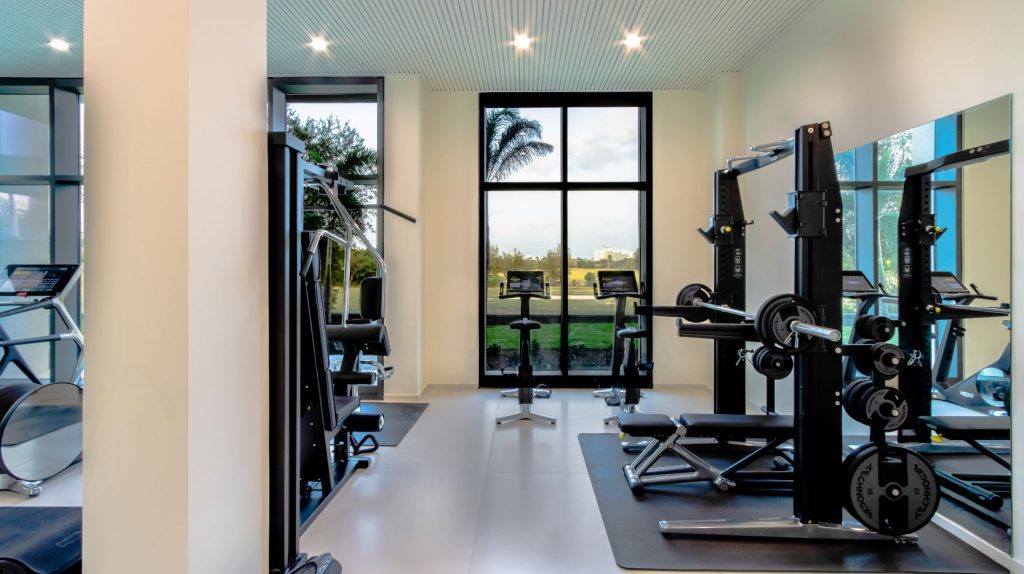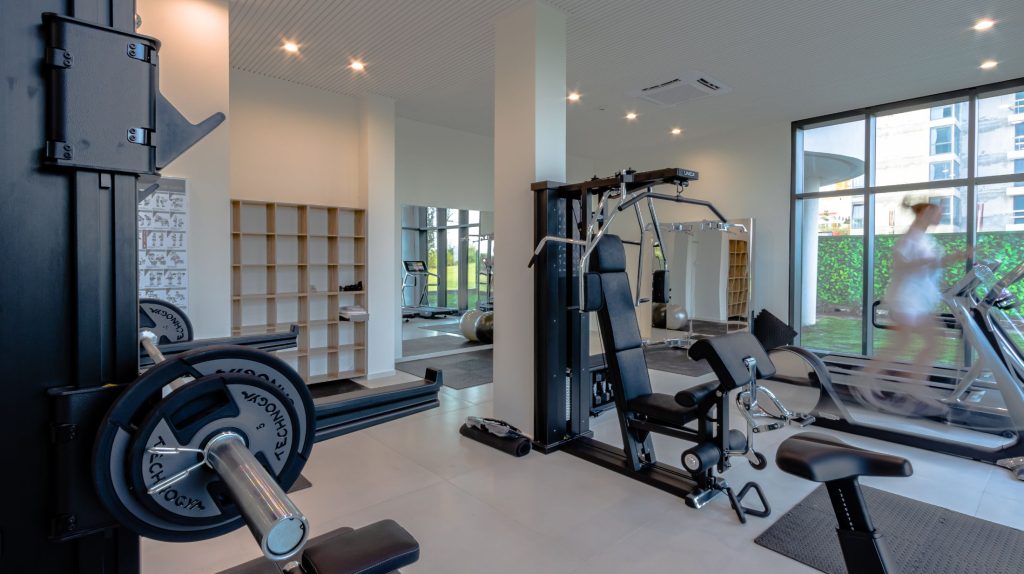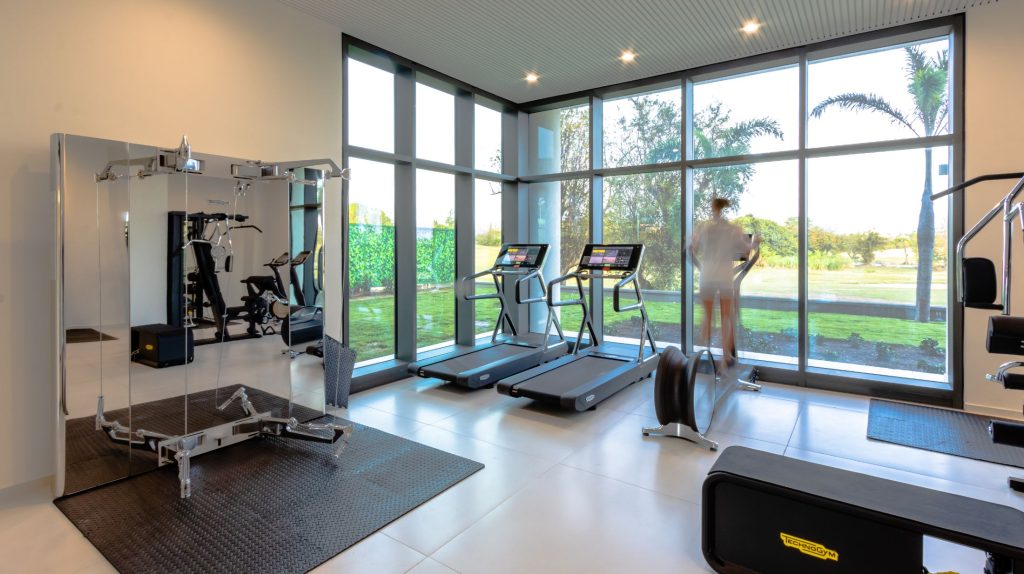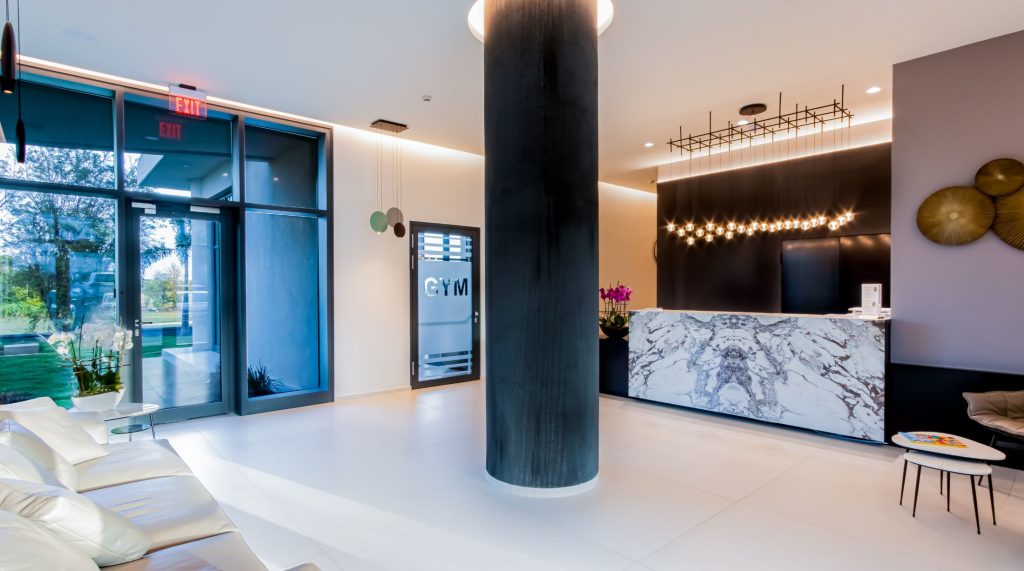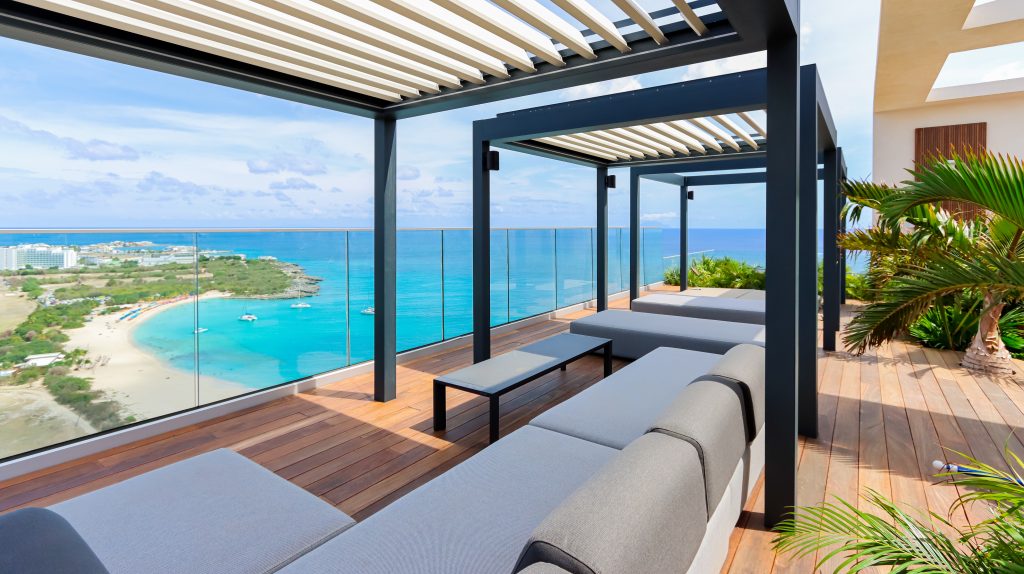 Fourteen Towers is St Maarten's best new development located in upscale Cupecoy right opposite the world-famous Mullet Bay beach.
Absolutely incredible unobstructed views.
New construction techniques ensure total safety.
St Maarten is at the forefront of innovation.
April 2022 Update
Tower B has reached the 19th floor at Fourteen SXM. Almost there!!
Tower A residents have moved in and apartments are also now available for rent starting from $5000 per month for a 2 bedroom apartment on higher floors.
Fourteen SXM Site Plan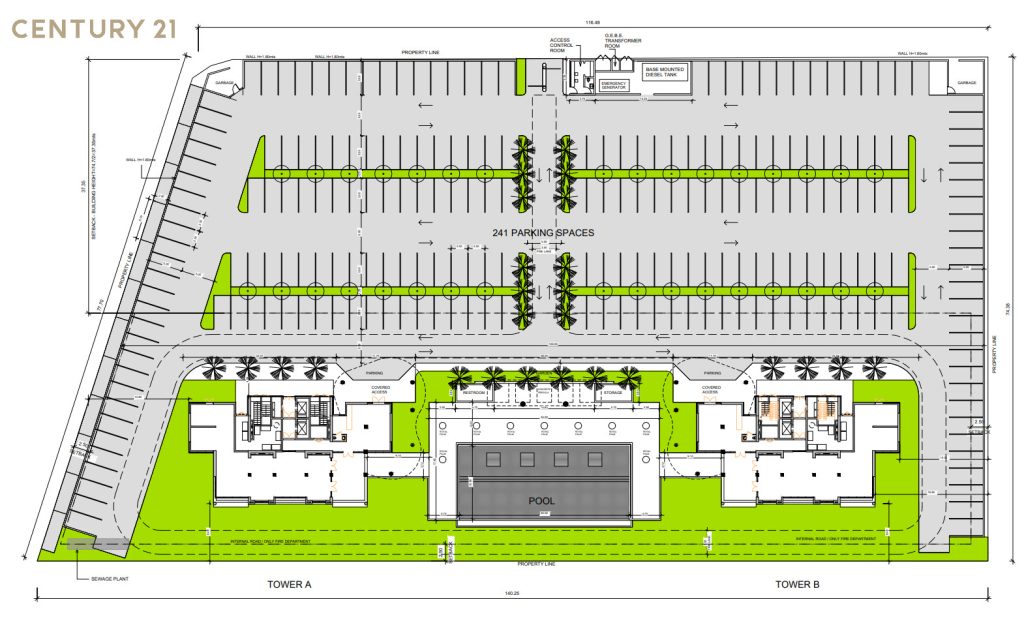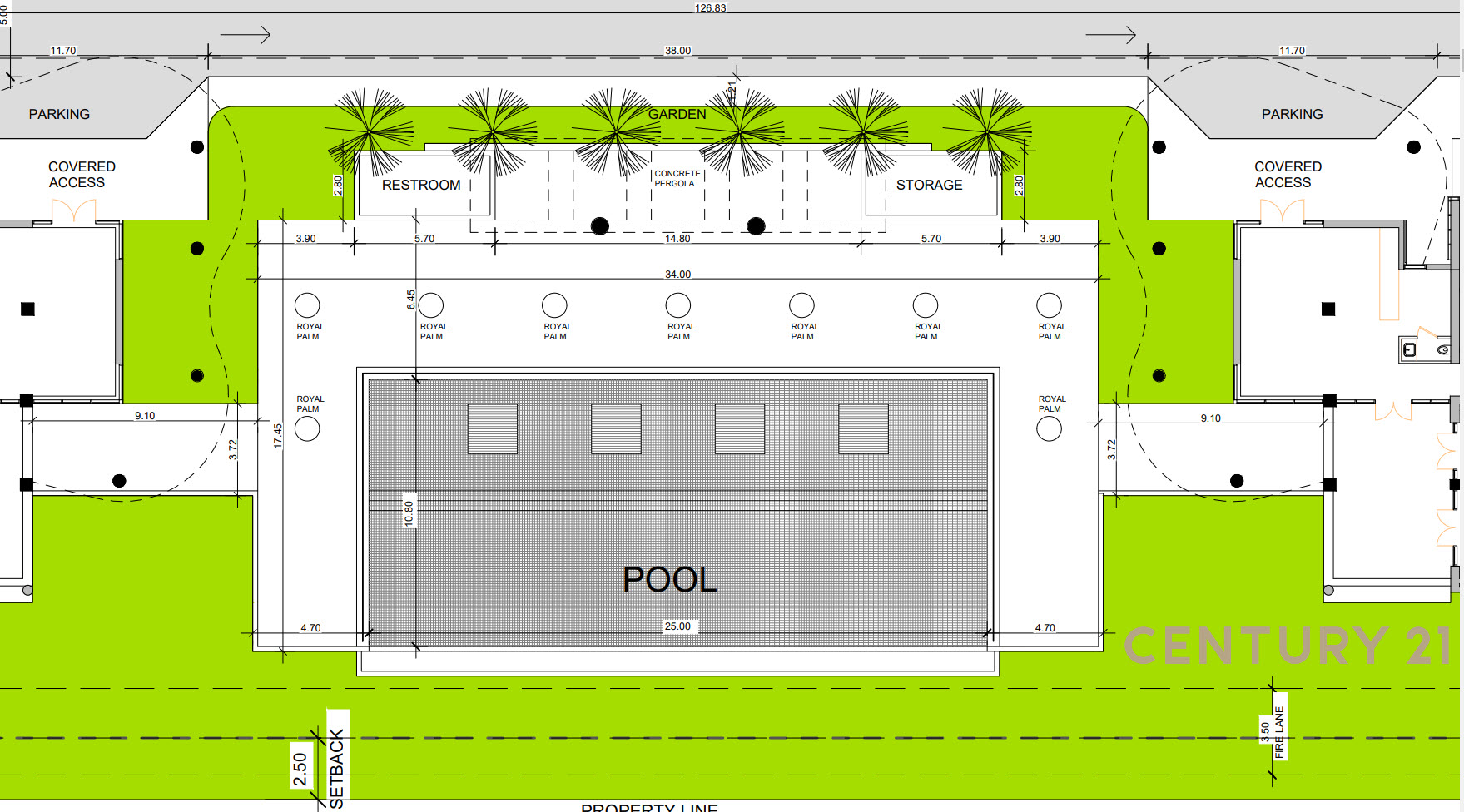 Fourteen SXM is changing Cupecoy.
Building a city within a city!
Top-secret plans!
Ask me.
Ritika on +17215261819
January 2022 Fourteen Towers Construction Update:
Already over 15-floors of the concrete shell is ready for Fourteen Tower B to be complete.
We have spoken to the Developer and Frank Teboul says that construction on Fourteen Tower B is going according to plan.
Sold in Fourteen SXM Tower A
Photo of Mike with Fourteen Condos Developer Frank Teboul. Call Ritika now to reserve your condo.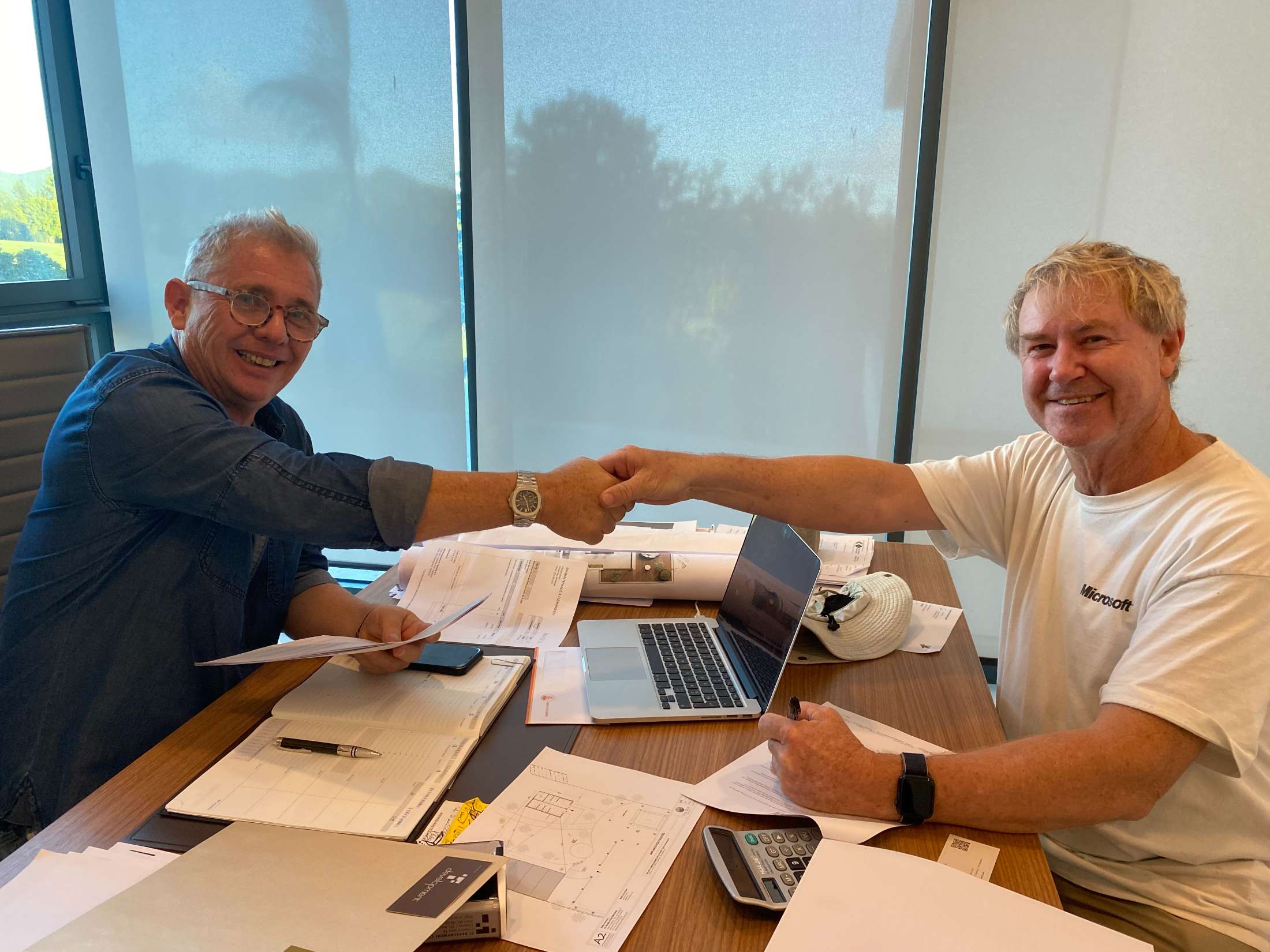 January 2022 Photos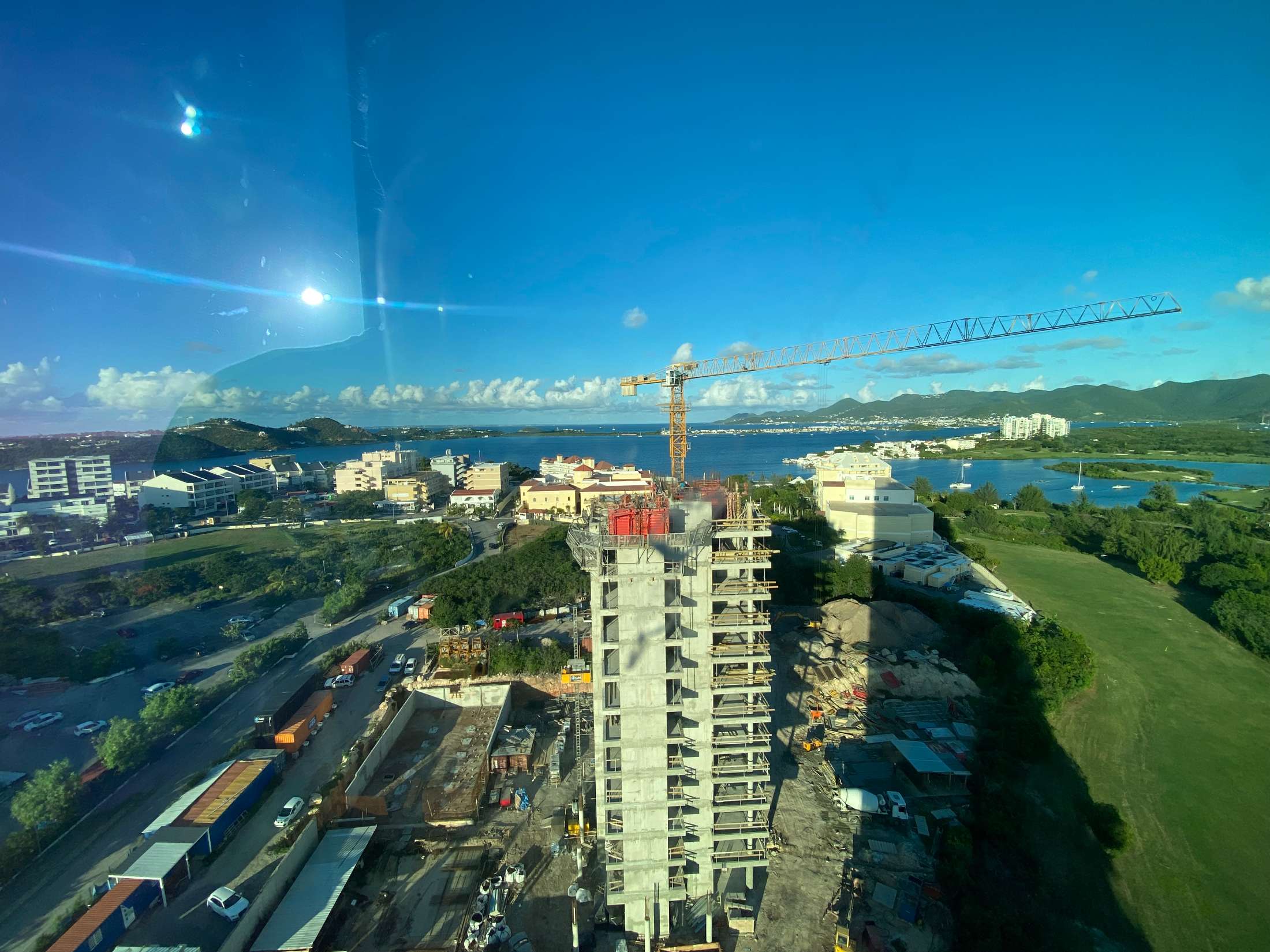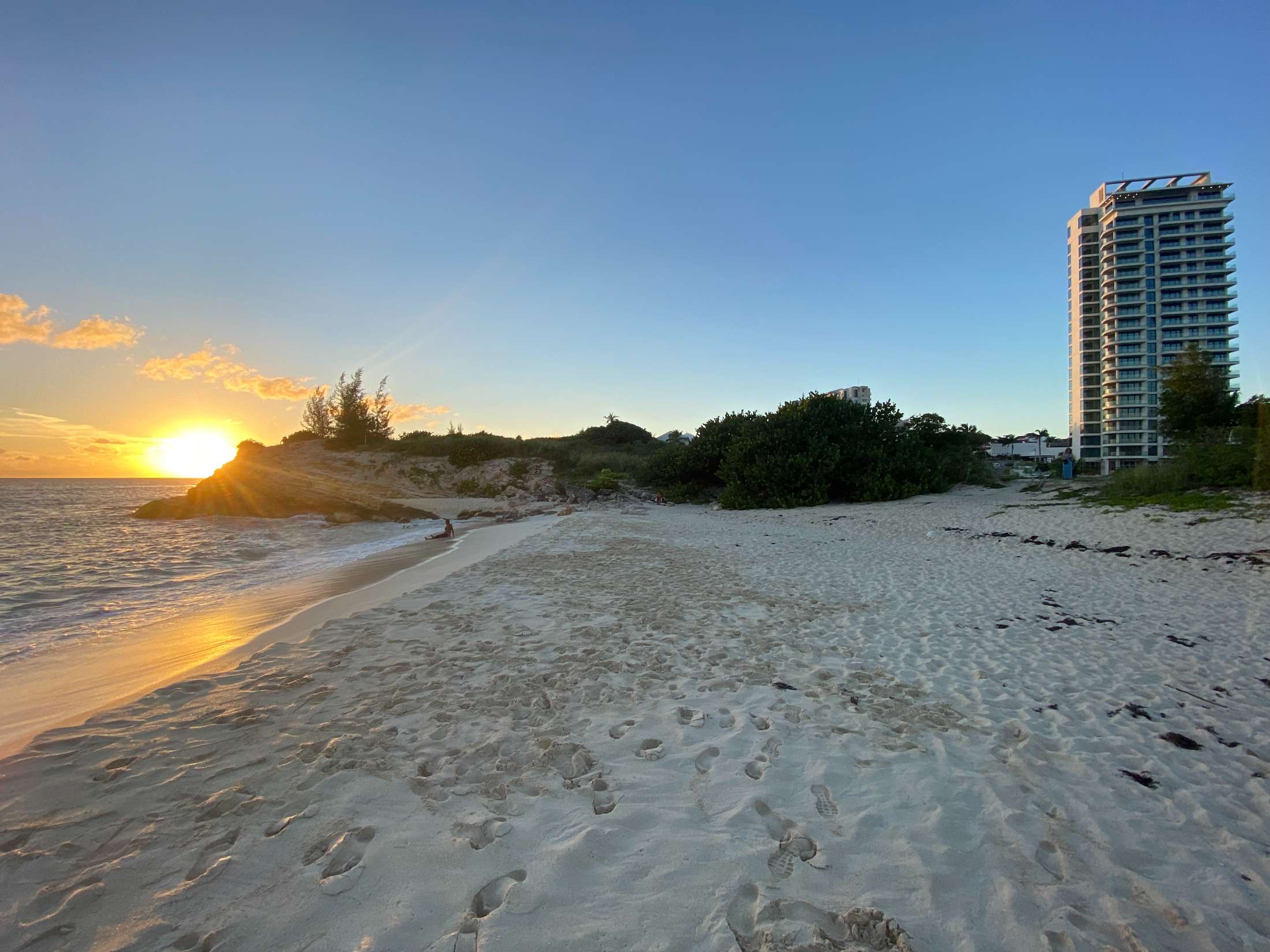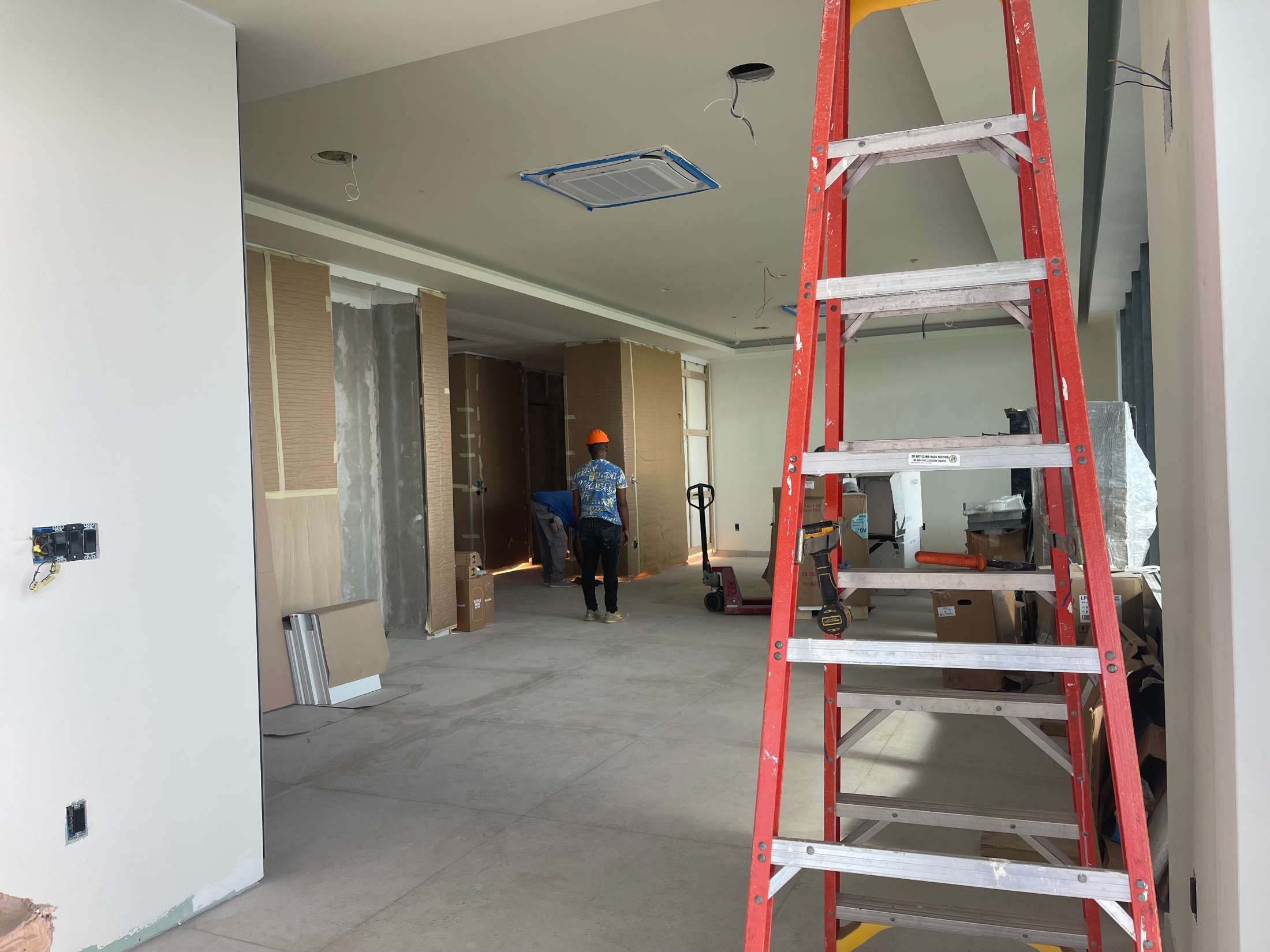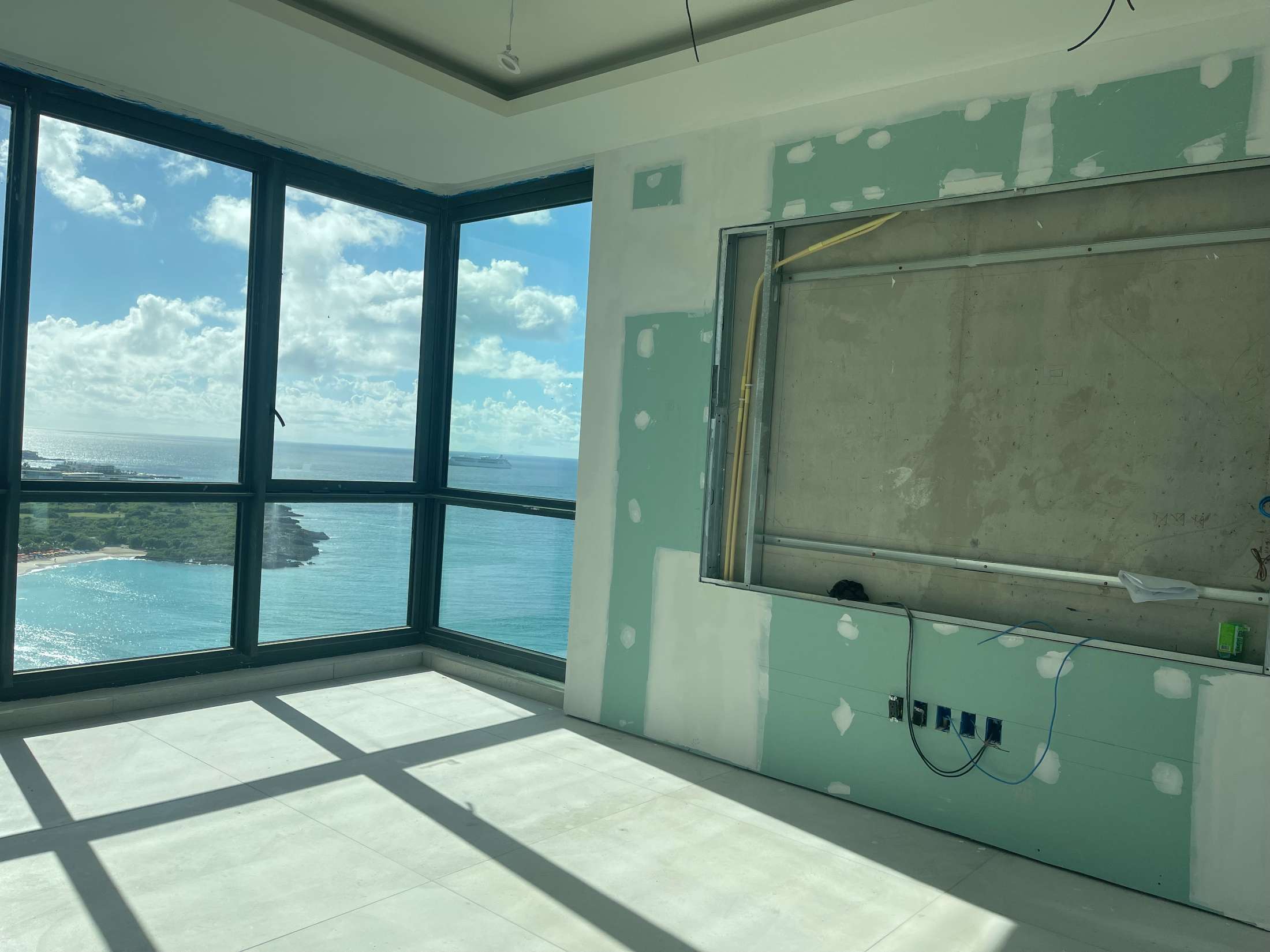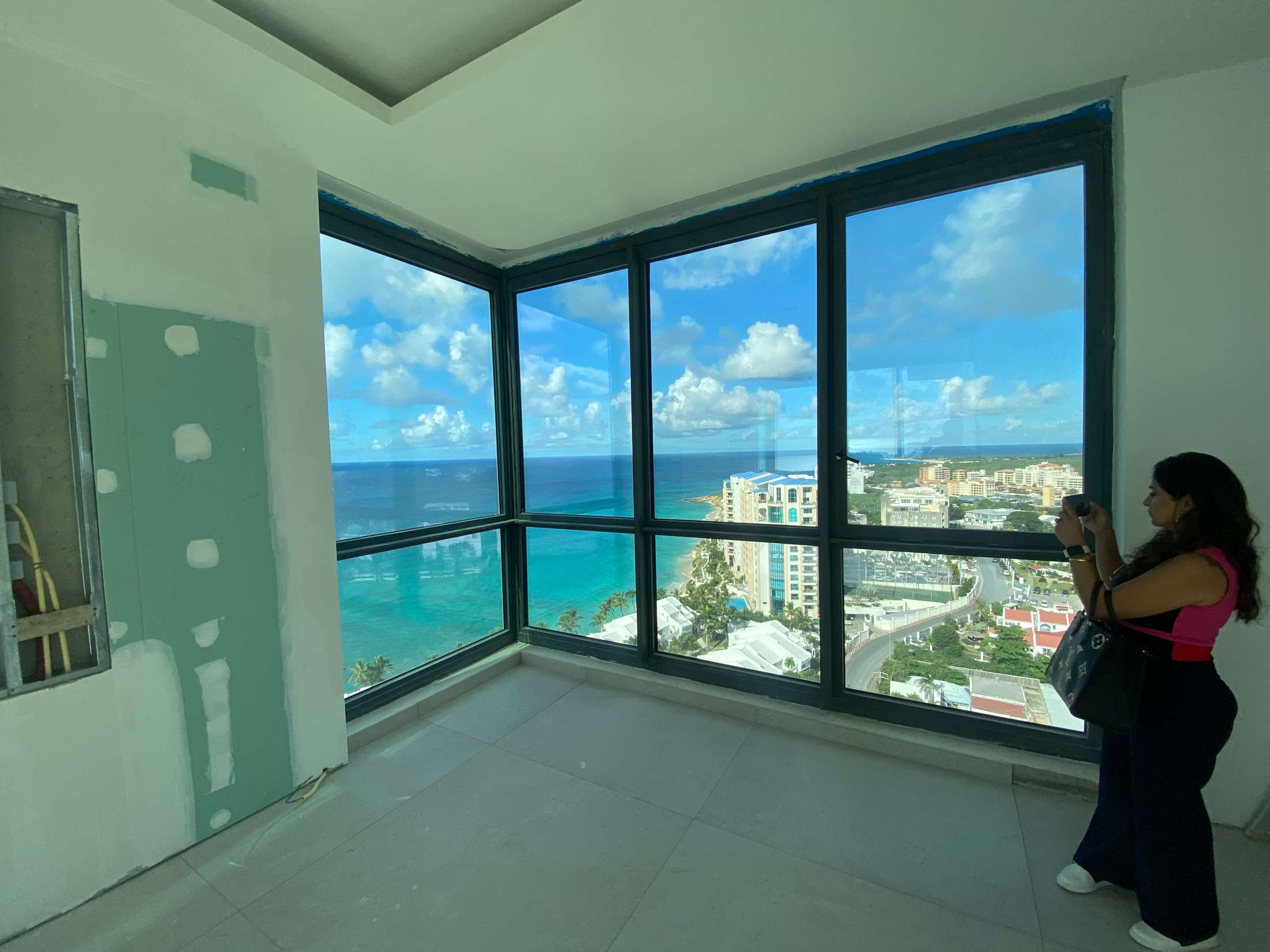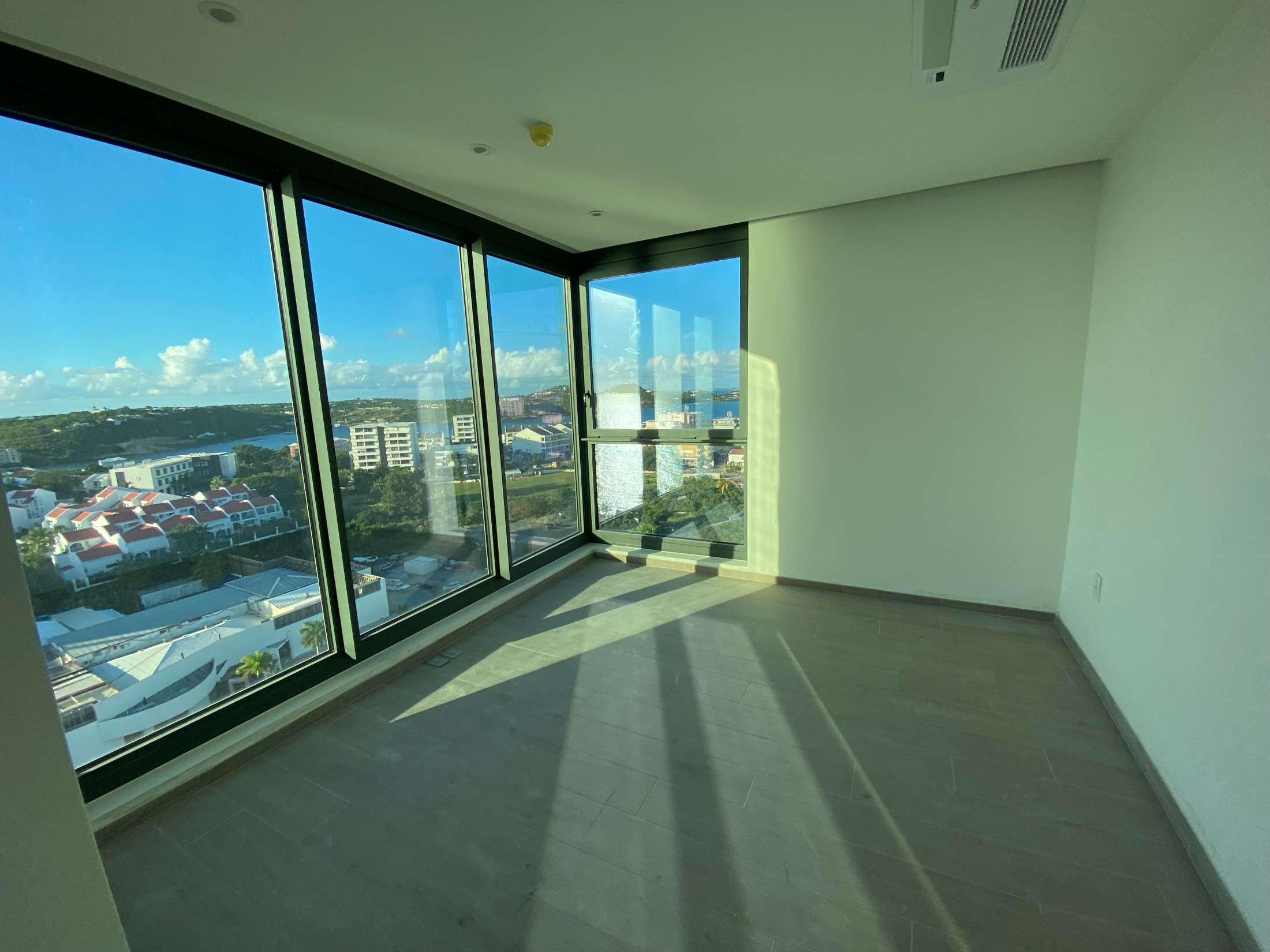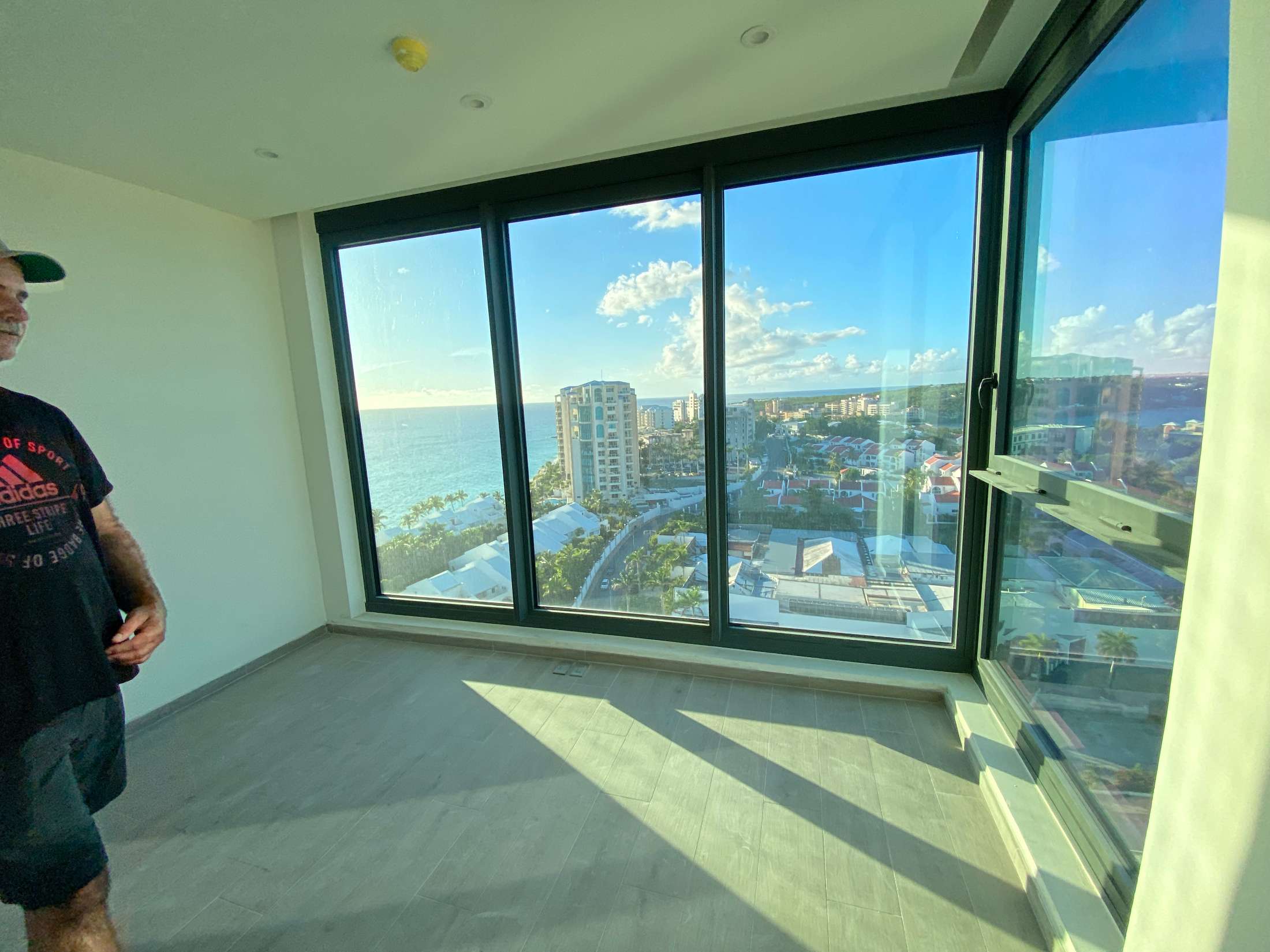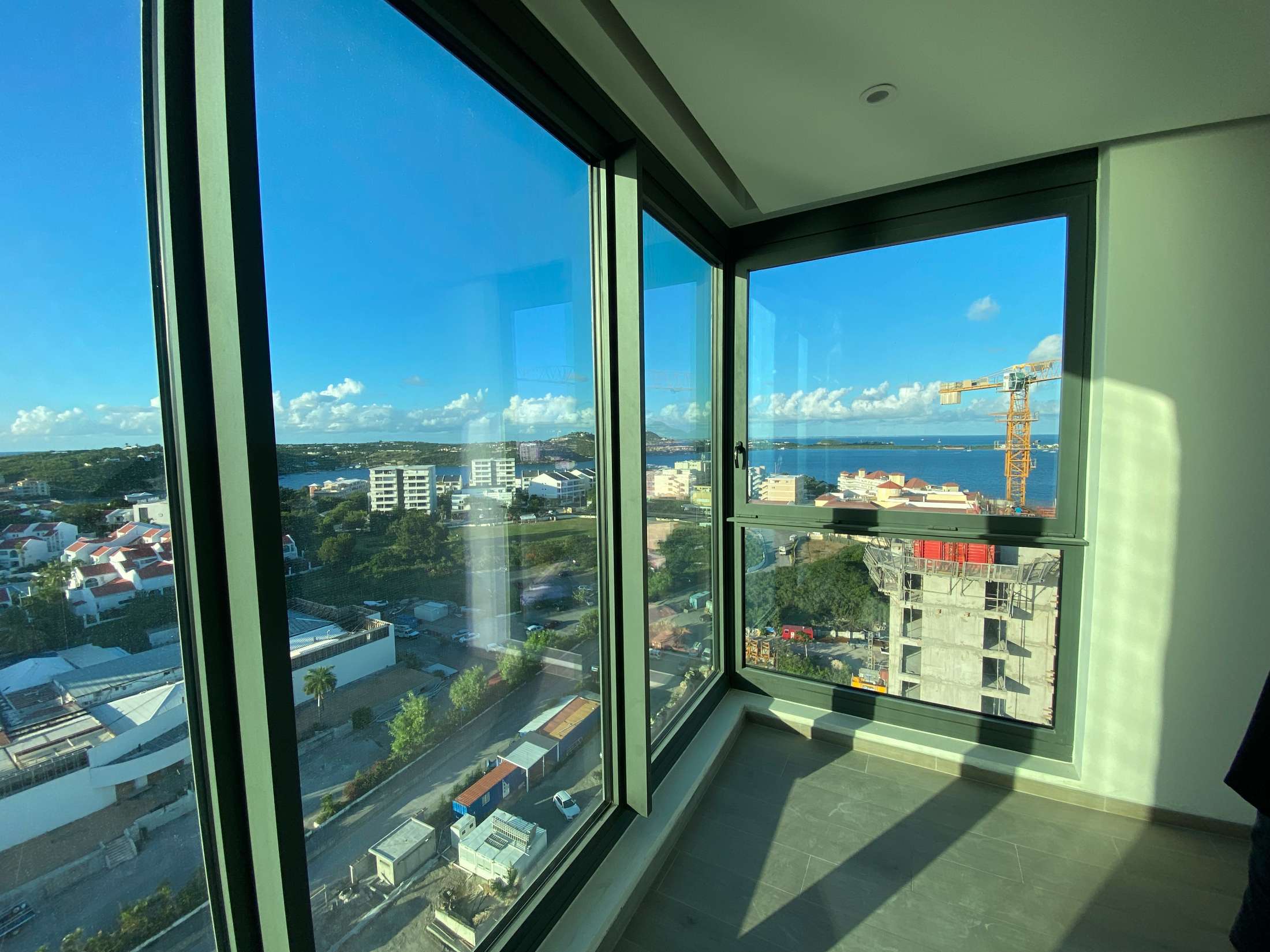 October 2021 Fourteen Tower Update
As of October 21st 2021, Tower B is mid-way through construction and is currently on floor 9 out of a total of 21 floors. Tower A is almost complete with boundary walls and amenities near to completion. We have been hearing great things from owners who have had the privilege to visit some of the condos.
These photos taken from an elevated position offers greater detail into the construction of Fourteen in Mullet Bay, St Maarten.
If you are looking for specific photos, we can help.
We are the Mullet Bay real estate experts.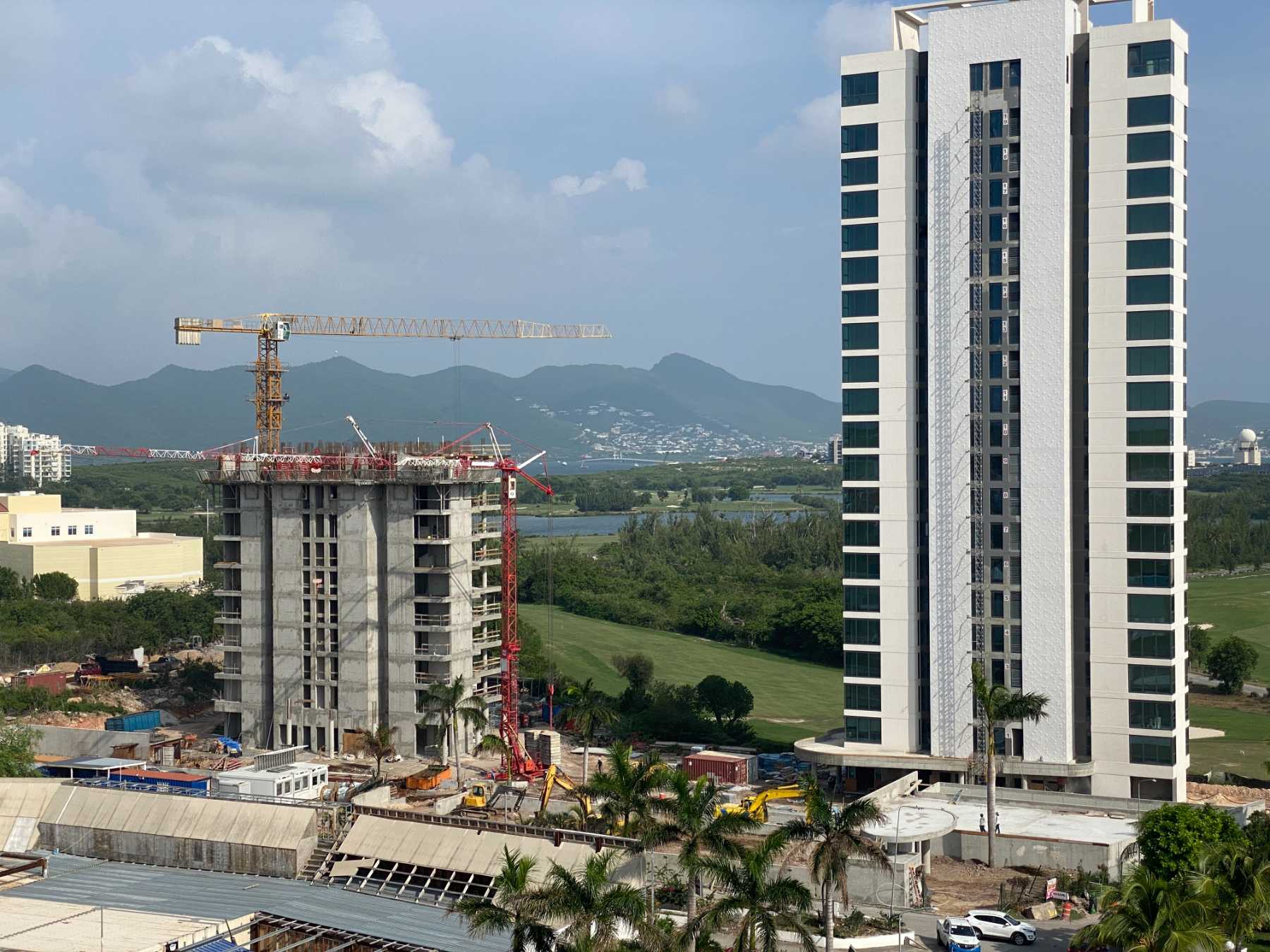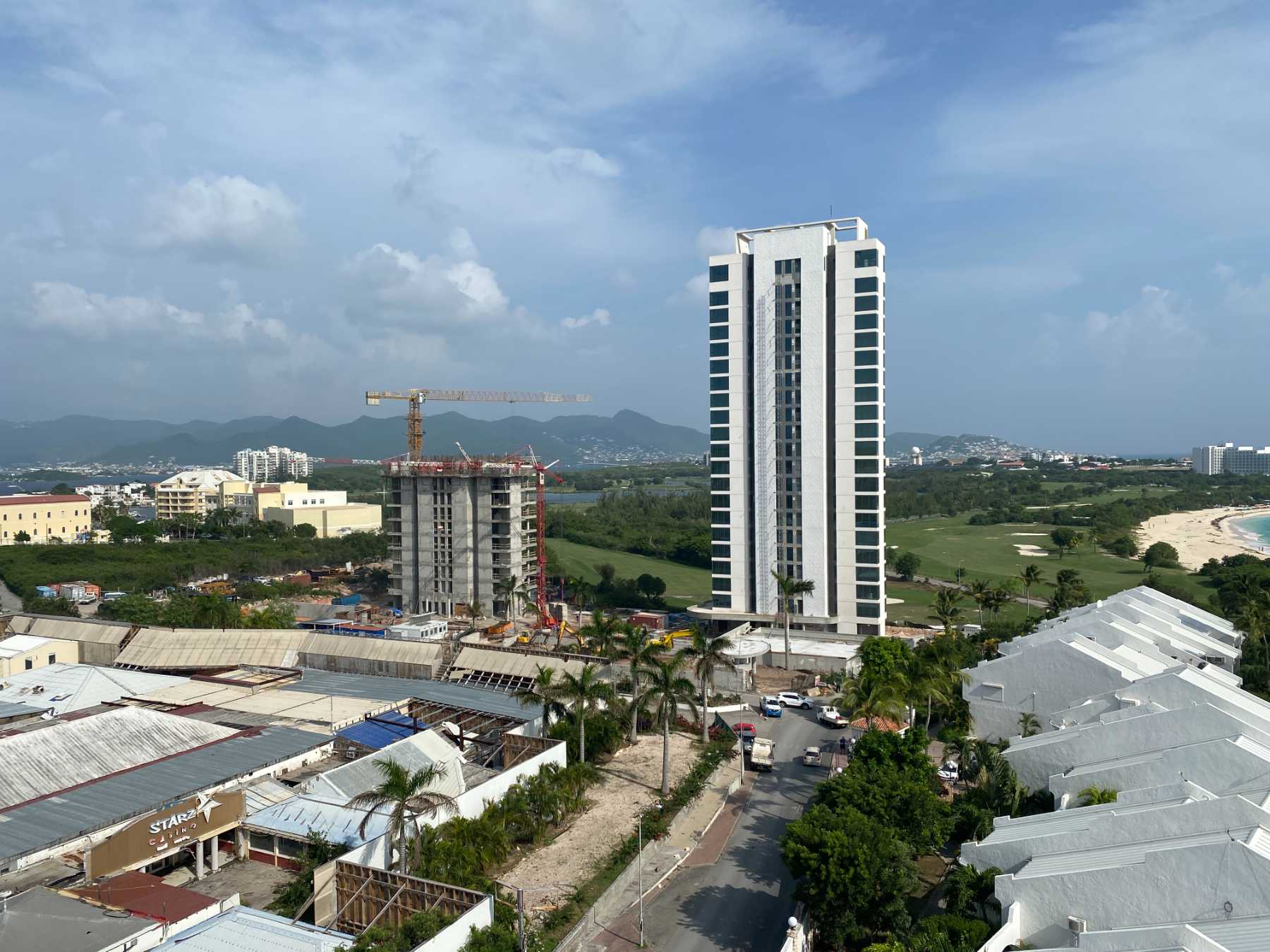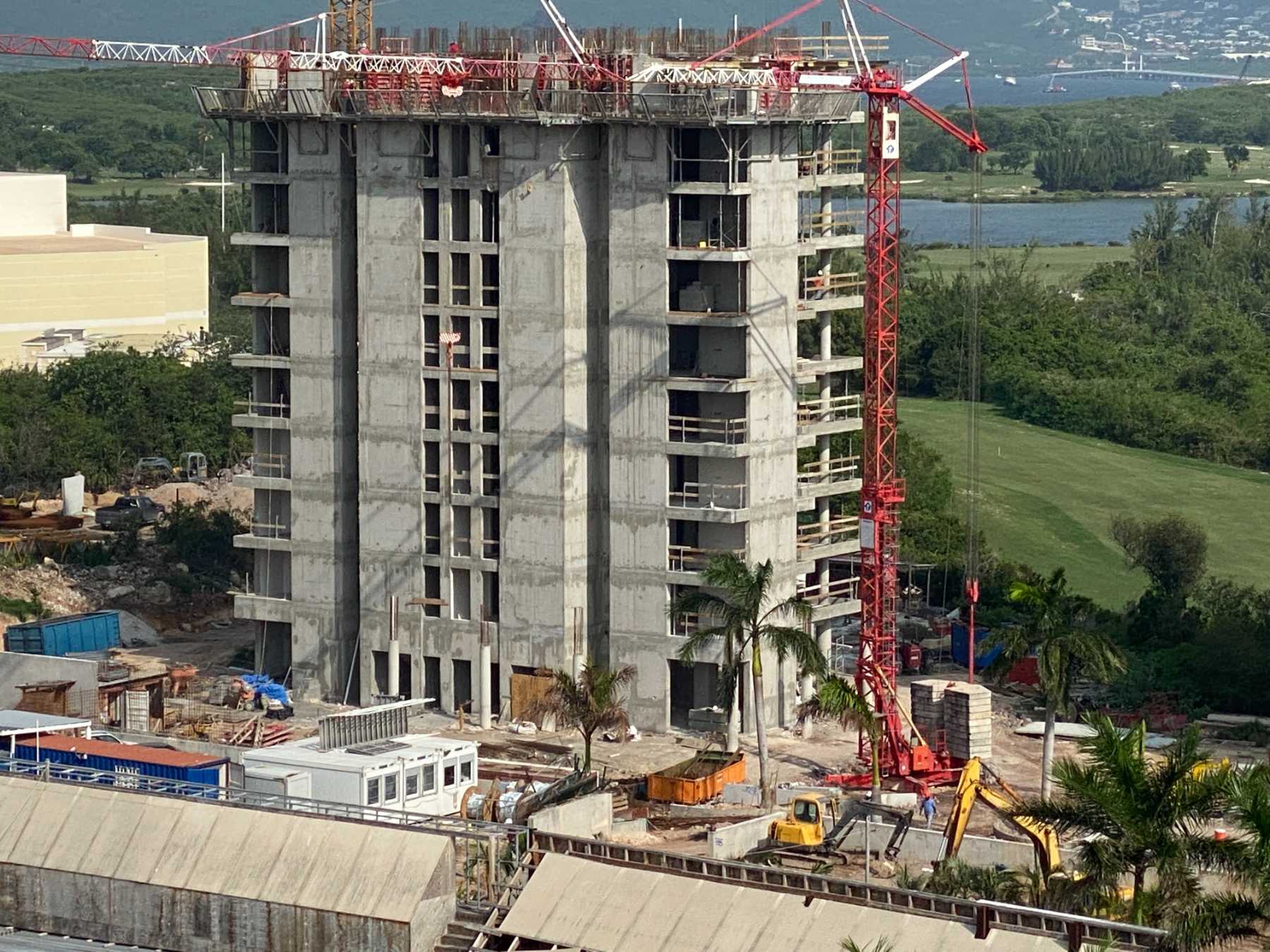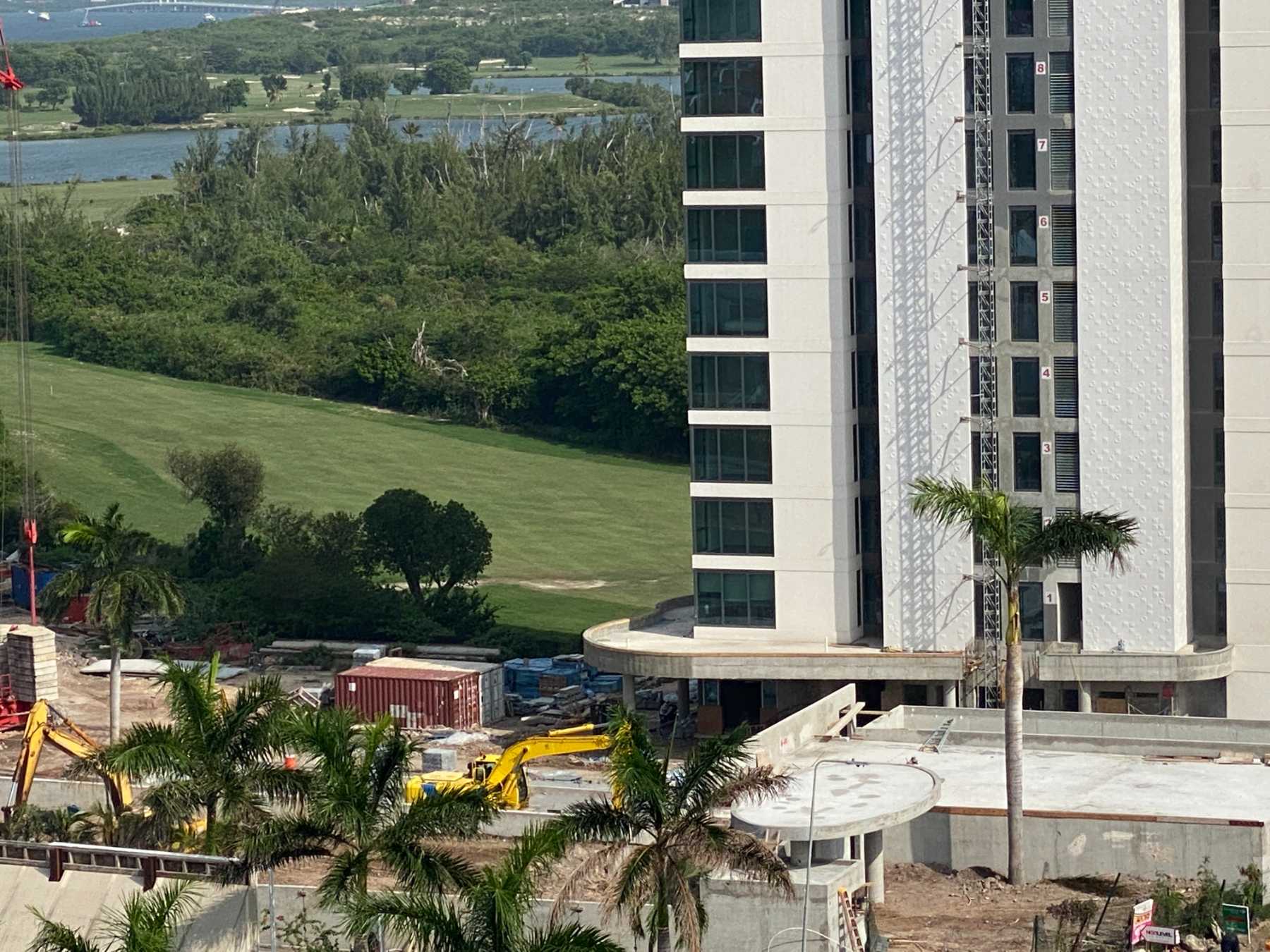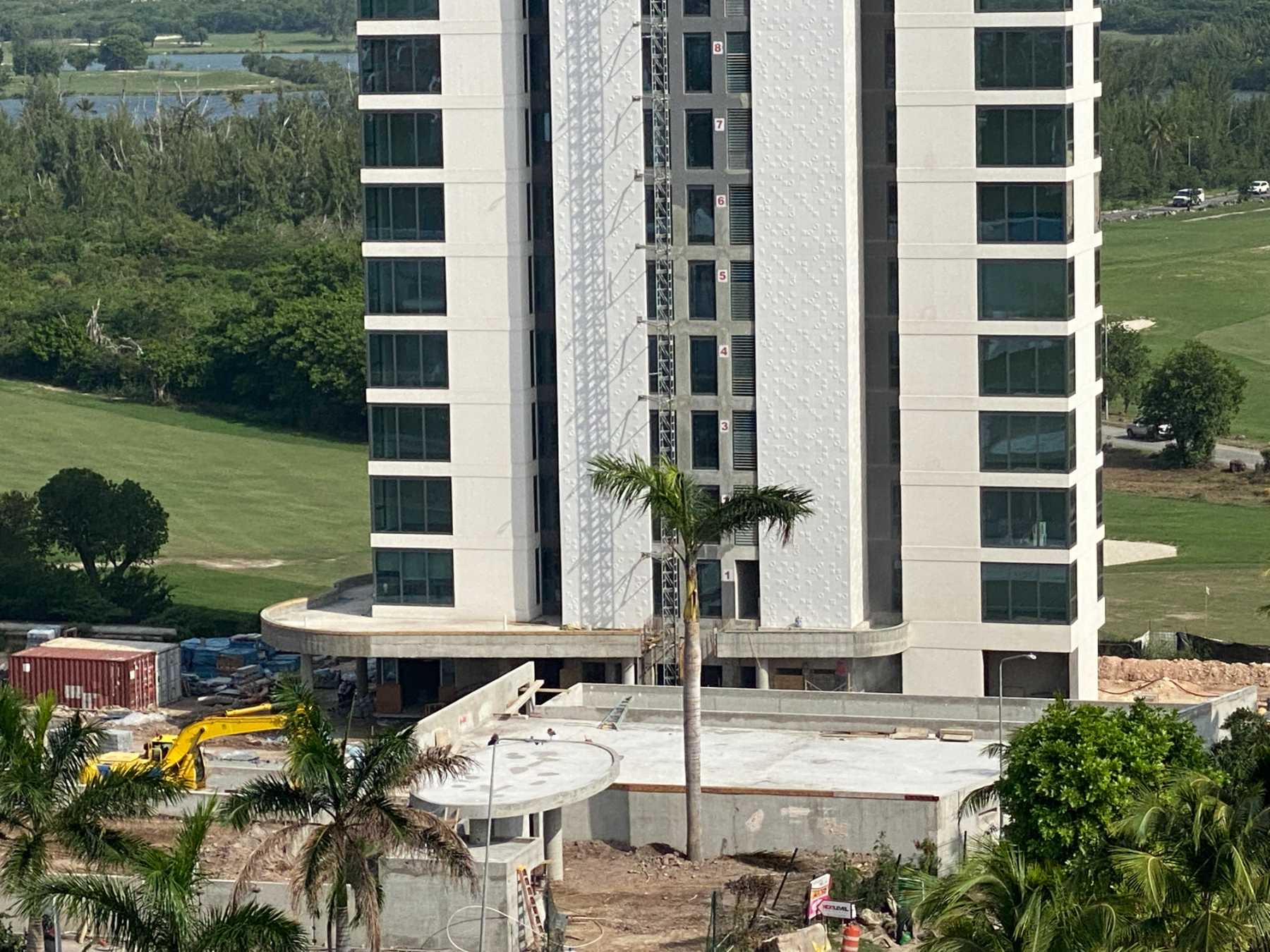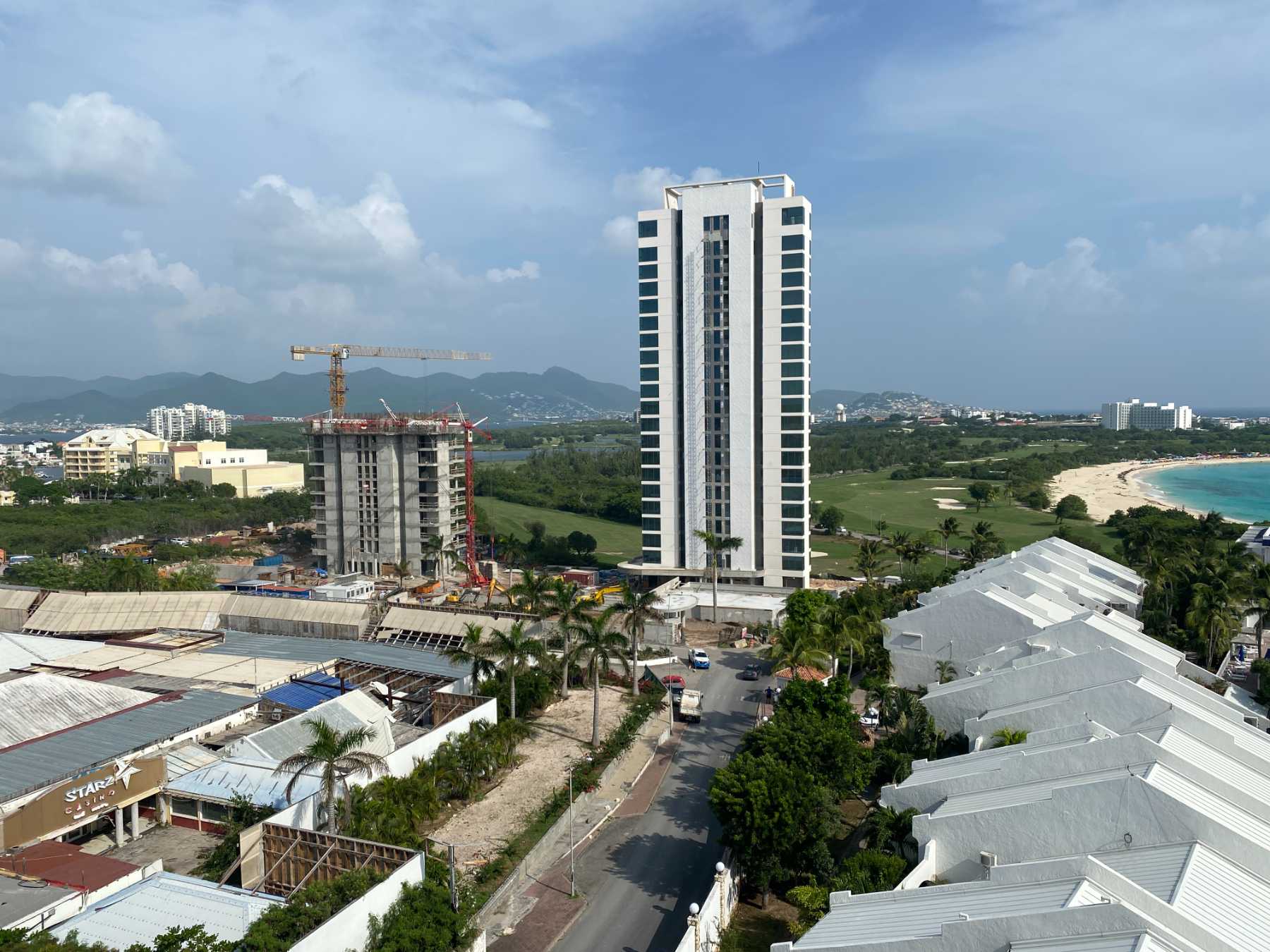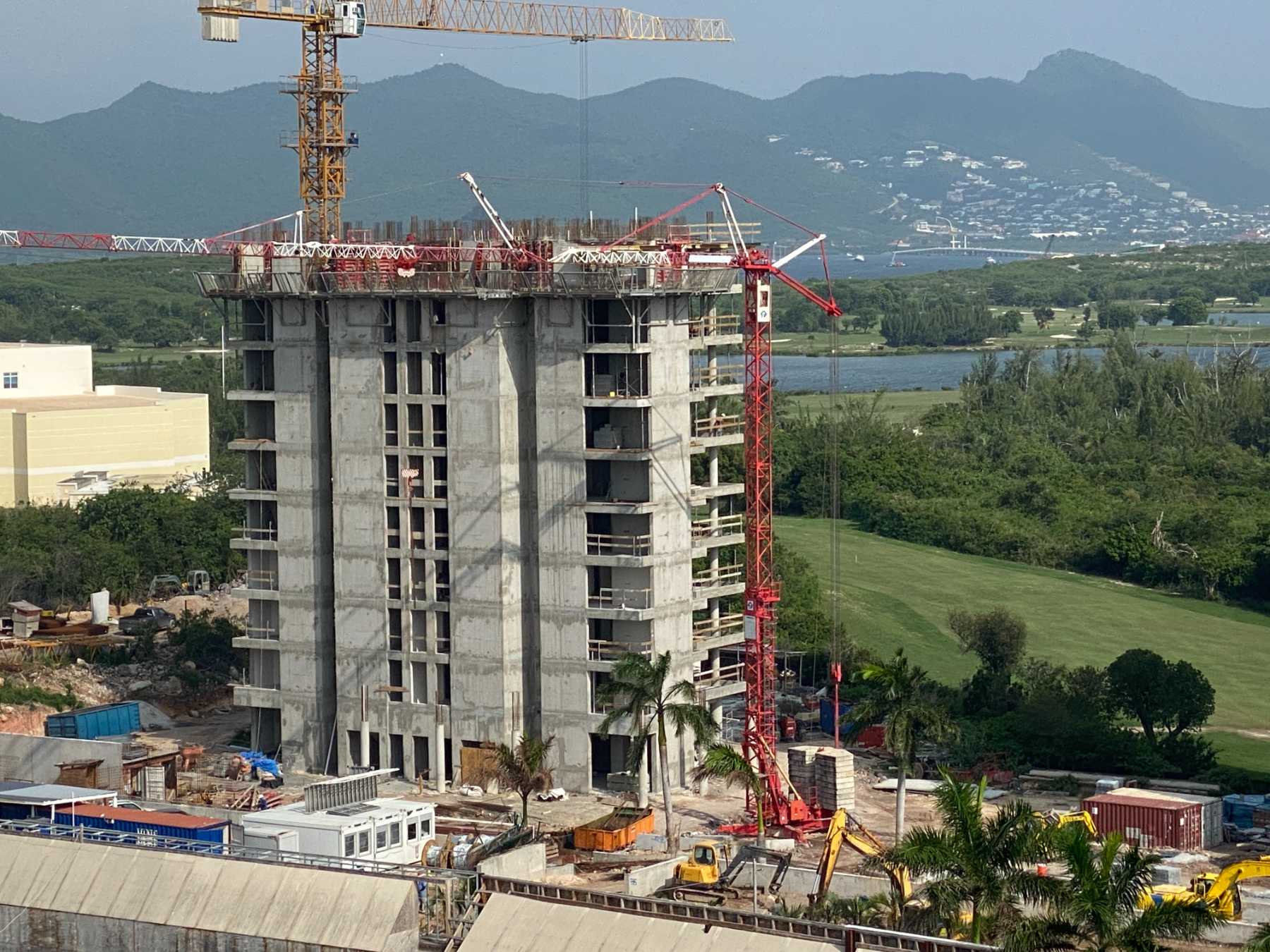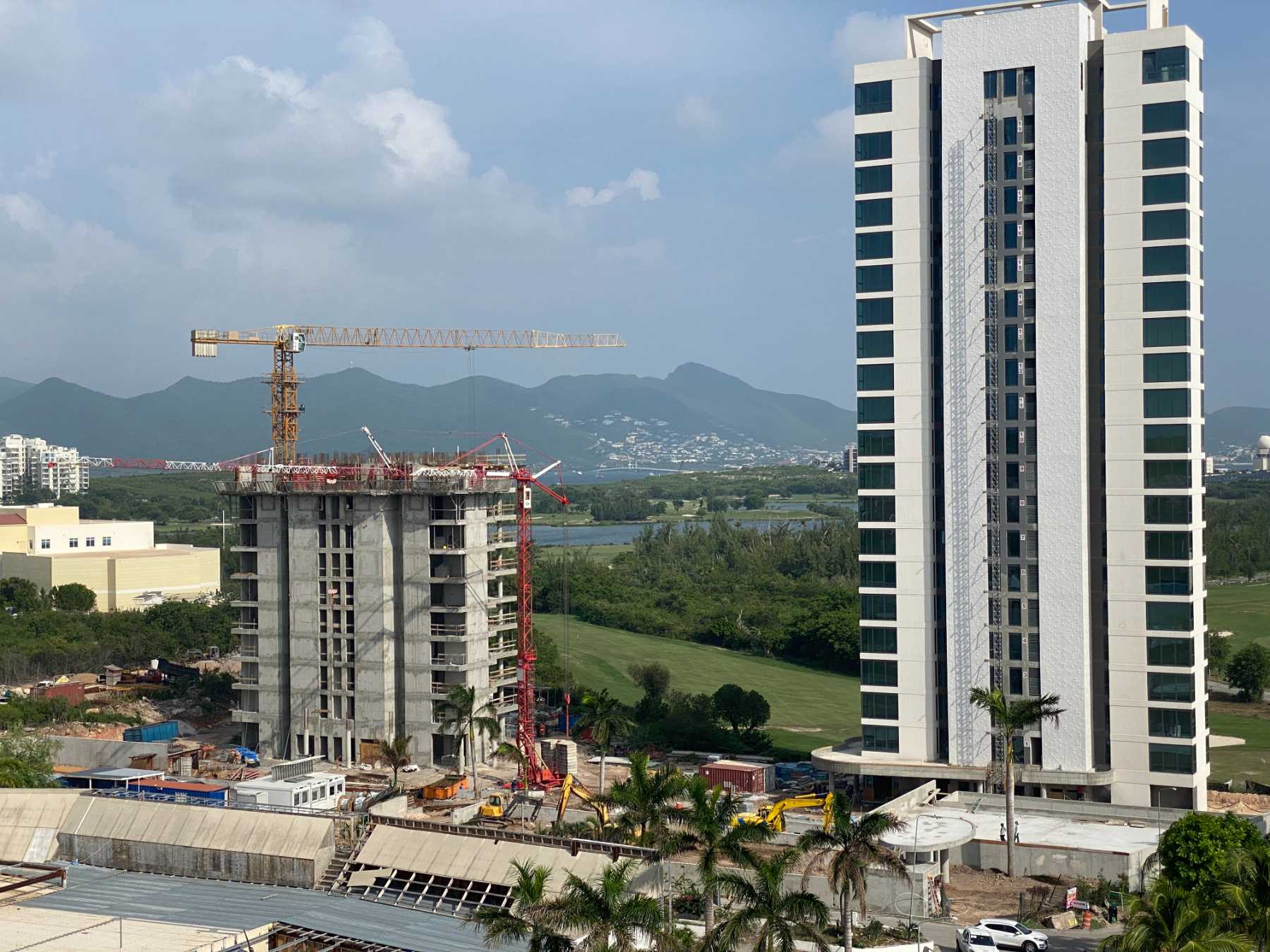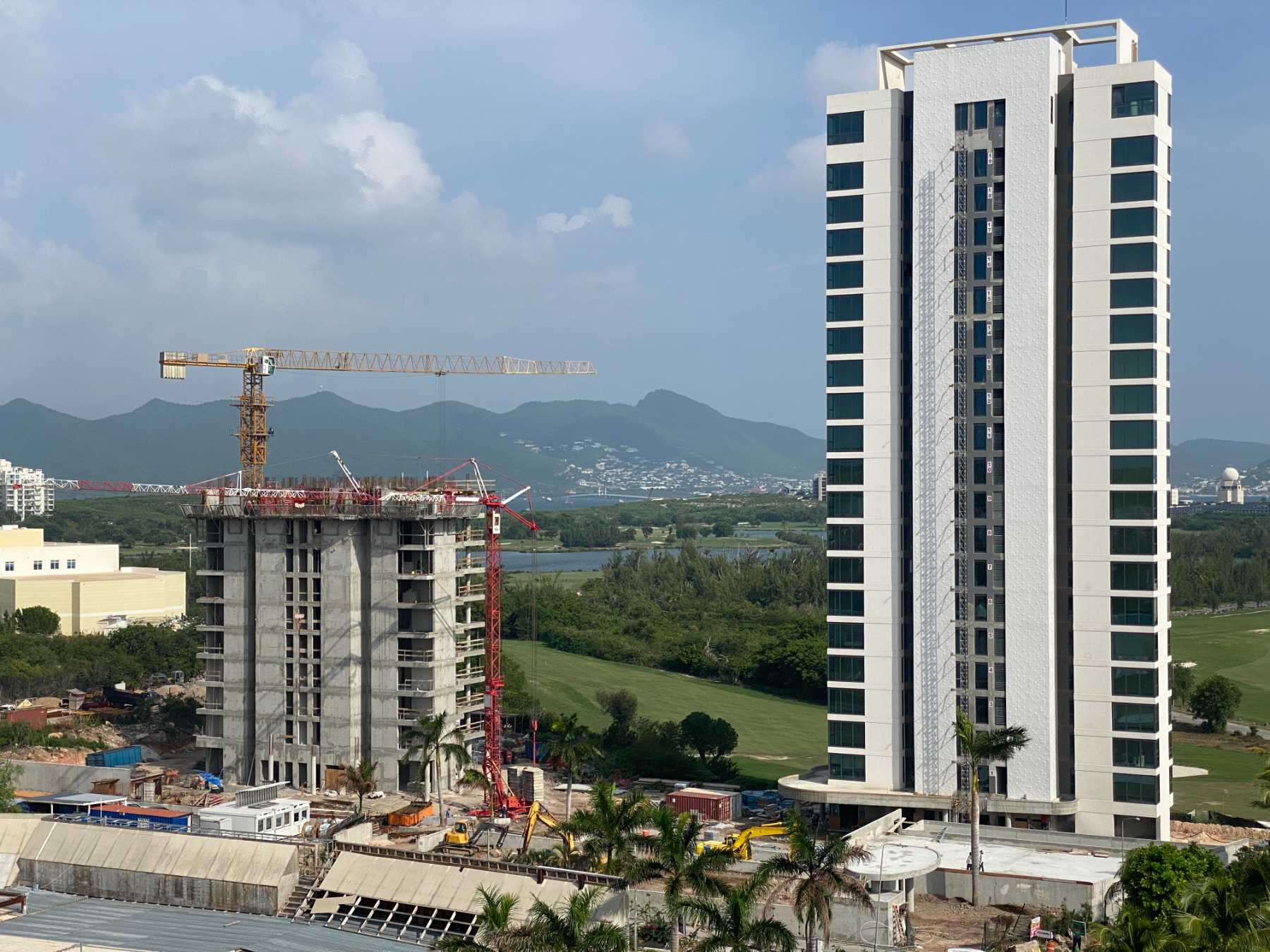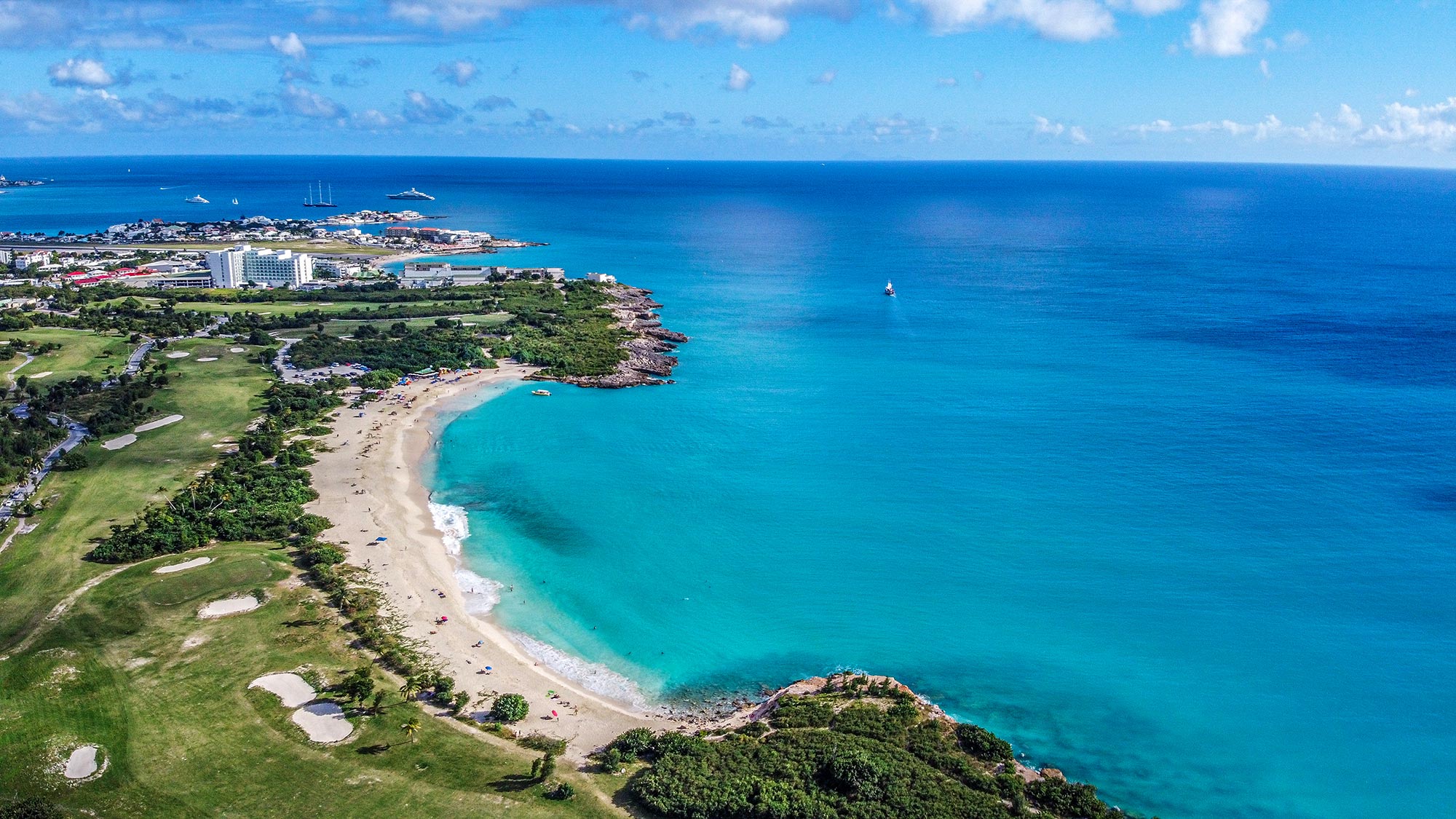 Construction Update mullet towers, Focusing on the on-going construction of the 21-storey (tallest!) Fourteen Mullet Bay Towers in Cupecoy; luxury condos with ocean views everywhere. Key feature being: you will find it difficult hiding from the ocean!!
I live in the area, and drive-by multiple times a day, I can assure you this is a professional operation! Well managed and never any problems! Which is surprising to say for any construction site in Sint Maarten. So this is a great compliment to the background planning and on-going management.
They have also currently started excavation on the foundation for Tower B. Moving quite fast, to be honest, and meeting projections! Even though the Tower names are a little 'cheesy' with names like A and B; the completed residences are going to be a class above the rest.
And one of the marvels of this Construction Update mullet towers project is that when complete, Fourteen at Mullet Bay will be the tallest building in Sint Maarten.
The views from higher floors are going to be 'mad!". I can't wait for the parties!!!
One of the things I wonder most is what are the views like from the Fourteen Towers penthouse? I mean its 360 degree literally! Raw unobstructed Caribbean views, above every hill and mountain in St Maarten. Maybe you can see more islands!?
Condo Sales
You only pay 30% right now. For prices of Fourteen Mullet Towers.
Read my story in the report with proof that a rival Developer complained about Fourteen Mullet Towers. Its incredible.
Detailed report with more photos: Fourteen Mullet Bay Condos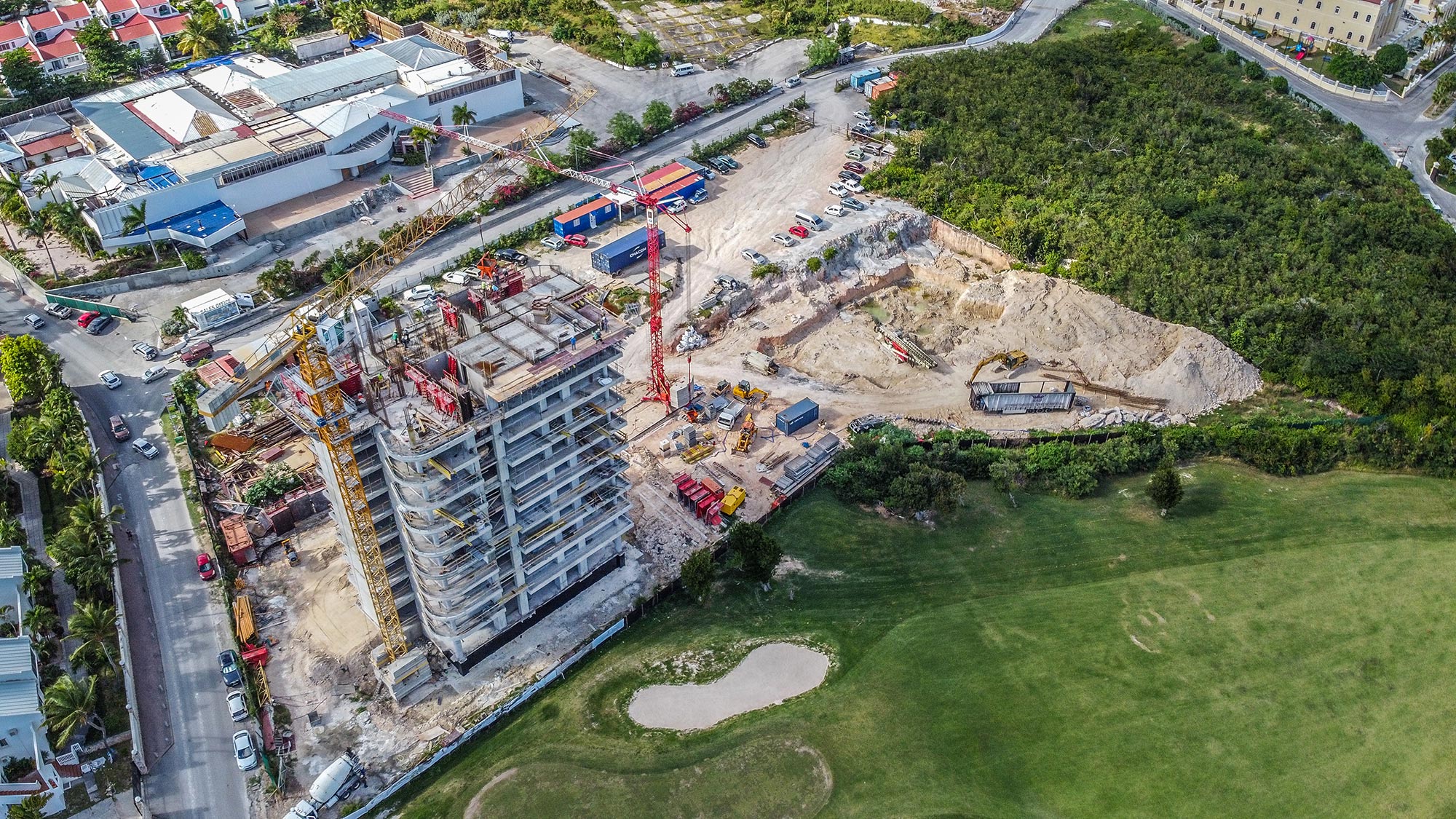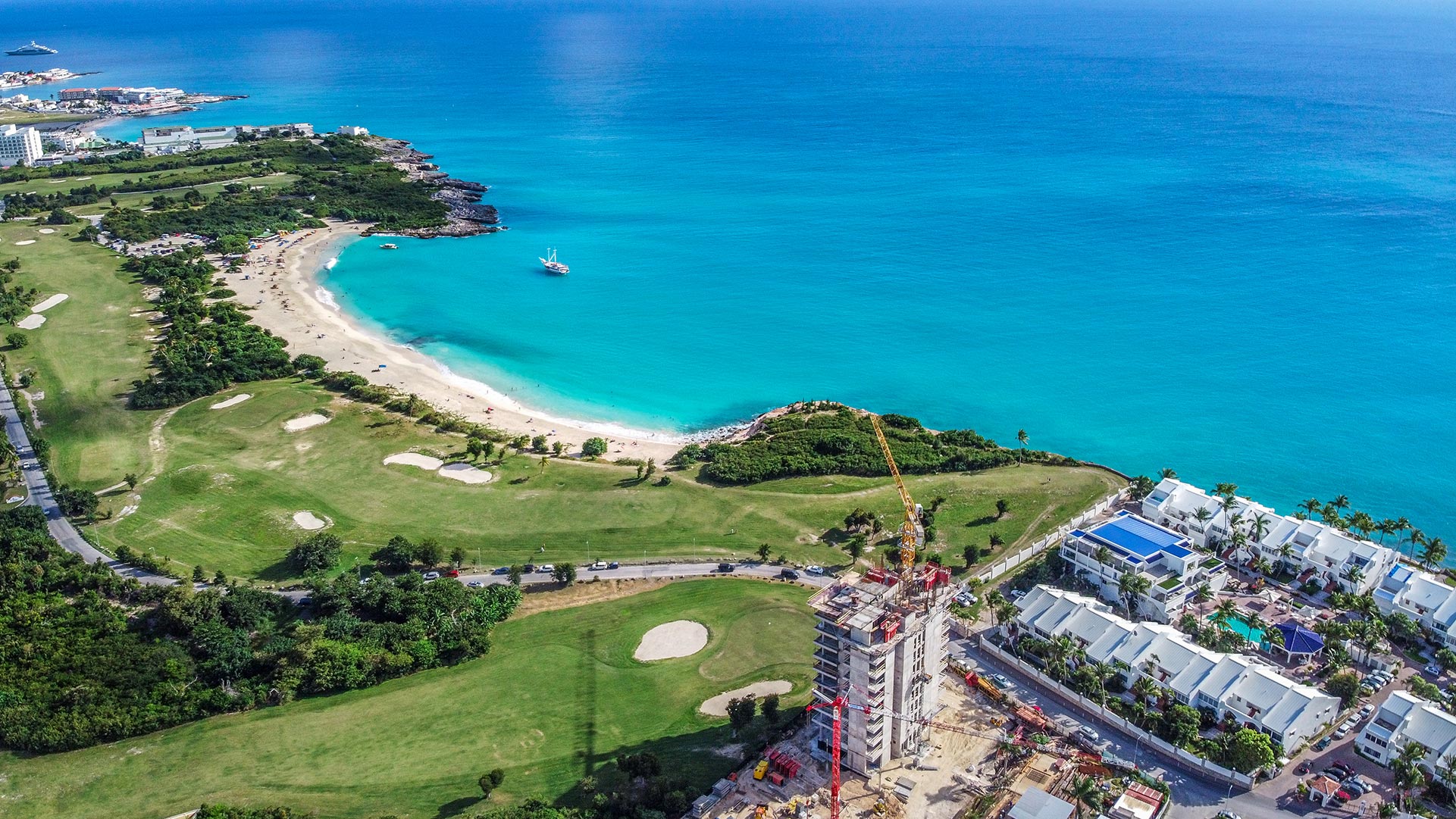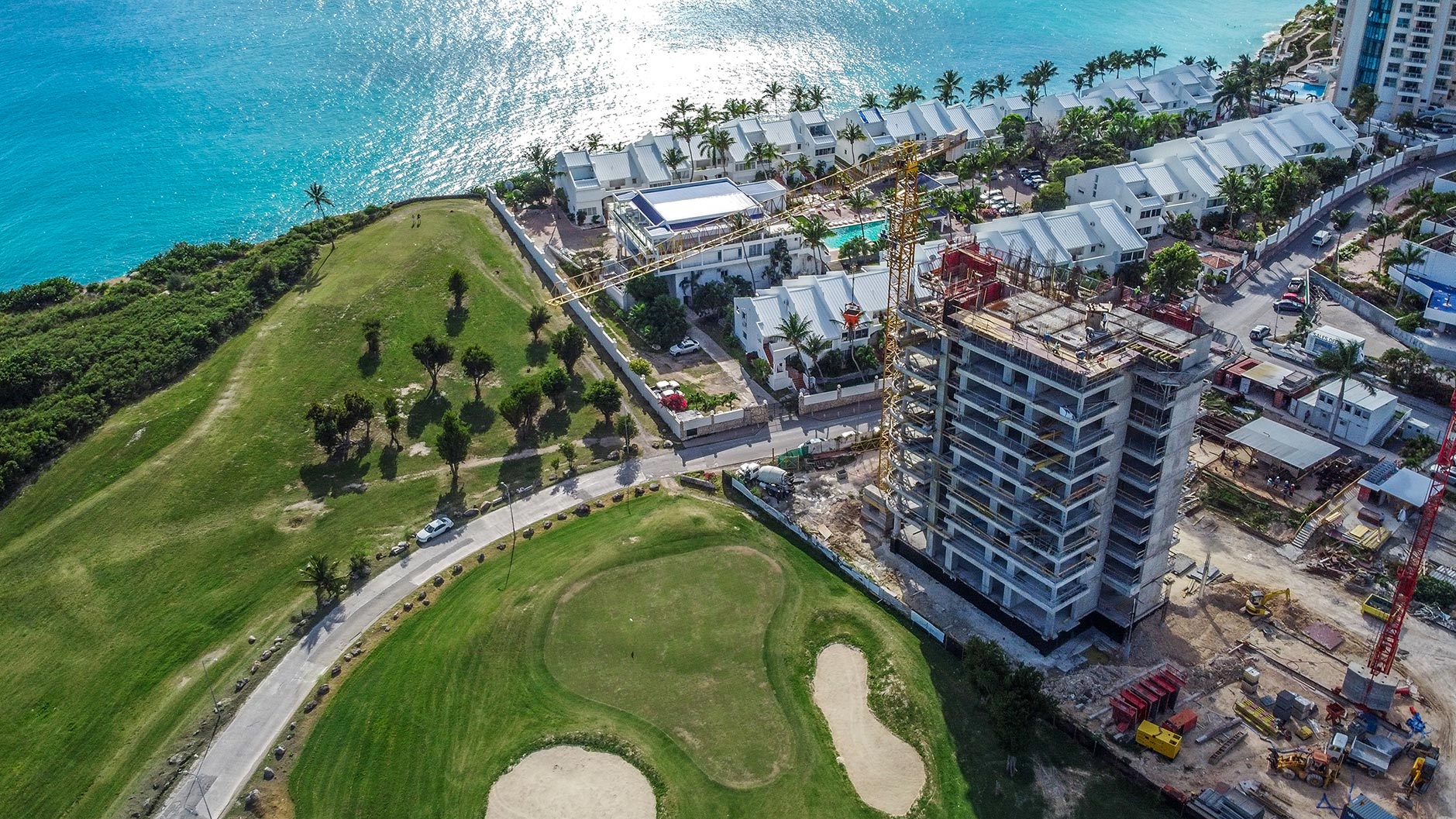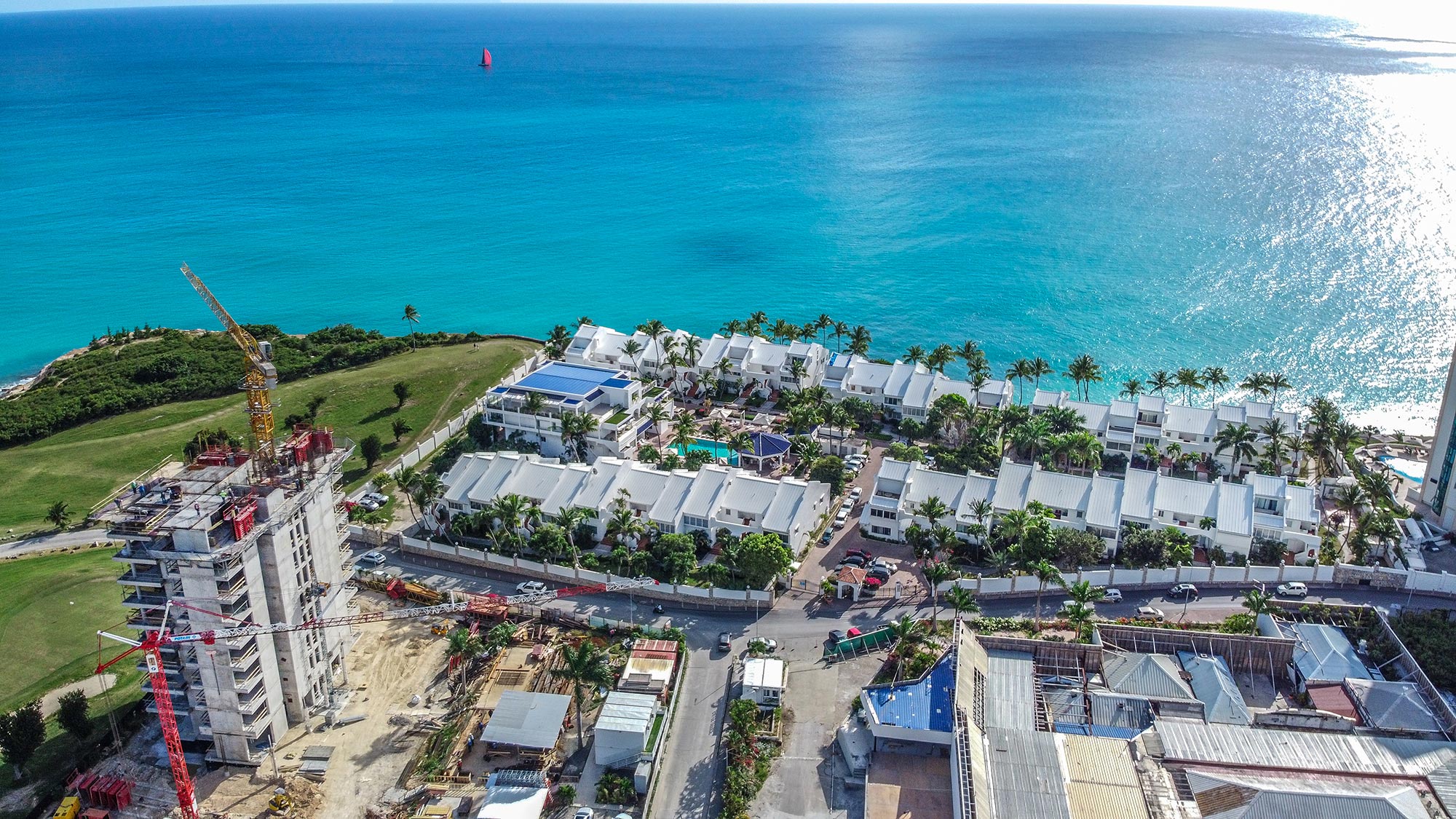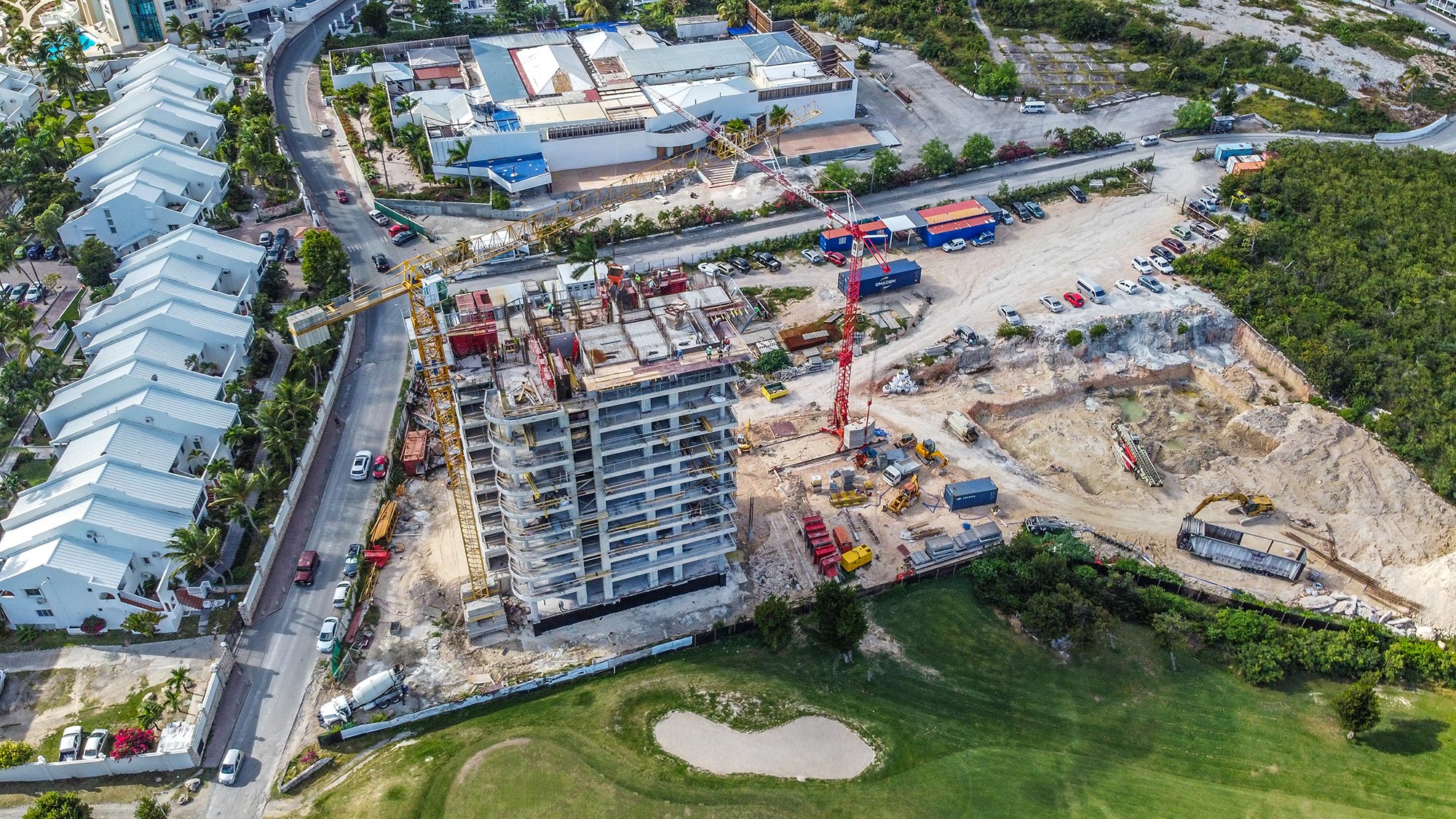 Want to see more:
Just ask me for an update, I live in Cupecoy, I can always get more pictures.
My phone (WhatsApp) number is +1721 526 1819 and I am Ritika, Head Broker at Century21 St Maarten.
Looking forward to having a chat about Fourteen Mullet Towers.
Date of photos: February 2020
Thank you.
Book a Private Tour
Call or WhatsApp for an appointment now.
Contact number: +17215261819
View this post on Instagram
Things To Do In St Maarten And St Martin
The secret of the Caribbean; St Martin is full of surprises and things to do. Guests arrive with expectations of world-class dining, white sands and blue waters. But that's just the tip of the iceberg (excuse the irony). St Maarten and St Martin team up to present some of the Caribbeans best days and nights out for things to do.
There is so much to do that you won't be able to cover everything in your first visit; this is exactly why we in SXM receive the most repeat guests within the Caribbean! and that isn't any exaggeration!
If you are coming to St Maarten for the first time, you will probably be inundated with choices of things to do in St Martin and St Maarten. I have narrowed down the list below to just a few options to help you plan; but once you are here; you will probably venture out on adventures unknown and have the time of your life!
Here are a few things to do in St Maarten as a first-timer from a local perspective!
Hiking The Heights of Pic Paradis
When you have to hike for almost 424 meters, you have high expectations about the place, and Pic Pardis lives up to your expectations and even beyond. This place is the island's highest point at provides you with an astonishing view of the jungles, the beach, and the resorts. It is very eye-catching to see all of your visited places in those days fit into a single frame. You are going to have a lot of adrenaline spike in your blood. It's just that much thrill.
Pic Paradis is not the only hiking destination. St Maarten is actually dotted with hiking trails everywhere with natural pools and views that are only possible by hiking trails.
Sun, Bathing and Building Sand Castles!
A long forgotten hobby and one that naturists might not enjoy me recommending; but the delicious sands present some of the best opportunities to unwind and relax.
Did you know the beach represents one of the best opportunities to relax and probably something your therapist would advise. Especially with activities like swimming, sunbathing and building sand castles, St Maarten will elevate all those depressive thoughts and lift your spirits.
Some of the best beaches I would recommend are Mullet Bay Beach for its long uninterrupted sands and privacy.
Sunsets
I am well traveled and have seen plenty of sunsets in various parts of the world; but one of the reasons why everyone keeps returning and making St Maarten their new home; is our stunning sunsets. Red, purple, with shimmering clouds and glorious backdrops there is always drama when viewing sunsets in St Maarten. Cupecoy Beach and Mullet Beach offer some of the most beautiful locations to sit out and enjoy this natural beauty on offer.
I implore you to never miss a sunset while in St Maarten.
Scuba Diving and Boat Charters
Experienced apprentice jumpers rush to St. Martin to investigate the coral reefs found off the shoreline of St. Martin. A few unimaginable plunge locales where jumpers can get looks at vivid oceanic life inside the unmistakable, blue water. Jumpers can decide to investigate coral reef territories or even wreck zones as well. Experienced jumpers can swim the profundities of the submerged desert garden here, while tenderfoot jumpers will be glad to realize that St. Martin is home to shallow water jumping as well.
Enjoy local cuisines
The menu, a lobster melody, braised red snappers, sugary duck bosoms, mushroom risotto, veal in gratin of blue cheddar, ocean scallops, and duck liver and mango ceviche, is a demonstrated top choice with the island's gourmands. Simultaneously, the calm inside of whitewashed dividers and comfortable little tables is definitely perhaps the most sentimental spot to get comfortable for dinner in the zone of Grand Case.
I can't seem to stop thinking of recommending the best restaurants, the best house music scene and beach activities; but these are some of the secrets you may just have to experience yourself while exploring every corner of my island, SXM.
Adventure Activites
Loterie farm should be on top of your list for things to do in St. Marten. If you are looking for adventure rides to drive you passionate about a park-based theme in a jungle, you should pay a Loterie farm visit. There are a lot of fun activities offered by Loterie farm. Try to spend a night in a lodge for an overnight stay at a day with fun adventures in the theme park. Whether you stay for the day to enjoy joy rides or a night stay to gaze at sparkles in the sky, you are going to love it anyway—zip lines and obstacle courses on top of an on-site restaurant. Swimming pools and hiking trails in dense forests are also there to add to your ever-flourishing experience.
If you consider horse riding an adventure you also have the option of taking a ride on the long forgotten horse trials in Cay Bay while enjoying the majestic views of the St Maarten. I personally find the trail a little short, but the photo opportunity is priceless. Instagram aficionados flock here as the most important activity in SXM.
The opening of the steepest zip line in the Caribbean at Rainforest in Mary's Fancy; offers you an opportunity to feed yourself some adrenaline during your St Maarten vacation. I would highly recommend this activity even if it's for just a few seconds. A thrill is a thrill; no matter how long it lasts.
Maho Beach Experience
Don't mistake Maho Beach as a beach destination; it's not even really a permanent beach; but it is the Most famous spot for watching low flying planes and feeling the truly immense power of these modern flying machines. Airline hobbyists travel to SXM just to watch the planes and feel the wrath of its engines from as close as any airport in the world will permit.
Be prepared to fly; literally!
Perhaps the most famous seashores in St. Martin is Maho Beach, found towards the westerly end of the island's airport. Because of this current closeness to the air terminal, beachgoers to Maho Beach experience the extraordinary sight of planes flying only a couple of hundred feet over the seashore. Both exciting and adventourous, a day at this seashore is undoubtedly not exhausting. Snapping an image of a plane flying hazardously near the seashore here is really a special trinket to reclaim home with you. A visit to Maho Beach should be added to your St. Martin basin list.
Orient Bay Beach
Located in St Martin; Orient Beach is like no other. Not only is this one of the widest and longest beach available, it also offers a plethora of truly world-class restaurants and activities that rival even Dubai!! I bet Dubai or Bora Bora doesn't offer a nude beach section like Orient.
This beach is one of the friendly beaches with a clear mountain view and long horizons of vast sea line. Clothing isn't a must for this beach. White sands with calm, clear water waves is very pleasing.
All ages are welcome here, however parental supervision is recommended around the nude beach.
Buy Real Estate
This isn't a shameless attempt at self-promotion, St Maarten is actually the number one Caribbean destination for real estate investment.
Without going into utmost detail, condos and villas in St Maarten offer fantastic returns on your investment. The prolific commercial activity and popularity among travellers; make every real estate investment a truly magnificent proposition.
We are talking about up to 10% return on your investment and it's not just the numbers that make sense; it's the wholesome living experience that make buying in St Maarten a truly exciting proposition.
The proof is in the pudding; every study indicates that the future of Caribbean real estate is in St Maarten and St Martin. There are world-class developers from Toronto, Miami, Italy, France and Monaco to name a few who have made St Maarten their overseas development prospect. Fortunately for you Century21 St Maarten has all the properties available in one convenient place for you to view!
Experience A Diverse Culture
The island has been separated for around 350 years into two sides: a Dutch and a French side. French sides hold control of France while the dutch side is independent and heavily influenced by American tourists. So a lot of you will feel at home when you need to. There is no proper border present, but you will see many flags and signposted saying Bienvenue en Partie Francaise which means welcome to the French sides. Two sides don't resemble much to each other. There you will see French culture prevailing a lot in the community and the architecture itself.
Cupecoy Beach
I may have mentioned beaches before, but being my favorite spot I have to emphasize that this is one of the best spots on my Little Rock. Limestone cliffs, hidden caves and white beaches with romantic red stones lining the shores; this is a dreamy location that shouldn't be missed when in St Maarten.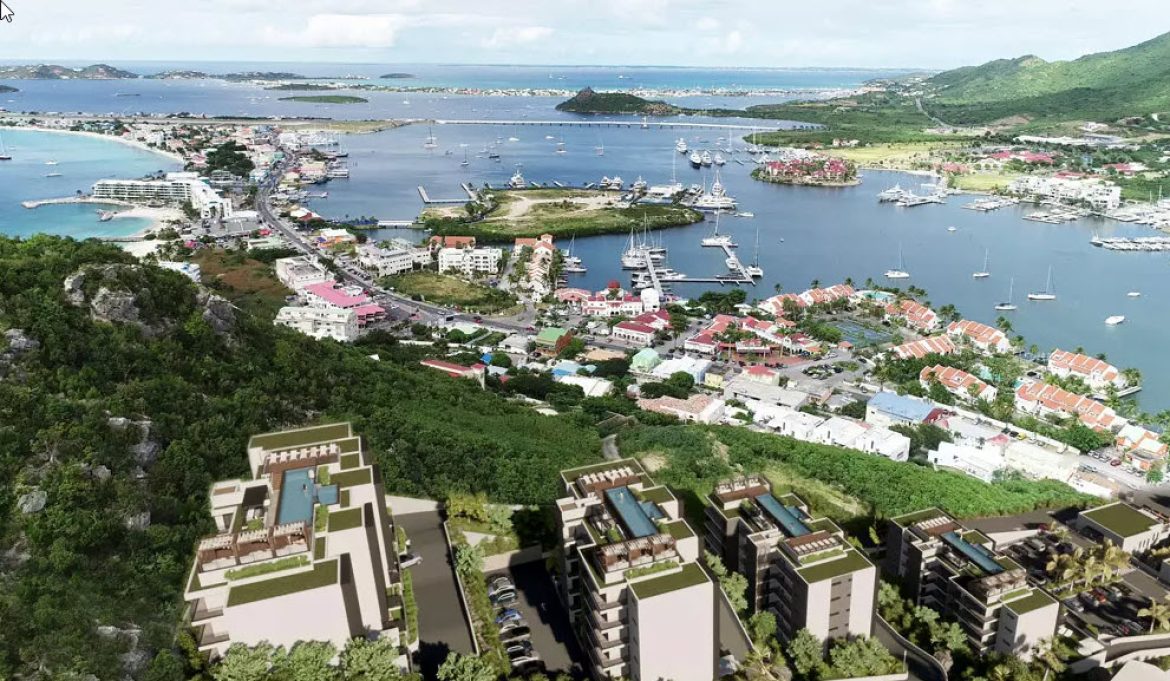 Do you know why?
The same Developer; Frank Teboul is near completion at the famous Fourteen Condos development in Cupecoy which has seen pre-construction prices jump up by 25% on completion!
That is one phenomenal return on capital investment Dude!
Construction in St Maarten is booming.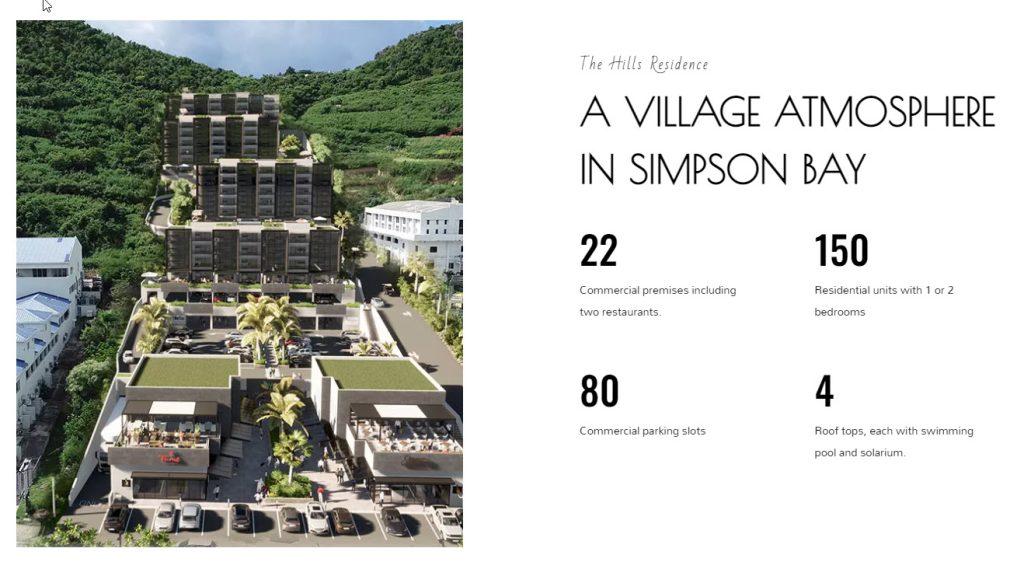 We are personally invested in The Hills; so take my word; this is not a sales pitch; it's an insider tip!
In fact, the official Return on Investment is 10% gross per year.

Be seduced by The Hills Residence, offering unique views over Simpson Bay lagoon and its green mountains.
This is going to become a landmark in SXM.
And it may already be!
The Hills Residence is made up of 150 modern and luxurious furnished one to two-bedroom apartments in four buildings with rooftop, solarium, swimming pool, as well as top of the range services.
It's also a commercial area with 20 commercial premises and 2 restaurants, with parking slots, offering a wide range of possibilities to develop your professional project.
Buying Apartments At The Hills
I have been in real estate for 25 years; and every year Simpson Bay is the number 1 for condos.
It's not just the convenience; it's the vibe that Simpson Bay gives.
With world-class beaches within a few minute's walk, its no surprise The Hills is considered as a world-class investment!
The modern and luxurious 1 and 2 bedroom apartments, from 50 to 81sqm, offer a breathtaking view of Simpson Bay and its mega yachts.
Each building has a roof top, swimming pool and solarium. The apartments are fully equipped, with furnished kitchens and bathrooms, washer and dryer, air conditioning, private balcony or garden. Each unit benefits from a parking lot.
Prices start at an attractive price of $225,000 with an excellent rental return of 10% per year.
Returns on Commercial are probably higher!
Only buy at The Hills through an approved agent.
Call Ritika on +17215261819 for an immediate real-time availability update.
The Hills consists of 150 apartments.
You have a choice of one bedroom or two bedroom apartments.
All have wonderful views!
Very high occupancy rates in Simpson Bay for rental investment.
Construction Delivery
Building 1: 2nd quarter 2023
Buildings 2 & 3: 2nd quarter 2024
Building 4: 2nd quarter 2025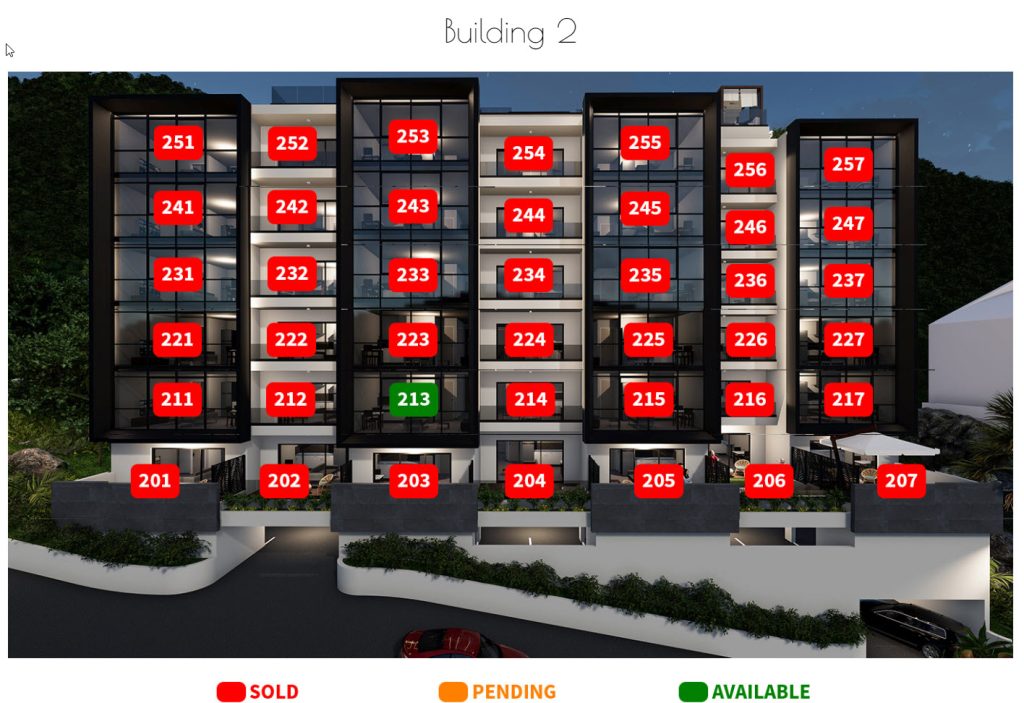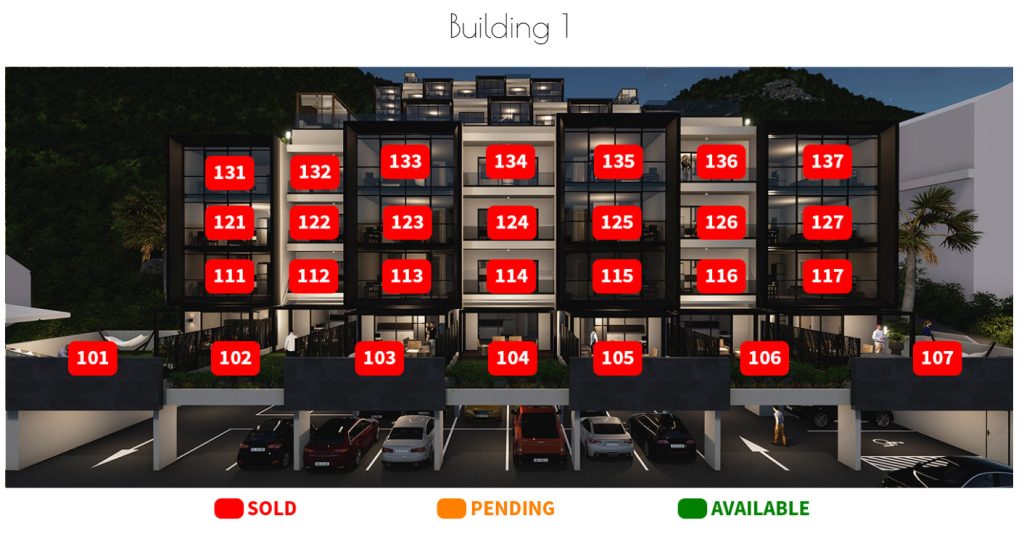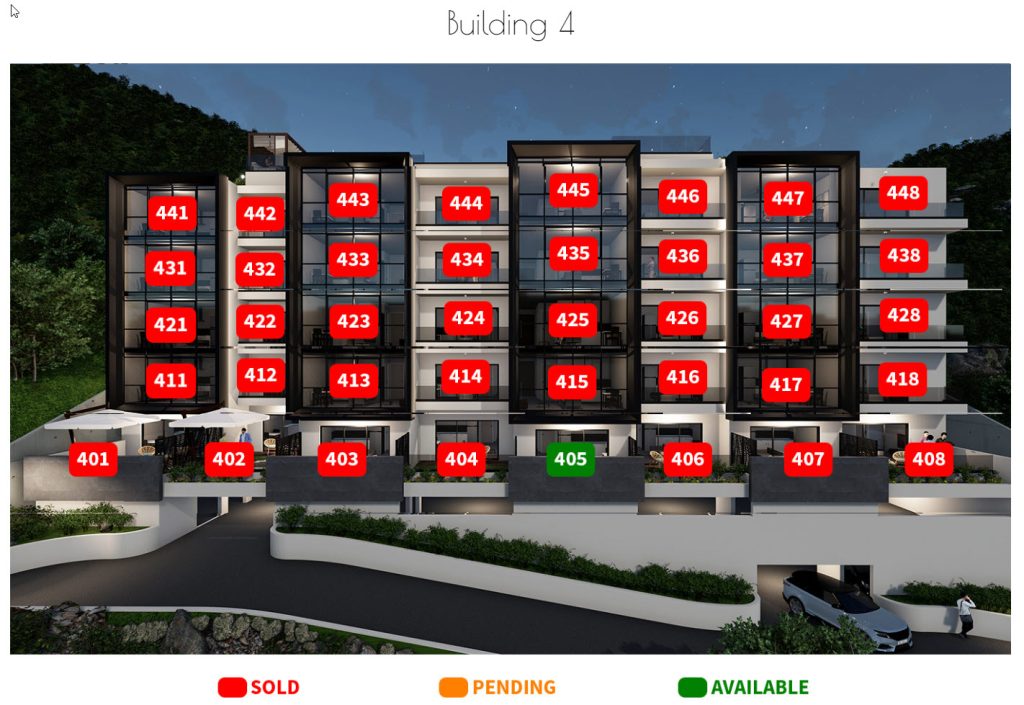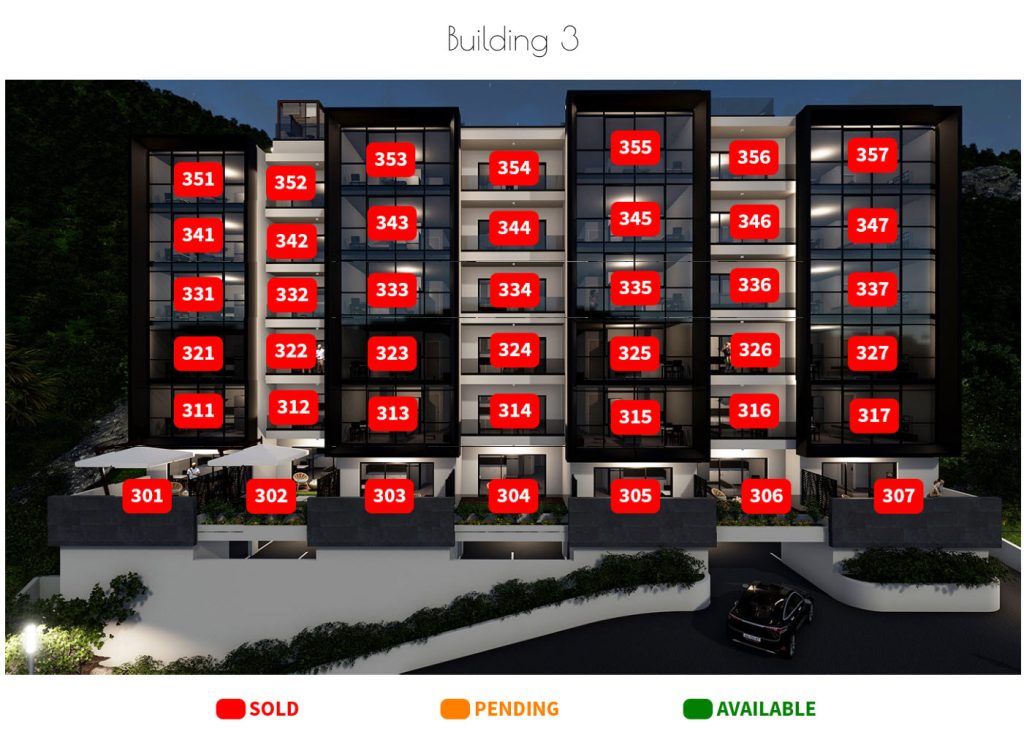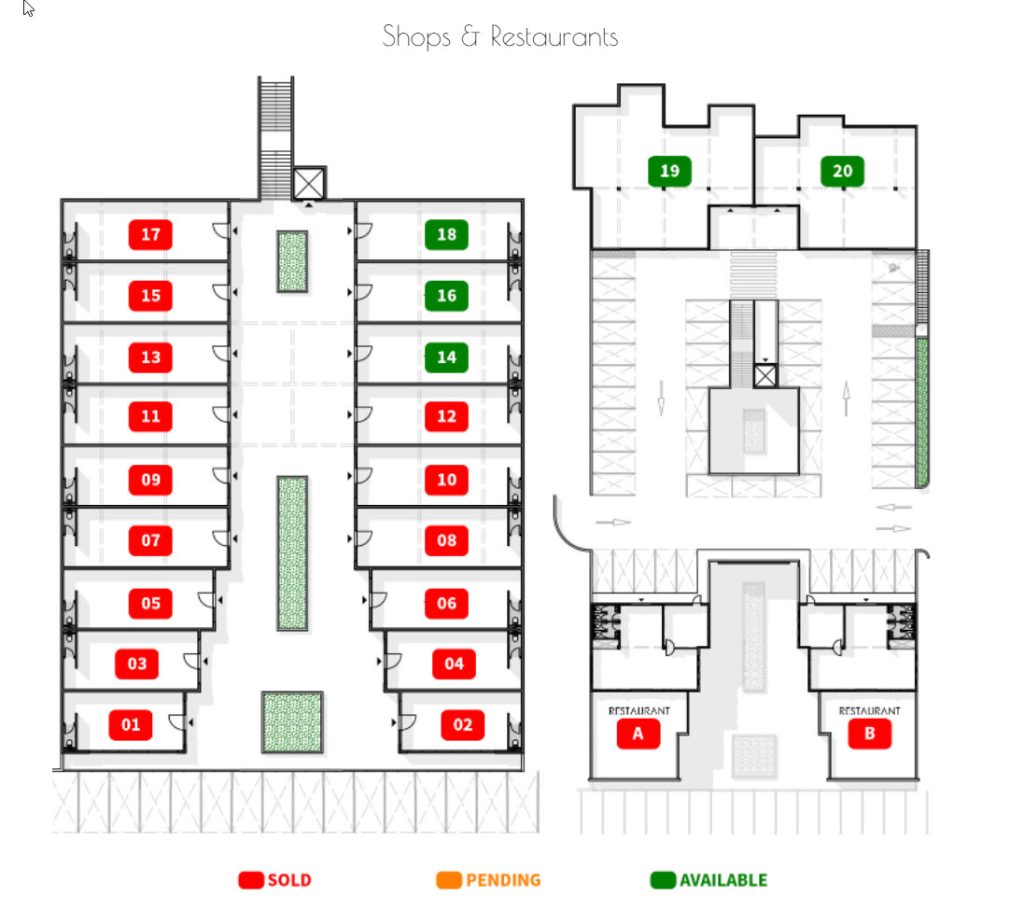 The Hills Construction Schedule
The construction site was started in October 2021. The shops and building 1 should are planned to be delivered during the 2nd quarter of 2023, the buildings 2 & 3 during the 2nd quarter of 2024, and the building 4 during the 2nd quarter of 2025.
April 2022 Construction Update Now – THe Hills St Maarten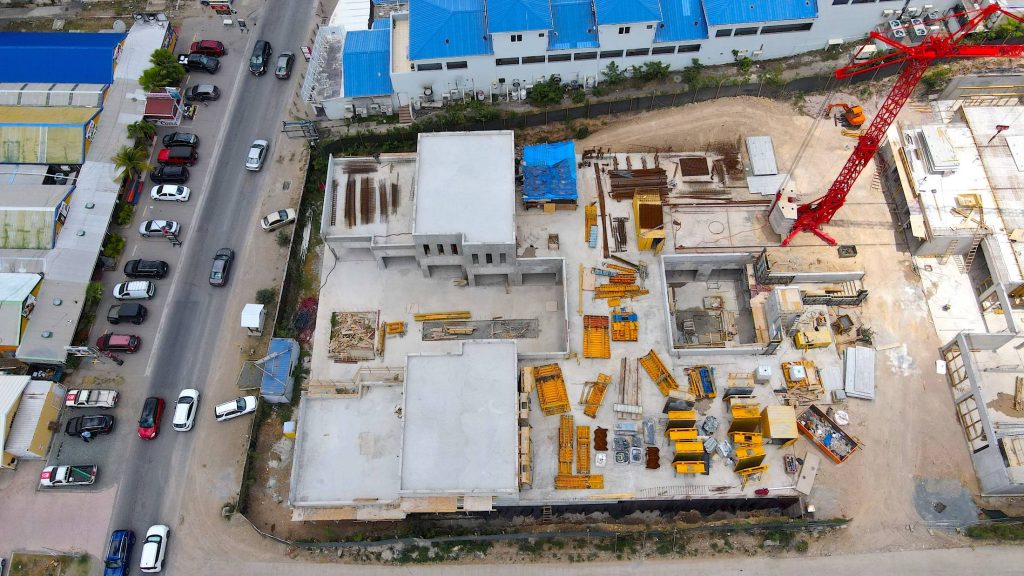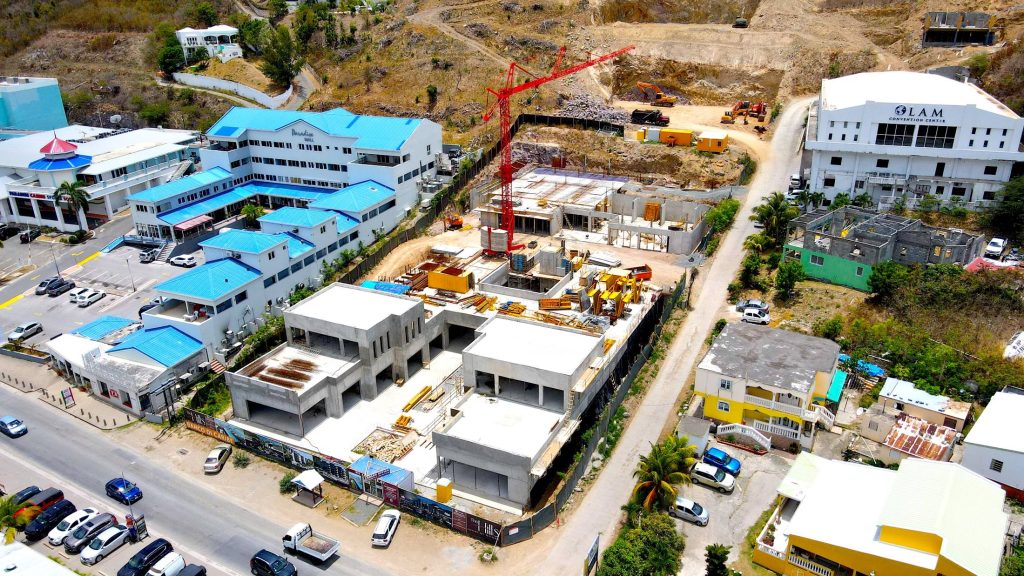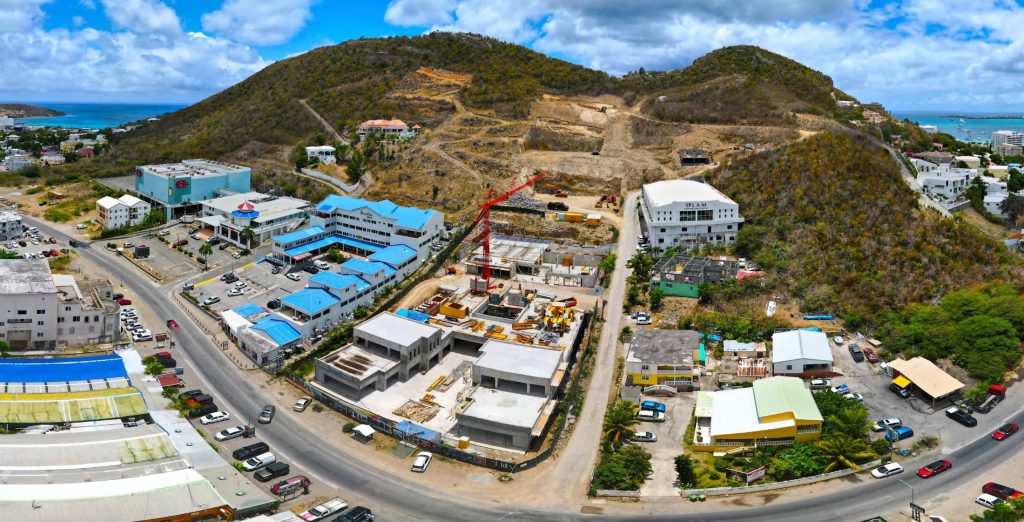 Who Owns The Hills SXM
Founded in 2005 by Frank Teboul, FT Development is a large scale development and construction company based in Sint-Maarten in the Caribbean.
Creator of completed St Maarten developments like La Siesta, Ocean Edge, The Spa at Maho, Jordan Village, Adonis Hotel, Fourteen at Mullet Bay and recently The Hills.
Frank Teboul, its CEO, has completed multiple residence projects in Sint-Maarten since 2005, covering a total of 18,000sqm. An outstanding individual and humanitarian.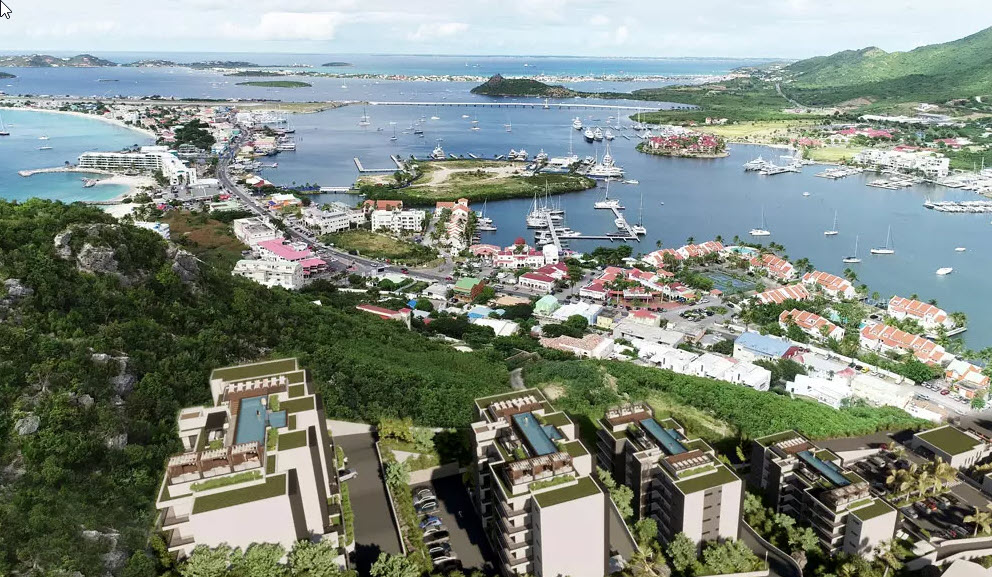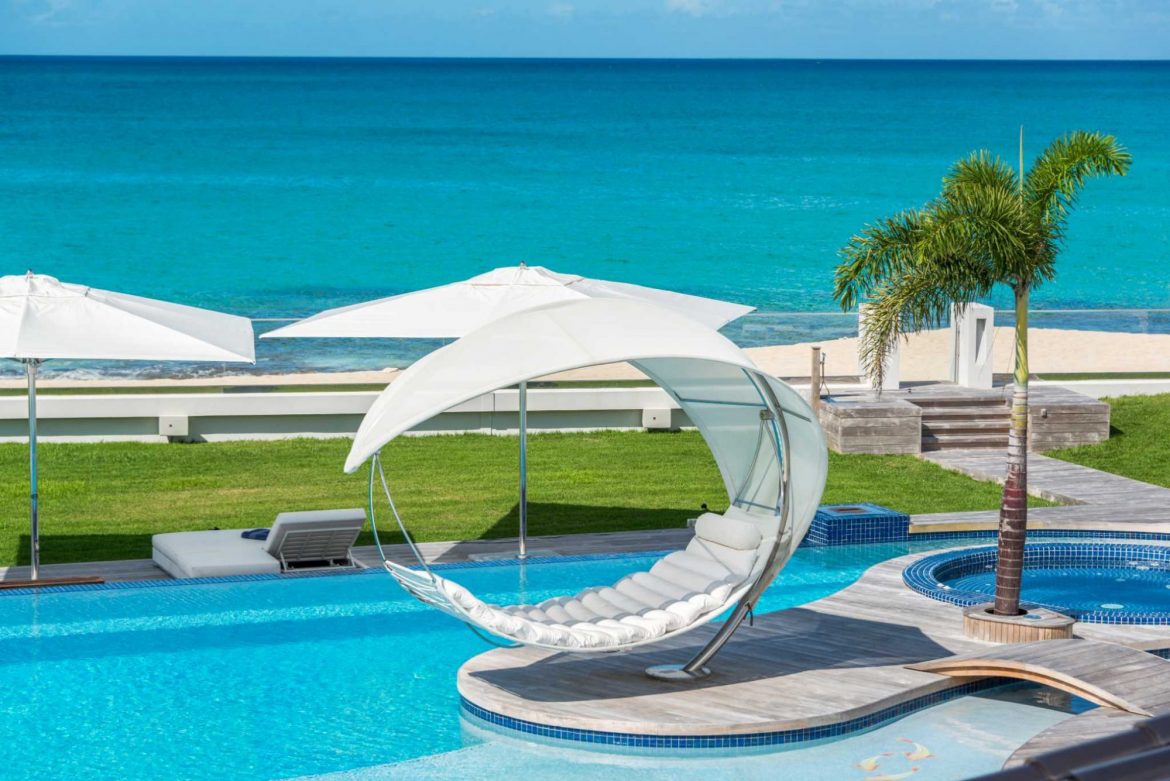 Terres Basses Real Estate
Terres Basses Villa, on these 500 hectares, more than 300 properties will gradually be created – today 260 are already built, around forty plots of land are still not built. The natural environment is exceptional for its vegetation and its fauna. Its opening onto three of the most beautiful beaches on the island (Baie Longue, Baie aux Prunes and Baie Rouge) adds to the beauty of the place which conquered the founder and the first occupants of the Allotment. Sea turtles regularly come to lay their eggs on these beaches, seabirds have taken up residence on "Birds' Cliff", mongooses, which have long had no snakes to kill and eat, are not afraid of man and come to hang out in the gardens, near the houses.
Just 2 hours from USA, St Martin's soft white sand, lush green vegetation, clear blue waters blending into an azure sky, pause, breath, hmmm … this really is a heavenly setting. Terres Basses Villa For Sale, The island of Saint-Martin is absolutely unique and mysterious. Two cultures, French and Dutch, live side by side, mingling, inspiring and enriching one another, on this magnificent territory of only 95 square kilometers. The island offers visitors heavenly beaches with crystalline turquoise waters, delicious French cuisine, a vibrant nightlife, sports activities, haute shopping and much more.
The island has more than 300 restaurants, duty-free shopping and 37 white sand beaches. About 41,000 people live on the Dutch side, and 36,000 on the French side.
Terres Basses Villa For Sale, Once you experience St Maarten, you will always come back. Spellbindingly gorgeous (literally!). Terres Basses tops this list with not just great views and soft sands; any Caribbean island can give you this, staying in Terres Basses is about access to St Martin's best while keeping you secure in this palatial estate.
Its right on the so called 'Dutch border' giving you access to the vibrance of Dutch St Maarten and literally 10 mins to Marigot, the romantic capital of the French island.
Near everything, enjoying the best of nature and sights within the secure bubble of Terres Basses Villa.
Terres Basses, St Martin

Did you know that Terres Basses Villa was a separate island to St Martin! Thats why the land is richer when compared to St Martin land. Millennia ago, Terres Basses Villa For Sale was an independent island which slowly attaches itself to Saint Martin. This happened near at the two shorelines of Nettle Bay and Simpson Bay. The nature of the soil, mainly limestone with its white stones, contrasts with the rest of Saint Martin, especially volcanic with grayer stones.
The westernmost part of St Martin, a dollop of land that seems barely tethered to the island, features three secluded beaches dotted with million-dollar villas.
Facing southwest and stretching more than a mile from end to end is aptly named Baie Longue (Long Bay). However, only the generous section of beach near the luxurious La Samanna offers sand down to the waterline. On the rest, the ocean meets a colorful strip of limestone ironshore.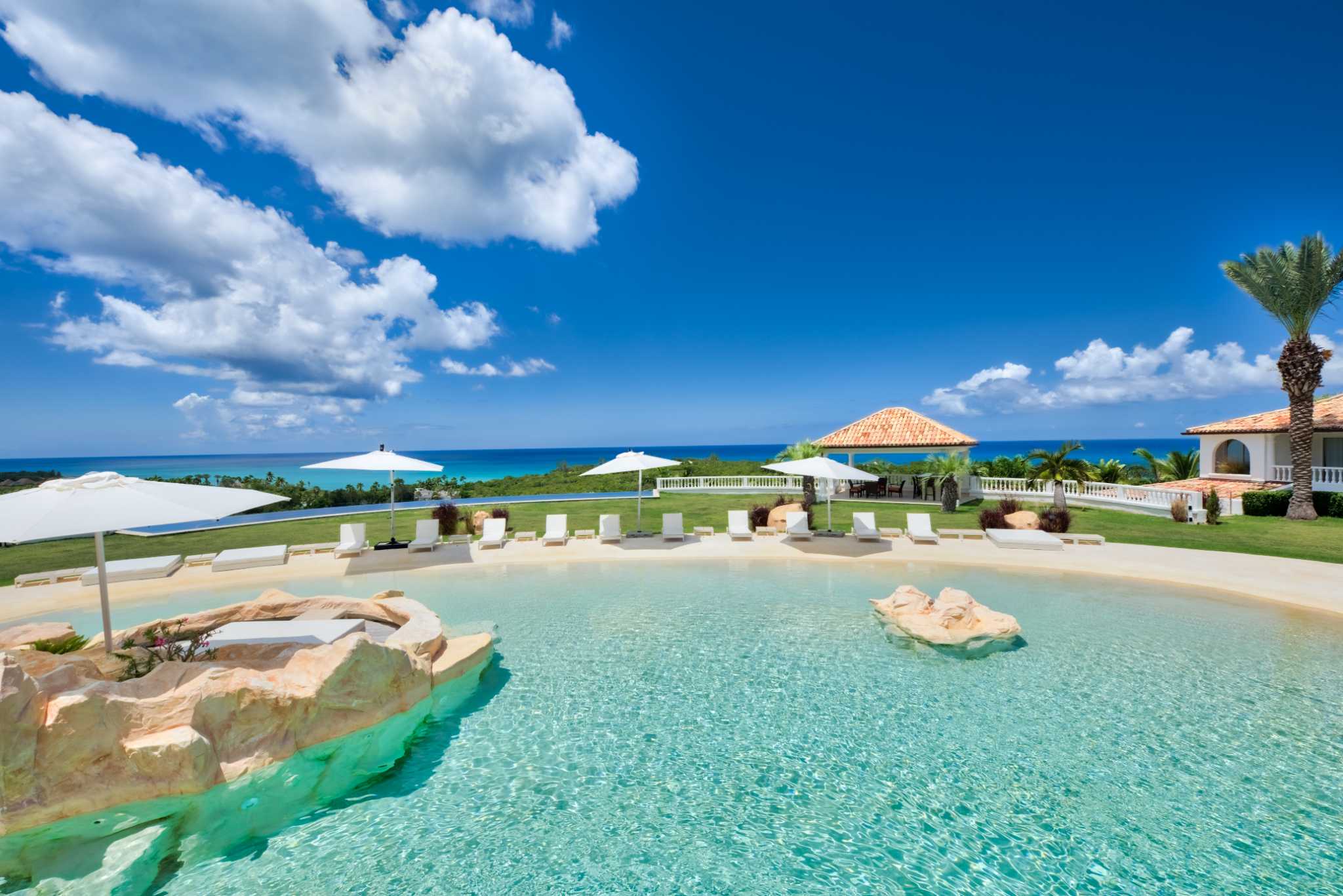 Terres Basses Villa For Sale, The surf often kicks up in September and stays rough through November or December, making for dangerous swimming, but the entire beach is always great for strolling, golden sunset views and shell collecting.
Moving west, you reach Pointe du Canonnier at the very tip of the island. Around the point, Baie aux Prunes (Plum Bay) unfurls a sea grape-lined ribbon of paper-white sand. Dive into the clear water at its north end for superb snorkeling and swimming, and claim a spot for what is, hands down, the best beach for a romantic sunset.
Facing north and bordered by towering cliffs on each end, Baie Rouge's (Red Bay) long arc of beige sand and calm blue water is the most popular of the Lowland beaches. Snorkel through the rock arch on the east side, called David's Grotto, and you'll find a hidden nook of sand.
Aside from private villas, the only rooms out here are at the four-star La Samanna, which has a commanding view from atop Baie Longue's east cliff. Lounges and water-sports equipment are for guests only, but the beach is open to all.
Road signs lead to Baie Longue and Baie aux Prunes; park on the unmarked sandy pull-offs and follow the footpaths between fences. Shell collecting is best near Pointe du Canonnier.
Terres Basses Villa For Sale
For Sale in Terres Basses
Looking to buy in Terres Basses Villa? Which villa is for sale?
We can email you the FULL availability list from all the agencies!
One stop for everything Terres Basses.
Changing Terres Basses real estate.
Trusted in St Martin.
I can also email you By Laws, Association rules and Maps.
Update February 2021: Currently over 40 villas for sale in Terres Basses Villa. Call me or latest availability.
For quick response, please contact me on my St Maarten phone number +1721 526 1819.
Thank you.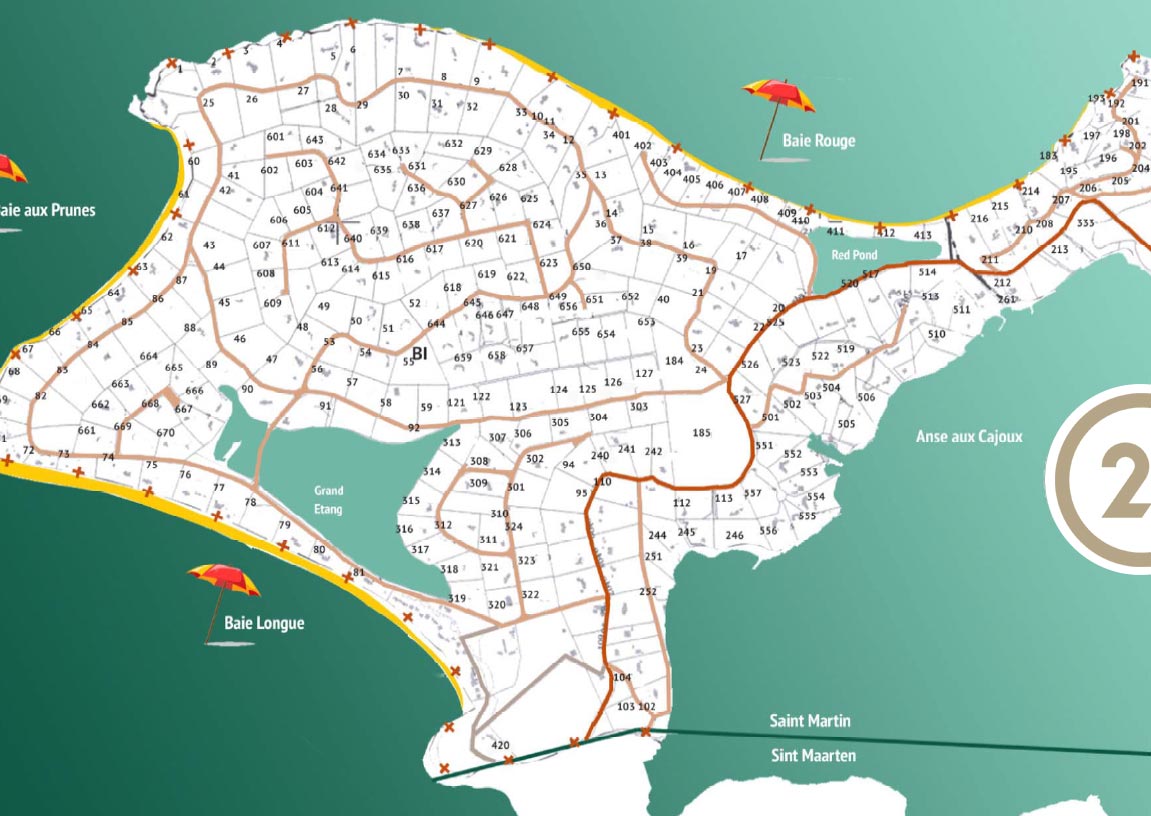 Lot numbers are a guide only.
Feb 2021 update: Lot numbers are work in progress.
Falaise des Oiseaux Villas and Baie Rouge Hillside Villas
Lot 5: La Dacha (5br)
Lot 6: l'Olivier (4+1br)
Villa Truffle
Lot 7: Belle Etoile (5br)
Lot 8: Falaise des Oiseaux (2br)
Lot 9: Mongoose Run (3br)
Lot 10: and 11: Mes Amis Villa For Rent (11br) & Mon Ami (3br)
Lot 12: Marine Terrace (5br)
Lot 14: Beaulieu (3+1br)
Villa Amber (3+1br)
Lot 19: Las Palmas (2br)
Villa Turquoise (3+1br)
Robinson (4br)
Terasse de Mer (4br)
Nid d'Amour (2br)
Casa dei Fiori (3br)
Modani (3br)
Pointe des Fleurs (4br)
Bijou (2br)
La Siesta (5br)
Maison de Reve (6br)
Le Mas des Sables (3br)
Esprit de la Mer (5br)
Ixora (3br)
Blue (2br)
Bahia Blue (4br)
Baie Rouge Beach Villas
l'Oasis (5+1br)
Serena (6br)
Casa Cervo (4br)
La Mission (4br)
Petit Pont (4br)
Les Palmiers (1br)
Beau Rivage (3br)
La Perla Palais (3br)
La Perla Classic (1br)
La Perla Bianca (1br)
Interlude (4+1br)
Little Jazz Bird (3+1br)
La Vie en Bleu (2br)
Carisa (2br)
Le Reve (5br)
Joie de Vivre (3br)
Tamarind (3br)
Libellule (4br)
Le Caprice (5br)
Plum Bay Beach Villas:
The most exclusive part of Terres Basses, St Maartin.
Soleil Couchant (2br)
Day-O (3br)
Plum Beach Retreat (3br)
Chateau des Palmier – Beachside (9br)
Chateau des Palmier – Gardenside (9br)
Plum Point (2br)
Mount Rouge and Simpson Bay Lagoon Villas:
La Salamandre (6br)
Mirabelle (3br)
Ait Na Greine (4br)
Villa Mezel For Sale (5br)
Suivez le Soleil (4br)
Azur Reve (4br)
360 Degrees (4br)
Maison de Miki (4br)
Speranza (3br)
Acqua (3br)
Le Mas Caraibe (3br)
Les Alizes (5br)
La Rocher (4br)
Escapade (4br)
d'Art (4br)
Terre Azure (4br)
Cala Luna (2br)
Lagon Bleu (3+1br)
Portofino (5br)
Alexandra (4br)
Fields of Ambrosia (3br)
C'est la Vue (6br)
Terres Basses South Villas (Near La Samanna)
Kiwi (3br)
Lotus (3br)
Hacienda (3+1br)
La Tropezienne (5br)
Large Villa La Bella Casa For Rent(5br)
Quatre Saisons (3+1br)
La Bastide (3+1br)
Always (5br)
Magnolia (4br)
La Pergola (4br)
Mer Soleil (3br)
Villa Grande Azure For Rent (4br)
Petit Bleu (1br)
Jacaranda (3+1br)
Bamboo (2br)
La Josephine (5+2br)
Cyrano (3br)
Azur (4br)
Baie Longue Beach Villas:
Blue Beach (3+1br)
Turtle Nest (4br)
Eden (5br)
Baie Longue Beach House (3br)
Owl's Nest (4br)
Pauli Mar (4br)
Les Trois Jours (6br)
Terres Basses Central and Main Entrance Villas
Callisto (3br)
No Limit (3br)
Sea Vous Play (4br)
La Favorita (3br)
Les Zephyrs (3br)
Little Provence (2br)
La Provencale (5br)
Ambiance (1br)
Lune de Miel (1br)
Belle Fontaine (4br)
La Croisette (4br)
La Nina (2br)
La Pinta (3br)
La Savane (4br)
La Currah (2br)
Sol E Luna (3br)
Frangi Pani (3br)
El Olvido (3br)
Pamplemousse (5br)
Clair de Lune (4br)
Blue Passion (4+1br)
Mille Fleurs Villa For Sale (4br)
Just in Paradise (3br)
Monaco (3br)
Petit Pavillion (1br)
Greystone (3br)
Bali (3br)
Nuit Blanche (3br)
Alizea (3br)
Giselle (4br)
Floreale (4br)
La Meridienne (4br)
Jardin Creole (4br)
Cascades (5br)
Oceane (4br)
Modern Villa Grand Bleu For Sale (4br)
Encore (5br)
Jasmin (5br)
Monchal (1br)
Grand Palms (3br)
Blue Palm (5br)
Mariposa (4br)
Sandyline (7br)
Harmony (2br)
Coral (2br)
Agora (4br)
Note: Any Terres Basses resident who prefers privacy, we are happy to oblige to your concerns. Contact us please.
View this post on Instagram
Celebrities and VIPs seeking privacy and security all own luxury villas in Terres Basses Villa.
The largest luxury estate in St Maarten.
Sharing beaches with Belmond La Samanna, St Martin's celebrity-favorite resort.
Three pristine secluded beaches within 3 minutes of Terres Basses.
Each lot size is at least 10,000 sq m.
There are 320 lots.
Facing Northwest, you have the magnificent Saba island in the background with sunsets in colors that have no names!
Terres Basses Rules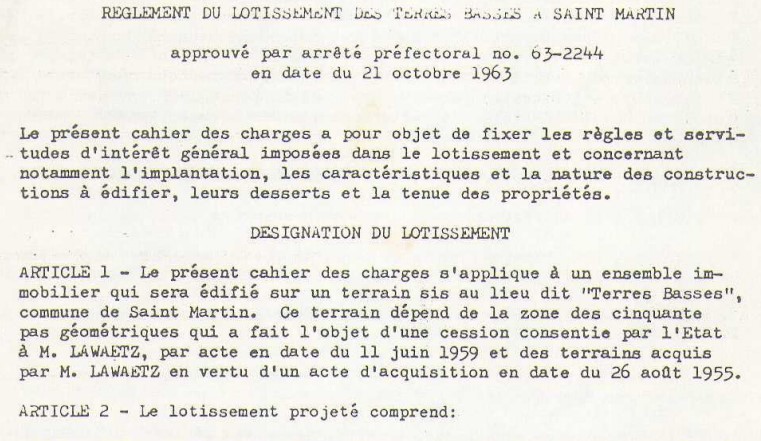 The owners of all lots shall join an association of which each purchaser shall be considered legally obligated to become a member by the solo fact of his purchase. The Association called ASSOCIAIION SYNDICALE des PROPRIETAIRES des TERBES BASSES IS authorized by the French government to enforce the Cahier des Charges.
The zoning regulation requires one (1) hectare (2.117 acres) per dwelling. No subdivision beyond this is permitted.
Each lot shall contain one story main house ; secondary structures for garage or servant quarters are permitted. EXPRESSELY forbidden are two main dwellings per lot, containing separate family units.
Terres Basses Association
Terres Basses Villa For Sale, The purposes of the Association are to create and preserve the Terres Basses section of St Martin as a harmonious and attractive residential community for the benefit of all landowners, and to provide for the maintenance, repair and development of roads, beach lots and other common facilities.
It is hard to imagine the condition of the roads in the Lowlands from 1957 through 1963. Little was done to improve these roads until 1963, when the directors hired a contractor, bought road building equipment and built the base for what is now known as the International road. In 1968 the Association turned over the road to the Government, but it was not until 1975 that it was paved. The remaining French roads belong to the Association which is responsible for yearly repair and maintenance.
The BY-LAWS of the Association and the Cahier des Charges have been adhered to with very few exceptions – a fact that reflects the strong desire on the part of the overwhelming majority of the members to maintain the Terres Basses section of the Island in the manner for which it was originally conceived. It is this conception which has led to the tremendous appreciation of values and to the recognition of' the Terres Basses section of St Martin as one of the most desirable living areas in all of' the Caribbean.
While almost exclusively American in the beginning and through most of its formative years, the membership is becoming increasingly international.
Terres Basses Security
Terres Basses Villa For Sale is connected to mainland by a thin strip of land which makes securing the estate easy, while providing additional premium shoreline for luxury villas. The largest security force of any residential estate in St Martin.
This makes Terres Basses the most secure residential estate in St Maarten!
The best homes are there.
Movie stars and artists, they all live there.
Precious art and antiques lay hidden there.
The best parties happen there.
Pink sunsets come there.
Les Terres Basses, legendary as the name!

Terres Basses Investment Property
Contrary to the simplistic designation of Terres Basses as being a green upscale residential area, it should also be mentioned as an area of strong economic importance. In fact, a majority of the Terres Basses villas are an economic entity since the villas are rented as seasonal rentals for a large part of the year.
These Terres Basses villas, which complement the island's hotel possibilities, employ a large number of employees year-round (cleaning women, gardeners, maintenance men) and provide work for many service companies: swimming pool maintenance, cleaning of linen, rental of boats, jet skis, motor vehicles and for the wealthy, maintenance and provisioning of yachts, parking of jets and private planes.
Terres Basses Real Estate is so good that even Donald Trump's real estate venture arm has a property in Terres Basses. I can however confirm that Trump has never been to the Chateau des Palmiers, unless he arrived in secrecy!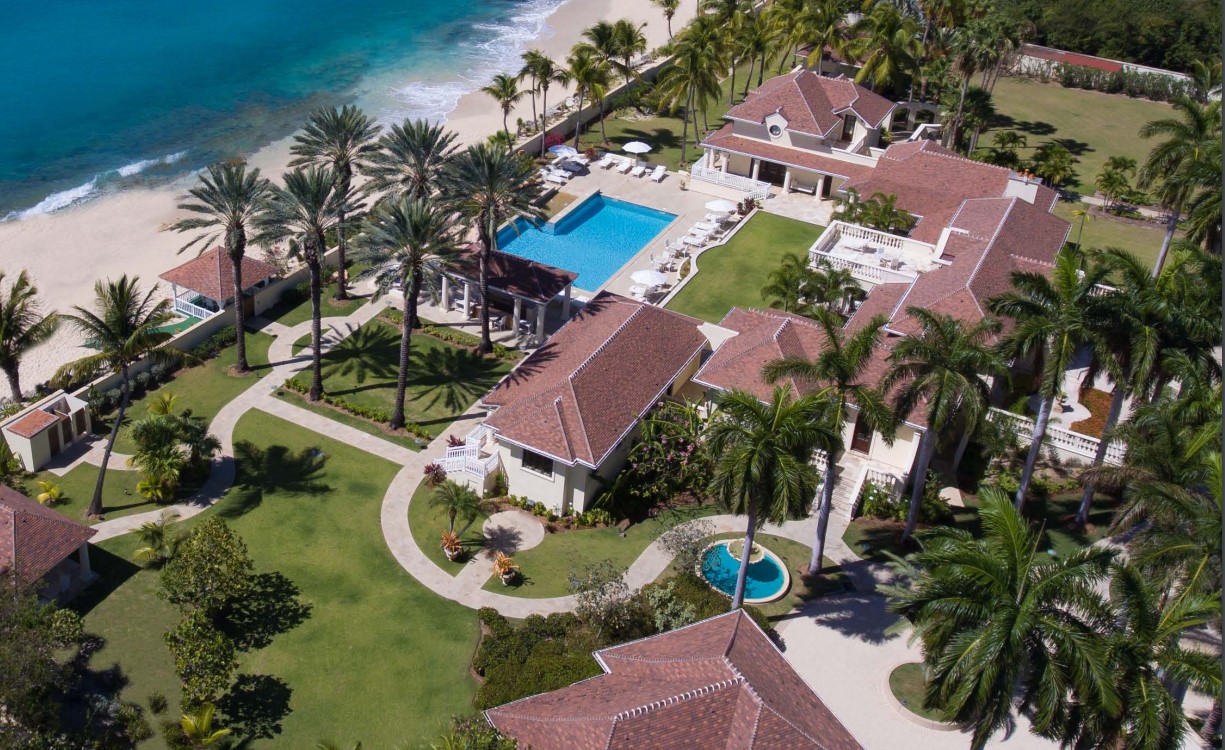 The Trump St Martin Villa website describes the property as:
"Bought in 2013 by Donald J. Trump, and located in Terres Basses in French St. Martin, Chateau des Palmiers is a breathtaking beachfront estate in an exclusive gated enclave. With a 6 -bedroom ocean side villa and a 4 bedroom garden side villa, the chateau is perched on the beach of Plum Bay, known for its white sand and perfectly rolling waves. The landscaped grounds enhance the elegantly designed villas, with a spectacular heated pool, a tennis court, fitness centers, spa, and dining areas. Every amenity is provided, making this a full service private resort. To ensure complete privacy and safety, there is a state of the art security system, surveillance cameras and an 8 ft. boundary wall. Ideally situated, Chateau des Palmiers is close to Marigot, the capital of the French side of St. Martin, and within 10 minutes from the island's international airport."
For sale at $28,000,000 listing price. Anyone?
It earned Trump between $200,000 and $2 million in rental fees between 2014 and mid-2016, according to financial disclosures, so its surprising to see this Terres Basses villa for sale.
Terres Basses Beaches
Baie Rouge Beach
In terms of natural geographical boundaries, Baie Rouge villas are part of Terres Basses.
Some beachfront properties are part of the Terres Basses Association and some are out of it.
But every single property here is seriously lavish.
Just watch out for my favourite Le Reve at 2:45 in the video below. This video shows Baie Rouge beach from one end to the other including a focus on villas around the hilltops of Baie Rouge beach.
People say:
– The water is crystal clear water and gorgeous pink sand awaits you.
– Great snorkeling and quite walks. Bring your own things, no service here.
– Nice long beach. You can take a very long walk here along side the cliff and look at some of the villas you wish you could rent for a month or two 😉
– Plage unique, avec de beaux poissons colorés directement à vos pieds. Le matériel de snorkling peut être loué sur place.
– Une super plage à Saint Martin ! A proximité du lotissement très en vue des Terres Basses, très belle plage familiale où vous pourrez observer beaucoup de poissons et de fonds marins. Attention aux coups de soleil ! Il y tape très fort
Baie Longue Beach or Long Bay Beach
Where Belmond La Samana sits along with some of the best villas in Terres Basses. The beach is a 'destination' itself! Quiet, secluded, exclusive and romantic. Days here leave beautiful memories.
People say:
– A super long beach with beautiful white sand. Mostly empty. Great place to relax.
– Superbe plage, un hôtel le plus réputé de l'ile : La SAMANNA y séjournent parfois des célébrités
– Gorgeous beach, connects with plum bay. Uncrowded.. bring chairs, umbrella and cooler!
Baie aux Prunes Beach or Plum Bay Beach
The infamous Trump St Martin villa is on this beach in Terres Basses Villa. You will see part of it in 0.33 secs. For privacy purposes the video avoids showing the villas.
People say:
– Très jolie plage. Sauvage et préservée. Nice and quiet beach.
Terres Basses Environment
It is a peninsula connected to St Martin by Sandy Ground (on the French side) and by Simpson Bay lagoon (on the Dutch side). It is a large inclined clay limestone plateau, starting from sea level in the west to climb to a height of 50m in the east, the border being an escarpment. The two main brackish ponds are connected by a short valley, which separates the plateau itself from the small chain of hills, two of which (the Mornes Rouges) rise to 70 meters. The latter, made up of red porphyry, do not have the same geological history.
Brackish water ponds:
The large pond of Baie Longue beach and the Red Pond are both classified by the Coastal Space Conservatory.
Coastline:
From the border to the west, to the east.
Rocky point of Cupecoy
Baie Longue beach (Long Bay Beach)
Baie-aux-prunes beach ( Plum bay)
Rocky point of Plum bay and the Falaise aux oiseaux
Baie Rouge beach (Red bay) leading to the discreet Lovers Beach
Cliffs of Morne des Cabris
The Devil's hole
Fossil tombolo of the cays
Pointe du Bluff
Bluff beach
Natural environment
Botany:
On what remains of natural xerophytic soils we find various cacti and acacias, three species of orchidaceae , trees (pear-country , gum-blanc, gum-rouge). There are still some cashew trees dating from the days of farming.
Some properties have left their land in a pre-existing natural state, others have deforested everything and created artificial lawns.
Faunistics
Hunting is no longer authorized. The avifauna (birds) is quite varied there except the species which flee the human presence. Insects and reptiles are visible, mongooses more rarely.
A cave houses a colony of bats. These useful and threatened animals are protected by a prefectural and national decree.
Natural hazards
During heavy rains, the sand barrier road between Baie Longue beach and the Terres Basses Grand-Étang pond can be flooded by the rising waters of the lagoon.
Habitat
It is a scattered habitat, without any center, there are no local shops. There is a high standard hotel ( La Samana ) and a number of residences are available for high-end rental.
In the past, active from 1792 to 1835, there was a sugar plantation on this almost-island, it was called " Terres Basses"
Security
Vigils and video surveillance of the entrances which are blocked at night. From evening access to the (private) roads is reserved for residents.
Hidden Gems in Terres Basses
Pointe-du-Bluff and its fossil tombolo
The cliff-with-birds and its "Trou-du-diable" (Devil's hole)
The natural arch of "lovers beach" (on the right, Baie Rouge beach)
The 2 red mornes. The ruins of the "Terres-Basses" sugar factory (1792 to 1835)
The point of the gunners
Terres Basses Views
A random collection of views from various villas in Terres Basses for you to really appreciate the beauty of this scenic location in St Martin.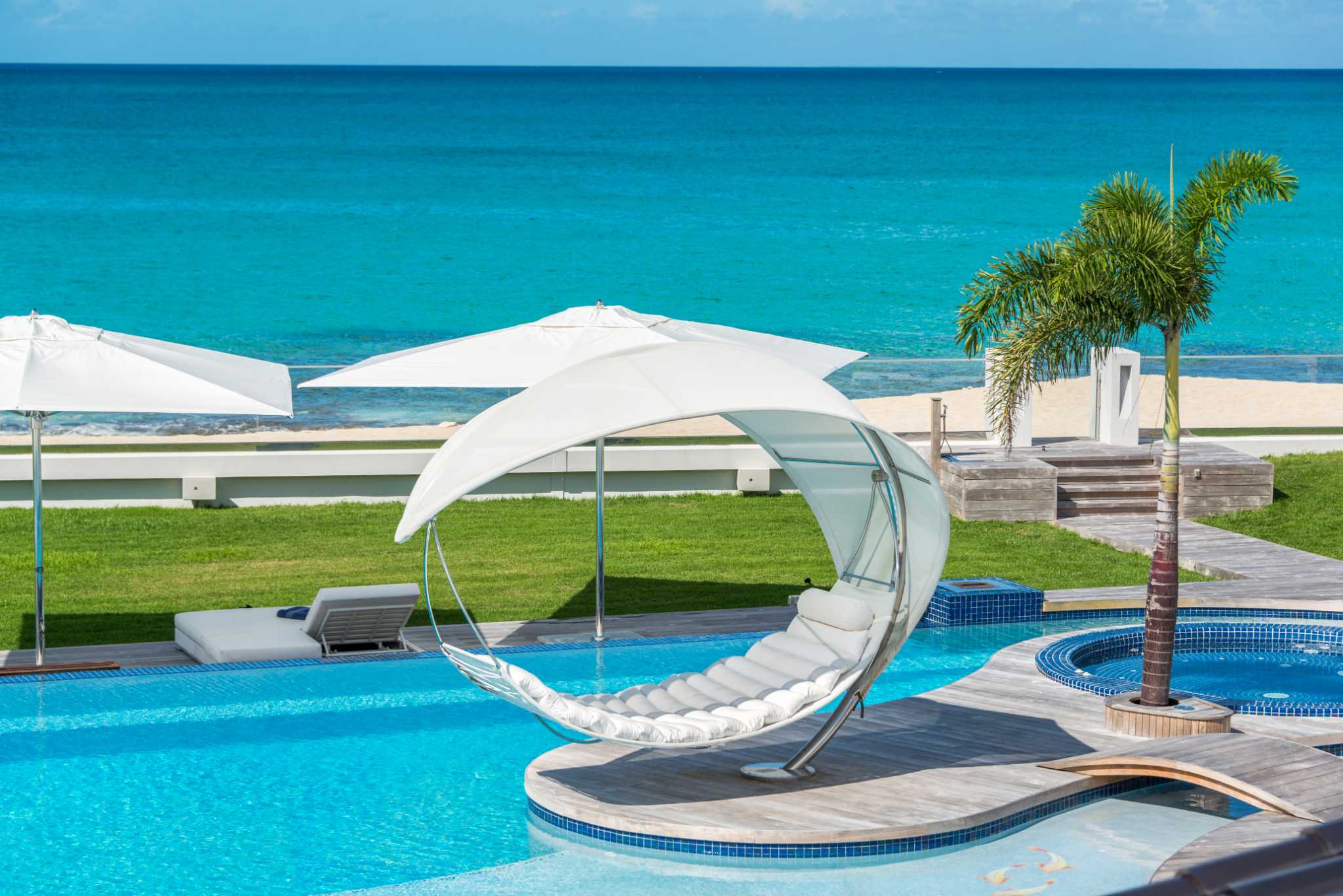 Terres Basses Reviews:
Lovely villas, very close to the beach, peaceful atmosphere and super friendly staff!We stayed there for 10 days only being on Sint Maarten. We enjoyed every moment on the island and at Hamptons villa. The place is clean as well as the villas and they are modern too. We had everything we needed and the facility is simple and charming. The 4 bedrooms and the living room have an air conditioner. The WiFi works very good, but you don't need it there, because the island has enough things to do. I bed the TV would have worked if we would have used it, but the beach walk and see were so beautiful, that we didn't turn on TV once! We mostly lied on the beautiful clear water beach or read our books our own veranda in the comfortable chairs in front of our swimming pool.You can walk on the beach between 10 to 15 minutes. It takes 5 minutes by car to reach some shops and a supermarket to get the supplies you need. If you have any questions there is always Gwen who can provide you her tips and advices.They also help you with choosing good restaurants and even do the reservations for you. I enjoyed the time there so much, I truly don't have any cons to write about.
Sunsets were amazing from the pool area. It's a nice size property compared to other villas in the island. The two beach were empty. It's a good walk for some exercise from the villa to beaches (approximately 2 miles). Supermarkets and restaurants are few minutes away so it's convenient. The island is tiny and it's very easy to go around. Watch out for those speed bumps.
I love the location–great grocery store Carrefour is 5 minutes way at Cupecoy. We got an ice-cream at a French cafe there, and there are several restaurants (Thai, Pizza, Italian).
There are several beaches very close by that are great–Plum Bay, Bay Longue, and the (unmarked–get good directions) Bay Rouge. (Be sure to check out the natural rock formation just past the eastern shore of Bay Rouge). These are not commercial or crowded beaches which to me is great. Bring snacks, chairs, and umbrellas. Walking to the Bay Longue is not 8 minutes, but more like 20, and a very hot walk. I recommend driving there in 5 minutes instead.
If you have small kids, or want a beach which is always calm, Friar's Bay is a must. It is a quick 25 minutes away. You can avoid most the Marigot traffic by staying close to the Bay.
It's also in a perfect location that's close to the airport and also conveniently located to other spots on the island like Grand Case and Marigot. We spent time at the 5-star hotel around the corner, la Samanna, and enjoyed the incredible beach. I wouldn't hesitate to recommend this place to a group of friends or family. I can't wait to return!
The location is perfect being 10 minutes from the airport. There are five or six beaches within 10 minutes from the Villa. Some you can walk to some you need a car, so there are plenty of options. There are beach chairs supplied which we brought with us to Long Bay many times.
Location is excellent if a quite relaxing holiday is what you are seeking. Also location is good for beach access although a car rental is advisable. Excellent beaches nearby which are really good for snorkelling. Plum Bay probably clearer water but Bay Longue possibly more fish.
It's on a gated property within a secure enclave where there are many large estates, and is about 0.5 miles to the beach.
The weather was incredible – 82 and sunny everyday! You can't beat the beaches – beautiful sand and perfectly clear ocean waters, perfect for sunbathing, walking the beach, swimming and snorkeling. Micheline and Lionel were very helpful in explaining the sites and sounds of the island including great recommendations for restaurants – incredible French cusine and wine at very reasonable prices in perfect seaside settings.
The property itself is secluded, safe, and very well appointed. Les Terres Basses Villa is a great gated community with access to two very private and quiet beaches. Terres Basses Villa is truly the best place to stay on the island if you want a peaceful getaway. Since its a gated community of the highest standards there is almost no traffic noise. Two of the best beaches are within the gates and we spent most of our time there. I know you will be just like us and want to try all the beaches on the island- and you should- but you will always come back to the Low Lands.
There are many good restaurants in the area but we enjoyed cooking at home. There are several supermarkets nearby and the large Super U in Marigot and Hope Estate.The villa is located in the central west region of the island, very close to a number of good beaches. Our favorite was Baie Rouge, which was good for swimming/snorkeling, has easy access with a parking lot, and food/beverage are available on the beach. Two other special attractions are a visit to the Butterfly Farm (now closed) and the opportunity to watch a master painter work in his studio (Sir Roland Richardson in Marigot on Thursdays).
This was my first trip to St Martin, and I would definitely recommend the Island and our location. Our villa was perfect. Our hosts were great, meeting us at the airport, putting away our groceries that we had pre-ordered and giving us great recommendations. Our days started with 5km 8 a.m. runs (need to go early). You can get some hills and flat, with your final destination being 2 great beaches. The beach is about a 1km walk back to the villa (just enough time to dry off from your post run dip). We rented a car and had dinner every night in Marigot and Grand Case (a 10-15 min drive respectively). I would also agree that the expresso machine was so nice. Coffee with the views are being missed sadly as we have returned home.
The French side of the island has the loveliest beaches and the best food and Terres Basses Villa For Sale a the best place to stay. We have rented many houses in the Caribbean over the years but this is now our favorite. It's so fresh, pretty and thoughtfully appointed, all with exquisite taste. Plum bay is within walking distance, great restaurants within a 5-8 minute drive. We wake up making espresso in the espresso machine (a feature much appreciated by us) and drink it on the terrace watching the birds cavorting in the gorgeous garden that surrounds us, then take off to one of the beaches, return for a plunge in the pool and a glass of wine.
The sunsets are magnificent most every night. If you are lucky to be there during a full moon, as we were, that too is an awesome view over the ocean. A night swim in the pool allows you an opportunity to see all the beautiful stars above. Then retire to the sound of the waves for a peaceful sleep.
Plum Bay is a pretty private beach and there are few people. If you want solitude and room to stretch out, this is your place. The reef right off the beach out front provides great snorkeling and swimming. You will need a car as the Terres Basses Villa is in a more remote and exclusive region of the island. It only takes about 15 minutes to get to the small towns either the Dutch side or Marigot area. But that is why this place is so great. You are not in a tourist trap or high rise condo area with thousands of other people. You are in a private villa in a gated community, directly on the beach. It is like your own private resort on an empty beach. Just like a Corona commercial. You can sit on the deck chairs and stare at the beautiful water for hours without being bothered by anyone. Great setup for both groups of people, a family or a romantic getaway for 2.
Since you are closest to Marigot, you will frequent this area. Don't miss the French Bakeries.
Terres Basses Villa For Sale, We were very lucky to spend our vacations in the wonderful St Martin Villa. The villa is located in a very highly residential neighborhood, a very private and quiet place overhanging the ocean. Wherever you stay in the villa, you can enjoy the breathtaking view on the sea and its multiple shades of blue and you can't stop thinking about the famous italian song "nel blu dipinto di blu"…it's like admiring a living painting all day long…brunching in the sunrise and dining in the sunset! The villa is perfect for a group of friends or an extended family. You will enjoy the stunning pool, the Bali bed, the playroom, the petanque, the Baie Rouge beach…I can only recommend to stay at Amandara, you'll dream about it for a long time…we just want to go back there! Watch This Video
Terres Basses History
In 1955 Mr. Erik LAWAETZ of St Croix, U.S Virgin Islands, purchased approximately eleven hundred acres of land located on both the French and Dutch sides of St Martin The area called "The Lowlands". The area extended from Mullet Bay Beach Hotel on the Dutch side to the western boundary of La Belle Creole on the French side. It is almost an island, the greater part of it being French, bordered by the Caribbean, the Atlantic and Simpson Bay Lagoon.
Mr. LAWAETZ was able to acquire title despite the very complicated laws governing inheritance and ownership of property. The entire French section was deeded over from the family of Madame Henri VIALENC and deeds to the Dutch part came from two owners, the BEAUPERTHUY family and a member of the PETERSEN family. LAWAETZ also discovered that, in accordance with a law governing French possessions throughout the world, a "zone des 50 pas geometrique" traditionally known as "the 50 steps of the King" or "Domaine land", a distance of 81 meters from mean high TIDE on all property bordering the water, was reserved by the Government for defense and/or maritime purposes. Mr. LAWAETZ went to Paris accompanied by Elie FLEMING, then Mayor of St Martin. They were successful in persuading the French authorities to deed the "Domaine land" to Mr. LAWAETZ in 1959 – a ruling without precedence.
Sales of building lots and larger areas for subdivisions were begun my Mr. LAWAETZ immediately. A few of these properties are still in the hands of the original buyers. In 1957 he filed development plans with the Dutch and French governments. The Dutch never approved the plan with the result that, in the course of time, multiple housing units have been constructed on the Dutch side properties. On the French side a Landowners Association was formed in 1961 and registered in Delaware. In October 1963, the French present the 'Cahier des Charges' which are covenants and deed restrictions for the area known as the Terres Basses (or the French Lowlands).
Belmond La Samanna in Terres Basses St Martin
Notice:
Belmond La Samanna Resort in Terres Basses re-opening February 15th 2021.
A mere 15-minute drive along the coast from the airport will take you to Terres Basses Villa For Sale. Cradled by Baie Longue, the island's most exclusive stretch of beach, real estate in this French cliffside community is at a premium. If you're not ready to make the investment but yearn for a holiday villa of your own, check into La Samanna. Originally designed as a Mediterranean-style residence for James and Nicole Frankel, the property opened in 1973 and quickly became a home away from home for the international jet set (Jackie O was a regular). Named after the Frankel children, Samantha, Anouk and Nathalie, La Samanna became, to quote their father, "camping for the rich."
"Mr. Frankel wanted his guests to socialize and feel at home," says John Volponi, La Samanna's general manager. "There was no room service, no pool service, no chairs on the beach. Everyone was encouraged to meet in the bar for a drink and a chat."
Purchased in 1996 by Orient-Express Hotels, which invested $60 million to redevelop the 22-hectare property, La Samanna now boasts a well- equipped gym and Pilates studio, a small conference centre and the full-service Élysée spa. Suites and villas have been updated with custom-designed mahogany and teak furniture draped in deep blues and golds, along with oversized bathrooms with handmade Mexican tiles and terra-cotta floors. Eventually, Orient-Express plans to add several four-bedroom villas complete with private swimming pools.
Terres Basses Villa For Sale,  all the changes, much has remained the same. There are staffers who have worked at the hotel for more than 20 years-part of the reason why 40% of guests return annually. The reception area (a room, a small desk and that's all) is still cozy, lacking the intimidating buzz of a starchy five-star hotel. Original, broad white archways define the rest of the villa. Sip cocktails underneath a silk Indian wedding tent in the breezy main bar, or read by the infinity pool. A twisting stone pathway leads to the aquatic sports centre where guests can gear up for snorkelling.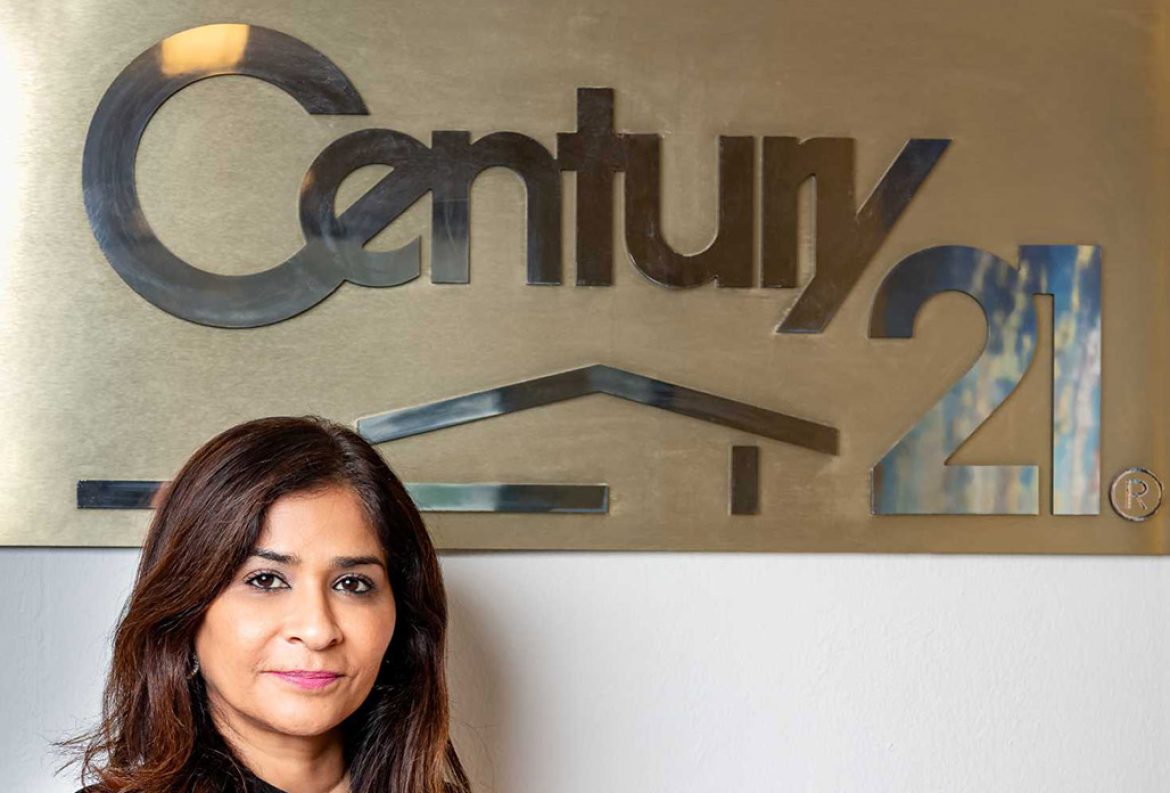 Thank you SXM!
In the newspapers!
The Daily Herald; St Maarten's national newspaper; publishes the most popular business awards every year. Voted by the people of St Maarten; this is a very honest and important award for St Maarten businesses.
Century21 Island Realty wins the Best Real Estate Agency award in 2022.
12 is our lucky number.
12 award-winning years of consistency and integrity.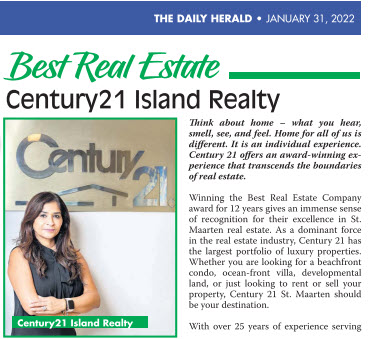 12 Featured Properties
Century21 St Maarten on HGTV International TV
We have created a short video to share with a behind-the-scenes look at what a buyer experiences when looking for a property in St Maarten courtesy of Ritika Nanwani; the Head Broker for Century21 St Maarten.
Home and Garden TV (HGTV) represented by House Hunters International approached award-winning Realtor Ritika Nanwani to feature in a TV show aired in Canada and United States in 2015. Incredible achievement!
Ritika Nanwani is our award-winning Head Broker with 25 years of real estate experience and owner of the Century21 Island Realty; the home of St Maarten real estate.
As St Maarten's most award-winning realtor Ritika Nanwani was a natural selection by HGTV House Hunters International to represent St Maarten real estate in the TV show aired in 2015. Being a natural process for Ritika; the episode turned out to be a 100% success!
The clients bought the Rainbow Beach Club condo under the listing price and just listed it (6 years) later for 70% more than the price they paid!!!
How incredible is that for a success story!
If you are ever wondering what to expect when buying a property in St Maarten, please watch this short video to understand how friendly the process is.
How To Buy A St Maarten Condo
Our new offices are on the lagoon waters of Simpson Bay, St Maarten. The short video highlights in brief how Ritika will work with a property buyer when you are in St Maarten.
First visit our website at https://www.century21-stmaarten.com/
Identify any property that meets some of your requirements.
Try and look at properties that are also over your budget; because Ritika is an expert negotiator who will be able to do the impossible!
Email us with 2 to 3 properties that you like.
Ritika will communicate with you by your preferred method and understand all your requirements before you arrive to St Maarten for your property hunt.
Ritika will dedicate the time while you are here entirely to your property hunt.
You will be able to ask her questions during lunch and dinner because she will be with you the whole time. Make the most of 25 years of experience in St Maarten real estate!
Once you have identified the property you desire; you put in an Offer to Purchase which is an official negotiation agreement that is signed before the final Sales & Purchase Agreement.
We look forward to welcoming you to St Maarten and I hope to meet you in similar circumstances!
Thank you for watching.
Century21 St Maarten
The home of St Maarten Real Estate.